Greensboro lives up to its name. The North Carolina city plays host to numerous gardens and parks. It's also the home of the International Civil Rights Center and Museum and the Greensboro Science Center, among other attractions.
It is a popular destination for travelers of various interests and families alike. To ensure the utmost comfort of its visitors, Greensboro offers deluxe accommodations.
Here are some of the best luxury hotels in Greensboro, North Carolina, where your family can experience all the city offers.
1. Proximity Hotel
A quick drive from downtown Greensboro, Proximity Hotel offers a great place to stay for those seeking luxury accommodations in the city. Explore the Bluebell Garden or grab a map from the front desk to check out the Greenway, a jogging and bike trail just a few minutes from the hotel.
Proximity Hotel isn't just green because of the foliage that surrounds it. The hotel was one of the first certified LEED Platinum hotels. From the geothermal energy used in the kitchen to the solar panels on the roof, Proximity delivers sustainable luxury for a guilt-free experience for your family.
Dine at the Print Works Bistro for Breakfast, Brunch, or Dinner. Your family can eat creek-side at the restaurant or order room service to enjoy privately. The eatery is next to the hotel, so you don't have to go far or anywhere to enjoy luxury dining at Proximity.
Proximity Hotel offers a variety of rooms, including double queen rooms and suites with multiple bedrooms. All guestrooms come with the hotel's custom Magi Beds with hypoallergenic bedding. Custom bedding, paired with triple filtered outside air, makes the hotel a great spot to stay for families sensitive to allergies.
An outdoor pool ensures a fun time for the younger members of your family. In months when swimming isn't available, check out bikes from the front desk to take a tour around Greensboro. The hotel also has a fitness studio if you'd prefer to exercise inside.
Chip Holton works as the artist-in-residence at the Proximity Hotel. Unlike many other hotels, Proximity has original artworks in each room. The artist creates charcoal sketches with pops of color on canvas. This ambiance adds a unique aesthetic to the hotel.
Proximity's many amenities, options for accommodation, sustainability, and originality make it one of the best luxury hotels in Greensboro, North Carolina. With plenty of activities on-site and nearby, no one in the family feels bored during your stay.
2. O. Henry Hotel
Like Proximity, O. Henry Hotel is a part of the Quaintance-Weaver-owned group of restaurants and hotels. Constructed out of North Carolina red brick, O. Henry is the older of the two hotels.
The brick face gives the hotel a striking look, making it a favorite of guests and the Greensboro community.
O. Henry shares many of the same amenities as Proximity. Shared features include Magi beds, filtered air, bike availability, and Chip Holton's art. Chip's art reflects the classic style of the building. Custom-designed pine furniture helps complete O Henry's eclectic style.
The hotel offers suites with dining rooms, which are perfect for entertaining. Double queen rooms are available as well as suites with a separate bedroom. Rooms with individual bedrooms have sleeper sofas to house the entire family.
Visit the fitness studio or outdoor pool to get some exercise. When you're done, relax in The Don Rives Cloister Garden. The beautiful green space modeled after the cloister gardens found in palaces and monasteries of the Renaissance era makes for an enchanting place to enjoy the outdoors.
Head to O. Henry's Social Lobby to partake in the Greensboro tradition of afternoon tea. Sample baked goods, finger sandwiches, and other tasty sweets while enjoying the lobby's ambiance. Afternoon tea isn't just for adults, though you can order champagne if you so choose. There's a child's tea menu available for the younger members of your family. If your child isn't a fan of smoked salmon mini crumpets, they can have a funfetti cookie instead.
Green Valley Grill provides room service at the O. Henry Hotel. If dining in the restaurant is more your style, the grill is located next to the hotel. Enjoy seasonal plates inspired by European culinary traditions with updated flavors. The grill opens for breakfast, lunch, and dinner. They provide the food for afternoon tea as well.
The charm and old-world style elegance of the O. Henry Hotel ranks it among the best luxury hotels in Greensboro. Private dining areas in rooms make it a perfect place for families to come together during their stay.
3. Grandover Resort & Spa
If you're searching for a luxury resort experience for your family, look no further than the Grandover Resort & Spa. The Grandover is located a few minutes away from downtown Greensboro. Though all of the city's attractions are close, you don't necessarily have to leave the hotel to experience some of North Carolina's best.
The resort has two championship golf courses to enjoy with the family. The East Course's tall trees make for secluded fairways to observe nature while playing a round of golf. The West Course utilizes North Carolina's rolling hills to create a challenging course surrounded by beauty. If you want to improve your game or learn how to play for the first time, stop by the pro shop and get a lesson from a golf professional.
Golf isn't the only activity to partake in at Grandover. The resort also has an extensive spa where you can treat yourself and the family to massages, manicures, and body wraps. Check out the Fitness Center and Yoga Studio for some active family recreation. Tennis courts and biking trails are also available on the property. Outdoor and indoor pools at the resort mean that swimming is open regardless of your visit time.
The two previous hotels on this list featured one artist's works throughout their hotels. Grandover may have outdone them in this regard. The resort houses its very own art gallery. Pottery, paintings, and sculptures of many mediums are available to view and purchase at the gallery. The Grandover makes getting a beautiful fine art souvenir from your Greensboro, North Carolina trip easy.
Grandover Resort made this list of best luxury hotels in Greensboro, North Carolina, because it has everything right on the premises. This includes dining options as well. 1808 Bar offers handcrafted cocktails, while 19 & Timber Bar creates a more relaxed setting to enjoy local beers. Dining for the whole family can be found at DiValletta Restaurant.
Rooms at Grandover are all luxurious. They offer double queens and suite-style rooms. Try a King Parlor Suite if the kids don't mind a sleeper sofa. Try the two-level Carolina suite with two bedrooms if you're looking for an even more extensive suite. With many room options at the resort, you're sure to find one that will accommodate your family.
4. Marriott Greensboro Downtown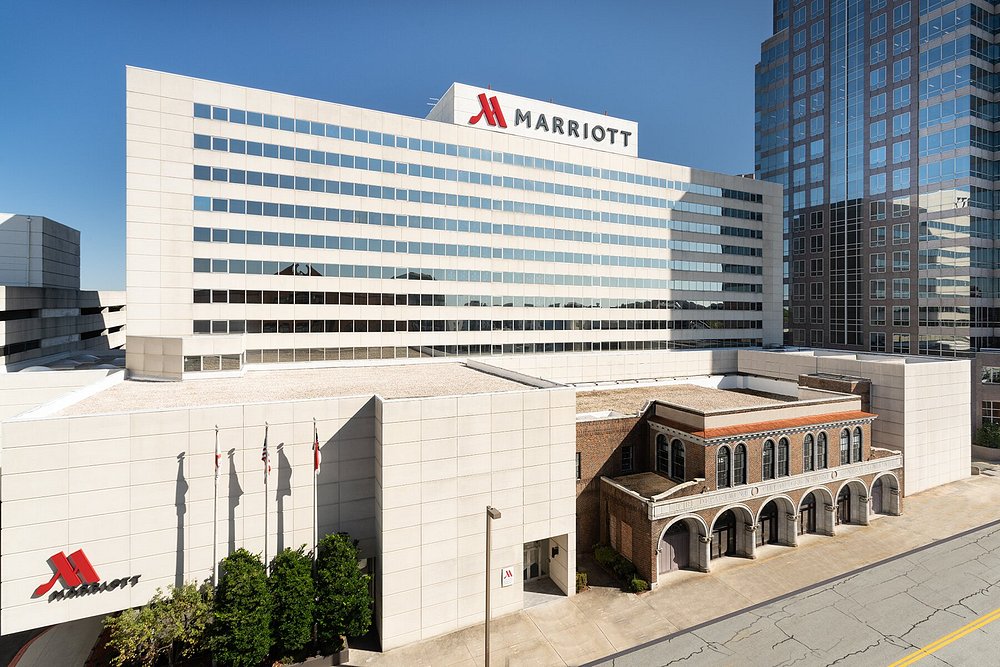 Marriott Greensboro may not be the most luxurious hotel on this list, but it is the closest to the action of Downton Greensboro. The Children's Museum and Center City Park are less than a quarter-mile away from the hotel. This proximity ranks Marriott Greensboro Downtown as one of the best luxury hotels in Greensboro, North Carolina.
The newly renovated hotel has a 24-hour fitness center available for your convenience. They'll provide headphones for your workout if you need them. The center offers free weights, stability balls, elliptical machines, and weight machines for guest use.
Get breakfast at the Bistro 40 before heading off to your Greensboro adventure. The whole family is welcome at the casual sit-down restaurant. Stop by for breakfast or in the evening to sample some craft beers. Visit the Lobby Bar after 3 PM for cocktails and a full menu featuring American food.
Guest rooms come in two varieties at the Marriot. A single king bed with a small lounging couch is one of the options. There are also double queen rooms available. A convenience store is open at the hotel for anything you might need, and a dry cleaning service is also available.
The Marriott at Greensboro Downtown is the perfect place for families wanting to experience the city up close.
5. The Fearrington House Inn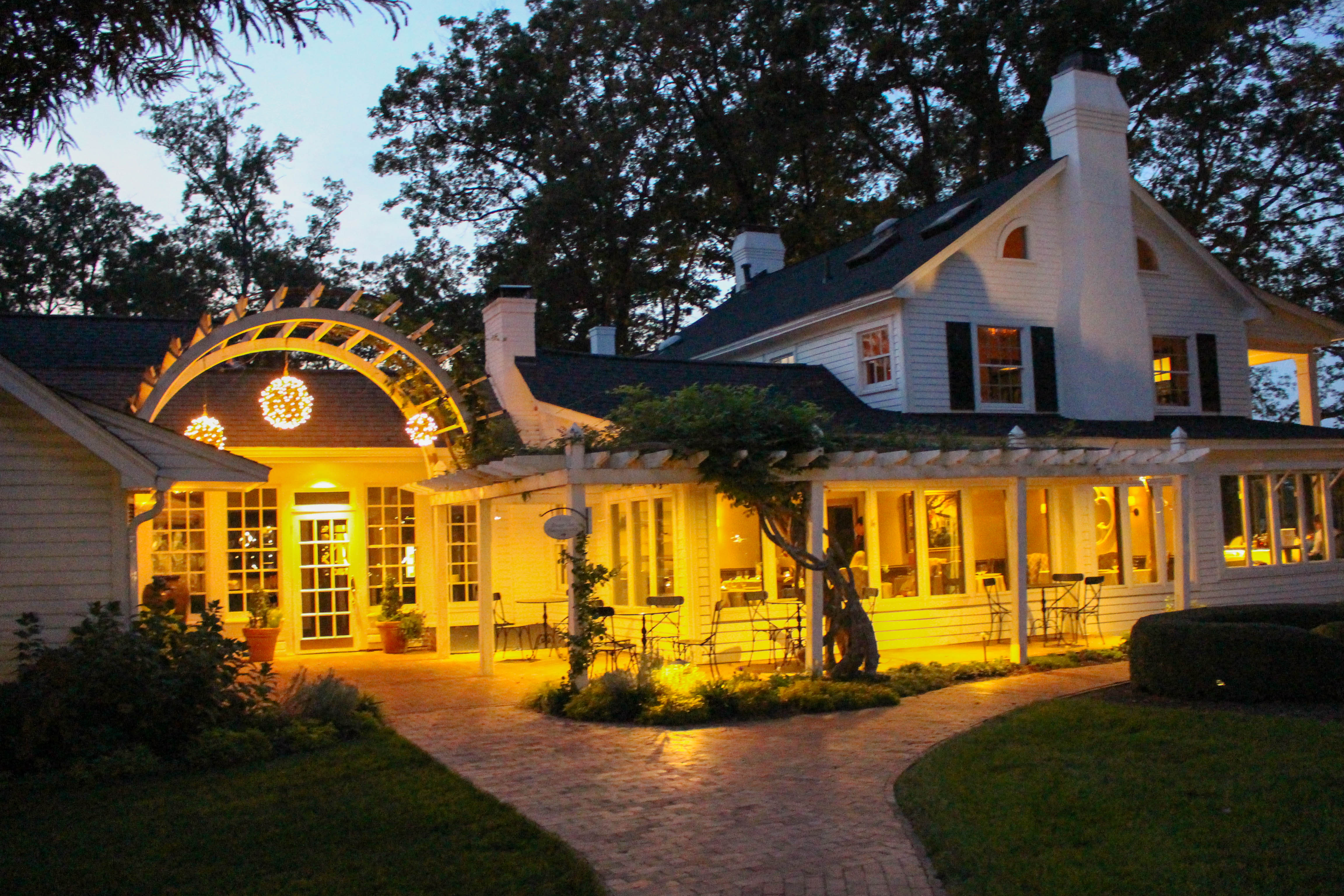 The Fearrington House Inn is about an hour east of Greensboro. While not as close to downtown as other options, it provides a luxury experience in a rural setting. The Fearrington House is a member of the Relais & Chateaux family of hoteliers and chefs. Their award-winning hospitality is worth the extra trip.
The Fearrington House has several suite and room styles for your family to enjoy. There are standard rooms with two double beds. If you want a truly luxurious experience, get one of the Grand Suites. These rooms come with a fireplace and additional upgrades depending on your room. A few even have private gardens!
Bird watching is a favorite activity at Fearrington. The extensive gardens all around the property helped get the area certified as Bird Friendly Habitat by the Audubon Society. Children will love The Belted Barnyard, where they can observe cows, goats, chickens, and even a few donkeys.
The Fearrington House Restaurant is available for dining. They partner with local farms to create a fresh seasonal menu. You can visit the vegetable and herb gardens on the property.
The Fearrington House Restaurant is a fine dining establishment, but a casual dining option is available at The Belted Goat. Stop by for breakfast or lunch. Check out the gourmet groceries and wine shop while you're there. End your day at the Roost Beer Garden, where you can enjoy a beer and some wood-fired pizza.
There are even more options for dining in the Fearrington Village, a collection of shops and homes on the property. If you enjoy your stay at the Fearrington, you can make the luxury location your home. If you're just looking to visit, Fearrington provides a peaceful place to relax before heading back into Greensboro.
Because of its country charm, the Fearrington House made our list of best luxury hotels in Greensboro, North Carolina. Enjoy a day touring Greensboro. Then return to the Fearrington for a boutique hotel experience unlike any other.
Final Thoughts
Greensboro has tons of activities for the family to enjoy, and any of the above luxury hotels are great choices to stay in. Which one is the best will depend on the location and the preferences of you and your family members. As one of the Best Places to Visit in North Carolina, Greensboro is a great destination for a luxurious vacation and for creating lasting memories with your loved ones.
More about our TFVG Author
A seasoned traveller, Dad, and avid sports tourist, James foundered The Family Vacation Guide to share his expert vacation experiences- especially when it comes to being a travelling family man.
Featured in Travel articles such as Travel + Leisure, TripSavvy and SFGate, you know you're reading some of the best vacation tips online.