The Outer Banks, North Carolina, is one of the best vacation spots in the United States.
The Outer Banks are a series of islands off the coast of North Carolina that act as barrier islands to the Atlantic Ocean. Without any large cities and overrun vacation attractions, you'll find your place to relax in peace in no time! 
With bridges connecting to the Outer Banks from the mainland, it's easy to reach by driving your car. But even so, the islands give a feeling of remoteness from the mainland.
The Outer Banks sport many delightful seaside communities along their 100+ miles of shoreline. Each town and beach has a unique personality that'll make you want to try out a new one with each outing. 
No boardwalks and amusement parks. No loud nightlife or tourist traps. The Outer Banks' touts its natural beauty and clean beaches.
Wondering which resorts are the best to stay in for families looking for a mix of peace and fun? This article will highlight six of the best!
Here are 6 of the best Outer Banks Resorts for Families
These are the best of the best! Whether you're looking for outdoor or indoor fun, these resorts have something for everyone.
The Beachwoods Resort is a four-star resort with many fun and exciting things to do at the hotel. If the weather outside doesn't permit outdoor activities, you'll still have lots of fun right at your resort.
With an outdoor pool, outdoor tennis courts, and even a lazy river, Beachwoods offers something for everyone. If you'd prefer to stay inside, there is also an indoor pool, a spa, a fitness center, bbq grills, a game room and arcade, and coffee in the lobby.
How does it fare for families? There are large family-sized spaces available, including a full kitchen, TVs, private balconies or patios, separate bedrooms, and more great amenities to have while on vacation! Did I also mention there are water slides within the resort?
Kids can spend their vacation enjoying the activities listed above and exploring nearby recreational activities. Bicycle rentals are nearby to traverse the many bike paths throughout the Outer Banks. You can also fish off the nearby dock or beach. Back at the resort, there is a playground, some basketball courts, and a net for beach volleyball. If you're looking for a resort with a lot of amenities, but also want to go out and explore the Outer Banks, Beachwoods Resort is a great option!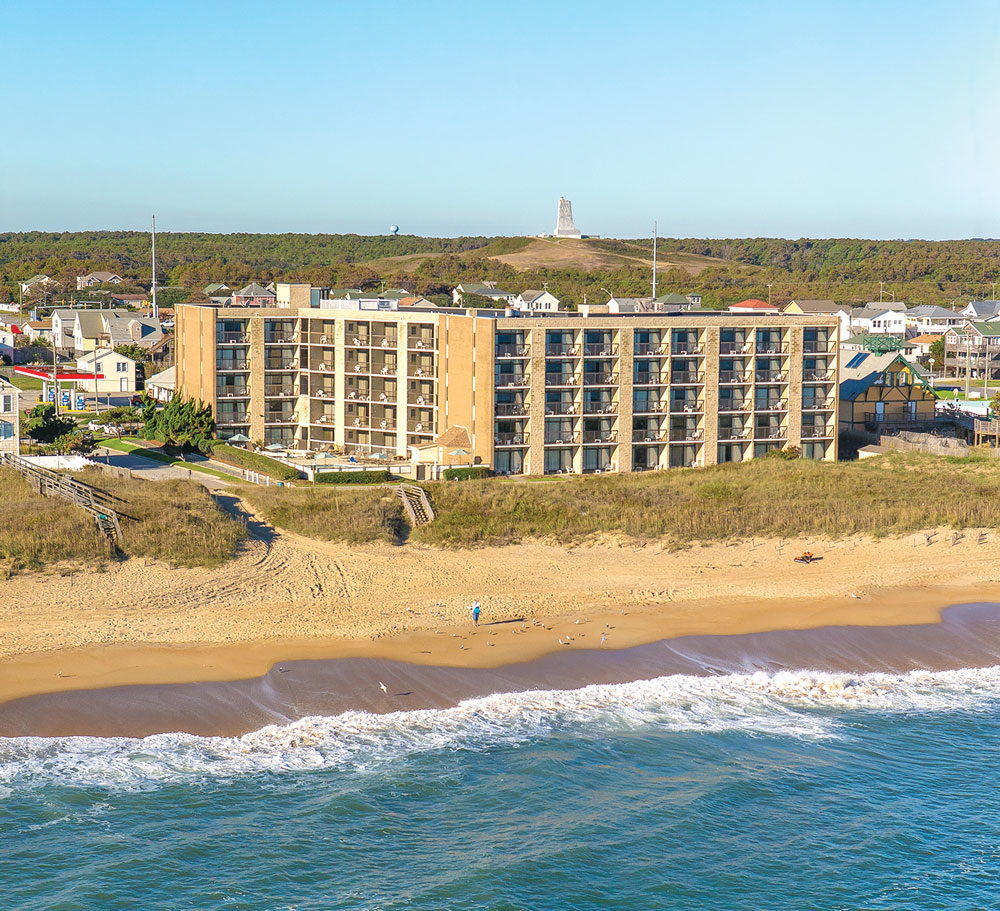 Best Western's Ocean Reef Suites is located just off the beach, giving way to a relaxing day fishing or kayaking on the Atlantic Ocean, or perhaps just lounging on the beach. Another great thing about this resort for families is that kids stay free!
Each room features air conditioning, private balconies, Flatscreen TVs, and full kitchens. If you need a bigger space, there are larger family rooms, ocean view rooms, suites, and non-smoking rooms available.
Nearby, within just a single mile hike, vacationers can explore the Wright Brothers National Park and Memorial. Guests can also go sightseeing at the local lighthouses, some of which you can walk up to the top!
There is also a fitness center, sauna, and a swimming pool at the resort. Since this location is right off the beach, it's easy to keep an eye on the children while relaxing or going on your adventures!
Surf Side Hotel is a great family destination. The Mutiny Bay Adventure Golf and Full Throttle Speedway are a mere five-minute walk from this destination. This family-friendly hotel also has easy access to the beach and has a connected indoor and outdoor pool off the side.
Families have access to free breakfast in a large common room every morning, and housekeeping is available on request. With the beach and hotel decor made to feel warm and cozy, you'll feel relaxed and worry-free. With the resort's oceanfront views, every morning will feel like paradise.
While your kids are having fun on the beach or at the pool, Surf Side Hotel also hosts afternoon wine socials and snacks with guests, helping to make new friends. Amiable staff is there 24/7 and prepared to offer advice on local activities to visit and restaurants to have a meal in.
Pony Island Inn is another family vacation-defining location. Each room offers a flat-screen TV, air conditioning, a full kitchen, free wifi, a private balcony, and more. Located on the edge of Ocracoke Village, Pony Island Inn is within walking distance of many local attractions, including Silver Lake Harbor.
On the lookout for a place to eat? Pony Island Restaurant is located right inside the hotel. Since it offers a menu of mouth-watering Southern Breakfasts, you can start every morning with a delicious meal. If breakfast isn't your thing, they have a wide variety of seafood caught fresh in the area for dinner.
If you want to catch and clean your own fish, they can even cook it for you!
The Hampton Inn and Suites Outer Banks-Corolla can be found right off the sandy beaches. With oceanfront rooms that look out over natural dunes and the sunrise, Hampton Inn is one of the best locations to stay on the Outer Banks.
Amenities such as their lazy river and a private stretch of beach, you'll find yourself having a very relaxing time. However, along with relaxation, you'll also find excitement! Nearby are the awe-inspiring Corolla wild horses, which you may see wandering on the beaches or swimming in the ocean!
From oceanfront rooms, at night, see the wondrous lights of the lighthouses still being used to guide ships at night. For family fun, there are many attractions nearby, including the Outer Banks Center for Wildlife Education, the Corolla Outback Adventures, and Corolla Light Tennis.
Rooms available at this resort include Oceanview, Suites, non-smoking rooms, and spacious family rooms. Along with this, Hampton offers free breakfast and a fitness center, and a workout room.
Located on the sound in the center of Corolla, The Inn at Corolla Light is a perfect place if you're looking for family-focused fun. This resort is also pet-friendly.
Just like the Hampton Inn, wild horses are often nearby. This Resort has direct access to a back deck area, where you can fish right off the dock! The Inn at Corolla Light also offers water sport equipment rentals to give way to your fun on the water family excursions. The pool provided also grants a beautiful view of the harbor, and with warm sunsets on the horizon, it's a view that you can't beat!
Nearby are a large variety of restaurants and beaches. With easy bike rental access, getting around without a car has never been easier!
Frequently Asked Questions
Still have questions regarding the Outer Banks? We have answers!
Which family resorts allow pets?
Only the Inn at Corolla Light is pet-friendly. All others are not. 
Which hotels provide breakfast?
Best Western Ocean Reef Suites, Surf Side Hotel, Hampton Inn, and Inn at Corolla Light all include a full breakfast every morning.
Beachwoods Resort and Pony Island Inn both include free coffee in common areas. Pony Island Inn also has a restaurant where you can order breakfast from a large selection.
Which resorts have a gym or fitness studio?
Beachwoods Resort, Best Western Ocean Reef Suites, and Hampton Inn and Suites all include a gym or fitness studio.
Which resorts have an elevator?
Best Western Ocean Reef Suites, Surf Side Hotel, and Hampton Inn Corolla all have elevator access.
Final Thoughts
The Outer Banks has many family-friendly resorts. Each resort above is nearby a multitude of family-friendly activities such as wild horse watching at Hampton Inn Corolla, or the Wright Brothers National Park and Memorial at a walking distance from Best Western Ocean Reef Suites.
If you're looking pet friendly, the Inn at Corolla Light is a great option! Along with these, the resorts themselves also sport plentiful family fun as well such as the water slides of Beachwoods Resort, and the Pony Island restaurant within Pony Island Inn.
When looking for a place to stay in the Outer Banks, go back to our list of five of the best family-friendly resorts, and choose whichever fits best for you! Check out our many other guides for family vacation destinations.
More about our TFVG Author
A seasoned traveller, Dad, and avid sports tourist, James foundered The Family Vacation Guide to share his expert vacation experiences- especially when it comes to being a travelling family man.
Featured in Travel articles such as Travel + Leisure, TripSavvy and SFGate, you know you're reading some of the best vacation tips online.