Myrtle Beach, South Carolina, is one of the most well-known, family-friendly vacation spots on the East Coast. From boardwalk thrills to amusement parks and 60 miles of beautiful, pristine coastline, Myrtle Beach is brimming with fun activities and the potential for memory-making.
One of the best ways to make the most of your next family vacation to Myrtle Beach is to stay at one of the many excellent resorts in the area. The all-inclusive experience and exciting atmosphere are worth it!
But with so many to choose from, how do you narrow down your list of potential places to stay? Here are the 12 best Myrtle Beach resorts for families and what makes each one special.
Breakers Resort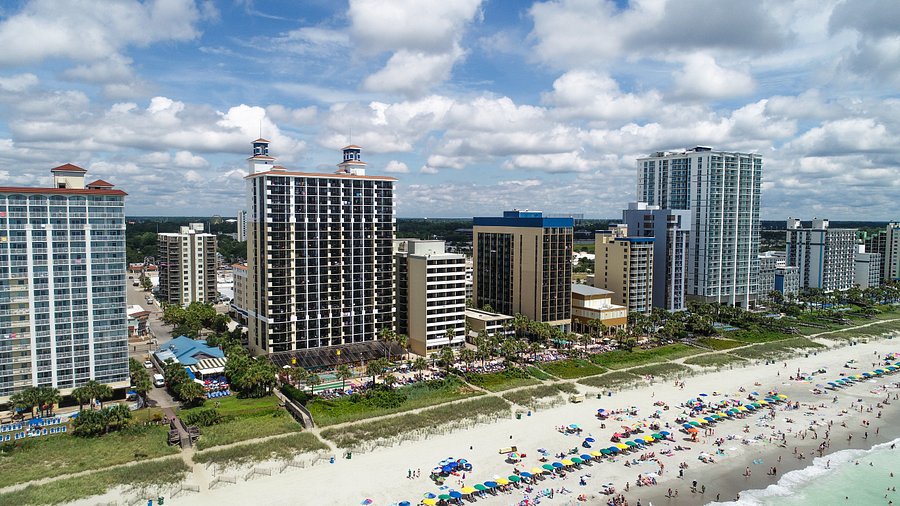 If you want to stay right on the beach, you won't get much closer than at The Breakers! This beautiful, unique resort is right on the ocean, with convenient access to the water and most of the other most popular attractions in the area, like the World Tour Golf Links.
The enormous appeal of a resort is that you can have lots of unique experiences without straying far from a central location. The Breakers Resort makes good on that promise, with lots of pools and water facilities on-site.
This resort has also been named one of the best family-friendly resorts by Parents Magazine, and that distinction doesn't come lightly. The Breakers has a special Kid's Club meant to engage every member of the family.
Kid's Club participants can play pool basketball, do arts and crafts, participate in scavenger hunts, and more. The Kid's Club also has a designated air-conditioned space perfect for activities and snacks.
The overall air of The Breakers Resort is perfect for the whole family, as it caters to kids but still retains a casual sophistication that will relax and recharge parents so they can enjoy their vacation, too.
Dunes Village Resort
When you come to the beach, you'll probably want to spend a lot of time in or near the water. The Dunes Village Resort makes that happen all around. Located only three miles from the Myrtle Beach boardwalk, this resort doubles as a water park.
As one of the few indoor water parks at Myrtle Beach, the Dunes Village Resort is the perfect place to stay if you're worried about inclement weather ruining even a day of your beachfront fun. The indoor attractions cater to kids and adults alike so that the whole family can take part.
Of course, this resort also offers fun in the sun. Outdoor pools and lazy river features serve as a perfect compromise between the indoor park and the beach.
Besides that, the Dunes Village Resort offers everything you could want onsite, including Nintendo, foosball, and other games, a mini-golf course, onsite restaurants, and a Kid's Club.
You'll find this resort is full of kid-friendly amenities that keep them engaged for the whole duration of your trip.
South Bay Inn & Suites
South Bay is another enticing indoor water park resort located close to all the best family-friendly action in Myrtle Beach. Located right on the boardwalk, South Bay Inn and Suites is a comfortable, homey feeling resort that offers beautiful ocean views.
With a kid- and adult-friendly game room, the premises are a great place to have fun for kids, teens, and adults. And the amazing location also makes it a no-brainer to step out and enjoy the sights, tastes, and excitement of Myrtle Beach's famous boardwalk.
From 11 am to 5 pm each day, the hotel hosts a series of fun activities for kids accompanied by adults. So if you're looking to make the most of your vacation and want equal parts excitement and relaxation, then this is the resort to check out.
Crown Reef Beach Resort and Waterpark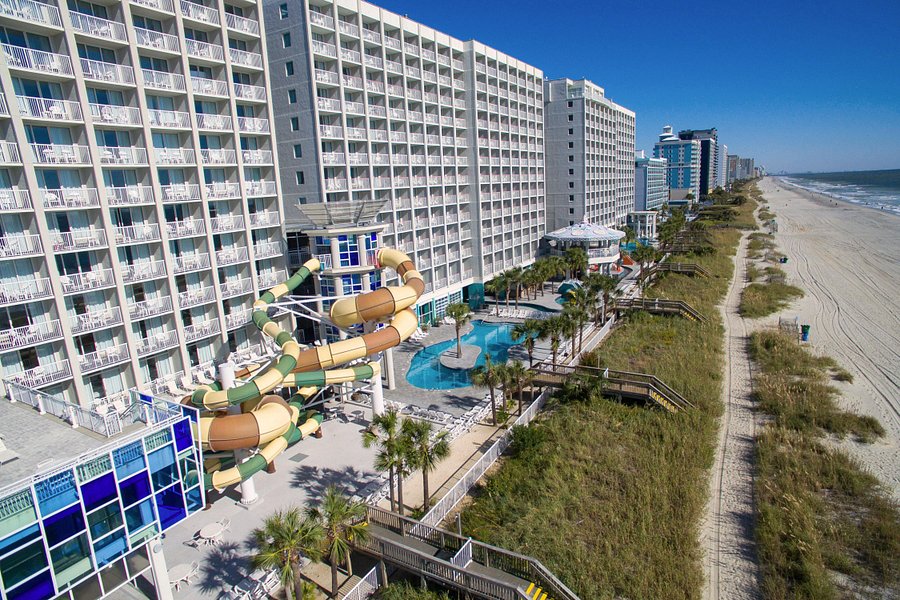 At Crown Reef, you'll get all the thrills of an exotic tropical location right from the East Coast. USA Today named it one of the best hotels for water fun, and it certainly lives up to the name.
The water park has something for all ages, and the sight of it alone is thrilling. It stands at 40 feet tall and features over 278 feet of waterslides of different intensities to suit every member of your family.
When the kids are tired out from the water park, there's also a lazy river and multiple pools and whirlpools and thoughtfully laid out sundecks for relaxing.
Of course, there's also access to the beach with an oceanfront view and quick access to other family-friendly attractions, such as the Family Kingdom Amusement Park and Magiquest.
Onsite, you can also take advantage of multiple eateries, including an ice cream shop and a video game center. But with its expansive outdoor offerings, you may never want to go inside!
Captain's Quarters Resort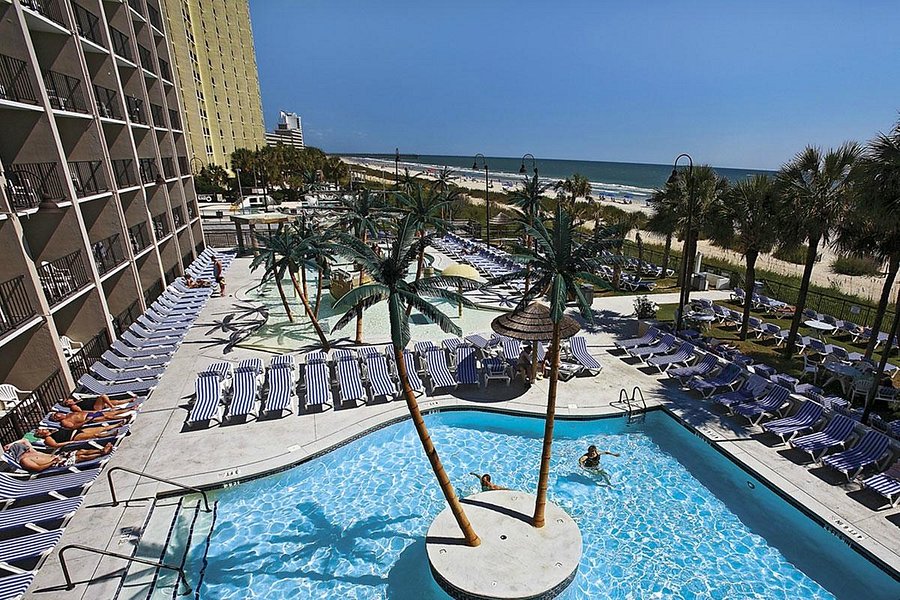 Named one of the best kid-friendly resorts in Myrtle Beach, the Captain's Quarters Resort is truly all-inclusive. This resort is a great jumping-off point for a fun vacation with beachfront access and is located only a few minutes away from the boardwalk, golf courses, and the Family Kingdom Amusement Park.
Onsite, kids can enjoy indoor and outdoor pools, a lazy river, hot tubs, a water park, an arcade, and even a bowling alley. With casual dining options on the premises, you can choose to explore the boardwalk or stay in when it comes to dinner.
The rooms are clean and streamlined, with updated amenities and beautiful views. Lounge around in hammocks, play corn hole or take advantage of the free round of bowling per day included in your stay.
Overall, whether you go to Myrtle Beach for the white sands or the attractions, Captain's Quarters Resort has got you covered.
Coral Beach Resort and Suites Myrtle Beach
Choose this modern resort and spend your vacation relaxing under palm trees and enjoying the awesome atmosphere. With lots of indoor and outdoor amenities, this resort caters to guests who want to stay in and those who want to explore the area.
Located only a few minutes' walk from attractions like the Family Kingdom Amusement Park, the boardwalk, and shopping at Broadway at the Beach, Coral Beach Resort is a great family-friendly option.
With indoor and outdoor pools, hot tubs, a lazy river, a bowling alley, a water park, an onsite cafe and restaurant, and the Entertainment Zone for live music and events, Coral Beach Resort is full of activities to keep the whole family occupied.
Landmark Resort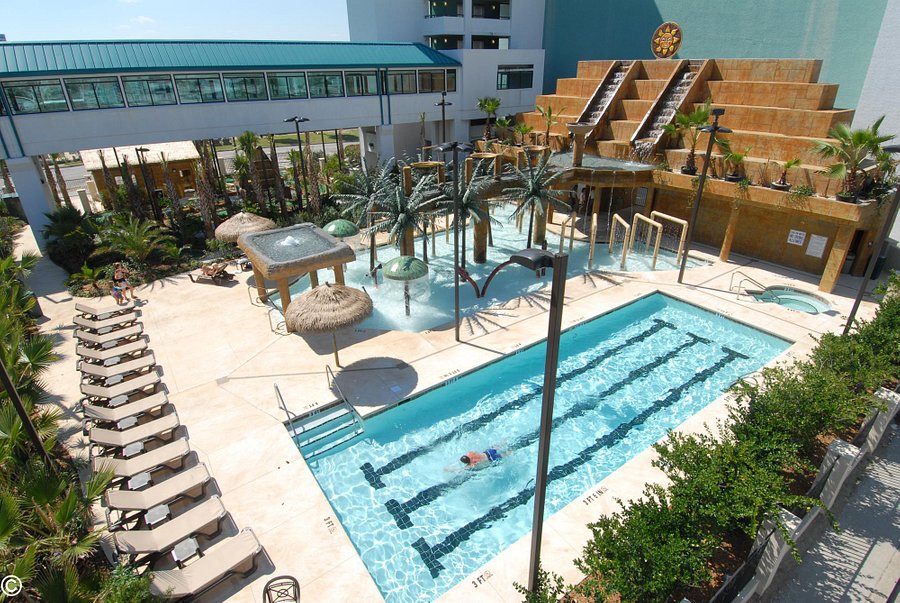 Looking to keep things more casual? Landmark Resort offers all the amenities you expect at Myrtle Beach while also offering a low-key and calm atmosphere that will help you make the most out of your trip.
With a water park, kids' pools, hot tubs, video arcade, and a nine-hole mini-golf course on site, there's plenty of activities for kids to enjoy. There's even a seasonal frozen yogurt shop to offer a little bit of extra sweetness to your stay.
It's located a little over a mile from the boardwalk and offers beautiful oceanfront views from nearly every room. The outdoor pool also overlooks the ocean, and it's heated to a perfect 75 degrees year-round, so you can take advantage of the beautiful environment no matter when you plan your trip.
The Long Bay Resort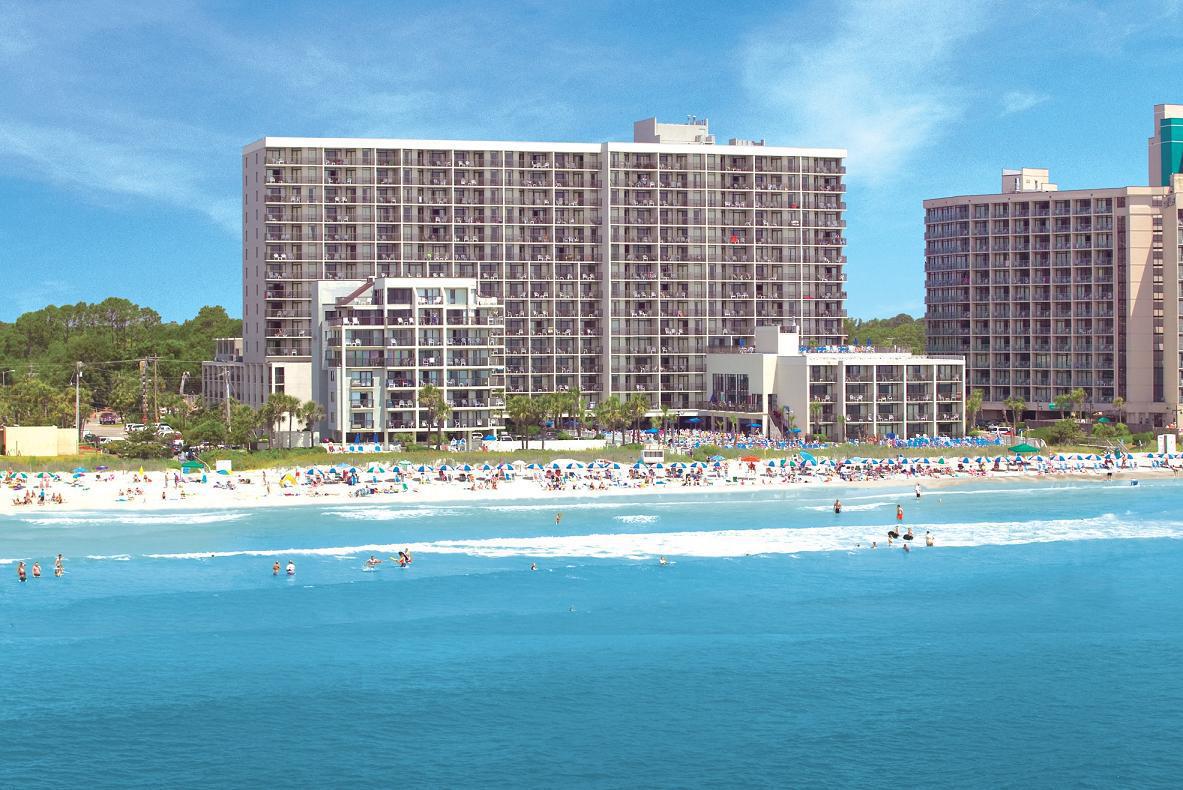 Formerly known as the Long Bay Resort, the now Grand Cayman Resort offers a straightforward experience focused on fun. This resort provides the added calm and quiet of its location on the northern end of Myrtle Beach, which can often be less crowded and loud.
Still, you won't miss out on the fun. Overlooking the beach, this resort has been extensively upgraded. It includes indoor and outdoor water amenities like a water park and lazy river, multiple onsite restaurants, and lots of games, miniature golf, and a gift shop.
This resort also features a rewards program for visitors that offers free or discounted admission to many of the most exciting attractions in the Myrtle Beach area, including Myrtle Waves Water Park, Ripley's Aquarium, and more.
The Caravelle Resort
This lovely condo resort stretches out across nine buildings right on the Myrtle Beach shoreline. They cater to kids and parents alike, indoor and outdoor pools, a sundeck, a fitness center, and a business room.
Offering family-friendly service and a comfortable atmosphere, the Caravelle Resort is about two miles from the Dunes Golf Club and six from the Family Kingdom Amusement Park.
With a seasonal Kid's Club, you can be sure that there are plenty of entertaining activities to keep your kids busy and engaged. There is also a Vacation Member Benefits package that offers discounts for many activities and attractions in the area, so don't forget to ask for it at the front desk!
Caribbean Resort & Villas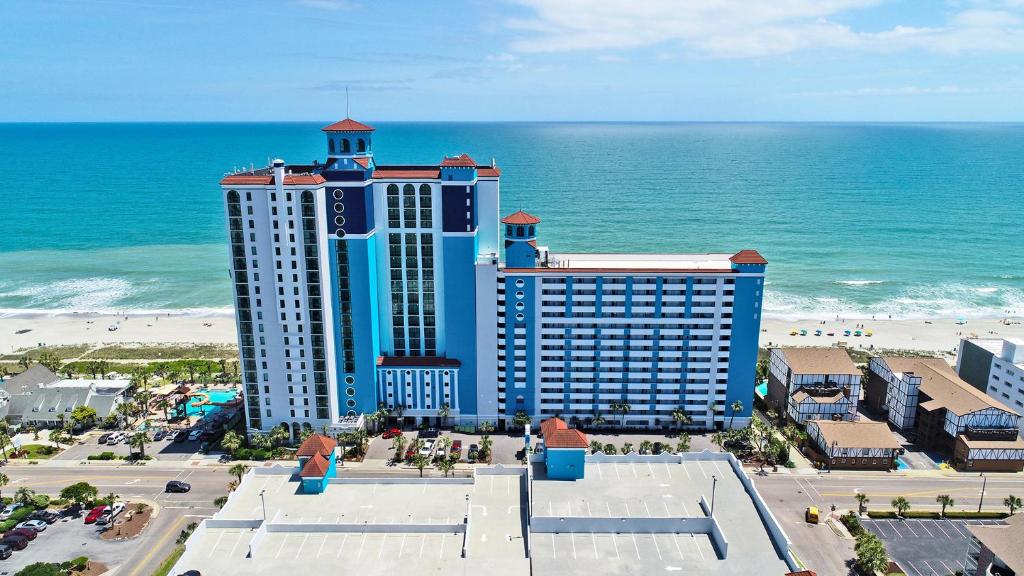 Spend some time at the Caribbean Resort, and you might think you've left Myrtle Beach and headed to a tropical destination! However, you can keep your feet firmly planted on the East Coast while enjoying all the thrills and the tropical environment offered by this family-friendly resort.
Water attractions are a must, and here, you'll find an oceanfront water park, lazy river, indoor and outdoor hot tubs, a kiddie pool, a Jamaican pool deck, and even more! There are also lots of dining options onsite, including a Starbucks and Ben and Jerry's.
But family vacations aren't only about the kids. Parents can pamper themselves at the Mist Spa with massages, facials, treatments, and more to fit as much relaxation as possible into their stay.
Check out the game room and oceanfront fire pit. With both an electric car charging station and valet parking, you'll feel like you're in the lap of luxury for your entire visit.
Compass Cove Oceanfront Resort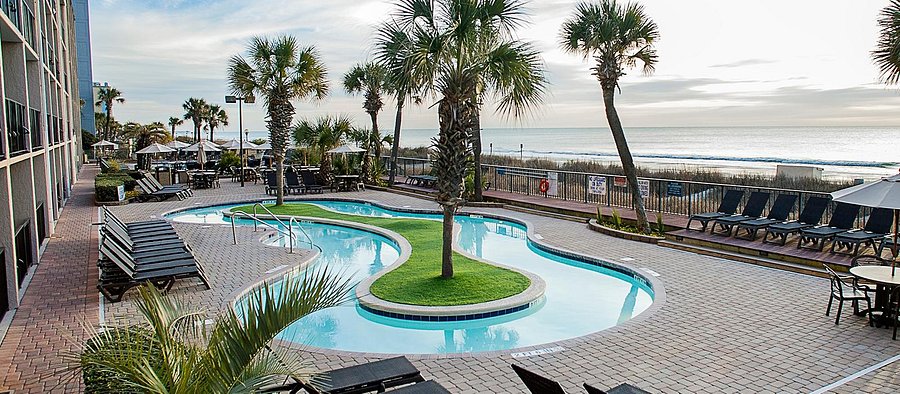 This family-friendly getaway is located right in the heart of Myrtle Beach, with convenient proximity to many kid-friendly attractions, like the Myrtle Beach State Park and the SkyWheel. Of course, you'll have beautiful oceanfront views and balconies available with every room.
The real clincher, though, is the 22 different onsite pool features. Ranging from indoor and outdoor lazy rivers, hot tubs, kiddy pools, and more, the whole family will have plenty to explore and enjoy in addition to the excellent beach access.
Compass Cove offers lots of great dining spots onsite, with both indoor and outdoor seating. If you want to do some of your cooking, the resort also has outdoor grilling stations so you can enjoy the entire experience of cooking out while overlooking the ocean.
Do laundry on-site and visit the fitness room, and you can take advantage of the practical convenience and the excitement of this great kid-friendly resort.
Sand Dunes Resort & Spa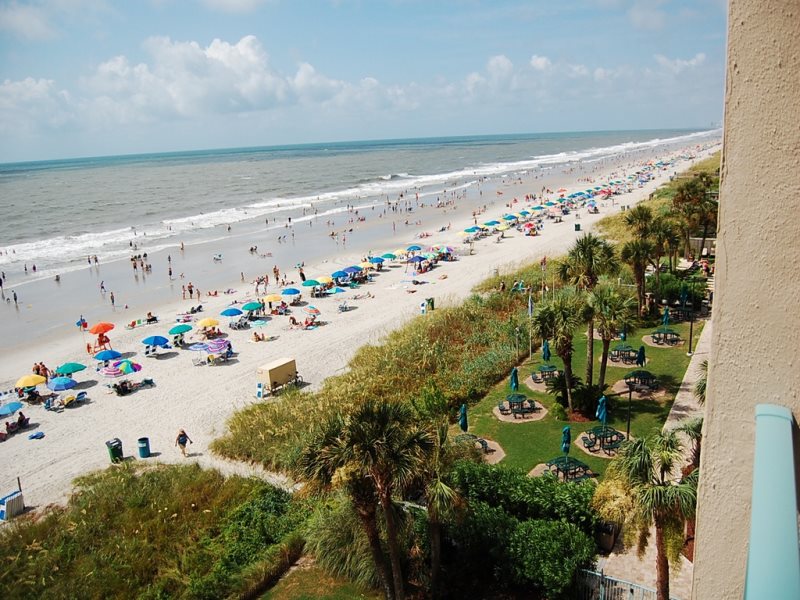 Less than two miles from the Carolina Opry and five miles from Broadway at the Beach, this resort truly provides an excellent experience for kids and parents alike. With an oceanfront as well as an indoor pool, lazy river, kids' water park, and more, the fun water activities part of your vacation is more than covered.
The Sand Dunes Resort and Spa also has a wide selection of restaurants on-premises, six in total, so you can stay around the resort for multiple days and enjoy a new dining experience with each meal.
For parents, the resort offers a special golfing package for taking advantage of the multiple pristine courses in the area. Then, of course, there's also the spa, which is perfect for ultimate relaxation, including an on-premises nail salon.
There's also a convenience store, Family FunZone arcade, exercise room, and free parking.
Final Thoughts
Myrtle Beach is an exciting area packed with fun activities and attractions for the whole family. Choosing the perfect resort to serve as a home base during your trip is the best way to get the most out of your vacation.
Making sure your resort is family-friendly and offers enough amenities to engage your kids, help you relax, and provide convenience throughout your stay is of the utmost importance. Check out any of these recommendations, and you'll be thrilled with your stay in Myrtle Beach!
More about our TFVG Author
A seasoned traveller, Dad, and avid sports tourist, James foundered The Family Vacation Guide to share his expert vacation experiences- especially when it comes to being a travelling family man.
Featured in Travel articles such as Travel + Leisure, TripSavvy and SFGate, you know you're reading some of the best vacation tips online.