Every water park has a distinct ambiance and scenery. Unlike most tourist destinations, indoor water parks are open throughout the year, contributing to their immense popularity.
Amid a dreary winter or a damp spring day, nothing would make your kids happier than the announcement that you're all heading to an indoor water park. There are a ton of fantastic indoor water parks in Ohio, making it a perfect place to visit whether you're seeking a weekend of family fun in the water or a relaxing overnight stay at a water park hotel.
1. Castaway Bay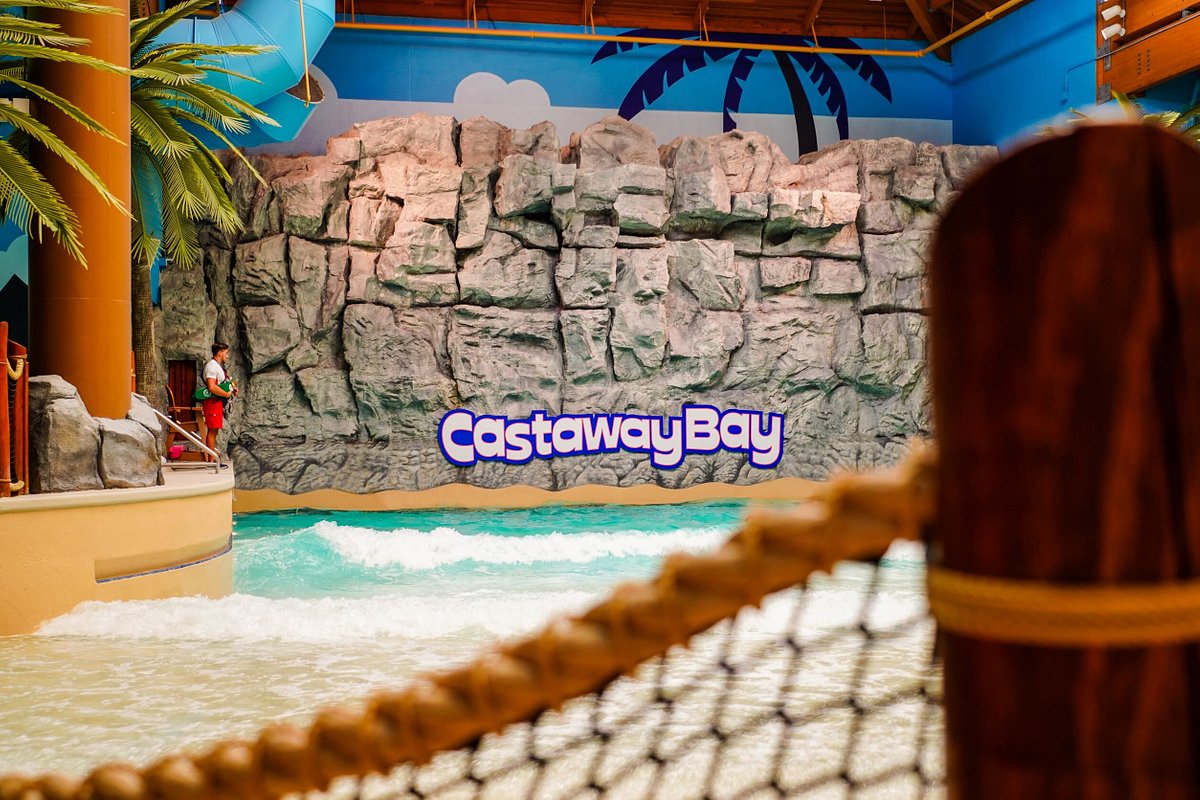 This indoor water park is close to Cedar Point and offers something for everyone. Whereas most indoor water parks in Ohio operate on a seasonal basis, Castaway Bay may be a lot of fun to visit throughout the year. Not many things can compete with the high temperature inside during the harsh Ohio winter.
There are seven distinct and exhilarating water slides within the amusement park, in addition to a big water roller coaster. The water park features a wave pool if you're looking for adrenaline fun.
Also available is a hot tub, perfect for unwinding after a long day. It is ideal for a day trip with the kids as most water slides don't have prohibitive height minimums.
Besides adhering to all safety standards, they go above and beyond to ensure the safety and well-being of children by supplying them with life jackets, allowing parents to relax. Moreover, there's no need to go outside in search of eateries since the park has several excellent dining options.
The park also has lodgings where you can stay for the night following a long day of playing in the water.
With its 173,000 sq. ft. of exciting water attractions, Kalahari Resort is the Midwest's biggest indoor water park. So your youngster can live out their fantasy of becoming a mermaid.
It's also the only water park that features an exceptional augmented reality experience set underwater. Water activities include kid safaris and lazy rivers.
The park has a large gaming room gallery that teenagers will adore. The gallery is home to hundreds of the most popular and cutting-edge board games, pinball machines, and video games, allowing participants to win prizes.
The food at the park is an integral component of the whole experience. They have everything from ice cream joints to steakhouses, allowing them to cater to anyone's preferences. You can have a massage, facial, and manicure at the spa.
The park has over eight hundred and fifty rooms with authentic African décor. They provide everything you need, including:
Coffee makers
Full-size fridges
Microwaves
TVs
Free Wi-Fi
When making a reservation, you'll be given information regarding cancellation and no-show fees.
3. The Beach Water Park
The Beach Water Park is located close to Kings Island. The water park encompasses a whopping 35 acres and is packed with enjoyable activities and thrilling experiences.
The high temperature makes it an ideal vacation destination. That means neither the winters nor the summers will be unbearable.
The water park has slides that are higher than four floors. Instead of spending all your time in the water park, you can take a break and enjoy the arcade. Special occasion packages, such as birthday deals, are available for those who want to treat themselves to something extra special.
4. Great Wolf Lodge
The park is a fantastic choice for a weekend escape because it has two different locations in Ohio and provides free admission to a water park with each stay. Since you have the freedom to access the water park from 1 pm on the check-in day until the park shuts on departure day, you have ample time to spend in the water.
Take advantage of the countless water slides available, including single-rider slides, multi-rider tube slides, a roller coaster water slide, a huge pool, a lazy river, and a water playground with a dropping bucket. There's also a children's pool with water cannons for children who can't participate in extreme thrills.
When it's time to leave the water, the lodge knows how to keep the good times rolling. Your family trip will be unforgettable if you take advantage of the extensive selection of family-friendly activities, themed guest rooms, and character appearances. Great Wolf Lodge also has fantastic eateries serving tasty delicacies.
Generally, midweek stays offer the lowest rates. As prices tend to rise when the departure date draws nearer, making your reservation early is in your best interest.
5. Rainwater Park at the Quality Inn & Suite
Each park's two enormous waterslides extend for more than 250 feet and run from a 50 feet high tower. Rainwater Park also features a splash pad and several water-based activities for the entire family.
You can take a break, unwind in the spa tub, or cool off at the outdoor pool. Some recreation options available to guests include the 32-lane bowling alley at Cedar Lanes and the video arcade.
Guests staying at the hotel don't need to pay to enter the water park. You may also take advantage of the hotel's services, including an on-site bar, complimentary continental breakfast, Wi-Fi, and a newspaper.
6. Splash Harbor (Bellville)
Splash Harbor features a large pool for relaxing and cooling down, a water slide for the more adventurous, and a water play area for the kids to run wild and have fun. If you're a sports fan, you can explore the park's water basketball and floating rafts arena.
Furthermore, two hot tubs are available for parents who want to relax while keeping a watch on their children. Keep in mind that there are currently no lifeguards at the park. So, parents should always keep a close eye on their kids.
Also available is a family-friendly hot tub that is slightly less heated, making it suitable for younger bathers. In addition, you can dive into the thrill of the park's gaming center. They offer a wide variety of video games to suit everyone's preferences.
Full-size air hockey tables and billiards are just two of the gold standard games you'll find here. You might also throw your child a birthday party to ensure they get a full day of unending excitement.
7. Kings Island Amusement Park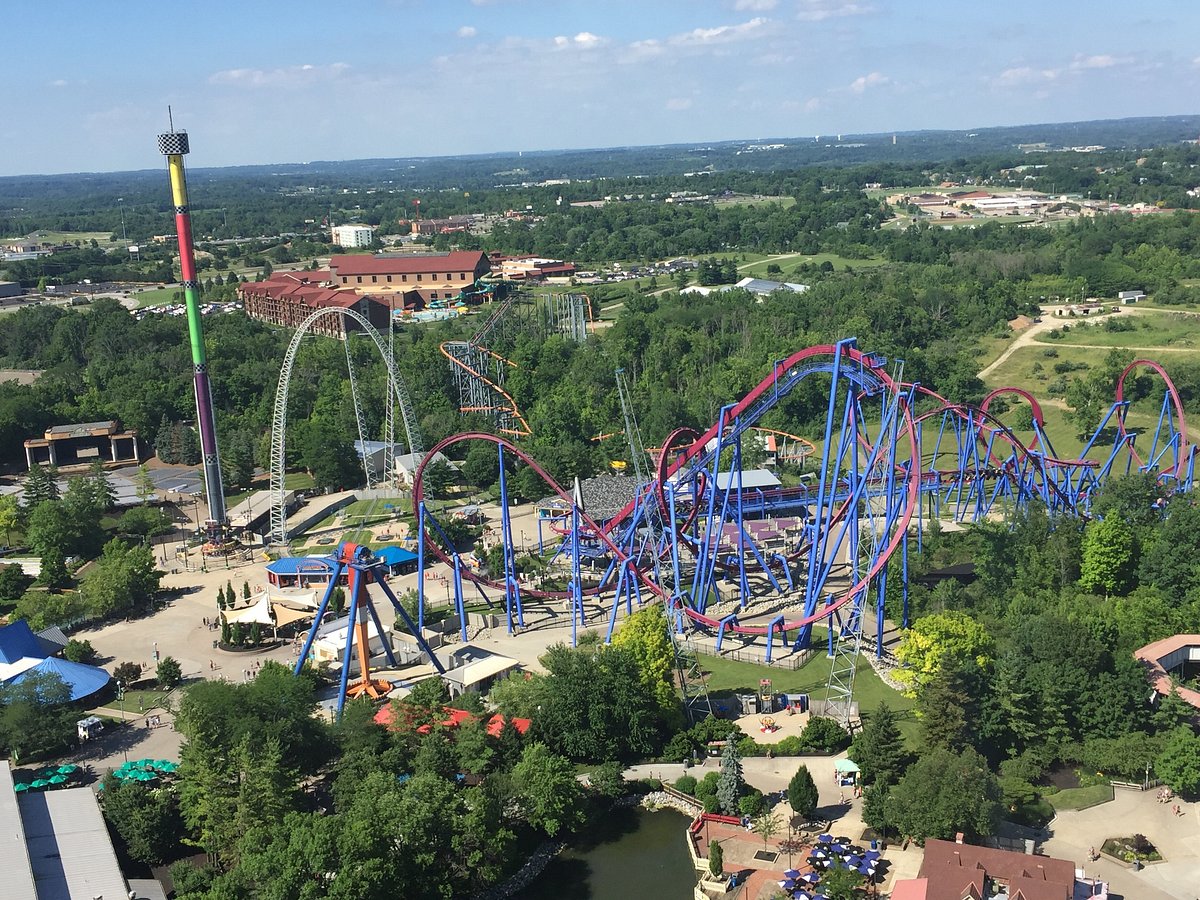 This amazing water park offers its guests eleven distinct slides to pick from, making it one of the best. Every slide gives the park's visitors its own one-of-a-kind experience.
You will get a wave pool and two whirlpool bathtubs. Mini golf and bowling are among the land-based diversions available at the park, making it the best destination for a day trip with the kids. You can choose from various eateries and cafes in Kings Island Park.
After a day of swimming in the indoor pool, you can spend the night at Kings Island Camp Cedar, which features elegant cottages that allow you to get some outdoor feel while still providing all of the luxury features of a modern home.
8. Groveport Recreation Center
The family-friendly atmosphere of this indoor water park makes it perfect for a day outing. The park has a lazy river, a zero-entry pool, and a small slide for kids. It also features other conveniences such as a rock climbing wall and a fitness center.
The park has no restaurants on the premises. Nevertheless, vending machines supply guests with various food and beverages. Moreover, there are tables available, so you may enjoy your food in comfort.
Although Groveport Recreation Center doesn't have lodging facilities, there are several hotels near where visitors can rest after enjoying the day's activities.
9. Vandalia Aquatic Center
This park is a wonderful place for a day trip with family members. The park's pool has a shallow end, making it ideal for toddlers and preschoolers. It also features a big and a small water slide, a bubble seat, a whirlpool, lap lanes, and other interactive water attractions.
The water park has no eating establishments or vending machines, so visitors should plan for food. Vandalia doesn't offer any lodging options, but there are restaurants in the surrounding area that you can stay in if you are making a trip there.
10. Westerville Indoor Pool
If you're seeking to spend a pleasant day with family members, a visit to Westerville is worth it. The indoor park isn't huge, but it has plenty of amenities to satisfy everybody. The water play area for youngsters, which has standalone slides and warring slides with lights and tracks, is one of the park's major attractions.
Westerville is similar to a few others in that there are no on-site dining establishments. Nevertheless, if you need anything to eat or drink to hold you over until you're done with the excitement, there are vending machines around the area.
After a day of having a good time, you can stay in one of the neighboring motels since the park doesn't have overnight accommodations.
11. Mayerson Jewish Community Center
Roughly 12,000 square feet make up the park's acreage. For the youngest swimmers, there is a shallow area to splash around in and a zero-depth entrance pool at the park. In addition, it features a Jacuzzi and a current channel for swimming laps.
The eatery in this park is known for its excellent cuisine. Thus, getting something delicious to eat ought to be easy. There aren't any lodging facilities at Mayerson, but you'll find motels in the area where you may relax after a long day.
12. Worthington Community Center Pool
Have you made plans to visit Worthington, Ohio? It would be best if you didn't miss the opportunity to have fun at this water park. It's a wonderful indoor park that features a variety of exciting amenities, such as a dumping bucket, a water play structure, and many more.
Here's what to anticipate when visiting Worthington Community Center:
A lazy river
Water slides
Children's play area
Vending machines are the park's only food option available. If you can't wait till you get out of here, they will satisfy your cravings just fine.
Once you're done at the water park, you might want to make a reservation at the magnificent Marriott Columbus Northwest. The hotel is only a few miles from the park and provides additional amenities you need for a good stay.
13. Rocky River Recreation Indoor Pool
This park's indoor aquatic center is just as fun as the outside playground when the weather outside is less than ideal. The park offers a variety of exciting facilities, such as a giant water slide, two smaller slides, and a lazy river with tubes for floating.
The park doesn't feature any eating establishments. However, many restaurants are nearby, and you won't have to worry about going hungry. You'll need to make a reservation in a motel, as Rocky River Recreation doesn't have on-site lodging facilities.
14. Dublin Community Recreation Center
Dublin Community Center is the place to visit for some water park action if you happen to be in Dublin. The amazing park features a kids' playground, a lazy river, a water slide, and a heated pool.
The park has an on-site restaurant, making it unique among community attractions. You don't need to go outside to get food, as there is a Subway within the park. When you remember that most people are usually starving after a nice swim, this is an incredible perk.
Final Thoughts
Ohio welcomes visitors to its many spectacular water parks during the warm summer. Nevertheless, you may enjoy a refreshing swim at any time of the year, including during the winter, by going to one of the region's many fantastic indoor water parks.
Whatever the weather, there is a water activity for everybody, from relaxing in a hot tub to zipping down a water slide with the whole family. You may need to schedule multiple regional trips if you want to visit them all. We hope our list of the best indoor water parks in Ohio will help make the search easier.
More about our TFVG Author