Finding something to enjoy with your teen gets tougher with each passing year, and Ohio doesn't necessarily sound like the hotspot you need. However, this midwestern state has plenty of excitement, adventure, and fun to help parents connect with their teens.
Toledo, Sandusky, and Cleveland mark the northern border with plenty of Great Lakes action and scenery. Travel to the central region to explore the state's capital, Columbus. Or, explore the southern part of the state down to the Ohio River with its scenic views from Cincinnati to Marietta.
Whether you live in-state and need a fun day or you're traveling from out of state for a vacation or a weekend getaway, Ohio has something for you. Here are 16 of the best things to do in Ohio with teenagers.
Rock Out at the Rock & Roll Hall of Fame
To some, it's simply the Rock Hall where you can immerse yourself in the best of rock and roll. Located on the waterfront in downtown Cleveland, this is essentially a rock and roll mecca.
There's a lot to see inside, but make sure you take time outside to appreciate the unique architecture. The plaza also features some incredible sculptures that are perfect for photo opportunities. This is one perfectly Snap-worthy place!
The Rock & Roll Hall of Fame features some of the music industry's greatest artists and influencers. Trace the musical phenomena back to its roots, explore an impressive collection of memorabilia, and experience rare recordings. If you're lucky, you'll catch a traveling exhibit or live concert.
As more teens discover old classics, it's not surprising that they stumble upon talents like Janis Joplin, Tom Petty, and Nirvana. You might be able to impress yours with your knowledge of hair bands, metal, and grunge. Oh, and if you're musically inclined, make sure you stop at The Garage to play some of the instruments.
Make an Impression at the Cleveland Museum of Art
Less than ten minutes from the Rock Hall, you can explore art from around the world at the Cleveland Museum of Art. Don't let its size fool you; this museum is one of the tops in the nation and easily competes with world-class sites.
The Cleveland Museum of Art might not be the Louvre, but it features thousands of permanent exhibits. Given the popularity and foot traffic it sees, the CMA gets many traveling exhibits that encompass some of the finest art from every corner of the world.
One of the best parts about this art museum is that it's free to visit. The commitment to art and making it accessible to everyone is evident throughout the museum. You can even take tours to learn more about the artwork and specific pieces.
However, you might have to pay for tickets to attend special events, lectures, and live performances. It's also possible to take classes for a fee, but you need to schedule that in advance.
Explore Our Past at the Cleveland Museum of Natural History
There is something grounding about seeing pieces of history, especially when it relates to our world. That's what you get with Cleveland's Museum of Natural History. It's so close to the Museum of Art that it's not easy to visit one without the other. The two museums sit beside each other on the Wade Oval in downtown Cleveland.
Curious teens can explore our past, present, and future within the walls of this museum. Learn about the importance of wildlife preservation in the Wildlife Center and Woods Garden, where you can see a range of animals and plants.
See just how large the dinosaurs were as you examine the skeletons of various species. The Kirtland Hall of Prehistoric Life features many species, including the museum's oldest skeleton from the Late Triassic Period.
One of the most relevant exhibits might be the Human Origins gallery which shares our journey as a species. You can even see a lifelike sculpture of Lucy, a specimen that changed everything we know about where we come from and what our ancestors looked like.
The museum offers discounted tickets for some groups and highlights special community days throughout the year with free admission.
Thrill Your Teen at Cedar Point
Amusement park lovers cannot miss one of Ohio's claims to fame. You can find plenty of thrills at Cedar Point, an amusement park nestled along the Lake Erie Coast between Cleveland and Toledo.
Cedar Point features 70 unique rides ranging from classic carnival rides to family-friendly favorites. Don't forget to test your mettle for speed and heights with the Steel Vengeance and Millennium Force, two of the roller coasters ready to set your heart racing.
Of course, it's not just about the rides because Cedar Point features plenty of entertainment, arcade and skill games, dining options, and even a beach. Visitors can spend days exploring the park and never take in every possible experience.
Plus, you can fan out to the east of Cedar Point to find more beaches, water sports, history, and events for occupying any teenager. The Shores & Islands region of Ohio features lighthouses where you can capture some one-of-a-kind selfies, beaches for lounging, and water sports galore.
Score a Touchdown at the Pro Football Hall of Fame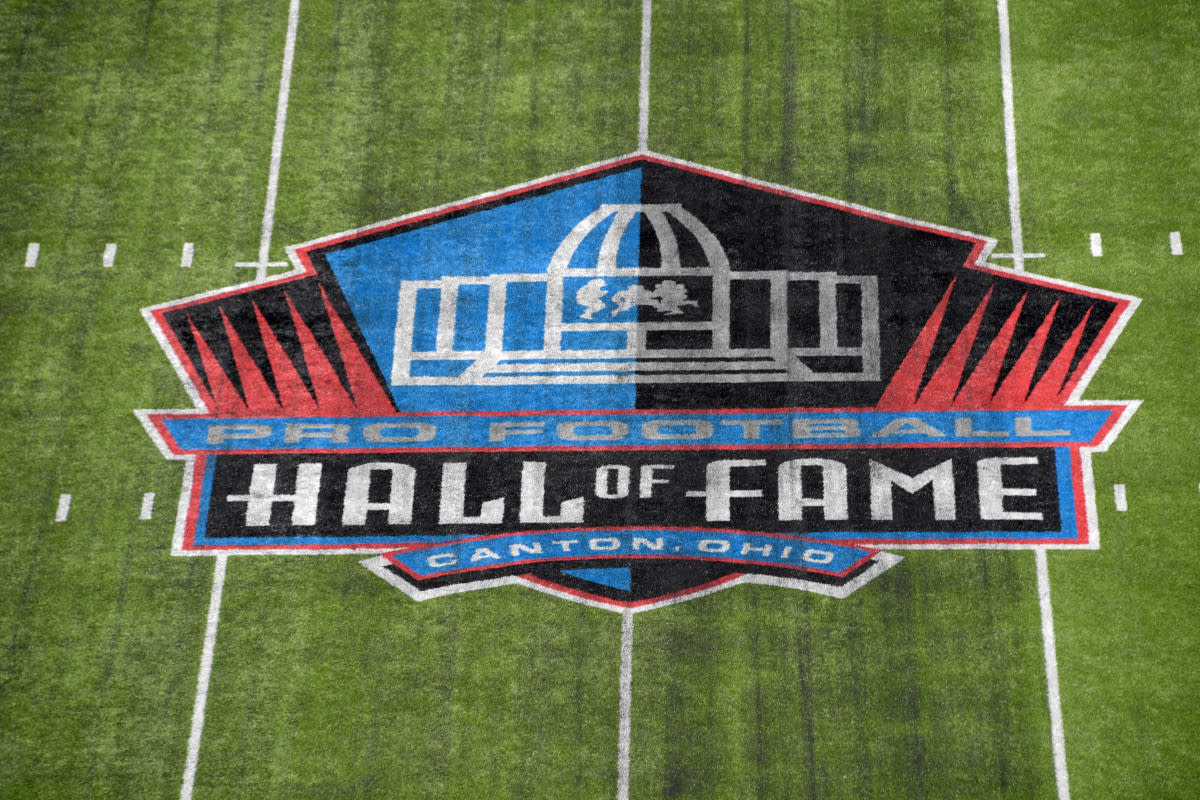 Travel about an hour south of Cleveland to the city of Canton, home of the Pro Football Hall of Fame. Fans will love the chance to see the famous bronze busts of the best players in football history, but that's not all you can do at the Hall.
Walk through the history of Super Bowl winners and losers. Compete against other visitors in the trivia game, call-the-play experience, or one of the other interactive games. Plus, there's a full-sized stadium outside and special events almost every month of the year. During the season, you might catch an NFL game if you time things right.
If the Pro Football Hall of Fame is a hit, you might want to catch a game with one of Ohio's two NFL teams. The Cleveland Browns play at FirstEnergy Stadium, or you could travel south to Cincinnati, where the Bengals play at Paul Brown Stadium. Of note, Paul Brown Stadium offers tours to the public for a fee, but it's only during the off-season.
Take a Pause at Malabar Farm State Park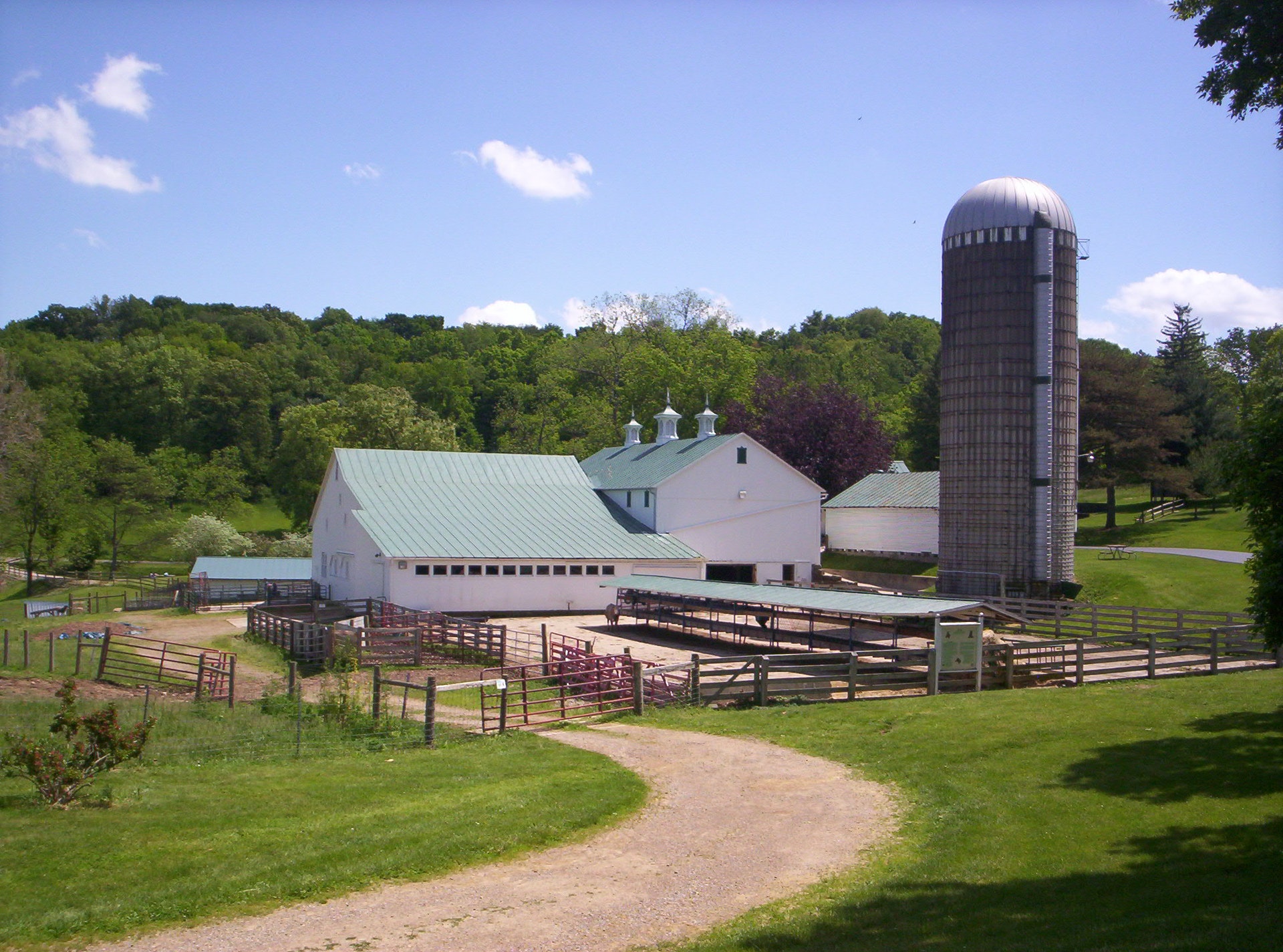 Drive about 60 miles west of Canton to what seems like the middle of nowhere and find yourself at Malabar Farm State Park. The farm pays homage to Louis Bromfield, a conservationist and Pulitzer Prize-winning author.
The still-functioning farm serves as a sustainable agricultural oasis with plenty of animals roaming around. Malabar Farm is tucked away with plenty of serene spaces to unwind and disconnect from devices while reconnecting with each other. You can even camp, rent facilities, and equipment, fish, and take guided tours.
Don't miss out on driving up Mt. Jeez. While it's not exactly a mountain, it does offer some impressive views of the surrounding area. It's especially beautiful when the seasons change.
Since it's a state park, you can visit Malabar Farm for free. There are also trails to hike and historically accurate outdoor recreational activities to try. It's also listed on the National Register of Historic Places if that's something that excites you or your teen!
Take Flight at the Armstrong Air and Space Museum
Wapakoneta, Ohio, is a small city with a big history, and it's home to the Armstrong Air and Space Museum.
This museum honors one of its native sons, Neil Armstrong, who grew up in Wapakoneta with dreams of flying. He didn't just enter the field of aeronautics; Armstrong changed it forever. It might enhance or inspire your teen's love of all things air and space.
Aside from learning about everything from the Space Race to modern aviation, you and your teen can find out how a small-town Ohio boy became the first man on the moon. Plus, there are interactive displays and an Astro theater that shows a documentary about the Apollo 11 moon landing.
When you finish your air and space adventure, grab a bite to eat at Alpha Cafe, an award-winning, historical dining venue in Wapakoneta. The ambiance is divine thanks to elaborate, unique architectural details, and the food is spectacular.
Visit the Columbus Zoo & Aquarium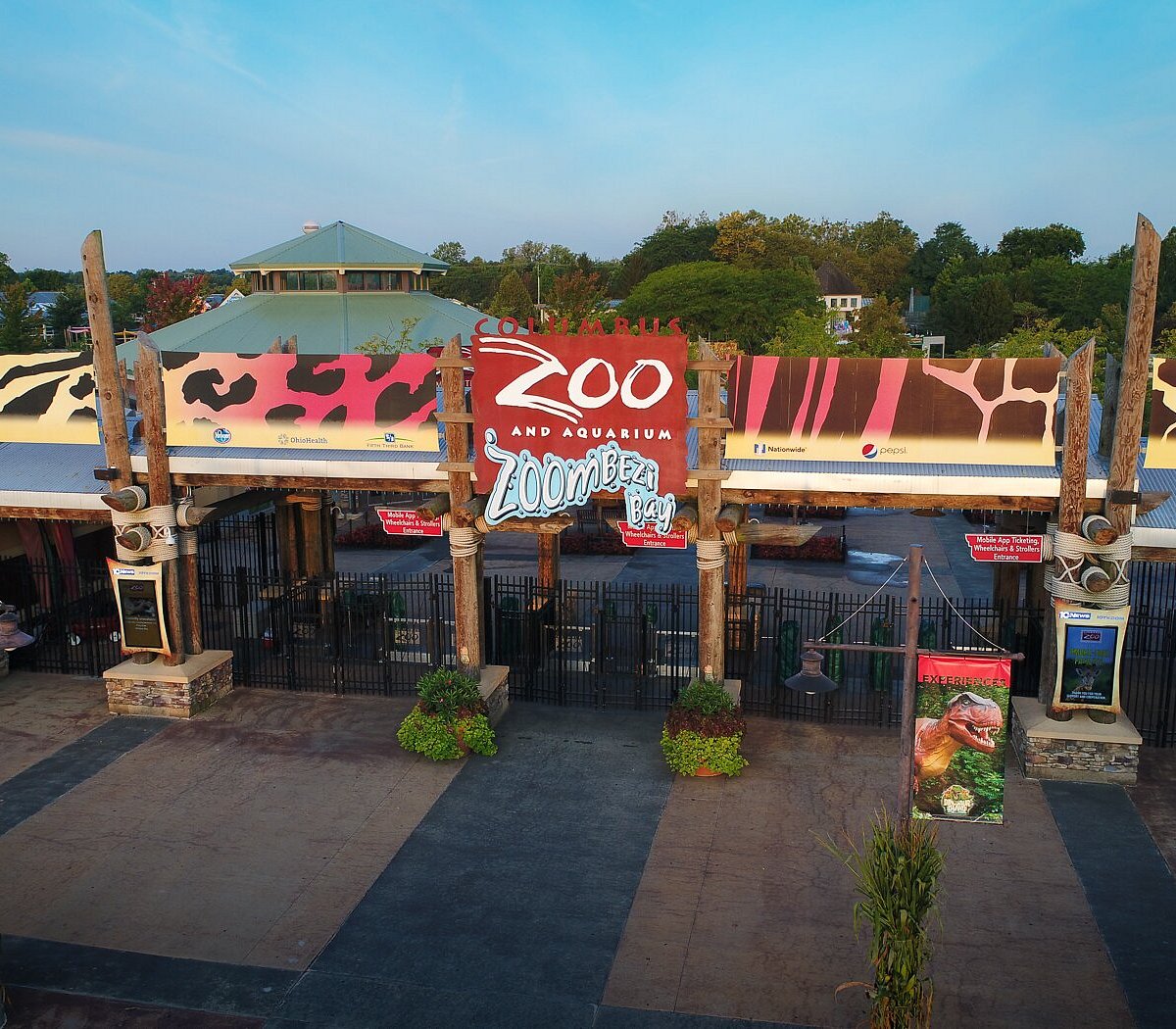 Ohio has a zoo in each of its major cities, but the Columbus Zoo and Aquarium is arguably one of the top zoos in the nation. It's located just north of Columbus, Ohio, in the town of Powell. The zoo opened in 1927 and remained a small, local venue for several decades.
Jack Hanna took over as the Columbus Zoo's Director in 1978 and quickly established the facility as a leading attraction for people from all walks of life. Hanna and his team expanded the zoo, made national headlines by appearing on television programs, and acquired funding from county taxes to establish the Columbus Zoo & Aquarium as a must-visit attraction.
Today, visitors can walk through realistic habitats representing the world's continents and animals. Participate in shows, explore interactive exhibits, and experience special events that raise awareness and funds for animal and environmental conservation.
As a bonus, visitors can head to Zoombezi Bay, a waterpark that shares land with the Columbus Zoo & Aquarium. Extend your stay and spend time at the waterpark, where you can float on the lazy river or ride tubes down swirling water slides.
Get Your Game on at Pins Mechanical Company and 16-Bit Arcade
Not far from the Columbus Zoo is the suburb of Dublin, Ohio, featuring an eclectic mix of modern amenities and Irish roots. While you can certainly explore the town and find plenty of fun (like a hidden waterfall), teens might prefer gaming at two side-by-side yet independent establishments.
Pins Mechanical Company and 16-Bit Arcade offer unique gaming experiences in the Bridge Park area of Dublin, Ohio. It's a happening area with lots of restaurants, a coffee shop, and a high-end candy store that serves ice cream. There's plenty of free parking and a suspension bridge joining the modern half to the historical side.
Start at 16-Bit Arcade with more than 40 classic arcade games just begging for a rematch. Introduce your teens to old favorites, like Donkey Kong, Centipede, and Mortal Kombat.
Move on to Pins Mechanical Company, where you can play everything from foosball to ping pong. Then, head out to the fire pits to catch a breather and reflect on all the fun.
Step Back in Time at the Ohio History Center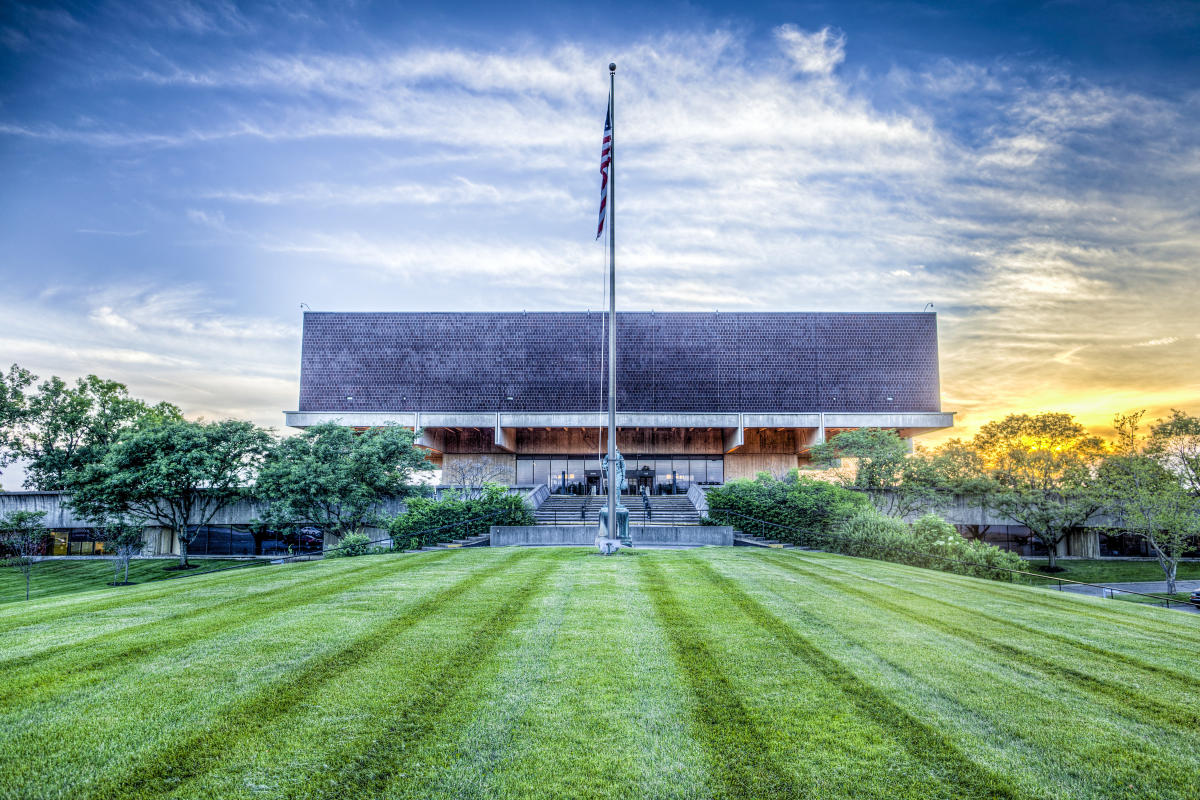 You don't have to love history to find fun and excitement at the Ohio History Center. It's just north of downtown Columbus, near the Ohio Expo Center. The center's goal is to connect visitors with Ohio's stories and share the state's evolution from various perspectives.
Walk through various galleries that tell Ohio's story and celebrate its most famous names. There's even a sports hall celebrating the state's athletic teams.
When the weather permits, visitors can also explore the Ohio Village, a living history museum that takes guests back to the 1890s. Test your knowledge in the School House, speak with the bicycle maker, and grab a sweet treat at the Village Bakery.
If you're lucky, you can catch the Ohio Village Muffins playing baseball as it was played in the sport's earlier days. The Muffins wear period baseball uniforms and play with gear and rules from that era.
Learn and Experience at COSI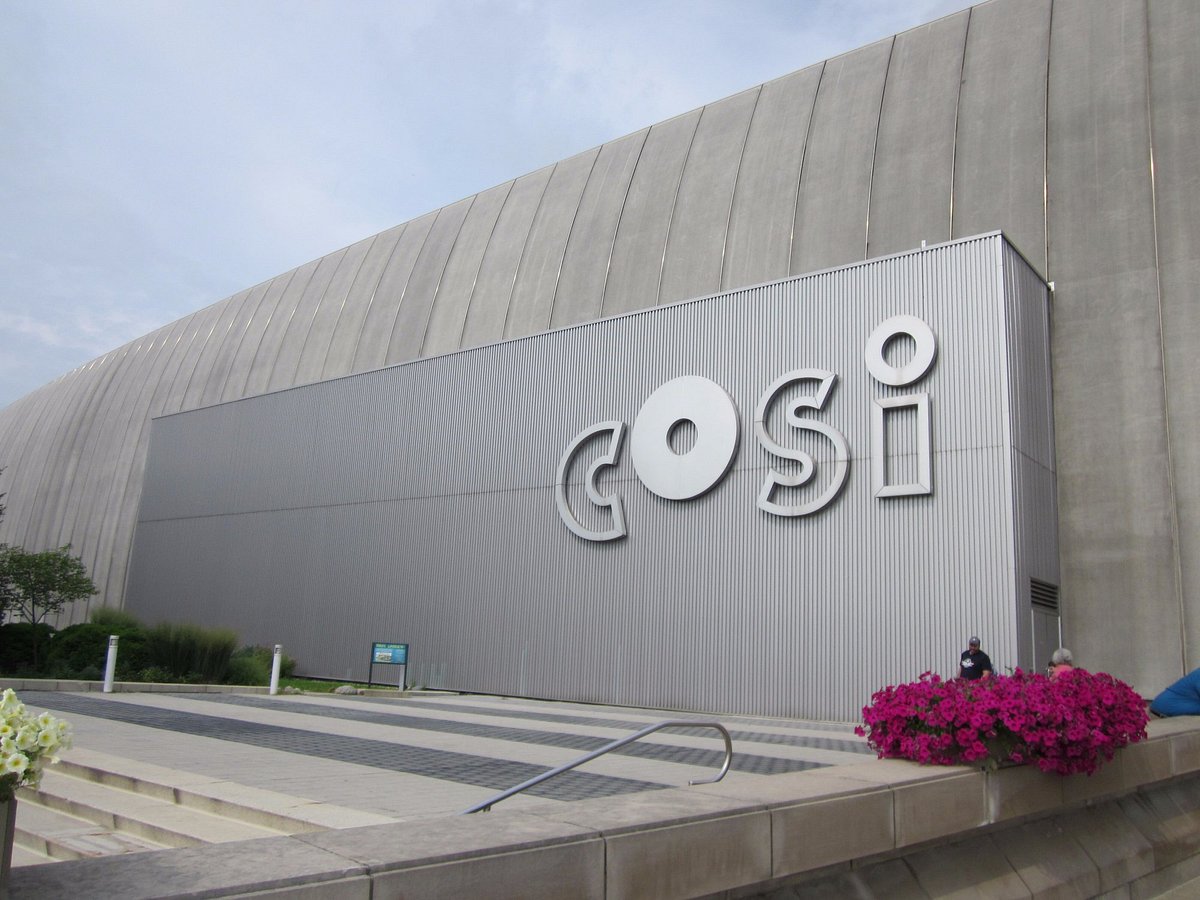 The Center of Science and Industry, or COSI for short, is an interactive experience that lets you explore the best of science, technology, history, and popular culture. Find it on the banks of the Scioto River in downtown Columbus near the Dinosaur Sculpture Park and Columbus Police Memorial.
While there are plenty of kid-friendly displays, some of the science and popular culture exhibits require more patience and knowledge than a toddler can manage. Your teen can test their knowledge of the wonders of the universe, human history, and even a little mythology. Each room marks a new exploration and adventure.
Plus, there are special exhibits that rotate around the nation and a planetarium and Giant Screen Theater with a 4K projection system. Both venues show a range of programs and create an immersive experience that should impress any teen.
Get a Reality Check at OtherWorld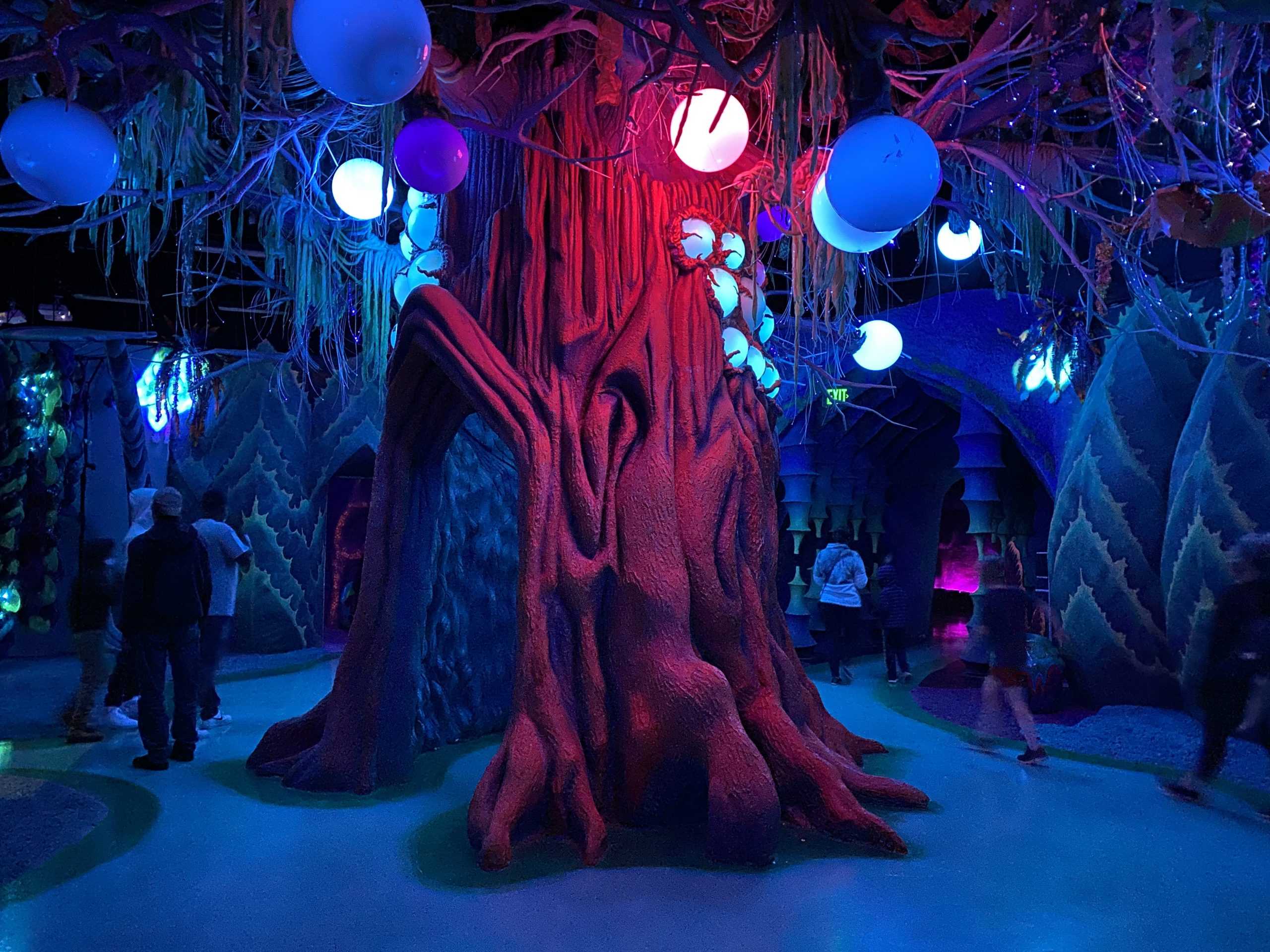 Speaking of immersive experiences, OtherWorld is one of the most intriguing adventures in the state. Have you ever seen a film, photograph, or painting and wondered what it would be like to step into it? This venue is the perfect place to visit and put that idea to the test.
OtherWorld is on the southeast side of Columbus off of Brice Road, but it might as well be on the other side of the universe. From the outside, OtherWorld looks like any other warehouse, but if you step inside, you'll find a world of pure imagination and awe-inspiring art.
OtherWorld is an immersive art experience that features large-scale pieces that drop you out of reality into a world of fantasy and science fiction. Bold colors, brilliant lights, and mind-bending rooms create a unique and captivating experience.
Walk the Wild Side at The Wilds
Did you know that you could take a safari in Ohio? The Wilds replicate the look and feel of various habitats in this safari-style attraction. This attraction aims to save endangered species by providing a safe space for them to grow and thrive without the notable threats to their existence.
The Wilds cover more than 9,000 acres and offer visitors a truly immersive experience that includes a wide range of activities. Go horseback riding, take a zipline tour, or settle into a waterway with a fishing rod to see what you can catch. The facility offers various educational classes that will keep you and your teen engaged for hours at a time.
You can even stay in a cabin, lodge, or outpost to extend your stay in a meaningful way.
Though The Wilds are associated with the Columbus Zoo & Aquarium, you have to drive almost two hours to get from one to the other. The Wilds are east of Columbus in Cumberland, Ohio, where there is plenty of space to accommodate the residents.
Take On Outdoor Adventure in Hocking Hills
Swinging southwest from The Wilds, you can find a slice of outdoor heaven in Hocking Hills. While you can certainly make worthwhile day trips to the region, it's best for at least a weekend getaway.
Hocking Hills is a gorgeous natural mecca with caverns and waterfalls, tree-lined trails, and bubbling brooks. You don't have to be a nature-lover to appreciate the splendor that you'll find in Hocking Hills.
The state park features seven unique hiking trails with unbelievable sight-seeing spots. You can bike some trails, and there are ziplining tours in the region for the more adventurous folks. Park staff also run programming to educate visitors on the region and special events to celebrate various happenings.
Old Man's Cave is a popular spot for many because it's a gorgeous trail that caps off at a natural pool beneath a small waterfall. It's tucked away and one of the most picturesque places in Hocking Hills.
Satisfy Thrill Seekers at Kings Island
Cedar Point isn't the only major amusement park in Ohio. Head to the Cincinnati area to find Kings Island, with a range of rides to suit any thrill-seeker. From massive, thundering roller coasters to spinning whirlers, there's something for everyone.
Get inverted in Invertigo, feel your stomach bottom out on the Drop Tower, then take on one of the top steel coasters in the world with the Diamondback. When you're done with thrills, take in a live show, grab a bite to eat, or play some arcade and skill games.
Extend your stay a day or two to take advantage of Soak City, the Kings Island water park with over 36 water slides, a lazy river, and more. Teens might appreciate the combination of a water slide and thrill ride known as Mondo Monsoon.
While there are no hotels at Kings Island, there are plenty of places to stay in the area. Most of the local hotels offer free shuttle service to the amusement park. Plus, if you and your teen like shopping, the Cincinnati Premium Outlets are less than 20 minutes away.
Cincinnati Museum Center
Last but not least, let's round out our list with the Cincinnati Museum Center. It's located in downtown Cincinnati near the Ohio River but tucked away a bit. You can't miss the Museum Center because it's located in the Union Terminal, an old train station with intricate art deco architecture.
This attraction is like seven or eight museums in one because it has multiple areas with different themes. Learn about Cincinnati in the local history museum or focus on a broader history in the Nancy & David Wolf Holocaust and Humanity Center.
Explore the ideal blend of history and science in a different wing or take in an education show in the OMNIMAX theater. If you get the chance to catch filming of the last Beatles concert you won't regret it!
The Cincinnati Museum Center is known for its stunning architecture, but it also features traveling exhibits that range from Mayan history to the science behind Pixar films. Plan to spend plenty of time perusing the exhibits and taking in the architecture.
Final Thoughts
That wraps up our list of the best things to do in Ohio with teenagers. Spending quality time with your teenagers is one of the most important things you can do, but it's not always easy to find a middle ground.
Sometimes it takes removing technology from the equation, like hiking in Hocking Hills or visiting Malabar Farm State Park. Other times it's best to explore your teen's interests, whether it's sports at the Pro Football Hall of Fame or music at the Rock Hall.
Whatever you decide to do with your teen, just take the time to do it. Your teen will appreciate the effort and thank you for it, if not now, someday.