Ohio is known as The Heart of It All. The name is fitting, as there are all kinds of activities for families to enjoy no matter what their interests.
As our 17th state, Ohio is filled with history, lush parks, and modern cities. Plus, it's home to one of the greatest amusement parks in the world. No matter where your family interests lie, Ohio has something for everyone.
Let's take a look.
The Lake Erie Islands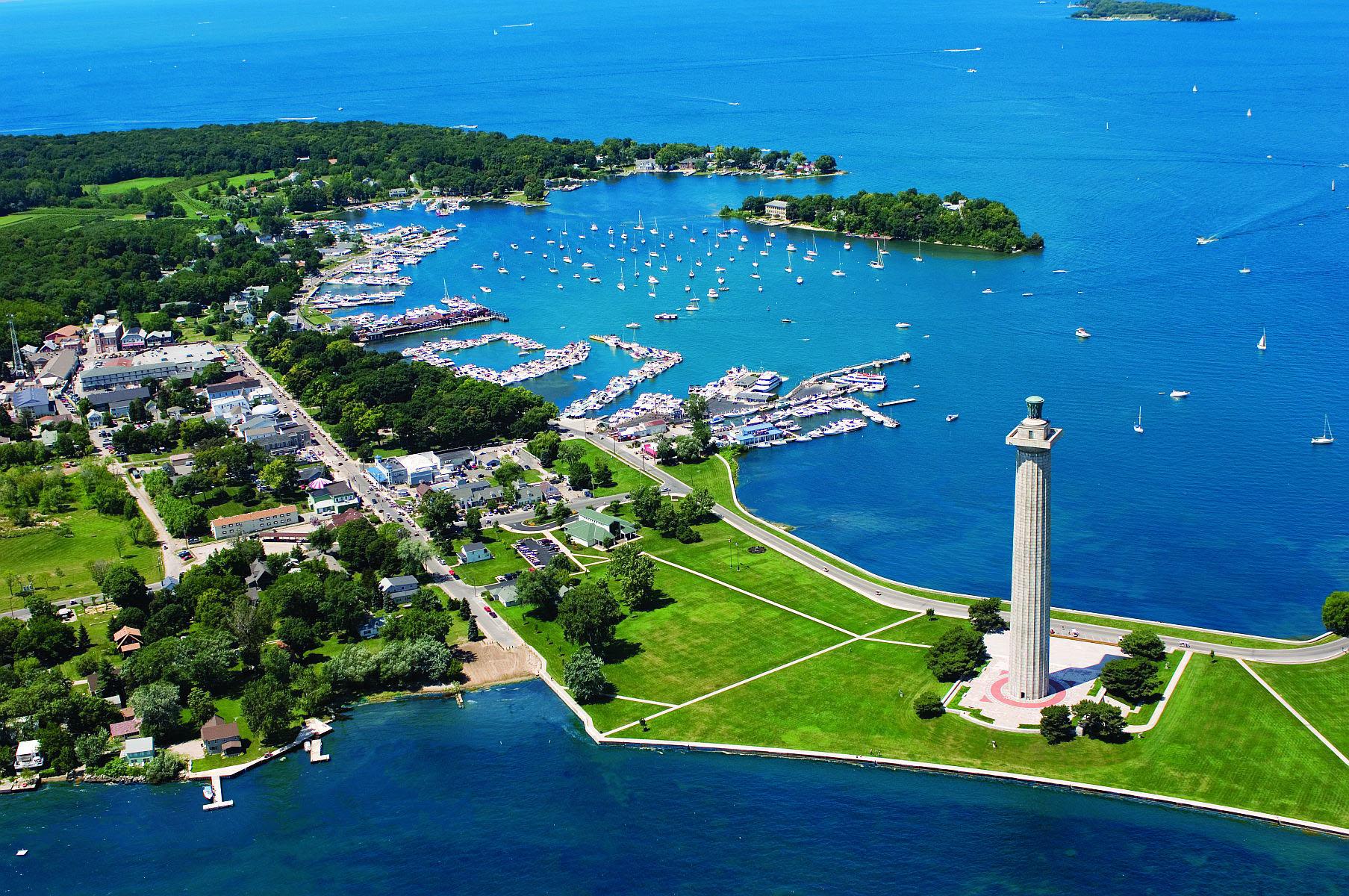 The Lake Erie Islands are a chain of islands in Lake Erie. The most popular ones for families are Put-in-Bay, Kelley's Island, and Middle Bass Island. Here you'll find activities such as boating, charter fishing, camping, golfing, swimming, ferries, cruises, and water sports. The islands feature numerous parks and beaches with plenty of natural landscaping for hiking and family fun. All three islands feature a variety of lodging options, including cottages and inns.
You access Put-in-Bay by ferry. Once there, you can rent bikes or golf carts to get around. Although there are many bars, restaurants, and boating docks on Put-in-Bay, many families visit just for the day.
Check out Perry's Cave Family Fun Center. It houses everything you can imagine: a cave, butterfly house, mini-golf, a rock-climbing wall, a giant maze, gemstone mining, and two gift shops.
Additionally, a sandy beach overlooks the 352-foot Perry's Victory and International Peace Memorial. The memorial, built to honor those who fought in the Battle of Lake Erie during the War of 1812, is open to the public.
Kelley's Island is also accessible by ferry. It's quieter than Put-in-Bay and is home to Kelley's Island State Park, featuring one of the island's four beaches, plus campsites, a launch ramp, hiking trails, and fishing. Kelley's Island is also home to the Glacial Grooves State Memorial, featuring fossils that are 350 to 400 million years old.
Middle Bass Island is the quietest of the three islands. Home to the Lake Erie Island Water Trail, access points include Middle Bass Island State Park, Fox's Marsh Wildlife Area, and Honey Point Wildlife Area. Here you'll find snakes, waterfowl, migratory shorebirds, bald eagles, and other species.
Sandusky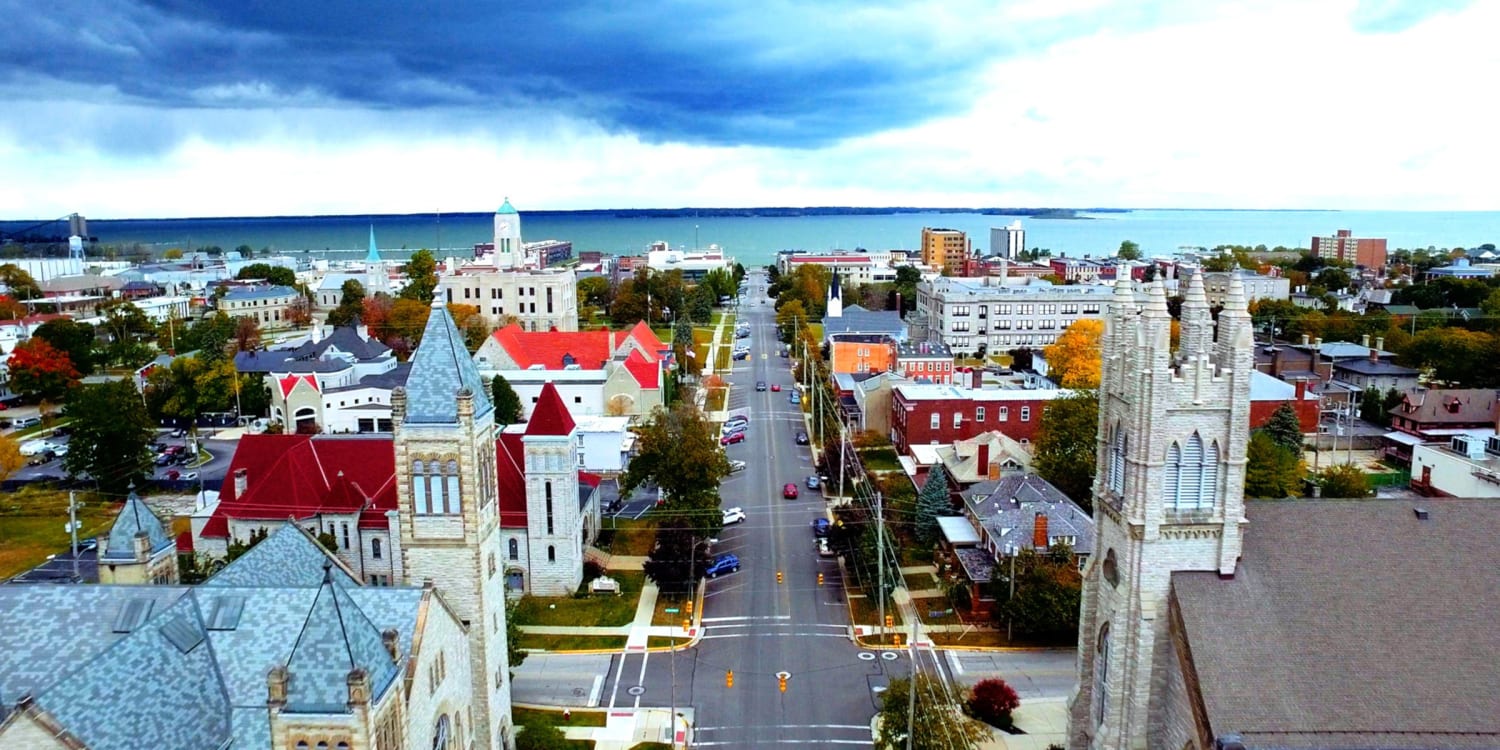 Sandusky is located near the Lake Erie Islands on the shores of Lake Erie. It is best known as being home to Cedar Point, the roller coaster capital of the world. Lodging options include the Breakers Hotel, located on the beach on the Cedar Point property, and off-site accommodations, including the Cedar Point-owned indoor waterpark, Castaway Bay.
Speaking of waterparks, there are also two others in the Sandusky area: Great Wolf Lodge, which is well-suited for families with younger children or those looking for a quieter time, and Kalahari, which features a massive indoor wave pool and bigger spills and thrills. Kalahari also has an outdoor water park, animal safari park, and mini-golf in the summer months.
Sandusky's other activities include bowling, the Ghostly Manor Thrill Center, the Merry Go Round Museum, and the African Safari Wildlife Park.
The Ghostly Manor entertainment center has a haunted house, game room, mini-golf, a 4D theater, and a roller skating rink. The Merry-Go-Round Museum features a collection of antique carved horses and an operational antique carousel ride.
The African Safari Wildlife Park is a 100-acre preserve featuring around 400 animals, including giraffes, zebras, bison, llamas, and more. It is a drive-through park that has helped families create memories for nearly 50 years. You can also explore a walk-through area featuring animals such as a blue and gold macaw, an African spurred tortoise, a wallaby, and more.
Cleveland
Cleveland is a gorgeous city situated on Lake Erie, featuring dozens of museums, including the Rock-and-Roll Hall of Fame and the Cleveland Museum of Art. Some kid-focused museums include the Great Lakes Science Center, the Cleveland Children's Museum, the Natural History Museum, and the Western Reserve Historical Society.
In addition, Cleveland boasts a world-class theater. The Children's Theater Series will put on three productions in 2022: Don't Let the Pigeon Drive the Bus, Dino-Light, and The Very Hungry Caterpillar.
Cleveland is also home to the Cleveland Metroparks, which operates the nationally acclaimed Cleveland Metroparks Zoo. The Metroparks span more than 24,000 acres with 300 miles of hiking trails, eight golf courses, and eight lakefront parks.
Another family fun activity in Cleveland is a trip to Ralphie's actual house from the movie, The Christmas Story. The Christmas Story House, located a five-minute drive from downtown Cleveland in the Tremont neighborhood, is open to the public for tours and overnight stays.
If the kids just need to run around and play, Lakewood Park is a five-minute drive from downtown. Situated on Lake Erie, the park features a large playground, volleyball nets, a picnic shelter, grills, a public swimming pool, and tennis courts.
Older kids and adults will love walking the short paved path that in one direction leads to a spectacular shoreline view of downtown. In the other direction, it leads to the Solstice Steps, a landmark project that gives views of the lake, sunrises, and sunsets.
Vermilion
Come to Vermilion for the weekend to play, swim, shop, eat ice cream, and watch the trains rip by. This charming New England-like town situated on the shores of Lake Erie halfway between Sandusky and Cleveland has much to offer for both parents and kids alike.
Vermilion is unique in that it is both a beach town and a railroad town. Your family will get a kick out of watching trains come and go all day long from several different viewing areas, including three historic train depots.
Lodging in Vermilion includes cottages and bed-and-breakfasts. The town boasts two golf courses, a cooking school, a history museum, a vineyard, and a lighthouse.
Two of the best swimming beaches in Vermilion are Main Street Beach and Linwood Park. Main Street Beach is also an excellent place to watch sunsets and sailboats. Linwood Park is said to have one of the most beautiful beaches in Ohio.
Set back in a private community of cottages and summer homes, Linwood Park charges a daily admission fee, but it's well worth the cost for a day of making memories.
Also, while in Vermilion, take a narrated tour on the Mystic Belle, a small paddlewheel boat. You just might spot some turtles, herons, and other wildlife while taking in the beautiful lakefront homes.
Amish Country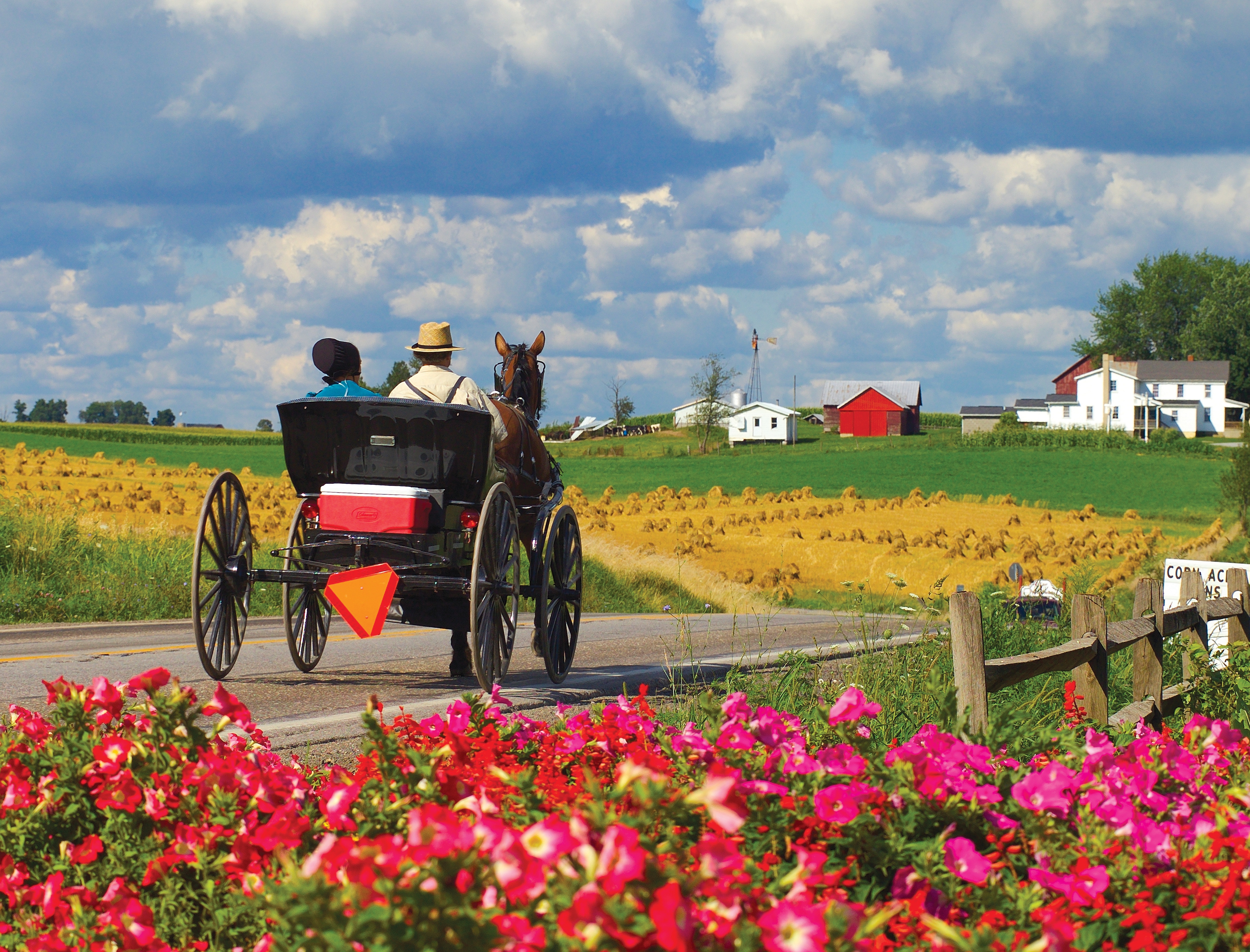 Take a trip back in time and visit charming Holmes County for a taste of Amish hospitality. Ohio has the second-largest Amish population in the U.S., after Pennsylvania.
Towns to visit in Holmes County include Millersburg, Berlin, Walnut Creek, and Sugarcreek. Whether you're looking for family fun on the farm, shopping, or outdoor adventures, Amish Country has it all.
Drive the country roads to Millersburg and spend an afternoon at Hershberger Farm and Bakery. Check out the petting farm that houses goats, horses, donkeys, sheep, cows, and more. Purchase carrots or grain to feed the friendly animals. Be awed at the aviary, home to hundreds of different colored parakeets. Then swing by the farm store, featuring supple leather goods and antiques. Grab lunch at the food truck and stop in the bakery on the way out.
Other points of interest in Holmes County include Yoder's Amish Home, the Farm at Walnut Creek, the Open Air Art Museum, and the German Culture Museum.
Delicious dining options in Holmes County include Mrs. Yoder's Kitchen, Der Dutchman, and Boyd & Wurthmann. Lodging options include the Berlin Resort, several new hotels, and cabins.
No trip to Amish Country would be complete without stopping at one of the many delicious bakeries and food stores for fry pies, local cheeses, jams, jerky, and more. The kids can even see how to make cheese at Heini's Cheese Chalet.
Columbus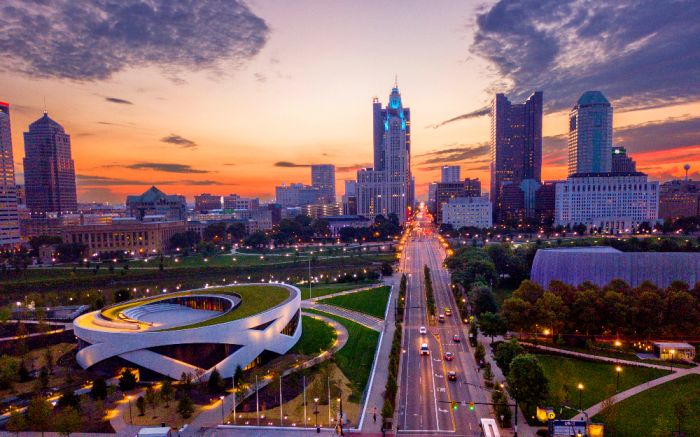 Columbus, the state capital, has something for everyone. Start your weekend with a guided tour on Saturday of Capitol Square, including the Ohio Statehouse, Senate Building, and Atrium.
After that, swing over to the Center of Science and Industry (COSI). COSI has more than 300-plus hands-on exhibits spanning the gamut of history to medicine. It also features an IMAX theater, an outdoor play area, and an ocean exhibit where you can climb down inside a mini-submarine.
Spend Saturday evening in the Polaris Mall area, where you can shop the mall, play arcade games at Dave and Buster's, reserve indoor tee time at Top Golf, or explore the 354,000-square-foot IKEA store.
On Sunday, explore the Columbus Zoo and Aquarium, ranked as one of the top zoos in the U.S. Formerly directed by Jack Hanna, the zoo welcomes more than 2 million visitors annually. If you're up to a game of golf, the Safari Golf Club is also located on the property, as is Zoombezi Bay, an outdoor water park that's open in the summer.
A bit further down the road, you can experience The Wilds, a wildlife conservation center that offers hands-on experiences, ziplining, horseback riding, and other activities. The experience includes riding in an open-air safari vehicle while learning about the animals and conservation efforts.
If you'd rather spend a weekend in nature, consider Hocking Hills State Park, about an hour south of Columbus. Connected to the Hocking State Forest, Hocking Hills has more than 25 miles of hiking trails, caves, waterfalls, and rock formations.
Lodging choices abound, with year-round camping sites and hundreds of privately owned cabins for rent, many featuring hot tubs to enjoy the evening stars.
Cincinnati
Cincinnati is a great baseball town. Catch a game at the Great American Ball Park, the home of the Cincinnati Reds, the first professional baseball team in the U.S. Situated on the Ohio River, nearly every seat in the stadium offers great river views. Also in town is the Cincinnati Reds Hall of Fame and Museum.
While in town, check out the National Underground Railroad Freedom Center, also situated on the Ohio River.
Cincinnati's other attractions include the Cincinnati Zoo and Botanical Garden, the Cincinnati Art Museum, Newport Aquarium, Cincinnati Music Hall, Findlay Market, and the Cincy Museum, a complex featuring the Cincinnati History Museum, the Duke Energy Children's Museum, and the Museum of Natural History & Science.
Your family might also enjoy an Ohio River sightseeing cruise. There are many options to choose from, including large ships, paddle boats, cycle boats, and private boats.
While in Cincinnati, you can also get your thrills at Kings Island, a Cedar Fair Park. As the home to The Beast and other great coasters, Kings Island has something for everyone. Numerous lodging options are all around the area, especially with the indoor water park – the Great Wolf Lodge – right next door.
Geneva-on-the Lake
Located in Ashtabula County, Geneva-on-the-Lake has provided family fun for over 150 years. Down the "strip," you can find arcades, ice cream, mini-golf, pubs, and great eats, including Eddie's Grill, a counter-style hamburger diner that's been around since 1950.
Spend a day at the Adventure Zone, a family park offering go-karts, an arcade, batting cages, bungee trampoline, bumper boats, a zip line, and more.
Water enthusiasts can rent jet skis, paddleboards, and kayaks. Or you can charter a fishing boat to catch some Lake Erie walleye or perch. Additionally, the nearby Geneva State Park offers several swimming beaches and miles upon miles of hiking trails.
Parents might want to visit one of the area's great wineries; there are nearly 20 listed on the Visit Geneva website. The Old Firehouse Winery, located lakeside on the strip, also has a restaurant that the kids should enjoy.
Lodging options abound in Geneva-on-the-Lake. There are cabins, condos, and cottages for rent, as well as bed-and-breakfasts, hotels, and camping. The lakefront Lodge at Geneva is the largest accommodation. From there, you can take a wine shuttle, rent bikes or boats, go on a zipline adventure, and more.
While you're in Geneva, take the opportunity to explore Ashtabula County's 19 covered bridges. If you go for a weekend in October, you can catch the annual Covered Bridge Festival.
Cuyahoga Valley National Park
Cuyahoga Valley National Park is the only national park in Ohio. The 33,000-acre park runs along the Cuyahoga River between Cleveland and Akron. It offers activities galore for families, including hiking, a train ride, bicycling, winter sports, and more.
Start your day with a trip to the Boston Mills Visitor Center. There you'll learn about all of the programs in the park designed for kids of all ages.
Other kids' activities include Let's Go Questing. Here, kids go on "quests," self-guided hikes that help them explore the park. Rhyming clues, hidden boxes, and hand-carved stamps are all part of the fun.
Notably, the park also offers autism-friendly sensory activities for kids and adults in the Everett area.
There is a great deal to learn in the park about transportation. The Ohio and Erie Canal and Valley Railway both run through the area. While at the park, you can even take a scenic train ride on the Cuyahoga Valley Scenic Railroad.
Hiking through the park, you'll see various waterfalls, including Brandywine Falls, the most glorious in the park. A 1.5-mile hike called the Brandywine Falls Trailhead surrounds the falls. Or, you can hike or cycle on the 87-mile Towpath Trail, which follows along the old Ohio and Erie Canal.
Your Family Weekend Getaway in Ohio
As you can see, Ohio has many exciting opportunities for a family weekend getaway. Lake Erie, beaches, a national park, amusement parks, water parks, hiking, fishing, nature, history – it's all in Ohio.
Ohio is beautiful any time of the year. From the splendid fall foliage to the peaceful, lacy snow-covered trees in the winter, to the lush green forests in the spring, to the bright blue lakes in the summer, Ohio has something for everyone.
Other places to consider for your family weekend getaway
If you're considering other destinations for your weekend away with the kids, take inspiration from our other handy guides below!
More about our TFVG Author
A seasoned traveller, Dad, and avid sports tourist, James foundered The Family Vacation Guide to share his expert vacation experiences- especially when it comes to being a travelling family man.
Featured in Travel articles such as Travel + Leisure, TripSavvy and SFGate, you know you're reading some of the best vacation tips online.