When it comes to looking for the best zoos in the United States, Ohio always stands out.
There are several amazing zoos and animals facilities within this state that should be explored by both local families and tourists. As home to world-renowned zoos and conservation projects, Ohio is a great location for animal lovers, and it can be a fun way to educate your kids on the environment, nature, and the changing habitats across the world.
Families of all ages can appreciate a day trip to the zoo, and it is something even adults will get joy from. Being able to see and interact with incredible creatures from across the world makes for an unforgettable experience and one that will bring joy to your children for years to come.
If you are based in Ohio or are visiting the state for a vacation, the zoos in this guide should be on your list of things to check out. They can be a great way to spend an afternoon or an excuse to travel out of state and see something new, depending on your location.
This article is going to share the top zoos in Ohio that you should check out regardless of how big your budget is or the age of your kids, as there is something for everyone across the state.
The Top 7 Zoos In Ohio
Searching for the top zoos in the United States will always lead you back to Ohio.
This state is home to world-renowned animal conservation sites and wildlife facilities that see millions of visitors every year from both within and outside of the state.
Whether you are a local to Ohio or are visiting the state for the first time, these zoos should be something to consider checking out because they can provide an unforgettable experience.
Children of all ages will enjoy getting close to their favorite animals, and adults can also appreciate being able to see creatures from across the globe in one location.
The best zoos in Ohio include:
Cincinnati Zoo and Botanical Gardens, Cincinnati
Cincinnati Zoo and Botanical Gardens is a wonderful day out for both residents and tourists across the state as it is home to over 2,000 animals.
There are dedicated sections of the zoo that replicates habitats from across the globe and make for comfortable conservation sites for species that may have otherwise been lost in the wild. There is a whole world of animals to explore at this zoo, and children of all ages will enjoy their time here.
With seasonal exhibitions and shows, it is best to plan your trip to this zoo to make sure you see everything you desire at once. Make sure to carve in some time to visit Fiona, the world-renowned hippo who has been a long-term resident of the zoo.
The Botanical Gardens are breathtaking and home to over 3,000 plant species from across the globe. The zoo as a whole spans 75 acres making for a jam-packed day out that the whole family can enjoy.
Columbus Zoo and Aquarium, Columbus City
Columbus Zoo and Aquarium is one of the oldest of its kind within Ohio as it first opened its doors in 1927.
While the location has seen many upgrades since its founding, it continues to be a popular tourist spot and one that is known globally due to its connection with the TV personality and zookeeper Jack Hanna. This visionary zookeeper now manages the park and has done so for over a decade, where he has won many accolades. Hanna continues to work to ensure that the zoo remains focused on education and offers a great experience to every visitor.
Columbus Zoo and Aquarium spans over 580 acres meaning it can take a full day to explore everything or perhaps is best spread over a weekend. There are 10,000 animals to interact with, which represents more than 800 species from across the world.
Toledo Zoo and Aquarium, Toledo
Toledo Zoo and Aquarium is considered to be one of the world's most complete zoos as it is home to over 10,000 animals. These animals represent over 720 species from across the world, giving families a true education in all kinds of ecosystems within one location.
It sees over a million visitors every year, making this zoo one of the most popular tourist attractions in the state and, therefore, a must-see if you are in the area.
This zoo and aquarium is open all year long and has seasonal exhibitions to attract more crowds during school breaks and holidays. It can get very busy, so it is best to plan your trip in advance to Toledo Zoo and Aquarium and make sure you get there early so you can see everything you desire without the crowds.
There is something for everyone at this zoo, including educational exhibits and interactive activities that are aimed at children of all ages, making for a memorable experience.
Cleveland Metroparks Zoo, Cleveland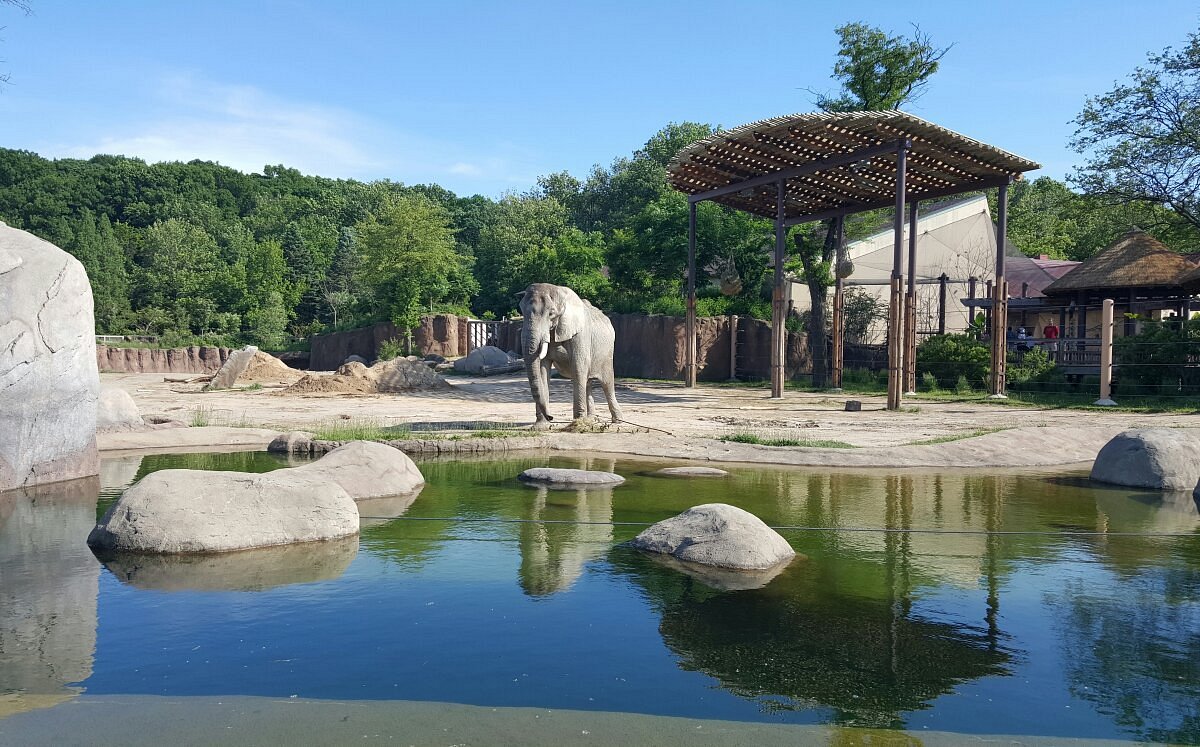 This zoo is one of the most popular attractions in North East Ohio and is considered to be the most visited attraction year-round. It sees around 1.5 million visitors every year and is a great location for families who want to learn more about the various creatures which call this location their home.
Cleveland Zoo spans over 183 acres making for a whole day trip with the kids, and you can learn more about the 3,000 animals that reside there.
There are ongoing exhibitions and shows which can teach families more about the animals within the zoo and their natural habitats. The park is divided into several sections such as the Australian Adventure, Waterfowl Lake, Northern Wilderness Trail, African Savanna, The Rain Forest, Asian Highlands, and the Primate, Cat, and Aquatics Building.
Like other zoos across Ohio, there is a focus on conservation which is made more prominent when you get a chance to see these animals face to face and learn the changes that are impacting their natural homes.
Kids can see all kinds of creatures, the big and small, within this zoo and get closer to them through the seasonal exhibitions which take place at Cleveland Zoo. As this is such a popular location, it is best to plan your trip to Cleveland Zoo in advance and make sure you check out the schedule of exhibitions and shows, so you do not miss out.
African Safari Wildlife Park, Port Clinton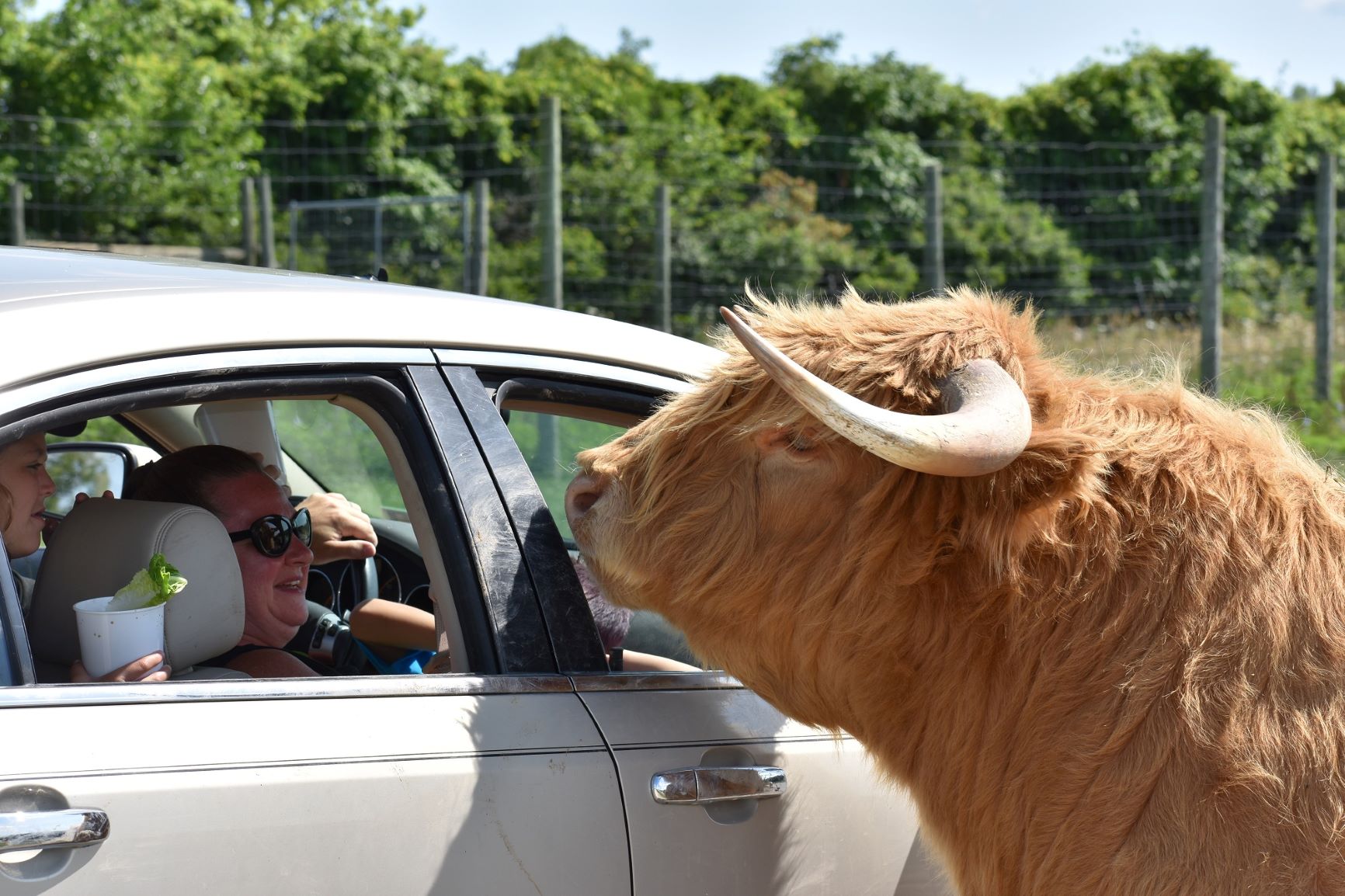 This is a 100-acre reserve safari park that allows families to see animals in their natural habitats from the comfort of their cars.
The African Safari Wildlife Park is a drive-through safari that offers sights of buffalo, deer, zebras, alpacas, and giraffes from the comfort of your own car. You can buy feed from the entrance, which can be used to bring the animals closer to you and interact with them one-on-one.
There is also a walk-through safari on offer at this park that gives animal lovers another chance to see incredible creatures from Africa up close. In this section of the park, kids can feed pigs, camels, and a range of birds, as well as get to see alligators closer than you could ever have imagined. Children under 100 pounds can also ride a camel with no additional charge.
Akron Zoo, Akron
This zoo has been a home for exotic animals since the early 1900s, when animals were donated to the land. The collection has now grown to over 1,000 animals which span over 35 acres and gives families across Ohio a chance to see creatures from other lands across the globe in one space.
Akron Zoo is home to all kinds of species, including the bald eagle, grizzly bears, coyotes, and red wolves. There are also smaller creatures which you have seen before, like turkeys and the river otter, but this zoo gives you a chance to see them in a more natural environment.
A must-see at Akron Zoo is The Grizzly Ridge, where many of these animals reside and can be found in their natural habitats. This part of the zoo also allows you to watch grizzly bears run, play, and splash about in their own pool, which can be a fun experience for children and adults alike.
There is a unique experience for smaller children at this zoo as they can go through the enclosed tube slide, which takes them through the river otter exhibit for an up-close and personal glimpse at these adorable creatures.
The Wilds, Cumberland
Unlike other zoos across the state, the Wilds is a unique experience that is perhaps better suited to older families.
The Wilds is a private, non-profit safari park and conservation area that allows for hands-on experience and adventure play as a way to educate families about the creatures within the park and the environment. This non-profit is focused on cutting-edge conservation efforts and scientific, educational programs as a way to show people the work they do and the small efforts that everyone can make for the benefit of the environment.
This zoo offers a truly hands-on experience when it comes to wildlife, and there are many options for adventure play. Kids can get involved in ziplining, horseback riding, and fishing, as well as other activities which can change seasonally.
There are over 9,000 acres of land to explore, but unlike other zoos in Ohio, this is not a day trip location. Instead, the Wilds are a location where you can stay over for a true safari feel and a way to experience the wildlife firsthand.
Families can book a yurt, cabin, or lodge on the land to stay overnight and see the work that this safari park does at all hours to conserve the wildlife within it.
You can take in the incredible sweeping landscapes from the observation deck. It is best to do this at night or very early in the morning to see the animals roam the pastures just like they would in their natural habitat elsewhere in the world.
Is Ohio A Good Place For Zoos?
If you have ever researched the best zoos in the United States, then you will know that Ohio is home to several locations which always make it on these lists.
From the Toledo Zoo to Cincinnati Zoo, some of the very best wildlife parks and zoos across the United States are located within Ohio. Children naturally love animals and always have an interest in learning more which is why Ohio is a great location for families of all ages.
Keeping the kids entertained away from their screens can be difficult, which is why zoos are such a great option. No matter your budget, you can see incredible sights at the best zoos in the US from Ohio, and there is going to be something for everyone.
Not only is Ohio home to some of the best zoos in the United States, and in some cases, the world, but it is also the chosen location of TV personality and renowned zookeeper Jack Hanna. Hanna, also known as Jungle Jack, was the director of the Columbus Zoo for decades which has contributed to Ohio's reputation as an animal lover state.
Summary
There are some excellent zoos around Ohio, and this state is home to some of the best in the United States.
With award-winning conservation efforts and incredible scenery to behold, there is something for all families within Ohio, and there are zoos to suit all budgets and desires. Children of all ages can appreciate a trip to the zoo, and adults will certainly have a great time too.
Zoos are the perfect way to spend time outdoors and educate your children in a fun, memorable way that will stick with them for years to come. You can explore these zoos across Ohio based on their exhibitions and current activities.
If you are interested in wildlife, Ohio is home to some of the very best zoos in the United States.
Other fantastic zoos to consider
If you're hoping to find more fantastic zoos that the whole family will enjoy, take a look at our roundup of zoos in other locations!
More about our TFVG Author
A seasoned traveller, Dad, and avid sports tourist, James foundered The Family Vacation Guide to share his expert vacation experiences- especially when it comes to being a travelling family man.
Featured in Travel articles such as Travel + Leisure, TripSavvy and SFGate, you know you're reading some of the best vacation tips online.