The simple answer is yes, it snows in Oregon.
However, if you want to encounter wintry conditions in the region, you'll have to visit specific areas. You are not likely to find heavy whiteouts like in the northeastern states since the average annual snowfall in Oregon is lower than the national average. There is no need for bulky winter gear in most towns unless you visit the mountainous areas.
Oregon's winter starts in November when the temperatures start to dip into the 40s during the day, accompanied by heavy rainfall. The conditions vary from year to year, but light coverage typically melts away by morning, while some seasons come with heavier snowfall. The most notable snowstorms happened in January 2004 and early 2017.
Snowfall in Oregon
We've used a national database to determine Oregon's highest and lowest snowfall regions. The National Oceanic and Atmospheric Administration (NOAA) has a detailed repository with detailed climatic activity in various cities. Currently, the highest-ranked cities or towns in Oregon in terms of annual snowfall are:
Mount Hood – 59 inches
Baker City – 36.1inches
Klamath Falls – 35.3 inches
Altamont – 35.2 inches
Deschutes River Woods – 30.4 inches
At the other end of the scale, the ranking shows the Oregon localities with the lowest annual snow cover:
North Bend – 0.3 inches
Coos Bay – 0.4
Newport – 0.4
We've put together a rundown of the winter weather to expect in various locations in Oregon.
Crater Lake
Crater Lake is one of the notable winter holiday destinations in Oregon. The picturesque Crater Lake National Park is open all year round but looks stunning with snow cover.
Despite being partially closed to motor vehicles from November to May, it's a revered winter destination. Enjoy fun winter activities at Crater Lake, including guided snowshoeing, hiking, sledding, lake viewing, photography, and camping.
It is advisable to check with the park authorities about road closure before arriving. Oh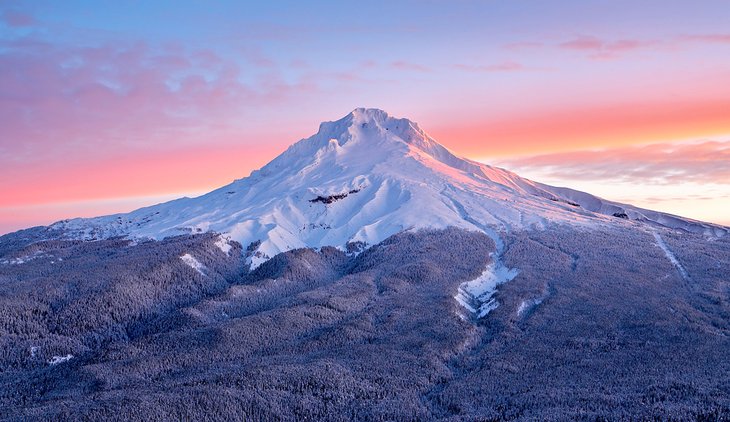 Mount Hood
This scenic town of about 6000 residents averages about 59 inches of snow annually and is a fantastic location for some winter fun. The main attraction in Mount Hood during winter is downhill skiing.
Several skiing resorts provide the perfect conditions, including break-neck ski drops. The town has sufficient access to the vast mountain terrain of Oregon's most popular snow-capped peak. Many of Mount Hood's vacation spots get crowded during winter, but if you prefer solitude, try some off-the-track sites like tilly Jane, Cloud Cap inn, or Sandy River.
Be cautious when visiting these locations because they may get snowed-in, especially during the peak winter months.
Altamont
Altamont is a relatively large town with close to 20,000 residents. The month with the heaviest snowfall in this town is December, with an average of 6.4 inches. This isn't a significant amount of snow, but you'll still need some winter gear to get around comfortably.
So, what can you do in Altamont when the landscape is carpeted in the snow? You might want to visit the Willamette Pass Ski Resort for sightseeing, hiking, and Nordic skiing.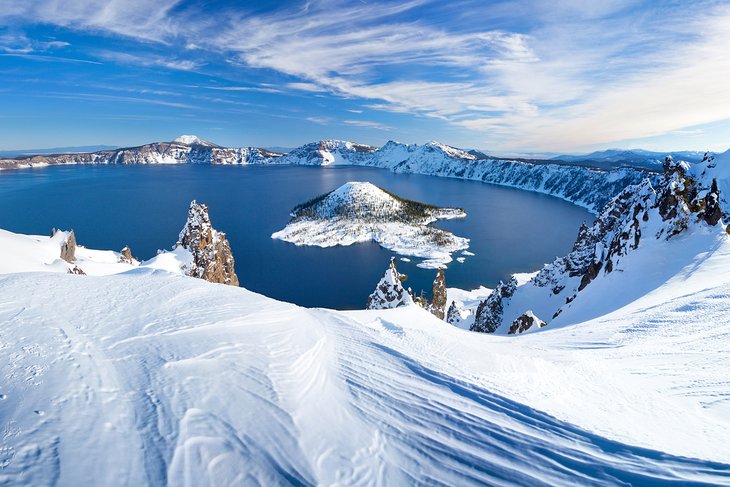 Deschutes River Woods
After rezoning, the Deschutes River Woods area, initially designated as a hunting resort, became a suburb in the 1960s.
Once winter hits this area, the temperatures plummet to an average of 47 degrees Fahrenheit. The coldest month is December, with temperatures going down to 24 degrees Fahrenheit.
Don't expect heavy one-time snowfalls in Deschutes River Woods, but downpours can become more frequent in December and January.
Travelers brave the light winter snowfalls to enjoy themselves at the Deschutes River State Recreation Area, a state-run facility.
Cascade Mountains
The Cascade Ranges typically record the highest amount of winter precipitation in Oregon. At 3000 feet above sea level, you get the right conditions for significant snow cover. The loftier peaks support small glaciers and snowfields all year round.
The Cascade Mountains are unique from other regions of Oregon because the snowfall is often thick compared to the light showers elsewhere. The heavy snow cover provides the right environment for winter skiing and snowboarding.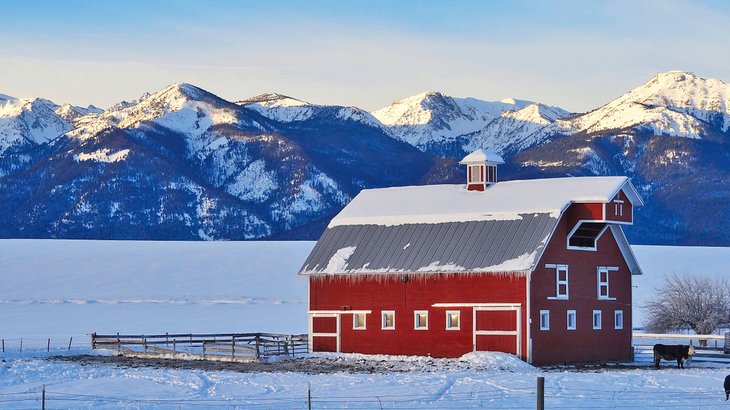 Klamath Falls
Klamath County is a small locality in Oregon that attracts visitors all through the year. Ironically, the City of Sunshine, as it's commonly referred to, has one of the highest winter snowfall averages in the region.
The stunning landscape views provide the perfect backdrop for winter hikes and sightseeing. Klamath is also making a name for itself as the snowmobile hub of Oregon. Enthusiasts enjoy scenic rides from Lake Klamath shores to the Pelican Butte peak, over 8,036 feet above sea level.
The rich powdery snow makes the perfect snowy surface for snowboarding, snowshoeing, and winter hikes.
Baker City
Like Klamath, Baker City is a small neighborhood with a rich history and plenty of activities. The winter months experience increased precipitation, and snowfall levels average 25 inches per year.
The winter snow offers new opportunities for recreation in Baker city. Some snow-related activities around the town include hiking, downhill skiing, snowboarding, and landscape photography.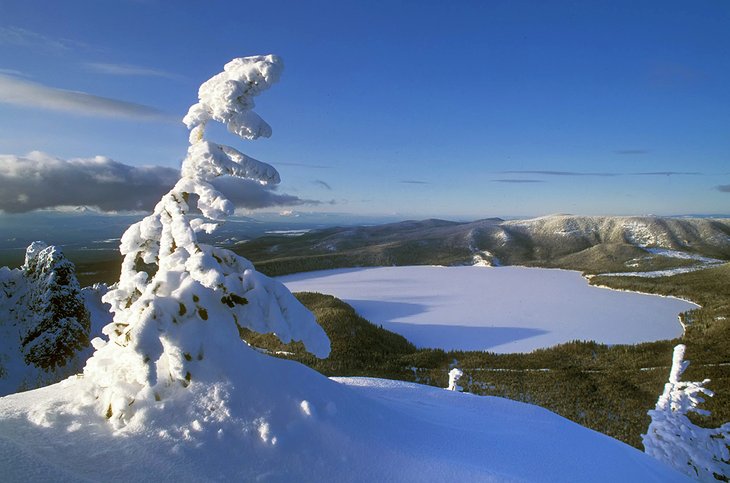 Best Winter Activities in Oregon
The Pacific Northwest has a unique climate that ranges from tropical to alpine depending on the season and location. Oregon winters provide the perfect environment for wintry pursuits, and here's a list of the most popular pastimes.
Cross Country Skiing
The regular snowfall and occasional sunny days make the perfect conditions for long-distance skiing through the idyllic trails. There are plenty of Sno-parks that offer professional and family-oriented trails
Ice Skating
This ideal family pastime can be enjoyed at several covered and open-air rinks around Oregon. The Seventh Mountain Resort accommodates the oldest ice skating rink in the region with day-long sessions.
Sledding
Kids love this activity, and Oregon provides prime locations. Mount Bachelors Snowblast Tubing Park boasts an 800-foot descent that any enthusiast will appreciate. Other sites like Autobahn and Wanoga have more gentle drops that are more child-friendly.
Skiing
Oregon is a popular ski spot due to the favorable terrain and snow quality. Hoodoo Ski Area has been in operation since 1938 and has close to 1,000 skiable acres. The facility includes night runs in its list of activities. Mount Bachelor Ski Resort has a beginner-friendly ski course ideal for family outings.
Snowmobiling
The backwood terrain in central Oregon is perfect for thrill-seekers who prefer motorized adventure. Sites like 10 Mile Sno-Park, and Junction Sno-Park offer hundreds of miles of scenic snowmobile trails.
Winter Hiking
The snowy condition of Oregon's winter does not stop hiking enthusiasts from exploring nature trails. Most of the available facilities are designed to avoid snowdrifts or post-holing.
Day Spas
After all the outdoor activities, a relaxing spa treatment is the best way to wind down. Oregon has plenty of facilities that offer massages, wraps, and other body treatments.
Survival Guide for Snowy Oregon Winters
Here are some tips to help you get through the Oregon winter and enjoy your stay.
Winter Clothing Essentials
Always pack a high-quality fleece or two. These warm garments help when layering clothing to keep the cold away. An insulated jacket is a valuable addition to reduce heat loss. Since most places in Oregon don't get too frigid, you may need only a shirt and insulated jacket when going out.
As we mentioned earlier, significant rainfall accompanies the snow, so a good rain jacket is necessary. Other essentials include wool socks, snow pants, beanies, and high-quality insulated boots.
Keep Active
There are plenty of activities to engage in during winter, so don't let the snow make you stay cooped up. Make use of the winter recreational facilities and learn how to ski or snowboard.
Enjoy the Indoors Too
If you're not too 'outdoorsy' or the weather gets too extreme, there's no shortage of indoor activities to keep you out of the cold. Bookstores, cafes, movie theaters, and good old indoor games will keep you occupied when you don't feel like venturing outside.
Driving Safety
The Portland Bureau of Transportation (PBOT) advises visitors to use public transport, but here are some valuable tips when driving yourself around.
Get Snow Chains
It's advisable to keep tire chains in your car if you get stuck in the snow and need enhanced traction to get you out.
Emergency Weather Kit
This is a must-have item in your car and contains some essentials for emergency situations. Some of the contents include a shovel, jumper cables, a bag of sand, a first aid kit, a blanket, extra warm clothing, flashlight, among other items.
Beware of Slippery Walkways
You're likely to encounter sleet and black ice during the winter months in Oregon, so be cautious of slippery sidewalks as you walk around. The PBOT regularly deploys snowplows and anti-icers along streets and bus routes, though most areas remain unattended.
Low Visibility
Sometimes the height of winter comes with fog which limits visibility. Drivers and pedestrians should be cautious when navigating the streets and recreational spots.
Final Thoughts
The amount of snow you are likely to encounter in Oregon depends on the location's elevation. The weather is also affected by the climatic shifts in the region moving eastward towards the mountain areas. That said, there's always something to do in Oregon, so come with the right gear and an open mind and enjoy your winter stay.
More about our TFVG Author
A seasoned traveller, Dad, and avid sports tourist, James foundered The Family Vacation Guide to share his expert vacation experiences- especially when it comes to being a travelling family man.
Featured in Travel articles such as Travel + Leisure, TripSavvy and SFGate, you know you're reading some of the best vacation tips online.