Family holidays can be a wonderful experience: reconnecting with each other, having fun together, and, in some instances, exploring the beautiful green spaces that the US has to offer.
Whether you're traveling for a holiday like the above, or you're just stopping in Portland on a short layover or road trip, rest assured you'll want your rest to be assured.
In this article, we discuss the 12 best family hotels in Portland, Oregon.
Read on to find out which of our quality picks offer a free breakfast, and which have the best guest reviews!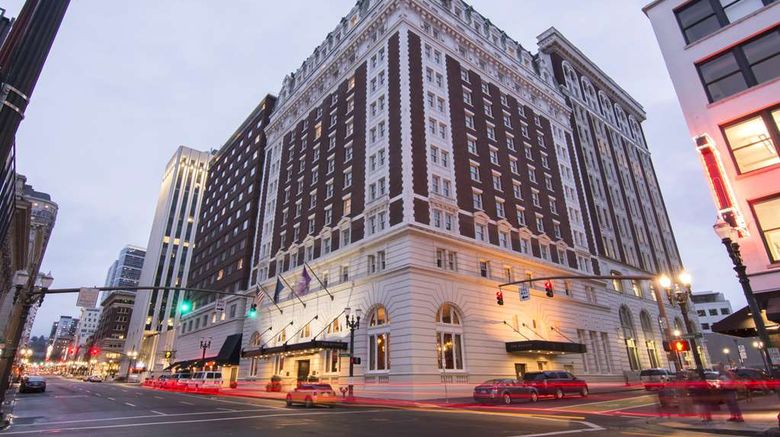 Perfectly located in the heart of downtown Portland, the Benson Portland Hotel is easily one of the top family-friendly hotels in Portland, Oregon. With its fantastic selection of rooms and free continental breakfast, this impressive hotel is designed to provide you with a home away from home.
The hotel is within walking distance of some of the top tourist sites in Portland, such as the Pearl District so you won't have to travel far to experience everything Portland has to offer.
If you are looking for a highly rated hotel and you are considering taking a trip to Portland for your family's next holiday, be sure to keep the Benson Portland in mind!
Offering a modern design that is sure to impress the whole family, the Hampton Inn & Suites Portland is an exceptional family-friendly hotel. With free internet access throughout the building and a heated indoor pool, this is truly one of the most luxurious family hotels in Portland.
The on-site staff are there to make your stay as relaxing as possible, so you don't have to worry about doing everything while you are on holiday. The exquisite rooftop patio also provides stunning views of the Portland Downtown area.
Any families who are visiting Portland in the near future will be doing themselves an injustice if they don't book a stay in this fantastic hotel!
Next up on our pick of the top family hotels in Portland we have the impressive Royal Sonesta Portland Downtown hotel. This GreenKey certified hotel is perfect for families looking for a cozy but environmentally friendly place to stay.
Complimentary WiFi is available throughout the hotel and each room comes with a selection of top-tier amenities. Rooms are also designed to be allergy-friendly, which adds another layer to an already impressive hotel.
Finding the perfect place to stay in Downtown Portland can be tricky, but the Royal Sonesta Hotel will cover all of your needs. Everything about this incredible hotel is royal – except the price!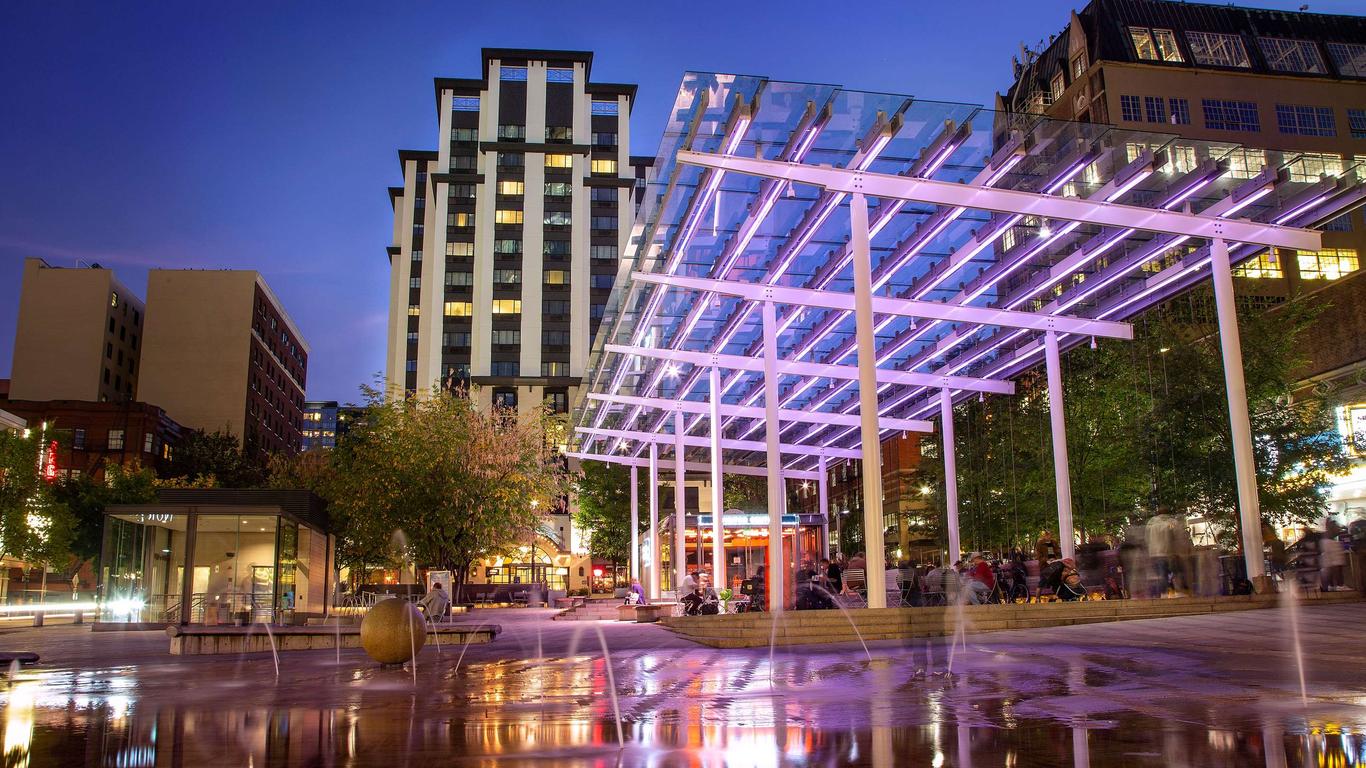 Featuring no hidden amenity fees and a selection of fantastic rooms to choose from, the Paramount Hotel is perfectly designed for families seeking an affordable hotel in Portland.
Perhaps one of the high points of this exquisite hotel is its highly professional and friendly staff. Whether you are just lost or you're trying to find the perfect venue for your family day out, the staff are sure to point you in the right direction.
On top of this, the Paramount Hotel has recently gone through a refreshment throughout the hotel. There truly has never been a better time to stay than today!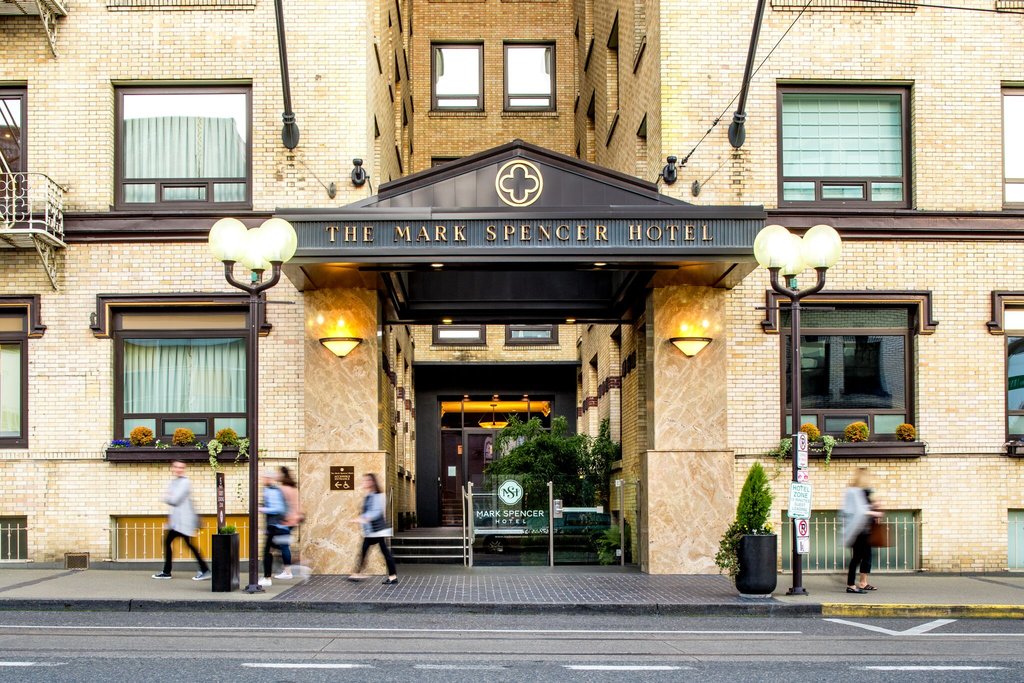 The Mark Spencer Hotel is consistently highly rated with past hotel guests thanks to friendly service and some of the coziest rooms downtown Portland has to offer.
One of the standout features of the Mark Spencer Hotel is its European flair which offers a cultured style that is sure to impress the whole family. You can expect this hotel to create memories that your children won't soon forget.
In terms of locale, the Mark Spencer Hotel is situated in downtown Portland so you can quickly access some of the top tourist venues. With stellar guest reviews and an Old World charm, the Mark Spencer Hotel is a place that will stick with you!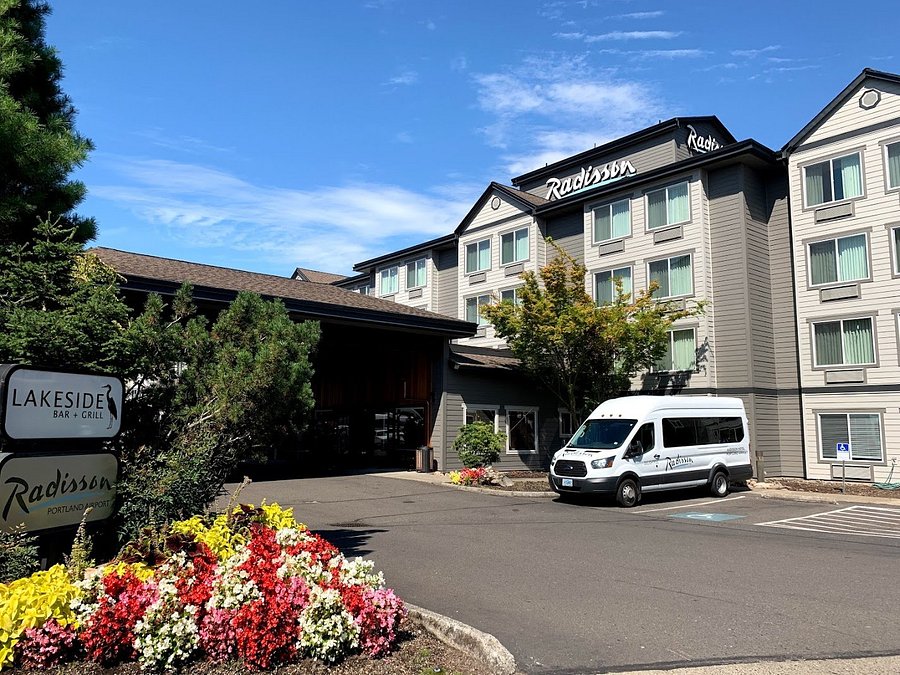 If you're looking for a hotel situated near the Portland International Airport then the Radisson Hotel is exactly what you are looking for. With a Lakeside bar & grill and a free ride to and from the airport, this is perfect for those traveling on a budget.
The hotel itself overlooks a gorgeous landscape and is near enough golf courses to keep any golfers happy. The fitness center and on-site restaurant are guest favorites, so be sure to check them out if you book a stay in this president award-winning hotel!
Dubbing itself as 'A gateway to the city', the Hotel Zags Portland is surrounded by some of the most popular sites in Portland. From the relaxing walled courtyard to the view from the upper-story rooms, this is one of the finest family hotels in Portland.
Finding somewhere to eat in Portland downtown has never been easier as this family hotel is surrounded by over 140 different restaurants. You're sure to find something to eat that the family can all agree on.
To round out this already fantastic package, the Hotel Zags Portland even allows pets. You won't need to leave your furry friend at home!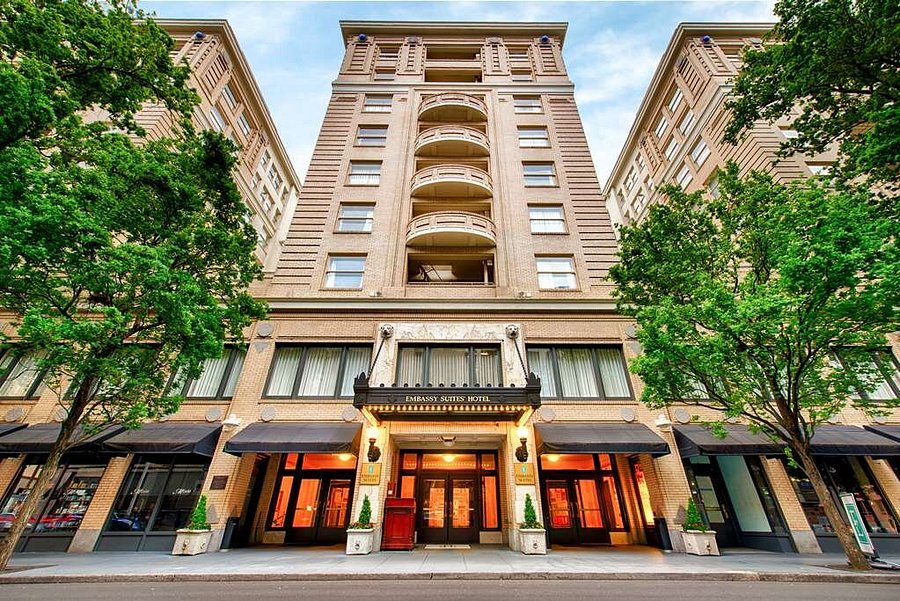 Hilton is one of the biggest hotel franchises in America and the Embassy Suites is a clear example of why. This impressive family hotel is constantly receiving overwhelmingly positive guest reviews, and it's plain to see why.
The historic building itself was constructed in 1912, offering guests a connection with the past. Guests can also expect a complimentary cooked-to-order breakfast, so the kids can have their favorite pancakes from the comfort of their room.
WIth some of the top family venues at its doorstep and boasting a GreenLeaders Gold level, this is easily one of the best family hotels in Portland.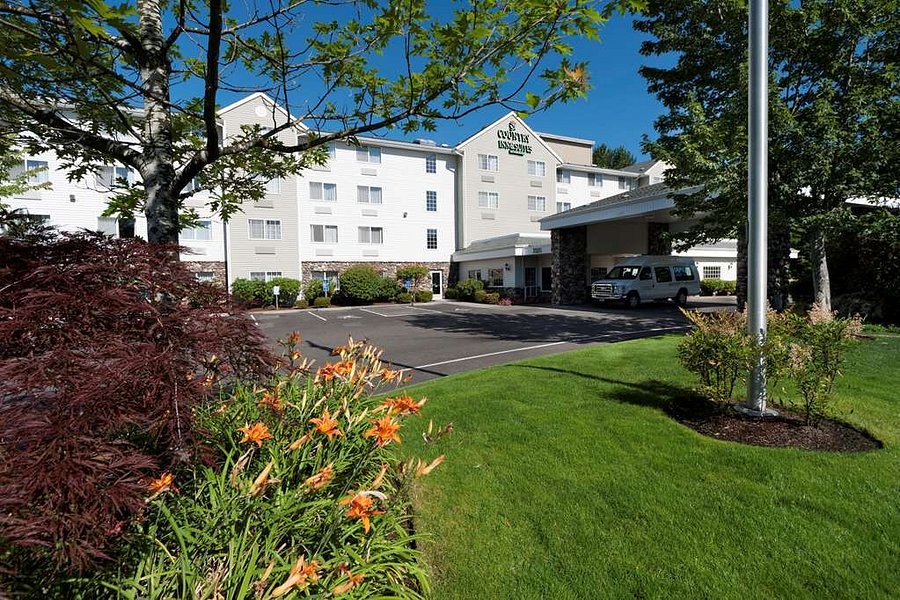 If you are looking to escape the Portland Downtown area, but you are still wanting to be near this fantastic city, then you have come to the right place. The Country Inn & Suites by Radisson is a superb boutique hotel outside of the hustle and bustle of city living.
As it is outside of the downtown district, you may think transport is an issue. Thankfully, the hotel owners have considered this as this hotel provides free parking and a complementary Portland International airport shuttle service.
Families looking to explore the city in their own time and don't want to be caught up in frenetic city life will instantly fall in love with the Country Inn & Suites hotel!
Found in the extremely popular Portland Pearl District, this Hilton hotel features stellar guest reviews and a collection of child-friendly events designed with families in mind.
Perhaps the biggest selling point of the Canopy hotel is its incredible location in the Portland Pearl District. The cobbled streets of the Pearl District are sure to bring a smile to your children's faces.
In terms of hotel amenities, guests can enjoy free WiFi in their rooms, excellent room service, and some of the friendliest staff on this side of the Pacific.
So whether you are planning on visiting Oregon soon or you are just looking at your options, be sure to keep your eye on the Canopy Hotel!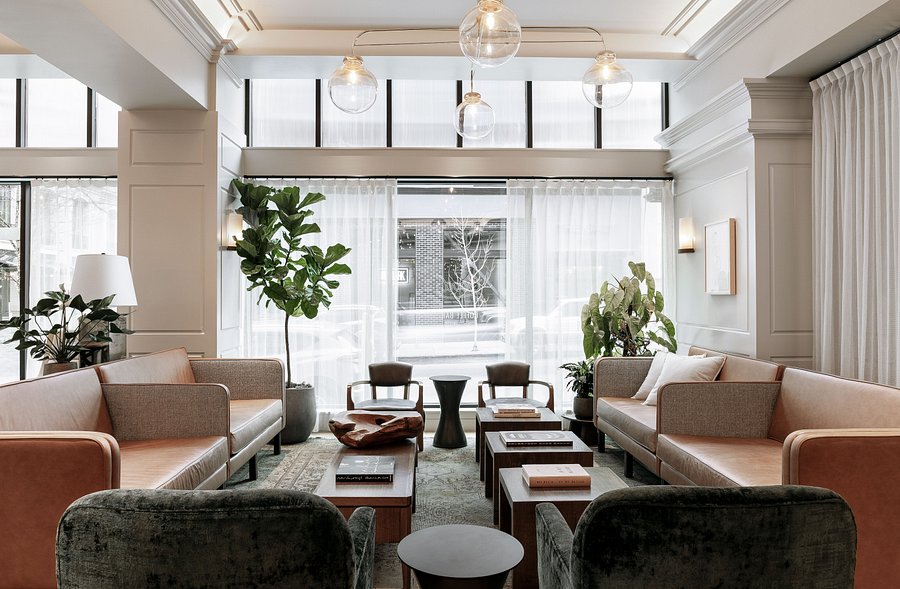 Easily one of the most unique family-friendly hotels we have covered today, the Woodlark is sure to impress anyone looking to book a stay.
Dubbing itself 'The House of Welcome' you can expect an extremely pleasant greeting, where you will be shown to your room. And what a fantastic selection of rooms there are. Woodlark prides itself on its inclusivity with a fantastic array of decors and room types for you to choose from.
Guest reviews are constantly praising how immersive this Portland hotel can be for both adults and children alike. What's more, children can stay free which truly helps this already fantastic hotel stand out.
Finding a hotel that is luxurious enough to offer you an escape whilst covering your children's needs can be difficult. Thankfully, the Woodlark Portland Hotel covers everything you could possibly need for your next family vacation.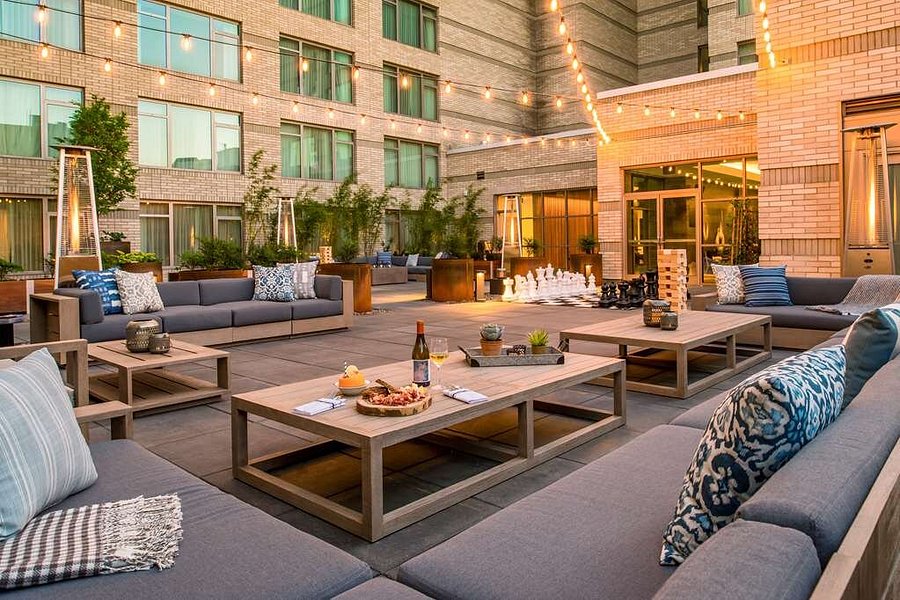 Renovated in 2017, the Duniway Portland is just another prime example of why Hilton Hotel offers some of the best places to stay in America.
This contemporary family-friendly hotel is a stone's throw away from some of the finest Portland landmarks. This includes the Oregon Convention Center and a selection of premier tax-free shopping centers.
Inside your room, you will have access to a mini-fridge and a 65-inch HDTV – which is sure to impress your kids when they watch their favorite movies using the on-demand movie service. The on-site restaurant and coffee bar provides a perfect way to wind down after a busy family day out.
Luxury is rarely something you think of when it comes to family-oriented hotels, but the Duniway Hotel will more than exceed your expectations.
In Summary
Booking a family vacation means finding a well-priced, convenient hotel for everyone. It's a good thing Portland is bursting at the seams with family-friendly hotels that will surely make you and your kids happy!
We hope our list of Portland's best hotels has helped you find just what you're looking for when you next visit the beautiful city of Portland!
More about our TFVG Author
A seasoned traveller, Dad, and avid sports tourist, James foundered The Family Vacation Guide to share his expert vacation experiences- especially when it comes to being a travelling family man.
Featured in Travel articles such as Travel + Leisure, TripSavvy and SFGate, you know you're reading some of the best vacation tips online.