Zip lining has grown in popularity recently, with zip line tours and aerial adventures becoming popular.
These tours let you soar through the picturesque landscape, whether it's for the love of the outdoors or you're an adrenaline junkie. So, which are seven of Pennsylvania's best places for ziplining and aerial adventures?
Pennsylvania, is a well-endowed state with stretches of rivers, lakes, mountains, and forests, you can never run out of relaxation activities. Ziplining and aerial adventures can engage the entire family for an ultimate thrill-seeking experience for both adults and kids. 
Here are the best locations in Pennsylvania to put your getaways into high gear and enjoy the beauty of ziplining and aerial adventures. 
What are Ziplining and Aerial Adventures?
Ziplining and aerial adventures involve exhilarating experiences suitable for various abilities and ages. There's no specific skill set needed, such as climbing or flying, to undertake the smile-inducing ziplining and aerial view features that leave lasting memories.
All the elements of aerial adventures exist in Pennsylvania, in places within easy access, featuring courses with multiple activities.
However, there are age and height restrictions on zip lines, and it's essential to check weight requirements as well. Some parks have aerial mini-ropes and trampolines for kids, pint-sized versions of the main attractions.
Some ziplining and aerial rope maneuvering parks feature dual zip lines for competitive races between friends, or you can take a skateboard version of the aerial adventure.
While you're provided gear such as helmets and harnesses by the tour, dress comfortably and preferably with closed-toe sneakers for maximum safety. Qualified professionals guide you each step of the way as you have fun in these unique outdoor adventures.
Which Are the Best Places for Ziplining and Aerial Adventures in Pennsylvania?
Traversing high in the air the fantastic fauna and flora of Pennsylvania, your ziplining and aerial adventure is one for the picture album. Since you should be prepared for a fair amount of physical exertion, you must meet the required physical and psychological requirements.
Hear and understand commands to help you climb towers or hillsides and have the strength to operate grasping cables. Other less-demanding activities are also available in these parks for those that don't meet the ride's minimum requirements.
Seven of the best places for ziplining and aerial adventures in Pennsylvania include;
Refreshing Mountain's Aerial Excursion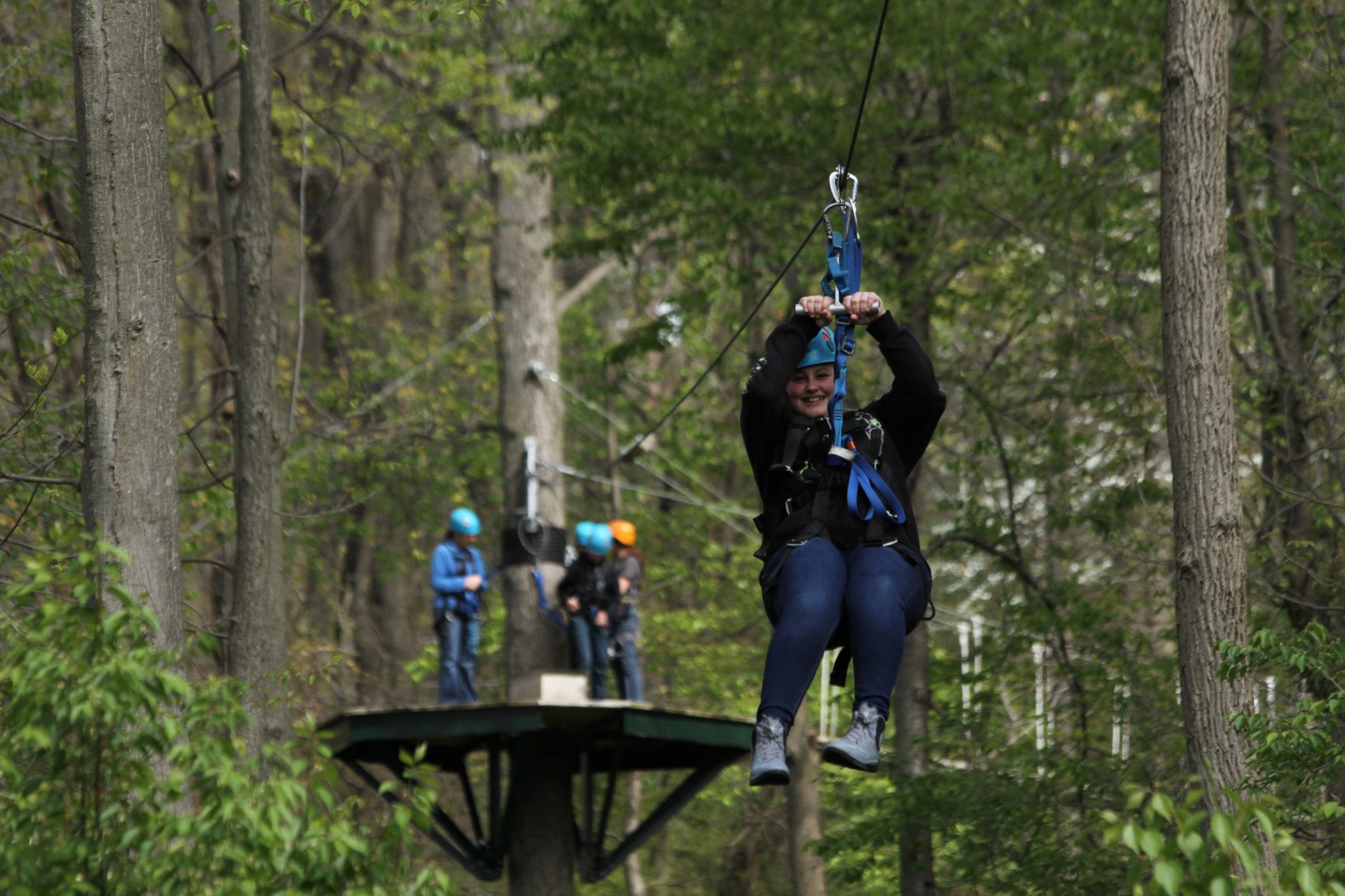 In Lancaster County, PA, an aerial excursion course boasts seven ziplines with three sky bridges and a 40-foot-controlled rappel platform. The Refreshing Mountain adventure park is open for booking and accommodates small groups, with a 120-minute duration for activities.
Refreshing Mountain's aerial excursion tour features long and fast zip lines, and your tour starts with hikes across the course's entrance. It's one of the best places in Pennsylvania for an unforgettable experience, and their longest line is 800 ft.
After completing the adventures and seasonal aerial games, a unique mountain limo drives you back to their activities center.
Go Ape Zipline and Adventure Park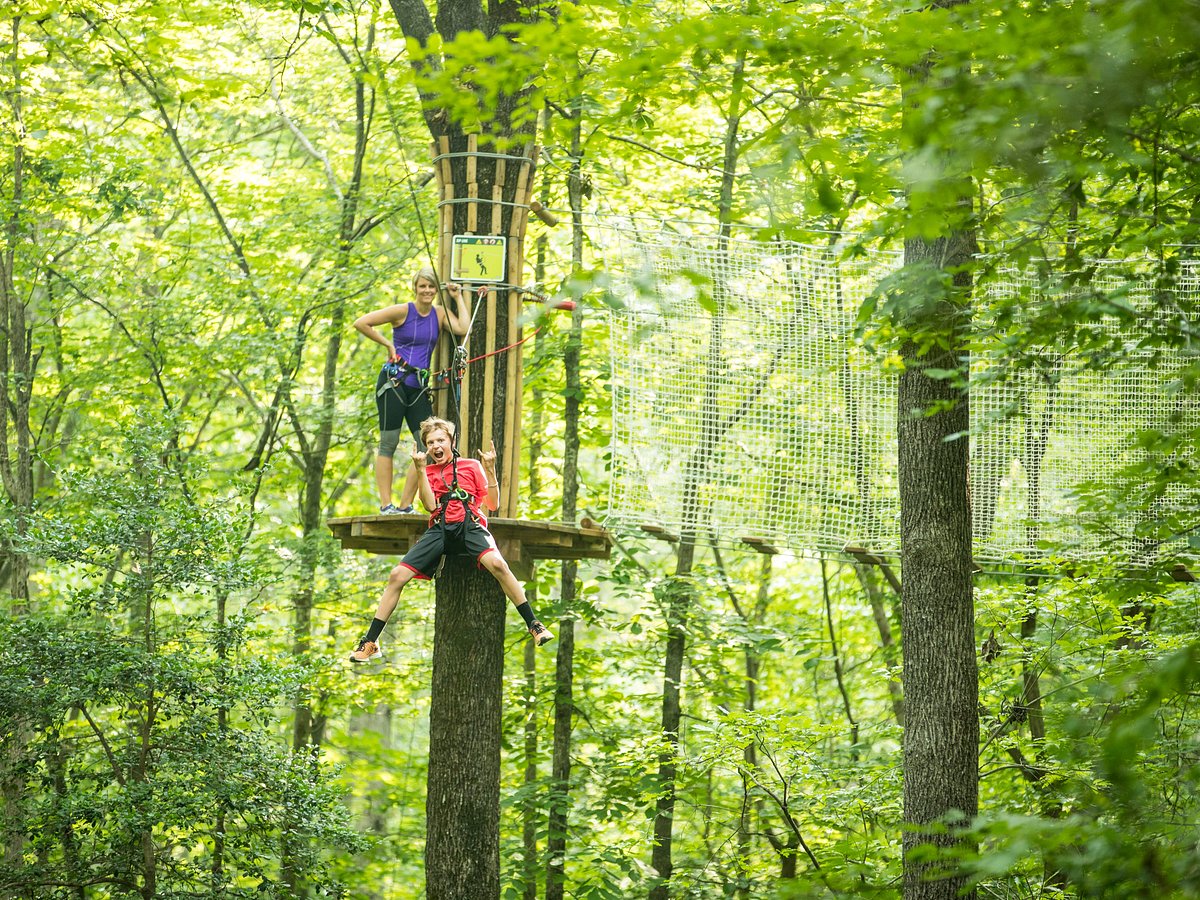 Get ready for an exciting two to three-hour experience that involves five ziplines at Allison Park in the greater Pittsburgh area. Go Ape North Park Zipline and Adventure Park have a 450-foot line and 38 obstacle courses, including two Tarzan Swings.
They have over ten years of providing ziplining and aerial excitement to over two and a half million visitors on their attractions, set at 40 or 50 feet high.
Go Ape Zipline and Adventure Park has giant obstacles in trees with walkways, ladders, tunnels, and bridges built with rope, high tensile wire, and wood. Before you're let loose into the treetops, you're provided with helmets, harnesses, and carabiners for safer fun.
You'll find the North Park at 991 Tennis Court Road in Allison Park for an adrenalin-pumping experience.
Elmwood Park Zoo's Treetop Adventures
Treetop Adventures at Elmwood Park Zoo is a ziplining attraction featuring over 50 challenges, many spanning 50 feet above the zoo grounds. As Pennsylvania's only trope course zips over animal exhibits, the courses are located in Norristown.
It's a unique and best place you'll access through the Pennsylvania turnpike, a few minutes before Valley Forge Historical Park.
You must reserve your Treetop Adventures excursion in advance, and no open shoes or sandals are permitted. Arrive early for safety, orientation, and gearing up, for which you're provided according to the obstacle courses you wish to tackle.
Pocono TreeVentures Zip Racer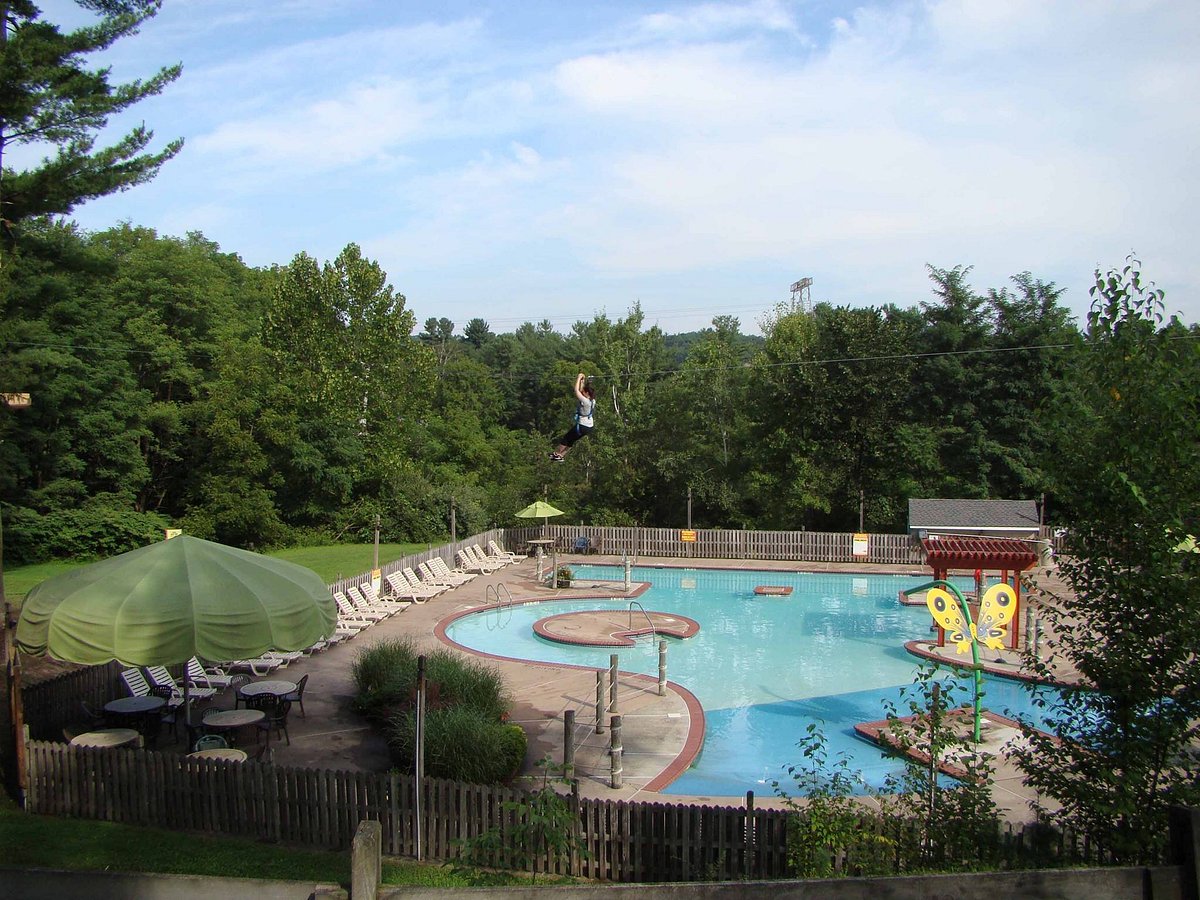 You can spend the day up the trees while climbing, zipping, or balancing through any of the sixty-plus features of the Pocono TreeVentures attractions. There are rope courses for all levels of aerial adventure enthusiasts, whether you're a beginner or an expert.
You'll find five challenging courses as the best place for these family outdoor activities, including the Pocono Zip Racer. That's a 1,000 feet dual racing line that's part of this park, while others feature bridges between platforms constructed from cable, woof, and rope configurations.
Challenge yourself with tightropes, moving platforms, rope net climbs, and swinging log steps in this destination located on Route 209, Bushkill, PA.
Hellerick's Family Farm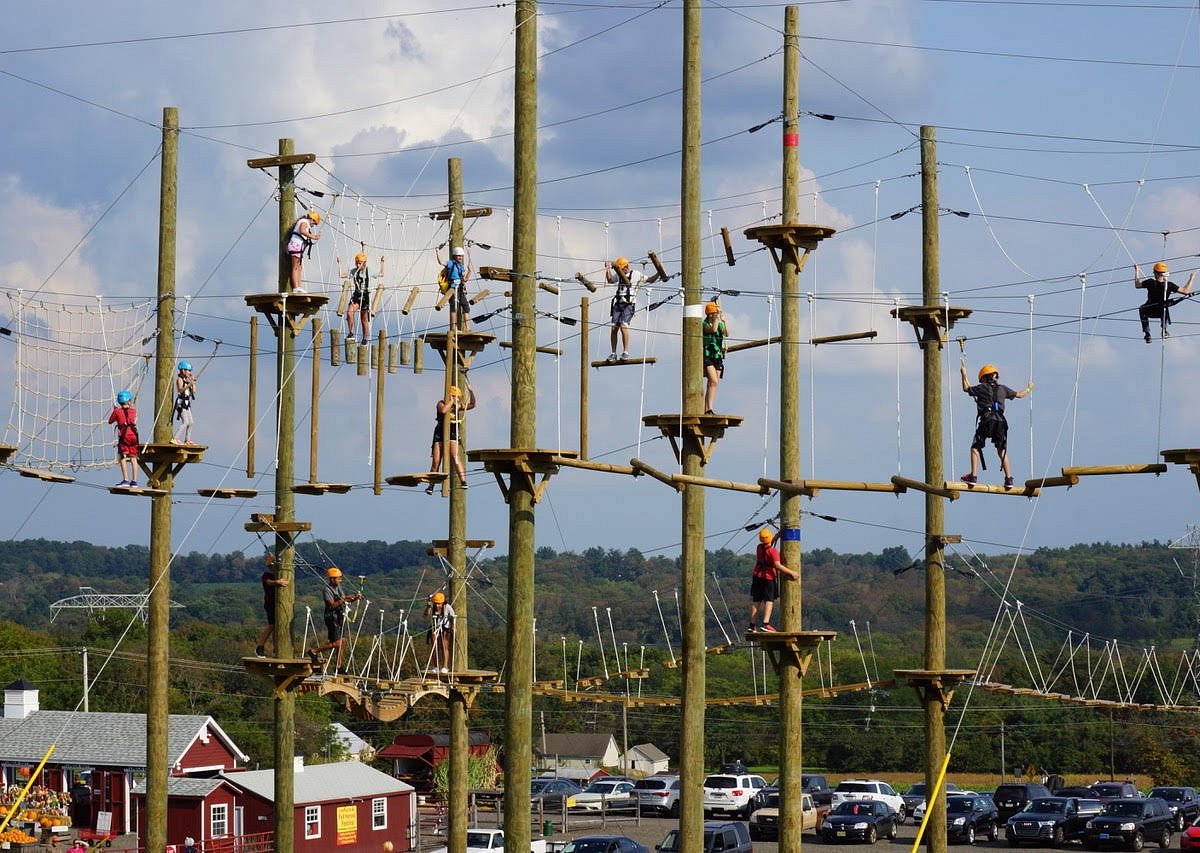 The ziplining and aerial adventure obstacle courses at Hellerick's Family Farm will task and exhilarate you mentally and physically.
You'll find 21 elements that include nine zip lines, a 30-foot central tower for free falls, and countless bridge platforms. While they don't admit under seven-year-olds, this location provides all equipment alongside a detailed briefing for safety.
You can take your camera or phone onto the ziplining and aerial adventure courses at Hellerick's Family Farm.
Since it's built away from the trees, this park can operate through most weather, but you'll be given a chance to complete your course should it deteriorate. The farm is open weekdays only until June and is situated at 5500 North Easton Road, Doylestown, Pennsylvania.
Hershey Outfitters Odyssey Challenge Course and Zipline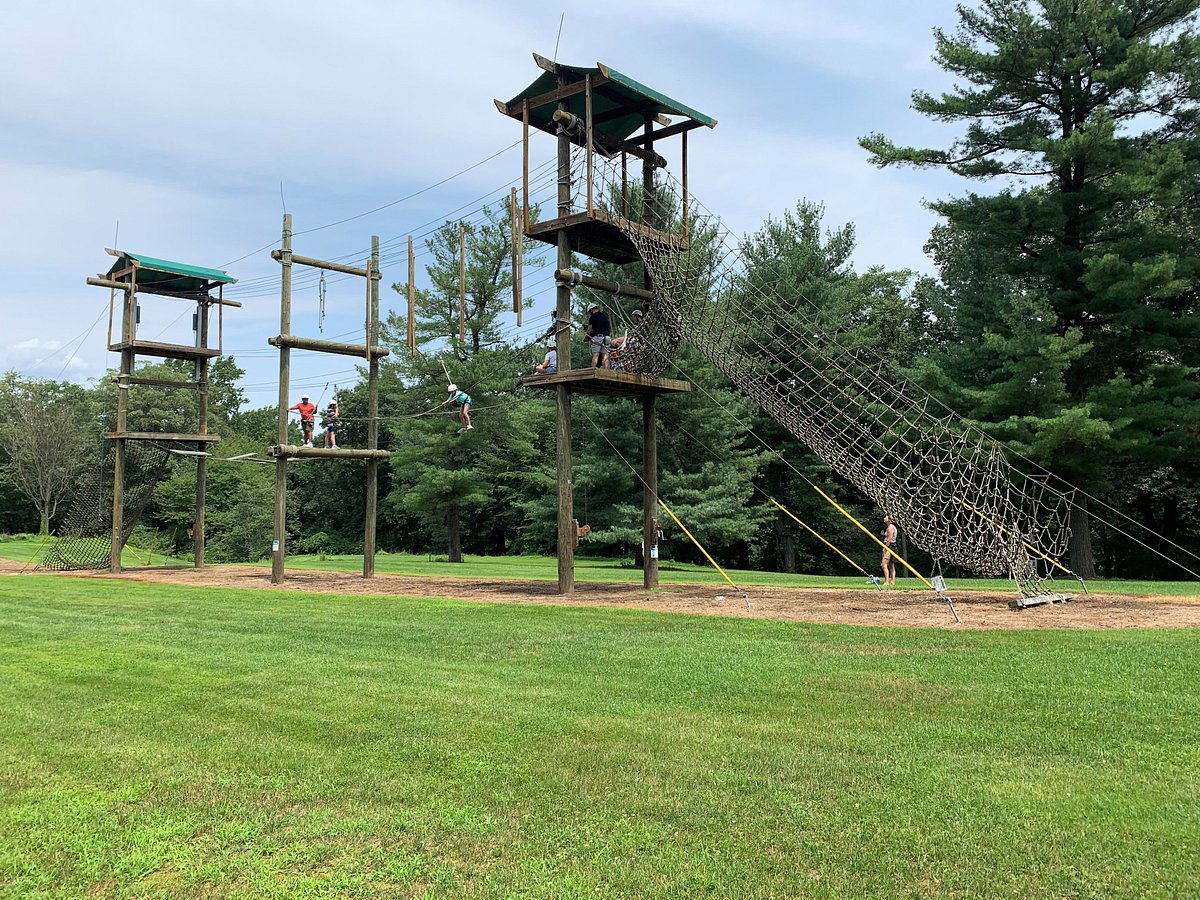 The best outdoor adventures are available in Pennsylvania; Hershey Outfitters and Segway of Hershey's Odyssey Challenge Course and Zipline offer an unforgettable experience.
It's one of the largest aerial platforms around, and you'll experience various obstacles from crisscrossed ropes to hanging logs.
A site rumored to test anyone that undertakes it, the Odyssey Challenge Course lets you navigate tunnels, bridges, and rope jungle gyms on a two-hour guided tour.
The obstacle is located on the grounds of the spectacular Hotel Hershey at 100 Hotel Road, Hershey, Pennsylvania. After a weather-permitting experience, you'll zip down a 100-foot self-descending platform.
Seven Springs Mountain Resort Screaming Hawk Zipline
Soar above the treetops on 2,000 feet of zipline at the Screaming Hawk Zipline at the Seven Springs Mountain Resort, Seven Springs, PA.
It's an adrenaline-filled ride that offers thrilling high speeds accessible from the Spider Web to Copperhead Tower. You'll navigate across rope, wooden, and heavy-duty cable walkways to the Flying Squirrel Perch and on to Rattler's Roost or Red Fox Landing.
You'll complete the Screaming Hawk Zipline if you're courageous enough by crossing the treacherous Black Bear Bridge to Venom Tower. Before getting to Jack Rabbit Jump, you'll take a 777-foot zip to complete the ninth challenge to accomplish these challenges.
Conclusion
The sky's the limit at any of these Pennsylvania places offering ziplining and aerial adventure, featuring a variety of high-elevation experiences. You'll find activity-filled parks with unique outdoor set-ups for adrenaline-inducing challenges for family or group outings.
Many of these courses also feature other activities for those too young, old, or incapable of these extreme high-flying activities.
More about our TFVG Author