Are you ready to plan your next winter vacation? The view of the Poconos may be beautiful year-round, but their majesty is truly on display in the cold winter months. Visit a winter wonderland when you take a trip to see these incredible snow-capped mountains.
Get your blood pumping with a fun-filled time snow tubing down the slopes in the beautiful Poconos. Unlike other winter activities like skiing and snowboarding, snow tubing is beginner-friendly and just as fun when you're eight as it is at 38.
Different spots have different things to offer (like double tubes or Magic Carpets), so keep reading to find out which of the top five tubing spots is right for you and where to stay during your weekend getaway!
Why not also check out our guide to the best Poconos family resorts for ideas on where to stay?
If you want a snowy trip, guaranteed, look no further than White Lightning Snowtubing. Once the weather gets cold enough, they make their own snow, so every day is the perfect day to hit the lanes. Since they don't have to depend on nature, White Lightning opens in December and stays open until mid-March. You can even go snow tubing as late as 9 PM!
Children have to be ages four and above to tube, and only single tubes are available. Whether you're looking for a family vacation or a weekend getaway for two, White Lightning can deliver playful winter magic.
Lodging and Eateries
Not from the area? No problem! Enjoy the view; book a villa at the Pocono Mountain Villas just around the corner and skip the travel time to your tubing experience. They offer cozy studios for the couple looking for a romantic holiday and spacious two bedrooms for families on vacation, as well as whirlpool baths and indoor pools!
Stay in and get delivery from restaurants like Petrizzo's, promising classic Italian-American cuisine like pizza and lasagna, and fan favorites like burgers and seafood.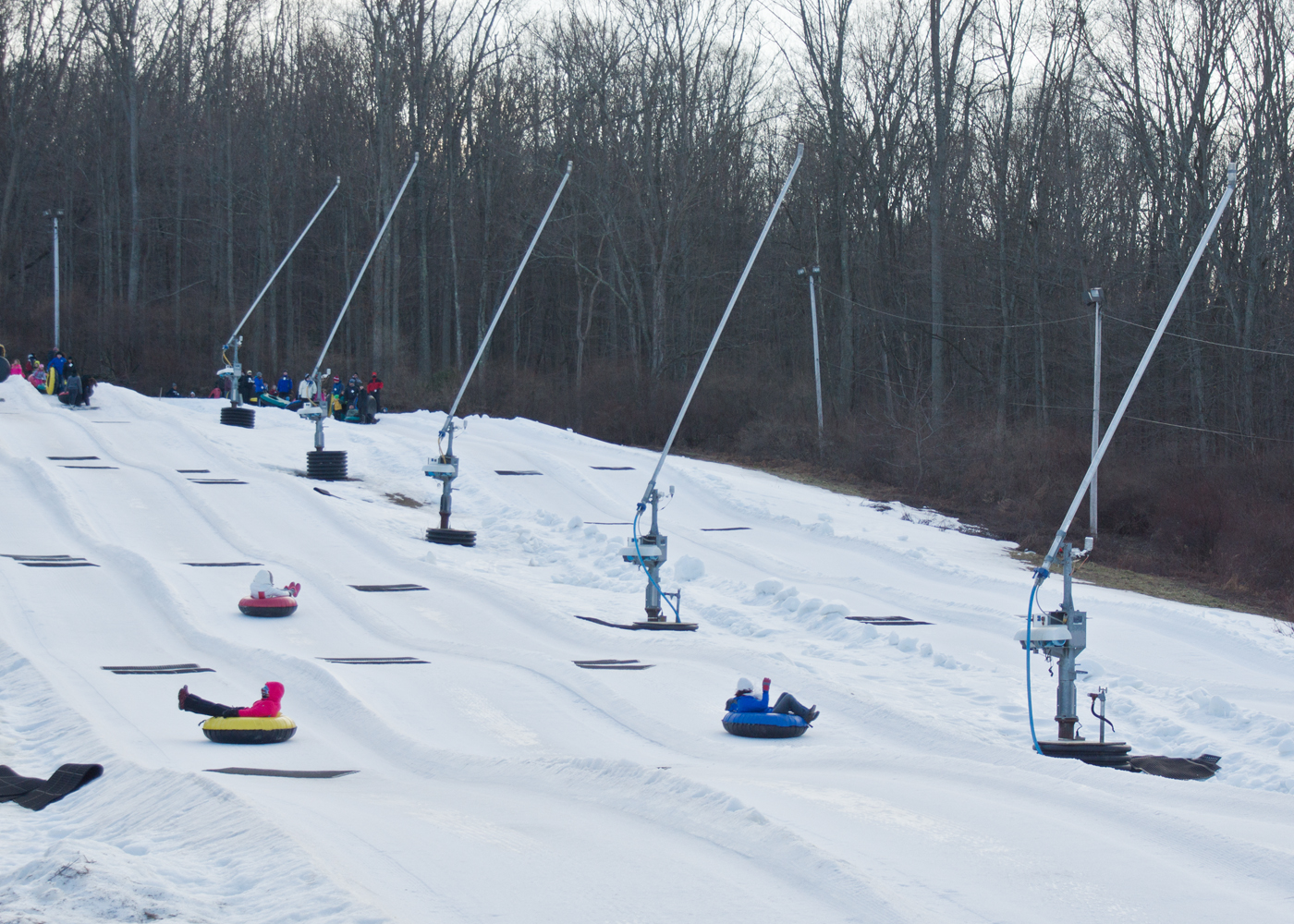 "But, what about my kids?" This snow tubing spot offers single and adult/child tubes, so you can safely tube with your little ones (46" and under)! Shawnee Mountain Ski Area has six snow chutes and two Magic Carpet Lifts for convenience. It's open every day of the week from December to March, but tickets must be purchased online in advance.
Lodging and Eateries
If you want to stay close by, take advantage of the Shawnee Inn! Inside the inn itself, you'll have access to a coffee shop and indoor pool, but the fun continues as you explore all Shawnee Village has to offer in the winter season.
Hiking and trail guides are included with your stay, as is a convenient shuttle service to help you get where you want to go. You're only a short ride away from complementary s'mores, the Gem and Keystone Tavern, and more!
Not interested in dragging your tube up to the top? You're in luck! Ski Big Bear has a Magic Carpet Lift for a hassle-free snow tubing trip. With 500 foot chutes, you're bound to get a thrill with every trip down!
Children have to be 42" tall to tube, and Ski Big Bear only offers single tubes. Tubing at Ski Big Bear opens in December and closes in March. Ski Big Bear is open for weekend getaways and certain holidays, so you'll want to look up the dates and hours and plan ahead.
Lodging and Eateries
If you're looking for a place to stay that's as beautiful as the Poconos, look no further than Ledges Hotel in Hawley, Pennsylvania, only a half an hour drive away. The building started out as a glass-making factory in the 1890s and has been restored and given new life as a hotel. It sits cradled by the Wallenpaupack Creek and offers views of the nearby gorge, and has your lodging needs covered, whether that's two beds or two floors! 
You don't even have to leave the comfort of the hotel for a good meal, just order takeout from Glass-wine.bar.kitchen, their in-home restaurant.
Get a taste of the local flavor at Lake Wally Cafe, a family-owned restaurant that makes hot and cold subs, serves breakfast all day, and has contact-free delivery if you don't want to leave your room. If that's not your speed, check out The Ridge Restaurant, which has an elegant feel and has Italian classics like chicken parmesan and has gluten-free pasta available.
If you're looking for an exciting, family-friendly snow tubing trip, give Camelback Mountain a try. It promises 40 different lanes and makes its own snow to guarantee the full winter experience!
Single and double tubes are available, and little ones between 33" and 43" can ride in a double tube with an adult, while taller children can enjoy tubing alone. Disco lighting after dark promises a tubing experience you'll never forget! Camelback Mountain opens in late December.
Lodging and Eateries
Skip the traffic and stay at the Camelback Resort! Their condos range in size from cozy studio spaces for two to multi-floor four-bedroom condos that can comfortably house up to twelve people. Experience all the comforts of home and more with a full kitchen, a fireplace, and a balcony where you can enjoy the views only the Poconos have to offer.
Enjoy never having to leave the resort and check out the variety of eateries they have to offer. For breakfast, head over to the Waffle Cabin for a decadent treat to-go or Cafe' & Bar, Coffee by La Colombe for artisanal coffee blends and pastries.
Snack time? Treat yourself to frozen yogurt with various toppings and make something new every day! Graffiti Pizza delivers New York-style pizza for lunch and dinner, or snag sandwiches and classic mac and cheese from Big Pocono Family eatery. Whatever you've got a taste for, you can find it nearby!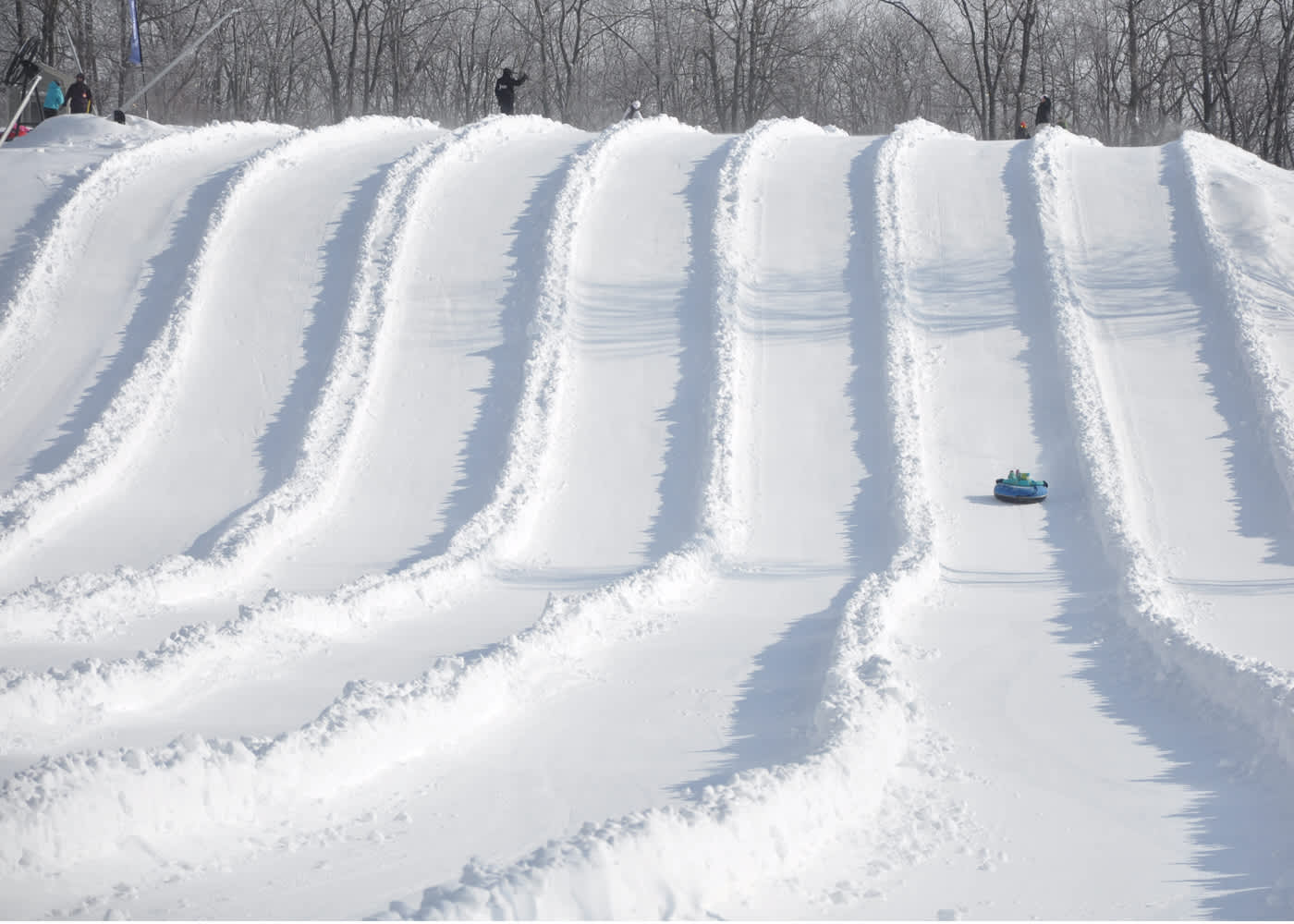 These two resorts are only a few miles apart, and lift tickets for one apply to both if you're looking to get some skiing in while you're in the Poconos. Jack Frost features six snow tubing chutes and two lifts to save you time hiking up to the top!
Big Boulder is aptly named as its Jack Frost's older sibling and having been founded in 1947. It's also the oldest ski resort in the area. With twenty snow tubing lanes, varied terrain, and two carpet lifts, it has loads of thrills and everything you need to make the most out of your trip!
Big Boulder also makes its own snow for those days when the weather doesn't feel like cooperating and has since the 1950s. They offer all-day sessions on non-holiday Thursdays if you decide you want the thrills to last.
These co-owned resorts want everyone to know that they've pledged to be 100% carbon neutral by 2030 to preserve the Poconos and the winter activities they love!
Lodging and Eateries
Consider staying at Split Rock Resort, which is conveniently nestled between the two resorts. Suites are one-bedroom, making this perfect for that get-away with a special someone. Amenities include everything from full kitchens to jacuzzis and fireplaces, so there's a little something for everyone at this charming resort!
The food options are no different, with restaurants ranging from the Food Court, offering everything from pizza to coffee to Bistro Fusion, which doesn't limit itself to any one kind of option and promises everything from classic French cuisine to Japanese-inspired dishes.
Last but definitely not least: Blue Mountain Resort promises up to 46 lanes, each over 1000 feet long, making them the longest and fastest lanes in the state! They have single and double tubes, as well as three lifts, so you can make the most of your time. Snow tubers must be 36" or taller to ride. Blue Mountain Resort opens in late December.
Lodging and Eateries
The Lodge at Woodstone is four miles away from the Blue Mountain, in Lehigh Valley. With a delightful variety of options in their continental breakfast, jacuzzi suites, and sweeping views of the mountains, The Lodge is a luxurious option if you're looking to treat yourself. If you need more room, consider The Inn at Jim Thorpe. It's been a hotel since it was built in 1849 and has everything from mini-suites with whirlpool tubs to sprawling two bedrooms with balconies.
On the mountain, you can get lunch and dinner at Slopeside Pub & Grill, taking advantage of the fantastic views and enjoying handcrafted sandwiches, or grab drinks and appetizers at Last Run Lounge. Early morning? Take your pick of three cafes for a quick bite and some coffee.
Not far from Blue Mountain, at The Lodge, The 19th Grille at Woodstone promises to redefine "fine casual" dining with luxe spins on pub classics and your choice of craft beer, handcrafted cocktails, or wine. Located in The Inn at Jim Thorpe, you'll find the historic Broadway Grille Pub, which offers a variety of finger foods and takeout for breakfast, lunch, and dinner.
Looking for something interesting? Give Myst a visit; they call themselves a sushi hibachi gastropub! You're likely to find a little something for everyone on the menu, as they offer everything from shrimp teriyaki to hibachi filet mignon!
Things to remember
Be ready for itinerary changes
All openings are subject to weather and may change unexpectedly. Resorts and parks that make their own snow will be more predictable than those that don't. Call before you leave for your session to make sure plans haven't changed.
Dress warmly
You don't want to set out for hours of fun only to find that you weren't dressed for the weather. Make sure to layer up with sweaters or flannels, a winter coat, thick socks, and gloves. If you're planning on going snowboarding or skiing (which you can also do at a lot of these resorts!), remember snowboarding boots can damage the tubes. Most of the parks and resorts don't allow them to be worn while snow tubing, so make sure you either wear or bring along a set of warm winter boots.
Be early
All of the resorts recommend that you show up early, so you don't miss part of your session. Your tickets buy you specific time slots, much like a movie theater. With sessions ranging from one to three hours, try to be at least half an hour early, so you don't miss a minute of fun!
Book ahead
Don't forget to book in advance! Tickets sell out quickly for snow tubing sessions, so buying them ahead of time is the best way to ensure you get the sessions you want. Your hotel room or suite should be booked well in advance, too, so your trip doesn't end up going sideways as you try to rush and find a hotel with availability.
Whether you're looking to plan a family reunion or looking for an exciting and luxurious weekend away, you'll find the perfect place to go snow tubing in the Poconos!
More about our TFVG Author
A seasoned traveller, Dad, and avid sports tourist, James foundered The Family Vacation Guide to share his expert vacation experiences- especially when it comes to being a travelling family man.
Featured in Travel articles such as Travel + Leisure, TripSavvy and SFGate, you know you're reading some of the best vacation tips online.