Pennsylvania is a beautiful state with much to do regarding family fun. While not every resort is entirely all-inclusive, our list below also includes places that offer several packages that will cover your lodging, food, and activities. 
Some accommodations offer a hot breakfast each morning along with a comfy room and multiple complementary activities, and others that are more comprehensive, including extra amenities, meals, activities, and more.
Based on the variety of activities, dining options, family-friendly accommodations, and room layouts, here are ten excellent all-inclusive family resorts in Pennsylvania.
Best Family-Friendly All-Inclusive Resorts in Pennsylvania
Vacationing in Pennsylvania is a great idea, especially if the goal is to keep the entire family entertained from start to finish. The Keystone State has stunning resorts sprinkled throughout the area.
USA Today voted Woodloch Pines Resort as the number one family resort in the USA. This all-inclusive resort in the Poconos takes the planning out of the equation by offering over 30 activities every day. Moreover, the winter activities include ice skating, snowshoeing, and snow tubing.
There's exhilarating lakeside fun and pools for everyone to take a dip in during the summer. The fall even has something to offer in the war of haunted hayrides. Meals and the resort are served around large tables in a family-oriented way. When it comes to those with allergies and special dietary needs, the resort is especially adept in dealing with such considerations seamlessly.
The night brings an assortment of entertainment such as dance parties, talent shows, and comedian acts. Moreover, all of these activities are for families, and they're all included in the price.
Woodloch Pines Resort offers various price ranges allowing families to choose what's most affordable. These accommodations can range from vacation home rentals to suites with multiple rooms and deluxe rooms with lake views and patios.
Interestingly, the most affordable standard rooms feature two queen beds in separate spaces divided by a partition door. There are two additional beds in another separate area with two TVs to keep the children occupied for short rest periods.
Suppose you're looking for adventurous activities in the form of outdoor recreation. In that case, Omni Bedford Springs Resort specializes in outdoor recreation such as guided tours, mountain biking, hiking, tennis, and even fishing in the Gold Medal trout stream.
As if that wasn't enough, the resort boasts outdoor and indoor pools, a state-of-the-art fitness center, a full-service luxury spa, and a beautifully restored golf course. This resort has a bevy of scenic routes; the drive alone presents an opportunity to see the stunning Allegheny Mountain ridge offers an even more spectacular autumn view along the horizon.
There's no problem quite like the Omni Sensational Kids program at any other resort around. The entire program is devoted to pampering the children with awesome backpacks full of games and crafts.
What's more, milk and cookies are delivered on their first night, toys, games, and books are available to be borrowed throughout their stay. Furthermore, the suites are very spacious, featuring multiple rooms with separate seating areas.
The parents are not an afterthought at this resort; you can enjoy yourself at the Springs Eternal Spa and partake in a nice relaxing round of golf on the 18-hole golf course. You can even take a relaxing dip in the Bedford Baths, a complimentary perk of booking services here.
Mountaintop Lodge at Lake Naomi is a rustic-style lodge nestled in the heart of the majestic Pocono Mountains of Pennsylvania. This Pocono Mountains bed and breakfast boasts 14 guest rooms and cabin rental. The rooms are beautifully decorated, having private bathrooms and lavish linens.
The suites and guest rooms are in the main lodge, along with a coffee shop that's loaded with drinks and fresh sandwiches for your enjoyment. The cabin suites are for those who wish to have a more remote location tucked back from the main lodge!
All guests who stay at the Poconos lodge will have the option to experience the Lake Naomi Club and the beautiful amenities not too far away from Mountaintop Lodge.
While in the Poconos, you're sure to observe that this place virtually every outdoor activity under the sun. There's whitewater rafting, skiing, hunting, and both golf and miniature golf.
However, if the great outdoors isn't your forte, the Pocono Mountains have various attractions and activities. They have multiple entertainment venues, various places to shop, historical locations, and plenty of quality restaurants to dine in. And all of this is located just a few moments drive from the bed and breakfast.
The resort isn't all-inclusive in the traditional sense. Still, they offer multiple packages that can include dining and activities such as the kids camp package, the birthday package, the anniversary package, and so on.
The Great Wolf Lodge is a family-friendly property that caters to children all season long. This is a beautifully constructed indoor waterpark resort that happens to be perfect not only for preschoolers but also for kids up to 12 years of age. The waterpark is 80,000 square feet, and it features a long lazy river, slippery slides, and unending fun for the little tikes.
The water is not the only place to have fun; there are many other forms of entertainment to keep the kids entertained, such as 10-pin bowling to a Build-A-Bear workshop or a Technicolor game room with many interactive laser games. There is nightly storytime for kids, PJ parties, kid's fitness offerings, yoga trails, and arts and crafts for those who stay overnight.
There are on-site dining options, all of which have kid-friendly menus. Furthermore, after a long day, parents can partake in the Great Wolf's savvy "Wine Down" package, whereby parents can put the children to bed and enjoy a wine pairing with either savory or sweet snacks delivered directly to your suite.
Hershey Lodge is a resort that wonderfully caters to the needs of a family with children in tow. From the beginning, the atmosphere is kid-friendly, with a special check-in where the kids receive chocolate treats. There's even the added touch of having foil-wrapped treats on our pillows every day.
The indoor pool complex is stunning, featuring a spray zone, slides, basketball hoops, ropes courses. What's more, there are costumed characters that perform meet and greets in the lobby, which is always a total thrill for the children. The resort also has a breakfast buffet allowing the children to fuel up before heading out to the theme park and Hershey World.
The Guest Rooms are modern and spacious, with brightly colored walls made of candy-themed wallpaper. Furthermore, the premium rooms have a pull-out sofa in addition to two queen size beds—affording your family the much-needed space.
All Hershey Lodge and Hershey Resorts guests receive free admission to The Hershey Story and Hershey Gardens. Free shuttle service is offered to Hersheypark and Hershey properties. Additionally, guests will have priority reservations for a waterfront cabana at the Boardwalk at Hersheypark. Lastly, discounted Hersheypark tickets are offered to the guests as well.
One of the premier destinations in Pennsylvania for outdoor activities is the Nemacolin Woodlands Resort. Families will find Nemacolin situated in western Pennsylvania, in the Allegheny Mountains. The resort sits on 2,000 acres within the Laurel Highlands, and all the fun begins at the Adventure Center.
There's something to do for guests of all ages, including bungee jumping, zip-lining, skiing, off-roading, and tubing at Mystic Mountain. Other activities such as the Wildlife Academy, which houses the Equestrian Center, the on-site zoo, and the animal nursery, are highlights for most children. They get to see lions, bison, tigers, black bears, and more. Everyone can also explore the woodlands and enjoy mountain biking and hiking.
If families want to try a more low-key outing, there's always the two golf courses or the bowling alley. Nemacolin has two kid's clubs with extensive supervision for children aged 4-15 and toddlers and infants aged six weeks- 3 years old. That allows parents to take a break and hit the casino, spa, or gourmet French restaurant until the kids finish playing.
This resort offers all-inclusive packages for bed and breakfast, $500 in resort credits to use anywhere in the area, spa packages, and more. It's a pet-friendly establishment with abundant lodging options, such as large townhomes with multiple rooms for each family member.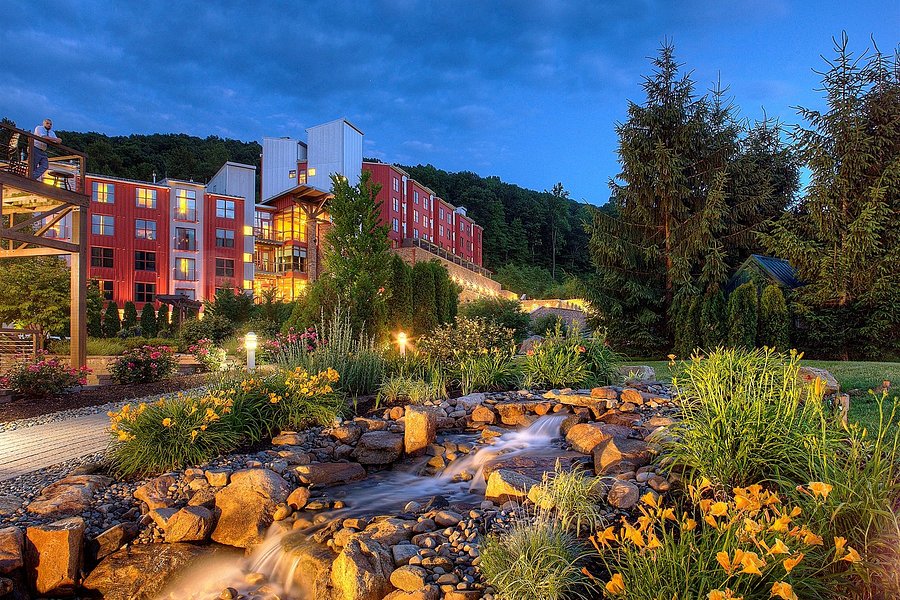 Bear Creek Mountain Resort is in the Lehigh Valley, near Pennsylvania. The resort is open all year-round, and they have 116 rooms with kitchenettes and queen beds, which is plenty of space for families. There is also a full-service spa, outdoor and indoor heated pools, and plenty of amenities for all ages.
Bear Creek has over 330 acres in the mountains, excellent for hiking, exploring, cycling, and more. There's also a lake which hosts plenty of water sports throughout the summer.
They provide equipment for basketball, tennis, kayaking, geocaching, paddleboards, and fishing equipment to rent. Guests can also bring fishing equipment like tackle, rods, and bait to fish in the main pond.
Families can get together for disc golf, ping pong, or head to the arcade. The front desk has family board games and can also point you in the direction of activities in the area. This resort also has a variety of packages for meals and lodging.
Families that want to experience an authentic Poconos vacation will love the Shawnee Inn and Golf Resort. The resort is on the Delaware River, in a historical property with classic features.
Jam-packed with things to do for everyone in the family, there are guided hikes, water polo, yoga, nightly campfires with s'mores, and many more family adventures. It's a great opportunity to meet new friends and other families that are there to step away from the city life and experience nature while creating lasting memories.
The resort has volleyball, tennis, an old-fashioned playground, museums, skiing, and a wide array of water sports. The kid-friendly Gem and Keystone Brewpub, playhouse, and gallery are educational and entertaining.
They offer connecting rooms with free WiFi, a kitchenette, laundry services, and an arcade. They also have meal plan vacation packages, spa packages, bed and breakfast packages, and more.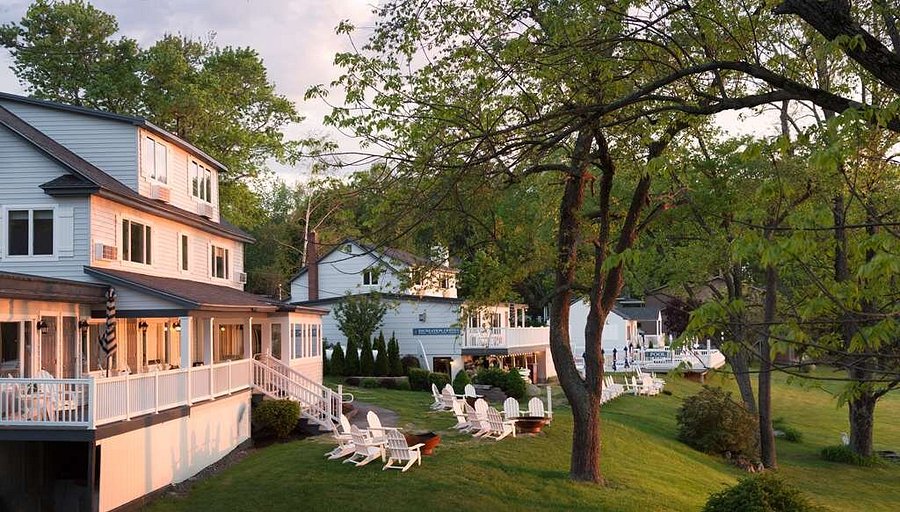 The Silver Birches Resort doesn't offer all-inclusive packages in the traditional sense, but they have attractive dining options for the whole family. For example, the Be Social Special is an excellent assortment of dining vouchers worth $250 that families can use for restaurants in the area. This package also includes a luxurious and spacious room.
That gives you and the family an excuse to go out and sample the cuisine around town at many of the family-friendly restaurants. You can also kick back and relax by the lake, play lawn games, shuffleboard, take a dip in the pool, and explore other free activities included with your stay.
They also offer the Foodies package, bed and breakfast package, the dine around town package, ski packages, family reunion packages, and much more.
If you don't want to enjoy the restaurants in the area, you can always use the outdoor grills by the lake. There's also a chic coffee house breakfast and freshly baked goods, hot roasted coffee, teas, and more.
The Nature Inn at Bald Eagle is an extraordinary resort that has received awards as the best eco-lodge in the United States. Nature Inn lives up to its name, sitting in the middle of Bald Eagle State Park. The landscape is stunning, with plenty of beautiful trails for hiking, skiing, mountain biking, and more.
Guests can also expect a complimentary breakfast every morning with various pastries and freshly baked bread to start the day. One aspect that families love at this all-inclusive resort is sitting together around the fire pit on chilly evenings, grilling together during the afternoon, or even picking a book to read to their little one in the Children's Discovery Area.
If it's fishing season, the hotel can provide equipment to guests free of charge, such as small tackle boxes and fishing poles. Children aged 26 and under may fish without a license, but everyone else must be sure to bring theirs along.
If you stay during the winter, the resort gladly lends cross-country ski supplies and snowshoes at your request. Lastly, every guest will find binoculars and Peterson's Field Guides in their room for easy bird watching throughout the day.
One of the best options when staying at Nature Inn is the seasonal weekend package. The park's innkeeper and the environmental education unit have developed a series of weekend packages for each season. There are meals, interpretive programming, and activities to interact with nature. These options sell quickly, so be sure to book in advance!
More about our TFVG Author
A seasoned traveller, Dad, and avid sports tourist, James foundered The Family Vacation Guide to share his expert vacation experiences- especially when it comes to being a travelling family man.
Featured in Travel articles such as Travel + Leisure, TripSavvy and SFGate, you know you're reading some of the best vacation tips online.