Some cities are known for their sports teams. Other cities are known for their rich history and fun outdoor activities. And some cities are renowned, around the world, for their quirks and personalities.
Philadelphia is one of those lucky cities in the United States that gets to be known for all of these qualities. Philadelphia is proud of its teams, they have outstanding museums and libraries, and they are known all over for having a lot of personalities.
Philadelphia is also known for offering the best luxury vacation destinations. Looking for the best luxury hotels in Philadelphia is a little like looking for the best beer in Milwaukee or the best lobster in Maine: no matter where you look, you'll find something that measures up.
If you're looking for a great luxury hotel to book for your trip to Philadelphia, Pennsylvania you've come to the right place. Here you'll find the best luxury hotels that the City of Brotherly Love has to offer and all the things that make them so great.
The Rittenhouse Hotel
210 W Rittenhouse Square
Philadelphia, PA 19103
If you're interested in staying at one of Philadelphia's most luxurious locations, then The Rittenhouse Hotel is your place. Located on the famous Rittenhouse Square, you will find yourself transported to the heart of Philadelphia culture and excitement.
The Rittenhouse Hotel is one of the best places in town for several reasons. First, you can find everything you need and more at The Rittenhouse, from the four-star rooms and suites with excellent views to the revitalizing in-house spa.
Second, you never have to leave the hotel if you don't want to: with in-house dining that rivals anything you might find elsewhere, you can stay in the hotel – or even in your room – for all your meals. The food at The Rittenhouse will be more than satisfactory.
And lastly, when it's time to get a little sweaty, you can check out the fitness center that features excellent, highly-rated equipment. You'll have plenty of space to make the gym your own, whether you like lifting or running.
Ritz-Carlton Philadelphia
10 Ave Of The Arts
Philadelphia, PA 19102
History and charm come together in total elegance at the Ritz-Carlton in Philadelphia. The building that once housed a bank dates back to 1908 when architecture was meant to reflect beauty uniquely and dynamically.
Staying at this hotel makes you feel like you've been transported back in time.
You can enjoy an excellent in-house dining experience, and room service is an option worth trying when you stay. Here luxury is synonymous with service, and the entire staff works to give each visitor the best time they've ever had.
At the Ritz-Carlton, you're only steps away from some of Philadelphia's finest offerings in culture, food, and entertainment. This is the sort of place that lets you enjoy the city and the hotel simultaneously.
Le Meridien Philadelphia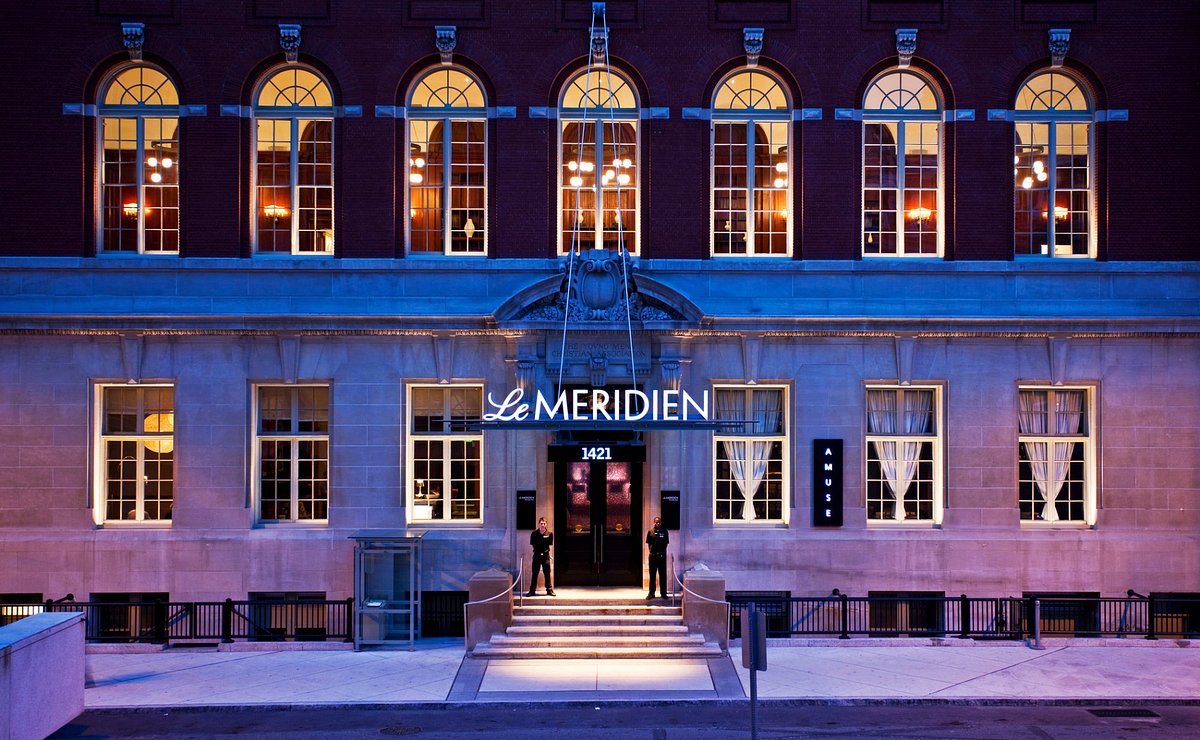 1421 Arch Street
Philadelphia, PA 19102
Le Meridien is part of the expansive Marriott tree, which means a certain level of quality and service ought to accompany the whole experience. And everything about Le Meridien in Philadelphia meets those expectations.
In particular, the luxurious experience is more than sufficient to make you want to come back again and again.
At Le Meridien, the rooms are exquisite. These rooms scream elegance and remarkable class, from their comfortability to their timeless decor. Housed in a Georgian revival-style building designed to meet historical expectations, the whole atmosphere is an experience to behold.
Staying at Le Meridien means getting the opportunity to enjoy a delightful French in-house dining experience at Amuse. And with a complimentary 24-hour fitness facility, it's never too late to get a good workout in while you're soaking in the luxury of the space.
Kimpton Hotel Monaco
433 Chestnut St
Philadelphia, PA 1906
Downtown Philadelphia is a sight to behold, and exploring all the ins and outs of the city's heart makes a trip here worthwhile. At the Kimpton Hotel Monaco, you can experience downtown excitement while staying nearby at one of the finest luxury hotels around.
Located in the heart of Philadelphia's Old City, the Kimpton Hotel Monaco leans into the rich history of the city and all the people who love it so much. Embracing the quirks of Philadelphia has allowed this hotel to make a name for itself as one of the best.
The rooms at Kimpton Hotel Monaco are luxurious, spacious, and exceptionally comfortable. With 268 guest rooms, this quality hotel also boasts many outstanding amenities.
With complimentary coffee and tea every morning, valet laundry service, and an evening wine hour in the lobby, there's always something going on to make you feel at home.
The Kimpton goes above and beyond, making their guests feel welcomed and at peace. They supply a yoga mat in each room, and they partnered with an online therapy group that gives special deals to Kimpton guests.
The Dwight D Hotel
256 S 16th St
Philadelphia, PA 19102
If you're looking for a stellar destination for a romantic weekend away, a wedding venue, or a fancy business meeting, then The Dwight D Hotel will meet all your expectations and surpass them with a great amount of class.
One of the best hotels in Philly is also one of the most luxurious. The accommodations are unlike anything you've experienced before, and the hospitality puts other hotels to shame.
Each guest room is unique and distinct and designed for comfort. You can even choose from a city or garden view for your stay.
When your stomach starts making noise, head on down for The Nouvelle experience, this intimate, personalized dining room requires reservations and is worth the time. You won't be able to find anything like The Nouvelle in the rest of the city.
One of The Dwight D's finest offerings happens to be unique guest packages that allow you to pay a reasonable rate for an amalgamation of luxurious experiences all bundled into one.
Everything from a romantic weekend to a Philly-style staycation can come together to give you the time of your life.
The hotel offers premier locations for weddings and events, which means there's always something fun going on at The Dwight D.
Sofitel Philadelphia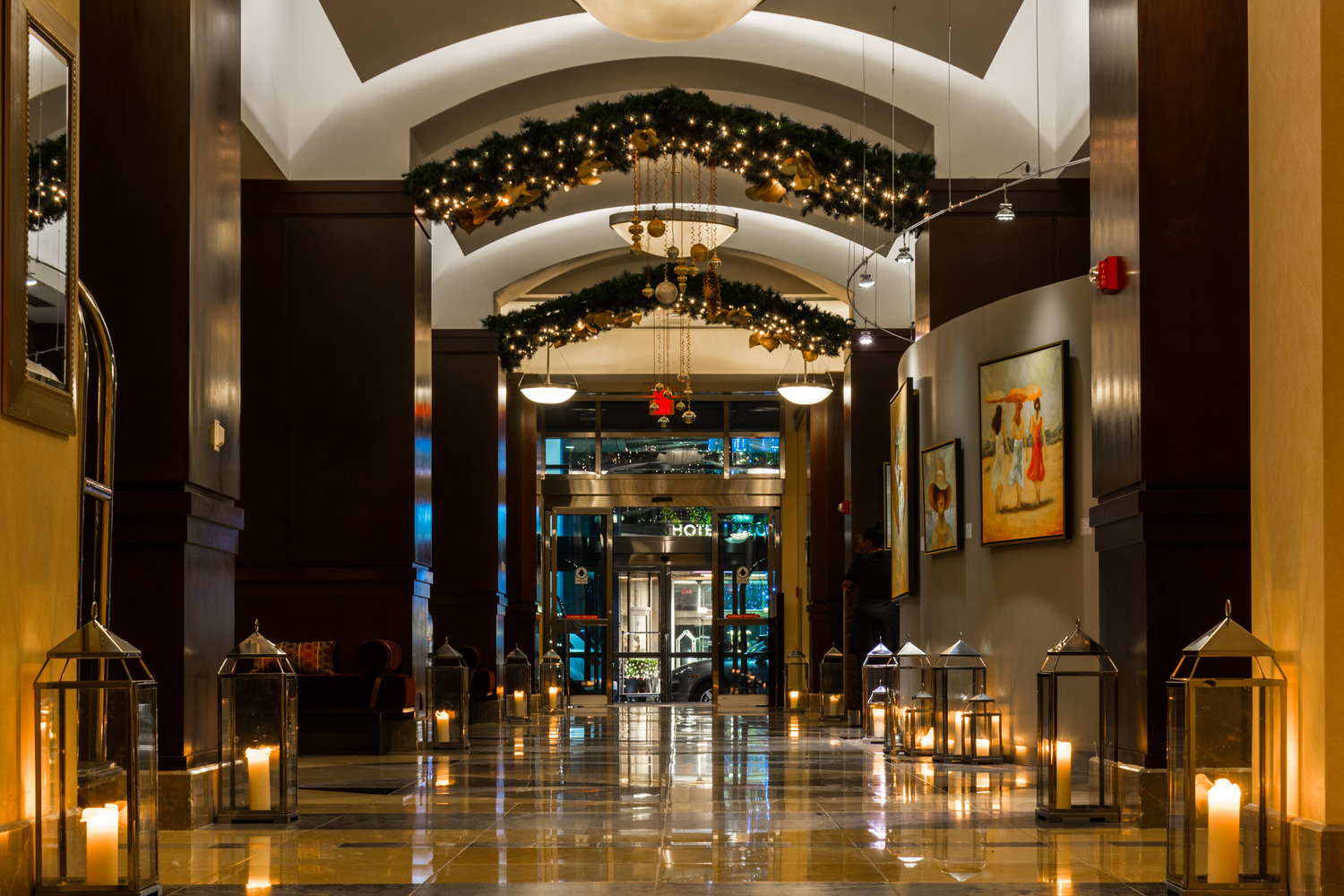 120 S 17th St
Philadelphia, PA 19103
Located in the infamous Rittenhouse Square, the Sofitel Philadelphia is a luxury hotel that leans into a uniquely American style with a flair of French influence.
Here you can find luxury and comfort at a reasonable rate, with plenty of amenities to keep you occupied for the entirety of your stay.
Specialty packages include deals for romantic getaways, extended stays, and tourist weekends. Whether you're in town for a conference or want to experience Philadelphia, Sofitel is the place to call home.
The rooms are uniquely elegant, and the in-house dining is exquisite. Depending on your mood, you have your choice of spots to enjoy a meal or a quick coffee. And since the hotel sits in Rittenhouse Square, you can be sure that you'll have plenty of fun things to do nearby.
AKA Rittenhouse Square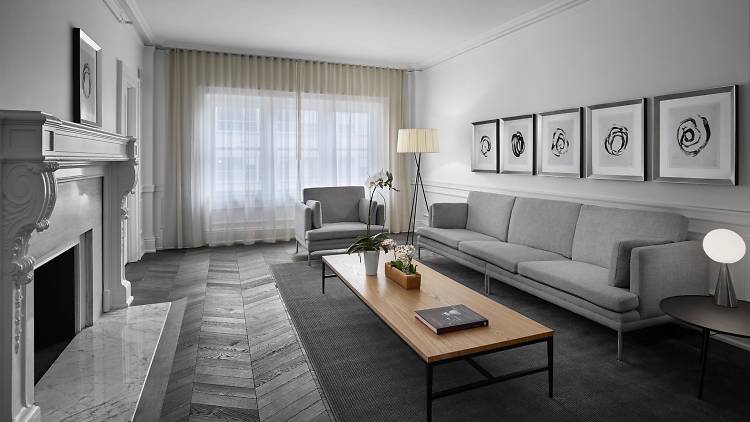 135 South 18th St
Philadelphia, PA 19103
Rittenhouse Square is one of Philadelphia's finest offerings, so finding a luxurious hotel that sits close to the bustling center is the ideal situation. That's one of the things that makes AKA Rittenhouse Square such a special place.
It's the perfect place to stay if you have a long-term business trip or just visiting the city for its joy.
Whatever the purpose of your stay, you'll find yourself greeted by outstanding accommodations that center around elegant suites for a truly residential experience.
AKA Rittenhouse Square boasts a world-renowned kitchen and bar where you can enjoy a culinary masterpiece without leaving the comfort of your home away from home.
You can make the most of the fitness center, the business center, and the complimentary laundry facilities that are all easily located for your convenience.
The Logan Philadelphia, Curio Collection by Hilton
One Logan Square
Philadelphia, PA 19103
Hilton is one of those reliable brand names you can trust no matter what part of the country you're visiting. And at The Logan Philadelphia, you can experience their unique style of hospitality at the luxury level.
The Logan Philadelphia offers interesting amenities to make your stay more relaxed. Between the excellent room service and the convenient business center, you can get everything you need without going too far.
There are pet-friendly rooms available, so you can bring your four-legged best friend on your epic adventure. And the on-site restaurant means that fine dining is just an elevator ride away.
The health and wellness of every guest are of the utmost concern to the staff at The Logan Philadelphia. The spa and fitness center work together to make life away from home effortless.
Comfort has never come at such a high level. The Logan Philadelphia taps into the needs of each guest and tries to accommodate them and exceed expectations.
The Bellevue Hotel
200 S Broad St
Philadelphia, PA 19102
Another timeless and trustworthy name in the hotel industry is Hyatt, and their skill in the world of hospitality is exemplified perfectly in The Bellevue Hotel in Philadelphia.
Not only is the hotel filled with elegance at every turn, but its role as a historical landmark makes it a beloved part of Philadelphia's storied past.
You're conveniently located near a wide selection of interesting Philadelphia landmarks at The Bellevue. You can enjoy a day out exploring shops and museums, return to your comfortable room, and have dinner delivered right to your door.
A digital check-in process and digital key make The Bellevue much more convenient since you can completely skip the front desk if you have the right app.
The fitness center means you can maintain your healthy lifestyle while on vacation, and the pet-friendly services allow you to bring your furry pal with you.
Loews Philadelphia Hotel
1200 Market St
Philadelphia, PA 19107
Loews Philadelphia Hotel has the unique distinction of residing in the first skyscraper the United States ever had. That means the views from Loews are as beautiful and elegant as Loews Philadelphia is itself.
Loews is in the very heart of Center City, which means it's in the middle of all the best that Philadelphia has to offer. You're only a short walk away from the best museums and right across the street from the Pennsylvania Convention Center.
The hotel offers a truly unique traditional American restaurant with a great modern flare. And room service is delivered with the highest level of professionalism and grace. Who doesn't love great food brought right to their door?
Each guest room has been renovated, meaning that guests get the best in class when they stay at Loews.
Finally, Loews is a great place to host meetings, have business calls, and work efficiently if that's the trip you're on. Complimentary Internet means that you'll have all the access you need and can enjoy luxury and great service while doing your job.
Element Philadelphia
1441 Chesnut St
Philadelphia, PA 19102
Element Philadelphia is another great Marriott hotel that boasts a new, eco-friendly focus located right in the heart of Philadelphia: Center City.
You're close enough to downtown to experience all the elegance and beauty that the City of Brotherly Love offers without having to travel too far. You can also explore interesting parks and landmarks, like the Liberty Bell.
Special getaway packages will help make your experience at Element Philadelphia more affordable. And with comfortable rooms and great service, you can trust that your time here will be well spent.
Element Philadelphia provides guests with great in-house dining service and a state-of-the-art fitness center to ensure you get all the nutrients and gym time you need. They really know how to provide luxury and modern twists all wrapped in one.
The Four Seasons Hotel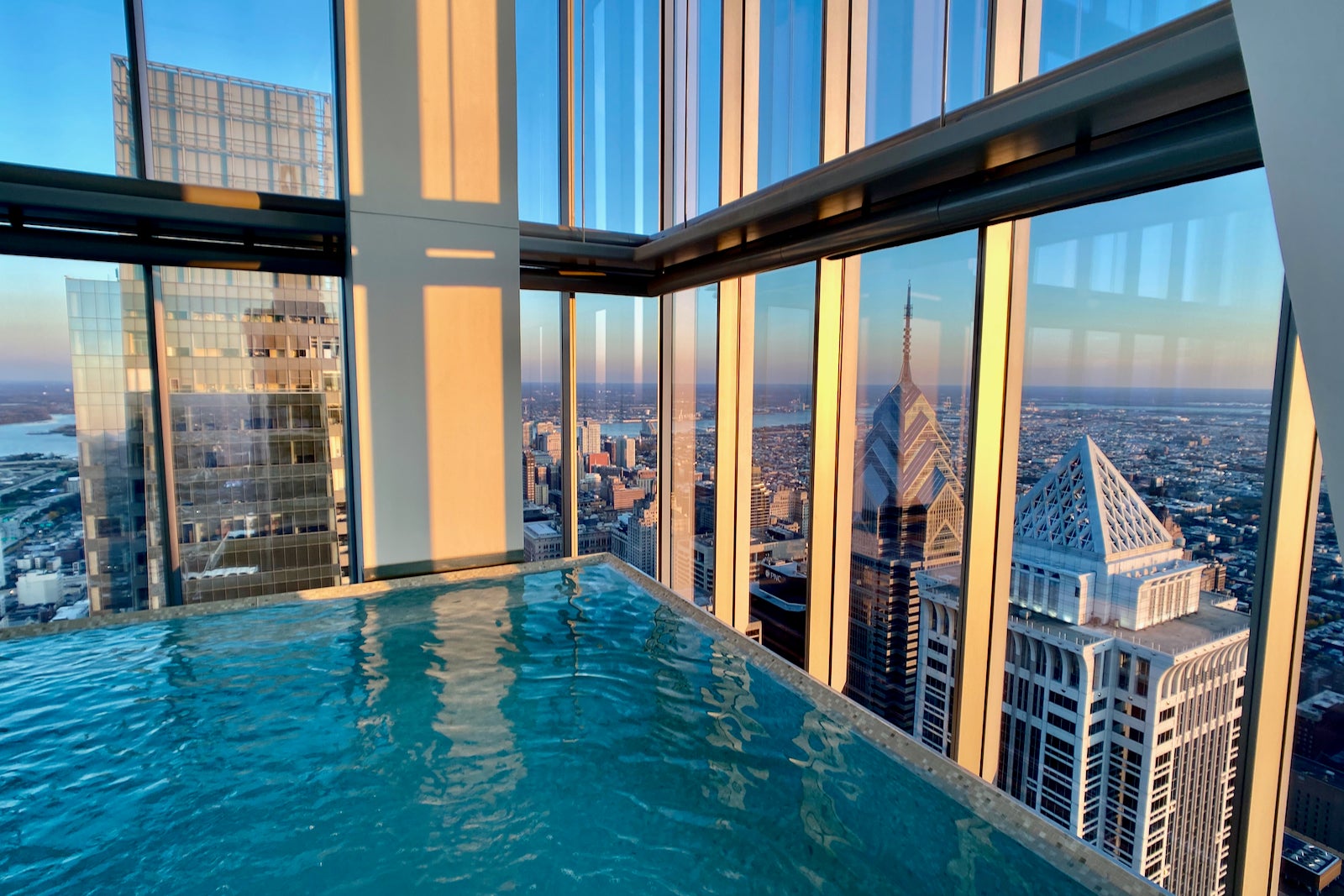 1 N 19th St
Philadelphia, PA 19103
Finally, we come to The Four Seasons Hotel at the Philadelphia Comcast Center. Overlooking the beautiful city, The Four Seasons is the epitome of elegance and luxury.
Enjoy a skyline corner suite to enjoy some of the best views imaginable or a premier landmark room with opulent designs and more space than you need. Whatever your preference, each room caters to luxury and excellence.
The culinary experience at The Four Seasons Hotel is top-notch. The hotel's famous coffee bar makes it a favorite destination for business travelers of all kinds. The cocktail lounge is a particular favorite as well, and the in-house dining is exceptionally unique.
At The Four Seasons, you can enjoy the complimentary fitness center or schedule an appointment with the spa for special treatment. There's also an incredible infinity-edge pool on the 57th floor that will take your breath away.
Luxury Hotels in Philadelphia – Final Thoughts
Philadelphia is more than just the City of Brotherly Love. It's also a city filled with luxurious hotel options that will make your time there so much better. If you're going to take the time to travel to Philadelphia, you might as well stay somewhere outstanding.
There's plenty to see and do when you travel to Philly. You can eat good food, learn all about American history, and see some incredible architecture.
And when your day of traveling and sightseeing is over, you can head back to your luxury hotel and kick your shoes off for a night of relaxation.
If you're heading to Philly for a family vacation and want some time to relax during your trip, discover the best beaches near Philadelphia for families.
More about our TFVG Author
Caitlin is one of The Family Vacation Guide's long standing contributors. She enjoys taking vacation to busy, vibrant cities and has stretched her traveling legs out towards Europe in recent months, enjoying new experiences in Barcelona in Spain, and Nice in France.