Ski season is just around the corner, and ski resorts all over North America are preparing their ski runs for the winter season.
Quebec has a rich ski culture, and it's a destination that all ski enthusiasts should visit at least once in their lifetime. In particular, it has some of the best night skiing options in North America, along with a fun and laidback après-ski energy.
Quebec is also a popular ski spot for many families because of its family-friendly nature and the many available activities for young children. Many ski resorts also have day camp options and ski lessons available for toddlers and children.
We've laid out eight of the best family ski resorts in Quebec, so keep reading and start planning your next memorable family vacation.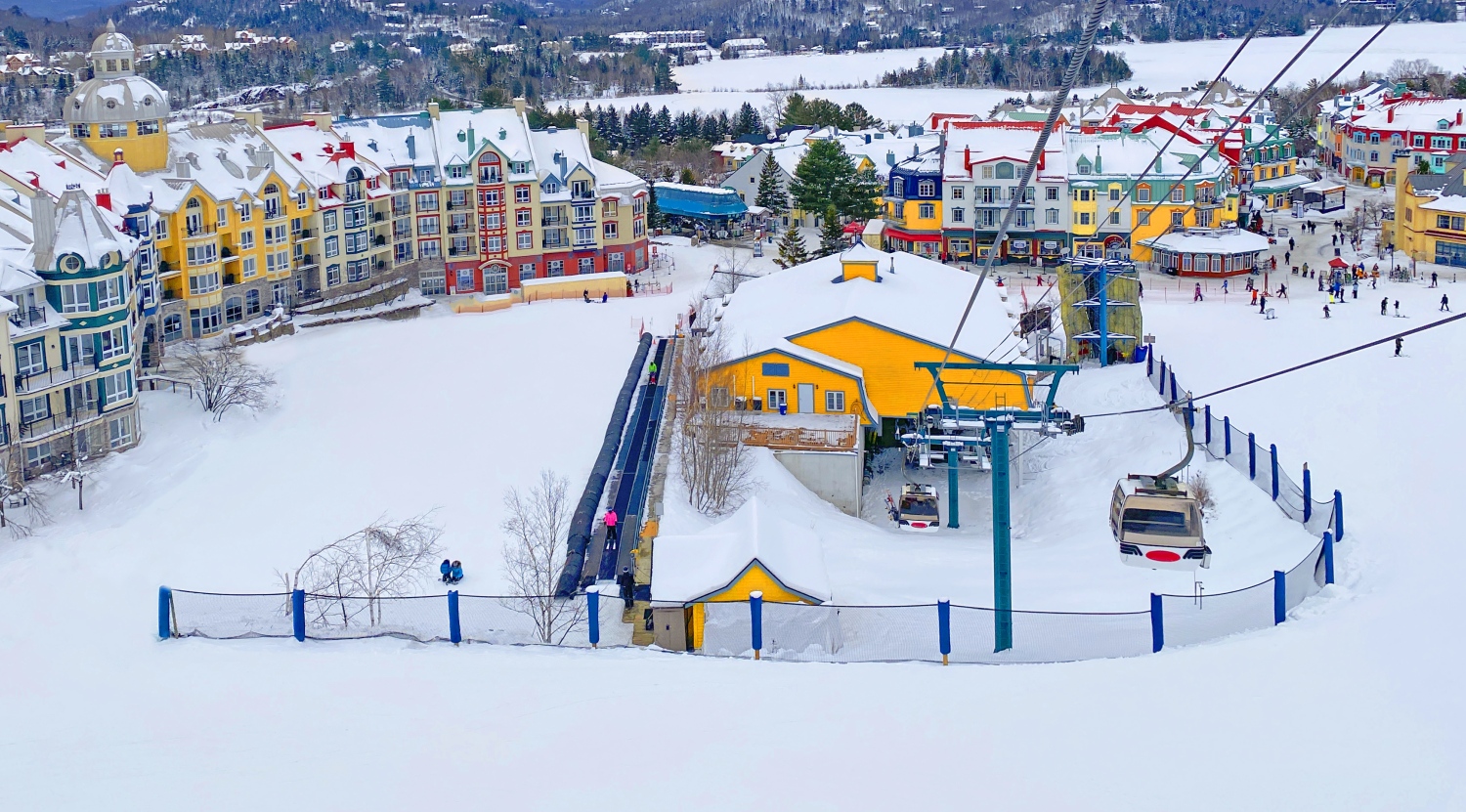 Mont-Tremblant Ski Resort sits along the Laurentian Mountains at 875 meters. Along with amazing and beautiful views of the mountain landscape, Tremblant offers an unforgettable experience in its European-style pedestrian village.
Mon-Tremblant Resort is an excellent location for a family vacation because there's something for everyone and every type of skier. There's a total of 102 slopes on its 754 acres of land:
22 easy trails
31 difficult slopes
49 very difficult and extreme courses
Some of Tremblant's most popular ski runs include Beauvallon, Devil's River, The Edge, and Dynamite. Skiers can choose to go down the slopes on their own, and beginners can book a lesson with Tremblant's Ski School.
Along with skiing, you and your family can participate in a wide variety of other activities. You can take an alpine tour, drive your own dogsled, and go ice fishing. There are also plenty of hiking trails, and children can also learn to ice skate.
If you'd like to relax, there are many other activities to do in the pedestrian village. There are 75 boutiques and shops with unique items and trendy clothes. You can also enjoy a delicious gourmet meal at one of the many restaurants.
There are also many kid-friendly hotels and lodges at Tremblant. Popular lodging for families includes Le Grand Lodge Mont-Tremblant, Fairmont Tremblant, and Chateau Beauvallon Mont-Tremblant. These lodges have rooms and suites with plenty of space for children and also often offer family activity packages.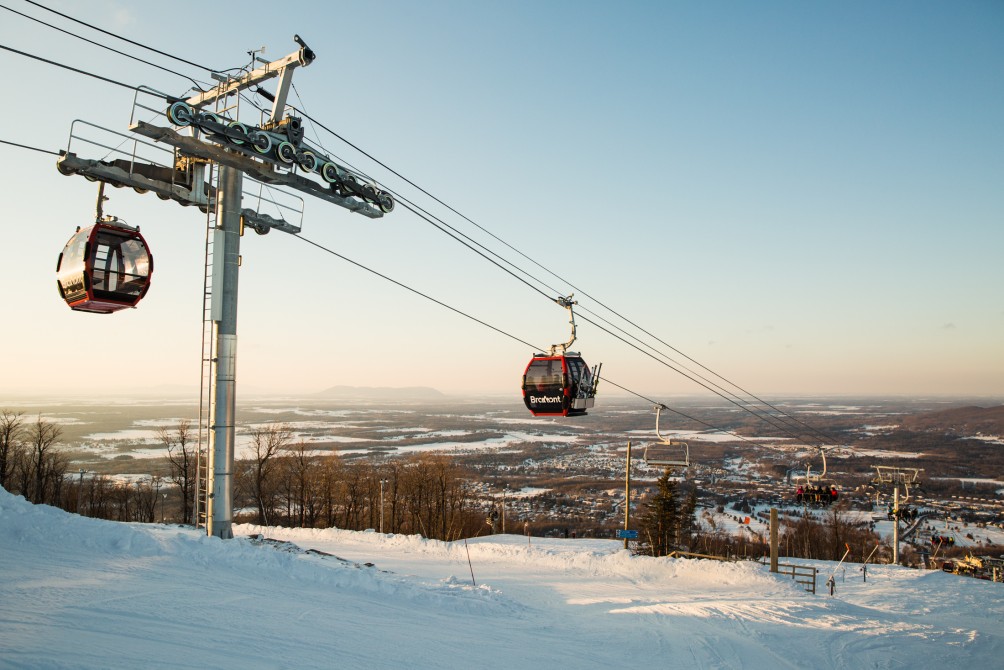 This ski resort resides along Mont Brome, Mont Spruce, and Pic du Chevreuil. It has a base elevation of 180 meters and a top elevation of 565 meters.
BroMont has the largest lit ski area in North America and has 450 acres of skiable terrain and 141 trails. Of these trails, there are 32 glades and 101 lit trails for night skiing.
Skiers can choose to ski on seven different hillsides. There's a total of nine beginner and intermediate slopes, and beginners will enjoy skiing on Mont Soleil. A popular slope amongst beginners is Pente-École.
BroMont also offers a family-friendly circuit that allows you to explore the different hillsides by using all the beginner trails.
Many families choose to ski at Versant des Cantons because it has a good mix of different types of slopes. It also has wide trails and a low vertical drop, so you can ski altogether as a family.
Children can also enroll in ski schools and get dropped off at day camps where they learn to ski from a professional instructor. Preschool groups have four students per one instructor and one companion supervisor. Older children can enroll in classes of up to six students with one instructor and one companion supervisor.
After a fun and exciting day of skiing, you can return to one of several lodges and hotels in the ski resort. Hôtel Chateau-Bromont is a popular location for families because it offers family packages and also has condos for larger families.
Le St-Martin Bromont is another great hotel for families. It's in a very accessible location, and you can find family-friendly restaurants and shops nearby.
Mont-Sainte-Anne is a skier's paradise located in Beaupré. Mont-Sainte-Anne is part of the Laurentian mountain chains and has a top elevation of 800 meters. The ski resort boasts 547 acres of skiable terrain. It has 71 trails with 19 night skiing trails covering three hillsides.
There are trails for all types of skiers with the following breakdown:
21% easy trails
46% intermediate trails
20% advanced trails
13% extreme trails
This ski resort also has high-speed gondola and chairlifts, so you and your family can quickly get to the ski slopes and spend a whole day skiing. There's also a Sugar Shack near La Pichard, so you can take a break and stop by to grab a traditional maple taffy for you and your children.
Families with young children will also appreciate that the resort has a Beginner Park, which has easy obstacles for freestyle skiing. There's also a daycare that provides indoor and outdoor activities, a video hall, playroom, and ski and snowboard lessons for children as young as 18 months old.
This resort also offers other outdoor activities, including paragliding, ice canyoning, fat biking, and dog sledding. There are also many events scheduled throughout the year for people of all ages.
Families will also appreciate the two lodges, Chalet du Fondeur and Rustic Lodges. These lodges are right along the trails, so they're great for a brief overnight stay or to rest during the day. Shuttle service for luggage is also available when booked in advance.
Le Massif de Charlevoix is a great escape for those who need to take a break from the busyness of life. The Le Massif de Charlevoix Ski Resort has a deep respect for nature and highlights all the beauty that nature has to offer.
It's situated near the St. Lawrence River and has breathtaking views that will help you start and end each day feeling renewed and rejuvenated. Le Massif de Charlevoix has a top elevation of 806 meters and a vertical drop of 770 meters, which is the highest vertical drop in the Eastern Canadian Rockies.
There are 53 trails and glades that run through 307.6 acres. The breakdown of the trail levels is the following:
15% easy trails
30% intermediate trail
20% difficult trails
35% very difficult trails
Beginners can start their ski experience at the Donald Bouchard Beginner Area, which has three beginner trails and two lifts.
Along with skiing, you can also rent snowboards, snowshoes, and sleds. Children as young as three years old can take ski lessons, and young children can also take private one-on-one lessons with a certified instructor.
Children can also enroll in the ski resort's Kids Camp, which runs during school breaks in March. These camps are for children between the ages of 3-15, and camp participants will spend the day exploring the mountain with up to seven other children at a similar skill level.
The ski village also has many different events, so there's something for everyone, regardless of age.
There are also many different packages offered by nearby hotels. You can also choose to stay at a chalet located either at the base of the mountain or at the summit. These chalets offer amazing mountain landscape views, and some of them are tucked in forests so that you're immersed in nature.
If you really want to wake up to a stunning view, consider staying at Les Chalêts-Foret Jumelés, which overlooks the St. Lawrence Valley. These chalets have top-floor common areas that open up so that you're surrounded and immersed in the breathtaking scenery.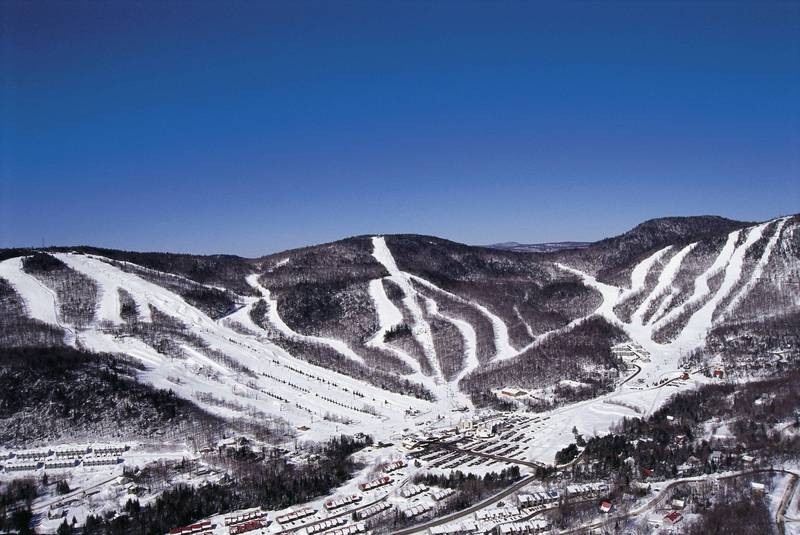 Stoneham Mountain Resort is in northern Quebec. It spans across four mountains and has a top elevation of 593 meters. It has 43 day trails and 19 night trails with the following breakdown of difficulty levels:
8 easy trails
11 intermediate trails
17 advanced trails
7 extreme trails
There are also three snowparks for different levels of freestyle skiing. You can start at the Intro Park, which has rails and a box and jump set up for beginners. Then, you can move on to the Intermediate Park, which has larger rails, boxes, and jumps.
Expert freestyle skiers can head over to Park XL 418. Unlike the Intro and Intermediate Parks, this park requires paid passes for entry. It has various rails, stairs, and a wall-ride, and it's an overall fun and challenging obstacle course.
Snowboarders will also appreciate the Olympic half-pipe located at Stoneham. It's 22 feet high and is open seven days a week with nighttime skiing options as well.
Stoneham Mountain Resort also offers both group and private ski lessons. Families with young children can enroll in the Familial Iniski program, a class that the whole family can take together to learn how to ski or snowboard. You can also reserve daycare, which is located near the Stoneham Mountain Resort Main Chalet.
You and your family can participate in other winter activities such as snowshoeing, sledding, and alpine touring. One notable activity is nocturnal sledding, which is a whole new way to explore the mountain. It offers a 7.5 km sled run that goes down Mont Liguori with beautiful scenery along the way.
A convenient lodging option is Hotel Stoneham, which resides at the food of the Stoneham Mountain Resort. This hotel has 59 rooms that can accommodate up to four people, and it also has a wellness spa where you can select different services a la carte.
The hotel is also just a 20-minute drive from downtown Quebec. You can find many family-friendly restaurants nearby, and there are also several attractions that you can see with your whole family.
Ski Mont Blanc Quebec Resort is in the Laurentides and has a top elevation of 580 meters. It has 43 trails that span across and along three hillsides–Mont Blanc, Mont Faustin, and Mont Blanc Nord. The resort also has two snowparks and two beginner areas.
Ski Mont Blanc's snow school has a strong reputation for having a ski instructor team that works exceptionally well with children. The instructors are both excellent skiers and teachers, and the snow school works to balance safety and fun learning. Therefore, Ski Mont Blanc is one of the best places for your children to learn how to ski.
Ski lessons are available for children of all ages. Classes range from two hours to four hours for children ages 3-13. The resort also offers special programs such as freestyle skiing lessons and taking on more challenging moguls.
You can also register children for one-hour and two-hour private lessons. The snow school is conveniently next to a cafeteria, so parents can choose to wait and observe their children while they have lessons.
When you're not skiing, you can enjoy relaxing at Village Mont Blanc, which is right next to a beautiful lake and near the base of Mont Faustin and Mont Blanc Nord. Village Mont Blanc has hotels and condos that can house up to eight people, and these lodging locations enable direct access to the ski slopes.
Along with skiing and snowboarding, there are a plethora of other activities for your family to enjoy. You can rest at a spa, book a helicopter tour, or ride with a team of sled dogs.
This Mont Blanc resort is also very close to the Mont-Tremblant Ski Resort. So, you can enjoy all the other activities offered there or just stroll around and explore the quaint Tremblant pedestrian village.
Also known as the home of Quebeck's ski industry, Sommet Saint-Sauveur offers fun and entertainment for people of all ages. There are two hillsides with 142 acres of skiable terrain. The top elevation is 416 meters with a vertical drop of 213 meters.
Guests can choose to ski on 43 trails of various levels of difficulty:
10 easy trails
10 intermediate trails
18 difficult trails
5 expert trails
Sommet Saint-Saveur has a snow school that offers group and private lessons. It's one of the best ski schools in North America and has certified ski instructors ready to help beginner skiers quickly get on their feet and ski down the slopes.
The snow school also conveniently offers programs during school holidays so you can plan your vacation knowing that a program is available for your children. There are programs available for children 3-17 years old.
Sommet Saint-Saveur's Snoprk is also an excellent destination for freestyle skiers. This expansive park has six different freestyle zones with obstacles fitting for beginners and experts.
There are other exciting options to participate in other than skiing. You can visit Sommet Saint-Sauveur versant Avila's Snow Tubing Park and spend a part of the day speeding down slopes.
You can ride the Viking, which is an alpine rollercoaster located nearby. This rollercoaster has mechanics that allow you to control your own speed so you can enjoy a unique experience as you ride through the forest.
Adrenaline seekers can also go to the Dragon, which is a zip line that runs along the mountain. You can ride alone or in tandem and zoom through the mountain landscape and catch stunning views of the Saint-Sauveur Valley.
When you're at this ski resort, make sure to stop by T-Bar 70 for a meal. This restaurant is at the foot of the resort and offers a menu of warm and comforting meals perfect for a day of skiing.
Sommet Saint-Sauveur is also close to the village of Saint-Sauveur. When you're not skiing, you can explore the boutiques, shops, and restaurants on the village's Main Street.
Several comfortable lodging options are available, including the rustic-chic Manoir Saint-Sauveur and the relaxing Mont Gabriel Resort & Spa.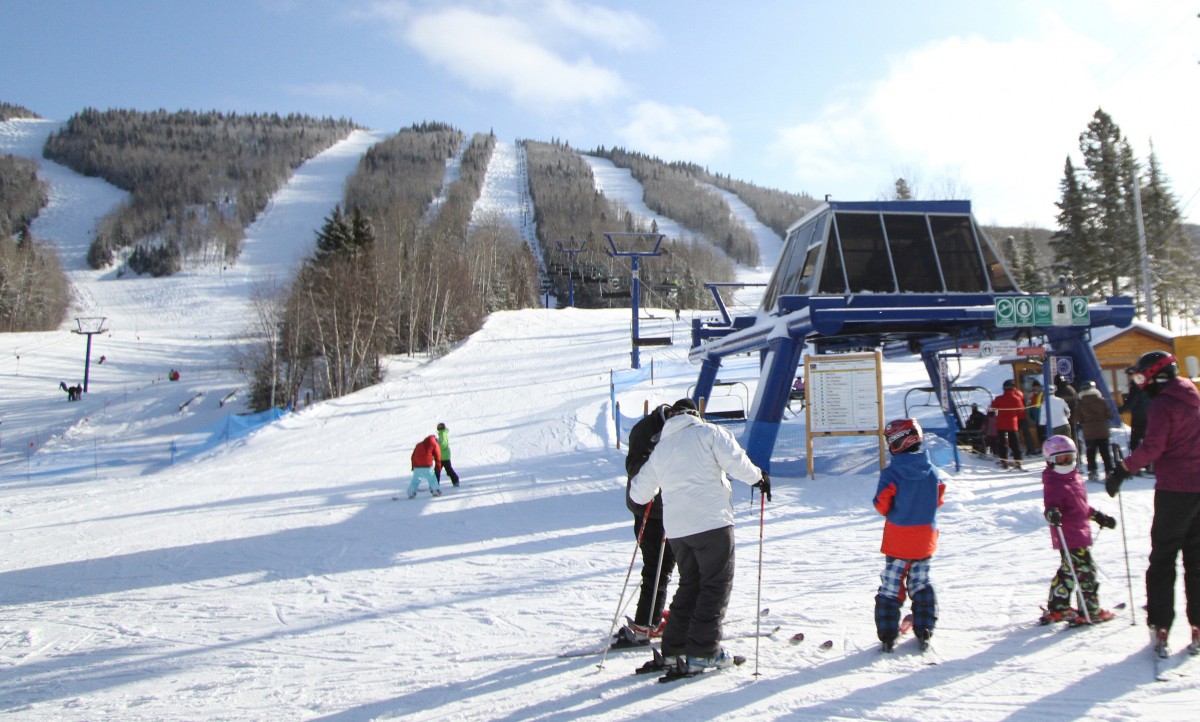 Le Mont Grand-Fonds is in La Malbaie, a municipality in Charlevoix. Its top elevation is 735 meters, and it has 21 trails and glades for beginners and experts:
20% easy trails
30% intermediate trails
25% difficult trails
25% extreme trails
You can find two training trails, La Petoche and Les Braconniers, which are great for beginners. Beginners can also enroll in group or private lessons at the snow school. Lessons are also available for children between the ages of 3-17 years old. You can choose from 1-hour, 2-hour, and 6-hour private lessons.
1-hour classes are also available for cross-country skiing lessons. Mont Grand-Fonds also offers adapted skiing lessons for skiers with disabilities.
The resort also has 140 kilometers of cross-country skiing trails and 41 kilometers of snowshoeing trails. These trails run along scenic forests, and you can also pass through beautiful lakes. The trails have varying difficulty levels so there are fun challenges for both beginners and experts.
Le Mont Grand-Fonds has several partnerships with hotels, condos, and lodges in La Malbaie, so you can usually find special ski packages if you stay in these lodging options.
There are also plenty of things to do in Charlevoix county. La Malbaie, in particular, has several fun activities that families can enjoy. You can book whale watching tours, visit small boutiques, and taste delicious meals prepared in local restaurants.
More about our TFVG Author
A seasoned traveller, Dad, and avid sports tourist, James foundered The Family Vacation Guide to share his expert vacation experiences- especially when it comes to being a travelling family man.
Featured in Travel articles such as Travel + Leisure, TripSavvy and SFGate, you know you're reading some of the best vacation tips online.