If you are looking for the best place to go skiing this winter, look no further. Utah is the place to be for the best ski experiences you will never forget. It snows so much in Utah that it earned the nickname "18 monster dumps".
Needless to say, if you want to take your family on an exciting ski vacation, Utah is where you should start. They get on average close to five hundred inches of snow each year. The beautiful mountains aren't just for sightseeing. They are for skiing.
Whether you are an experienced skier or just a beginner, Utah has the terrain to make your experience fun and unforgettable. Let's not forget about the resorts that add to the excitement. The lodges are a cozy fit for families to relax, enjoy, and recharge for the slopes ahead.
Most of the ski resorts in Utah are less than an hour from the Salt Lake City airport, meaning you won't have to take a journey to get there. It has definitely earned the bragging rights to be known as one of the best states to visit for a ski vacation.
If this hasn't changed your mind yet, we have created a list of Utah's ten best ski resorts for families.
Deer Valley Resort
The Deer Valley Resort, located at 2250 Deer Valley Dr. S, Park City, is the cherry on top of ski resorts. It creates the experience of a lifetime. Just thirty-eight miles from the Salt Lake City Airport, and you have everything you need at your disposal.
There is so much to enjoy at the Deer Valley Resort, from the relaxing spa to the many dining options and tree skiing. One thing you'll enjoy is seafood at Deer Valley's J & G Grill. You can rest assured that you are getting fresh seafood since it's flown in each day.
There's a reason it's known as the "crème de la crème" of ski vacations. Each experience seems too good to be true. There are on-mountain and off-mountain dining options. Some of their most noted restaurants include Mariposa Seafood buffet and Stein Eriksen Lodge.
The resort is your home away from home with floor-to-ceiling fireplaces and luxury bathrooms to make your stay in a new place feel like a dream come true.
You never have to worry about having to think about getting around as they offer free ski valet and parking shuttles, along with complimentary tissue handouts given in the lift line. Their goal is to take the guesswork out of your stay.
One of the most notable things about the Ski Deer Valley Resort is its uphill capacity is 50,000 people. However, their cutoff limit for ticket sales is seven thousand each day. Overpacked slopes and slow lift lines are a thing of the past.
You have the space to enjoy yourself, your family, and the 2,000 acres of trails, bowls, and glades without the stress of overcrowding. To prevent injury and enhance your experience, the terrain is divided based on ski skills (beginners, intermediates, and experts).
Solitude Resort
The Solitude Resort is located at 12000 Big Cottonwood Canyon Rd. It is known for its family-friendly environment. Ensuring that the health and well-being of the community are held in the highest regard is the foundation to creating new experiences.
The Solitude Mountain Resort is fully prepared to support you and your family. They have shops available to purchase apparel such as gloves, goggles, and jackets. This comes in handy when you're so far away from home and don't have everything you need.
Other shops have bathing suits, mugs, wine, and snacks to help you feel comfortable doing what you do best: enjoying yourself. That brings us to the next most important aspect of any vacation, good eats.
Whatever you crave, whether it be pizza, tacos, burgers, seafood, or salads, the restaurants at the Solitude Resort will not disappoint. Follow your craving to the mountain top.
Last, the Solitude Mountain Spa is an excellent place for couples to relax. We know spending a day in the cold mountains in a bikini seems cliché, but that's what makes it so awesome. The spa is the place to treat your body and mind to love, peace, massage, and relaxation.
Appointments are required, but don't let that stop you from taking a much-needed break from the hustle and bustle of your daily life. You're on vacation, by the way.
Park City Mountain Resort
The first day of winter is November 19th at the Park City Mountain Resort. It's located at 1345 Lowell Ave, Park City. All passes are available at a 20 percent discount.
Many have struggled throughout the pandemic. A huge discount gives more people the ability to get out and have a great experience on the slopes. The Park City Mountain Resort staff understand this and want to help you create new positive experiences.
Even if you don't take a full vacation at the resort, a discounted day pass (65 percent off) can be just the thing you need to recharge. You'll also get the bragging rights to say you skied on the largest ski and snowboard resort in the United States.
The Park City Mountain Resort features three restaurants to keep you fueled up to enjoy your skiing experience. Each restaurant offers different cuisine based on your preferences. There are also shops available to pick up memorable trinkets for the family members back home.
The Rock Resorts Spa is your spot to forget about all of your troubles and enjoy a healing massage and skin treatment personalized to your needs by a certified massage therapist and Esthetician.
Powder Mountain Resort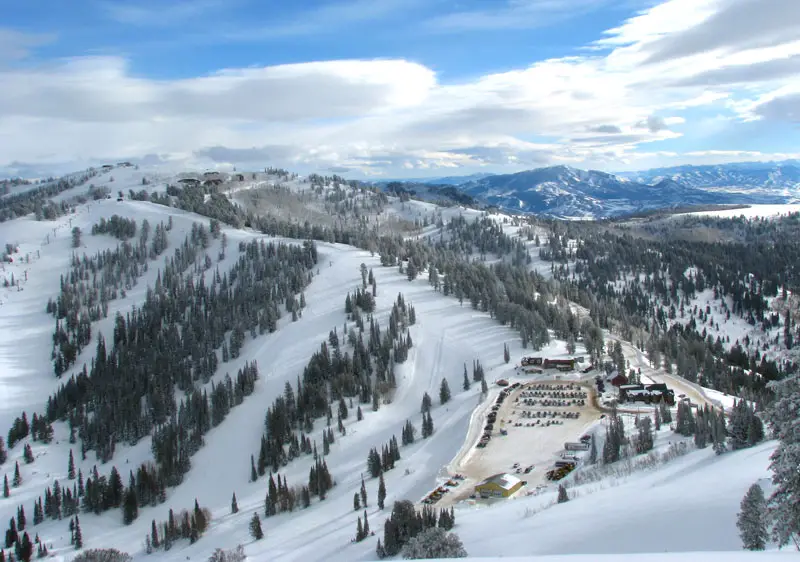 The Powder Mountain Resort is located at 6965 E Powder Mountain Rd, Eden. It's about one hour from the Salt Lake City Airport. The resort is a great place to experience new mountain views, such as that of the Horizon neighborhood.
Brian Mackay-Lyons, an award-winning architect, designed the Horizon neighborhood. From the Horizon neighborhood, you can gaze at the Ogden Valley, the Wasatch Range, and the Salt Lake Basin. It is a romantic view to enjoy the sunset in the winter.
Let's talk about the various lodging options offered at the Powder Mountain Resort. When you visit this resort, you have many options for you and your family to enjoy. The Cascade Townhomes offer properties up to 3,600 square feet that can sleep up to fifteen guests.
Each property offers different amenities such as theater and game rooms, private hot tubs, and even garages to make you more comfortable. The Heartwood is another resort minutes away from the ski lifts in Powder Mountain.
The resort features a heated wrap-around deck to give you and your companions an unforgettable experience. The Outpost Spirits is a store that can help you create a good experience.
It's the only liquor store located in Ogden Valley. The Outpost Spirits offers a great selection of spirits, wine, and high-point beer. Guests can make special orders as well.
Brighton Resort
The Brighton Resort features five hundred inches of snow each winter, similar to the Deer Valley Resort. The snow is beautiful, fluffy, light, and dry. It's perfect for skiers and riders alike. The resort is located at 8302 S Brighton Loop Rd, Brighton, just 35 minutes from the Salt Lake City Airport.
You have three choices for lodging at this ski resort. Your family can choose from lodging in the slope side or base areas. Or you can enjoy accommodations on the outskirts of this resort, depending on your price range and family plans.
The Brighton Resort offers workshops for women and kids aged five to 15. The great thing about these workshops is that they train on getting the best skiing experience. Instructors focus on education to enhance safety and prevent fear.
The instructors focus on learning all the important stuff so that you can let loose and have fun. Each group can meet with the same instructor each week, which makes the process more effective.
The idea behind having the same instructor each session is to enhance social interaction and create a supportive atmosphere that will help students grow. Kids train in groups of six or less. Women train with their instructors individually or with a partner.
The Brighton Resort has three shops where you can purchase your everyday needs to hit the slopes comfortably and safely. Items such as cameras, chapstick, hand warmers, sunscreen, batteries, and snacks are at your disposal.
You can even place your order online and use their curbside service to pick up meal orders which gives you a break from the freezing weather.
Snowbasin Resort
The Snowbasin Resort is located at 3925 Snowbasin Rd, Huntsville. It is known to have incredible terrain for advanced riders. But don't let that scare you away if you are a beginner. The resort welcomes skiers of all backgrounds and even offers a learn and earn program.
Once you sign up for the program, you get three lessons with rental fees included. Once you complete the program, you receive a season pass. Talk about getting paid for your efforts!
Dining is another reward of the Snowbasin Resort. They offer eight different food options. For weekend dining, some restaurants provide Bavarian food, brew and barbeque, and lunch options.
The Needles lodge overlooks the Ogden Valley at 8,700 feet. Inside the lodge is The Overlook. It's a full-service bar only available during the winter months. Earls Lodge is your one-stop-shop for sweet treats, coffee, burgers, and pizza.
The John Paul Lodge is an exciting place as it offers 360-degree views of the whole resort. However, they are closed for the winter for dining in. You can still experience the sights as it's still open for foot traffic and restrooms.
The Strawberry Slope side dining restaurant and the Old Day Lodge Slope side Dining are more dining options closed during the winter. However, Earl's Slope side Dining is open during the winter.
So, no matter what time of the year you choose to visit, from the famous cheese fries to the signature grilled cheese and soup of your choice, you will have many dining options to keep you satisfied.
The Snowbasin Resort offers a retail shop located in the Grizzly Center that offers American and European brands like Dale of Norway, Icelandic Designs, Obermeyer, and Roxy. It is your one-stop-shop for ski gear, gifts, and even art.
Snowbird Resort
The Snowbird Resort is located at 9385 S. Snowbird Center Dr, Snowbird. It has five different lodging options based on your budget and the needs of your family. If you are looking to stay in, relax, and enjoy room service, then the Cliff Club and the Cliff Lodge are the best options.
All of the lodges offer swimming pools and hot tubs. The Cliff Lodge, Iron Blosam, and The Inn offer outdoor swimming pool experiences. No matter which place you choose, you will have direct access to beautiful views.
The Cliff Lodge, in particular, offers a rooftop pool and spa to help you unwind and pamper your body and mind with a massage treatment or yoga class. It's an experience you won't get anywhere else.
Only one mile from Alta, the Snowbird Resort sits in the heart of the Wasatch-Cache National Forest. While five hundred inches of snow each winter isn't something new, Snowbird is known to have the most extended ski season.
The resort features more than three thousand feet of terrain ready to be enjoyed by skiers and riders of all backgrounds and experiences. At the Snowbird Resort, you will never run out of dining options.
You will always have choices year-round from salad bars to grills, organic meals, breakfast delights, coffee, seafood, steak, and pizza. The only issue with the restaurants at the Snowbird Resort is that you may not be able to try them all unless you stay for a month or more.
Alta Ski Resort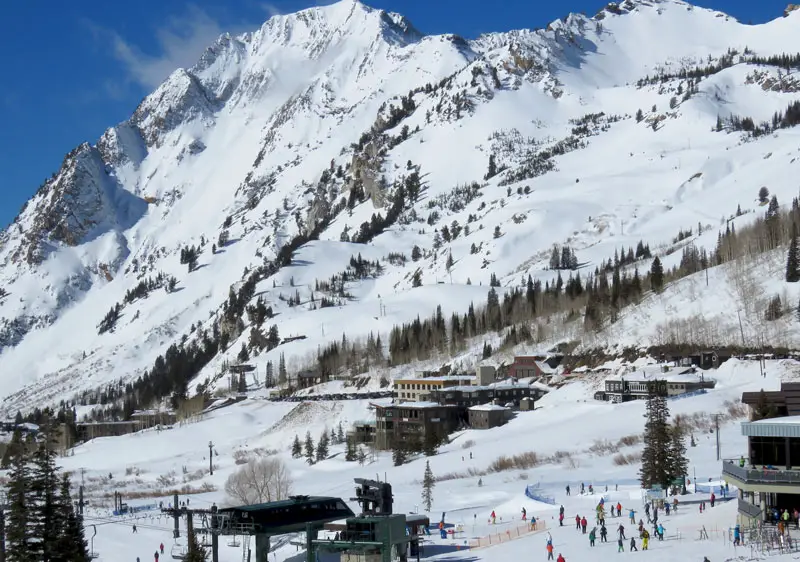 The Alta Ski Resort is located at 10010 Little Cottonwood Canyon Rd, Alta. It also gets about five hundred inches of snow each winter. The ski resort becomes open for skiers in 30 days. So, if you haven't planned your trip, now is the time.
Lodging at the Alta Ski Resort doesn't disappoint. They offer lodges, condominiums, and homes. The clubs have restaurants, bars, spas, and shops so that you don't have to spend time looking to find the things you need. They also offer ski-in and ski-out access.
All eleven condominiums are located minutes from the ski area. All are comfy and cozy, with some offering private hot tubs and easy access to nearby shops. We forgot to mention that some of these homes are in between the Alta Ski Resort and the Snowbird Resort.
This means that your choices to meet your lodging needs just doubled if you stay at one of these resorts. It also gives you and your family the ability to explore two areas during one trip. Then there are the houses. The resort offers ten homes to choose from.
Each house offers even more space for you and your family to love and enjoy. Some offer ski-in and ski-out locations. There are properties like the Chalet Day Johns house with eight bedrooms and nine bathrooms with views of the ski slopes in Alta for bigger groups.
If you want to get away and enjoy nature, you can choose The Cabin Chalet that includes a deck with a gas barbeque for private use. It also has its own private sauna and hot tub. When you are ready to ski, simply walk to the resort shuttle to gain access to the lifts.
Get this, you can ski back close to the house, which takes the guesswork out of enjoying your time at the Alta Ski Resort.
Beaver Mountain Resort
The Beaver Mountain Resort is located at 40000 East, US-89, Garden City. It's known as the oldest family-owned ski resort in the United States. The "Ski The Beav" resort is a great place to enjoy great and powdery snow.
They have a separate lift for beginners that includes two runs for more advanced skiers. It's a great resort for family vacations. The resort gets more than four hundred inches of powdery snow each season.
One remarkable thing to note about the Beaver Mountain Resort is that it offers overnight skiing. It's a great first experience for beginner and intermediate skiers. It can even be a romantic date for couples looking to create new moments of sharing.
The shop on Beaver Mountain is your place for picking up a beaver trinket to always remember the good old times. There are t-shirts, socks, hoodies, sweatshirts, and other gift items. What's better than sipping hot chocolate out of a beaver mug?
Lodging is the one thing that makes the Beaver Mountain Resort different from the others. They don't have traditional lodging. They only have nearby hotels. The good thing is that some of the hotels are suites making it easy to prepare your own food and save money on your trip.
Not to mention, most suites have refrigerators, stoves, and microwaves. They also tend to have pools depending on the time of year your family visits the resort. When it comes down to dining, there is the beaver mountain grill.
It's a simple restaurant that is home to the legend of all burgers, the Big Beav Double Bypass Burger. It has two hamburger patties, bacon, cheese, fries, and barbeque sauce.
The burger is served with a side of fries. They also serve other sandwiches, breakfast, and even bagged lunches.
Nordic Valley Resort
The Nordic Valley Resort is located at 3567 Nordic Valley Way, Eden. It is located in the heart of the Wasatch Mountains. The great thing about this resort is that it is only minutes away from restaurants and places to lodge in Ogden.
Nordic Valley is a well-known resort because of its ski school. The resort has slopes available for advanced and intermediate skiers. It's an excellent place for families to learn how to ski and spend quality time together.
In 2002, the Winter Olympics were hosted there. Altogether the ski resort is 450 acres with five lifts (two double, one 6-person, one triple, one surface). If you are looking for the best night skiing experience in Utah, this is the resort to visit.
Something different that regular and new visitors will experience is the new automated dining system with the Nordic Valley Cafe offered at the resort. You can now order your food online ahead of time and pick it up when you are ready.
Waiting in long lines and then waiting for your food to be prepared is a thing of the past. In fact, you can place your order and continue skiing. Then, pick up your meal when it's ready and when you are good and hungry.
The Nordic Valley Café has a full menu to support your cravings, whether you want snacks, pizza, salads, or a sandwich. The online experience is simple and takes minutes, so you can focus on having fun instead of waiting in line.
Wrapping Up
If you are looking to plan a ski vacation, it's time to start planning your adventure at one of Utah's ten best ski resorts. Each ski resort offers different experiences to choose from based on your preference, budget, and family size.
You will find what makes your trip unique, from a resort to a condominium and family homes to all-in-one suite hotels nearby. Just don't forget to enjoy the slopes while you're there.
No matter which resorts you choose to visit, you will have a blast and enjoy what the winter has to offer. Tasty food, fun slopes, yoga, massage, and outdoor pools add up to a vacation that will never be forgotten and a new experience to cherish forever.
More about our TFVG Author
A seasoned traveller, Dad, and avid sports tourist, James foundered The Family Vacation Guide to share his expert vacation experiences- especially when it comes to being a travelling family man.
Featured in Travel articles such as Travel + Leisure, TripSavvy and SFGate, you know you're reading some of the best vacation tips online.