Named the seaside golf capital of the world, the Myrtle Beach area has plenty of engaging golf opportunities for vacationing families and locals.
Myrtle Beach contains over 100 traditional golf courses, but if putt-putt is more your speed, don't worry! The Myrtle Beach area has you and your family covered, too.
A popular east-coast vacation spot, Myrtle Beach claims to be the world's biggest mini-golf hub with over 50 mini-golf courses visit, each with a unique theme and eye-catching attractions. Choose from a plethora of themed courses along the Grand Strand, from pirates and shipwrecks to dinosaurs, abandoned mines, and volcanoes.
Since there are so many to choose from, we've found some of the best mini golf courses in Myrtle Beach and listed them here. Keep reading further to see which ones are an ideal place for you and your family to visit.
Best Mini Golf Courses in Myrtle Beach
Guests and locals love Myrtle Beach not only for the ocean but for the area's vast recreational opportunities. If you don't want to spend your entire vacation with your toes in the sand, activities like mini-golf are the perfect break from swimming in the ocean and lounging in the sun.
Mini golf is a fun activity to include in any thorough vacation itinerary. It is something for the whole family to enjoy, as people of all ages can play. Mini golf brings people together by combining quality entertainment and competition. Below is a list of the top-rated courses!
1. Mt. Atlanticus Miniature Golf
Location: 707 N. Kings Hwy.
Mt. Atlanticus offers two Atlantis island-themed mini-golf courses that features indoor and outdoor holes. The Minotaur Course and Conch Course take golfers past caves and waterfalls, making their way up a "mountain" complete with golf huts.
Further, make the 19th hole, and you receive a lifetime mini-golfing pass!
Located only one block away from Myrtle Beach, golfers have a fantastic view of the Atlantic Ocean from the top of the mountain. Mt. Atlanticus offers a memorable mini-golf experience for your family if you choose to visit.
2. Captain Hook's Adventure Golf
Location: 2205 N. Kings Hwy.
Captain Hook's Adventure Golf creates the magic of Peter Pan's Neverland in the Myrtle Beach area. Golfers can visit the Lost Boys, save Tinkerbell, and board Captain Hook's ship throughout the course.
Capt. Hook's Adventure Golf has animatronics and features simple and challenging holes, making it the perfect course for kids and parents alike!
3. Jurassic Golf
Location: 2900 S. Kings Hwy.
Another excellent course for parents with young children is Jurassic Golf. Dinosaur-themed, this course embodies the prehistoric Jurassic era, featuring T-Rex and raptor statues among other reptile creatures, immersing players from hole to hole.
A mix of easy and challenging holes, this course is suitable for mini golfers of varying ages and skill levels.
4. Lost Treasure Golf
Location: 3210 Hwy. 17 S.
Located in North Myrtle Beach, Lost Treasure Golf features two 18-hole mini-golf courses. The theme of these courses is to embark on a quest for diamonds and gold. Golfers take a mining train ride to the first holes and make their way through, searching for gems while putting on the green.
Visitors enjoy a family atmosphere and fun as they golf for lost treasure through caves, volcanoes, and waterfalls.
5. Cancun Lagoon Adventure Golf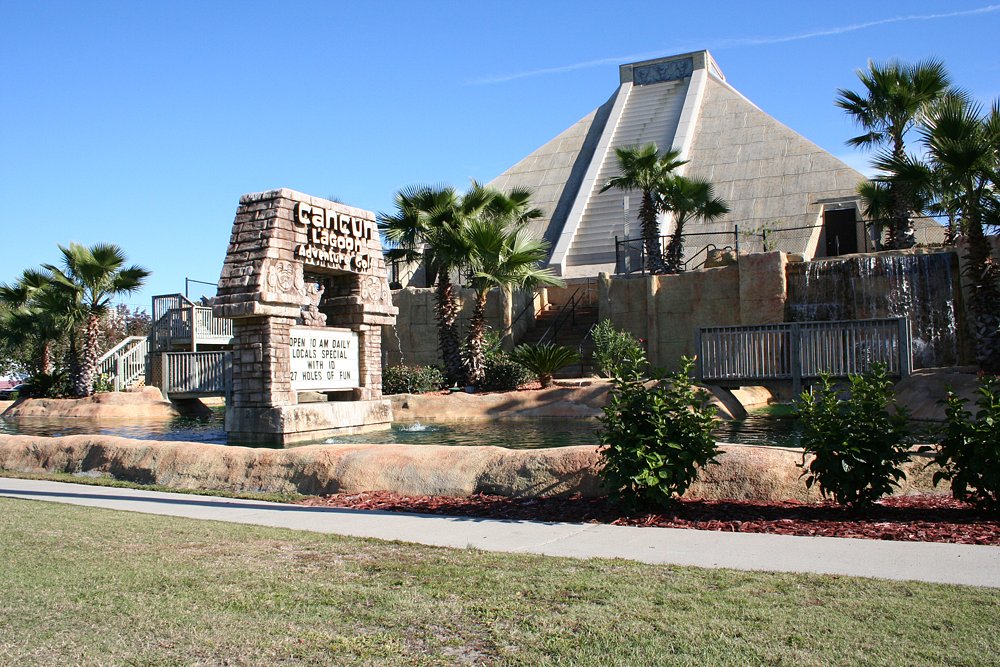 Location: 2101 S. Kings Hwy.
The Cancun Lagoon Adventure Golf courses at Myrtle Beach take golfers back to ancient times with their Mayan theme.
Further, there are three courses to choose from — two indoor/outdoor courses and one entirely outdoor course. The indoor/outdoor courses feature a balance of air-conditioned indoor play and themed outdoor scenery, such as a 50-foot Mayan pyramid statue.
No matter the course you choose, each has 27 holes for you and your family to enjoy on vacation.
6. Treasure Island Mini Golf
Location: 4801 N. Kings Hwy.

The theme of the Treasure Island Mini Golf courses is based on the book Treasure Island, and it also has nods to Myrtle Beach history. Families have three different courses to choose out of here.
Aside from the courses, Treasure Island also has other family-friendly attractions like an arcade, parrots, and a fire-shooting volcano.
Many visitors note that Treasure Island has a great atmosphere with fun and challenging holes. With so many different courses and activities as options, Treasure Island is the perfect mini-golf spot to visit on your Myrtle Beach vacation!
7. Shipwreck Island Adventure Golf
Location: 3301 S. Ocean Blvd.
Shipwreck Island Adventure Golf has golfers play alongside a group of shipwrecked castaways that no one has rescued. Golfers must search for the missing ship that crashed and look for a hidden treasure chest full of riches.
Families love this course because it features an atmosphere complete with flowing waterfalls, beautiful palm trees, and tropical shells.
8. Jungle Safari Golf
Location: 7101 N. Kings Hwy.
Take part in a Myrtle Beach safari through Jungle Safari Golf's mini-golf courses!
Instead of traveling African terrains by vehicle, golfers can explore a variety of animal habitats and landscapes within the mini-golf course. Golfing through waterfalls and over streams, "wildlife" including statues of zebras, elephants, and giraffes surround visitors as they move from hole to hole in the course.
Jungle Safari Golf's natural scenery and a blend of easy and challenging holes make it a fantastic mini golf choice for vacationing families!
9. Spy Glass Mini Golf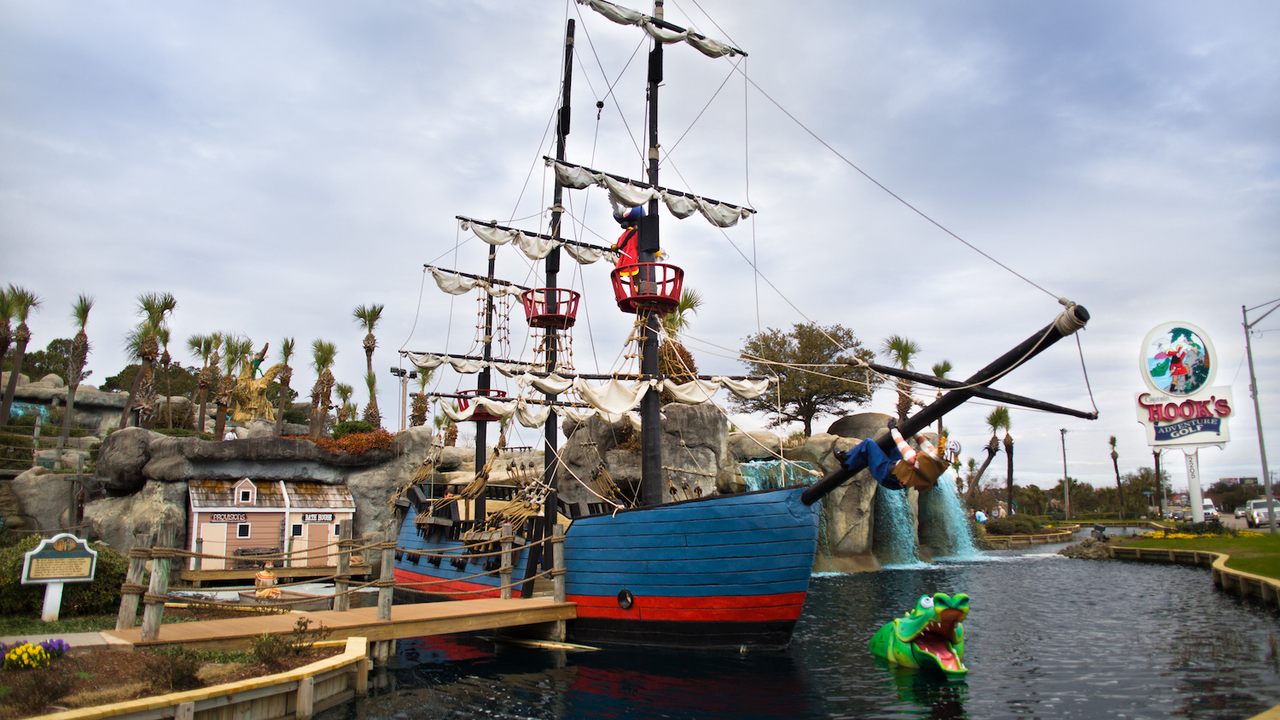 Location: 3801 N. Kings Hwy.
Spy Glass Mini Golf includes a course with simple yet creative holes, making it an excellent choice for families with young children. Additionally, this mini-golf course is complete with caves, waterfalls, and shipwreck scenery aligning with its pirate theme.
Further, the course also has fun decorations and special effects like firing water cannons which give families an immersive golfing experience they'll never forget!
10. Hawaiian Rumble Golf & Batting Cages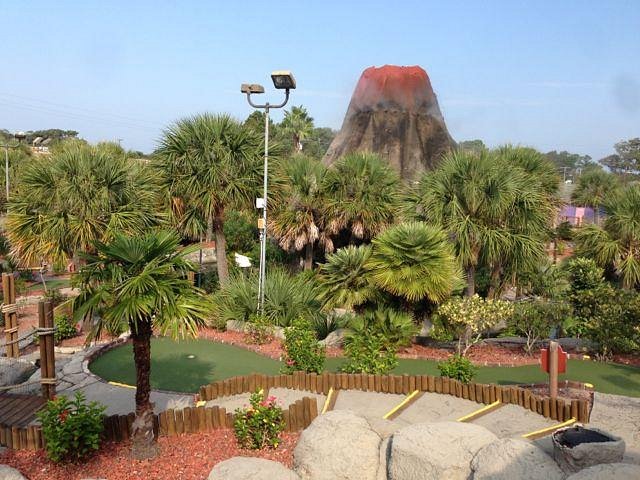 Location: 3210 Hwy. 17 S.
Located in North Myrtle Beach, Hawaiian Rumble Golf & Batting Cages features two 18-hole mini-golf courses. Tropical Hawaiian flowers and lush scenery surround these courses accompanied by Hawaiian music.
The two courses also surround a 40-foot volcano that "erupts" approximately every 20 minutes, an exciting moment for everyone, especially kids and kids at heart.
Further, if golfers need a break, Hawaiian Rumble Golf offers many shady places to rest and enjoy the beautiful atmosphere.
These simple courses are great for beginners or those looking to play a quick game.
Ready To Visit These Mini Golf Courses in Myrtle Beach?
If you and your family are searching for some of the best mini golf courses near Myrtle Beach, we hope this list of selected courses has helped you discover incredible options to visit during your stay.
Myrtle Beach offers excellent courses for traditional golf, and it also culminates a wide variety of mini-golf courses, ensuring family fun for everyone vacationing in or around the area.
Aside from simple and challenging holes, these courses offer diverse interactive themes, indoor and outdoor availability, an affordable price, and multiple additional attractions.
These Myrtle Beach mini golf courses also provide the opportunity to create long-lasting memories for everyone in the family, regardless of age! From little ones to grandparents, everyone will have a story to tell.
We know that you will have an incredible time at any of these mini golf courses during your stay in Myrtle Beach. Now, you just have the task of picking the courses that best accommodate your family's likes and fit into your vacation plan!
More about our TFVG Author
A seasoned traveller, Dad, and avid sports tourist, James foundered The Family Vacation Guide to share his expert vacation experiences- especially when it comes to being a travelling family man.
Featured in Travel articles such as Travel + Leisure, TripSavvy and SFGate, you know you're reading some of the best vacation tips online.