Myrtle Beach in South Carolina is becoming more and more popular as a vacation destination among families who flock to the city for its stunning coastline and abundant activities.
Whether you are in town for a week over spring break or simply for a long weekend, we understand the importance of feeling like your accommodations match the relaxing and fun vacation you want to have.
Despite being a small city, this stretch of beach has numerous luxury hotels, and we have performed extensive research to find eight of the best luxury hotels in Myrtle Beach for families. 
Marriott's OceanWatch Villas at Grande Dunes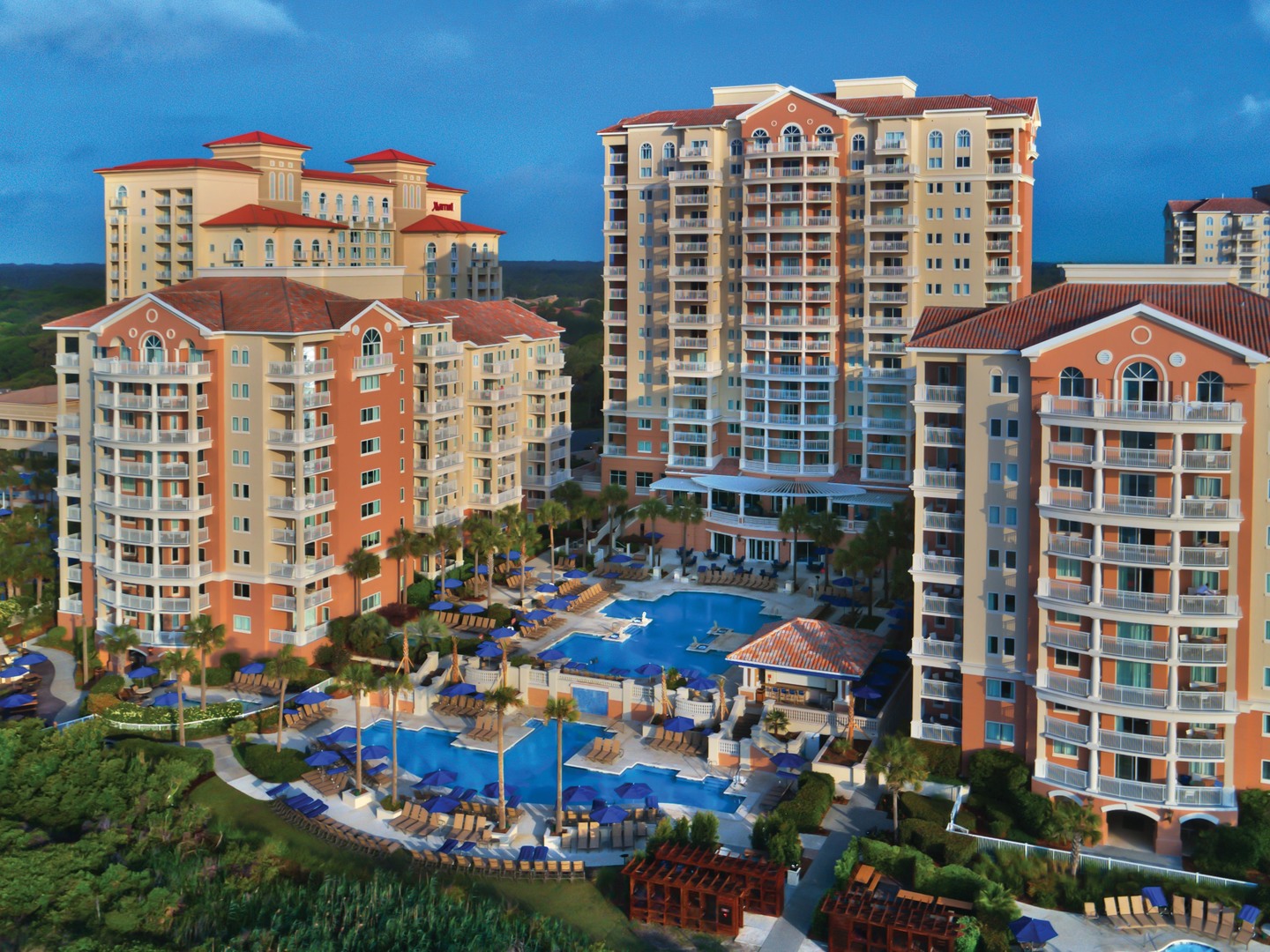 Marriott's OceanWatch Villas at Grande Dunes is the perfect place to stay for a large family getaway or a multi-family trip.
The two-bedroom villas are spacious enough for the entire family and feature amenities that can be difficult to find at hotels, including fully equipped kitchens and private balconies with ocean views.
However, the OceanWatch still delivers hotel-level features, and while you'll experience ample privacy and room in your villa, you can't beat the sprawling grounds of the hotel or the beach access.
Adults can enjoy the fitness center while their kids play at the kid's zone, featuring games and activities suitable for all children over the age of 5.
The kid's zone also features ample outdoor family-friendly activities, such as a basketball court, bocce ball court, and a playground.
The water features are a huge draw at the hotel, and you and your kids can enjoy ocean views while you swim in one of the hotel's two main outdoor pools.
Your family can also enjoy the indoor and outdoor whirlpool, indoor pool, and kids' wooded pool, which includes a waterslide; little kids will have a great time at the splash pad.
After a day splashing around in the pools or the ocean, come back and enjoy a nice family dinner night at one of the hotel's multiple onsite restaurants, or grill up your own food on the provided outdoor grill while enjoying the fire pit.
Marriott's OceanWatch Villas at Grande Dunes resides at 8550 Costa Verde Dr, Myrtle Beach, SC 29572, and can be found online at their official website.
Avista Resort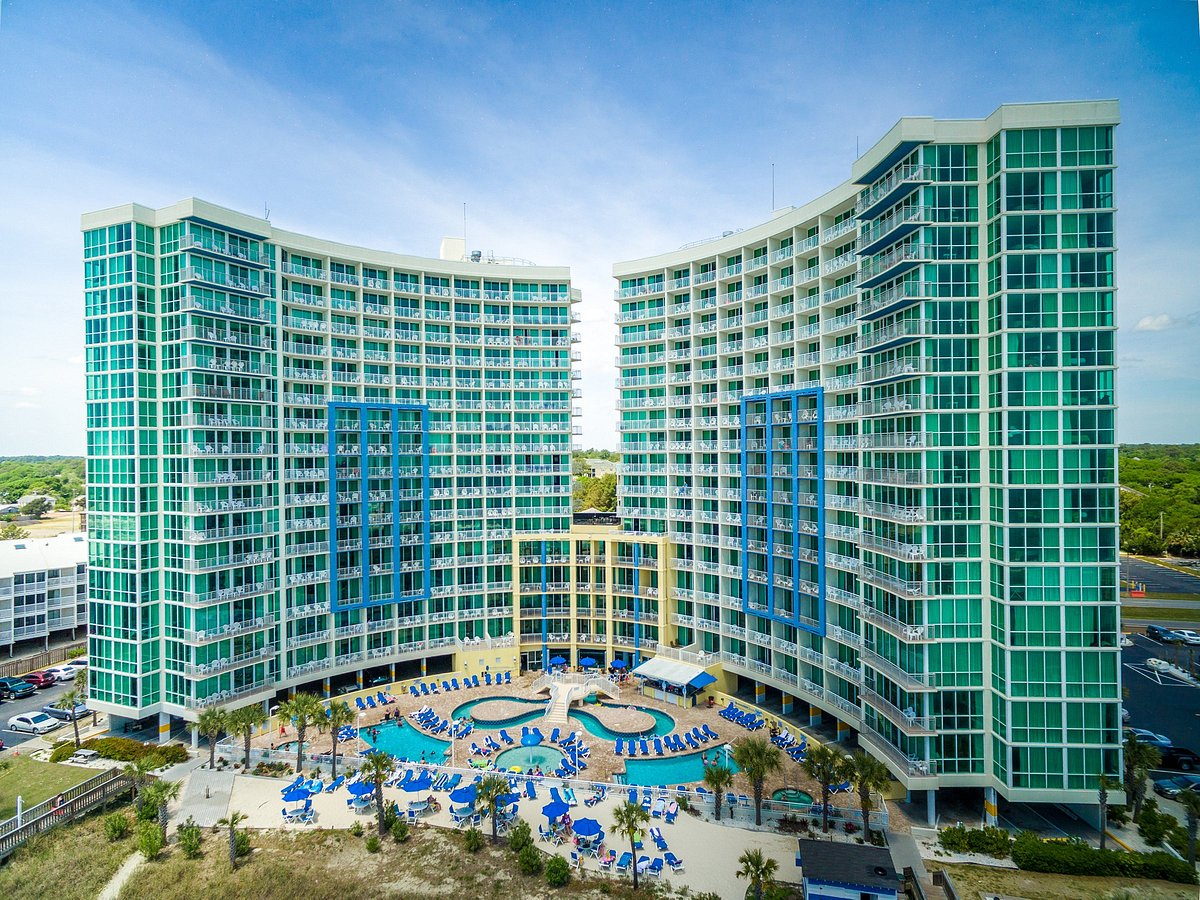 While Avista Resort may feel a little dated in terms of decor, it still delivers 3-star service and more than makes up for the accommodations with its extensive amenities.
Families will feel right at home staying in one of their one, two, or three-bedroom condos, including features such as full kitchens and private balconies.
Your kids can make memories that will last a lifetime at the seasonal "Kid's Zone," where monitored daily activities are provided at an additional fee.
Some activities are more experiential, such as an underwater treasure hunt, while others create souvenirs that your kids can bring home, like tie-dyed T-shirts.
Adults can use their free time while their kids are at the kid's zone to hit the fitness center, and then the whole family can reconvene at any of the hotel's three restaurants, including the Tree Top Lounge, which features excellent views and a pool table.
However, the biggest draw is the hotel's extensive water features, including two lazy rivers, one indoors and one out, an outdoor kiddie pool, two hot tubs with ocean views, and three swimming pools.
Spend the day enjoying the hotel's fantastic swim amenities, and then take a family trip to the beach right on the hotel's front doorstep. 
Enjoy your downtime in the evenings back at your condo as a family by enjoying the hotel's unlimited DVD rentals.
Avista Resort resides at 300 N Ocean Blvd, North Myrtle Beach, SC 29582, and can be found online at their official website.
Anderson Ocean Club and Spa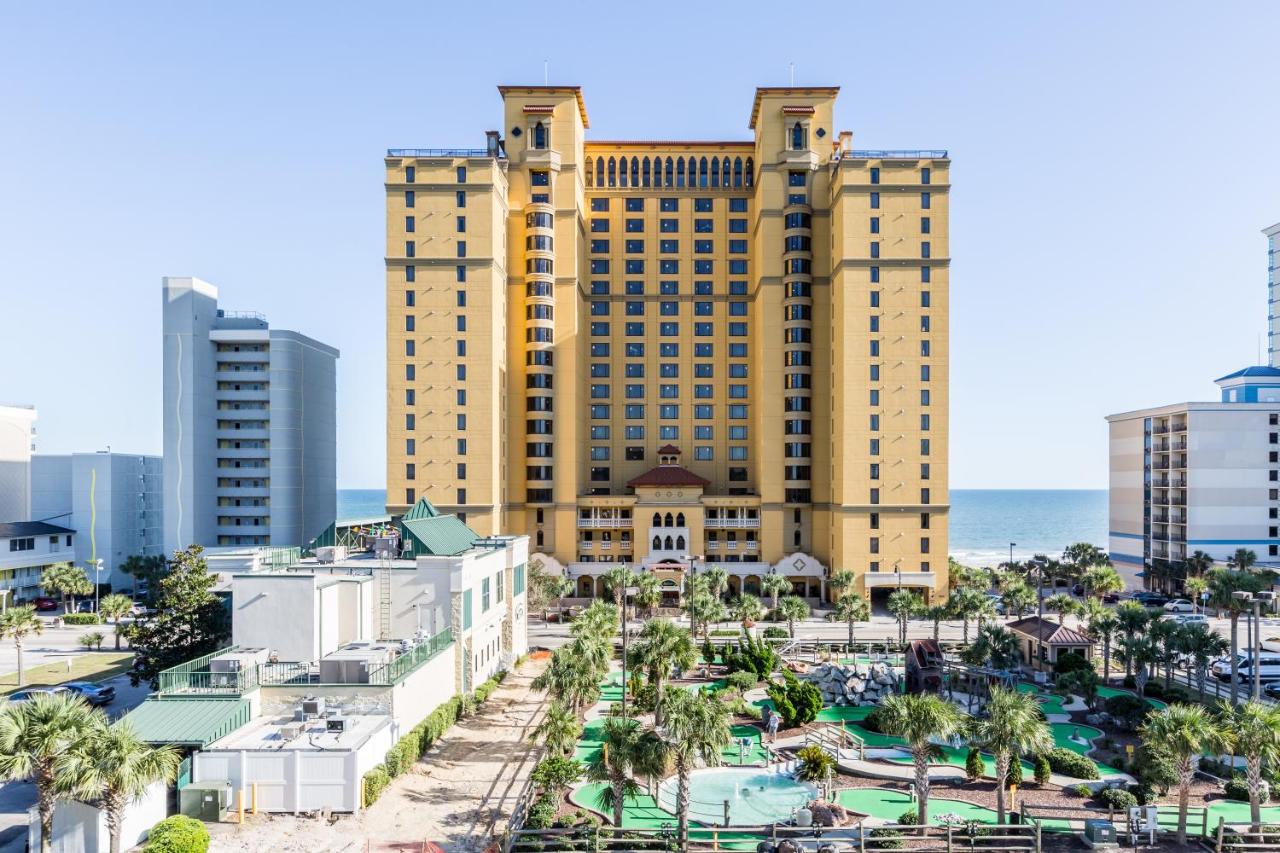 Anderson Ocean Club and Spa is another excellent beachfront property to consider, as the hotel focuses heavily on creating an environment conducive to full-family fun.
The rooms range from small studios to the huge three-bedroom penthouse suite and offer various amenities like kitchenettes and private, ocean-view balconies.
The Anderson Ocean Club is the perfect property to stay at as a larger family in a single multi-room suite or multiple smaller rooms.
The whole family can enjoy the onsite water features, including two outdoor pools, an outdoor lazy river, a five-person outdoor hot tub or a 12-person indoor hot tub, an indoor kiddie pool, and a seasonally-heated indoor pool.
If you're looking for more of an adventure, take advantage of the hotel's beachfront location and enjoy the ocean, or utilize the free water park tickets at nearby Myrtle Waves Water Park.
The Ocean Club is unique in offering onsite amenities as well as experiences around Myrtle Beach.
Not only are water park passes included in your stay, but the hotel also offers guests unlimited mini golf at the Lost Mine Miniature Golf Course across the street and a Privileges Discount Card when you check in for discounts on activities in the area.
Kids can also participate in the free Kid's Activity Program between early June and mid-August, which lets them participate in activities such as beach scavenger hunts, treasure dives, and tie-dying.
While the kids enjoy their activities, adults can sneak off to the onsite fitness room and then relax with a spa treatment at the onsite Awakening Spa.
Anderson Ocean Club And Spa resides at 2600 N Ocean Blvd, Myrtle Beach, SC 29577, and can be found online at their official website.
Dunes Village Resort
The Dunes Village Resort is a hotel chock full of amenities and perfect for large family get-togethers or multiple family vacations.
In addition to standard-sized rooms, the resort offers rooms up to 2,000 square feet with four bedrooms, sleeping up to 16 guests.
You can have multi-generational family vacations at this Myrtle Beach resort or simply take your kids for a quick weekend away.
Unlike many Myrtle Beach hotels, which are best enjoyed in the summer months, the Dunes Village Resort is the perfect destination for winter travel to the South Carolina coast because of its 30,000 square foot indoor water park.
Kids can enjoy multiple pools, whirlpools, hot tubs, a splash pad, multiple waterslides, and even an adventure submarine. Top it all off with the indoor lazy river that winds around the park, and you've got at least one full day of your vacation's activities covered.
However, if you want to enjoy the weather, you can venture outside to one of the outdoor pools and hot tubs or enjoy the beach access.
Despite many rooms having full-service kitchens, we understand that not everybody wants to cook on vacation, which is why this resort has five onsite coffee shops and restaurants.
Adults will also appreciate the onsite fitness center as well as the onsite Lost in Serenity Spa.
Dunes Village Resort resides at 5200 N Ocean Blvd, Myrtle Beach, SC 29577, and can be found online at their official website.
Sea Crest Oceanfront Resort
The Sea Crest Oceanfront Resort is another perfect hotel for families looking to come during the off-season. However, its prime location and beachfront access make it an ideal summer destination. 
Your kids will love the Oceanfront Children's Waterpark, which, although smaller than the waterpark at Dunes Village Resort, is located outside close to the beach.
The waterpark features a 50-foot waterslide, a lazy river, multiple pools, and an exciting kids splash pad for younger kids, featuring a mini waterslide, submarine, buckets, and rainmakers.
If you come during the winter and the weather doesn't suit the outdoor water park usage, kids can enjoy the indoor pool, two whirlpools, and the indoor lazy river.
Adults will appreciate amenities, such as the indoor fitness center, business center, mini-mart, and gift shop, as well as the fact that nearly every room in the hotel has a stunning ocean view.
In addition to its beach access, the resort is more than suitable for families looking to venture off the premice, and it is within walking distance to the Fun Plex, the Sky Wheel, a mini-golf course, and the Family Kingdom Amusement Park.
Be aware, however, that this hotel doesn't offer kids camps or babysitting services, so while it is an excellent destination to enjoy Myrtle Beach with your kids, if you are hoping for some alone time, you may prefer another resort in the area.
Sea Crest Oceanfront Resort resides at 803 S Ocean Blvd, Myrtle Beach, SC 29577, and can be found online at their official website.
North Beach Resort & Villas
North Beach Resort & Villas is an absolute must whether you're planning to travel with your kids or enjoy a romantic couples getaway without them.
Although it lacks some of the overtly family-friendly amenities that other resorts on this list offer, it's still a great place to come and enjoy Myrtle Beach with your kids.
The resort accommodations are extremely versatile, and this is the ideal place to stay if you want to build a unique vacation experience with your kids or extended family.
You can rent anything from a single luxury oceanfront suite to a four-bedroom condo or a five-bedroom villa.
The North Beach Resort & Villas combines all of your favorite things about resort stays with the relaxed comfort of an Airbnb.
You can choose to have completely different accommodations every time you stay or pick a favorite villa for you and both sets of grandparents to meet at each summer.
Kids and adults alike will enjoy the water features, which not only include premium access to the beach, but multiple outdoor pools and hot tubs, a lazy river, and a swim-up bar.
Although there is no designated kids pool or waterparks at the North Beach Resort, the swim areas feel slightly more upscale and include cabana rentals.
There is an onsite fitness center, and the expert golf directors at the hotel can help you communicate with and plan the perfect golf day at one of the many premium golf courses nearby.
Wind down at the end of the day with a relaxing treatment at the Cinzia Spa, and then enjoy dinner at one of the onsite restaurants.
The whole family will love 12 Main Prime Steakhouse, which includes decadent mains and sides, and is known for its 28-day dry-aged steaks.
North Beach Resort & Villas resides at 19 North Beach Boulevard Suite 3, North Myrtle Beach, SC 29582, and can be found online at their official website.
Tilghman Beach & Golf Resort
If you are looking for the perfect summer vacation in Myrtle Beach with your family, look no further than Tilghman Beach & Golf Resort.
This hotel truly offers the perfect amenities for children and adults to have an incredible time, allowing you to enjoy everything Myrtle Beach has to offer.
Myrtle Beach is known worldwide as a premium golf destination, and if golfing is part of what drew you to the area, you will not be disappointed when you stay at Tilghman.
This resort's incredible location features a beachfront on one side and an incredible golf course on the other, meaning everyone in the family can get what they want.
In addition, the hotel staff is incredibly knowledgeable and can help you book the perfect golfing experience during your stay.
Parents can enjoy some alone time and peace of mind when they send their kids to the seasonal TBGR Kid's Club, which has fun adventures and experiences every day, including activities such as beach walks, Slime!, and swimming with mermaids.
TBGR Kid's Club also offers evening activities like family game night, dive-in movie night, and monitored teen and tween pool dive drop off if parents are looking for a bit of evening alone time.
Most activities are included in your stay, although some come at an additional cost for materials such as tie-dying or babysitting-like services such as teen and tween drop off.
While parents will appreciate amenities such as the fitness center or sauna, the whole family will love the water features at the hotel.
Everyone can enjoy the Myrtle Beach weather while looking out on the ocean, featuring an outdoor pool and hot tub, a fun splash pad for little kids, and a lazy river.
On days when it is a little colder, head inside to the seasonally heated indoor pool and hot tub.
Tilghman Beach & Golf Resort resides at 1819 N Ocean Blvd, North Myrtle Beach, SC 29582, and can be found online at their official website.
Grand Palms Resort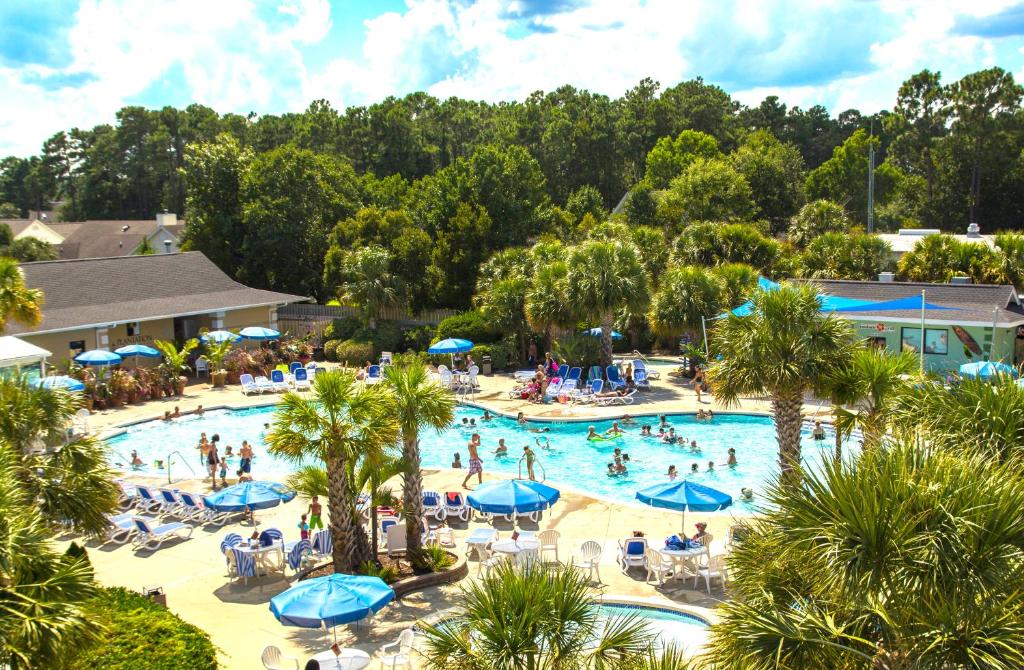 Situated a little further from the beach lies the Grand Palms Resort, which more than makes up for the lack of beachfront access with other amenities and the serenity that comes from being away from the hustle and bustle of the main stretch of Myrtle Beach.
If staying right on the beach sounds like more trouble than it's worth, enjoy a stay at the Grand Palms, only a few blocks back from the beach, and enjoy the included free beach shuttles that the hotel offers whenever you want to head to the ocean.
The accommodations at the Grand Palms Resort are perfect for families and offer everything up to three-bedroom villas, meaning your family will have plenty of room to stretch out and enjoy your privacy when you need it.
Spend days enjoying the luxurious outdoor hotel pool, hot tubs, and expansive 300-foot lazy river surrounded by lush garden greens. 
If the weather isn't suitable for outdoor fun, head indoors to the seasonally heated indoor pool and hot tub in a greenhouse-like setting – meaning you'll still enjoy the beautiful garden views. 
Adults can enjoy the fitness center or Mother Earth Day Spa for some workout and relaxation, while kids will appreciate the resort's activity center.
The activity center is perfect for young children to teenagers; even parents can have some fun at the arcade or shooting pool. 
Kids can also enjoy the outdoor activities by the pool, held daily, which include crafts such as stuffing a sea turtle or outdoor s'more-making in the evenings.
Head to the outdoor grilling area if you want to enjoy your surroundings and have a nice, private family dinner.
Grand Palms Resort and Suites resides at 1250 US-17 BUS, Surfside Beach, SC 29575, and can be found online at their official website.
Conclusion
Myrtle Beach is an ideal tourist destination for families. However, even with so much to do outside of your hotel, we understand that the most adventurous vacation needs a day or two to rest and relax.
That's why it is essential to find a luxury hotel that offers amenities for both adults and children to take advantage of and enjoy.
Finding a luxury hotel that checks all of your boxes can be an exhausting and time-consuming experience, but it doesn't have to be.
Whether you want a hotel with an ocean view from your room or one with a summer camp for your kids, we made sure to put a luxury hotel on this list that would suit every family's needs.
More about our TFVG Author
A seasoned traveller, Dad, and avid sports tourist, James foundered The Family Vacation Guide to share his expert vacation experiences- especially when it comes to being a travelling family man.
Featured in Travel articles such as Travel + Leisure, TripSavvy and SFGate, you know you're reading some of the best vacation tips online.