Charleston, South Carolina, is a beautiful city with plenty to see and do, and it's also a great destination to visit if you're looking for luxury accommodations and resorts.
Your family might be looking to paddleboard, go shopping, take a carriage ride, visit the South Carolina Aquarium, eat out, gulf, listen to live music, or simply take a walking tour on the cobblestone streets of this charming town.
Regardless of what you plan on doing, it'd be beneficial to book a nice hotel to rest in at the end of each hectic day!
But given the variety of luxury hotels in this town, it might be challenging for families to figure out which one is best for them.
We're here to help you out by listing nine of the best luxury hotels in Charleston, SC for families.
By the end of this article, you and your family should have a better idea of where you might like to stay on your next trip to "the Holy City."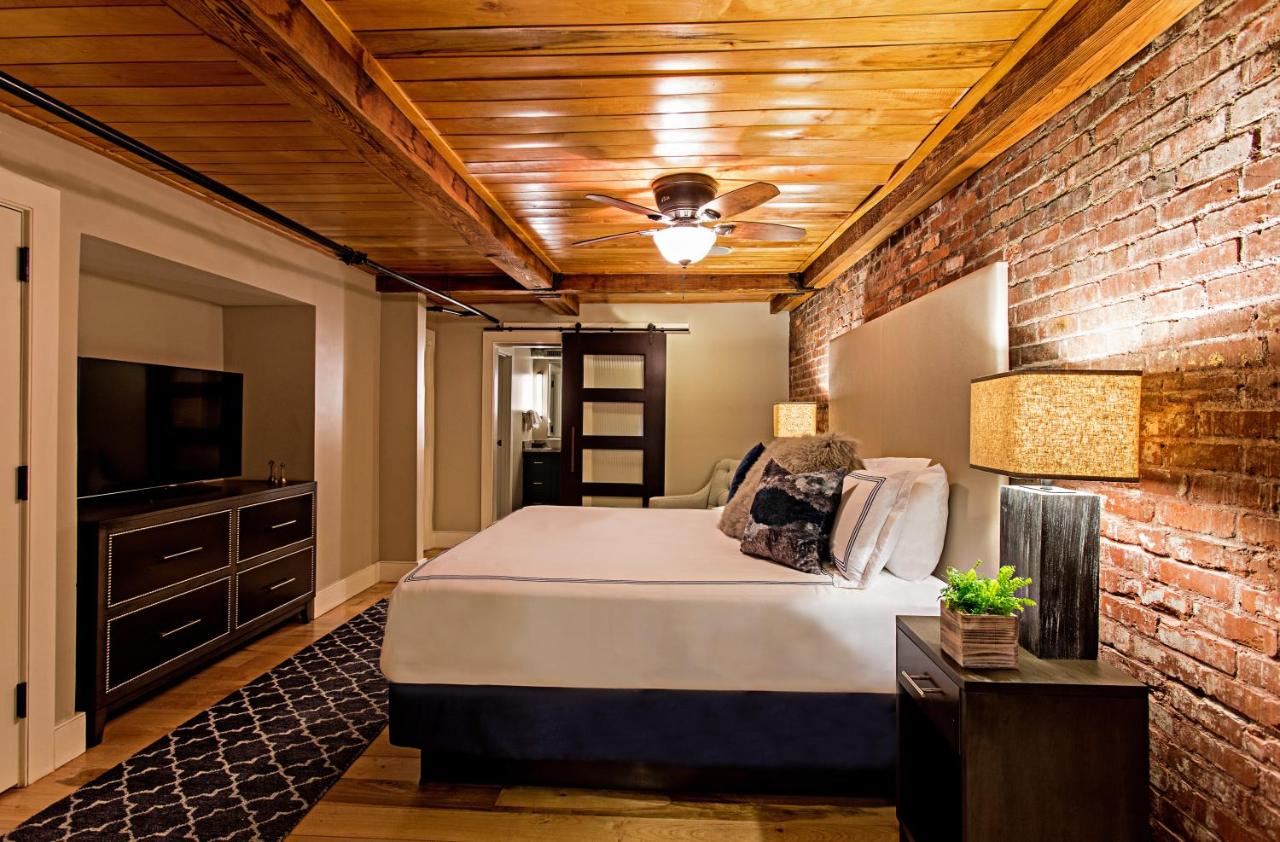 The Restoration is stylish and modern yet manages to capture the historical essence of Charleston.
This hotel is located on King Street, the iconic street in Charleston known for its antique shops, fashion boutiques, art galleries, and incredible restaurants.
On top of that, you'll be able to go "home" to a comfortable, historically-designed hotel suite or residence.
Some of the suites are suitable for small families of three, but for larger families, booking a residence is a wonderful way to be able to both gather together in the evenings and sprawl out with the extra space.
Additionally, guests at The Restoration appreciated the friendly and helpful service. The staff may provide a range of complimentary benefits such as bikes, good baskets, or shuttles to local restaurants.
Another aspect of The Restoration you might consider is its commitment to eco-friendly and sustainable practices.
They also have fun events such as movie nights, themed dinner nights, and even temporary art galleries.
All in all, the Restoration is a wonderful hotel choice for family vacations in Charleston.
Families will find The Dewberry to be a delightful place to stay during their Charleston vacation.
The Dewberry is a luxury five-star hotel located in the Historic District of Charleston.
This hotel has plenty of Southern charm and elegance, yet it still offers all of the modern amenities and comforts that families need.
The Dewberry is also known for its excellent service, and the staff goes above and beyond to make sure that every hotel guest feels like royalty.
This hotel has a total of 255 guest rooms and suites, with botanical elements such as deep green furniture and local foliage.
The Grand Queens and Signature Queens rooms both sleep up to four guests and provide a refreshing, tasteful, bright, and earthy atmosphere.
Further, there is a tasty restaurant within the hotel that serves delectable food, albeit at somewhat smaller-than-expected portion sizes.
Finally, if your kids get a chance to go out and about, you can spend time relaxing at the on-site spa, breaking a sweat at the fitness studio, or practising open-air yoga through the hotel's yoga classes.
The Vendue is a unique luxury hotel in Charleston that combines historic charm with modern amenities and an artistic style.
It's Charleston's only dedicated and self-described art hotel, so families who appreciate the visual arts should certainly consider staying here.
This Vendue is located in the heart of the Historic District near Charleston's French Quarter and is just steps away from famous attractions like the Charleston Museum, Rainbow Row, and Battery Park.
The Vendue is actually a combination of two boutique hotels – 19 Vendue and 26 Vendue.
The main building is 19 Vendue, which has rooms featuring a bright, crisp, contemporary design. 26 Vendue is the gallery building, which features guest rooms with a more classic, traditional, and historic design.
All of the rooms are art-filled, comfortable, and inspiring, which the whole family can appreciate.
In terms of dining, the Vendue has two highly-rated yet relatively relaxed restaurants – The Rooftop and Revival.
Nevertheless, it's near many other Charleston eateries, so you won't run out of options no matter how long you plan on staying in the town.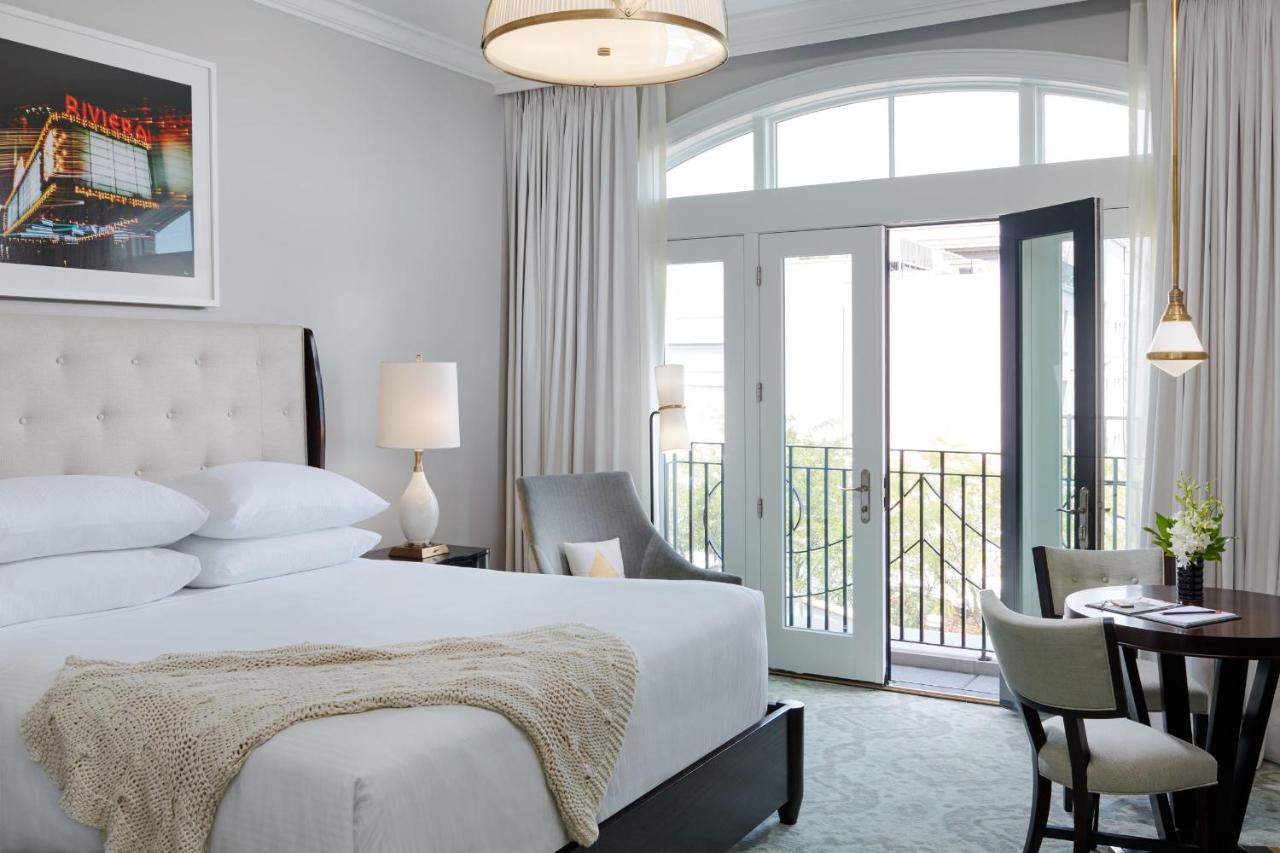 The Spectator Hotel is a beautifully designed and decorated luxury hotel that will make you feel like you've travelled back in time to Charleston's Gilded Age.
This hotel is located in the French Quarter of Charleston, just a few blocks away from the city's waterfront.
The style is refined, charming, and elegant, and the service matches the style. You can get all-inclusive amenities such as butler service, 24-hour valet parking, and an in-room gourmet breakfast.
This hotel also provides complimentary bikes to borrow and a complimentary welcome drink upon arrival to make you feel right at home.
The rooms themselves make guests feel like glamorous VIPs from the 1920s. Your whole family is sure to appreciate the marble vanities, luxury toiletries, heated towel racks, and supremely comfortable mattresses.
Additionally, it's easy to explore the town when staying at this hotel, as The Spectator is near many popular Charleston attractions such as Gibbes Art Museum, Rainbow Row, the Historic City Market, and the Waterfront Park.
All in all, The Spectator Hotel is an excellent choice for families due to its old-fashioned luxury couples with its modern convenience and comfort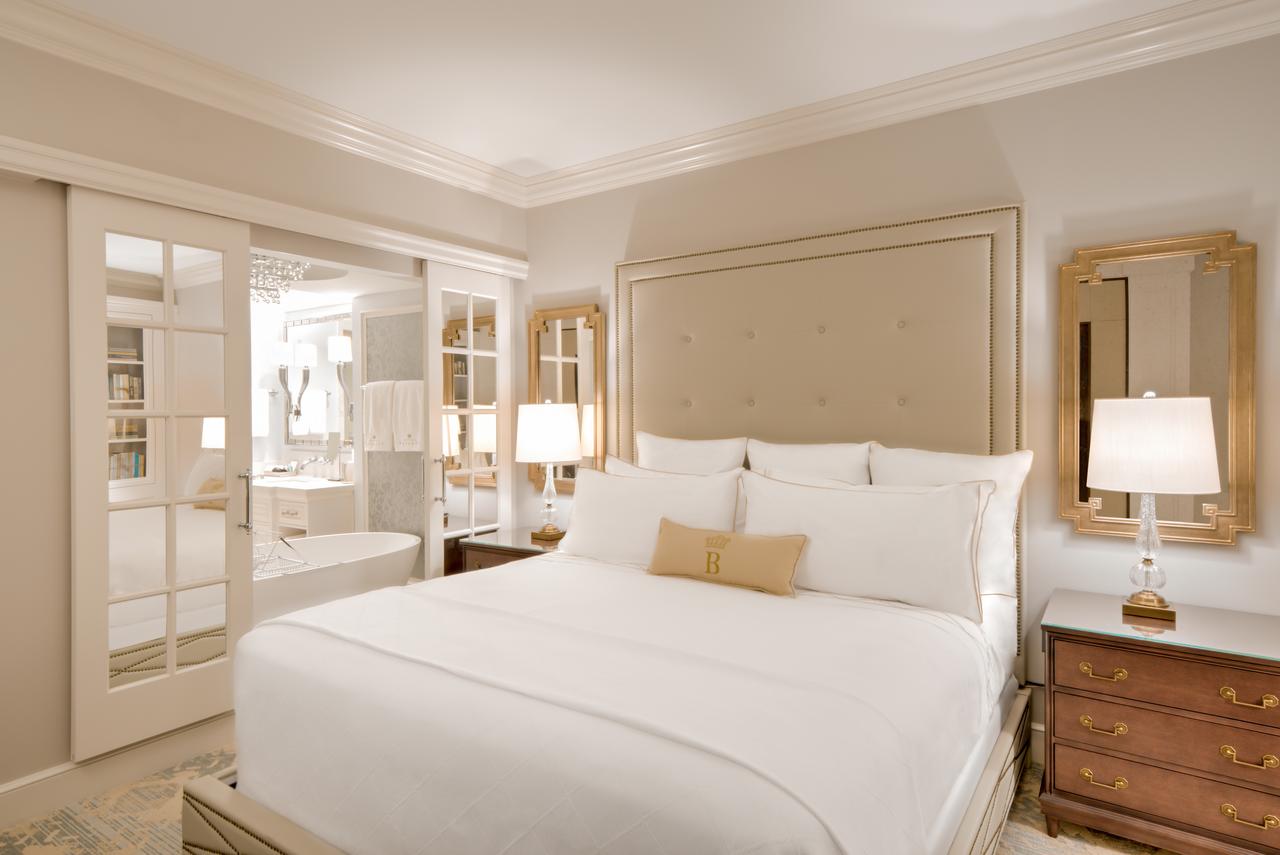 Hotel Bennett is an exquisite hotel. USA Today named it the number one luxury hotel in the USA.
It is suitable for all families, but we recommend it more for older families, as opposed to families with young children. This is because your kids tend to be more energetic, and there is a risk of them damaging or breaking something fragile in the hotel.
You'll love the full-service spa where you can get a variety of massage, facial, nail, and body treatments; the fully-equipped fitness room complete with Peloton bikes; and access to their on-site events.
Plus, the rooms are outfitted with gorgeous chandeliers, hardwood floors, and marble bathrooms.
This hotel is also home to one of Charleston's best rooftop bars, called Fiat Lux, which provides broader, awe-inspiring views of the historic town.
If you're looking for a more modern and sleek hotel in design with just the right amount of historic charm, then this is the perfect choice for your family.
The Pinch is a new boutique hotel on the Charleston scene with two-bedroom residences that provide the perfect stay for a family, especially for longer-term stays.
With the residence option, your family will get a fully-equipped kitchen, an in-room washer and dryer, a speaker system, coffee and water, and daily housekeeping.
The Pinch prides itself on providing a warm, inviting, family-friendly atmosphere.
You'll get style, comfort, and sophistication without the stuffy and unfriendly atmosphere that many families dislike about other luxury boutique hotels.
Located on George Street near Marion Square, you'll also get easy access to all Charleston offers without potentially getting frustrated by the hustle and bustle closer to the waterfront.
Although much newer, opening only in 2022, this hotel already has rave reviews and is certainly worth checking out.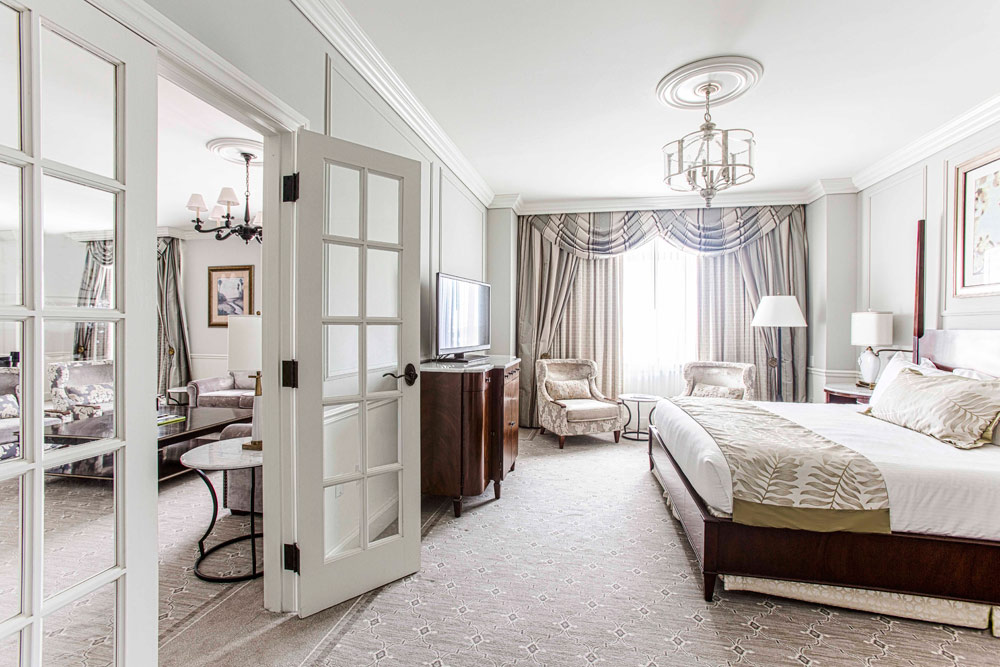 One of the highest-rated hotels in town, The Charleston Place is truly a dream vacation hotel for many families.
This hotel is located in the historic downtown part of Charleston, and its passionate and bright yet tasteful and intentional design complements that area beautifully.
Families like to stay at The Charleston Place due to its therapeutic wellness opportunities, elegant rooms, and outstanding Southern hospitality.
Families also appreciate having six fantastic dining and beverage options, including the award-winning Charleston Grill by Executive Chef Michelle Weaver.
Not everything has to be too fancy at The Charleston Place, though.
You can opt to have a night at Meeting at the Market – appropriately named because it's on the corner of Meeting Street and Market Street. This is the hotel's slightly more casual gastropub with floor-to-ceiling windows.
Furthermore, due to the cheery Christmas decorations they put up every year, it's a great hotel to stay at if you're hoping to get into the holiday spirit with your family.
Finally, in addition to the convenient spa on-site, there is also a rooftop pool, fitness center, and salon at this luxury hotel.
The only potential downside to booking this hotel is that you might hear some lingering noise from Market Street below.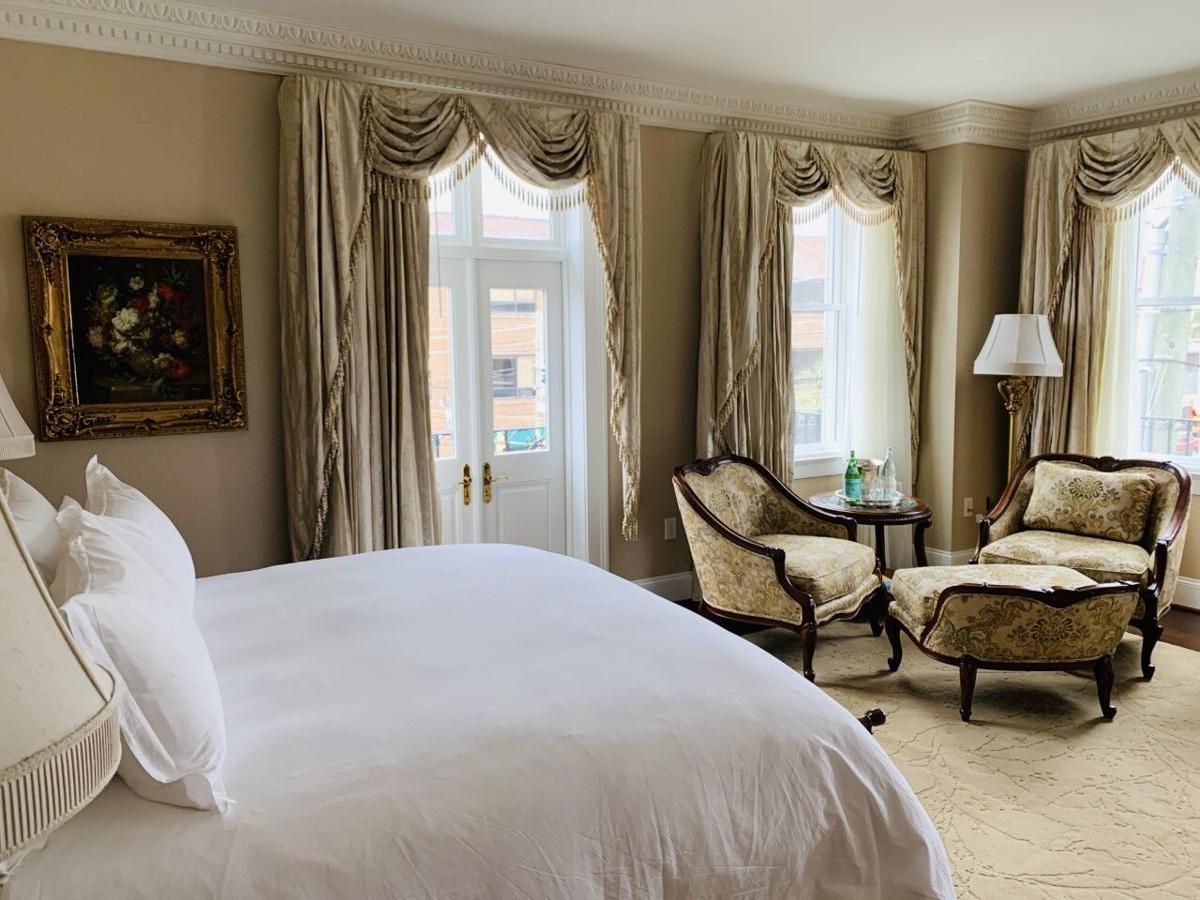 Not far from The Charleston Place is Market Pavilion Hotel, a four-star hotel with a lively rooftop bar – called the Pavilion Bar – and an outdoor pool with relaxing sunbeds.
This hotel is also known for its exceptional service, as the staff provides inviting, accommodating, attentive, friendly, and professional service.
Grill 225, run by Executive Chef Demetre Castanas, is one of the hotel's most popular dining experiences.
The menu features fresh seafood, juicy steak, and American comfort foods with high-quality ingredients.
Families will feel comfortable staying within the walls of this hotel, with the best options of both high-end guest rooms and spacious suites.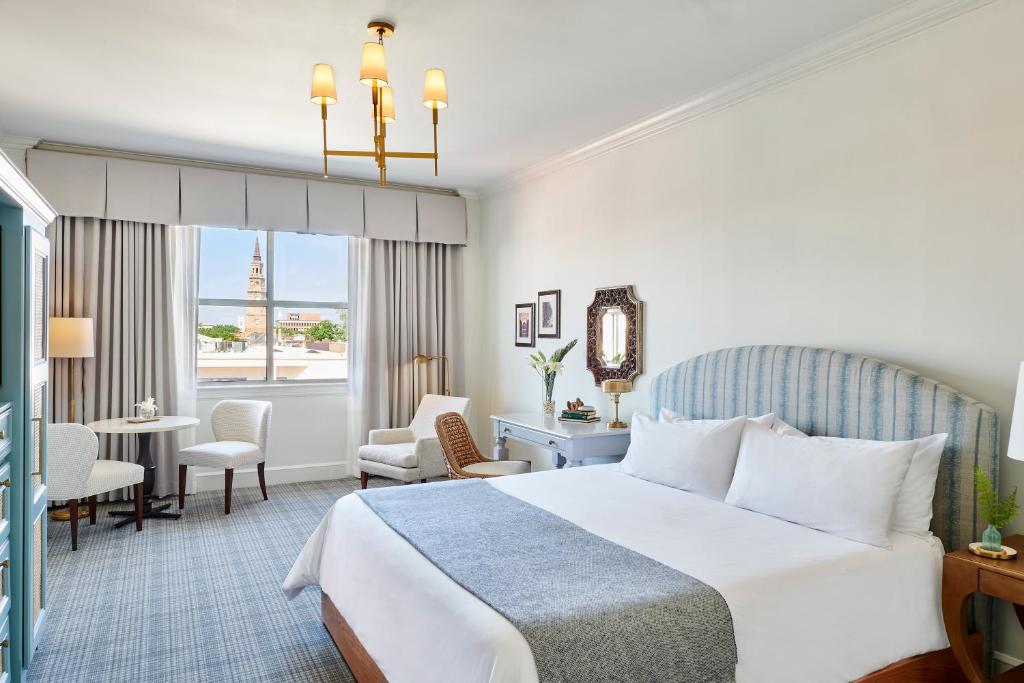 If your family is hoping to stay right by the waterfront, then HarbourView Inn is the best choice for your vacation.
As its name suggests, this hotel has stunning views of Charleston's harbour from its rooftop bar, called The Watch.
This is one of the best places in the city to watch the sunset with your family.
The hotel also has a rooftop terrace that provides a more laid-back and family-friendly environment during the day.
The design of HarbourView is more simplistic than some of the other hotel options on this list, which some families might prefer over the overly-history, highly-artistic, and ultra-refined options in the area.
There are 52 rooms total at this charming hotel, each with titled marble bathrooms, glass showers, and outdoor balconies.
Ultimately, families appreciate HarbourView Inn because of its convenient location, comfortable rooms, and breathtaking views.
Conclusion
Choosing the best luxury hotel for your family in Charleston, South Carolina, might seem like a daunting task.
However, with this list of nine top-rated hotels, you're sure to find the perfect place for your family's next vacation.
From historic downtown buildings to harbourfront views, there's a little bit of everything on this list.
So whether your family is looking for the best design, outstanding service, or unbeatable views, one of these Charleston hotels is sure to please.
For some more fantastic tips on achieving a wonderful vacation in South Caroline, check out these articles:
More about our TFVG Author
Karly is a The Family Vacation Guide guest travel contributor.