If you are tired of working too hard, wish summer could last just a bit longer, or want to spend more time with your kids, resorts with water parks are a great place to get away from it all and unwind.
Let's dive into the 12 best Myrtle Beach resorts available for you and your family. 
Sea Crest Oceanfront Resort
If you are looking for a perfect oceanfront view, a kid-friendly water park, and splendidly spacious rooms all in one place, then look no further than the Sea Crest Oceanfront Resort. This seaside resort is located at the south end of Myrtle Beach and is known for its relaxing and fun atmosphere.
Kick back and enjoy the sun on the beach, have lunch at the Malibu Beach Bar by the pool, and then float down the lazy river. No matter how many people are in your family, how large your group is, or how old your kids are, Sea Crest Oceanfront Resort has room enough for all and can accommodate.
If you're looking for things to do around the resort, why not walk over to the Family Kingdom Amusement Park or try one of the nine on-site pools.
Marriott's OceanWatch Villas at Grande Dunes
The Marriott's OceanWatch Villas at Grande Dunes is a luxurious, picturesque resort full of fun activities for the whole family. Take advantage of the:
Free high-speed internet
Fitness center
Numerous pools
Stunning view
You can also try your hand on the putting green, volleyball court, shuffleboard hall, or table tennis games room. Kids will love the waterslides! Spend an afternoon wandering the gardens or take your kids to the playground, and settle down for dinner at one of the on-site restaurants. The best part? No additional resort fees!
At night, tuck into a spacious two-bedroom villa, or retire to your condo-style villa complete with a living room, dining room, and kitchen. Parking is also complimentary.
Plantation Resort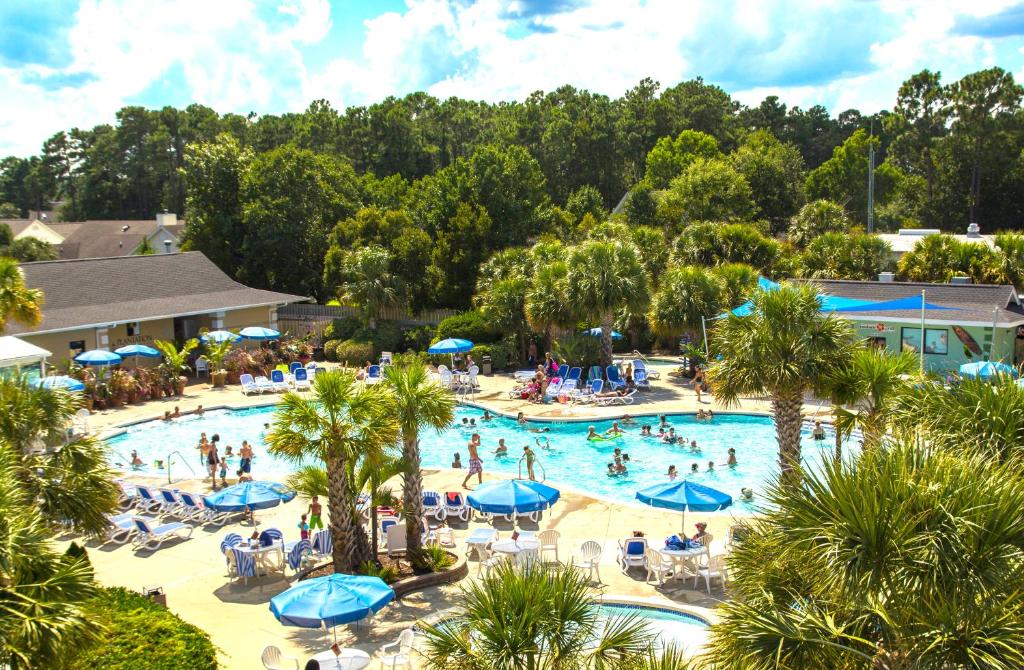 The Plantation Resort has recently undergone some rebranding and is now called the Grand Palms Resort. While the name may be different, the experience remains the same. Rent a one, two, or three-bedroom villa or stay in a spacious hotel room. High-speed internet, beach shuttles, and amenities are all included.
Spend your days relaxing by the outdoor pool, take a dip in the indoor pool, float down the lazy river, or get a massage at the in-house spa.
Since 1978, Grand Palms Resort has worked to make memorable family vacations for all who visit. Kids and family activities are always available, and you'll never go hungry with the seasonal breakfasts and array of grilled foods. The fitness center is also free to use if you need to sweat off those extra helpings.
Coral Beach Resort Myrtle Beach
If you are looking for the perfect family vacation spot, this is it. Kids will love all that Coral Beach Resort offers, and no one will ever be bored.
The Travel Channel has named Coral Beach Resort "The Best Family Accommodation," thanks to its massive array of on-site amenities and family-friendly entertainment options. They have more to do than any other resort at Myrtle Beach.
Coral Beach Resort has rooms ready for families of all sizes, a huge water park, and plenty of dining options. Take in the view from the beachfront rooms or head straight to the beach to start the day. Everyone will love the following:
Lazy river ride
Indoor and outdoor jacuzzis and pools
Kids' zone splash pad and water park
If you start to get hungry, dine in at one of the four on-site eateries. After dinner, spend the evening singing karaoke, bowling, playing pool, foosball, air hockey, or arcade games.
Breakers Resort Hotel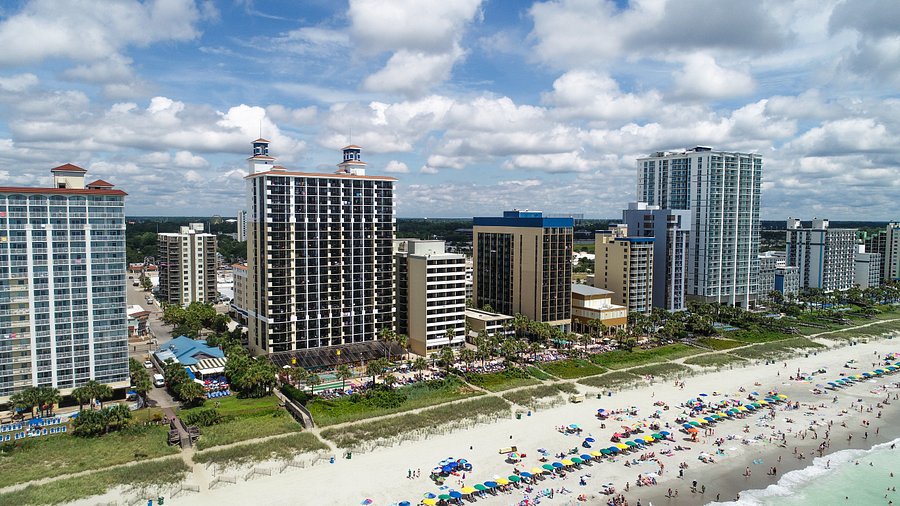 Breakers Resort Hotel is the perfect jumping-off spot if you long to feel the ocean breeze and stroll through the sand. With over 70 years under their belt, they have honed their resort into the ideal family getaway.
Take your pick of one, two, three, or four-bedroom condos, all furnished with:
flat-screen TVs
Personal safes
Microwaves
Refrigerators
Balconies
Breakers Resort is located in the center of Myrtle Beach and hosts a plethora of attractions and amenities for the whole family.
Kids will love the vast indoor and outdoor water parks and games, parents can relax by the pool or at the bar, and the whole family can participate in fun activities all around the resort.
Try playing with the giant outdoor chessboard, head to the fitness center, or participate in trivia night for an extra special family night.
Hilton Myrtle Beach Resort
On the opposite end to most, the Hilton Myrtle Beach Resort resides on the northern tip of the beach. You won't find beachside dining, ocean views, or amenities like this at another resort.
The Hilton Myrtle Beach Resort offers:
Fine dining
Indoor and outdoor pools
A fitness center
Room service
An on-site spa
Luxuriously spacious rooms
There is also a wild water park, a golf simulator, and the resort is minutes away from various shopping centers.
The Hilton has recently become a smoking-free resort and does not allow pets, so you won't have to worry about bad smells and dogs barking ruining your vacation. There is also a business center and rentable meeting rooms for anyone taking a working holiday.
The Hilton is the perfect spot for significant events like weddings and can comfortably accommodate many prominent families.
South Bay Inn & Suites
The South Bay Inn and Suites is Myrtle Beach's newest resort. Located directly on the boardwalk, this resort offers a wide variety of activities and amenities for the whole family. They have a water park onsite complete with:
Water slides
Indoor and outdoor pools
Hot tubs
A lazy river
A splash pad for kids
Enjoy lunch on the oceanfront terrace overlooking the heart of Myrtle Beach. There are several dining options along with bars and lounges.
At night, stroll the boardwalk and take in the sites. The Ferris wheel is right outside and provides the perfect view of the lit-up boardwalk.
If there isn't enough outside to hold your attention, you can always come back to the resort and spend some time in the fitness center or hang out in the games room.
Caribbean Resort and Villas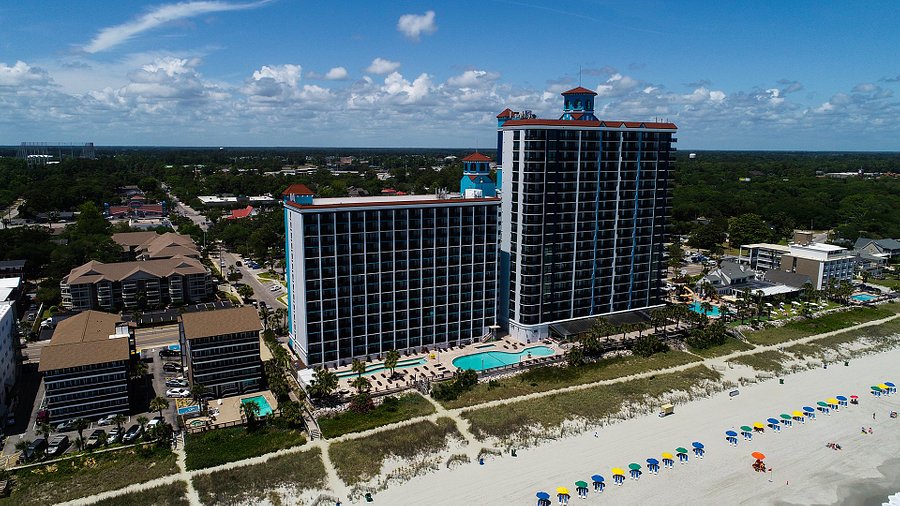 The Caribbean Resort and Villas is host to an extensive array of accommodation options. Stay in the:
Cayman Tower
Dominican Tower
Jamaican Tower
Chelsea Villas
Each building offers a unique atmosphere and experience.
With over 40 years of experience, the Caribbean Resort and Villas has garnered a reputation for being one of the best family resorts on Myrtle beach. Sun-News has voted it the "Best of the Beach" and number one for family hotels, golf packages, and hotels on the Grand Strand.
The Caribbean also has a plethora of exciting activities and amenities such as:
Indoor and outdoor water attractions for adults and kids
Many restaurants, bars, and lounges
A full in-house spa
A games room
Firepit
Fitness room
Gift shop
The Caribbean is also conveniently located near glamorous shopping centers and local attractions.
Sand Dunes Resort – Oceanfront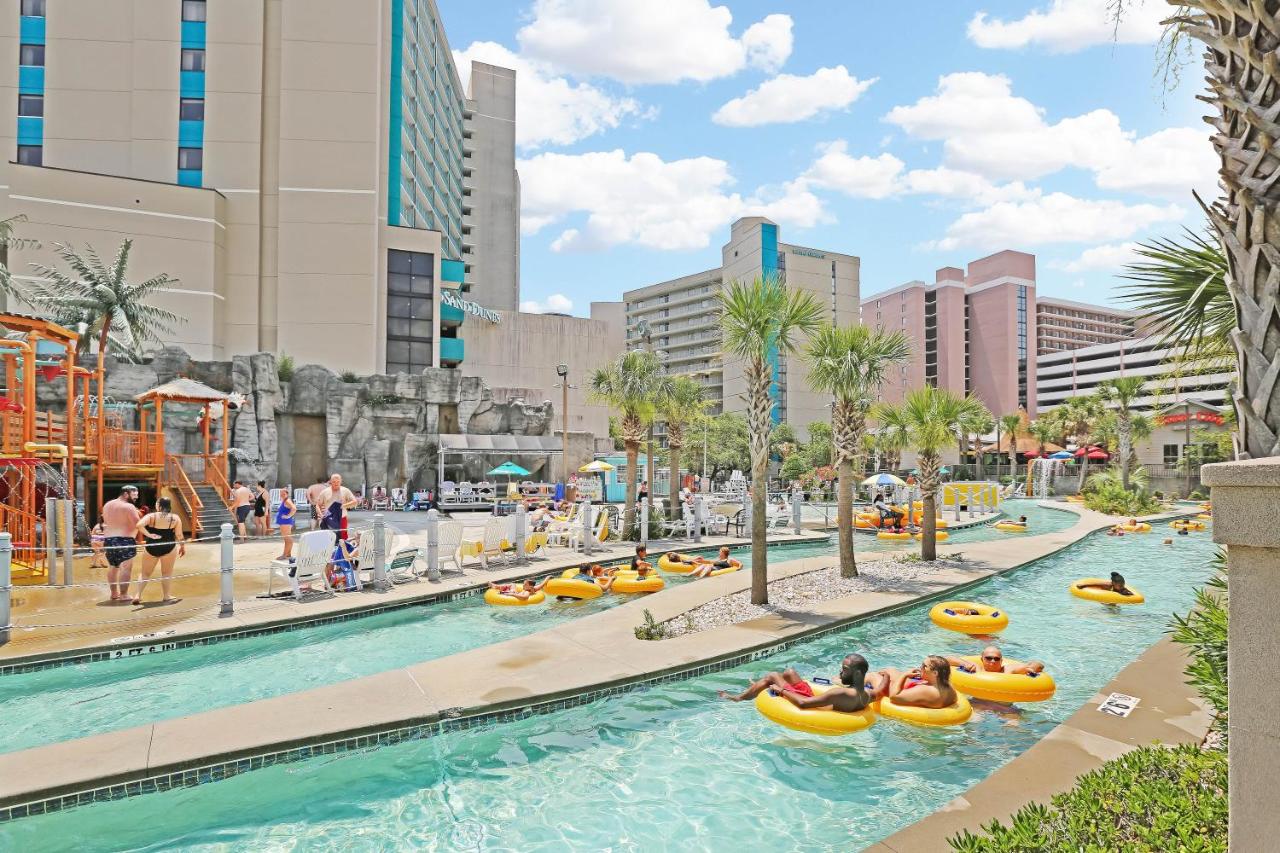 Towards the northern end of Myrtle Beach, you'll find the oceanfront Sand Dunes Resort. This resort is chock full of great experiences for the whole family and so many things to do that you'll never want to leave.
With a total of eight buildings, a 130,000-gallon water park, and your choice of condos, suites, or villas, you can enjoy a unique and fulfilling vacation without ever leaving the Sand Dunes Resort. Seriously, if you want an out-of-this-world water park, you'll get it at the Sand Dunes Resort.
Relax, fill up, and quench your thirst at one of the many indoor and outdoor Oceanside restaurants or lounges. If the numerous activities and amenities still aren't enough for you, take a quick jaunt over to the North Shore Family FunZone Entertainment Center.
Ocean Reef Resort
Are you looking for the perfect resort for a fun family beach trip with an all-inclusive water park and plenty of child-friendly activities? Then look no further than the seaside Ocean Reef Resort.
Fun is a guarantee at the Ocean Reef Resort. With a fully equipped water park that features numerous pools, a lazy river, water slides, and plenty of lounge chairs to soak up the sun, you and your family will never want to leave.
When you get hungry, head over to one of the on-site eateries or grab a drink at a pool-side bar. Keep fit by heading over to the fitness facility or taking a swim in the ocean just steps from the resort.
Families will love the spacious accommodations that come with one, two, three, and four-bedroom options. If you aren't already overwhelmed with this tropical paradise, try out some activities such as giant chess, or head into the city for some shopping or to explore the nightlife.
Dunes Village Resort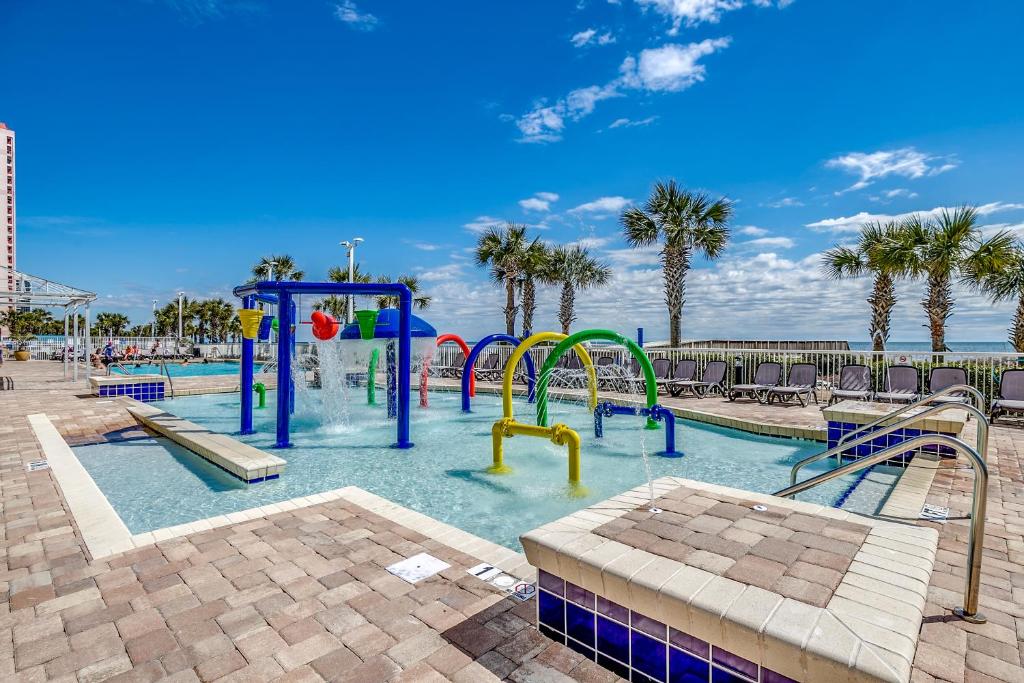 Not to be confused with the Sand Dunes Resort, the Dunes Village Resort is another fabulous option for anyone looking for the ultimate relaxing, sun-filled family vacation. Play pool, get a massage, and go for a swim, all in the convenience of your resort.
Start your trip by picking one of the luxuriously grand rooms complete with an expansive, private balcony and oceanfront view. After getting settled in your room, why not head down to the water park where you can swim, relax in a hot tub, or fly wildly down one of the water slides.
Keep the fun going with a poolside lunch before heading to the games room for a bit of respite. If you find yourself lacking in energy, why not get a massage at the on-site spa before tucking in for an all-you-can-eat buffet.
Finish out the evening with a late-night game of beach volleyball before returning to your room to admire the afterglow of sunset.
Long Bay Resort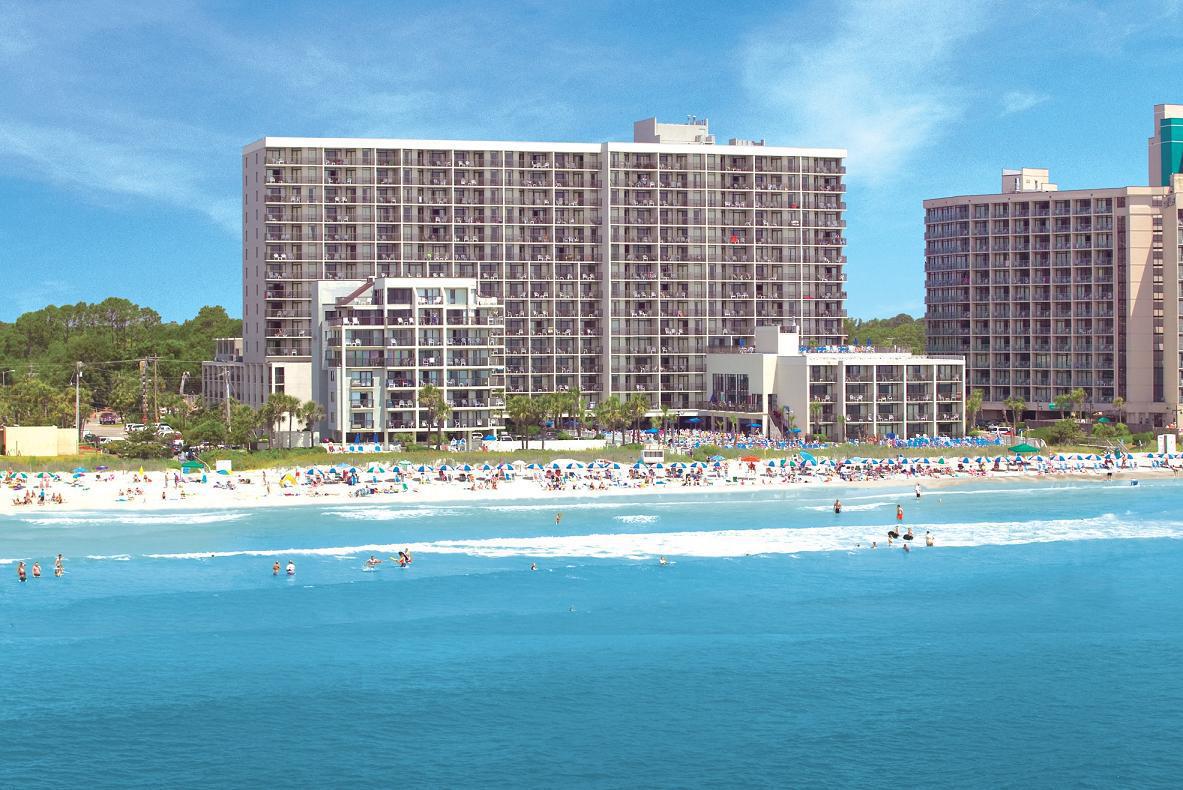 The Long Bay Resort is another fun-filled getaway with a new name. Now known as the Grande Cayman Resort, this vacation destination has all your favorite activities and amenities in one convenient place.
Race down the waterslides or take it slow on the lazy river, try new foods at your choice of eatery, and relax by the beach with a cool drink. The water park is full of fun activities for kids of all ages and adults alike.
If you are looking to stretch your legs, there are plenty of shops and restaurants just a short jaunt from the resort, or you can dine in at several locations. Don't forget to take some time to rest up in your suite and enjoy the ocean breeze.
More about our TFVG Author
A seasoned traveller, Dad, and avid sports tourist, James foundered The Family Vacation Guide to share his expert vacation experiences- especially when it comes to being a travelling family man.
Featured in Travel articles such as Travel + Leisure, TripSavvy and SFGate, you know you're reading some of the best vacation tips online.