Are you looking for a family getaway during spring? Myrtle Beach is your answer! Located in South Carolina, the place is packed with sandy seashores, historic sites, water parks, luxurious beachfront resorts, and many family activities. Known as the world's golf capital, the place will keep your kids entertained for days.
Myrtle beach is also one of the most popular East Coast vacation destinations, providing endless entertainment to people of all ages. Plus, shopaholics can have family fun here as the city is packed with outlet malls, specialty stores, flea markets, and specialty boutiques. We've put together a comprehensive family travel guide to get you started with planning a family vacation to Myrtle Beach.
5 Reasons Why Myrtle Beach is the Perfect Family Vacation Destination
Myrtle Beach is divided into three main areas: North Myrtle Beach, South Myrtle Beach, and Central Myrtle Beach. It features 60 miles of stunning coastline packed with warm Atlantic waters. North Myrtle Beach also features a popular shopping area known as 'Barefoot landing' that offers fine dining and a shopping experience. From real-looking wax figures to the Myrtle beach boardwalk, here are the 5 reasons why this should be your next family vacation destination:
60 Miles of Grand Strand
Since Myrtle Beach has lots of sandy beaches, it's a perfect place to visit with your family. The best beaches on this Grand Strand include Surfside beach, Cherry Grove, Atlantic beach, Garden city beach, Litchfield beach, and North Myrtle beach. These beaches are perfect for relaxing and carrying out various beach activities.
You can spend time lounging, swimming, surfing, and playing volleyball or Frisbee. Surfside beach was named among the top 10 best family beaches in the U.S., so there might be something there that you shouldn't miss.
Celebrity-style Golf Clubs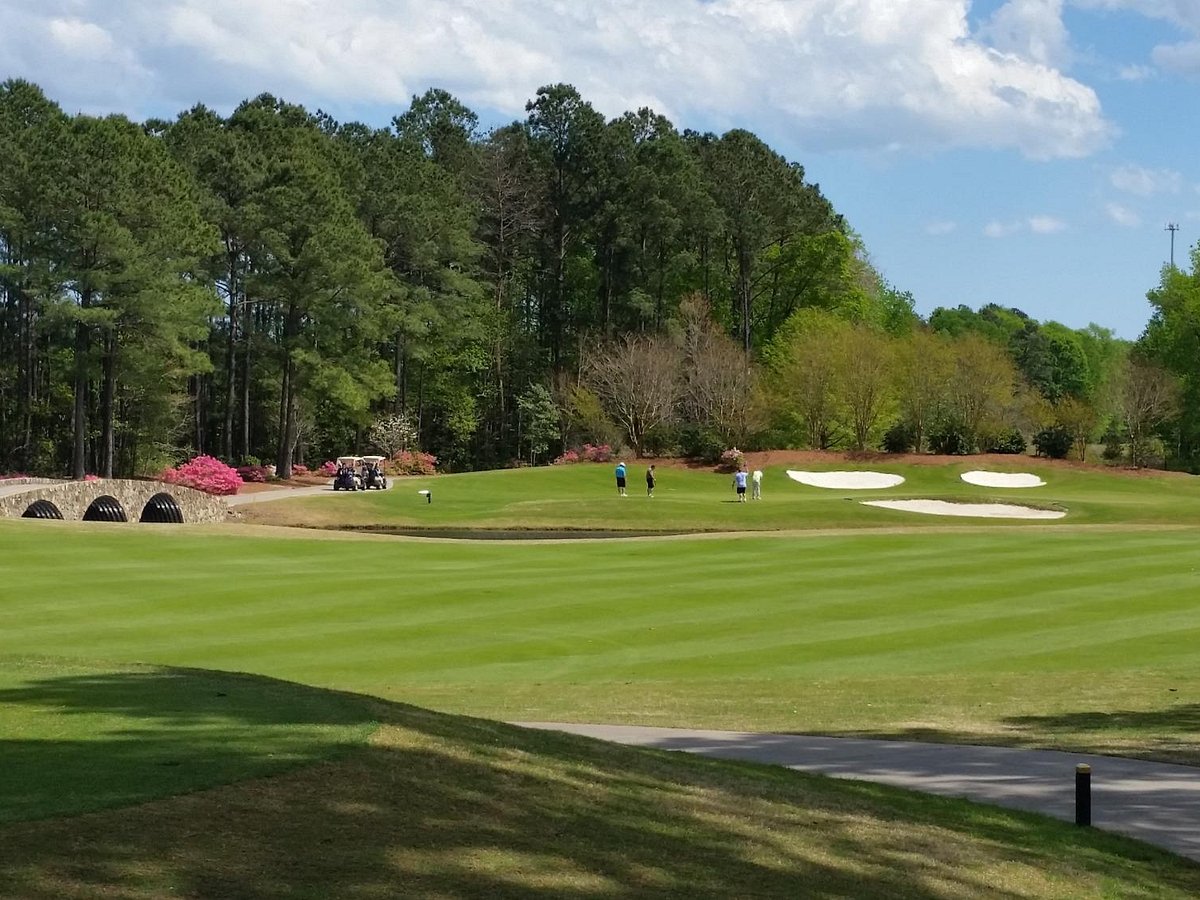 Visiting Myrtle beach is incomplete without a miniature golf tour. There are more than 50 mini golf clubs with stunning tracks on Myrtle beach. Plus, all the golf courses have different themes, such as Jurassic world and Pirates. Some of the best golf courses at Myrtle beach include Adventure Falls golf, Arrowhead country club, Colonial Charters Golf club, Prestwick Country Club, Aberdeen Country Club, and Tidewater Golf Club.
Huntington Beach State Park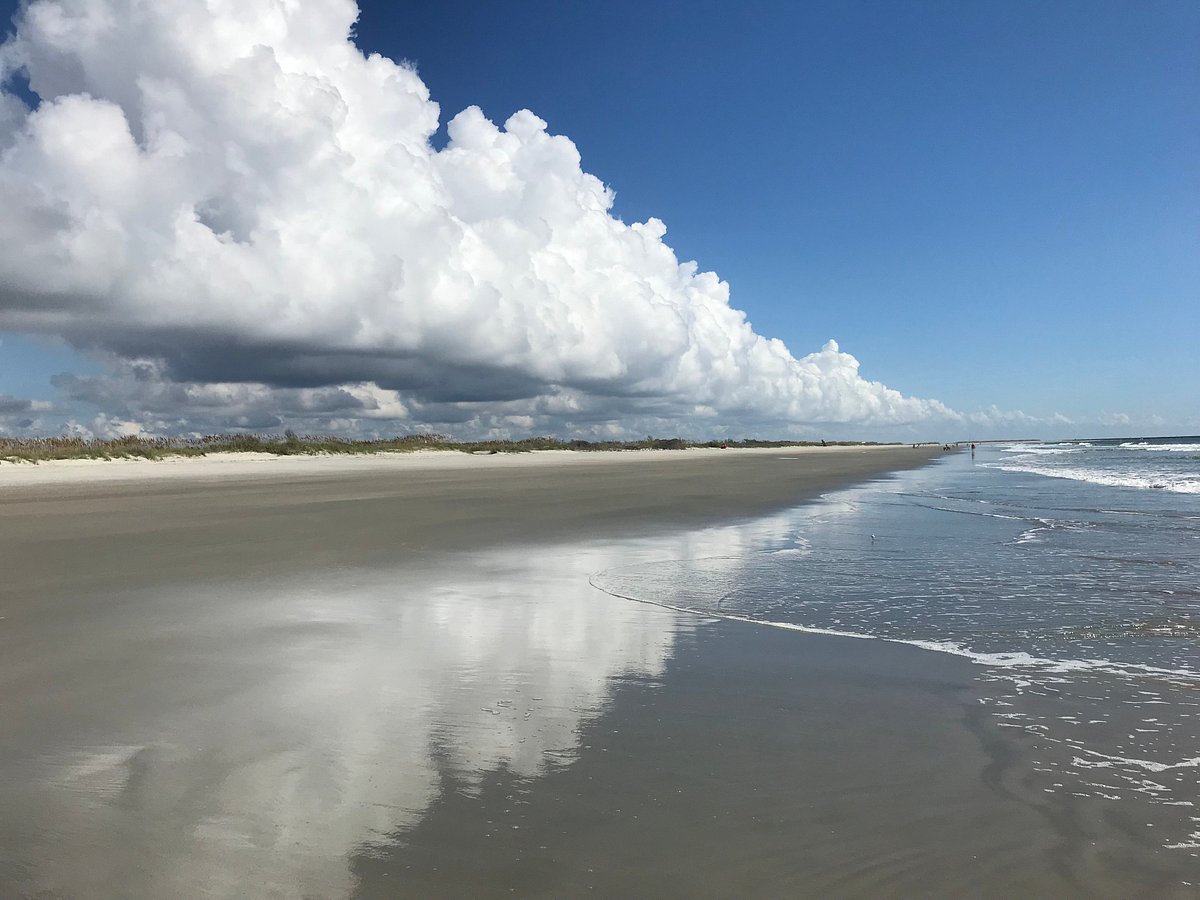 Huntington Beach State Park is famous for bird-watching and sea-breeze camping. Located on the coast of South Carolina, the state park is spread over 2500 acres near Murrells Inlet. The park features Brookgreen Gardens, Atalaya Castle, The Murrells Inlet MarshWalk, Willbrook Plantation, and more. The historic Atalaya Castle is considered a national landmark and attracts thousands of visitors annually.
Sightseeing at Brookgreen Gardens
The Brookgreen Gardens is located in the south of Myrtle beach and is one of the best family attractions in the city. The grand-strand attraction is perfect for spending a peaceful time with family. The garden features Botanical gardens, American sculpture, the Lowcountry zoo, and Lowcountry history.
More than 2,000 American sculptures are decorated on lush green lands between colorful seasonal blooms. You can learn more about the history of South Carolina at Lowcountry history or learn how a zookeeper handles everything at the Lowcountry zoo.
An Entertainment Complex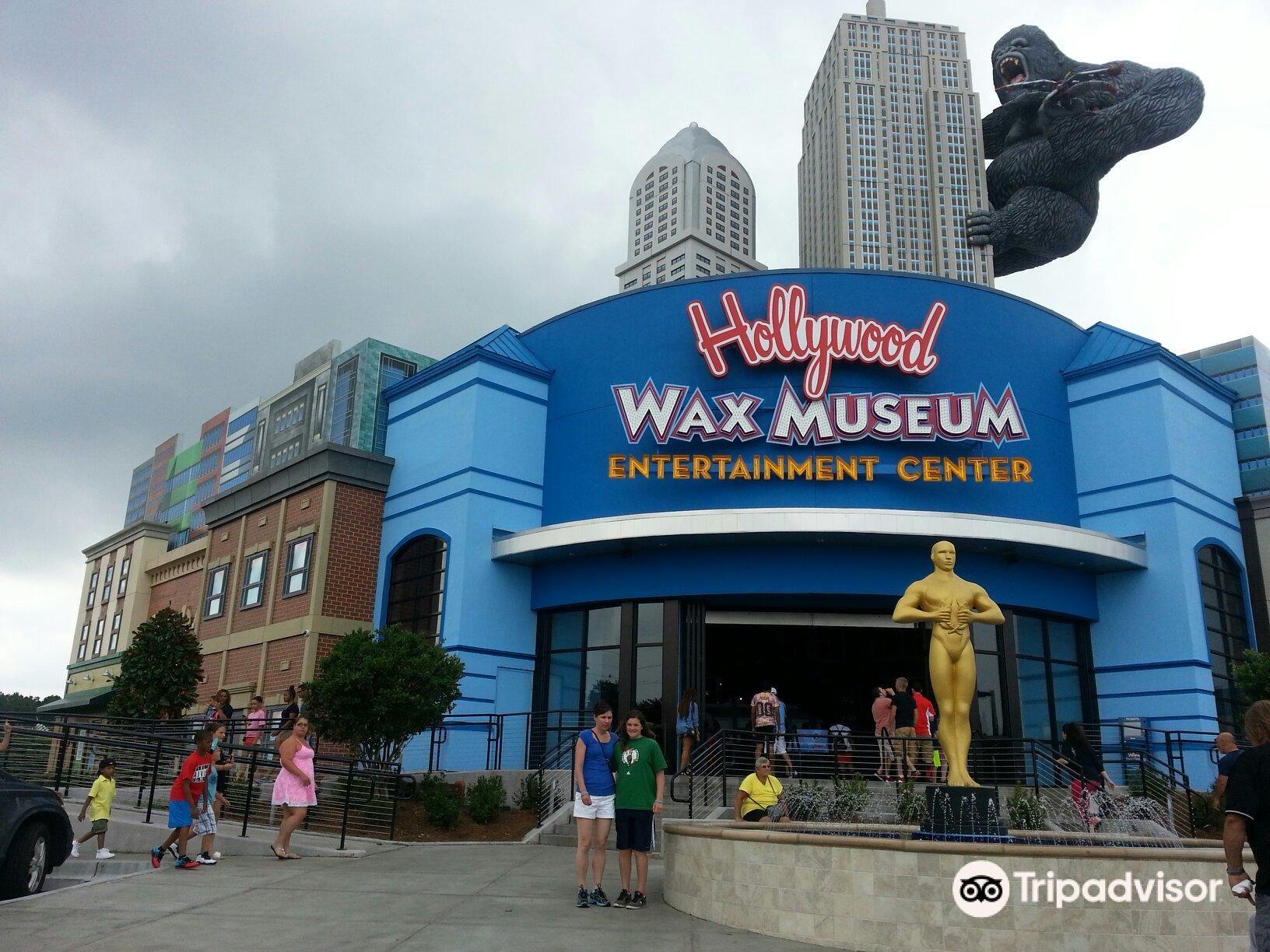 At Myrtle Beach, nothing is boring! The best thing about this place is that you'll learn something along with having an adventure. The Hollywood Wax Museum Entertainment Center is packed with celebrity wax figures and family-friendly amenities. Plus, the Myrtle Beach Skywheel lets you get stunning beach views from the top.
Besides these, the Family Kingdom Amusement Park is a perfect place to be with the kids. If you want to go shopping, there are endless options, including The Market Common, Rainbow Harbor, Gay Dolphin Gift Cove, Tanger Outlets, and Broadway at the Beach.
When's the Best Time to Visit Myrtle Beach with Kids?
The best time to visit Myrtle Beach with kids is from March to May or September to October. This is not the peak season and the best time to visit because you'll enjoy the city without huge traffic and bustling crowds. Plus, the hotel rates are also more affordable than in the peak season. Plus, March also marks the start of spring, which brings more beautiful vibes to the Grand Strand.
The peak season is from June to August. Not only is the weather perfect during these months, but there are many fun-filled summer events. If you love splashing in the water while the sun shines on you, June to August is the perfect time to be in Myrtle Beach. However, all the top tourist spots are mostly crowded during these months.
June is the best time to enjoy the beach weather, plus all the top attractions are open. However, you'll come across huge crowds, and the rates for everything, including hoteling and accommodation, are high too. The biggest events during this month include Conway Riverfest, Carolina Country Music Festival, and Hot Summer Nights.
In July, you can expect some afternoon rain showers. This is also the peak season, so the rates are higher, and places are overly crowded. You can also enjoy the Independence day celebrations and Murrells Inlet Boat Parade. August is the least crowded month of the peak season.
The cheapest time to visit Myrtle Beach is in November and December. This is the off-peak season, and tourism is at its lowest, so you'll get accommodation at a discounted rate. However, some attractions might have reduced operating hours or might be closed for the entire off-season. The worst time to visit Myrtle Beach is January and February because of the rainfall and chilly weather.
What's the Weather in Myrtle Beach Across the Year?
In Myrtle Beach, the summers are hot and humid, and the winters are cold and windy. The weather is humid and partly cloudy across the year. The climate of Myrtle Beach is referred to as warm and temperate. The city is located in the Northern hemisphere and the summer months get abundant sunshine and warm temperatures.
Myrtle Beach's hot season is from May to September, and the average high temperature is above 81°F. The hottest month of the summer season is July, during which the temperature can rise to 90°F; the average high is 84°F.
The coolest seasons are from December to February and the first few days of March. The average temperature during these months remains below 62°F. The coldest month is January, during which the average temperature reaches 30°F. The winters are milder compared to the northern states, but they are still not suitable for Myrtle Beach vacation purposes.
What's the Perfect Length of Time to Spend in Myrtle Beach?
The perfect time to spend in Myrtle Beach is 5 to 7 days. But, whether you spend a few days or weeks, you'll not be disappointed as there's a lot to explore. The ideal time to spend in Myrtle Beach is one week as this time duration will allow you to relax at the beach, explore the attractions, shop at the best Myrtle Beach location, eat at family-friend places, and more. The following is a breakdown of how you can spend a week in Myrtle Beach:
Day 1: At the beach and Miniature Golf
Day 2: At the waterpark (Myrtle Waves), Myrtle boardwalk, Skywheel
Day 3: Beach time, Ripley's Aquarium, Broadway at the Beach
Day 4: Murrells Inlet, Brookgreen Gardens, Blue Wave Adventures Dolphin Watch
Day 5: North Myrtle Beach, Hollywood Wax Museum, Pavilion Nostalgia Park
Day 6: Savannah's playground, Myrtle Beach Pelicans, Coastal Grand Mall
Day 7: Beach Time, Myrtle Beach State Park, Tanger Outlets
The Best Things to do with Kids in Myrtle Beach
There is so much for kids to love at Myrtle Beach. Even adults feel like being kids, as most attractions at Myrtle Beach are family-friendly. You can spend hours on the beach playing with kids on the sand or entertain your family by visiting dozens of attractions around the city. The following are the best things you can do with kids in Myrtle Beach:
Go to WonderWorks Myrtle Beach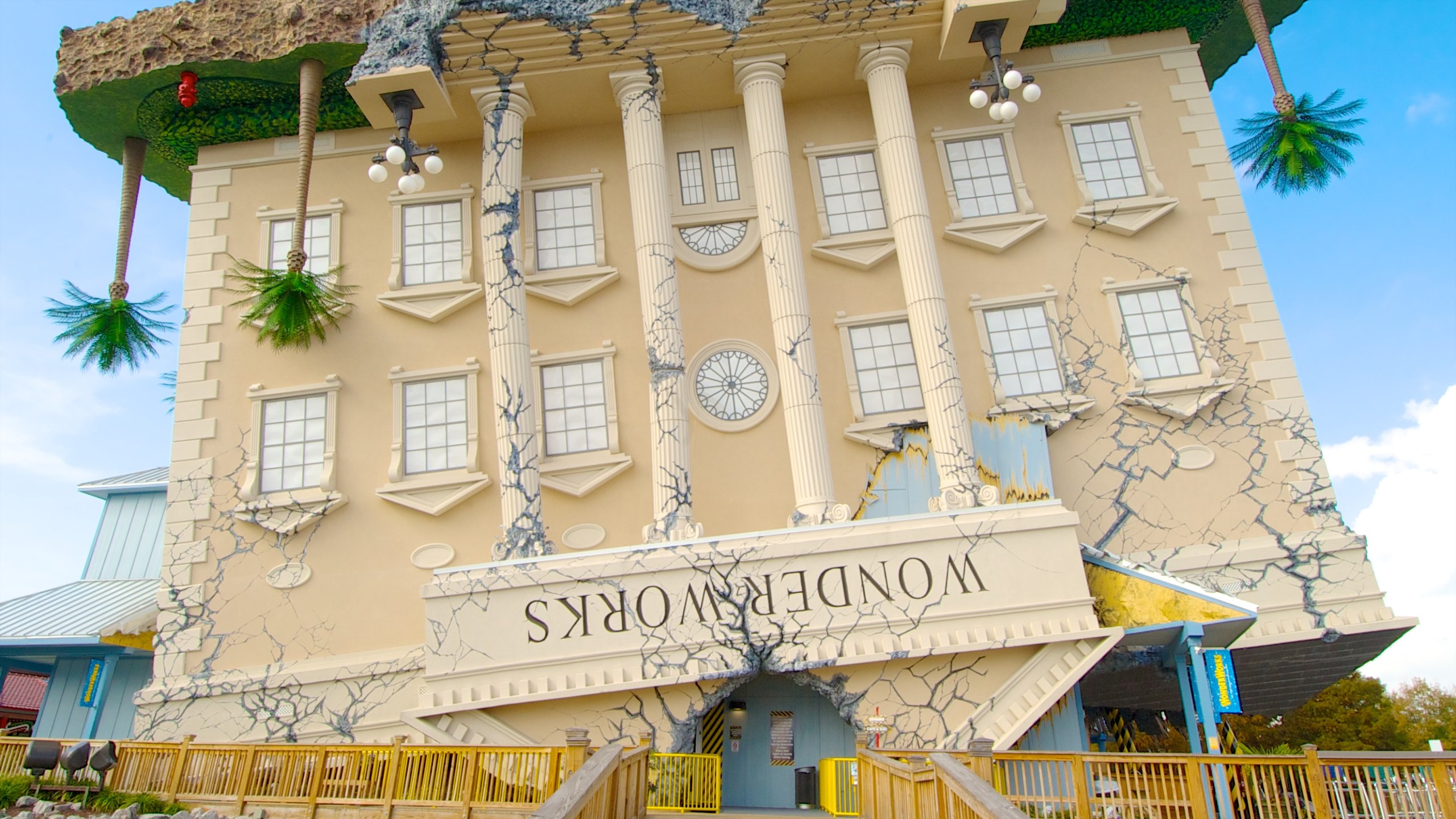 WonderWorks Myrtle Beach features an indoor playground and a science museum. This place is not only for kids but also for adults to enjoy. The "amusement park for the mind' offers more than 100 exhibits, out of which the hurricane exhibit is worth mentioning. You and your kids will love exploring the 84 mph hurricane during this exhibit. Your kids will also love creating giant bubbles in the area using a wand.
Visit Sky Zone, Trampoline Park
The Sky Zone Trampoline Park is worth a quick visit if your kids want to energize during the trip. This family-friendly attraction allows the younger kids to play and have fun. The playground offers a safe and clean space packed with freestyle jump areas, an ultimate ninja course, dodgeball areas, and more. The place also hosts birthday parties and special events.
Have Fun at the Ripley's Aquarium
Your family trip would be incomplete if you didn't take your kids to view life underwater. The aquarium comprises beautiful marine life, including horseshoe crabs, stingrays, eels, sharks, and more. There are special mermaid shows; dive shows at Rainbow Rock at the aquarium, and a Living Gallery that provides more information on marine species. The underwater tunnel gives a closer view of the sharks, and the bottom boat adventures allow you to swim with rays.
Enjoy Water Sports at Myrtle Waves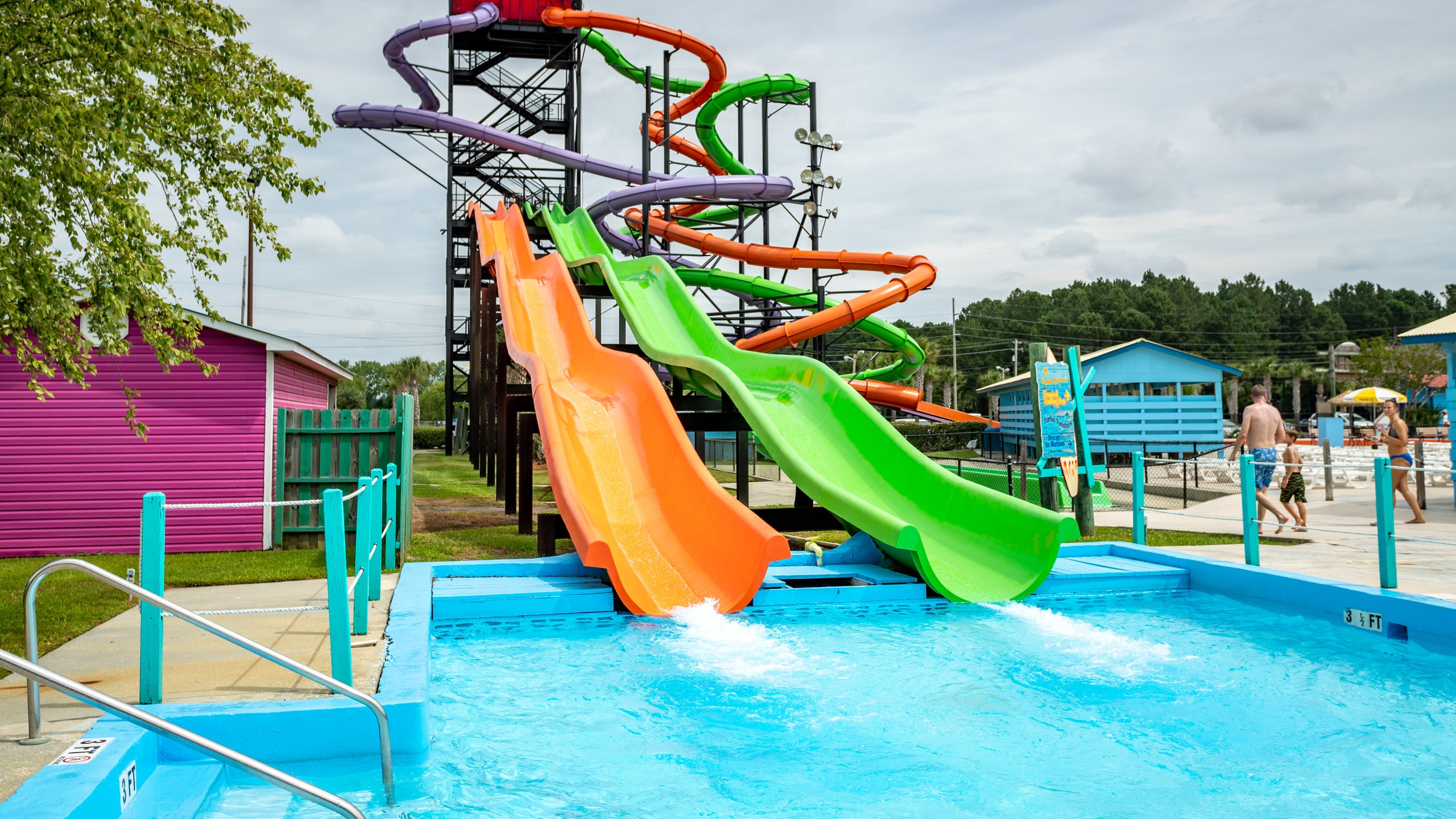 Myrtle Waves is the greatest water park in South Carolina and is open from mid of May till early fall. The waterpark features 22 slides and multiple attractions where kids and teens can have fun. The Rockin' Ray at Myrtle Waves has double-tube riders that open into large pools. There is a Night Flight, too, for teens or those who feel brave. The twisting water slides, the huge wave pool, and the aquatic playground offer a perfect place for kids to spend time.
Sit at the Largest SkyWheel at the Ocean Boardwalk
Take your kids to the giant SkyWheel at Myrtle Beach to view the whole city. The Skywheel is located at the Oceanfront Boardwalk and offers stunning views of the Grand Strand. If you go for an evening ride, you'll love the city's night lights while you and your kids ride above the Atlantic Ocean.
Have Fun at the Pirates Voyage
If your kids love pirates, they'll love being at the Blackbeard's Pirate Cruise. The place offers one-hour adventures to families where kids can dress as pirates and solve various mysteries. You can also book a show at the Pirates Voyage to enjoy a pirate-themed show. Also, Pirates Adventures allow families to board the sea gypsy and enjoy the battle against pirates.
The Best Family Hotels & Resorts in Myrtle Beach
Myrtle Beach is home to some of the best family-friendly resorts and hotels. While in Myrtle Beach, you must look for accommodations that offer plenty of family-friendly amenities and a comfortable and peaceful environment. These best family hotels and resorts allow you to relax and not worry about anything when you've kids with you. The following are the best Myrtle Beach hotels and resorts for families:
South Bay Inn & Suites
South Bay Inn & Suites is located at the Myrtle Beach Boardwalk and offers stunning views of the Atlantic Ocean. The resort has a kid-friendly water slide and swimming pool that your kids will love spending time at. Some of the top attractions, including SkyWheel and downtown Myrtle Beach, are also close to this resort. The resort features large rooms, and you can book the suites if you have a large family. The rooms feature a stove, full-size refrigerator, bathtubs, and kitchen.
Breakers Resort Hotel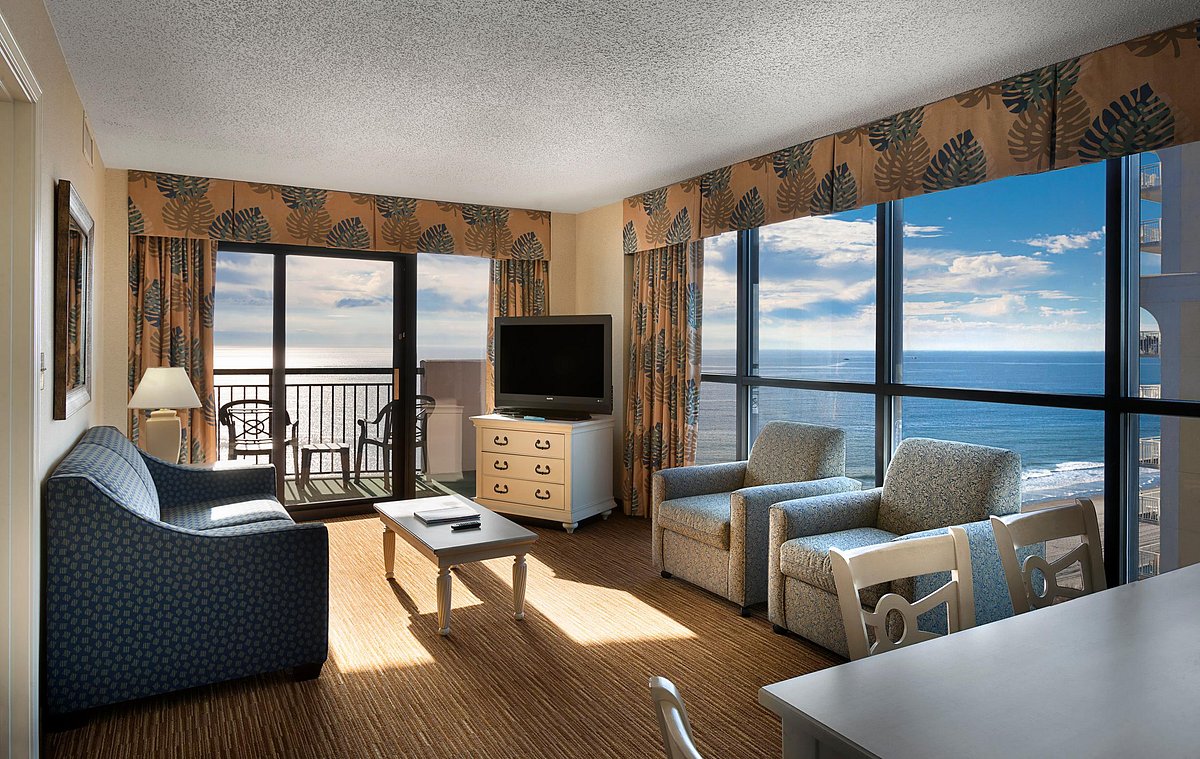 The Breakers Resort Hotel offers family-friendly accommodations and some of the town's best amenities. The resort has an indoor water park that has a lazy river, water slides, and indoor and outdoor pools. There are multiple options, from single rooms for small families to suites for large families; you can choose any according to your requirement. There are towers, including 'Boutique North Tower' and 'Paradise Tower,' with suites and children's pools.
Marriott's OceanWatch Villas at Grande Dunes
Marriott's OceanWatch Villas is only a short walk from the beach. The resort is located inside a residential property and features contemporary suites with separate dining and living spaces. Balconies with ocean views and restaurants offer a fine dining experience. Sand Dollar Grille is one such restaurant at this resort that offers tasty pizzas. Besides, amenities include a hot tub, indoor and outdoor pools, barbecue grills, and a gym.
Plantation Resort
The Plantation Resort is a luxurious hotel located at Surfside beach. The resort offers amazing amenities and a comfortable condo-type living area near the bird sanctuary. The rooms contain coffee makers, DVD players, and small refrigerators. Plus, there is a huge pool, waterpark, kids' playground, and a lazy river as an outdoor entertainment option.
Coral Beach Resort Myrtle Beach
Coral Beach Resort is also situated on the beach and offers beautiful ocean views. If you are visiting with multiple families, you can also book condos to have a more comfortable experience. The beautiful rooms are equipped with facilities including a microwave, internet, TV, a beautiful kitchen, and more. There are kids-friendly swimming areas, magic shows, and other fun activities at the resort.
What's the Average Cost of a Hotel in Myrtle Beach?
The average cost of a 3-star hotel in Myrtle Beach is $145 per night and $192 for a 4-star hotel. Besides, the 5-star hotels cost $207 per night on average in Myrtle Beach. The best 5-star hotels offer numerous family-friendly amenities and facilities to improve the overall experience. But if you're traveling on a budget, you can also book a hotel for less than $55 per night in Myrtle Beach.
The Best Places to Eat with Kids in Myrtle Beach
Eating out with kids can be troublesome if you haven't planned. If you are vacationing with kids in the Grand Strand, you must not worry about places to eat. There are numerous options for kids-friendly eateries, but your kids will enjoy these the most:
Medieval Times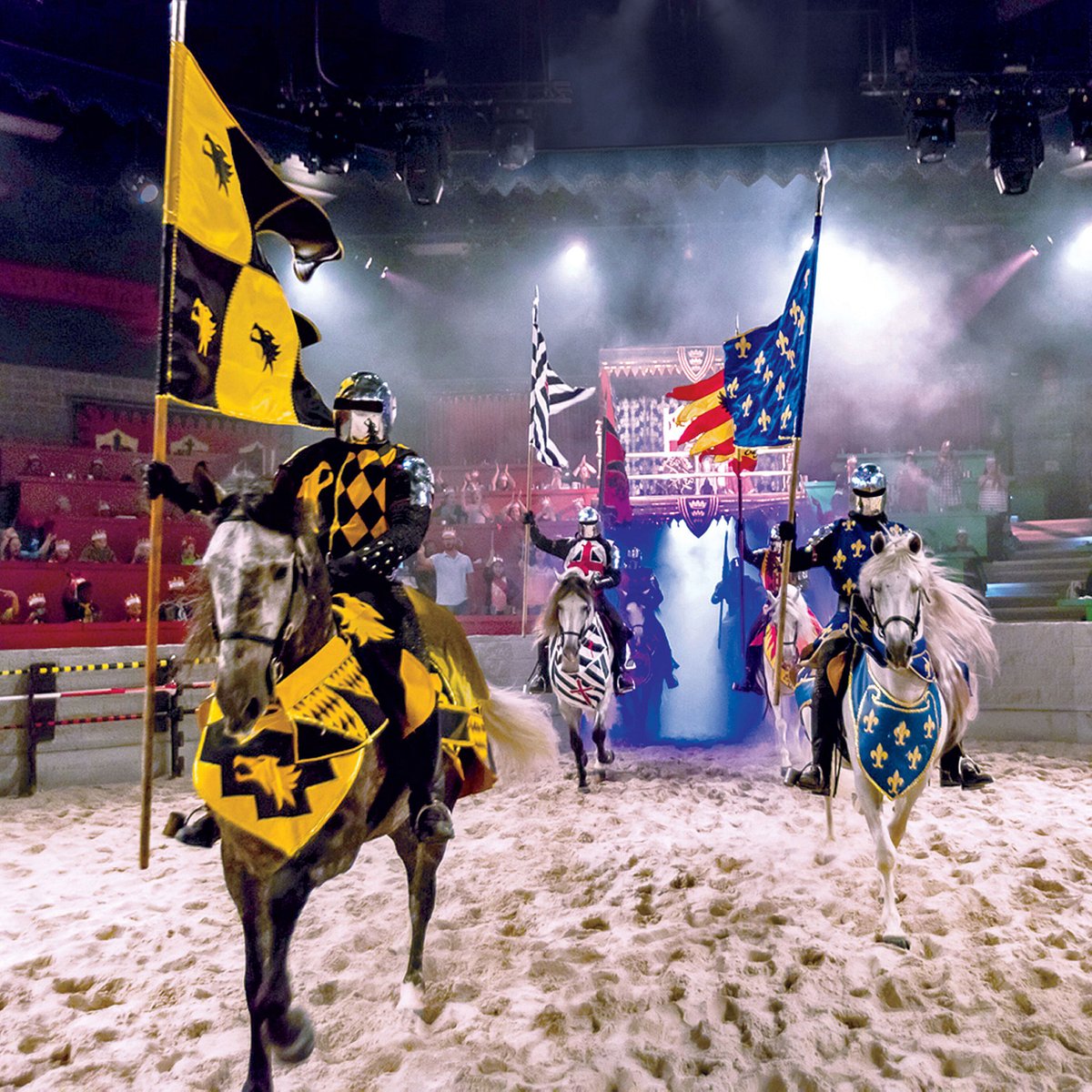 Medieval Times Dinner and Tournament allow you to have delicious meals along with action-packed shows. Besides eating, your kids will enjoy fun-filled activities such as sword fighting, passing through castle gates, and looking at the stunning displays of falconry and horsemanship. Kids can choose the four-course meal and meet the Royal Majesty and the Royal court. The best meals at this eatery include herb-basted potatoes, roasted chicken, garlic bread, sweet buttered corn, and tomato bisque soup.
DinoLand Cafe
DinoLand Cafe is a dino-themed restaurant where your kids will love to spend time. The cafe has numerous life-like dinosaurs, including Triceratops, Tyrannosaurus Rex, and others. Plus, the place is ideal for families who love to take pictures with beautiful backgrounds. Popular meals at this restaurant include steaks, ribs, and burgers.
Crooked Hammock Brewery
Crooked Hammock Brewery is a great option for hungry kids. The restaurant offers delicious burgers and nachos for the kids, and the adults can savor the homemade craft beer. There is a kids-friendly lawn, backyard, and many outdoor fun games to enjoy. The restaurant also offers ice cream, fireworks, and carnival rides.
Fun Warehouse
The Fun Warehouse offers multiple options for families to explore, along with food. The restaurant has a full-sized skating rink for kids and a beautiful place to play, roll, bounce, and shoot around. While your kids enjoy, you can look around and stop by the cool-parent points to spend time. The Fun Warehouse offers delicious burgers, quesadillas, chicken wings, hot dogs, pizza, and more.
Dead Dog Saloon
The Dead Dog Saloon is a top family-friendly eatery at the Murrells Inlet. The restaurant offers tasty seafood, burgers, steaks, and pasta. It has all the foods and tasty dishes that kids love. The Dead Dog Saloon has a beautiful patio deck that allows visitors to get beautiful water views.
The Best Day Trips from Myrtle Beach That the Whole Family Will Love
Looking forward to a quick escape to a nearby neighborhood while you're in Myrtle Beach? We got you because there are times when you'd feel the urge to relax in a peaceful surrounding area of the city. The day trips from Myrtle Beach are a perfect option that you and your entire family will love:
Charleston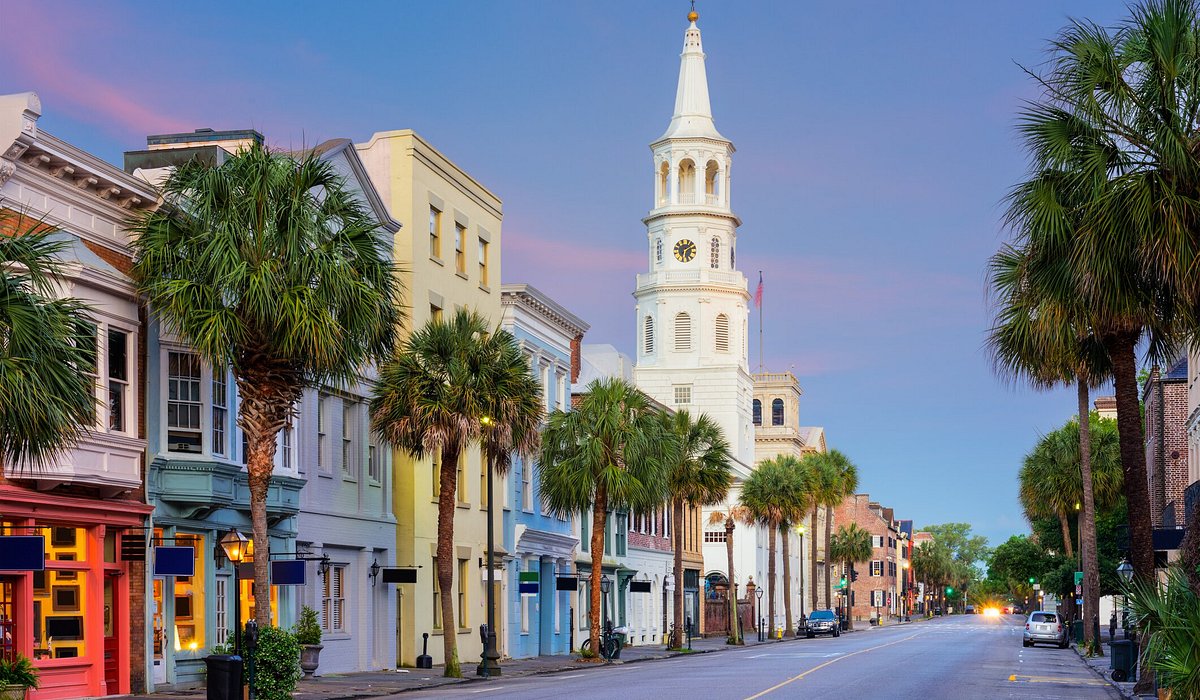 Charleston is located just two and a half hours away from Myrtle Beach. The place features historical landmarks, a house museum, beautiful gardens, and the stunning Middleton Place. Charleston is known for its rich history and beautiful landscapes. You and your family will have a memorable time walking by the Waterfront park, wooden pier, colossal fountain, floating dock, and benches.
Pawleys Island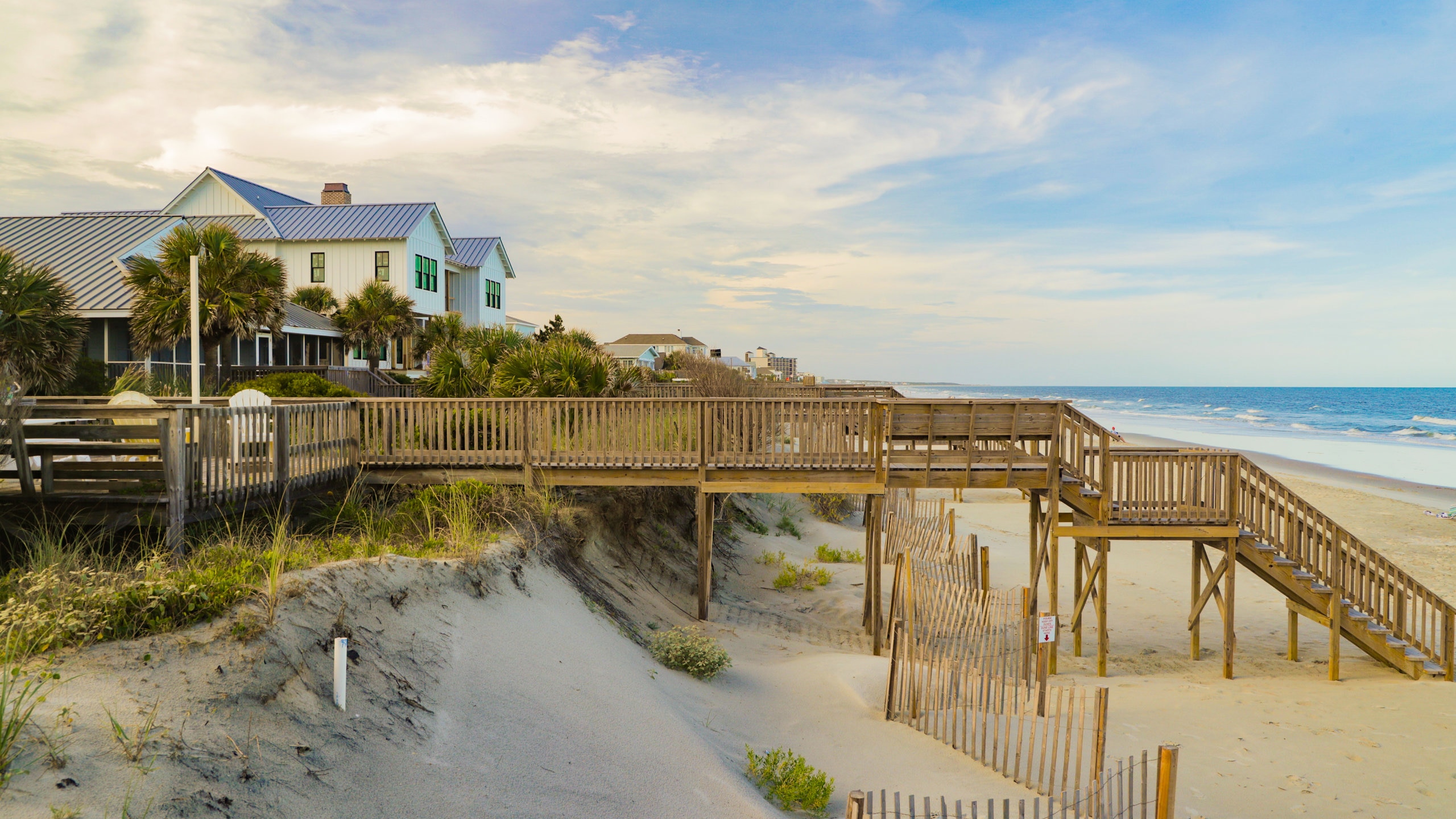 Pawleys Island is located only a few miles from Myrtle Beach and offers an ideal getaway from the city. The place features salt marshes, wide sandy beaches, and scenic photography views. On this island, you'll also explore the specialty museums, Cheryl Newby Gallery, a golf course, and a gift store.
Wilmington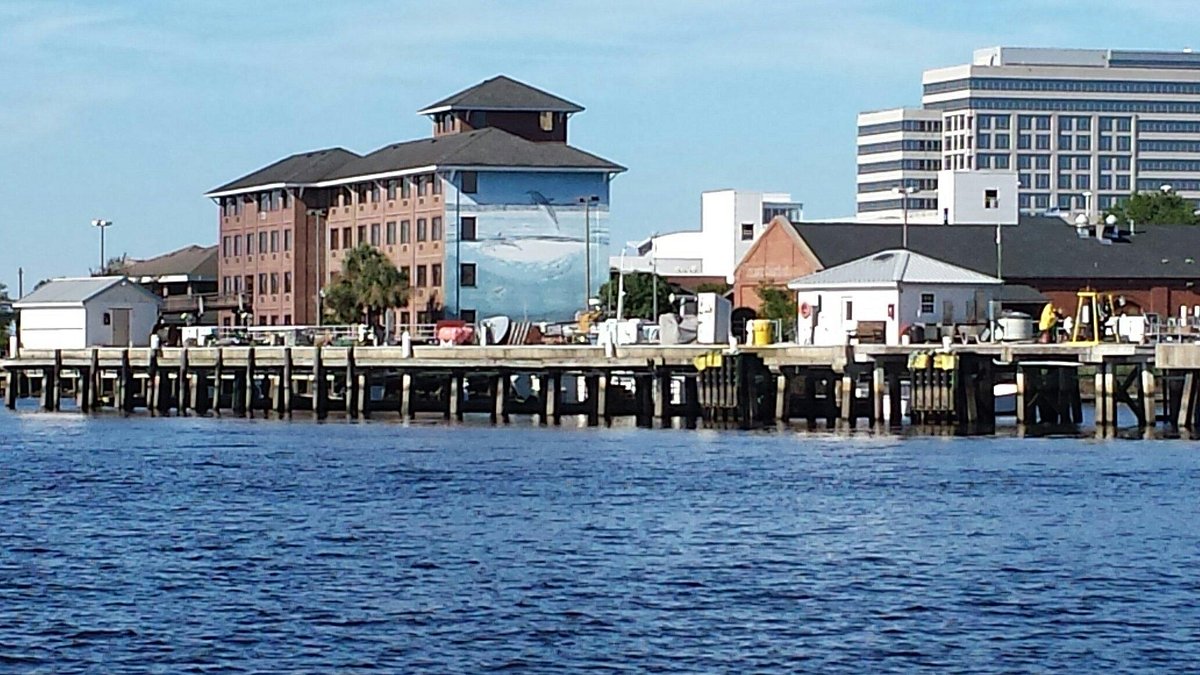 Wilmington is only one and a half hours away from Myrtle Beach. This beautiful town will allow you to create cute memories with your family. The place features oak-tree-lined streets, historic homes, and churches. Besides that, Wilmington also offers pedestrian-friendly nature viewing and wildlife. You can also go on a horse-drawn tour or visit the Bellamy Mansion Museum to have fun.
Georgetown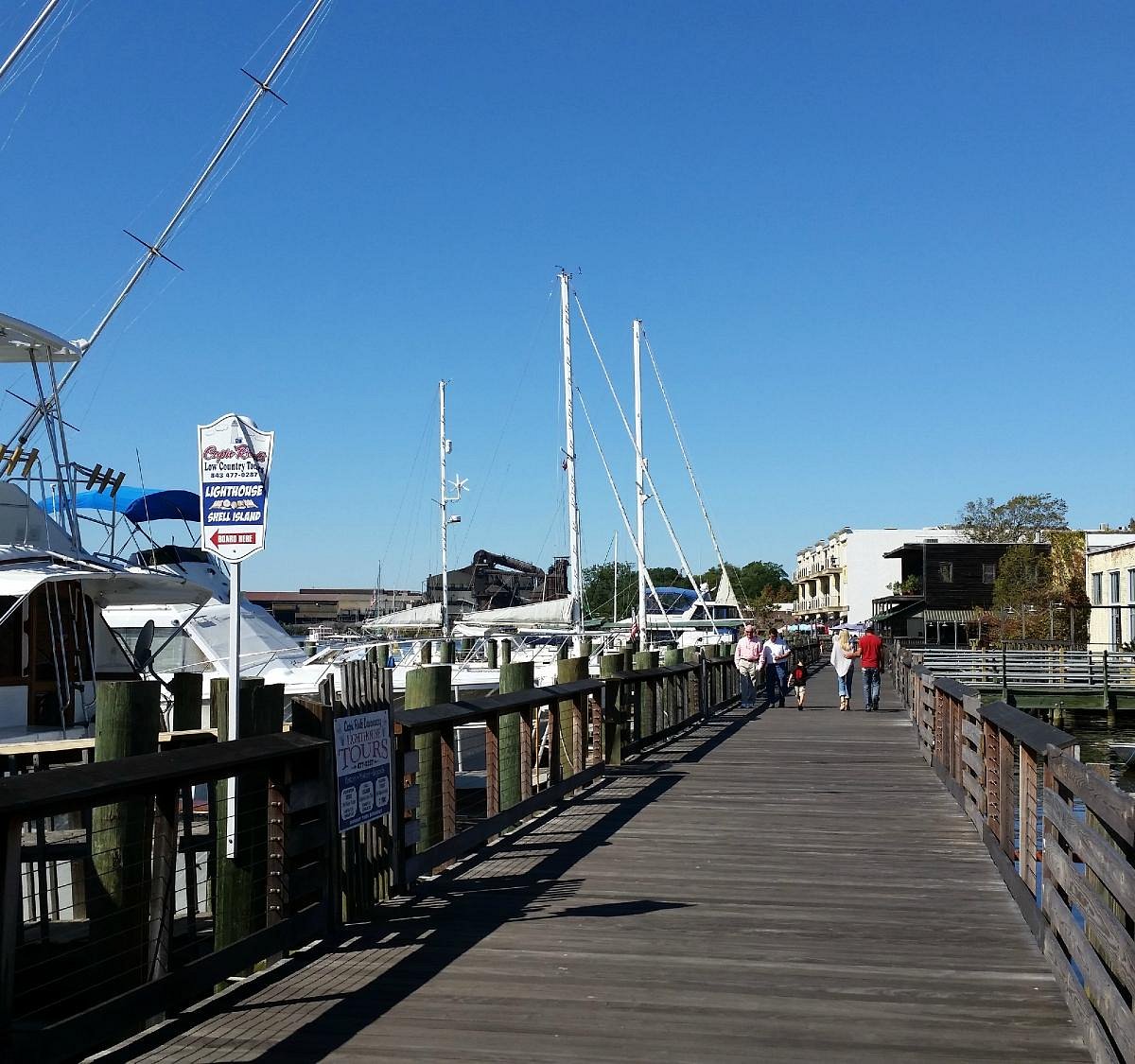 Georgetown is located only a 30-minute drive from Myrtle Beach. It is one of the oldest cities in South Carolina and offers family-friendly attractions. There are tourist spots, including waterfront amenities, lively boardwalks, historical sites, museums, and more. You can also take a riverboat to have fun on the Island Picnic Cruise. Overall, the place offers lots of opportunities, including boating and fishing.
Conway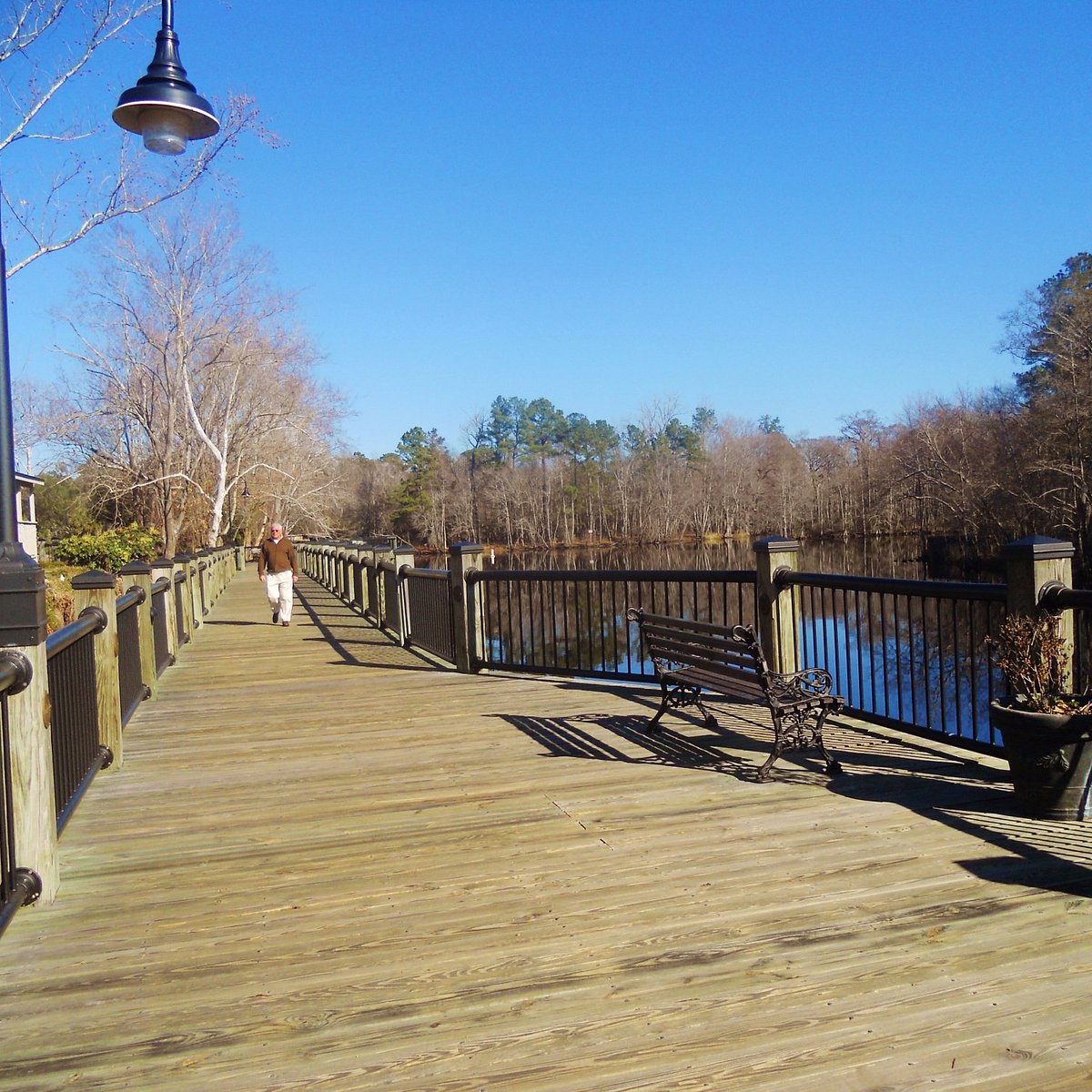 Conway is the place that most people visit to escape from the hustle and bustle of the city. You can spend time with your family enjoying the Conway Riverwalk, holiday-themed events, musical shows, and exhibits about history. Plus, there are magnificent riverfront views, grassy lands, and playgrounds for families to sit back and relax.
How to Get Around Myrtle Beach During Your Vacation
The best way to enjoy your Myrtle Beach vacation is by car, especially if you plan to visit the attractions located at a distance from each other. However, if you intend to spend most of your time at the beach, resorts, and nearby tourist spots, then you can manage on foot and other handy options like bikes or scooters. The following are the best modes of transport in Myrtle Beach:
Car
The car offers the easiest way to get around Myrtle Beach if you want to explore the areas beyond the waterfront. You can get an Uber, Lyft, or a cab to reach your favorite spots. Multiple cab companies are operating in the city, and you can also use a ridesharing app and get a car for yourself. There are parking meters located in the city that are in effect from March till October.
Bikes
Myrtle Beach is a bike-friendly city as it has multiple bike lanes. Plus, you can use the paths for cycling at Ocean Boulevard. The good thing is that there is a Pavilion Park near Ocean Boulevard which your kids will find amazing. There are numerous biking trails in the city that you can utilize; you can also request a bike from a bike rental company for a day or more.
Moped or Scooter
Riding a moped or scooter is a fun way to explore the beach. Plus, you can also use this transport mode to travel around the city. Moped rentals and Scooter rentals at Myrtle Beach will help you explore some of the popular attractions. The best thing about this mode of transport is that you and your family will love riding it as it is easy to drive.
Shuttles or Buses
There are many bus routes across the city with multiple bus services operating. You can take a bus from any stop in the Grand Strand; the buses from the beaches stop at Kings Highway and Ocean Boulevard. This mode of transport is for budget travelers; there are day passes for $5, which are more convenient if you wish to stop at multiple locations. The bus and shuttle schedule depends on the season too.
The Best Ways to Get to Myrtle Beach for Your Vacation
Getting to Myrtle Beach is easy as different modes of transport are available. The following are the top options to get to Myrtle Beach for a family vacation:
By Air
The easiest way to reach Myrtle Beach is by air. The Myrtle Beach International Airport is one of the best small airports in the country. The Airport also works with more than ten airline partners and non-stop destinations. Plus, there are numerous dining and shopping options and many activities at the Airport to keep your kids busy. The Airport hosts more than 50 frequent flights, and the best thing is that cabs are easily available outside the Airport.
By Car
You can use the direct route to the Grand Strand if you intend to travel by car. If you're coming from the South East, you can easily reach Myrtle Beach by car. The best route to reach Myrtle Beach is through I-95 and the Bypass. However, it is important to consider the area from where you're taking the route, as it will have an impact on the routes you take later to reach Myrtle Beach. Don't forget to download Google Maps, Waze, or INRIX to avoid traffic jams and reach the destination safely.
By Bus
The local bus service available by the Coast RTA is an affordable option. The bus passes through Grand Strand and other neighborhoods. This service is available at the Visitors Bureau Offices and all Myrtle Beach Area Convention.
3 Top Tips for Staying Safe in Myrtle Beach When Visiting with Kids
Myrtle Beach is a safe and family-friendly vacation destination. Due to the number of attractions, tourist spots, and safety for families, millions of people visit the destination throughout the year. Kids, as well as grown-ups, have immense fun here as there are no dull moments in this city. To make your trip more exciting and adventurous, follow these safety tips:
Consider Beach Safety Rules
Thousands of people swim in the ocean at Myrtle Beach during summer, and the beach has an excellent safety record too. But if you're going to visit for the first time with family, you must consider the beach safety rules. For instance, swim with a buddy, don't fight the current, swim in areas with a lifeguard, Read all the safety rules and signs on the beach, and don't swim within 75 yards of where people are fishing.
Avoid Spending All the Time on the Beach
Beaches at Myrtle Beach are fun; they are sandy and beautiful, and you won't know that you've spent hours relaxing at the beach. However, some people make the mistake of spending too much time at the beach. Instead of staying all the time at the beaches, you must explore other attractions that aren't available in your city. After all, you're here on a short trip and your kids will love to explore more interesting destinations.
Beware of Hurricanes
In the past, hurricanes have hit South Carolina and heavily affected the Grand Strand. Thus, it is important to remain updated about the weather conditions in Myrtle Beach. The Hurricane season is from June to November, and it's advised to stay updated if the weather conditions get severe.
Wrap Up!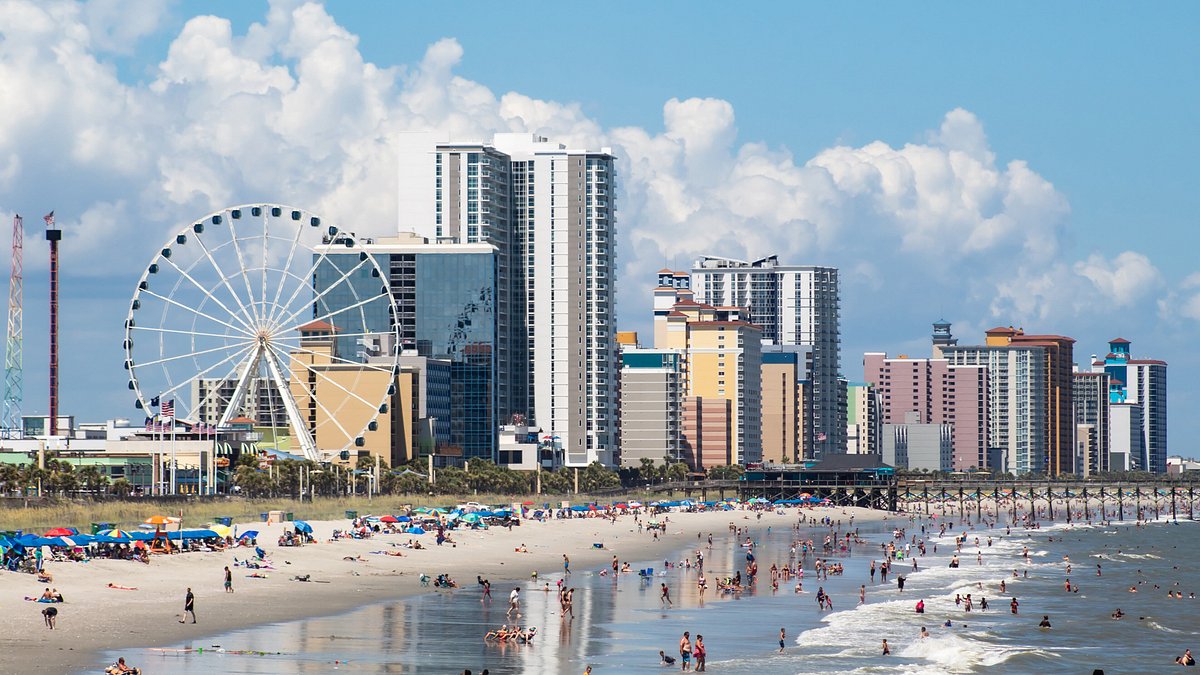 We hope this comprehensive Myrtle Beach Travel Guide will help you plan your activities and choose the best tourist spots. Besides these, there are many other things you can do and explore in the city. There are multiple great options for you and your family, and we've jotted down the best of them. Safe Travels!
More about our TFVG Author