Tennessee is known for its green river valleys and its love of country music. But, a climate history of warmer, almost tropical summers and mild winters may lead you to wonder, "does it snow in Tennessee?" So, let's take a look at the wonders of winter in the Volunteer State.
Winter in Tennesse
Winter in Tennessee is agreed to be from mid-November through April. Of course, there are always exceptions, and sometimes you may find snow in November or at the end of April.
The whole winter season presents a chance for snow, though only if you happen to be in the right location.
Tennessee is renowned for being a hot, humid place, especially in terms of late spring and summertime. Winters here are mild. Though there is an unreliable chill in the air, winter in Tennessee is the perfect juxtaposition to summers that leave folks yearning for a chill.
Usually, there is the best chance for snow in January and February, with the National Weather Service stating that January has the heaviest snowfall, averaging around nine inches for the season. So, January is your best bet for the best chances to see the white stuff.
So, yes, it does snow in Tennessee, and it does so with predictability if you know where to look. Now, we can look at some of Tennessee's most reliable locations for snow-filled days.
Where Does It Snow in Tennessee?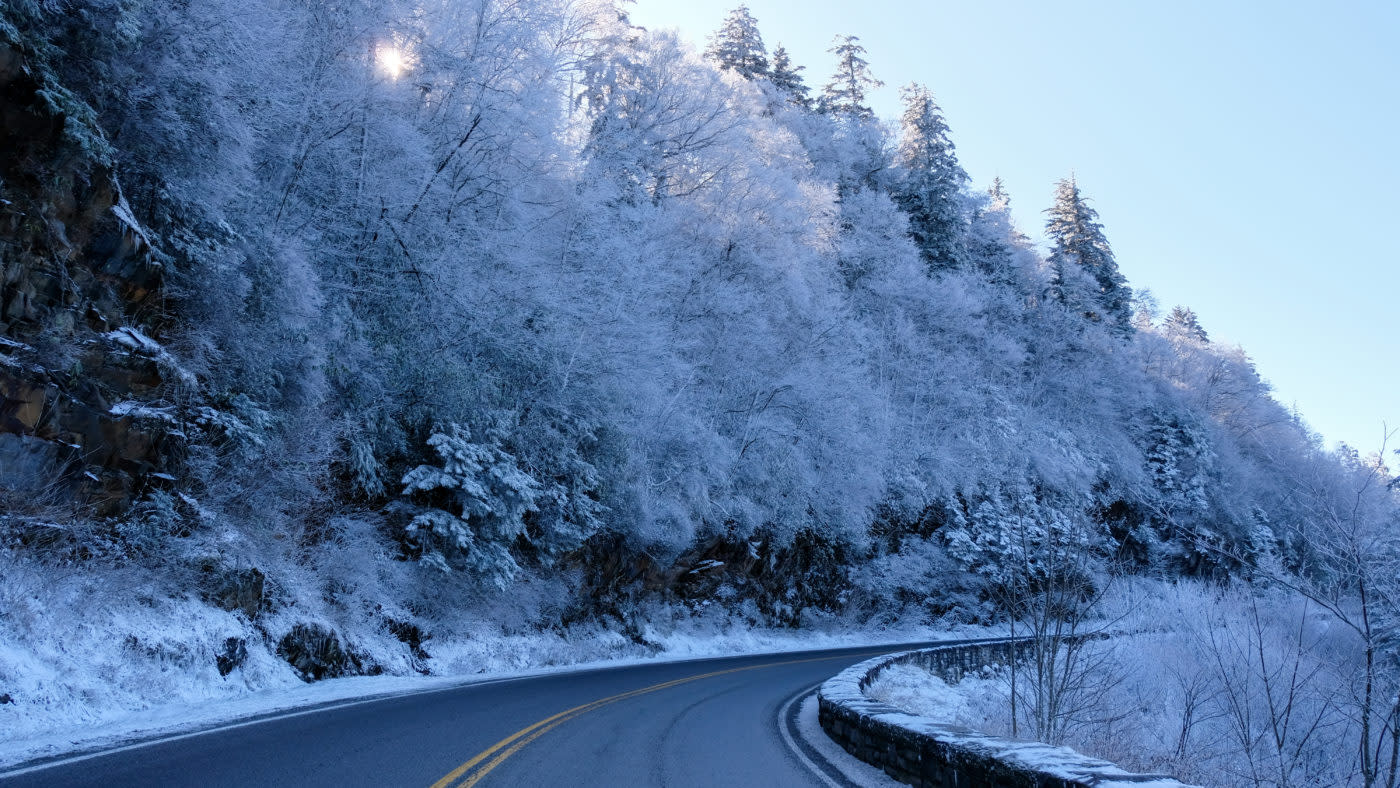 There are several places in Tennessee where you will be able to find during the winter months. For breath-taking views or snow-filled days of fun, these are a few of the places where you may be able to find some fresh powder:
Cookeville
Cumberland Plateau
Franklin
Gatlinburg
The Great Smoky Mountains
Knoxville
Nashville
Pigeon Forge
Not all of these locations will see snow every single season. Remember, some of the snow seen here is just a light dusting that blankets the ground for a few days and is not enough to make more than a few small snowballs with.
Let's be clear here, some of these locations in Tennessee will provide you with much better snow than others. However, some don't see snow every year. So, while all of these are acceptable choices, a few are better, more reliable choices if you want to be guaranteed snow that leaves an impression.
But first, a quick note about winter safety first.
Seeing snow is not worth putting yourself or anyone else at risk. Please be sure to check the weather conditions. Be sure that if you are traveling to higher elevations, you have taken the time to check for road closures and prepare accordingly.
Be aware that the conditions can always change, and sometimes they can change in a hurry, so when in doubt, be prepared or simply choose a different day for your excursion.
Tennessee is also known for blizzards that can spring up out of the blue. Take the time to be aware of the conditions and use caution.
With that public service announcement out of the way, let's dive deeper into the places in Tennessee that are much more reliable choices if snow is your goal.
Gatlinburg
Gatlinburg is nestled at the base of the Great Smoky Mountains and has plenty of snowy fun for the whole family during the winter months in Tennessee.
One of the oldest cities in the state, if you want to see snow, Gatlinburg is almost guaranteed to have it. With the feel of a European ski town filled with chalets, Gatlinburg is a quaint, if touristy, city.
Gatlinburg offers activities for those who love snow as well as those who merely enjoy the feelings it evokes without the wet mess. This city is the home to the longest pedestrian skyway in North America, a lovely adventure to see in the snow or summer alike.
There are also year-round winter activities like ice skating and summer tubing if you take the aerial tramway to Ober Gatlinburg. This adorable old mountain village elicits the feeling of a European ski village filled with chalets. In the winter, there is also skiing, hiking, and sledding for snow-filled days.
Anakeesta Mountain is at the heart of Gatlinburg and is where you will find that sky bridge. Take a ride on the "Chondola" to the top, a one-of-a-kind journey found nowhere else. Then, the top of the mountain has a family-friendly park and can be another great adventure in the snow or any time of year.
Gatlinburg is filled with artisan shops and restaurants that will delight and thrill you as you experience the snowy winter atmosphere. These shops will give you all the winter charm you could ask for. The Gatlinburg experience won't be soon forgotten, and the snow makes it sparkle.
Pigeon Forge
Pigeon Forge is another well-known tourist attraction in Tennessee, not too far from Gatlinburg. In Pigeon Forge, there may or may not be snow on the ground during the winter season. Yet, there is one attraction that is open year-round and can help satisfy any winter enthusiast, at least until they can get to the skiing in Gatlinburg.
Pigeon Forge Snow is an indoor, year-round snow tubing park. It is open to the public and offers the fun and excitement of sliding down a snow-covered mountain on an inner tube whether or not it is cold outside. So when in doubt, come here, and there will be snow.
It's also an excellent choice for parents who may or may not want to join in the tubing with the little ones. Coming to this tube park will ensure that the kids get the winter experience without having to hunt for the snow and with little to no potential disappointed faces in the rearview mirror.
The Great Smoky Mountains
In Tennessee, the one place where you can be almost certain to see snow on the ground sometime between November and April is in the Great Smoky Mountains range. This spectacular forest area is near Gatlinburg, and the Great Smoky National Park is a protected park full of the wonderment of nature.
During the winter months, the snow that dusts these mountains is as pristine and magical as the imagination would lead you to believe. And there are a few different ways to experience this beauty, but always remember to stay safe. Icy roads and winter conditions in the Smokies can be challenging, so take care and be prepared.
Though roads can be closed in the winter due to unsuitable conditions, there are a few ways to experience the winter wonderland.
Places like Max Patch and Hartford are great for finding snow and winter fun but consider them carefully as they may not be suitable if you lack experience. Also, don't forget that Gatlinburg and Pigeon Forge are close, so there is no shortage of food or activities.
Another way to get in some snow action is to pull over at one of the many rest stops and welcome centers that pepper the road into the mountain range. These rest stops are often overlooked but will provide enough snow for the kids to play in. Plus, they have great scenic views for mom and dad or an excellent opportunity for a family photo with a killer backdrop.
This type of unconventional roadside attraction is a fantastic way to utilize the resources provided by the Smokies. A rest stop also lets you stop for as long as the kids may need to get their snow fix, and it is about as budget-friendly as a snowy trip can be.
Tennessee Holidays in the Snow
Many of you may be motivated to see snow in Tennessee simply for the warm memories associated with a "White Christmas." There are several things to do that will give all the feelings that the season brings for many. Some great choices for holiday snow are:
Tennessee Valley Railroad's North Pole Adventures
Rock City's Enchanted Garden of Lights
Franklin Theater
Pigeon Forge Winterfest
Gatlinburg Mountain
The same attractions available year-round in Gatlinburg and Pigeon Forge are dressed up cheerily for the holiday season. Photo opportunities with the kids are plentiful, with hot chocolate to warm you from the inside out.
In Chatanooga, while there may not be as much snow, the holiday spirit is bright and merry. The Tennessee Valley Limited takes young and old alike on a journey to the North Pole, with hot chocolate and cookies provided. The magical journey continues in the Garden of Lights as a winter wonderland of lights illuminates the city, spreading holiday cheer throughout the season.
Tennessee is a winter wonderland indeed, with activities for young and old alike to be joyful about. Tennessee does not cut corners when it comes time to be merry and bright and never fails to bring smiles.
So, Does It Snow in Tennessee?
The answer is a resounding yes if you know where to look! Hopefully, now you have some ideas about where to enjoy Tennesse's winter fun.
More about our TFVG Author
Caitlin is one of The Family Vacation Guide's long standing contributors. She enjoys taking vacation to busy, vibrant cities and has stretched her traveling legs out towards Europe in recent months, enjoying new experiences in Barcelona in Spain, and Nice in France.