Dallas, Texas, is known for its mouthwatering barbeque, but there are a couple of other specialties you simply must try. One of them is chicken and waffles, a dish that, if you haven't tasted, you have no idea what you're missing.
Even if you think that sweet and savory combination isn't your cup of tea, you'll never know until you try this dish. You should do that, as the combination of sauces and gravy will awaken your taste buds, and there's a real danger that it'll become your favorite dish.
The variety of chicken and waffles in Dallas restaurants is amazing. But where can you find the best chicken and waffles in Dallas, and what makes them so special? Continue to read to discover everything!
Almost every restaurant in Dallas that serves chicken and waffles has its way of preparing it and uses different but well-matched sauces. Some use gravy sauce, some maple syrup, some honey, and some even berries.
There's no way to decide which combination is the best one. They're all special in their way, so thanks to the toppings, everyone can find their favorite chicken and waffles.
The following places are 8 of Dallas's best chicken and waffles, so let's see why.
Whether you want to have lunch or dinner, the Maple Leaf Diner has it all. Thanks to the dairy bar and a bakery, you can even have your warm and delicious breakfast here.
The owner of Maple Leaf Diner is a native Canadian, but still, among the Canadian specialties, this diner also has all the American delicacies like chicken and waffles.
There are three different combinations of chicken and waffles in Maple Leaf Diner, so you can choose from the following and enjoy them with original Canadian beer.
Country Sausage Waffle
The first chicken and waffles dish on the menu is the Country Sausage Waffle which is so good that it has been featured on Trey's Chow Down Live.
This meal combines fried chicken breasts and country sausage on top of Belgian waffles, with whipped cream, cream puffs, and strawberries. The mix of these ingredients results in one of a kind taste, absolutely worth trying.
Chicken, Bacon & Waffles
Another amazingly delicious dish, this time featured in Paula Deen Magazine, is the Chicken, Bacon & Waffles combination.
Bacon and fried chicken breasts are served over Belgian waffles, but that's not all. The waffle has whipped cream, cream puffs, and fresh strawberries, enriching the flavor.
Additional information
Whistle Britches is a restaurant known for its various chicken delicacies. Whether you want a chicken sandwich or tacos, or you're in the mood for brunch, you can get everything at Whistle Britches.
Also, the beer and cocktail menu is fantastic, and you can enjoy your meal with a refreshing drink.
However, that's not nearly all. Among the many delicious dishes on the menu, you can easily spot the famous combination of waffles with a chicken named Chicken N'Waffles.
Chicken N'Waffles
You haven't tried a chicken and waffle combination as the one Whistle Britches prepares. A mouthwatering Belgium waffle is served with four crunchy chicken tenders on top of it. Then, everything is topped with jalapeño cane syrup and honey butter, giving the food an incredibly rich and unique flavor.
Additional information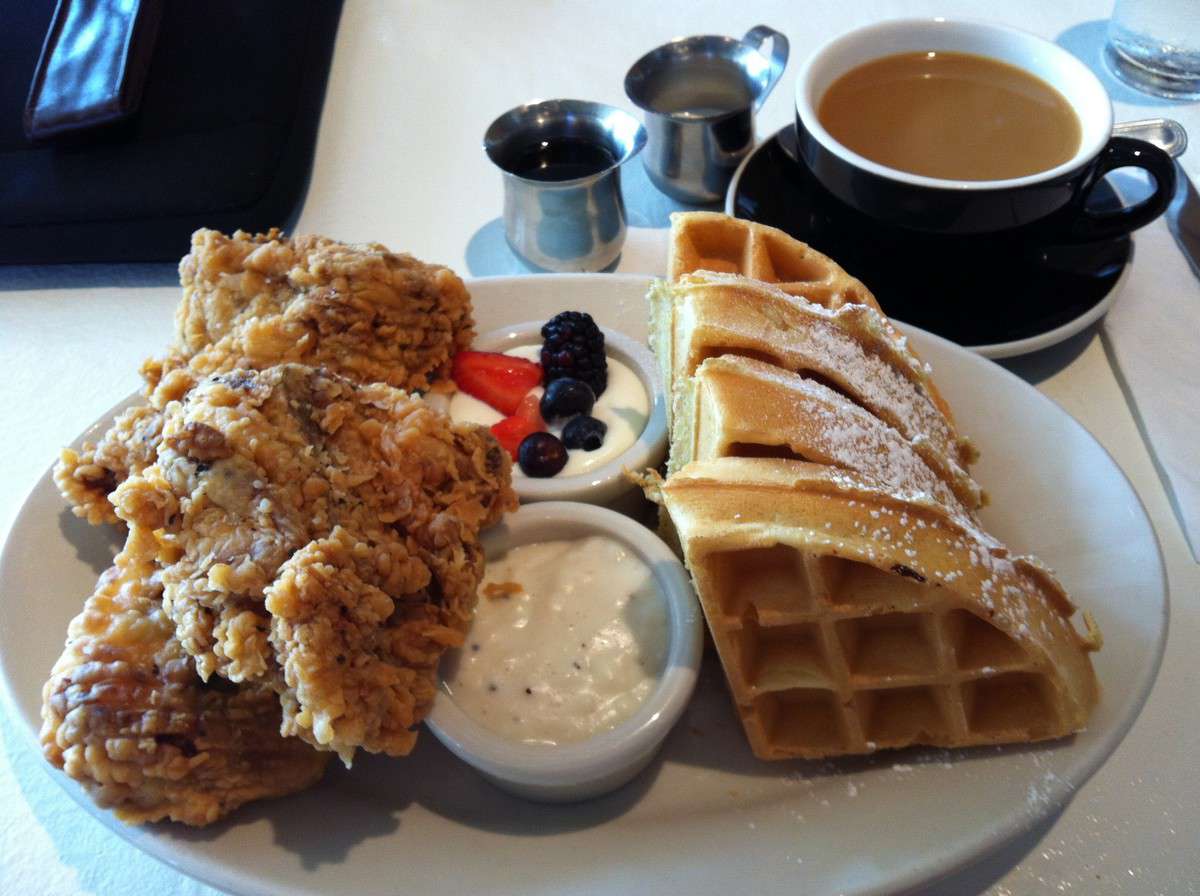 Oddfellows is a busy diner and bar with American cuisine that offers a cozy atmosphere, a warm welcome, and delicious food. The diner even has vegan dishes like the delicious veggie burger, so Oddfellows is open to everyone.
Besides that, you'll find warm beverages and a variety of cocktails. Of course, there's the famous chicken and waffle dish, so read to find out what makes it so special.
Fried Chicken + Waffle
The Oddfellows has two menus, and you'll find this delicious chicken and waffles in both. In the Daytime menu, under Favorites, you'll see the tasty dish called Fried Chicken + Waffle, and in the Dinner menu, it's in the Entrees section.
This meal consists of fried boneless chicken thighs that are crispy, tasty, and go perfectly with waffles. For the taste to be even better, the gravy and the maple syrup are just what this meal needs.
Surprisingly, that's not all. Many berries are added to this dish, proving that the result can be delightful no matter how strange the combination of ingredients might be.
Additional information
Lucky's Dallas is an authentic American, retro-style diner that offers delicious meals made with fresh and locally sourced ingredients. 
Everything you'll order comes straight from the top-notch farms with which Luckys Cafe has partnered. You can immediately taste the high-quality ingredients with the first bite.
This place is comfortable and has delicious food and is suitable for breakfast, lunch, dinner, and even brunch.
Moreover, there's even a kid's menu. But let's take a look at their chicken and waffles.
Chicken & Waffle
Because Lucky's Cafe uses farm-to-table partnerships and only the best products from the farms, you can be sure that you'll get the best-fried chicken, juicy and crispy. To be more precise, you'll get a boneless chicken breast and thigh placed on a Belgian waffle.
What makes this chicken and waffle one of the best in Dallas is the brown sugar butter cinnamon poured over the chicken and the waffle. The combination of flavors is like nothing you've ever tried.
Even better, you can order small or large dishes depending on your hunger. So, don't forget to try this meal. There's no doubt that you'll want to return to this restaurant again and again.
Additional information
Yardbird Bar & Table is a restaurant that serves brunch, lunch, and dinner that also has a bar with plenty of signature cocktails and bourbons on the menu.
The spotless service is the first thing you'll notice entering Yardbird, and the unique flavor dishes will leave an incredible impression on you.
One of those dishes is the chicken and waffles, which you can also order in a gluten-free version, and even the whole bird, but read on to see what this dish is made of.
Chicken & Waffles
The chicken and waffles is a delicacy and a unique meal you can order at Yardbird Table & Bar.
The chicken meat is served with a Vermont sharp cheddar cheese waffle, bourbon maple syrup, and a hot honey sauce. You'll also get a chilled spiced watermelon that gives this entire meal a refreshing taste and a bit of zestiness.
The whole bird
In the Yardbird Table & Bar, you can even order the whole chicken combined with a one-of-a-kind Vermont sharp cheddar cheese waffle. You'll get a hot honey sauce that complements the chicken and the waffle.
Also, the chilled spiced watermelon is an interesting addition to this meal. Everything will be topped with bourbon maple syrup giving the meal an exquisite flavor.
Additional information
Press Waffles Co. had humble beginnings when it was just a food truck run by a family selling food on the streets. The food was so delicious that everything started to go up quickly. Things were changing for the better so quickly that today Press Waffles Co. is a famous franchise.
Press Waffles Co. in Dallas is located right at the Exchange at AT&T district. In addition, no matter which type of waffle you order, either savory or sweet, they're all handcrafted, making them one of the best. Just try them, and you'll see. One typical meal is waffles with chicken, so let's see what they contain.
Chicken and Waffles
The savory waffles with chicken of Press Waffle Co. are one of their bestselling dishes, so one must simply taste them.
What you'll get is a handcrafted, Liege-style waffle (made from dough and caramelized Belgian pearl sugar) and two pieces of deep-fried chicken tenders placed over it. Besides this deliciousness, there are bacon crumbles and maple syrup.
Additional information
If you're in the mood for some remarkable food and original cocktails, The Woolworth restaurant and bar is just the place for you. Located in the heart of Dallas, this discrete place is great for a lovely night out filled with fabulous food.
Regarding the cocktails, it's worth mentioning that this restaurant was voted Top 10 cocktail bar, even three times, by the Dallas Observer.
Regarding the food, this restaurant will win you over with its modern cuisine. Of course, you can find tasty chicken and waffles on the menu, so keep reading to discover more.
Chicken & Waffles
The chicken and waffles in Woolworth are specially made, and you'll be delightfully surprised by the mix of flavors you're going to taste.
The waffle is made of sweet potatoes and served with a cornflake-crusted chicken which is chicken meat coated in crushed cornflakes.
Dried cherries accompany the chicken and the waffle. The red-eye gravy and finger-licking bourbon-vanilla maple syrup will challenge all your senses to enjoy this delicious meal.
Additional information
The Bread Winners Cafe is so popular that you can visit it in three different locations in Dallas. The first is in Inwood Village, the shopping mall, the second is in Uptown Dallas, and the third is in Northpark Center, another shopping mall in Dallas.
It doesn't matter in which of these locations you decide to visit this restaurant. Each serves tasty fried chicken with waffles, so go to the nearest location. But, you might wonder, what exactly makes this meal so special? Well, let's see.
Fried Chicken and Waffles
In Bread Winners Cafe, you can find all kinds of waffles with all kinds of toppings, like bananas and strawberries, but the most popular one is the fried chicken with waffles.
The items that make this specialty one of the best chicken and waffles in Dallas are Jalapeño bacon cheddar waffles, crispy and tasty chicken, delicious gravy, maple syrup, and hot sauce.
The employees even accept up to one modification to these items, so feel free to change it up a bit if you want to.
Additional information
Conclusion
Now that you know where you can find the best chicken and waffles in Dallas, get ready for a night out and enjoy this amazing dish.
The variety of sauces and toppings makes each dish mentioned above unique. So, don't be afraid of the unique sauces. They're made and used in a way that complements both the savory taste of the chicken and the sweet flavor of the waffle.
Therefore, every time you eat chicken and waffles, it'll be a new experience for you!
More about our TFVG Author
A seasoned traveller, Dad, and avid sports tourist, James foundered The Family Vacation Guide to share his expert vacation experiences- especially when it comes to being a travelling family man.
Featured in Travel articles such as Travel + Leisure, TripSavvy and SFGate, you know you're reading some of the best vacation tips online.