Located in south Texas, South Padre Island sits in the Gulf of Mexico, a barrier island that is renowned for its subtropical climate, wavy ocean views, and sun-drenched sandy beaches. It's the perfect family getaway destination, dotted with affordable resorts and kid-to-adult-friendly activities.
Everyone wants a worry-free holiday lazing on the beach, building sandcastles but not worrying about accommodation space or available amenities. When choosing suitable hotels for your family vacation, there's a lot to consider, especially where kids are involved. To make that possible, here's a curated list of 11 of the best family-friendly resorts in South Padre Island.
Although many establishments offer two, three, and four-star luxury options, there are many mid-range and semi-luxurious properties. You'll find large rooms, kitchens, pools, dining areas, and many kids' entertainment. 
Read on for our list of family-targeting resorts, many with spas and fitness centers where adults can let off steam while children play in the warm gulf water.
Revealed: The Best Family-Friendly Resorts in South Padre Island?
South Padre Island is the place to be if you are looking for the best family-friendly accommodation deals for the year-round vacation. These featured resorts are near the beach and have swimming pools, large play areas, kids' activities, and in-house restaurants where the cuisine is galore.
These South Padre Island resorts emphasise relaxation and fun for all, and your family is pampered at budget-friendly rates.
1. Beach Resort at South Padre Island by Holiday Inn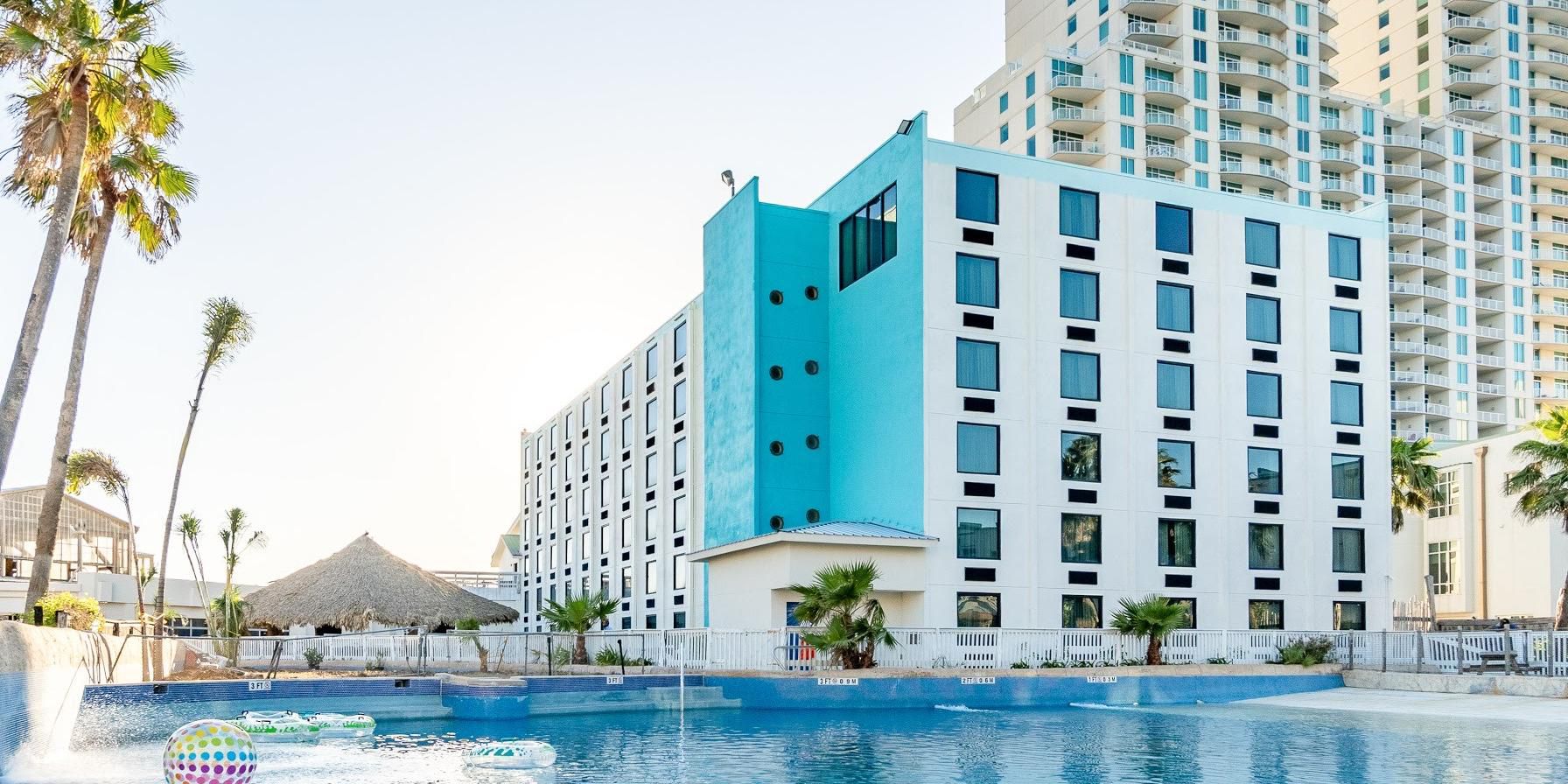 The three-star Beach Resort at South Padre Island boasts direct beach access, a playground, and a kids club. In addition, you can take advantage of discounted entrance fees for the 25-acre Schlitterbahn Beach Waterpark at this resort that attracts a lot of families.
Multiple indoor and outdoor pools at the Beach Resort at South Padre Island, water slides, a zipline, and lazy rivers keep children and adults occupied. Family suites can accommodate up to six guests, and your meal options include eating at any one of the three restaurants on the ground.
While it's not the most luxurious resort on South Padre Island, the Beach Resort is currently in an upgrading process. Recently remodeled rooms feature kitchen equipment, with windows and balconies facing the ocean or the city. One of the indoor pools is heated for when the weather is off, but other family-friendly perks include free parking and Wi-Fi.
2. Isla Grand Beach Resort South Padre Island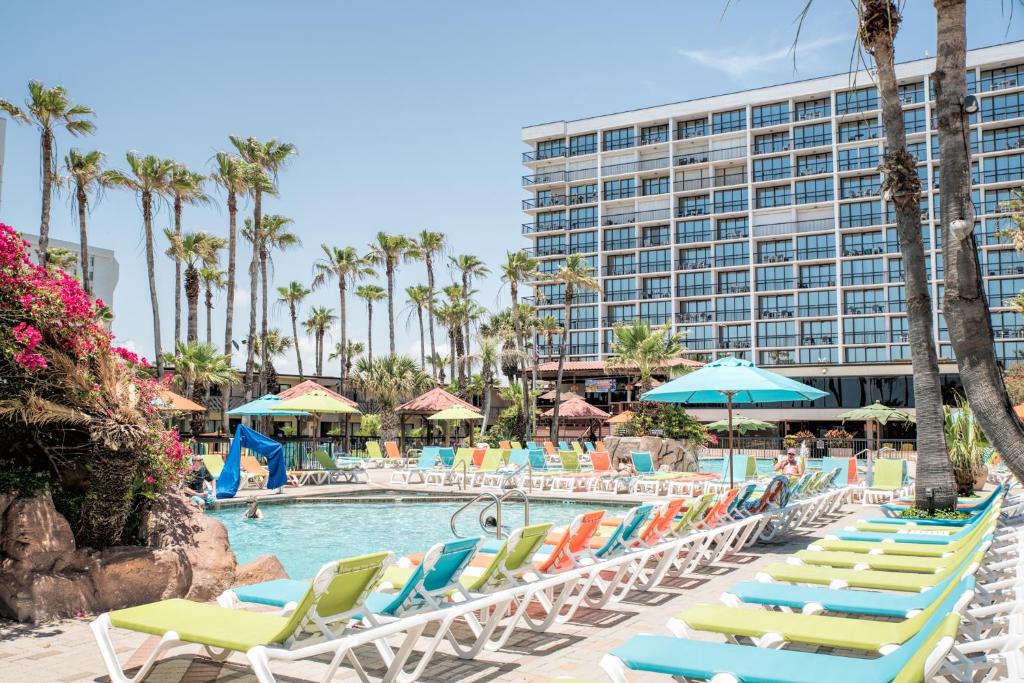 Thirty minutes' walk from the island's city center is the Isla Grand Beach Resort, which sits right on the south side beach. With rooms that offer scenic views of the ocean, this resort is near one of this town's main attractions, the Largest Outdoor Sandcastle in the USA.
On-site, you can take a dip in one of the hot tubs or two pools or enjoy tennis or sand volleyball on the provided courts at this pet-friendly resort. There's a fitness center when you're not rolling about on the shuffleboard, while sandcastle building, arts and crafts, and a kid's night dole out fun for all family members.
Besides a seasonal poolside grill, food options include hard-hitting in-house cafes or any of the 15 restaurants surrounding the resort. So if space accommodating from four to six individuals is what you're after, Isla Grand Beach Resort has your back. There's also a kitchen for making meals or late-night snacks for your family on this property, the 2020s winner of the Tripadvisor Traveler's Choice Award.
3. Hilton Garden Inn South Padre Island
Guests with children have loads of activities awaiting them at the Hilton Garden Inn South Padre Island, which offers a unique gaming and arcade room. It's located in South Padre Island's town center, a few minutes' walk from Sea Turtle Inc. and Gravity Park.
Air-conditioned rooms fronted by the beach offer ocean and sunset views, while others are backed up to dunes on padre islands' northern side. This three-star resort's suites and rooms have retro-style décor, with comfortable beds and kitchen equipment.
South Padre Island's Hilton Garden Inn has a swimming pool, fitness center, restaurants, and onsite parking. Besides in-room amenities like free Wi-Fi access and smart TV, you can arrange for activities like fishing, horseback riding, and parasailing.
4. Pearl South Padre Resort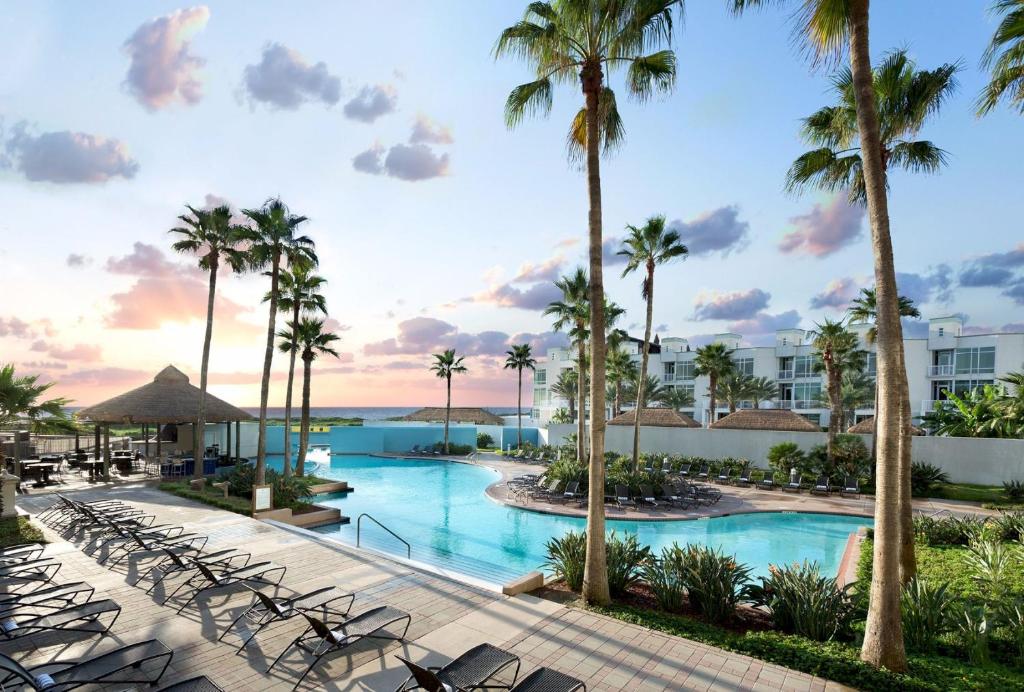 Since coming under new management, the Pearl South Padre Resort has improved its quality to remain one of the best 4-star resorts on the island. The family-friendly establishment is located on the southern tip of South Padre Island and features rooms with a Gulf view.
Set in palm-lined and lushly landscaped ground, the Pearl South Padre Resort offers a sizable lagoon-style swimming pool with exclusive access to the beach. Its rooms and suites can accommodate couples to large families, while pets up to a specified size are allowed at an additional fee.
The Pearl South Padre Resort has oceanfront guest rooms with furnished balconies and interconnected room options. You can have either a kitchenette or a fully equipped kitchen for easy meal and snack preparation, depending on the size of your family. It is located near the Queen Isabella Memorial Park and has a fitness center and spa, or you can book private sandcastle building lessons on the beach.
5. Blue Bay Inn and Suites South Padre Island
Endowed with a picnic area and allowing families with pets, the Blue Bay Inn and Suites has rooms where you can relax with family-friendly amenities. These include cable TV flat screens, coffee maker, fridge, microwave oven, laundry services, and free parking.
It's located near the South Padre Island welcome sign and a few miles from the city center and is near the home of the Largest Outdoor Sandcastle in the USA. Besides horseback riding and driving ranges, you also have access to the Port Isabel Lighthouse State Historical Park.
There's a 24-hour reception at the Blue Bay Inn and Suites on South Padre Island, plus a free shuttle and a business center.
6. South Padre Island's La Quinta Inn & Suites by Wyndham
Located less than a mile from the South Padre Island Birding and Nature Center, La Quinta by Wyndham offers easy beachfront access and the Laguna Madre Nature Trail. In addition, your family has free use of the outdoor pool, parking lots, and high-speed Wi-Fi in this pet-friendly establishment.
In its vicinity of Sea Turtle Inc., La Quinta Inn and Suites is also a few miles from downtown padre island around the surroundings of the Courtyard by Marriott. There's a 24-hour reception, self-service laundry, plus kitchen equipment like a mini-fridge, cooker, and microwave in rooms.
Before hitting the beach, your family can enjoy a complimentary breakfast with Belgian waffles and a made-to-order omelet station. The pet-friendly resort also features a fitness center with a billiards room and an onsite library, but best of all is that kids stay free.
7. The Inn at South Padre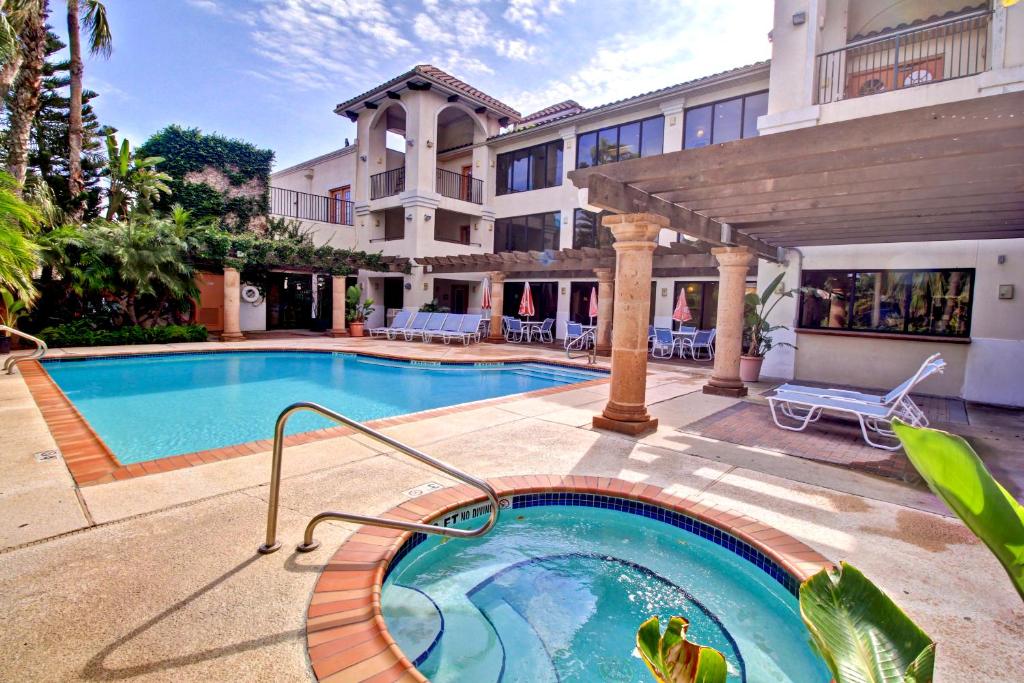 You can take a 20-minute walk from the center of South Padre Island to The Inn at South Padre, which features family-oriented accommodation and entertainment. It's a pet-friendly establishment with an outdoor pool, onsite parking, and spacious rooms with kitchenettes.
You have access to free Wi-Fi throughout the establishment, and there's a business center with computer stations plus conference rooms. Other amenities on this resort that are not far from the On the Beach Surf Shop include a wellness and spa center, a children's play area, and a golf course.
There are 24-hour concierge assistance and laundry services for their spacious guest rooms and suites, accommodating six people. Near the Inn at South Padre South is the island's Convention Center, the Schlitterbahn Waterpark, Beach Resort, and the University of Texas. There's a seasonal poolside grill and on- and off-site dining options that offer kids' menus.
8. Super 8 by Wyndham South Padre Island
The Super 8 by Wyndham in South Padre Island offers rates that include kid's discounts and space enough to accommodate up to eight people. With its beachfront access, this resort has an outdoor pool, a solarium, a wellness center, and free parking.
It's only a 10-minute walk on foot from the Super 8 by Wyndham South Padre Island to the island's center, and near the accommodation is Gravity Park. There are laundry services, and your family can also take advantage of a games room, and BBQ grill facilities are available on request.
Besides a central location and excellent value accommodation, the 2-star family-friendly resorts offer a complimentary breakfast each morning. Rooms have kitchenettes for meal and snack preparation, and the Super 8 by Wyndham is pet friendly if your family is traveling with a dog. It's a clean establishment with comfortable furniture plus spectacular views from your room window or balcony.
9. Courtyard by Marriott South Padre Island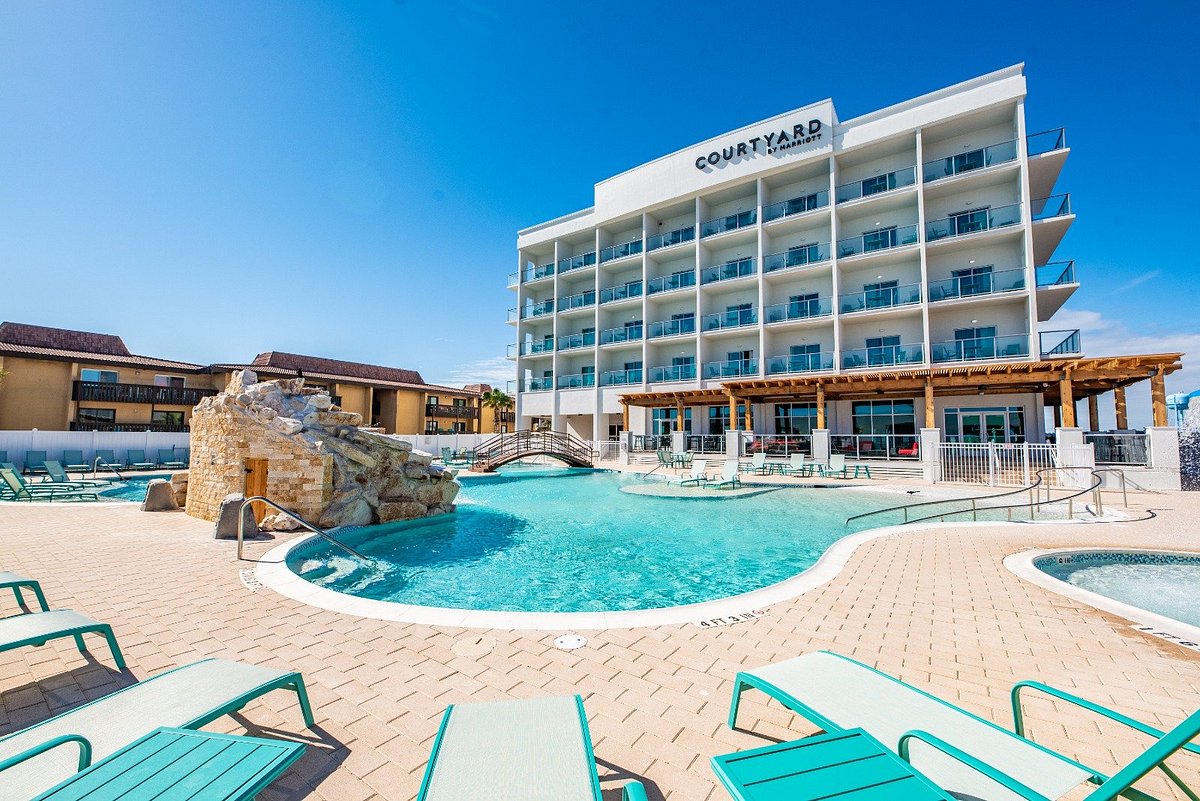 Located right on the beach, the Courtyard by Marriott South Padre Island is one of the newest establishments on the island. It's popular with families and has spacious rooms which are comfortable, clean, and come with an ocean view.
Some of the suites at the Courtyard by Marriott are as large as 750 square feet to accommodate your family easily. So you can relax in a water-immersed lounge chair or play with the kids under sprinkling waterfalls and poolside splash pads. Besides that, you can hit the fitness center with the gym to get your work out or soak up in the detoxifying hot tub.
Your meal options include onsite kid-friendly dining, a Bistro, and the bar Louis where they serve a children's menu. Surrounded by gazebos and sun lounges, there's also a sundries shop at the Courtyard by Marriott South Padre Island, and parking is free.
10. La Copa Inn Beach Hotel South Padre Island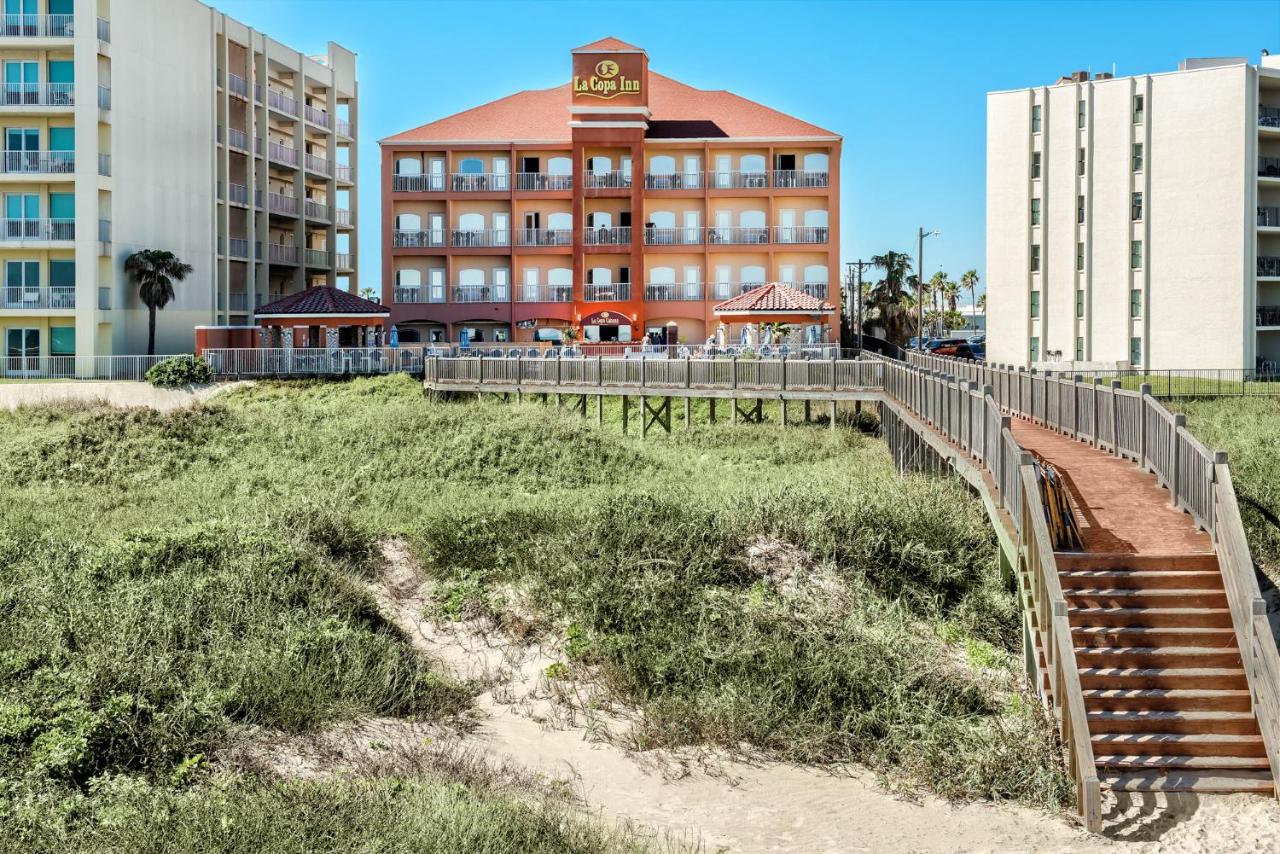 The La Copa Inn Beach Hotel is the South Padre Island resort to book if you want to keep your family occupied during your vacation. Apart from free Wi-Fi, there's a full-size stovetop and fridge in the spacious room if you prepare meals or snacks. Rooms have Tempur-Pedic mattresses and comfortable beds, and you'll find smart TV with premium channels.
The La Copa Inn Beach Hotel is located a few miles from the island's center and features a shared lounge, golf course, and outdoor pool. Nearby are the Schlitterbahn Waterpark and Beach Resort, the Largest Outdoor Sandcastle in the USA, and Port Isabel Historical Museum.
Your family can enjoy horseback riding, water sports, windsurfing, or snorkeling in the warm Gulf of Mexico water. After a complimentary breakfast, ask the front desk to help organize family-friendly activities like eco-tours, parasailing, dolphin watching, or jet skiing. An onsite restaurant and bar fulfill your meal options if you don't want to go out, and there's a wellness center with a hot tub and spa.
11. Best Western Beachside Inn South Padre Island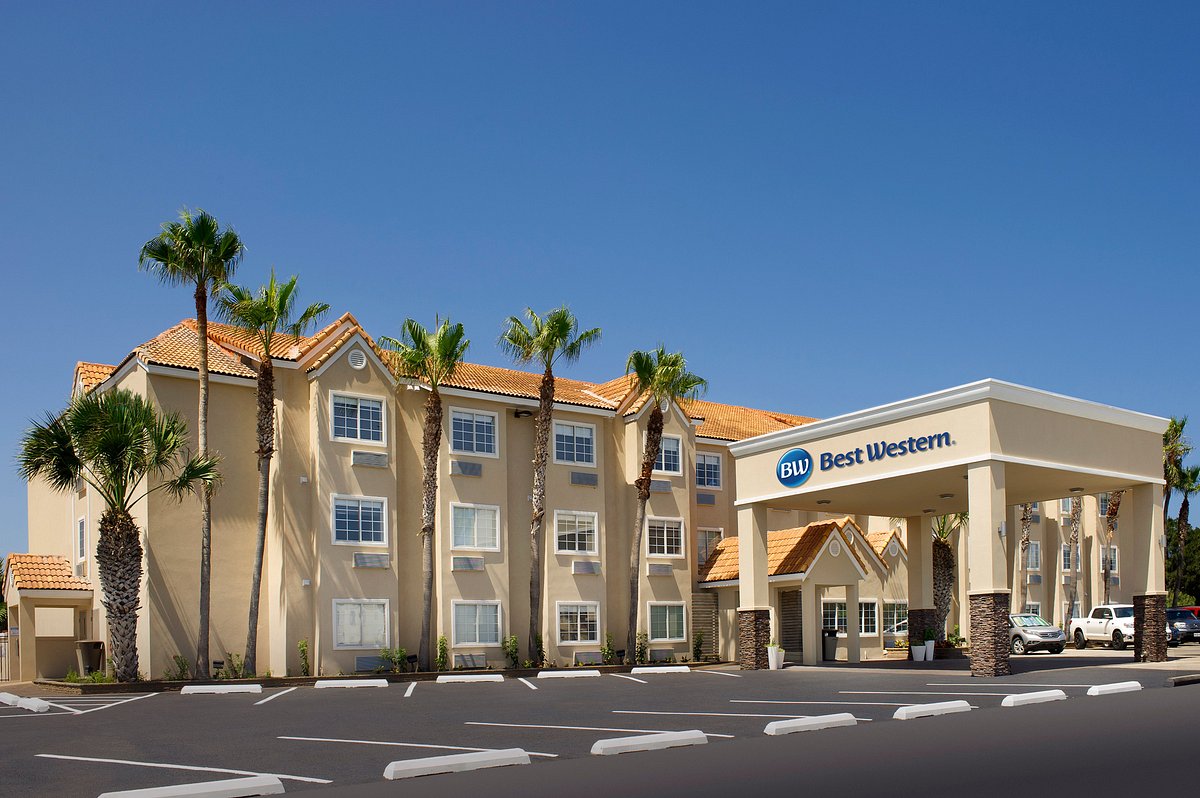 While not a fancy property, the Best Western Beachside Inn is a highly rated family-friendly hotel in South Padre Island with top marks for comfort, cleanliness, and value. You are at a prime location a few minutes from Brownsville airport and off the Dolphin Research and Sea Life Nature Center and Gravity Park.
The Best Western Beachside Inn is a three-star establishment with 63 air-conditioned rooms 25 minutes' walk from the Laguna Madre Nature Trail. It's not directly on the beach, but there's a quick access way, and there's a golf course and other local attractions nearby.
Rooms at the Best Western Beachside Inn are modern and spacious with microwaves, fridges, coffee makers, and ergonomic furniture. Your family will enjoy a complimentary breakfast that includes bacon, waffles, and scrambled eggs, and their reception desk is open 24 hours. In addition, enjoy the swimming pool, a fitness center, a hot tub, and the tropical Schlitterbahn Waterpark and Beach Resort.
Conclusion
South Padre Island is the family getaway if you are beach-loving and want attractions to keep everyone entertained. The two, three, and four-star luxury options offer amenities that suit a large group, and many are pet friendly within limitations. There's also no shortage of activities in some of the best family-friendly resorts on this island, including water sports and nature excursions.
More about our TFVG Author
A seasoned traveller, Dad, and avid sports tourist, James foundered The Family Vacation Guide to share his expert vacation experiences- especially when it comes to being a travelling family man.
Featured in Travel articles such as Travel + Leisure, TripSavvy and SFGate, you know you're reading some of the best vacation tips online.