Texas summers provide hours of sunshine and blue skies, but the heat can be unbearable! Whether you're planning a visit from out of state or a resident of one of the cities we mention. Cool off at one of the many water parks the Lone Star State has to offer!
Check out our list of the best water parks in Texas below. There's something for everyone on our list, from families with babies to single friends looking to relax and have a beer.
We'll tell you what to expect concerning admission, attractions, and other things that might help you plan your trip. Happy swimming!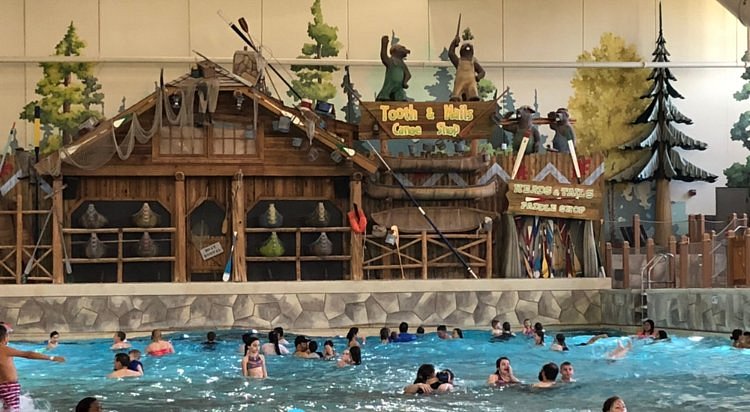 Great Wolf Lodge, Grapevine
The first stop on our list of best water parks in Texas is the popular Great Wolf Lodge in Grapevine, a northwestern suburb of Dallas, you'll find them just north of the Dallas airport off SH-26.
Great Wolf Lodge has built a reputation as being the all-in-one destination for families. Their main attraction being the 80,000 square-foot waterpark, which includes both indoor and outdoor pools. From toddlers to teens, you have something for everyone in the family. There's an adult-only hot tub (and a family-friendly one as well!).
Make sure to check out Whooping Hollow. This is a child-sized slide that mimics the adult attractions for the "under 48 inches" crowd. If you want everyone to stay together, visit the Slap Tail Pond. This is a spacious wave pool that is fun for the whole family with no height restriction.
Rent a locker or book a private cabana inside the water park and hang out all day. Enjoy a drink at the poolside bar or check out the restaurant in the park. There are towels and life vests for rent. Admission to the waterpark is free for Lodge guests, or you can purchase a day pass.
Epic Waters Indoor Waterpark, Grand Prairie
Visit Epic Waters next time you're in Grand Prairie. Find them on the southwest side of Dallas, near the intersection of W Pioneer Parkway and the President George Bush Turnpike onto Waterwood Drive.
We consider Epic Waters one of the best water parks in Texas because there's something for all ages.
Find thrilling water slides like the Yellow Jacket Drop or jump in the Swimming Hole with the kiddos. Smaller children love Rascal's Roundup with kid-size slides and fun sprinklers. The park has both indoor and outdoor pools for fun throughout all four seasons.
Play the arcades when you want to dry off. Check out their birthday or big party packages, where you get a party room with the works for you and up to 25 of your closest friends. There are towels for purchase in the gift shop.
For admission, purchase day passes that are priced by height, or sign up for seasonal or annual passes. There are also deals for first responders and discounts for guests visiting after 5 PM. Park visitors under three years old are free.
Wet 'n' Wild Water World, El Paso
Find El Paso's Wet 'n' Wild Water World just south of the Texas/New Mexico border off IH-10. Home to the biggest wave pool in the state, it's just one of the reasons why we included Wet 'n' Wild on our list of the best water parks in Texas.
Texas water park is a beautiful, hilly park with lots of tree shade and green areas, so you aren't baking in the sun the entire time. Nestled among the Franklin Mountains in the Chihuahuan desert, Wet 'n' Wild also uses the terrain to create epic water slides.
Grab a tube and float on the Little Rio Grande or play volleyball on the sand. Rent a cabana by the water or rent a charcoal grill for your picnic. Guests can bring their own chairs, tents, and food. Wet 'n' Wild Water World has a sound stage and dance floor for the many concerts, festivals, and other live events that they host throughout the year.
Tubes and life vests are available for rent. Buy day passes, season passes, or enter after 3 PM for a discounted rate. Admission prices are based on age. Kids under 1 are free. Parking is $2.
Aquatica San Antonio, SeaWorld's Water Park
Check out Aquatica, the water park at SeaWorld. They're inside the 1604 Loop, on the west side of the city, off 151. Connected to the famed sea life sanctuary, guests can enjoy all the perks of a Texas water park while also having the chance to wade in a pool with stingrays.
Guests of all ages will find something to do at Aquatica, one of the best water parks in Texas. Ride a raft through the underwater tunnels of Stingray Falls. The clear tunnels allow up-close views of aquariums filled with tropical fish and sharks!
Older guests will love Walhalla Wave, named one of Travel Channel's top 10 most extreme water slides in the world. Take the youngest visitors to enjoy Kookaburra Cove.
When you get hungry, there are food trucks or the Waterstone Grill restaurant. The Mango Market has packaged products and bottled water and soda.
Tickets for access to Aquatica are separate from Sea World season and annual passes. You can buy Aquatica-only annual passes or day tickets or have a SeaWorld Platinum Pass. Children 2 and under enter the water park for free.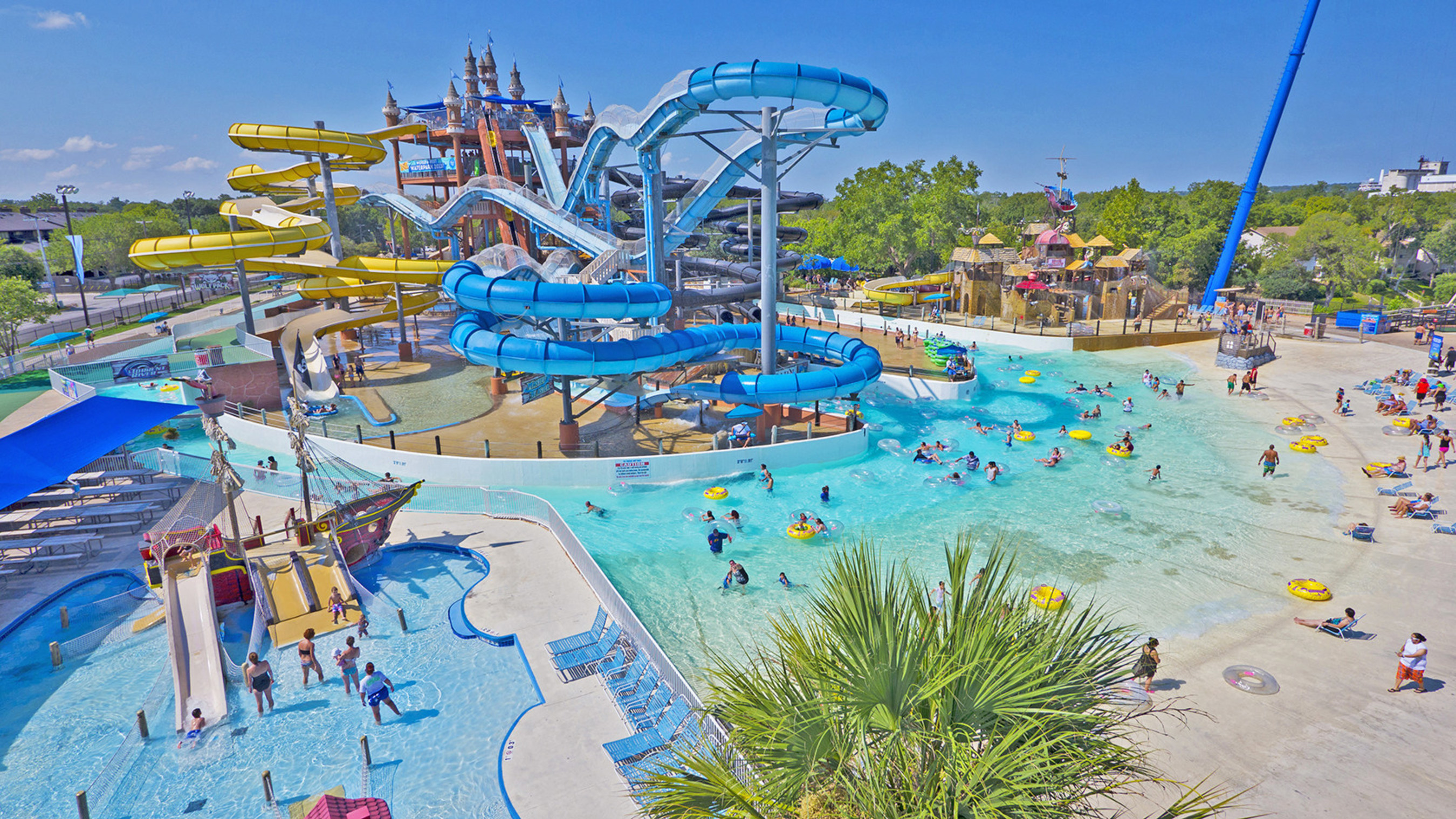 Schlitterbahn Waterpark and Resort, New Braunfels
New Braunfels' Schlitterbahn has been crowned World's Best Water Park for 23 years in a row by Amusement Today. This is a must-visit on our list of best water parks in Texas. The park is spread out over 70 acres on the banks of the Comal River blocks from downtown New Braunfels.
Tube down miles of a sun-dappled river winding through Schlitterbahn's flagship water park. There are extreme slides, tube shoots, a wave pool, multiple heated pools, and a surf ride. Families can pick from a handful of different children's pools with adult pools attached.
If you dare, ride the Downhill Racer. It shoots guests from a 3-story height to a landing zone at the bottom. After all those rides, choose from several different food vendors or relax with a drink at one of the poolside bars.
Stay at the Resort or visit the water park for the day. Purchase a day pass or a season pass with children under three years entering for free. Resort guests have a choice of stunning treehouse-style suites, hotel rooms, and vacation homes steps away from park attractions.
NRH2O Family Waterpark, North Richland Hills
Located across from the Tarrant County College campus on 26 in North Richland Hills is NRH2O Family Waterpark. They cater to the residents of the Dallas/Fort Worth suburb, but we recommend this spot for anyone looking for a great water park!
On our list of the best water parks in Texas, NRH2O wins for affordability, and guests of the park will love how spacious it is. Take a dip in the sprawling Beachside Bay or relax in a luxury lounge chair on its sandy beach. Ride the new Blue Sky, a winding open body slide that's 352 feet in length.
When it comes to food, there is a smokehouse and grill, a pizza shop, a funnel cake shop, and an ice cream shop.
In the summer, this Texas water park hosts fun events like movie nights and fireworks displays. In September, the park holds its annual Doggie Beach Bash, a charity event where you can enjoy the water with your family dog!
For admission, by day tickets or season passes. There are discounted rates for North Richland Hills residents and those with military IDs. Kids under two get into the park for free.
Splashway Waterpark and Campground, Sheridan
The Splashway Waterpark and Campground is about halfway between San Antonio and Houston on Highway 90 in Sheridan. This is a hidden gem in the middle country that deserves to be on the list of best waterparks in Texas!
Splashway is an unassuming waterpark and campground that guests love for its attention to detail. Every year they open with more and more attractions and improvements to the campgrounds.
While the water park is open only during the warmer months, guests can stay at the campground throughout the year.
The park goes all out for Memorial Day, Independence Day, and Labor Day during the summer. There's laser tag and putt-putt golf available when you want to dry off. There are two different splash pads for children under 3 feet tall. Reserve a cabana for the day with a table and special perks.
General Admission is based on height, and children under two years are free. There are season passes as well. Campground guests have access to the park with their booking. There's a military discount and a lower rate for entering the waterpark after 2:30 PM.
Bahama Beach Waterpark, Dallas
Check out the Bahama Beach Waterpark in Oak Cliff, off Martin D. Love Freeway in Dallas. When you come upon this Texas water park, it's a bright burst of all kinds of colors. While Bahama Beach is on the smaller side, it's a very affordable water park in the heart of the city.
On our list of best water parks in Texas, guests rave about how friendly the staff is and how clean and vibrant all the attractions are. Get a discount with proof of a Dallas residence. Rent a cabana or pavilion for the day and bring your own food or purchase food inside the park.
Kids will want to visit Coconut Cove, a giant tropical-colored water playground. Kids can control geysers by tugging on pulleys. Crawl through tunnels, go down tall slides, and climb rope ladders. Guests of all ages will have fun with Water Wars. It's a game where you and an opponent launch water balloons at each other from a cannon!
Buy general admissions tickets or season passes. Kids under two years enter for free. There are also options for large groups, park buyouts for large events, or after-hours rentals.
Hawaiian Falls, Waco
Next on our list of best water parks in Texas is Hawaiian Falls. This 10-acre park is located on the north side of Waco off Lake Shore Drive in Riverbend Park. It has a lazy river, slides, and rides of varying thrill levels, a wave pool, and a water playground for kids under 12.
For a thrill, ride the Rush in complete darkness! Along with twists and turns, experience water misters and an LED light show.
Hawaiian Falls hosts events throughout the summer, like Aloha Y'all that celebrates Hawaiian and Texan cultures. Join them each day of the week for Ohana Games, family-friendly activities with names like "Bubbles and Balloons!"
Bring snacks but be aware that coolers enter the park for a fee. Visit Sharkey's for pizza, burgers, hot dogs, and more. Day passes are priced by height, and kids under 2 enter the park for free. Season pass holders have access to all three Hawaiian Falls locations.
Waterpark at the Villages, Lake Palestine
Southwest of Tyler, outside of Flint, is the Waterpark at the Villages, just one feature of the Villages Resort on Lake Palestine. This is a large resort with many different amenities, including horseback riding, mini-golf, and boating.
Waterpark is a beautiful family-friendly indoor water park available to both resort guests and the general public.
What makes this park one of the best water parks in Texas are the amber-colored floors. While other water parks are stark white, mimicking bleached sand, Waterpark at the Villages has a beautiful aesthetic. The contrast with turquoise pools is stunning, especially when the light comes through the paneled windows.
Enjoy the lazy river, wave pool, and slides. There's also a children's water playground with slides. Purchase All Day tickets at a general rate or a discounted rate for members. Pricing is based on height, and there's a discount for entering the park late in the day.
Six Flags Hurricane Harbor, Arlington
One of the best water parks in Texas is Six Flags Hurricane Harbor in Arlington. This 50-acre park is in the heart of the Metroplex off Tom Landry Freeway.
Hurricane Harbor offers day passes or season tickets. There are some discounted days, and Six Flags offers a membership that gives you full access to all their parks.
The main entrance leads you in front of the enormous wave pool, just one of 24 rides and attractions made for all ages of your crew. Choose from several thriller rides for adults, children's rides, and family rides that the whole family can enjoy together.
Raging Rapids is fun for the whole family. Ride a tube down a river with a series of swirling rapids until you reach a fun drop at the end of the ride!
Refuel at one of Hurricane Harbor's many food carts, restaurants, and dessert shops scattered throughout the park. Pick up souvenirs and do some shopping.
Schlitterbahn, Galveston Island
Schlitterbahn Galveston is in the middle of the island next to Moody Gardens on Lockheed Road. The Schlitterbahn family is once again included in the best water parks in Texas because they know how to produce a fun time for the whole family.
Guests love the three different types of rivers you can float down, including one with fun tidal waves. Schlitterbahn does heated pools well, and there are a few, including one with a swim-up bar!
Don't miss out on the Soaring Eagle Zip Line. Enjoy breathtaking views of Galveston Island and the Gulf of Mexico 100 feet in the air before you shoot down at 30 miles an hour to the bottom.
Rent a cabana for the day and bring your own food and drinks. Coolers are welcome. Choose from several different restaurants and food vendors.
Come early for free parking or pay a fee for more convenient premium parking. Buy day passes or season passes. Children under three years are free.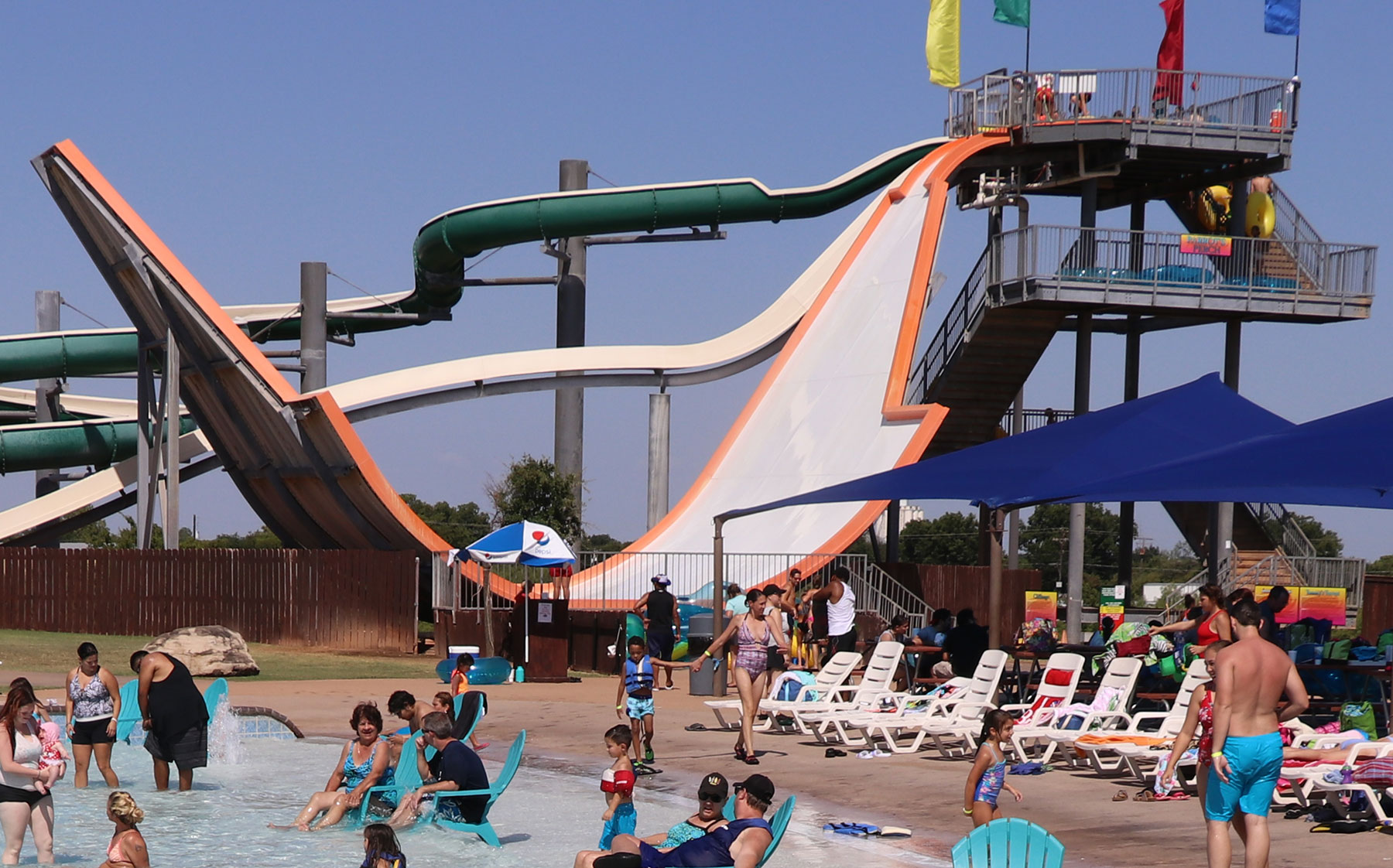 Castaway Cove Waterpark, Wichita Falls
Don't miss out on Castaway Cove next time you're in stunning Wichita Falls. Find stop on our list of best water parks in Texas where 281 meets Central E Freeway. Enjoy blue pools and shady cabanas set in the rolling green Texas hill country.
Relax on a lounge chair by Shipwreck Beach. This is a spacious tidal wave pool where you can hang out in the shallow end or venture to the deep end.
Check out Hideaway Harbor, a fun water sports pool for the whole family. Both attractions are connected to the lazy river, so you never actually have to get out of the water!
Enjoy a meal at the Castaway Cafe or refresh with a frozen margarita or beer from the Tropical Bar. General admissions tickets and season passes are available for ages three years and up. Prices are determined by height.
Hawaiian Falls, Roanoke
Hawaiian Falls once again makes our list of best water parks in Texas for their Roanoke location off Byron Nelson Boulevard. Awarded the title of 'Best Waterpark' by The Best of Denton County in 2020, this family-friendly water park franchise is a north Texas experience that has something for everyone!
Check out the Mega Water World, the world's largest aquatic playground, with geysers, rides, slides, rope ladders, tunnels, and more! Older family members will want to experience the Hightide Whirlpool, a tunnel ride that shoots you into a swirling bowl at the bottom.
Parking is free, with premium parking available for a fee. Purchase Any Day tickets for the individual Hawaiian Falls locations or choose a season pass that gives guests access to all three north Texas locations. Prices are based on height, and kids under two years are free.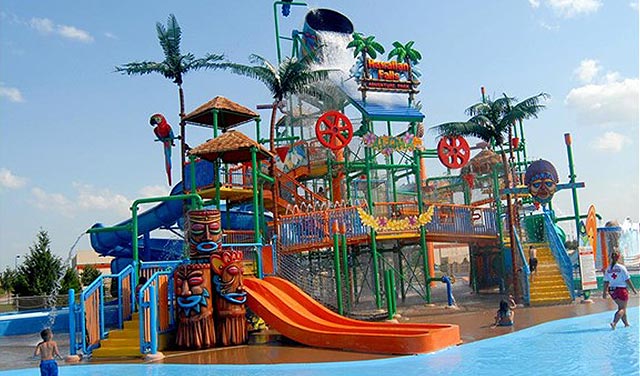 Hawaiian Falls, The Colony
You'll find The Colony's Hawaiian Falls location just north of Dallas, off Paige Road and Memorial Drive. When you're planning a visit to the area, take advantage of Hawaiian Falls' hotel packages that give you 20% off participating hotels when you come at certain times of the year!
This small franchise makes our list of best water parks in Texas yet again for their innovative Water Walkways. This refreshing path through the park makes being under the hot Texas sun a little more bearable.
Make sure you jump into Oahu Bay, the giant wave pool surrounded by lounge chairs and cabanas. They play music videos on a large screen at the top of the pool.
Buy day tickets to Hawaiian Falls, The Colony based on height, or purchase season passes that you can use at all 3 Hawaiian Falls locations. When you purchase your tickets, consider the free add-ons like life vests, tubes, and parking.
Lubbock Water Rampage
The final park on our list of best water parks in Texas is Lubbock Water Rampage. This cozy 2,400-foot water park can be found on the west side of Lubbock off Marsha Sharp Freeway. Bring friends and family to enjoy a relaxing day by the water or jump on a slide in Pirate's Cove.
Water Rampage is divided into three sections that include a wave pool, a baby pool, a lazy river, and a handful of slides. Summer movie nights are hosted throughout the season, and party pavilions are available in every area of the park for your birthday or large group event.
There's a flat admission fee at this Texas water park with a discount for entering the park after 4 PM. Tubes are included in the price, so they won't run out before you get there. No outside food or drinks are allowed, but snacks, drinks, and alcoholic beverages are available at Rum Point.
Visit a Texas Water Park
There's no better way to spend a hot Texas day than in the water. When it comes to water parks, this state has some of the best in the country.
Did you see any on the list that you'd like to visit?
Other fantastic water parks to consider for some family fun
If you're hoping to find some more of the best water parks, our round-up below will be the perfect place to start.
More about our TFVG Author
A seasoned traveller, Dad, and avid sports tourist, James foundered The Family Vacation Guide to share his expert vacation experiences- especially when it comes to being a travelling family man.
Featured in Travel articles such as Travel + Leisure, TripSavvy and SFGate, you know you're reading some of the best vacation tips online.