San Antonio has all the best attributes of a city while still retaining a small-town feel, making it a true Texas gem for locals and tourists. Families will love visiting San Antonio for its abounding cultural and historical landmarks as well as entertainment for the whole family.
You can take a lazy boat tour or wander along Sant Antonio's famous Riverwalk, explore the historical Alamo for a lesson in Texas history, or marvel at the life-sized wax figures and other anomalous statues at Ripley's Believe It or Not Museum. The list of family-friendly attractions goes on and on.
You'll also find a long list of great kid-friendly restaurants in San Antonio that showcases Texas cuisine at its best while also providing an inviting and fun atmosphere.
If you're looking for the best kid-friendly restaurants in San Antonio, check out the following list of our favorite local spots around town to enjoy delicious food from a variety of cuisines served with plenty of Texas-style southern hospitality.  
20 Best Family-Friendly Restaurants in San Antonio
No matter how picky your kids are, our list of the best kid-friendly restaurants in San Antonio will turn even the pickiest eater into a fan. Burger bars, pizzerias, bakeries, and barbeque joints with giant patios, playgrounds, and kid's menus abound on the following list of outstanding kid-friendly restaurants.
111 W. Crockett St. #104
San Antonio, TX 78205
Located in downtown San Antonio's famous Riverwalk, The County Line is a Texas institution, with locations in Austin, San Antonio, El Paso, and New Mexico. They have been serving Texas-style slow-cooked barbeque and hearty sides in a Texas Roadhouse-like atmosphere to happy customers since 1975. The County Line Riverwalk location has a giant outdoor patio with a bar for the adults and a great view of the river and surrounding downtown.
You don't want to miss out on their juicy brisket or their unique German sausages all served with homemade bread, pickles, and a sweet and spicy barbeque sauce. Kids have their own menu with all the same smoked meats served in smaller portions alongside pickles, fries, a fountain drink, and a bowl of homemade ice cream for dessert.
29094 U.S. Hwy 281 N,
San Antonio, TX 78258
Mariscos El Paisa is a neighborhood favorite seafood-centric Mexican food restaurant in the Encino Ranch neighborhood specializing in dishes from the Mexican Pacific coastal state of Sinaloa. They have some of the best ceviche in town, not to mention fresh seafood cocktails known as Campechanas and the freshest fried fish tacos you'll get this far from the coast.
Kids also have a menu they like with items like cheese quesadillas, chicken burritos, and chicken tenders. Plus, there is a playground on-site for your kids to blow off steam and work up an appetite.
818 NW Loop 410,
San Antonio, TX 78216
It's hard to believe that a guilt-free burger exists, but they do at Earth Burger, San Antonio's first and only plant-based burger stand. Not only are these burgers healthier than a fried beef patty, but they use sustainably sourced ingredients to make them. You can indulge in a decadent Beyond Burger or plant-based chicken tenders and fries without moral or gastrointestinal consequences.
In addition to numerous kinds of plant-based burgers, wings, and delicious old-school crinkle fries, customers looking for even healthier options will find a wide selection of salads and grain bowls. Earth Burger is actually a fast-food drive-through joint that is delicious and nutritious.
18745 Redland Rd.
San Antonio, TX, 78259
Located in the Redland Ridge neighborhood on a large, beautiful property surrounded by greenery and woods, Burnwood '68 is a bar, grill, and music venue that the whole family will enjoy. They serve all your favorite local Texas draft beers and imported bottles along with fresh craft cocktails to cool you off on a hot Texas day or evening as you dine al fresco under a roofed patio.
There's live music on the weekends and multiple fire pits to make a full night of it at Burnwood '68. They serve a creative menu of barbeque dishes like brisket grilled cheese, Doritos nachos, and Frito pies. It's safe to say the menu is kid-approved.  
420 West Market Street
San Antonio, TX 78205
Zocca Cuisine D'Italia is a refined yet family-friendly Italian restaurant located right on the Riverwalk in the fancy Westin Riverwalk Hotel, with a lovely outdoor patio on the river. The interior is also a beautiful rustic-chic space with beautiful Texas limestone walls, exposed brick ceilings, and comfy leather dining chairs.
There's something for everyone at Zocca Cuisine D'Italia, with classic Italian dishes for more sophisticated tastes like seafood pasta and filet mignon as well as a menu especially for the kids with dishes like grilled cheese, pizza, and spaghetti.
5500 Babcock Rd #104
San Antonio, TX 78240
Crepeccino USA is a neighborhood café and creperie in a cute, colorful space in the Villas of Babcock neighborhood. They serve a wide selection of sweet and savory crepes along with salads, sandwiches, waffles, milkshakes, gelato and sorbet, and so much more.
Whether you want a delectable snack for the kids and an artisanal espresso drink for the parents, or a sit-down meal in a whimsical, welcoming restaurant, Crepeccino has you covered.
606 W Cypress St,
San Antonio, TX 78212
Over the past 20 years, The Cove has become one of San Antonio's premier sol food restaurants, and by "sol," we mean sustainable, organic, and local. Locals and critics alike give rave reviews for this authentic and sustainable American food restaurant in a giant old car-wash space with a giant beer garden and its own little vegetable garden.
There are weekly live music performances to enjoy with a vast selection of artisanal beers, and with a dog-friendly patio, you can bring your human and canine children for a fun, delicious, sustainably-sourced meal. There's a wide variety of Tex-Mex favorites and burgers with vegetarian and vegan options to boot.
2048 S W White Rd
San Antonio, TX 78222
It's a good thing they put "big" in the title because Big Lou's Pizza serves gargantuan-sized pies and slices with a flavor to match. A large pizza is a whopping 42" pie that's enough to feed your family for a week.
Big Lou's has a fun and quirky dining room with all sorts of random memorabilia and friendly staff. Plus, they have creative specialty pies that would make Texas proud. Try the Barbeque Brisket Pizza!
606 Embassy Oaks
San Antonio, TX 78216
If you're looking for the best breakfast restaurant to lavish over a wonderful weekend brunch with the family, look no further than Magnolia Pancake Haus. Owned and operated by San Antonio-native couple Robert and Sheila Flemings, Magnolia Pancake Haus is located inside an old roller-rink that has been converted into a bright and airy country-style dining room with bright turquoise floors and chairs.
Their award-winning buttermilk pancakes aren't just a hit with the locals but have also been featured on the food network's Diners, Drive-ins, and Dives.
18747 Redland Rd
San Antonio, TX 78259
Your family is in for a special treat when you dine at this San Antonio favorite Mexican restaurant in an authentic Mexican-style Hacienda surrounded by exquisitely manicured lawns, giant oak trees, and flowering cactus gardens galore.
Hacienda Los Barrios comes from a multi-generational culinary passion that first started as a mom-and-pop Mexican joint called Los Barrios in 1979 that has since expanded to three different Mexican food restaurants. Whether you want sizzling fajitas or cheesy enchiladas, everything at Hacienda Los Barrios is steeped in generations of amazing family recipes.
With three locations in San Antonio, Big'z Burger Joint is a family-friendly burger joint serving the most over-the-top selection of burgers and franks in San Antonio. Burgers at Bigz is a life-changing experience with every combination of fresh ground patties, cheeses, and toppings stacked to epic heights.
You order your burger at the counter and can watch these amazing creations being made in real-time from an open kitchen while the kids play around in the playground out back. In addition to superb burgers and dogs, you'll love the fries, sweet potato fries, and extravagant milkshakes served in mason jars covered in whipped cream, sprinkles, and fudge.
Nicha's Comida Mexicana is another San Antonio Tex-Mex institution with a north location in Balcones Heights and its original southside location in Riverside South. A family-owned and operated business, Nicha's Comida Mexicana has been serving the San Antonio community the best Tex-Mex food in a family-oriented restaurant for the past 40 years.
Parents can enjoy various delicious margaritas, Mexican cocktails, or savor an imported Mezcal or Tequila straight-up. Bottomless baskets of chips and homemade salsa are the preludes to fantastic entrees like chiles rellenos, flautas, enchiladas, and more.
9800 Hyatt Resort Drive
San Antonio, Texas, United States, 78251
Located inside the beautiful Hyatt Hotel in Downtown San Antonio, Antlers Lodge is a family-friendly fine dining restaurant specializing in wild game and authentic Texan cuisine. Antlers Lodge sources all wild game, fish, and beef from Texan ranchers which they prepare with Southwestern and southern flavors that characterize Texas cuisine.
12656 West Ave
San Antonio, TX 78216
Two Brother's Barbeque Market is the creation of brothers Jason and Jake Dady who designed their own custom, open-fire pits to serve their award-winning Texas barbeque that has been featured in Texas Monthly, Andrew Zimmern's Bizarre Foods: Delicious Destinations, and USA Today.
All meats are smoked and grilled right in front of you, which acts as mesmerizing entertainment that culminates in one of the best meals you'll have in San Antonio. Succulent brisket, cherry-glazed baby back ribs, smoked turkey and pulled pork are some of their signature meats that you can have in sandwiches or as hearty combo plates with excellent sides like mac-n-cheese and coleslaw.
312 Pearl Pkwy
San Antonio, TX 78215
The Bottling Department is a Texas-sized food hall in an old warehouse that has been converted into a rustic, bustling food court with seven different restaurants offering everything from Ramen to Mexican food.
Restaurants inside The Bottling Department include Breakfast, Chilaquil, Fletcher's Hamburgers, Kineapple, Mi Roti, Park Bar, and Tenko Ramen. Each restaurant offers the very best street-food-style offerings from American, Mexican, Caribbean, and Japanese traditions. You can spend a whole week enjoying all the different meals offered at the Bottling Department. 
518 S. Alamo St
San Antonio, TX 78205
Located a few blocks from the Riverwalk Park and the Alamo in Downtown San Antonio, Dough Pizzeria Napoletana is an authentic Neapolitan Pizzeria serving wood-fired pizzas, antipasti, salads, and house-made cheeses.
Their pizzas are gourmet, with authentic imported Italian ingredients like prosciutto and truffles, but kids will love the simpler Margarita or pepperoni pizzas. They'll also love the imported selection of delicious Italian sodas in colorful glass bottles.
502 Brooklyn Ave
San Antonio, TX 78215
Established in 1978, Pete's Tako House has been a neighborhood favorite for over 40 years, serving authentic Northern Mexican food cooked to order. Husband and wife owners and managers Pete and Dora Rios are there every day to welcome customers and rally their friendly staff, many of whom are family members themselves.
The family will love their utterly decadent gooey queso dip with ground beef or their fresh, made-to-order guacamole. They're famous for their different variations of tacos, with traditional soft corn tortillas, crispy, crunchy hard-shelled creations, and puffy, chalupa-like tacos.
205 East Guenther Street
San Antonio, Texas 78204
Located along the beautiful San Antonio River in the Arsenal neighborhood, The Guenther House is a historic landmark, museum, shop, and breakfast and lunch restaurant. The building is a stunning Victorian and art nouveau-styled 19th century home built by the founder of Pioneer Flour Mills, which you and the family can tour before enjoying a delectable breakfast or lunch.
Whether you choose to sit in the indoor ballroom or the outdoor patio behind the house surrounded by immaculately landscaped grounds you'll be equally enchanted. The food is as amazing as the house, with Texas-sized platters of the most comforting southern dishes like biscuits and gravy, chicken and waffles, sweet cream pancakes, not to mention freshly baked pastries all served with a heaping scoop of vanilla ice cream.
218 Produce Row
San Antonio, Texas 78207
Mi Tierra Café and Bakery is one of San Antonio's oldest Tex Mex restaurants and Mexican Bakeries, serving San Antonio for the past 80 years. Founders Pedro and Cruz Cortez opened in 1941 as a small corner café in downtown San Antonio that has since expanded to a 500-seat historical landmark with a gift shop, massive Mexican pastry and bread counter, and a full menu of Tex-Mex favorites. Mi Tierra is still a family-owned and run business by the founders' children and grandchildren.
Eating at Mi Tierra Café and Bakery feels like a historical event and the food is as memorable as the atmosphere. You can get all your favorite Tex Mex dishes like enchiladas, tacos, fajitas, chalupas, and tamales, along with traditional Mexican pastries like conchas and other delicacies like Mexican peanut brittle and coconut flags.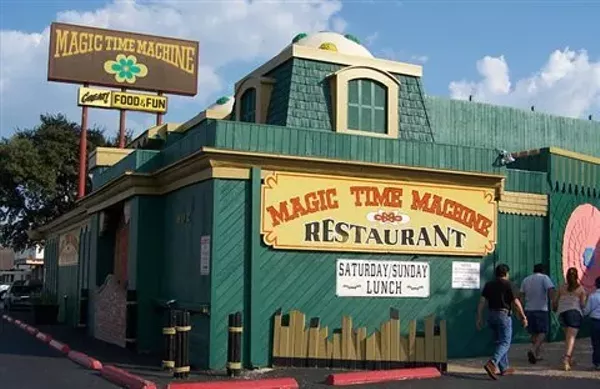 902 NE Loop 410
San Antonio, TX 78209
This whimsical, one-of-a-kind themed restaurant is a kid's dream! It's like a funhouse-turned restaurant with numerous themed rooms and wait staff dressed and acting like famous historical characters. This creative restaurant is the brainchild of Texas-native Jim Hasslocher, who created The Magic Time Machine in 1973 to enchant kids while filling their parents with nostalgia for decades past.
Not only will the theatrics of this magical restaurant leave you spellbound, but you'll also love the amazing selection of steakhouse-grade food like prime rib and fresh seafood. Kids can choose from a selection of pizza, chicken tenders, and popcorn shrimp plates to name a few. Save room for epic desserts like their strawberry shortcake or oreo Sunday. Neither you nor your kids will want your night to end!
More about our TFVG Author
A seasoned traveller, Dad, and avid sports tourist, James foundered The Family Vacation Guide to share his expert vacation experiences- especially when it comes to being a travelling family man.
Featured in Travel articles such as Travel + Leisure, TripSavvy and SFGate, you know you're reading some of the best vacation tips online.