As one of the largest cities in the country and popularly known as Space City, Houston boasts a wide variety of activities for the whole family.
The educational museums, delicious dining, professional sports teams, and vibrant nightlife are among the most popular attracts across Houston, Texas. For the family looking for an easy-going, fun afternoon activity, mini-golf is a perfect choice.
Searching for the best mini golf courses in such a large city can be a daunting task. Lucky for you, we've compiled a list of the five best mini-golf spots in the Houston area.
1. Shankz Golf & VR
Looking for a light show and putt-putt course all in one? Shankz Golf & VR in the Woodlands is the place for you. Located about half an hour away from Houston city center, this exciting destination boasts one of the only 18-hole indoor blacklight mini-golf courses of its kind.
Escape the real world and enter a different dimension with Shankz's extensive virtual reality gaming options. The Omni VR arena features state-of-the-art technology that allows gamers to run in all directions at full speed. This is a virtual reality experience you don't want to miss.
Is traditional gaming more your speed? Old-school and new-school players alike will be delighted and challenged by Shankz's arcade offerings. Plus, you might bring home a prize or two.
Open late for night owls, Shankz's golf course is completely indoors, allowing guests to beat the sweltering Texas heat. Cool off with a refreshing beverage from their extensive drink list, which features fan-favorite craft beers from some of Houston's most popular breweries like Karbach and St. Arnold.
2. U.S. Golf & Games
You can't get more patriotic than U.S. Golf & Games in Houston, south of Hobby Airport. This family destination is a Houston staple, providing fun and safe entertainment options for over 40 years.
U.S. Golf & Games offers 18 exciting holes of indoor putt-putt balanced for players of all skill levels. But if swinging clubs isn't your thing, why not swing a bat instead? Participate in America's favorite pastime with their affordable and exciting baseball and softball batting cages. Batter up!
Are you less of a Babe Ruth and more of a Dale Earnhardt? Accelerate into the action by trying out U.S. Golf & Games' covered go-kart track.
After crossing the finish line, wind down with a friendly game of pool. Don't forget to check out U.S. Golf & Games' arcade and ticket redemption offerings before you go!
3. Palava
Ever wanted to putt in Paris or play the back-end in Britain? Palava Family Entertainment Center in Spring is less than 30 minutes from downtown Houston. It features a nine-hole international-themed mini-golf course for the aspiring jetsetter. The course also glows in the dark, making this attraction even more exciting.
If you're tired of tee time, get ready for tea time! Palava features an Alice in Wonderland-themed tea party room. Rent out this private room for your baby shower, bachelorette party, sweet 16, or even your un-birthday party! Nothing's more memorable than falling down the rabbit hole.
Palava also features an exciting laser tag course. Face up against the wrath of a Mayan god whose jungle temple is fiercely guarded by a tribe of skilled hunters. This two-story laser tag course features a dense, spooky blacklight jungle with fast-paced 15-minute games.
If your kids are a little too young for laser tag, let them loose on Palava's four-tier play structure. Big kids and toddlers alike will have a great time. Relax and enjoy the food while the kiddos play!
If you're seeking a one-stop shop to host your next corporate event, birthday party, or just-because event, Palava might be the place for you.
4. Speedy's Fast Track
Put the pedal to the metal at Speedy's Fast Track in northwest Houston. This entertainment destination is known for multiple kinds of racing games, including go-karts, two-seater karts, and even Formula 1-style racing karts.
While many head to Speedy's for its racing course, the entertainment complex also offers a classic-style mini-golf course. Appropriate for players of all skill levels, enjoy a leisurely day of putt-putt while hearing the racecars roar.
Speedy's Fast Track features several exciting laser tag games, such as base flag, capture the flag, solo color ranking, commanders, a lights-off stealth game, team elimination, vampire survival, and many more. Laser taggers of any experience level will find an exhilarating game to play.
If you want to slow down after fast-paced racing and heart-pounding laser tag, check out Speedy's extensive arcade offerings. From redemption and crane games to pushers and pinball, put your gaming skills to the test while winning incredible prizes.
5. 7 Acre Wood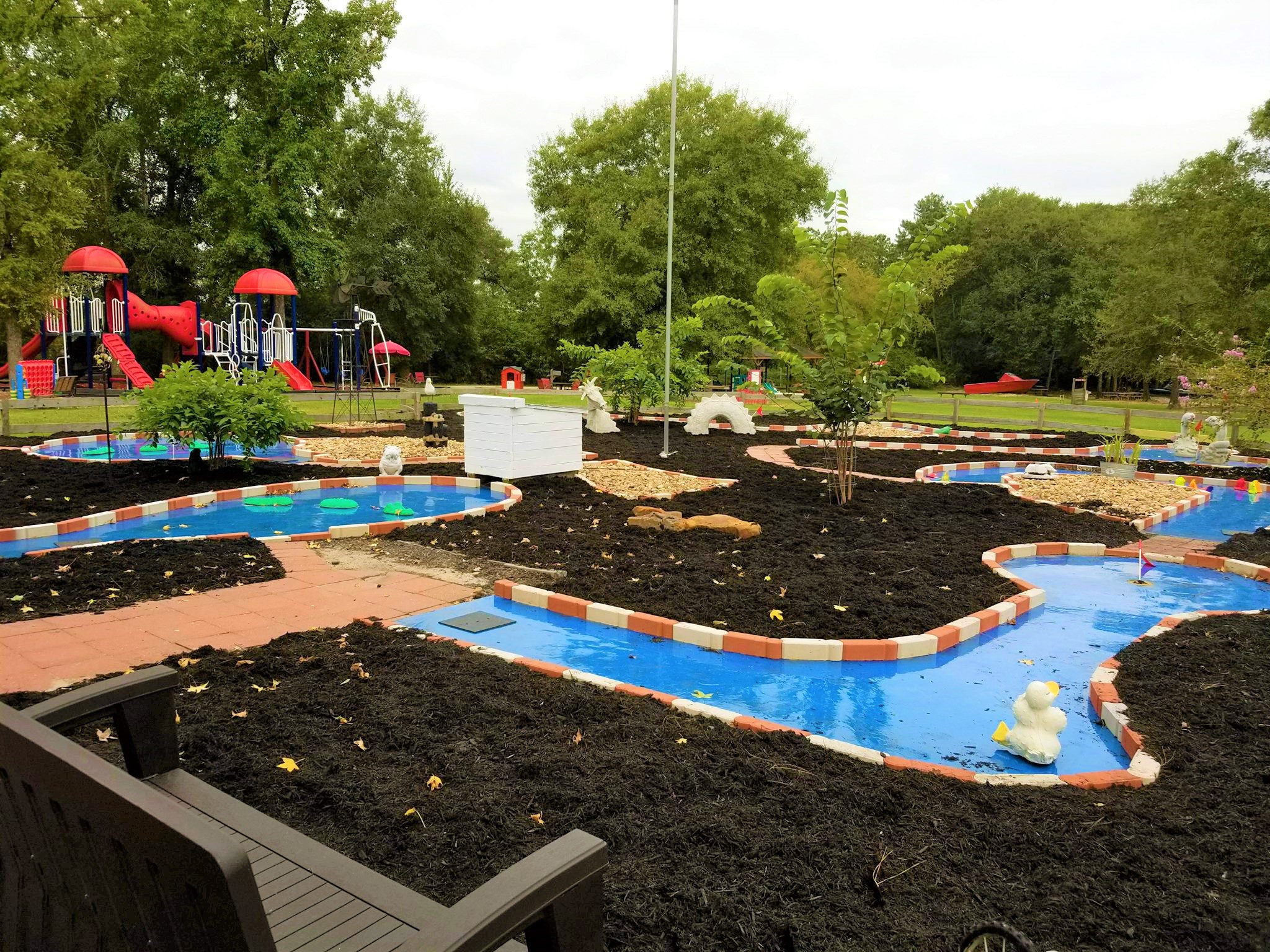 Giddyup! Experience rural life at 7 Acre Wood, a massive family fun park in Conroe, about 40 minutes north of the heart of Houston. This over seven-acre destination offers a wide variety of activities at an affordable price.
Hit the green at the mini-golf course, then connect with animals at 7 Acre Wood's petting zoo. When you're done, take an exhilarating ride on their zip line course. Other offerings at this entertainment destination include a scooter track, chalk room, ladder golf, soccer, tetherball, football, puppet house, playground, and swing set.
They say everything's bigger in Texas, and 7 Acre Wood is no exception. Check out their oversized options with a giant lego room, chess, checkers, connect four, and a massive sandbox.
Trying to connect with your inner cowboy? Play horseshoes or take your kiddos to the Liddle Tykes Town. Don't forget to ride into the sunset on the barrel train or pony rides.
Regardless of what you're looking for, 7 Acre Wood is a great place to host your next party, field trip, or corporate event.
Final Thoughts
Whether you're looking for a fun-filled ultraviolet mini-golf party, exhilarating racing courses, a Texas-sized rural experience, or exciting virtual reality and laser tag games, you'll find it all in the Houston metro. Take your pick of these five fun destinations; you can't go wrong!
More about our TFVG Author
A seasoned traveller, Dad, and avid sports tourist, James foundered The Family Vacation Guide to share his expert vacation experiences- especially when it comes to being a travelling family man.
Featured in Travel articles such as Travel + Leisure, TripSavvy and SFGate, you know you're reading some of the best vacation tips online.