Summer vacations are never complete without a trip to someplace your family can cool off and enjoy some time in the sun. That's why no trip to Texas should end before you've taken a trip to one of the state's best-kept secrets: its vast array of swimming holes. These watery wonders dot the state's parks and forests, giving you plenty of areas to take a swim.
What's a Swimming Hole?
What's a swimming hole, you ask? Well, that depends on who you ask and what state you're in. For example, in some states, the most common swimming holes are old quarries.
But in Texas, a great swimming hole is a lake, a spring, or a lovely, serene section of a river that beckons swimmers on warmer days. Essentially, if it's fed by a natural water source, you can call it a swimming hole.
So, what are the best swimming holes in the Lone Star State? Read on to find out.
17 Best Swimming Holes in Texas
Lake Tejas – Colmesneil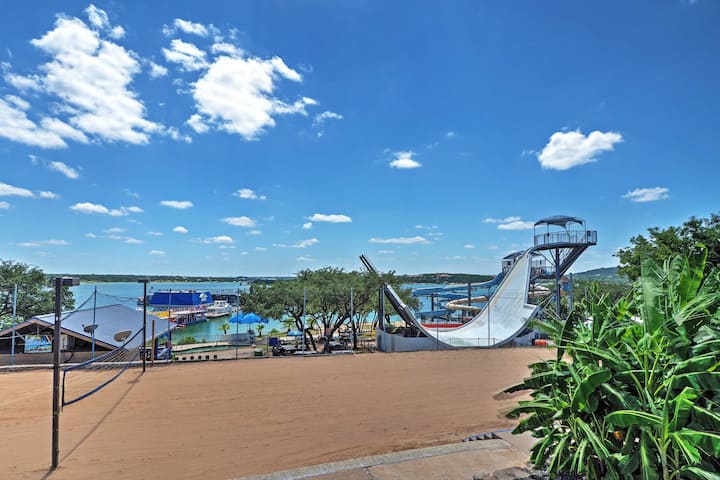 Lake Tejas is the perfect swimming spot for kids who like to zip down slides and splash into calm waters to cool off on a hot day. This is easily the most kid-friendly swimming hole on the list.
Not only is there a designated swimming area, but you'll also find volleyball, paddleboats, and a sandy shore that's perfect for soaking in some sun. Even better, there are lifeguards on duty, so you'll feel even more confident in your choice of a swimming hole if you have young kids.
You can enjoy the cool waters of this natural water park from mid-May through Labor Day. Camping is available all year round, in addition to fishing and exploring.
Barton Springs – Austin
If you're staying in Austin (which is a fabulous vacation spot), then you should take a day to hang out at Barton Springs. This 3-acre swimming hole in Austin is a cool 68 degrees all year round, so if you're paying a visit to ATX in the sweltering summer, this is a must-see.
The best part about Barton Springs is that lifeguards are on duty starting at 8 in the morning. So if your kiddos are early risers and you want to beat the crowds, it'll be easy to do.
A fun bit of history about this swimming hole is that it's where actor Robert Redford learned to swim when he was just 5 years old. Also, the spring is home to the Barton Springs salamander, an endangered amphibian that always draws the eye of kids.
Burgers Lake – Fort Worth
Burger's Lake is another excellent spot for families with younger kids to enjoy a hot summer day. It has all the outdoor summer amenities you could ask for if you want a one-stop swimming hole.
The spring-fed lake at Burger's Lake Park sits on 30 acres of land. You'll find 6 diving boards, a trapeze, and a water slide that plunges into the cool waters. There's also tubing and volleyball if you want to change things up.
If you're up for lunch, you can grab a seat at one of the 300 picnic tables and throw some burgers and hot dogs on a charcoal grill. Overall, Burger's Lake is a great place to spend an entire day enjoying the outdoors.
This swimming hole has certified lifeguards on duty, so you can feel confident knowing there's someone on hand if an emergency arises.
Blue Hole – Georgetown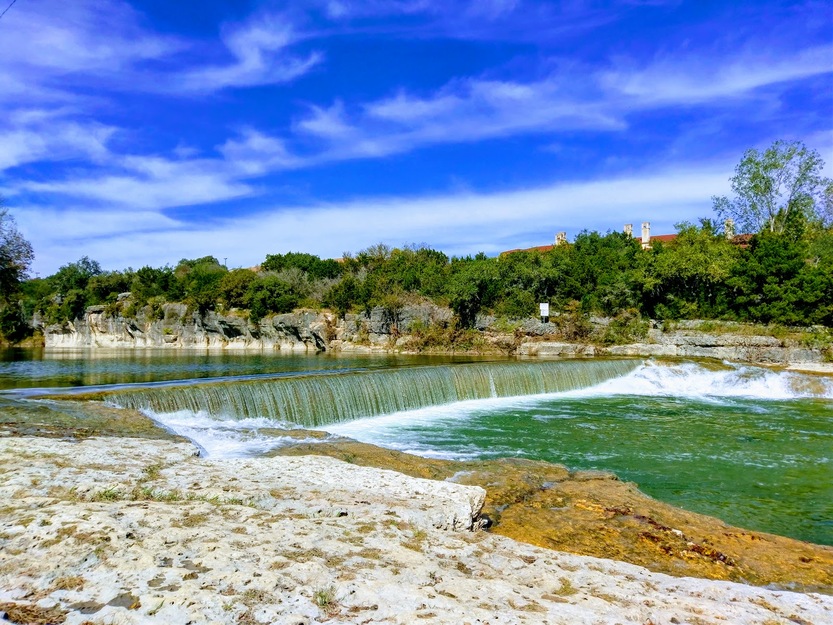 Blue Hole Park is a must-do summer swimming destination if you're in the Georgetown area. Surrounded by stunning limestone cliffs, you and your family will love killing a few hours cooling off at this favoured blue-green swimming hole. 
The Blue Hole in Georgetown is located just five blocks north of the city centre, so it won't be a far trip at all if you're staying in Georgetown. In addition, there are picnic areas where you can have a quick bite to eat along the shores of the chilly San Gabriel River. 
There are several wading areas at Blue Hole Park. Still, younger kids should be careful when entering the river, as the currents can be strong.
Jacob's Well – Wimberley
Don't let the creepy-looking underwater cave deter you from this natural blue wonder. Jacob's Well is a picturesque retreat unlike any you'll find elsewhere. With hidden depths that beckon cliff jumping, you'll have a blast wiling away the day here.
Jacob's Well is a designated natural area, so you don't have to worry about heaps of cars parking alongside the hole. Instead, you'll have to take a short walk, only about fifteen minutes or so, but it'll be worth it once you see this gorgeous swimming hole in person.
The best part is that Jacob's Well is surrounded by hiking trails. So if you and your family enjoy a good hike, this is a great place to relax after working up a sweat.
The only downside is that you'll need reservations ahead of time to avoid overcrowding. However, you can make them on the Hays County Park website in just a few minutes.
City Tube Chute – New Braunfels
One of the most remarkable features in New Braunfels is the City Tube Chute. It's a giant waterslide carved into the city's dam that lets riders slide right into the Comal River. Your kids will have a blast taking a trip around the dam in a tube before landing in the chilly waters.
If you want something fun and exciting to do to spend a few hours on a hot Texas day, this is it. However, if anyone in your family isn't a strong swimmer, you might want to skip the Chute and head right for the river. The rapids can be a bit rough on the slide itself, and those who can't swim are better off avoiding the river.
However, if you have older kids or strong swimmers, this swimming hole is sure to please.
Devil's Waterhole – Burnet 
This Colorado River-fed gem in Inks Lake State Park is a top swimming spot in the warmer months. It's a massive lake spanning 4.2 miles long. Even better, it's near plenty of camping sites, so if you're planning to park your RV or tent camp, you'll be able to do so near this gorgeous swimming hole.
The water at Devil's Waterhole is just the right temperature for a refreshing summer dip. You can also canoe and kayak on the lake. Or, if you just want to go for a swim, it's very kid-friendly. Many trails lead to the Devil's Hole that are easy for kids to navigate. It's a great way to get in a bit of exercise before relaxing on the shores of the lake.
Blue Hole – Wimberley
If you've ever taken a dive into a blue hole before, you'll understand precisely where these glass-like pools get their name. The crystal blue waters are clear and inviting, making this the perfect stop on a hot day.
The cypress-lined Blue Hole at Wimberley is a spring-fed swimming hole located in the heart of Blue Hole State Park. It comes complete with rope swings and a grassy knoll for relaxing.
If you want to make a stop at this picture swimming spot, you should make a reservation ahead of time. Since it's such a top destination for those looking to cool off, it can get pet crowded during peak season.
Balmorhea State Park – Toyahvale
Home of the largest spring-fed pool in the world, Balmorhea State Park is an excellent place for swimming, snorkelling, scuba diving, and sunbathing. 
The water at Balmorhea is a cool 76 degrees on a warm day. There are shallow sections of just 3 feet that are perfect for little kids. However, if you're someone who likes to swim a bit deeper, you'll find depths of up to 20 feet for those looking to take a dive with the catfish. 
Balmorhea is fun on a sunny day, but you should bring an umbrella or canopy of some sort to guarantee you'll have a place to get out of the sun. As the largest natural pool in the world, this place is a must-see on your next trip to Texas.
Devil's River State Natural Area – Del Rio
Southwestern Texas is a quiet area of the state that isn't home to big cities or traffic jams. Instead, you have hidden gems like Devil's River State Natural Area that beckon the outdoorsy type all year round.
If you want to take a trip to the most stunning swimming hole in Texas, you'll need to head to Devil's River. The bright blue waters and limestone beds are perfect for cooling off on a hot day. Overall, it's an excellent spot for swimming, splashing, and fishing that your family will love.
There are a few things to be aware of at Devil's River. First, it's well off the beaten path. Park officials recommend using a four-wheel-drive vehicle to get there, and the river is about a one-mile hike from the parking lot, so it might not be the best for tiny kids.
Make sure you pack light on your trip to Devil's River because you don't want to end up tiring out before you even hit the water. Also, you'll need to book a day pass ahead of time to make sure you can visit.
Schumacher Crossing – Hunt
Hunt, Texas, is located a ways from the main cities, giving the Schumacher Crossing swimming hole a quiet, pristine location. Named for the ranch that once existed on the property, this swimming destination is a favourite of locals and tourists alike. 
As one of the top ten swimming holes in the state, Schumacher Crossing is an excellent spot for swimming, picnicking, and tubing. When water levels are high, it's also a good place to get on a good kayak ride. 
The spring-fed river is also ideal for paddling. If you feel like exploring a bit further, you can take a leisurely paddle ride downriver to Ingram Dam. There, you'll be able to hop off your board and take a slide into the chilly water.
Garner State Park – Concan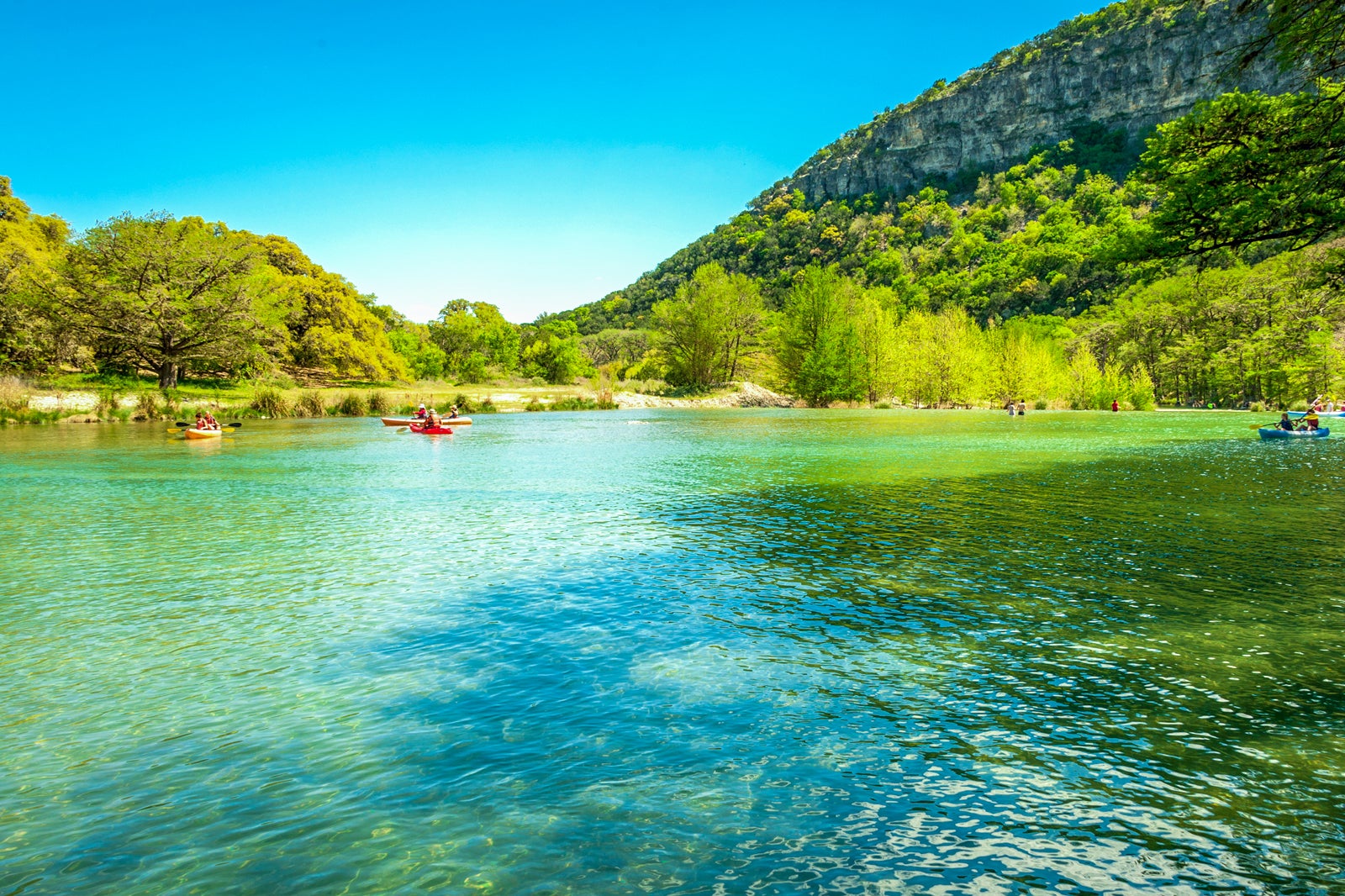 Garner State Park is one of the most highly rated parks in Texas, and for a good reason. The stunning landscape offers hiking, fishing, and, of course, swimming in Texas' Frio River. In addition, there are 16 miles of hiking trails that crisscross the park, so be prepared to get some exercise.
A local favourite, the Frio River is an excellent spot for tubing, splashing, and swimming. You can also hop in a kayak and paddle through the rapids as you take in the gorgeous limestone walls and crystal waters. 
Garner State Park also has a great campground, so if you're planning to visit the Concan area, you should definitely check out the camping accommodations here. You'll need a reservation during peak season, which you can make on Garner State Park's official website.
McKinney Falls – Austin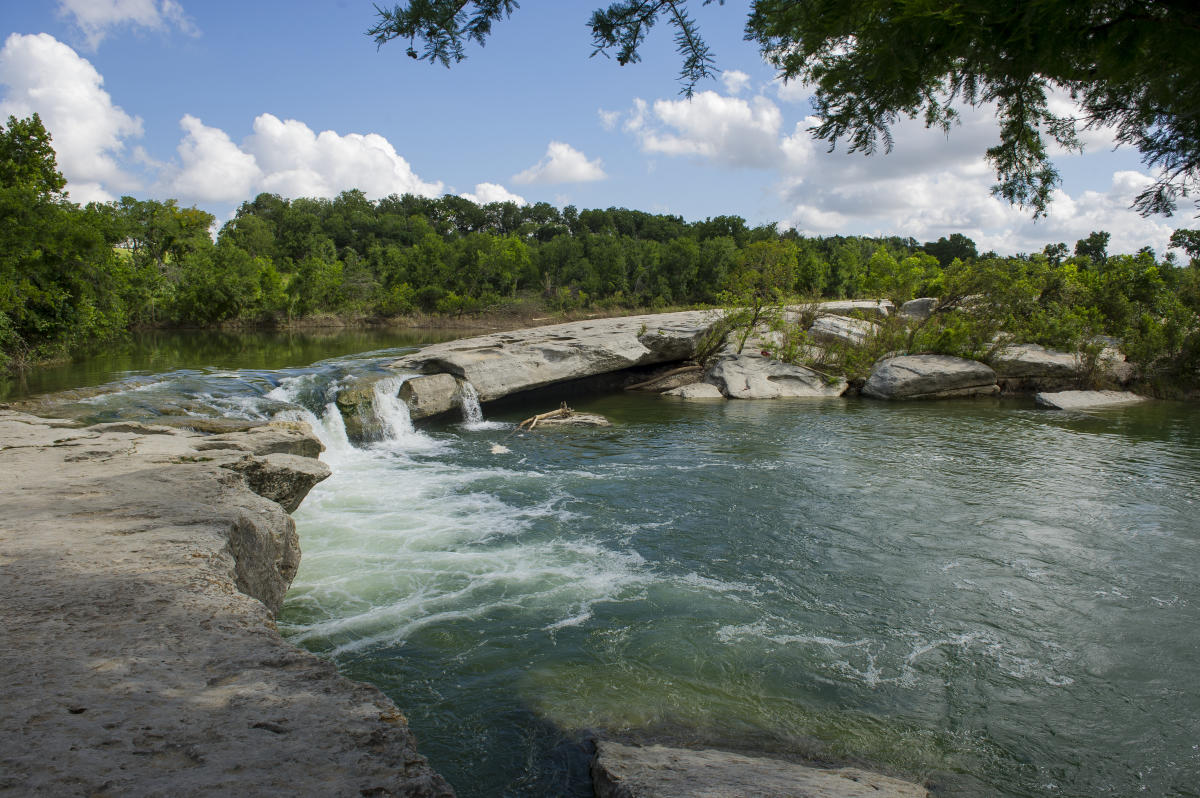 McKinney Falls State Park is located just outside Austin and is a top destination all year round. It's an excellent spot to spend a hot summer day cooling off in the clear, crisp water of McKinney Falls.
You'll find plenty of fun things to do in McKinney Falls State Park. Hiking trails zigzag through the Hill Country woods while limestone pools of water invite swimmers on warm days. If the water's too cold, you'll find the crumbling remains of a Texas homestead and adjoining rock shelter are ripe for exploration.
As with many other destinations, it's highly recommended you grab a reservation at McKinney Falls to ensure you get in. If you'll be in the Austin area, though, this is a must-do.
Krause Springs – Spicewood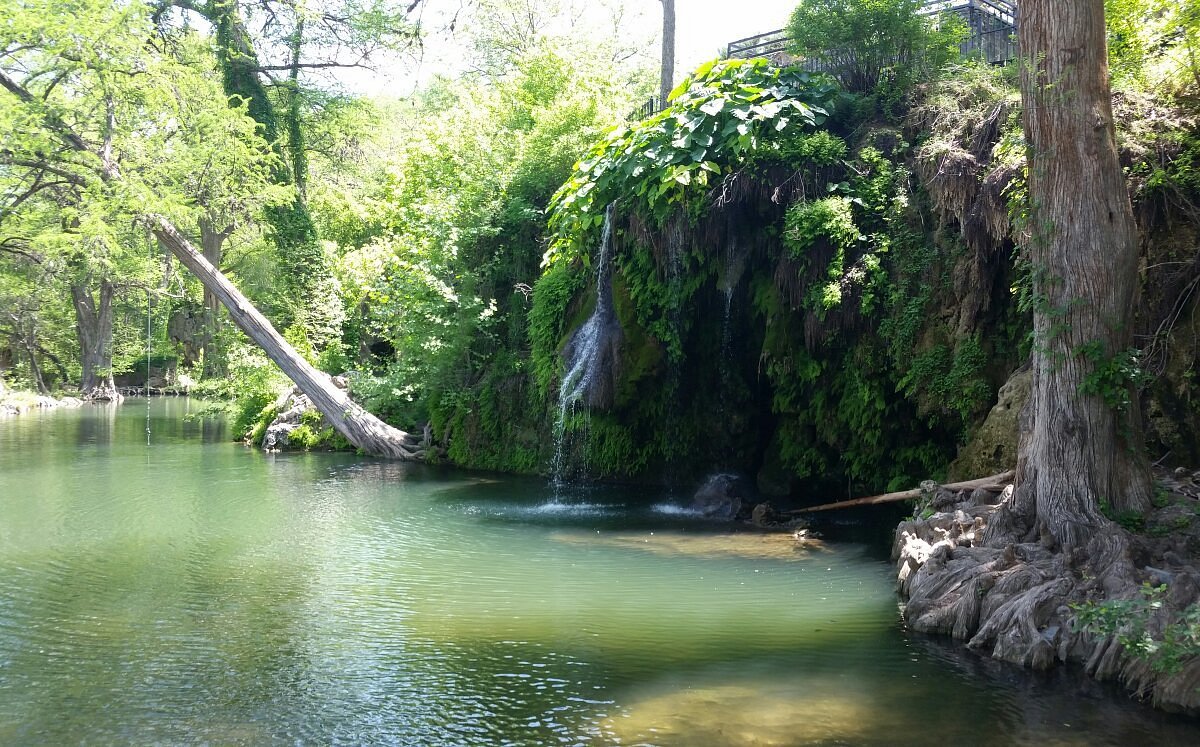 Nestled deep in Texas Hill County, Krause Springs is a privately-owned swimming hole that's open for public use. This swimming hole actually has a few great swimming spots to check out.
Krause Springs is dotted with natural springs, but the two best swimming spots are two pools, one natural and one man-made, that both feed the larger body of water on the site, Lake Travis. If your kids aren't up for swimming or the weather just won't allow it, you can explore the nearby cave, canyon, and butterfly garden to your heart's content.
There are 24 RV hookups and several tent camping sites at Krause Springs for anyone looking to make camp in the area. It's the perfect destination if you and your family want to skip the city and enjoy being closer to nature.
The Llano Slab – Kingsland
The Slab, as it's known to locals, is located near Kingsland in a quiet section of the Llano River. It has several small swimming holes scattered around the granite rock formations. There are shallow pools that allow kids to splash around safely, along with deeper areas that are great for adults or teens.
There's also a sandy beach lining the Slab, so you'll have a place to make camp for the day. The Slab is free, so you won't need to make reservations. However, no cost for entry often ends up leading to large crowds. Make sure you plan accordingly and aim for an early start time.
Deep Eddy Pool – Austin
Although the Deep Eddy Pool is man-made, it follows the theme of other swimming holes in that it's spring-fed. It's an absolute must-do when you're in the Austin area and need to beat the Texas heat. There are varying depths, including a graduated shallow area, so kids of all ages will be able to enjoy themselves.
The best part, though, is that the pool offers movies on a big screen in the summer. The Splash Party Movie Nights let you float in the peaceful water as you take in a show. There's also an adjoining park and playground if you need to take a break from the chilly water.
As the oldest swimming pool in Texas, this Depression-era swimming hole on the banks of the Colorado River. It opens daily at 9 AM, but it's closed on the first Tuesday of each month.
Pedernales Falls State Park – Johnson City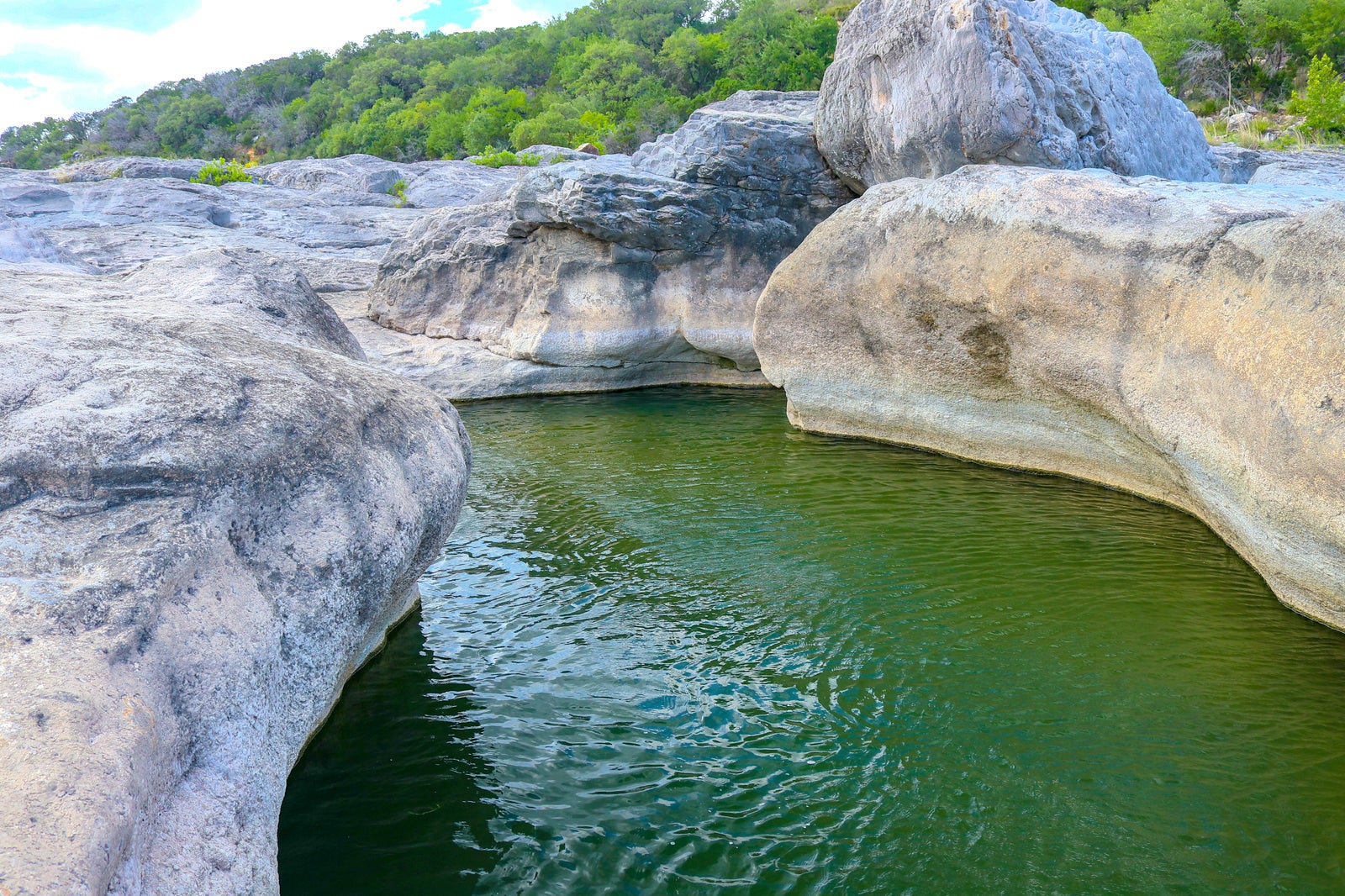 For those of you heading to the Johnson City region, be sure to make a stop at Pedernales Falls. Although swimming is prohibited directly in the falls, you can swim in the crystalline waters of the Pedernales River as the falls roar in the background.
Like other swimming holes, you should make a reservation before visiting to make sure you get space at this lovely spot. Then, your kids will enjoy playing in the water, and you'll get to relax on the beach, soaking in the sun.
Pedernales State Park is also a great camping spot. You and your family can pitch a tent and enjoy the scenery for the duration of your stay, sleeping under the stars.
Conclusion
Texas is filled with swimming holes where you and your family can swim, sunbathe, and enjoy the outdoors no matter what time of year you visit. There are springs, pools, and rivers just waiting to be enjoyed. Whichever type of swimming hole you favour, you won't have trouble finding a good one. Happy travels!
Check out these other articles about vacationing in Texas:
More about our TFVG Author
Karly is a The Family Vacation Guide guest travel contributor.