Howdy, y'all! Is your family looking for fun ideas for close-to-home vacations in the Lone Star State? Texas is the second-largest state in the United States and offers many educational, fun, and nature-filled road trip adventures for the entire family. 
Whether the gang wants to drive far and spend a few nights basking in nature or take a short drive to somewhere beautiful, we've got the 20 best family road trips in Texas to help you get inspired for your next family vacation. 
Dinosaur Valley State Park
Just a short drive outside of Fort Worth, the Dinosaur Valley State Park is an incredible road trip adventure for the entire family. For families with little ones who get a thrill out of dinosaurs, this is a dream trip that allows you to literally walk in the footsteps of these prehistoric creatures.
Located near Glen Rose, Texas, your family can explore over twenty miles of trails along the Paluxy River and look for visible dinosaur prints. There are also two giant dinosaur statues that the kids will go wild over. Other options include camping, picnicking, mountain biking, swimming, horseback riding, and more.
You can take a guided tour of the 1,500-acre park or download the dinosaur print map on your phone and try and spot them all for yourself.
Children twelve years and under have free entrance here for day use. Anyone over the age of thirteen must pay a $7 entrance fee.
If you plan on hitting up multiple destinations on this list, consider getting a Texas State Parks Pass which gives you unlimited access to nearly 90 different national parks in the state. Y'all will also get discounts on camping fees, park store purchases, and equipment rental.
To visit the Dinosaur Valley State Park from Austin, head north for around three hours. From Fort Worth, head south then west along Route 67 for about a one-hour road trip.
Big Bend National Park 
The Big Bend National Park is a protected park in West Texas that spans over 800,000 hectares of scenic landscapes. This location is one of the best family road trips in Texas for the incredible scenery the whole family will enjoy during the drive and within the park.
Enjoy family camping, day hikes, and exciting educational exhibits about animals, plants, sea fossils, dinosaur bones, and birds found in the area.
Take the Ross Maxwell Scenic Drive and explore thirty miles of gorgeous landscapes as you and the family take pictures at various overlooks, viewpoints, and canyons.
Big Bend charges entrance fees per vehicle. Families coming here in the same car will only need to pay $30, which gives the whole family access to the park for seven days. Camping fees depend on which campground your family prefers and can cost anywhere between $16-$10 per night.
Big Bend National Park is an eight-hour drive from Dallas and about a seven-hour drive along Route 10 from Austin.
Enchanted Rock State Park 
One of the best family road trips in Texas is a scenic drive through the Texas Hill Country to the Enchanted Rock State Natural Area.
Located in Fredericksburg, Texas, the Enchanted Rock State Natural Area has been a protected historical landmark since 1936 and a national natural landmark since 1971. It has over eleven miles of hiking trails, but its claim to fame is a 425-foot pink granite natural rock formation called a batholith.
Here the family can learn about rock formations and geology while taking in the natural scenery of the unique landscapes. Listen to folklore and stories about why many local tribes deem this area enchanted. In fact, archeological evidence suggested humans inhabited this natural area even 12,000 years ago, giving the region a rich history worth learning about on your vacation.
Note that you cannot swim at Enchanted Rock State Park nor ride bikes on the hiking trails.
If you have a Texas State Parks Pass, it includes this park. Otherwise, entrance fees are $8 for visitors aged thirteen and up or free for children twelve years old or younger.
Head west for about two hours from Austin to visit this state park. If coming from Dallas, plan for four hours of car time as you head southwest to this natural wonderland.
Port Aransas & Mustang Island State Park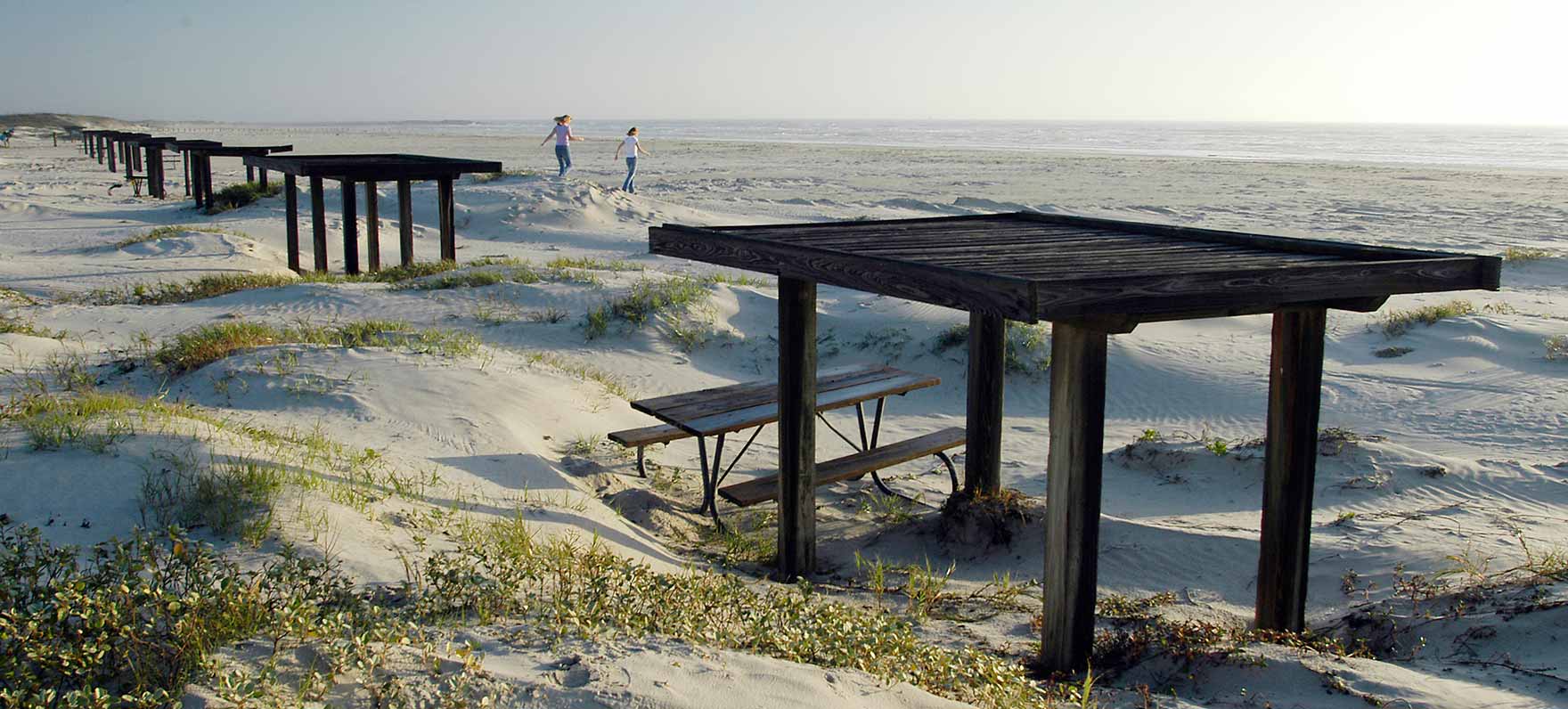 Port Aransas is a beach community and city located on Mustang Island well worth a visit on your next family road trip in Texas.
The Mustang Island State Park has five miles of coast where the entire family can enjoy surfing, swimming at the beach, kayaking, and fishing in the bay. Camping here has electricity and hot water for added comfort.
Port Aransas Beach is on the northernmost point of Mustang Island. It is within walking distance to the Leonabelle Turnbull Birding Center, which has a 700-foot boardwalk that allows parents and kids to walk over the freshwater wetlands and take in the spectacular animals and vistas.
From Dallas, Port Aransas is about a six-hour drive south. From Austin, it's around four hours of driving time. Parking permits to park near the beach in Port Aransas are $12 per day.
Galveston Island 
Just a short drive outside of Houston, Galveston is a coastal island city with so many family activities to do along the way and once you arrive.
Most notably is the Moody Gardens Aquarium that gives the kids an opportunity to see sharks, penguins, and exotic rainforest animals.
Families will love heading to the Galveston Island Historic Pleasure Pier for rollercoasters and water rides that are sure to thrill the whole family. The smell of funnel cakes permeates the air and will draw you to the delicious dining options that include a Brewing Station for the parents.
Or dive into nature at the Brazoria National Wildlife Refuge or the Galveston Island State Park. Here you can rent a lodge or go camping, hike along trails, mountain bike, fish, and so much more.
Galveston Island is only a one-hour drive outside of Houston. Pack some snacks and movies for the 4-5 hour drive from Dallas or Austin.
Fort Worth 
Fort Worth is a town just outside of Dallas and is an excellent place for the family to escape for some together time. 
Immerse yourself into cowboy culture by visiting a cattle drive, rodeo, or the Texas Cowboy Hall of Fame. Kids love to explore the Fort Worth Zoo with over 7,000 different animals to see and learn about. Check out the Kimbell Art Museum with paintings from world-famous artists if your family enjoys art.
Another highlight of Fort Worth is the wide variety of restaurant options for some famous Texan flavors.
Perfect for long and short family roads trip in Texas, Fort Worth is only about forty-five minutes from Dallas and a three-hour drive north of Austin.
Garner State Park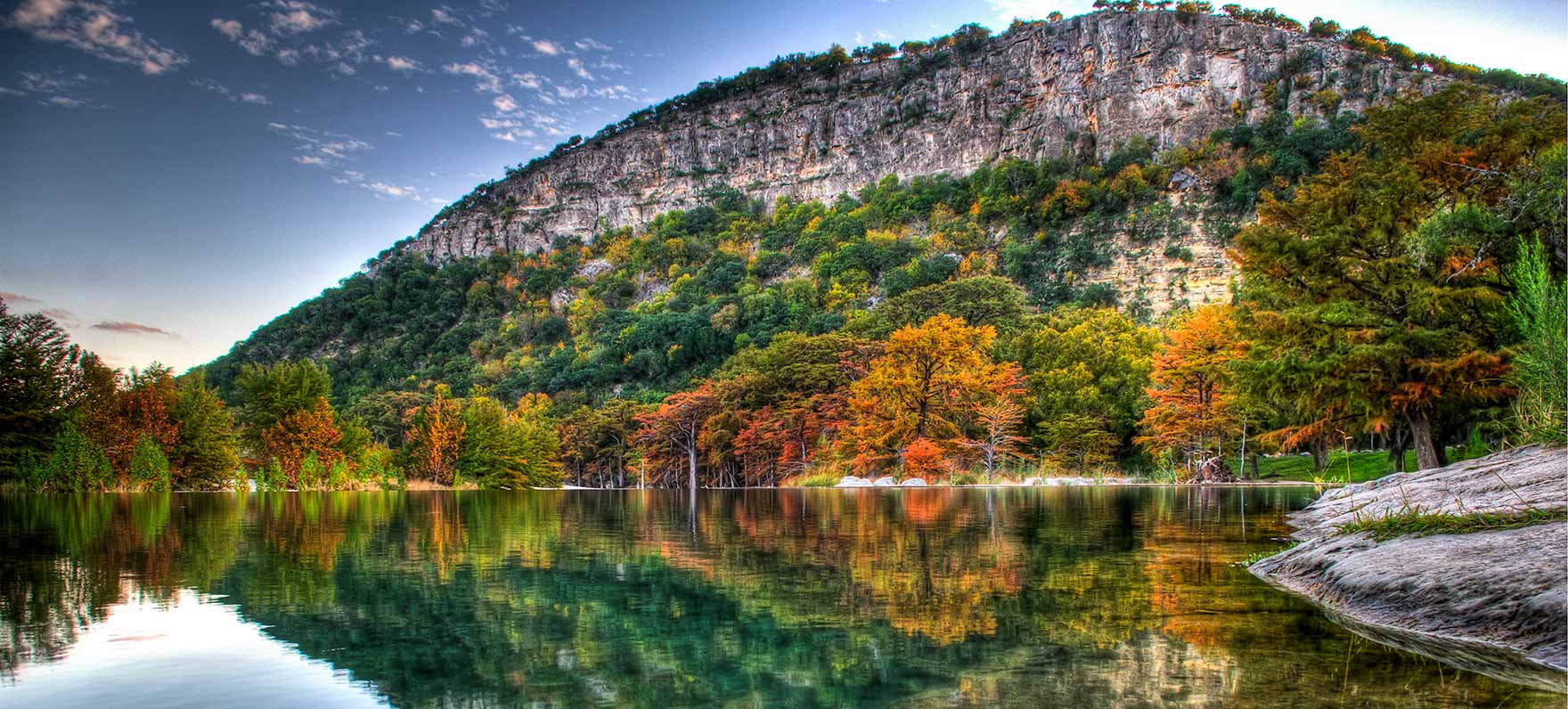 Garner State Park is a wonder to behold, especially on an autumn family road trip when the forest leaves change into a sunset of colors. 
This state park has sixteen miles of trails for scenic hiking that the entire family will enjoy. Jump into the Frio River or enjoy fishing from its shores. The concession building is where it's at for nighttime fun as everyone gathers to dance around an old-school jukebox.
Depending on how your family best enjoys their time in nature, you can reserve a cabin or campsite.
Entrance fees for visitors aged thirteen and up is $8 and free for kids aged twelve and under.
Garner State Park is approximately five and a half hours southwest of Dallas, so pack some snacks and fun driving activities for this family Texas road trip. If your family is heading to Garner State Park from Austin, expect a drive time of around three hours.
Waco
Waco is a superb destination for a scenic and fun family road trip in Texas. Located in central Texas, Waco has many things to see for the entire family to enjoy. 
If your kids get a kick out of animals, then the Cameron Park Zoo should be one of your first stops. With nearly 2,000 different animals, visitors will have a chance to see their favorite animal and learn something new at the same time. Or head to the Waco Mammoth National Monument to learn about wooly mammoths and see their prehistoric bones.
If sports are more your family's thing, then you shouldn't miss the Texas Sports Hall of Fame. Here you can learn about sports history from 1951 and onwards. Have fun placing your hands up against famous NBA players' handprints and other interactive exhibits.
For outdoor recreation, explore Lake Waco, local farmers markets, and many areas for family picnics.
Last but not least, Waco is home to the Dr. Pepper Museum. Here, you and the family can learn about the oldest drink manufacturer in the United States and, of course, taste some of the delicious products.
From Austin, Waco is a two-hour drive going north. From Dallas, it is about a two-hour drive, headed south.
San Antonio
San Antonio houses the first UNESCO World Heritage Site in Texas, the San Antonio Mission National Historical Park. Head here for one of the best family road trips in Texas. 
Drive through scenic Texan landscapes as you arrive into this historical city with a lot to discover and explore.
Walk the 8-mile stretch along the scenic San Antonio River and visit the Spanish colonial missions Concepción, San José, San Juan, and Espada. Your family will learn about life in Texas in the 18th century.
"Remember the Alamo!" at the Alamo San Antonio and Alamo Gardens with interactive tours and exhibits that are an educational and fun experience for everyone in the fam. Watch demonstrations about frontier life with a visit to the Living History encampment.
San Antonio also has the Sea Life Aquarium and a LEGOLAND® Discovery center that are both sure to widen your kid's eyes and bring a smile to their faces.
San Antonio is approximately four and a half to five hours southwest of Dallas. From Austin, head south on Route 35 for a two-hour family road trip. 
Why not check out our guide to the best family hotels in San Antonio?
Brenham and Round Top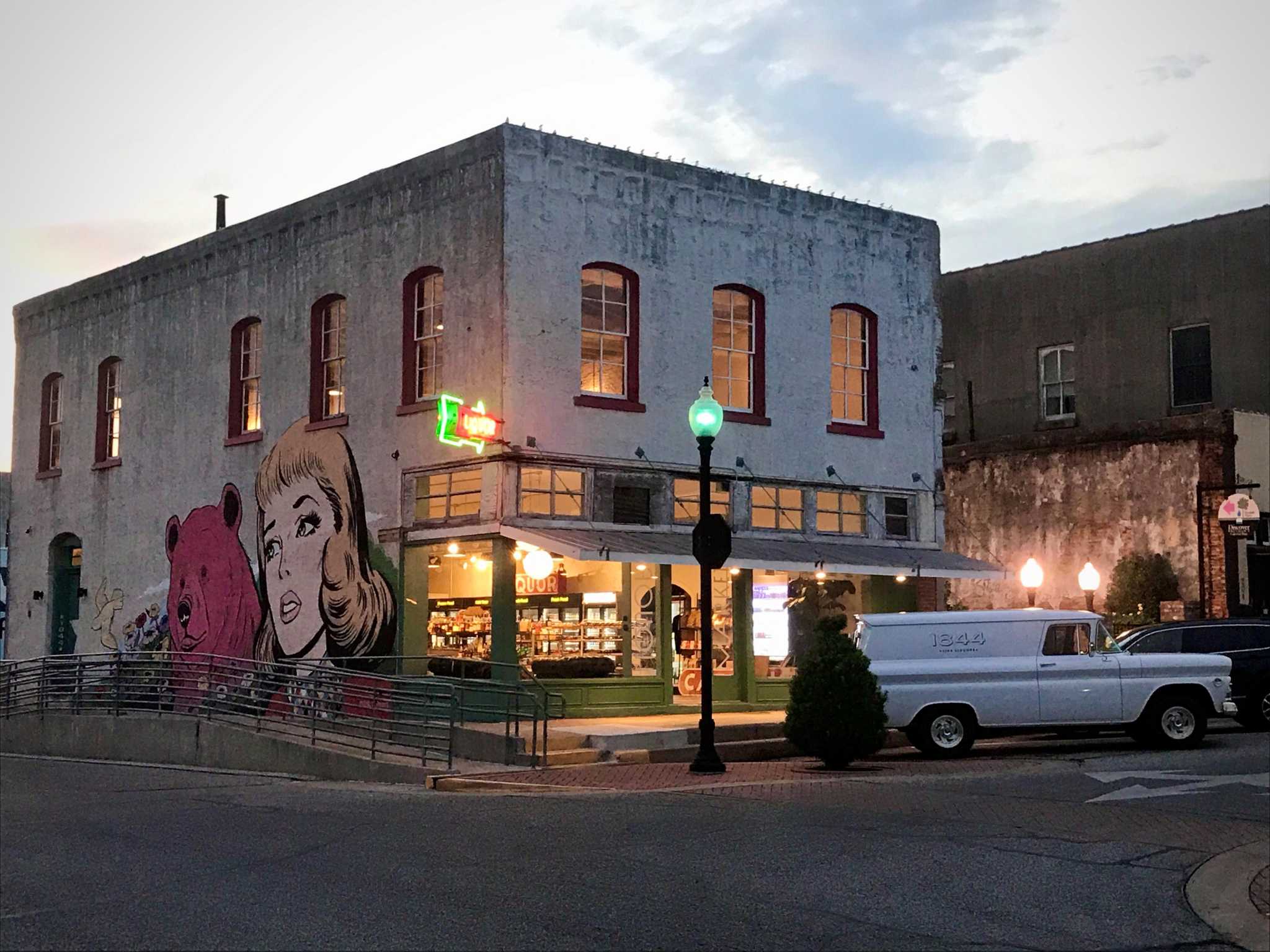 Round Top and Brenham are two small Texas towns for short family road trips an hour's drive away from both Houston and Austin. 
Brenham is known as a must-stop for authentic and delicious Texas BBQ. It also houses an annual Texas Arts and Music Festival that will give the whole family new things to see and hear to inspire the kids for their next school art project.
With plenty of museums, wineries, parks, shopping, and even the Blue Bell Aquatic Center, there are things to do in Brenham to keep the whole family entertained.
Nearby is the small town of Round Top, where the family will enjoy the oddities they spot at the local antique fair held twice each year.
If your starting destination is Dallas, drive south for around four hours and pass through many picturesque landscapes and cute towns as you venture forth on your family road-trip adventure.
Amarillo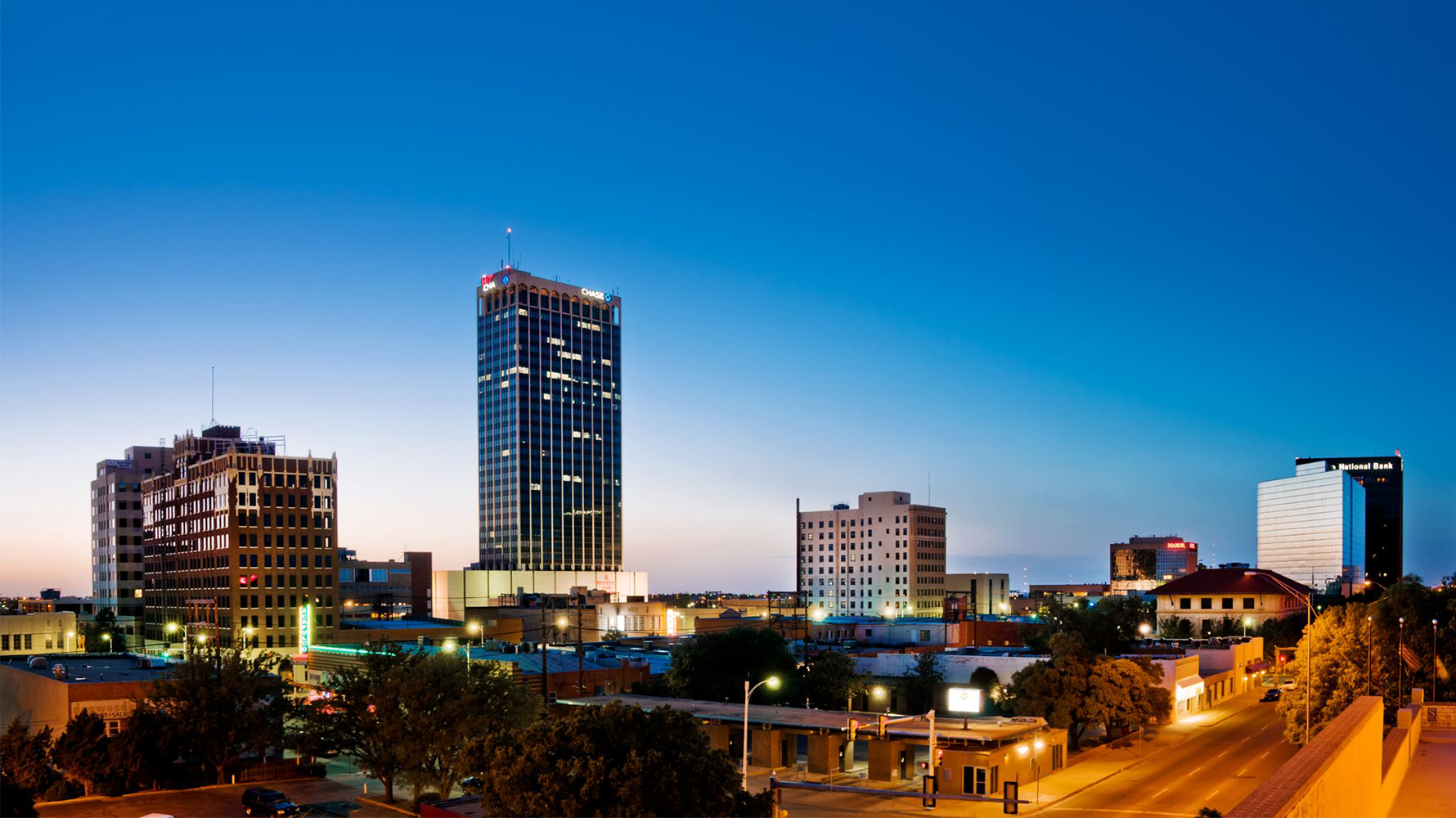 The Texas Panhandle has many amazing stops for family road trips in Texas, and Amarillo is the largest city located in the Panhandle region. Head here for your next family road trip for all the beautiful stops along the way – or make this your final destination. 
Check out Cadillac Ranch, a permanent art installation of ten upturned Cadillacs that have now been colorfully covered in graffiti and make for really cool family photoshoots.
The Palo Duro Canyon State Park is another must-visit during your family road trip through the Texas Panhandle. Here you can hike and take in the iconic scenery of the second largest canyon in the United States after the Grand Canyon.
There's also the Wonderland Amusement Park with rollercoasters, arcade games, and rides for all ages to get a thrill out of Amarillo.
Drive five and a half hours northwest from Dallas to visit Amarillo. If coming from Austin, you'll have nearly eight hours straight of driving if you don't make stops at the many scenic spots along the way.
Grapevine
Grapevine is right in between Dallas and Fort Worth, making it a quick family getaway if you're starting out from either of these locations. If not, it is a fantastic family road trip option for families also looking to spend time getting to know more of Fort Worth and Dallas. 
True to its name, parents and adult family members can expect some world-class wine tasting in Grapevine. On the other hand, kids will have their fill of fun at the LEGOLAND® Discovery Center and Sea Life Aquarium.
Check out a glassblowing studio or see if your family can work as a team to get out of an escape room in the allotted time. Then, finish your day with a murder mystery dinner.
Stay at the Great Wolf Lodge for the whole family to enjoy the waterpark, fun MagiQuest, rope courses, arcade games, and even a Build-A-Bear workshop.
Grapevine is around three hours north of Austin. Heading up Highway 35, you can easily incorporate a stop in Waco on your way from Austin to Grapevine.
Bandera
Close to San Antonio, Bandera is a tiny town nicknamed the cowboy capital of the world. If your little ones love all things cowboy and cowgirl, this is definitely a destination to add during one of the best family road trips in Texas. 
You can find anything cowboy-themed here. Horseback riding is a must, but you can also head to the waterpark or jump into the Medina River.
Visit the Natural History Museum and the Frontier Times Museum or even see the historic Bandera county jailhouse. Your family has a wide choice of things to do, like checking out a rodeo, going ziplining, or hunting for antiques.
You can visit both Bandera and San Antonio on one great road trip. If you're driving from Dallas, plan for around five and half hours of driving time though there are many tempting stops along the way.
Fort Davis, Marfa, and Alpine
Fort Davis, Marfa, and Alpine are three small towns located on the western border of Texas. Here you can really immerse yourself into the picturesque desert landscapes and explore some of the lesser-seen sides of Texas. 
Go on historic walking tours with the family to get a feel for these small towns brimming with history and aching to tell their stories. You can tell dad that there's also a 9-hole golf course with some incredible views at the Alpine Country Club.
Take a scenic drive on Highway 166 through the Davis Mountains, then go for a short hike at the Fort Davis National Historic Site.
Driving directly from Dallas to any of these three towns will take approximately seven and a half to eight and a half hours, depending on traffic. If driving to one of these western towns from Austin, the drive time will be around six and a half to seven hours.
Spicewood
Located along the snaking Colorado River, Spicewood is a natural paradise your family will be so happy to escape to on a memorable family road trip away from home. 
Krause Springs is a spot worth checking out for natural hot springs and geysers. There are numerous recreational areas, vineyards, and distilleries worth visiting if your family members are interested in those activities.
While there are many camping spots and hotels to choose from, your family will surely get a kick out of sleeping at a treehouse hotel. For even more treetop views, go on a ziplining adventure that ends with a splash in the river.
From Austin, Spicewood is only forty-five minutes up Highway 71. From Dallas, your family will need about four hours in the car to arrive at their fun-filled destination.
New Braunfels
German settlers founded New Braunfels, a small town in Texas located on the Guadalupe and Comal rivers. This town is filled with antique shops, outdoor adventures, and great shopping. 
Landa Park, Canyon Lake, and The Natural Bridge Caverns are fantastic options as a first taste of the fun outdoor activities that New Braunfels has to offer.
Head to the McKenna Children's Museum for interactive exhibits about science, space, culture, and technology to promote enjoyable educational opportunities. Your family might also love to catch a play at the Circle Arts Theatre.
New Braunfels is about four hours by car from Dallas, Texas. New Braunfels is a shorter forty-five-minute to one-hour drive from Austin.
Corpus Christi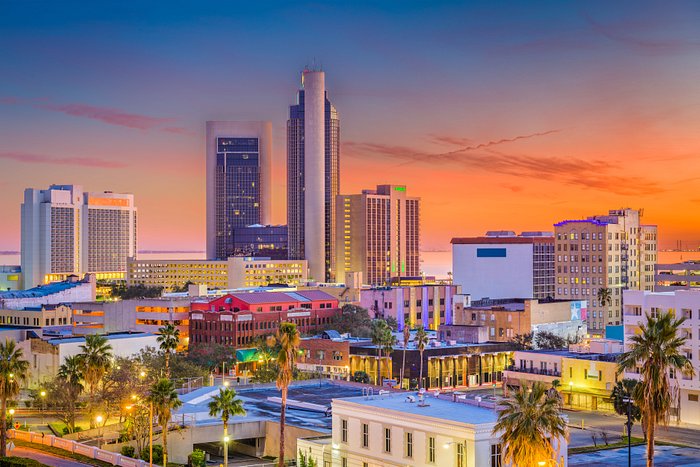 Corpus Christi is one of the major cities in Texas that is a great place to park and stretch your legs during your Texas family road trip. 
The top sites to see include the Texas State Aquarium and, of course, South Padre Island. These destinations ensure a fun beach-time getaway by the ocean.
Austin
Austin is the capital city of Texas and is brimming with unique activities for families discovering the best family road trips in Texas. 
As the capital, you can expect plenty of options for museums, art galleries, and lots of live blues and country music. On top of that, there are endless dining options that even the pickiest eater of your family will have a hard time turning their nose down at. 
Why not check out our guide to the best family hotels in Austin for inspiration on where to stay?
Dallas
Dallas is another major Texas city that your family needs to see during your next road trip, especially if you plan to head to Fort Worth, Grapevine, or anywhere else north of Waco. 
Dallas boasts the Perot Museum of Nature and Science, the Dallas Museum of Art, and a Six Flags amusement park. 
Why not check out our guide to the best family hotels in Dallas for inspiration on where to stay?
Houston
As the hometown of Beyonce, Houston doesn't need to brag much about the other things worth doing here when there's a slight chance you could spot the visiting superstar roaming around town. 
If your kids or more fans of stars than superstars, Houston is still a great place to visit during your family road trip since it is also the hometown of the Houston Space Center. NASA astronauts receive training here, and your kids can get an up-close look at what that space program is like. 
Why not check out our guide to the best family hotels in Houston for inspiration on where to stay?
Start the Car
Get your family ready to start the car and explore some of the best family road trips in Texas! Since everything really is bigger in Texas, be sure to keep your eyes peeled and your camera charged because there are so many wonderful things to see and do for the whole family.
More about our TFVG Author
A seasoned traveller, Dad, and avid sports tourist, James foundered The Family Vacation Guide to share his expert vacation experiences- especially when it comes to being a travelling family man.
Featured in Travel articles such as Travel + Leisure, TripSavvy and SFGate, you know you're reading some of the best vacation tips online.