Who doesn't love to vacation at a 5 star resort?
Whether it's sugar-white sands and crystal clear blue Jamaican waters you're craving, trekking in the beautiful Colorado wilderness, or exploring the natural beauty of Hawaii, this list of 5-star all-inclusive hotels allows you to experience all with stunning comfort and luxury.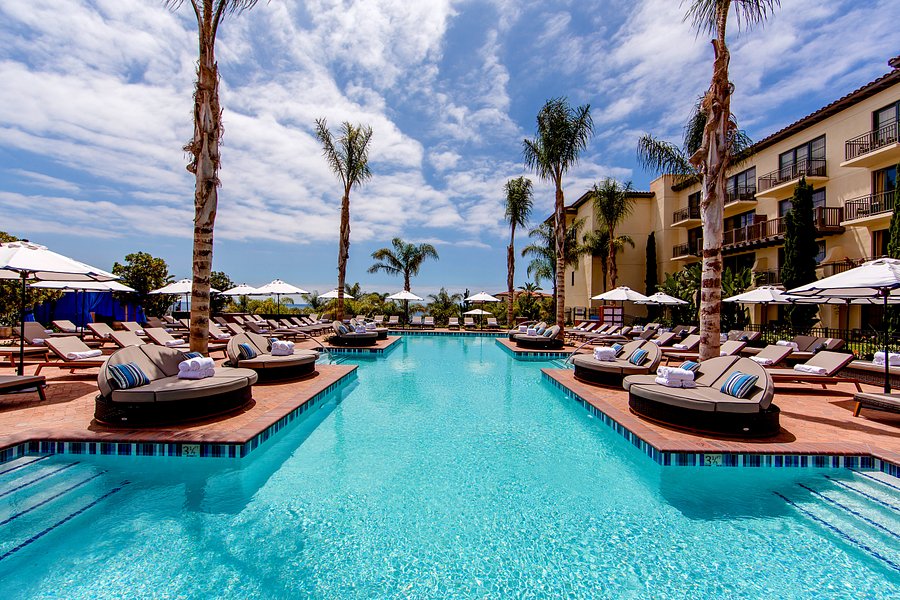 Situated on the bluffs of the Palos Verde Peninsula The Terranea Resort is the premier luxury destination in Southern California. Originally starting out in the Channel Islands, the Peninsula drifted to the California coast and brought with it a lush green environment entirely unique to the area, earning it its name meaning 'Canyon of Green Trees'.
The generous 102-acre resort boasts a variety of luxurious accommodation, from guestrooms to residential-style villas and casitas, all offering stunning views of the beautiful coastline. With nine restaurants for al fresco oceanfront fine dining, the Terranea offers the finest food and drink experiences all made with locally sourced produce.
Activities offered at the resort's expansive grounds include an introduction to falconry, as well as archery and guided nature hikes, not to mention one of the country's leading par 3 golf courses. After a long day of adventures, take time to relax in the award-winning spa or by one of the resort's four ocean-view pools.
The only Forbes Five Star and AAA Five Diamond Rated Resort in Hawaii, The Four Seasons Hualalai blends unrivaled luxury with the ancient beauty of Pacific island life.
Unique to the hotel is The Kings Pond, a 1.8 million gallon pool that doubles as an aquarium and is home to 4000 species of beautiful native tropical fish, offering educational aquatic experiences with the hotel's on-site marine biologists.
A host of accommodation options cater to all holidaymakers, from guest rooms to bungalows. The Hawaii Loa Presidential Villa, named for Hawaii's first king, is a stunning two-story villa offering sleeping up to eight guests and boasts a private terrace, a private spa, direct access to the white sand beach, and if you're lucky, a rare glimpse of the seasonal migration of humpback whales.
Located in the vast, beautiful expanse of the Arizona Sonoran desert, The Fairmont Scottsdale Princess is the area's longest-running AAA Five Diamond hotel. The hotel's 750 beautifully appointed rooms all capture the subtle rocky tones of the serene surrounding desert landscape.
The 6000-square feet Sonoran Splash pool with 2,200-ft waterslides is perfect for families, catering to both adults and children over 3.5-ft, and is just one of the resort's 6 outdoor pools, allowing you to play, relax and unwind under the Arizona desert sky.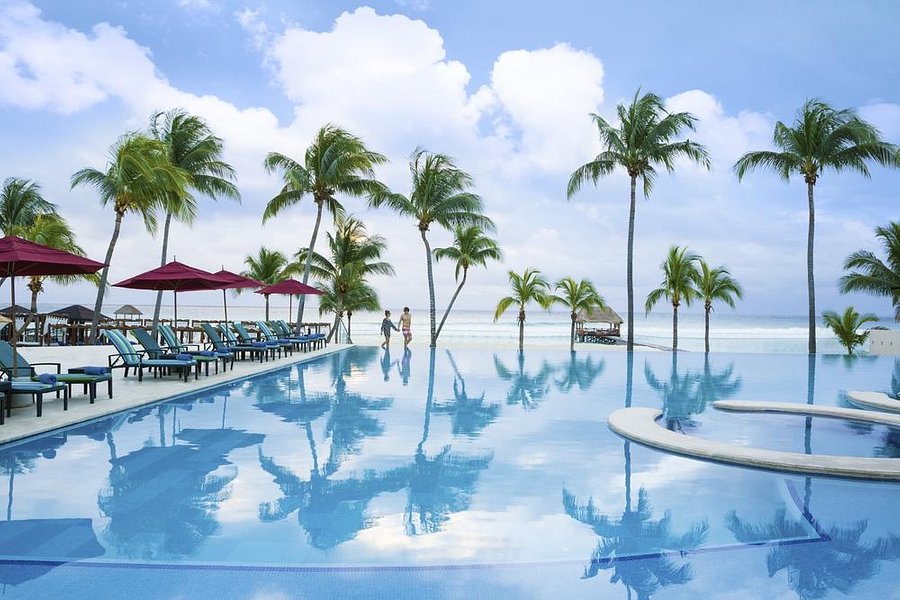 Blending sophisticated modern architecture with an authentic Yucatan atmosphere The Fives Beach Hotel offers a unique and luxurious all-inclusive resort perfect for a family vacation.
Situated immediately on the blissful white sands and crystal waters of Playa Del Carmen beach and no distance from a varied host of activities The Fives Beach Hotel provides a perfect luxury basecamp for family vacations.
A host of ancient Mayan ruins and the shops and sights of downtown Playa del Carmen are just a short distance from the hotel. There is also the once-in-a-lifetime opportunity to take your family swimming with dolphins in the Caribbean Ocean at Delphinus Riviera Maya, as well as Xcaret, a unique eco-theme park experience that captures the heart of ancient Mexico.
A stunning all-inclusive resort nestled on the beautiful shores of the Playa Bavaro beach, Melia Caribe offers comfortable luxury in the heart of the Caribbean.
A host of exciting activities and amenities are included in the all-inclusive rate, allowing you total peace of mind when preparing your itinerary.
These activities include room service, the fitness center, tennis at one of the resort's courts, as well as access to the 18 hole golf course, all the while you can rest easy as your kids are entertained at the resort's Kid Zone, which caters for kids as young as 8 months up to 14 years.
Once you're worn out from a full day you'll have to decide which of the resort's 9 pools to relax by, or perhaps take a spin at the hotel casino if you're feeling lucky.
The second destination out of Scottsdale on our list, The Phoenician continues Scottsdale's trend of fabulous all-inclusive resorts.
The multi-tiered swimming pool area offers a lush outdoor swimming experience while the Kids Zone offers a cool pirate-themed pool with a 197ft waterslide, all while offering striking views of Camelback Mountain, so you can make the most of your family vacation in Scottsdale's 333 days of sunshine.
The multi-story Athletic Club offers a fully kitted game room with arcade and board games as well as a 4600 square feet fitness center, tennis courts, and bicycle rentals.
And if you do decide to venture into Scottsdale, The Phoenician offers a host of carefully curated activity packages, including a steamboat ride along Canyon Lake which includes twilight dinner and astronomy cruises, as well as wine tasting, dessert, and mountain hiking hot air balloon trips.
The Kahala Hotel and Resort offers sumptuous luxury located only a short twenty-minute drive from Honolulu Airport in Oahu's most desirable residential area.
Only a short ten minutes from downtown Waikiki, the hotel offers easy access to a host of family-friendly amenities including Honolulu Zoo and Waikiki Aquarium as well as several shopping malls, giving you a catalog of activities to entertain yourself and your family before you retire to your spacious and beautifully appointed room.
The Kahala Hotel and Resort is Oahu's only beachfront resort, offering access to an exclusive 800ft white sand beach. The hotel offers kayak, boogie board, and snorkel rentals for you to take full advantage of the idyllic beachside environment, as well as a complimentary forty-five-minute professional photoshoot session so you can take the memories you make back home with you!
Located south of the Tampa Bay area in Florida Sarasota is renowned for its culture and beaches. Situated in beautiful waterfront surroundings The Ritz-Carlton offers Latin-style luxury on the waterfront in the midst of a relaxing downtown Floridian environment.
The Ritz-Carlton boasts 266 Club Level rooms all with private balconies, as well as a waterfront heated pool, with cabana rentals available, and a spa overlooking the tropical blue waters of the Sarasota bay For staying active the amenities include an 18 hole golf course and three tennis courts.
And after a long day, enjoy an artful libation at the beautifully rustic Lido Key Tiki Bar, a Sarasota landmark, the perfect spot to unwind on the Gulf of Mexico. And perhaps, if you look closely as the sun sets over the horizon you might catch a glimpse of the famous green flash.
At the Grand Wailea, the essence and spirit of Hawaii are at the forefront of your experience. The identity of the island and its people has been captured and distilled into a uniquely beautiful experience.
Truly a destination for those seeking to find spiritual satisfaction as well as physical, The Grand Wailea offers daily morning yoga classes on Wailea beach, mere moments from the resort, allowing you to tap into the mana of the island as the sun rises.
After your morning rejuvenation, there is a long list of activities to keep you occupied in the idyllic surroundings. Thrilling hikes and horseback riding through the lush island environments, mountain biking, and ziplining through beautiful waterfalls are simply a few of the adventures that await you.
Then, at the end of a long day, eat your fill of traditional Hawaiian food while enjoying their beautiful Luau experience as the spirit of the island and its history is brought to life.
Just three miles from the Gulf of Mexico, the Ritz Carlton Golf resort is a stunning blend of sophisticated country club and luxury spa in exclusive, secluded surroundings.
Boasting two elite-level Greg Norman-designed golf courses, including the Tiburon, a 36-hole championship course, that will both challenge and delight the most discerning players, The Ritz-Carlton in Naples offers the perfect luxury golfing experience.
After your morning trip round the courses, retire to the luxuriously appointed Lemonia restaurant where a lavish breakfast is served daily. The Ritz-Carlton Naples also plays host to a further three restaurants, including the Ria for authentic Latin American dining in picturesque alfresco surroundings.
A short distance from the resort's expansive grounds is the city of Naples, lovingly named 'Florida's Last Paradise'. Here visitors can enjoy the local shops or visit the Naples Zoo or explore the Delnor Wiggins Pass State Park; a beautiful combination of sandy white beaches, crystal waters, and protected wetlands.
A beautifully remote getaway, Dunton Hot Springs is an atmospheric beautifully preserved 1800s mining town with character and charm that truly sets it apart from the competition.
As its name suggests, the resort is built around an ancient system of hot springs first discovered by the native Ute Indians to ease their aches and pains after long days traversing the bold and exciting wilderness wherein the resort is nestled.
The resort offers five separate environments where you can enjoy the magical soothing power of the naturally heated and healing waters including inside the restored 19th Century bathhouse and even under the stars at the source of the springs, offering a once-in-a-lifetime spa treatment.
Unlike other destinations on our list, Dunton Hot Springs is thriving in the wintertime, where the environment changes before your eyes. During the season a host of activities are available for you to take advantage of this beautiful winter wonderland, including snowmobiling, cross country skiing, ice climbing, and dog-sledding.
In the summer, when the green returns to the valley, guests can take part in horseback riding through The Rockies, fly-fishing, river rafting, and archaeological trips into the desert.
After a long day of adventuring in the Colorado wilderness, retire to one of the robust and characterful log cabins which seamlessly blend modern luxury with rustic warmth and authenticity truly unique to this magical location
Nestled on the magnificent Caribbean coast, Grand Velas Riviera Maya's 85-acre grounds encapsulates two beautifully distinct environments in the rolling blue Caribbean ocean and the beautiful Yucatan jungle.
The resort boasts a 'beyond all inclusive' experience, with an exhaustive list of services included in the all-inclusive rate, ensuring your dream family vacation is as perfect and easy as you deserve. Their 'Ambassador Experience' provides a wonderful opportunity to keep all members of the family entertained throughout your stay.
Their kid's clubs cater for kids ages 4-12 and the hours run from 9 AM-11 AM, meaning you make plans for the whole day with no need to juggle. The kids club comes replete with video games consoles, arts and crafts, movies, and storytelling, meaning your little ones will be occupied and entertained all day while you enjoy your downtime.
For families with bigger kids, there's the teen club for 13-18-year-olds, which will accommodate the big kids from 11 AM to 12 PM. There's also a complimentary infant concierge service included.
You'll relax in the resort's wonderful hydrotherapy spa, which includes a clay room, a polar pool, and an ice room for both invigorating and relaxing experiences. The Experience Sensation Pool also provides a unique and calming environment.
But if you've got steam to burn off you're welcome to come to the resort's spacious open plan fitness center or take part in Zumba and Pilates classes, that's all of course if you can drag yourself away from the stunning beach which sits mere moments from your hotel room.
And then at the end of the day, you've got the tough decision of choosing which of the hotel's eight restaurants to eat from, each capturing the essence of different cuisine from around the world. Oh, it's a hard life at the Grand Velas Maya Riviera!
With 4 swimming pools, including The Aqua Nick Water Park, and spacious, well-maintained rooms, along with its perfect beachside situation, the Nickelodeon Hotels and Resorts Punta Cana Dominican Republic provides an idyllic family vacation destination. A perfect getaway resort for all ages, where adults can relax in style while children experience the magic of their favorite Nickelodeon characters.
The resort provides a selection of entertainment for children of different ages. For babies and toddlers, the children's club is open from the afternoon and until late, while the Just Kiddin' kids club will have kids ages 4-12 speeding away to the curly slide and ball pit, allowing adults to take advantage of the emerald waters of the Cap Cana Marina located a short 29 miles away.
There's even the opportunity to stay in a luxury pineapple villa with two bedrooms, 3 bathrooms, and a private patio overlooking an infinity pool.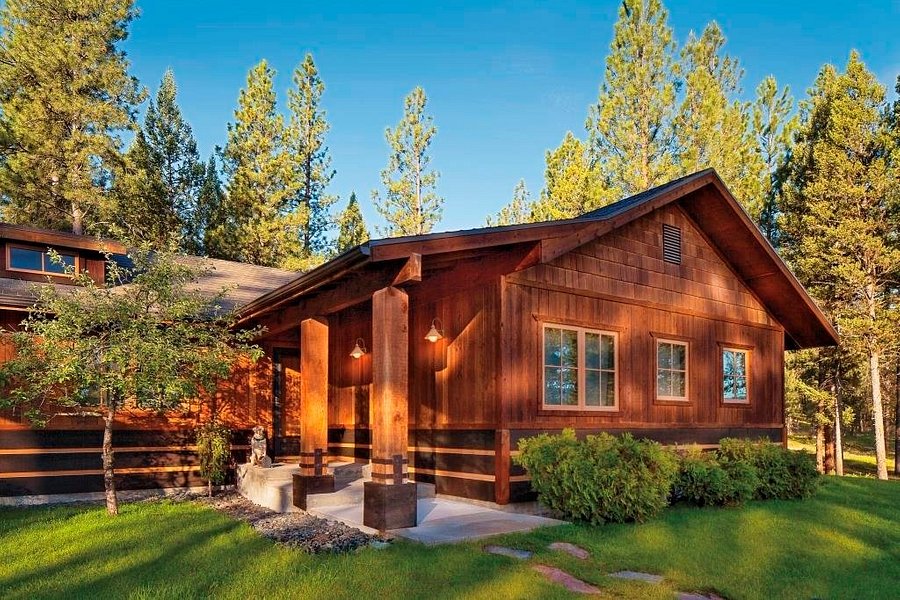 If it's freedom, peace, and big skies your family is after you couldn't want for more than the experience provided by The Resort at Paws Up. Located on a massive 37,000-acre working ranch deep in the striking wilderness of Western Montana, at the Paws Up you'll tap into the rustic beauty of the landscape while enjoying the elegance of the lodgings.
The good folks at The Resort at Paws Up pride themselves on being a perfect family destination. Whereas at other destinations relaxation is the name of the game, here it is the spirit of adventure that will bring your whole family together.
Explore the Midwest wilderness on expert-led horseback tours, the definitive Montana cowboy experience, feel the rush of white water rafting, or take a bumpy ATV ride in the wilds. There's also kayaking, paintballing, and mountain biking just to name a few more activities that will ensure that every moment of your trip will be one to remember.
The Paws Up offers a handful of specially tailored family packages to give your family the best value for your adventure. The Resort at Paws Up boasts 27 separate beautifully adorned, rough-hewn wood lodges, all embodying the American frontier experience without sacrificing a drop of luxury, to keep you comfortable on your downtime, sleeping anywhere between 2-8 guests.
If you want to be a little closer to nature, the Paws Up offers the opportunity to take your family glamping in one of their luxury tents during the summer months.
Their safari-style tents, luxury amenities, and butler service put you about as far from 'roughing it' as you could want while keeping the spirit of the wilderness alive. A selection of different styles of camps offers everything you could ask for for a family-friendly adventure.
And we've not even got to the beautiful Montana Island Ranch at Salmon Lake. Just a short 15-minute drive from the resort you'll have the opportunity to enjoy the peace and solitude of your own private island, nestled in the heart of the Montana mountains.
The beautiful open-plan-style surroundings of the Paradisus Grand Cana all-inclusive resort allow a deep connection to Bavaro beach, where the lush hotel rests. The lush natural surroundings are woven seamlessly into the flawless luxury, making it one of Punta Cana's most special all-inclusive family resorts.
The majestic and challenging Cocotal golf course, designed by renowned architect Jose Gancedo, is woven beautifully into the landscape and will provide a test to all players and memories long after your final putt. For those looking to get their heart rate a little higher, there's also tennis, basketball and beach football, and volleyball available on offer.
There's also a host of traditional dance classes on offer so you can find the Latin American rhythm in those dancing feet. Cocktail mixing and cooking classes, painting workshops, and wine tasting are just a few of the other activities available at the Paradisus Grand Cana.
Comprehensive entertainment for the kids is also available at Paradisus, with an extensive list of activities for teens, including bungee jumping, climbing, and mangrove forest tours. For younger kids, the Kidszone offers games and water sports during the day, crafts workshops, an Xbox play lounge and during the evening the fun continues with movie nights and discos.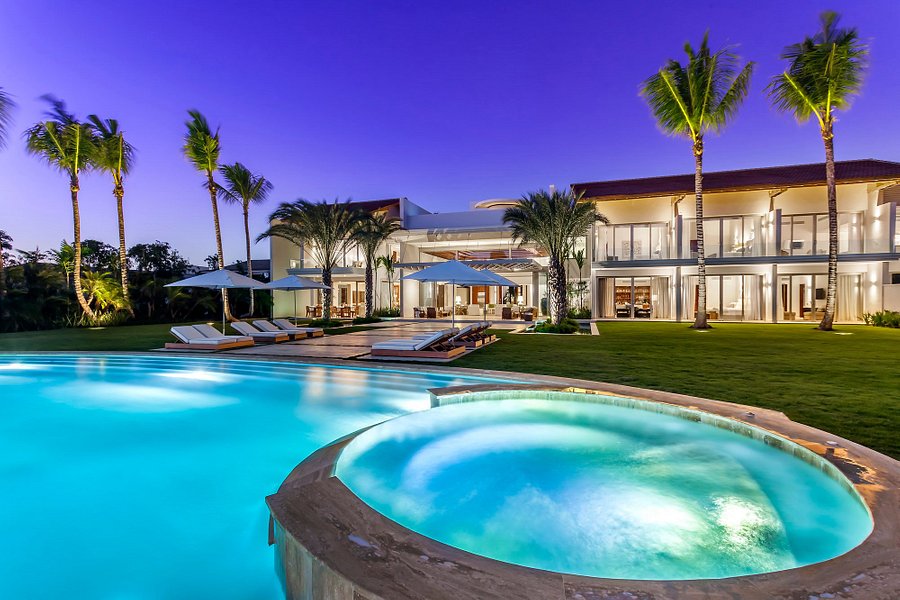 Established 50 years ago The Casa de Campo is the Dominican Republic's longest-running inclusive family resort. A favorite destination for VIPs and sophisticated travelers, the exclusive gated community offers stunning luxury in privacy.
Make sure you book in for a long stay if you're considering the Casa de Campo, the activities and amenities on offer simply cannot be fully enjoyed in one week.
The hotel is home to Minitas Beach, a private paradise in the middle of the complex. Here you can simply relax on the quintessential Caribbean beach with a cocktail from the Minitas Beach Club, take part in a variety of water sports, or even indulge in a massage in their relaxing open-air pavilion.
Not to mention Catalina Island, a tiny 6-mile island just a short excursion from the resort, surrounded on all sides by azure warm water and teeming with native sea life. Casa de Campo offers you the desert island experience you see when you close your eyes.
Casa de Campo also boasts a host of other activities, including a shooting range, horse riding, and sport at their professional equestrian center, three separate swimming pools, including an adults-only infinity pool.
They also have an on-site movie theatre with three separate screens where you can catch all the latest releases, as well as an open-air amphitheater that has played host to the likes of Sting and Elton John.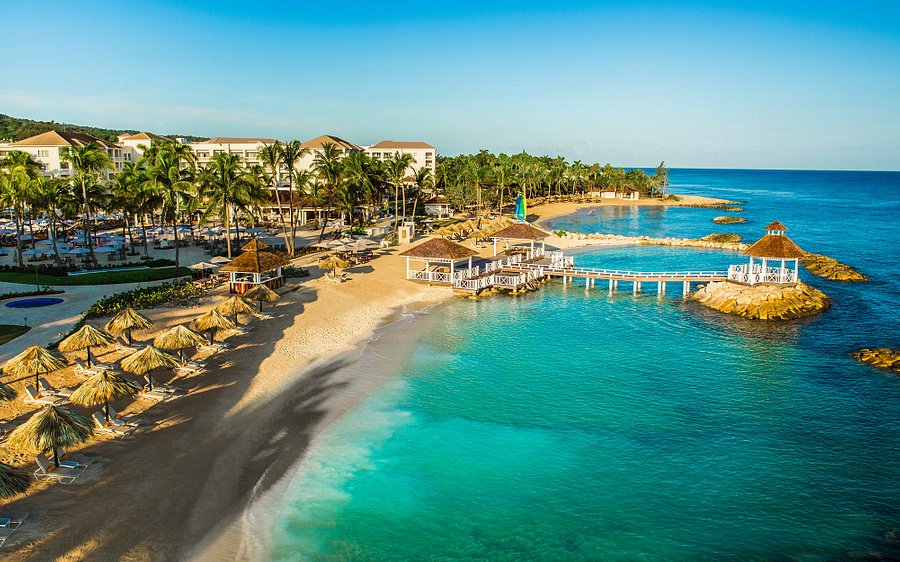 If it's stunning ocean vistas set against a magnificent mountain backdrop you're craving, look no further than The Hyatt Ziva Rose Hall all-inclusive resort in Jamaica. The exclusive resort in Montego Bay, Jamaica is the perfect destination for families, their larger suites boasting ample room and all with private balconies.
The Hyatt Ziva Rose offers a comprehensive all-inclusive experience with unlimited dining and bottomless drinks at one of their six restaurants or six bars. Their locally sourced produce and skilled chefs offer a host of worldly cuisine, from Chinese to Italian and seafood to Jamaican.
Whether it's fast-paced excitement or gentle relaxation your family is craving, everyone will be catered to. Water sports, beach volleyball, and dance lessons are available throughout the day, there's even a ping-pong tournament if you want to test your mettle!
Daily fitness classes are available every morning or lead your own workout at the resort's state-of-the-art fitness center, then retire to one of the Hyatt Ziva's pools and take advantage of their luxury private cabana rental.
Close your eyes and picture the desert island getaway of your dreams, chances are you just envisioned The Brando, the pinnacle of Polynesian paradise. A place of ancient and important native beauty, home to a series of rare and beautiful plants and wildlife, you simply won't believe this heaven on earth is home to an all-inclusive resort.
This paradise is only a short twenty minutes from Tahiti International Airport, The Brando exists in eco-harmony with its environment helping create the desert island getaway you've spent your life dreaming of. Offering a choice of 35 one, two, and three-bedroom villas all offering beautiful airy open plan living with spectacular views of the ocean, seating for six, an outdoor bath, and a private pool.
The magic of The Brando is during your stay you will be part of the native nature and simply a spectator. Go snorkeling with turtles, manta rays, and an expansive array of beautiful tropical fish. Explore by kayak, paddleboard, or canoe. Explore the surrounding jungle and spot the native rare birds, or simply relax at the Varua te Ora spa.
Then by night enjoy dinner on the beach under a clear starlit sky while you take in a traditional Tahitian dance performance. If it's paradise on earth you're looking for, then look no further.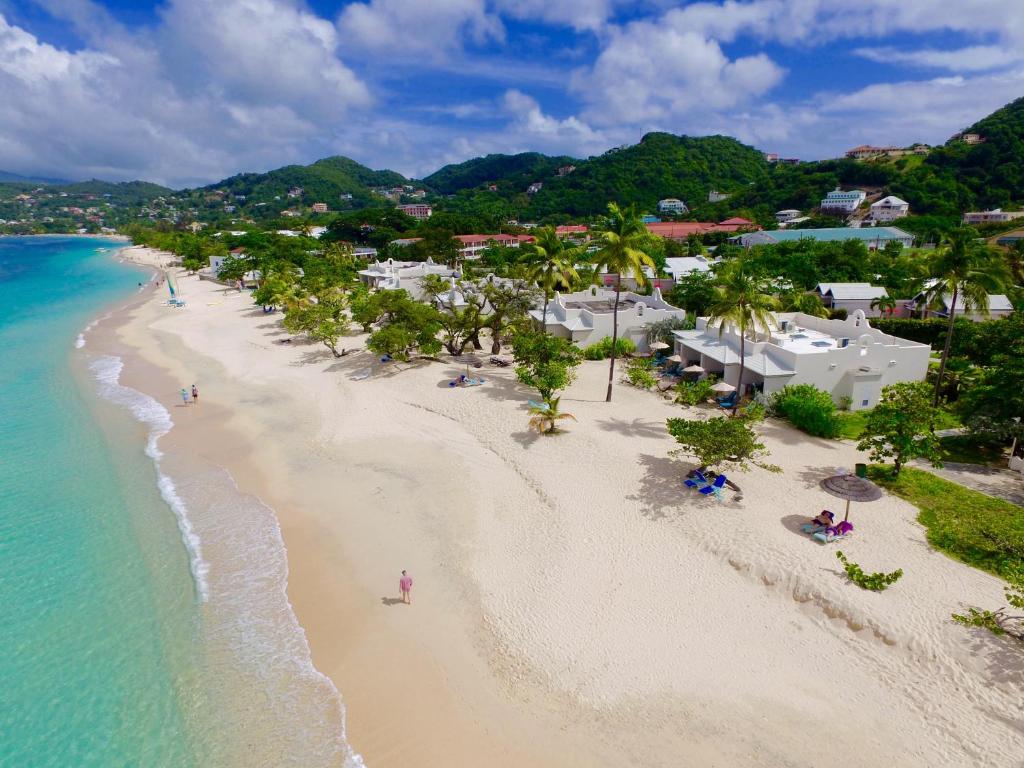 Situated across a sprawling 8 acres of tropical paradise, Spice Island Beach Resort is the pinnacle of Grenada's all-inclusive resorts.
Boasting two miles of sugar-white sand and gently lapping waters, framed by palm and sea grape trees, the Grand Anse beach is the perfect place to wriggle your toes in the sand, while away the hours, and forget about the world. Take a Hobie cart, paddleboard, or kayak to explore the waters or perhaps a professionally led scuba diving adventure.
There's even the Nutmeg Pod, a spot of sand just for kids aged 3-12, meaning you can enjoy your slice of paradise without worrying about the little ones being cooped up indoors. As well as the Nutmeg Pod, limitless dining and drinks, non-motorized water sports, and access to the fitness center are included in the all-inclusive rate.
The 64 luxury villa-style family suites all include a host of amenities, a series of which include access to your own private outdoor area and private swimming pool.
The newly renovated Hilton La Romana Resort and Waterpark is a stunning slice of Dominican luxury. This all-inclusive resort is surrounded by lush tropical jungle and white sandy beaches, where you can go windsurfing or kayaking.
If you choose to stay on the hotel grounds you're spoilt for choice between one of the hotel's four swimming pools while the kids are entertained at the Fun Club for Kids or Teen Zone.
Not far from the hotel is Altos de Chavon, a lovingly recreated 16th Century Mediterranean village or explore the stunning coral reef at Catalina Island, and only 45 minutes away is the alluring town of Punta Cana.
And when it comes to food, the Hilton La Romana will have your head spinning with its ten separate restaurants. Whether it's buffet style, French cuisine, or pizza by the pool, the La Romana will satisfy every fancy.
In Summary
No matter what experience you're seeking, relaxation and pampering in warm crystal waters, rapid downhill biking in beautiful Pacific Island locales, or horse riding in the American Midwest, the list of beautiful five-star all-inclusive destinations goes on and on and ensures that regardless of yours and your family's desires, there'll be something to keep everyone happy.
More about our TFVG Author
A seasoned traveller, Dad, and avid sports tourist, James foundered The Family Vacation Guide to share his expert vacation experiences- especially when it comes to being a travelling family man.
Featured in Travel articles such as Travel + Leisure, TripSavvy and SFGate, you know you're reading some of the best vacation tips online.