If you are on the lookout for a memorable family holiday then look no further than Montego Bay. With its warm air, sprawling white sandy beaches, and turquoise blue oceans, this is the perfect destination for a tropical adventure for all the family.
Situated on Jamaica's North coast, Montego Bay stretches for 20 miles and boasts an assortment of beachfront properties and activities for all ages. Here is a look at some of the best family-friendly resorts this tropical paradise has to offer.
Why not also check out our guide to the best all-inclusive resorts in Jamaica for families to find more inspiration?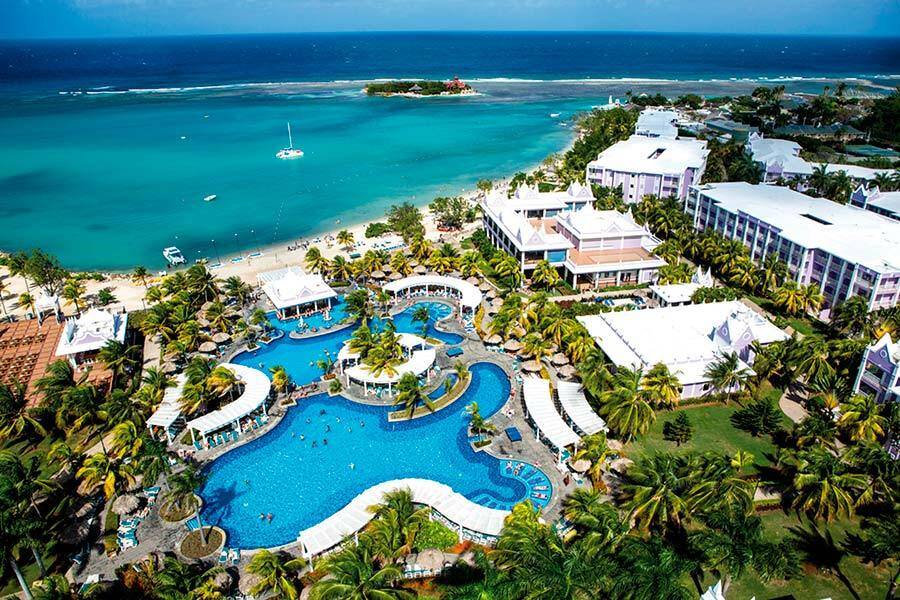 This all-inclusive beachfront hotel was fully refurbished in 2020 and is only 2.7km from Montego Bay International airport. It is the perfect place to go if you are traveling with older children as it is exclusively over 18's.
It has a range of onsite restaurants and bars including a poolside bar in one of its 5 swimming pools. Enjoy the thrill of the water slides at Splash Water World or take in the breathtaking scenery along the private area of the beach exclusively for guests. Satisfy your need for adventure with kayaking or scuba diving or relax in the Renovo Spa.
Located in the heart of the world-famous Hip Strip, this resort is only 5 minutes from the Montego Bay International airport meaning you can start your holiday straight away.
It offers a range of suites including King and junior suites each with mountain or sea views and a balcony or terrace. Take a dip in the outdoor pool with its poolside bar or enjoy a workout at the gym followed by a relaxing treatment in the world-class spa.
There are 11 restaurants to choose from and a free buffet breakfast is included with your stay. This family-friendly resort is surrounded by shops and is only a minute walk from the beautiful Doctors Cave Beach.
It caters to all ages with supervised activities for the children and a childcare service offered for a small surcharge. This is one of the best family resorts in Montego Bay and is perfectly placed for exploring and is close to the Blue Hole secret waterfalls and the Bob Marley Experience.
This deluxe resort features 2 private pools, a spa, a whirlpool, and a fitness suite. Spread across 3 buildings this all-inclusive resort offers a range of accommodation as part of the same property from one, two, or three-bed villas and a luxury penthouse.
Its beautiful location on the Northwest coast under the misty peak of the Blue mountain makes it perfect for enjoying watersports including kayaking, wind sailing, sailboat rides and a trip on the Dunn river falls.
Kids are well catered for with a kids club and a teen lounge and there is a host of daily activities to choose from including a beachfront play area, a game room, table tennis, fun-size soccer field, splash pad, jungle gym, and much more. There is also a large selection of restaurants and bars and nightly entertainment for all the family.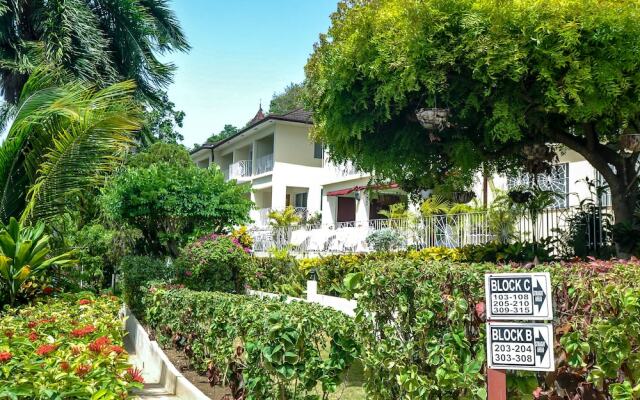 This is one of the all-inclusive family resorts in Montego Bay where children go free! It boasts a variety of restaurants including buffet restaurants and international cuisine catering to all tastes.
It has beach bars, a garden terrace, and a picnic area giving a wealth of options when it comes to catering for your family. It has an outdoor pool and access to a private beach area with a shuttle service for guests.
If you are feeling adventurous and want to explore more of what Montego Bay has to offer, this resort is perfectly situated for a trip to the local water park. Aqua Sol theme park is a 5-minute drive away as is the stunning Dead End beach.
There is an array of activities whilst you are there including non-motorized water sports like snorkeling, waterskiing, windsurfing, and sailing.
This is a great option for Montego Bay family resorts. This beachfront resort is surrounded by the stunning Montego Bay Marine Park. The rooms have a terrace or balcony and overlook the stunning white sandy beach on its doorstep.
It offers a wide range of nightly entertainment as well as plenty to keep the kids amused. There are private pools and a kids club called Explorers club which caters to ages 3 to 12 and includes plenty of activities and an indoor play area.
Older children can also enjoy sports, tennis, beach volleyball, and video games.
There are 8 dining choices and the world-famous Hip Strip is only 10 minutes away. Your family will be spoilt for choice when it comes to deciding what to do as you can go canoeing, paddleboarding, take a banana boat ride or explore Montego Bay Marine Park Islands first underwater National Park. This is truly one of the best beach resorts Montego Bay has to offer.

Situated on the beachfront, this is another of Montego Bays' inclusive family resorts that let children under 12 go free! You can choose from a mountain view, ocean view, or pool view room and be assured that all tastes are catered for with 5 restaurants to choose from.
The Holiday Inn resort Montego is another great example of one of the best family resorts and there is plenty for your children to do. With a choice of outdoor pools, a whirlpool, and watersports on-site the kids will never be bored.
There is also a kids club, activity center, playground, indoor play area, and volleyball courts as well as a spa and casino for the older generation.
With a private beach and free breakfast included this is a great option when looking for one of the all-inclusive family resorts. There is easy access to other attractions if you are looking to explore more of Montego Bay including Rose Hall Great House, Martha Brae River, and Dunns' River Falls.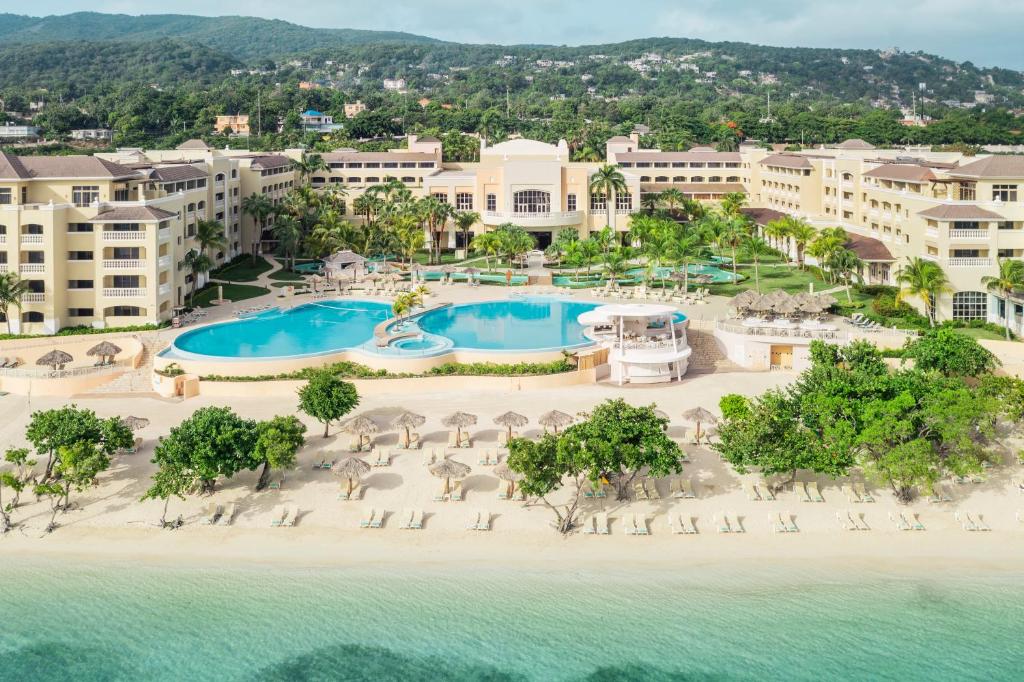 If you are looking for family resorts in Montego Bay that offer child rates then look no further than the Iberostar Rose Hall Beach. This is one of the best family resorts because they let kids under the age of 2 stay for free and those aged 3 to 12 have a cheaper rate meaning you are saving before you even travel.
The property has deluxe rooms for up to four guests which are either on or next to the beach. As a guest, you get private access to the beach and can even hire a car for those days out exploring Montego Bay.
A complimentary buffet breakfast awaits you in the morning and there are plenty of options for dining including 4 restaurants, 3 cafes, 6 bars including a beach bar.
This all-inclusive hotel has plenty to keep the kids entertained including a kids club, tennis court, table tennis, outdoor play equipment and is only 12 minutes from the Aqua Sol theme park for a day out to remember. For the adults, there is evening entertainment, a luxury spa, and a hot tub. This is one of the best resorts in Montego Bay for families.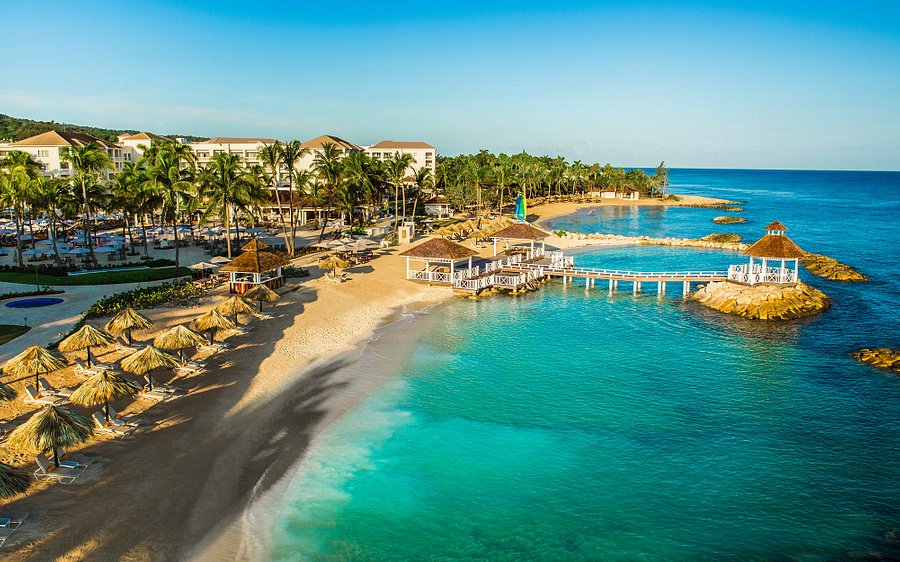 If luxury is on your list then this is one of the resorts in Montego Bay that you should consider. This all-inclusive resort boasts suites that overlook the sea and even have "swim-up" rooms giving direct access to the semi-private pool.
If you want to indulge whilst holidaying in the beautiful Montego Bay why not consider a butler suite which offers butler and concierge services for a truly VIP experience.
This resort has 2 infinity pools and an activity pool for all the family. You can be sure the kids won't get bored with an onsite Kids club and Teen club. There are 6 restaurants and 5 bars and entertainment throughout the day and night including live shows.
For the adventurous why not try the zip line, horse riding, white river tubing, or even explore some of the beautiful scenery by hiring a bike. This truly is one of the most luxurious family resorts in Montego Bay.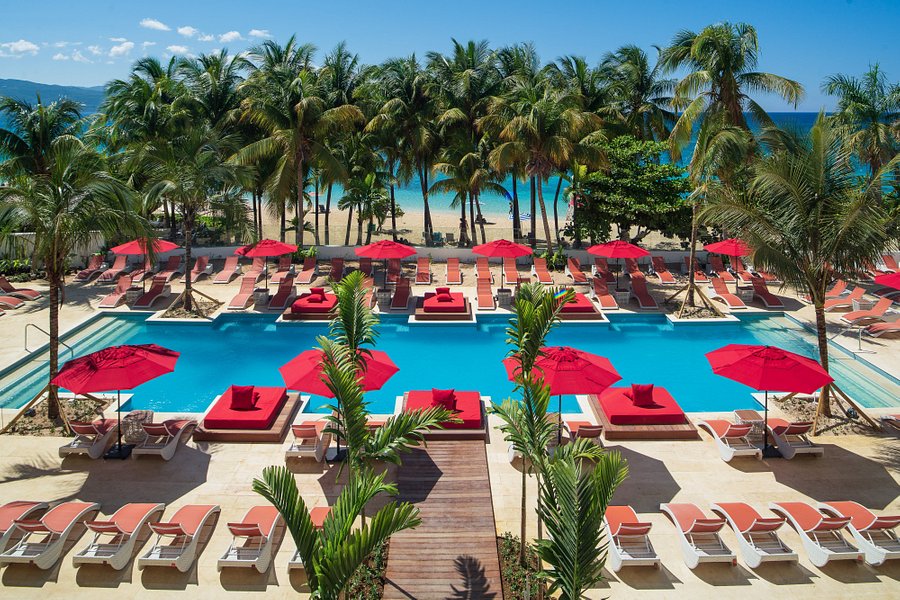 Only 3 minutes from the airport, this fantastic hotel is in the heart of the Hip Strip. It is on the beach and has ocean view rooms. Free breakfast is included in your stay and there are 2 restaurants and 2 bars on site.
Take a dip in one of the 2 outdoor pools or enjoy a tropical cocktail at the poolside bar. Children are welcome at this all-inclusive hotel and there is plenty to keep them entertained with beaches to explore or take a 13-minute walk to the nearby Aqua Sol theme park.
There is also plenty for the adults to enjoy including evening entertainment, live music, and even a rooftop pool.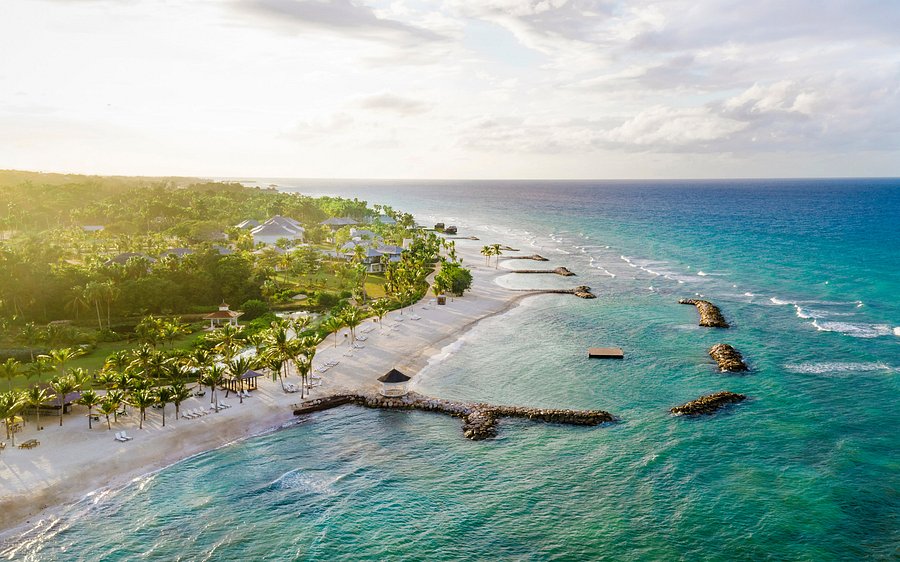 Offering 3 distinct resort experiences this is a destination of its own and is one of the best all-inclusive resorts. Stretching across a 2-mile beach, this is one of the best inclusive resorts Montego Bay has to offer and at Half Moon "kids are VIP's" making it the perfect family break.
A stay at the Half Moon will be jam-packed with fun for all the family. It boasts its own Anancy children's village for kids aged 3 to 12 with plenty of activities to keep the little ones busy and even offers a nanny service.
Parents can rest assured their children will be taken care of and can pay for half-day, full-day, or 3-day packages for the kids including lunch, snacks, and a fruit drink.
There is also an outdoor play park, horse riding, scuba diving, parasailing, water skiing, tubing, wakeboarding, and onsite arcades ensuring the whole family is spoilt for choice.
It also has a variety of pools including an infinity pool, the largest pool which is Olympic size, and a kids pool as well as a beach butler who hosts a barbecue beach party in the evenings. This is one of the top family resorts in Montego Bay.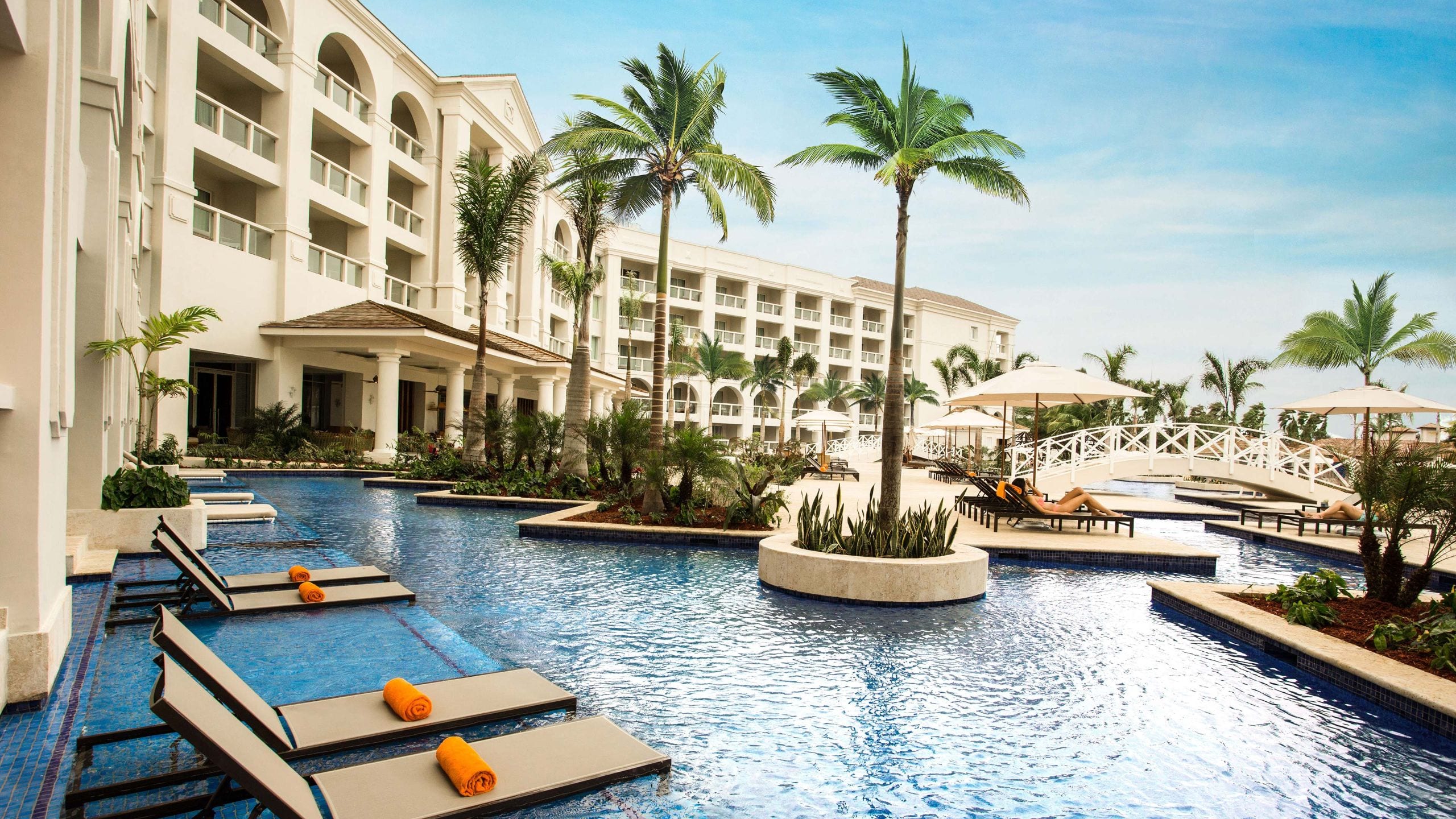 This is another one of Montego Bay's resorts that cater to families. Offering all-inclusive packages including "swim-up" suites and free breakfast, this Rose Hall resort has plenty to keep the kids entertained.
There is a kids club where your little ones can enjoy arts and crafts, beach activities, PJ parties, and discos. For the older children, there is a teen club offering football, air hockey, and video games. You can enjoy a dip in the pool or if you are feeling more adventurous there are non-motorized water sports to try such as snorkeling and surfing.
For days out to remember why not visit the nearby Dolphin Lagoon where you can swim with dolphins or take a horseback ride along the beach. Hyatt Zilara Rose Hall resort is another of the all-inclusive resorts Montego Bay has to offer.
If you are traveling with older children, this over 18's hotel is one to consider. This is one of the Jamaica resorts that are on the beach and is surrounded by beautiful Montego Bay scenery.
It has an infinity pool, splash pool, spa, and gym and has a variety of bars and restaurants to choose from. There is evening entertainment, a nightclub a few yards away, and live music. This is one of the best resorts in Jamaica for those with an older family.
In Summary
There are so many Jamaica resorts that it is difficult to choose the best family resorts. Another that also deserves a mention is The Grand Palladium Jamaica Resort. It caters to families, with 4 pools and a kids' water park. There are bars and restaurants including buffet restaurants and a la carte.
Rooms with garden or sea views are available, as well as junior suites. Therefore, The Grand Palladium Jamaica Resort is another of the Jamaica resorts you should consider when looking into a holiday in the beautiful Montego Bay.
Hopefully, this list has given you an idea of the assortment of properties that Montego Bay has to offer. However, it is by no means exhaustive! There is a wide range of diverse accommodations on offer from beachfront suites to "swim-up" villas, those with infinity pools and spas to those boasting kids clubs and on-site entertainment.
There are many close to theme parks and world-famous sites to visit and some that include excursions that are sure to become memorable days out.
Jamaica is a melting pot just waiting to be discovered and Montego Bay is guaranteed to have you immersed in the culture and energy of this beautiful paradise. Here is to finding the tropical adventure of your dreams!
More about our TFVG Author
A seasoned traveller, Dad, and avid sports tourist, James foundered The Family Vacation Guide to share his expert vacation experiences- especially when it comes to being a travelling family man.
Featured in Travel articles such as Travel + Leisure, TripSavvy and SFGate, you know you're reading some of the best vacation tips online.