In addition to frolicking on the sand, water parks are among the most popular summer activities. Water slides, lazy rivers, buckets of water dangling in the air, and interactive playscapes abound in these water parks, making it a refreshing respite from the summer heat.
Fortunately, many hotels have their own water parks, allowing families to skip the hassle of driving, parking, and spending for admittance. We've compiled a list of some hot new all-inclusive water parks that fit this description.
Punta Cana, D.R.: Grand Memories Splash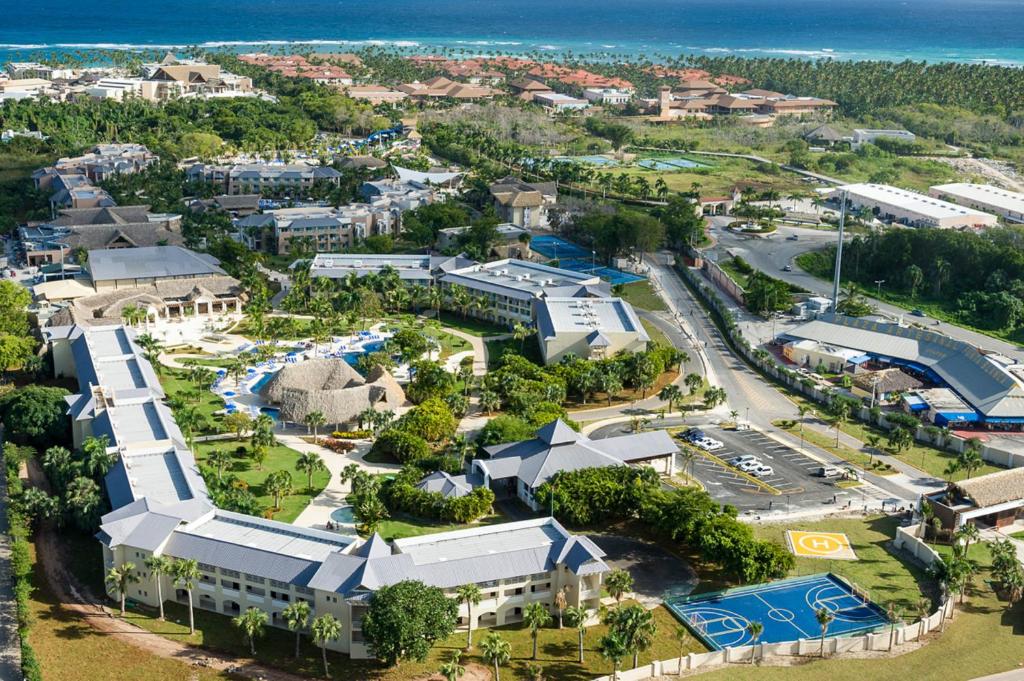 One of the Caribbean's largest water parks can be found right here at Grand Memories Splash. Water tubes, buckets of water hanging from the ceiling, and a refreshing wave pool await children of all ages and their parents at this amusement park.
Visit the 370-foot Black Hole waterslide, which appears to defy the laws of physics, for more thrills. Additionally, the Kamikaze water slide is thrilling with a 50-foot maximum depth and stunning views of the resort. The only thing left to ask is: Are you willing to slide into a fantastic vacation?
Providenciales, Turks and Caicos: Beaches Turks and Caicos Resort Village and Spa
This family-friendly resort has a retail mall, a massive spa complex, and a slew of restaurants and bars to keep visitors entertained, but that's not even close to being the main draw. The property's 45,000-square-foot water park is ideal for guests looking for a good time.
Anyone of any age may find something to enjoy in this vast facility's 650-foot lazy river, surf simulator, water cannon, or any of the many other water features it has to offer. Whether you like to relax in a whirlpool or fling your hands in the air as you tumble down a waterslide, Beaches has something for you.
Montego Bay, Jamaica: Hilton Rose Hall Resort & Spa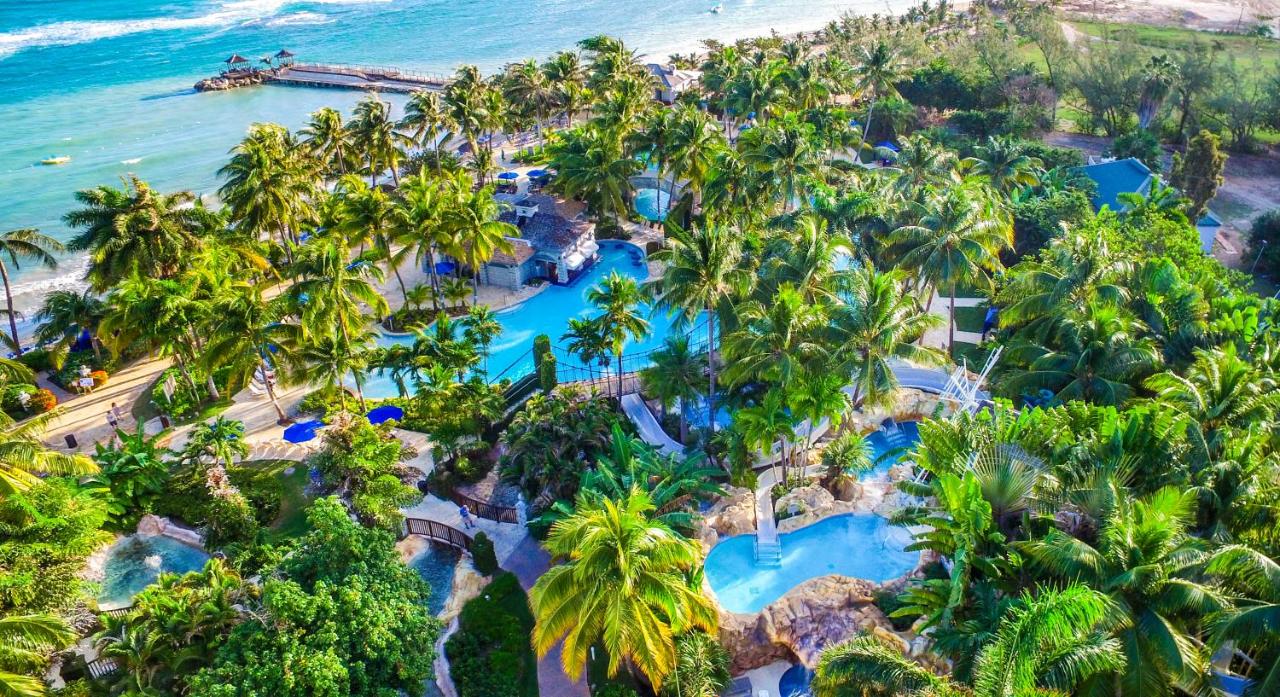 On Jamaica's north shore, the Hilton Rose Hall Resort & Spa is a great all-inclusive resort with the usual frills (a pretty beach, a relaxing spa, several restaurants, and a couple of pools). This resort does stand out from the rest of them, though.
It has Jamaica's largest water park right on site. Kids and adults alike will enjoy the lazy river, terraced pools, a fishing line suspension bridge in the jungle, and a 280-foot water slide. The swim-up bar and beer service at the poolside ensure a festive atmosphere.
Cortland, NY: Hope Lake Lodge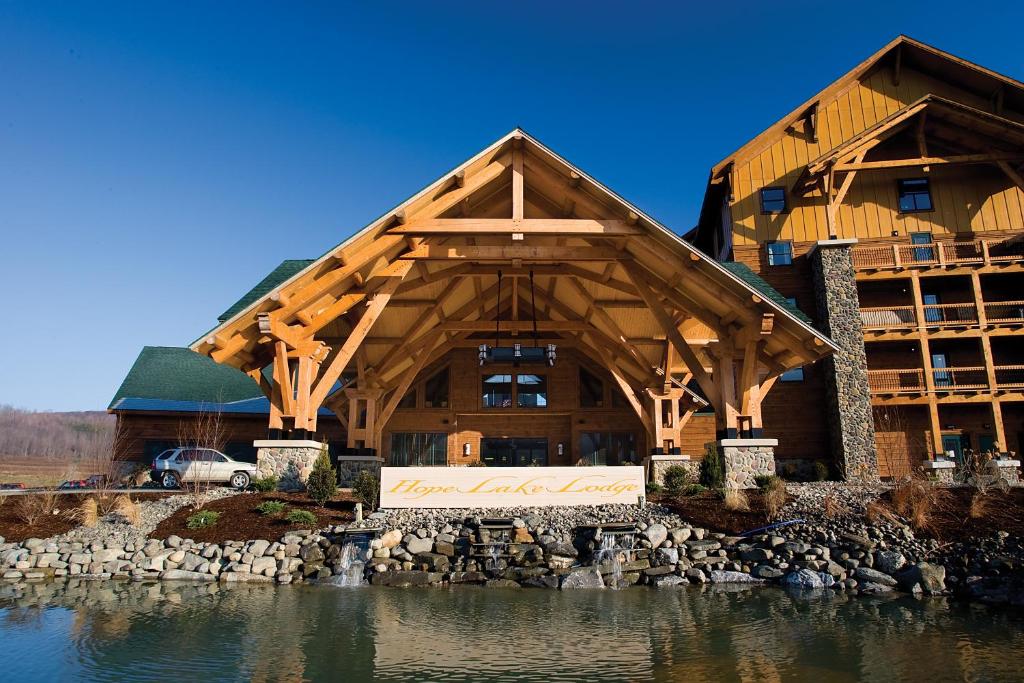 The water park at Hope Lake Lodge isn't quite as massive as others on this list, but it does have its advantages, including the fact that it's open every day and hotel guests have accessibility to the building's pool and hot tub.
This is Central New York's only indoor water park, and it offers a water slide with two types of waves, tube slides, and an activity tower. There is also an adjacent cafe for when you need to hop out of the water and grab a bite to eat.
Cancún, Mexico: Sandos Caracol Eco Resort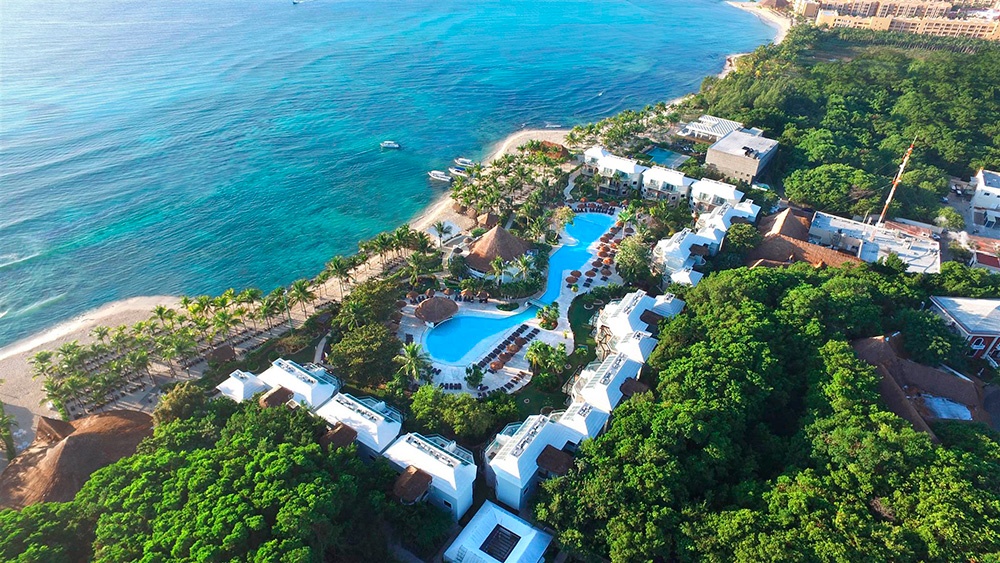 This all-inclusive resort, with certain sections for adults alone and others for families, features a natural cenote with excellent snorkeling, Mayan culture, forest grounds with wandering mammals, outdoor ponds, and a lovely beach.
The water park, which has 17 different slides and several shallow water play zones, will keep the little ones entertained. They can also enjoy the children's club with a movie theater, video games, and a miniature rock-climbing wall. Nightly shows, guided hikes, dance workshops, and beach activities complete the package.
Punta Cana, D.R.: Aqua Nick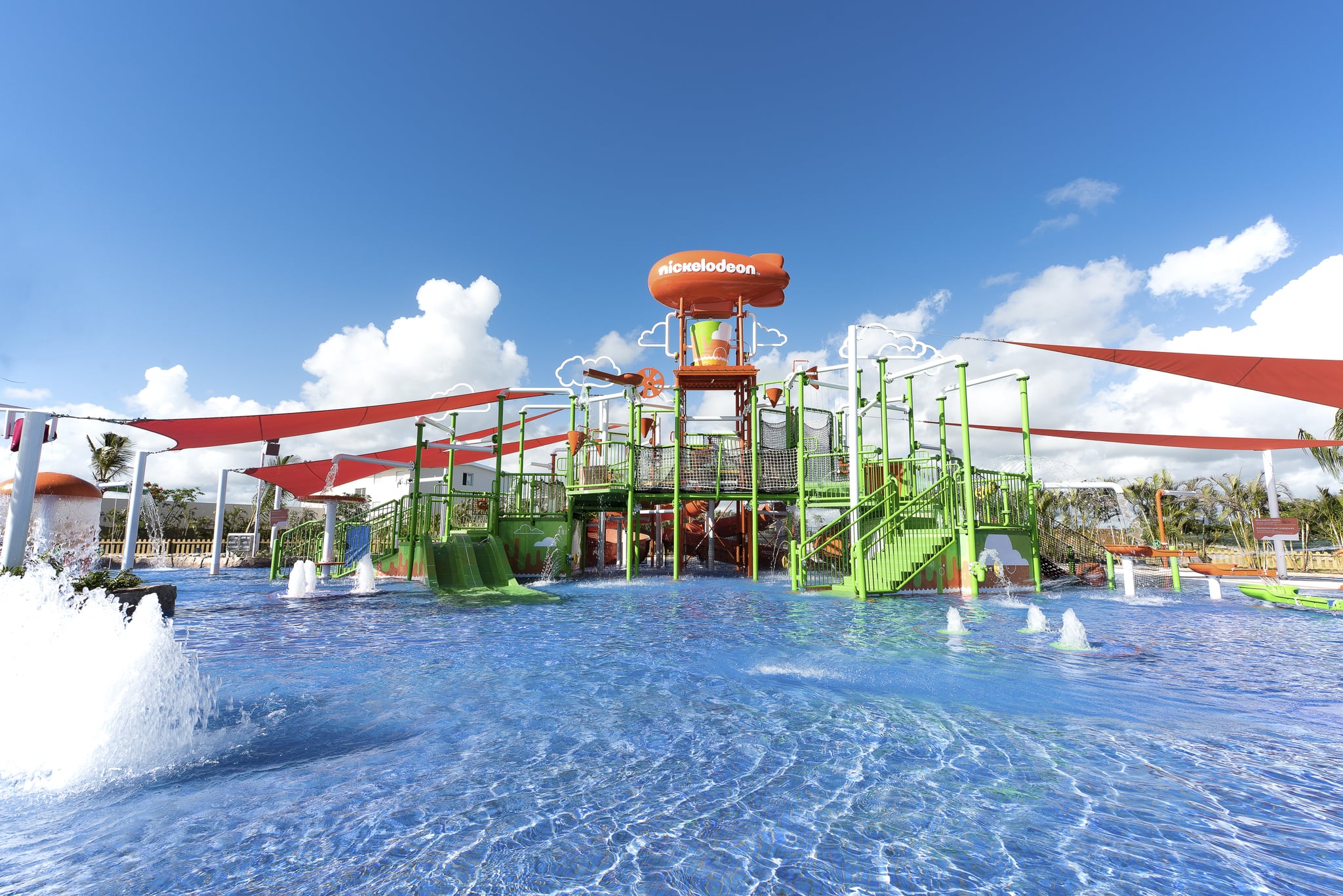 Aqua Nick, the newest water park to open in the summer of 2021, will be a must-see for water park fans, especially those who have enjoyed Nickelodeon's other resorts. It features a six-acre water park that with both lazy ajd adventure rivers in addition to sand beaches, seven water slides, and an on-site restaurant (included) to keep you fueled for water fun.
All visitors of Nickelodeon Riviera Maya are entitled to free admission!
Lake Geneva, WI: Timber Ridge Lodge and Water Park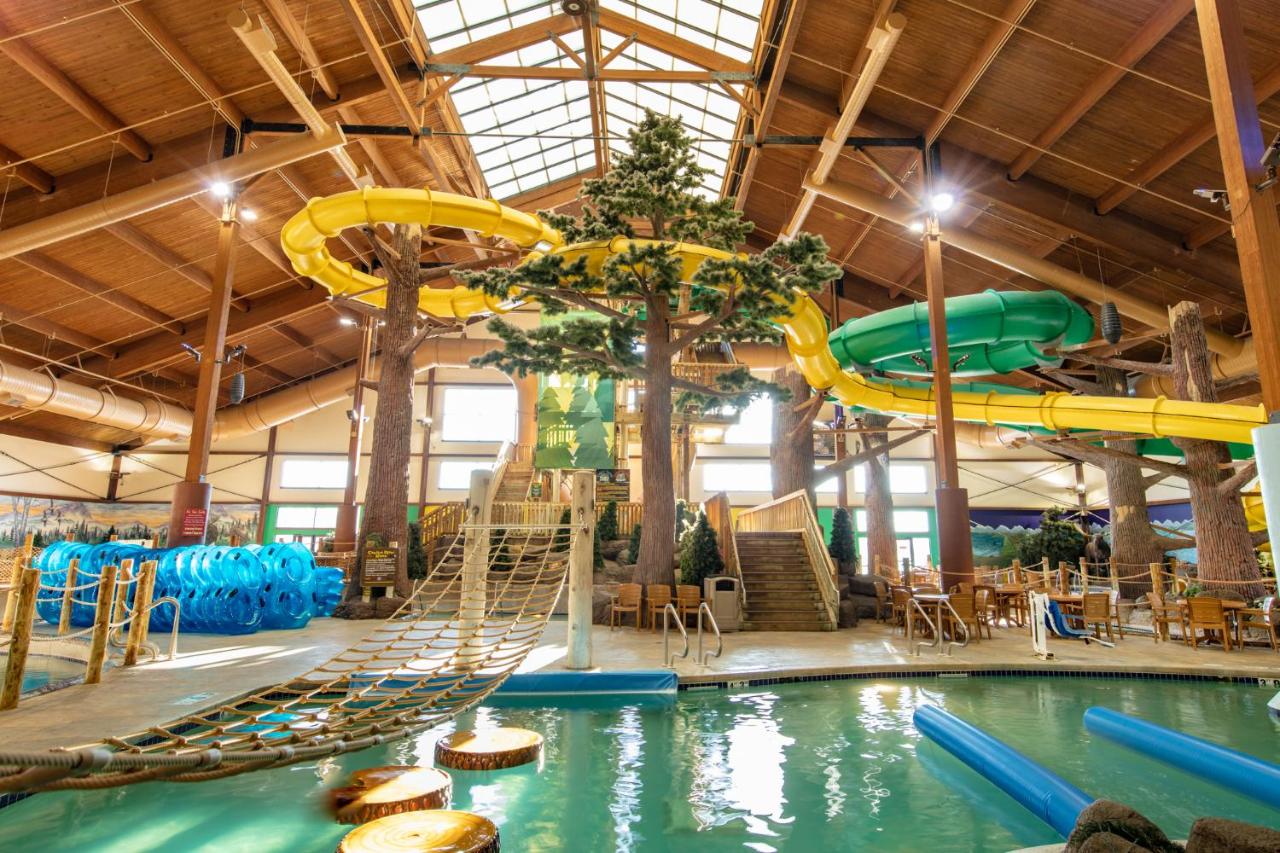 This luxurious lodge not far from both Chicago and Milwaukee features a separate pool with a slide and a lazy river for the little ones. One-bedroom suites come with four water park day passes, while two-bedroom suites come with six.
Negril, Jamaica: Beaches Negril Resort & Spa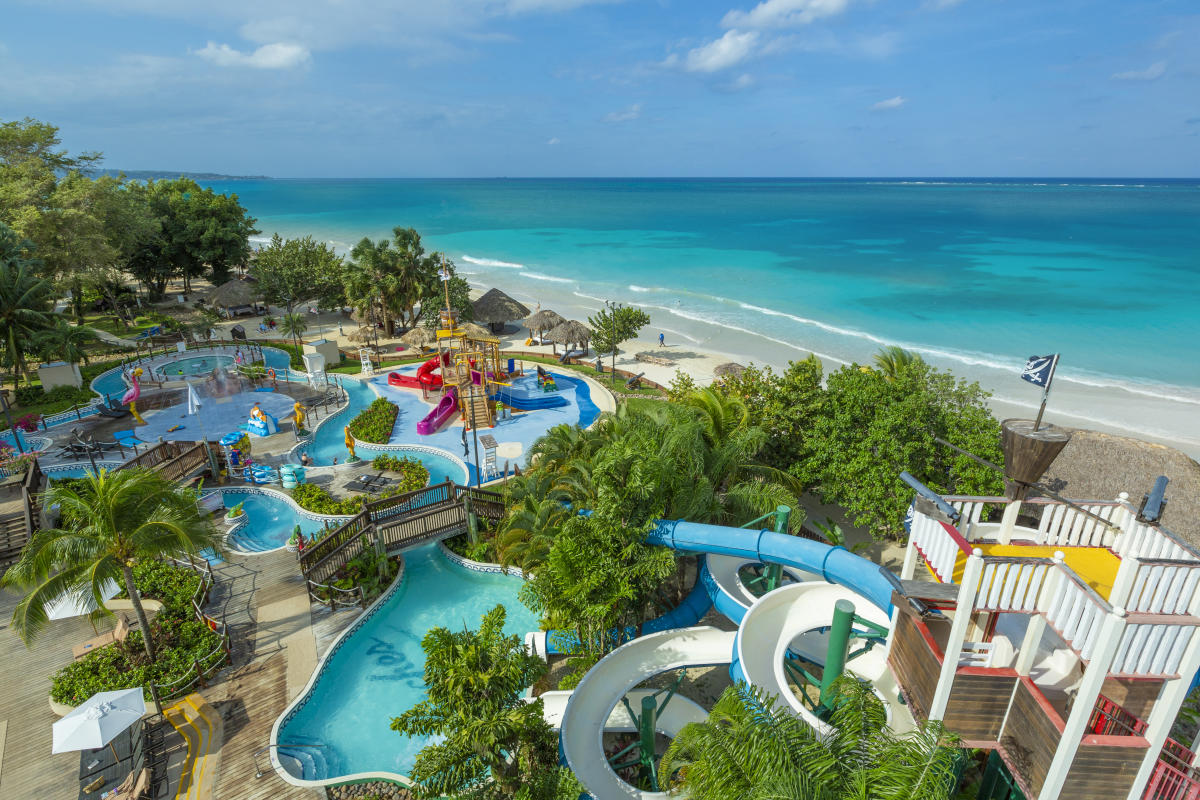 At this all-inclusive resort, families will never have to worry about their children getting bored. In addition to an extensive water park and a children's camp, there are numerous pools and events, including breakfasts with Sesame Street characters. The 18,000-square-foot water park, which includes 200-foot-long waterslides, a lazy river, and a plunge pool, is ideal for children of all ages. But that doesn't mean there aren't things to keep mom and dad occupied. In addition to the Seven Mile Beach location, amenities for adults include a spa, candlelight dinner for two, and swim-up bars.
Riviera Maya, Mexico: Iberostar Selection Paraíso Lindo
This all-inclusive resort, located on the Riviera Maya near Cancun and Playa del Carmen, encourages visitors to get out there. Sun loungers surround the attractive private beach, and water sports like kayaking and snorkeling are available. Other cool-off options include:
Relaxing in the water park or wave pool
Playing water polo in the recreation pool
Romping with the children in the water park with waterslides
Sipping a beverage at the swim-up bars in the main pool
Multiple Locations: Kalahari Resorts and Conventions
Although these resorts in Pennsylvania, Texas, Ohio, and Wisconsin accommodate business conventions, the water park is the real draw. During the summer months, guests can enjoy the outdoor water park, and year-round, they can enjoy the even larger indoor facility.
Riders can jump in the water on a surfboard in the Flow Rider Surf Simulator, one of the most exciting attractions. Among the resort's extras are a wave pool, hot tubs indoors and out, and a swim-up bar. In addition to the surf simulation model, the indoor amusement park is best suited for younger children.
Cancún, Mexico: Crown Paradise Club
Located right on the beach, Crown Paradise Club caters to those who are looking for an action-packed vacation in Cancun.
Various pools (for families, kids, and adults); a baby club with engaging toys and a bounce house; a children's water park complete with fountains and slides; and a teen club equipped for gaming, ping pong, and darts all contribute to the vibrant atmosphere. There's also an adventure area with a sand volleyball court, winding waterslides, a rock-climbing wall, and ziplining for teenagers and young adults.
Cancún, Mexico: The Moon Palace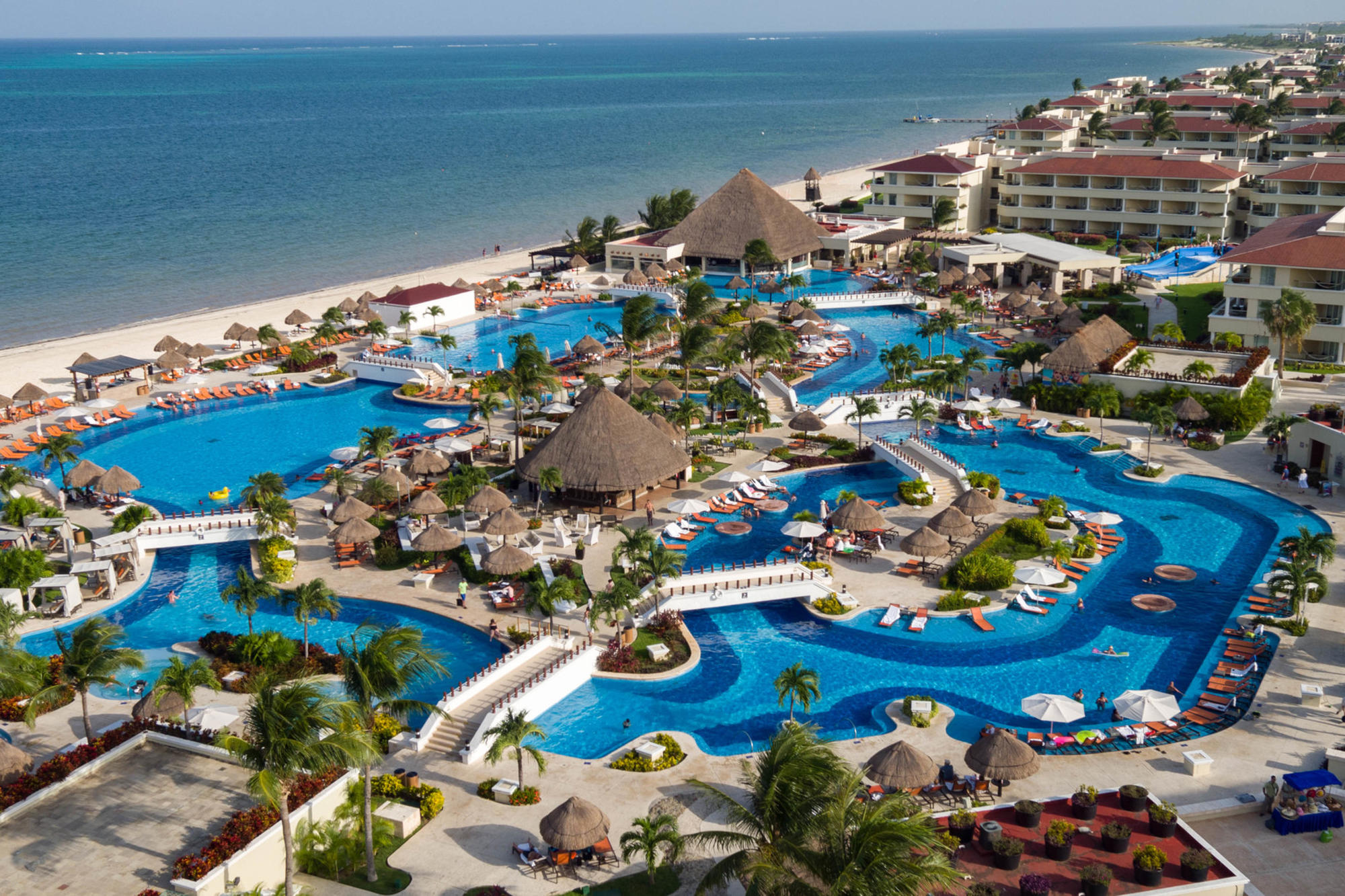 Located on Cancun's Riviera Maya, the sprawling complex of the Moon Palace caters to children and adults alike, with three distinct sections known as Nizuc, Sunrise, and Grand.
A mini racetrack, painting studio, and arcade keep kids entertained at the Sunrise kids' club. Flow rider machines, slides, and a swim-up bar may be found outside the children's water park. Just don't anticipate pure white sand and blue waves at the resort-like Hotel Zone; the beaches in this part of town are sometimes littered with seaweed.
St. Lucia: Coconut Bay Beach & Spa Resort
It's hard to pick a favorite among the 250 rooms at Coconut Bay Beach & Spa Resort, which has a portion for just adults (Harmony) and another for families (Splash). Swimming pools for adults and children are located in the Splash section, including a water park with water slides, a lazy river, and a tiny plunge pool.
Adults-only amenities include an 11,000-square-foot spa, a fitness center, tennis courts, and a warm whirlpool with waiter service. As a bonus, the mile-long beach, complete with sun loungers and an umbrella, is a perfect place to kick back and relax during your time off.
Bloomington, MN: Radisson Blu at the Mall of America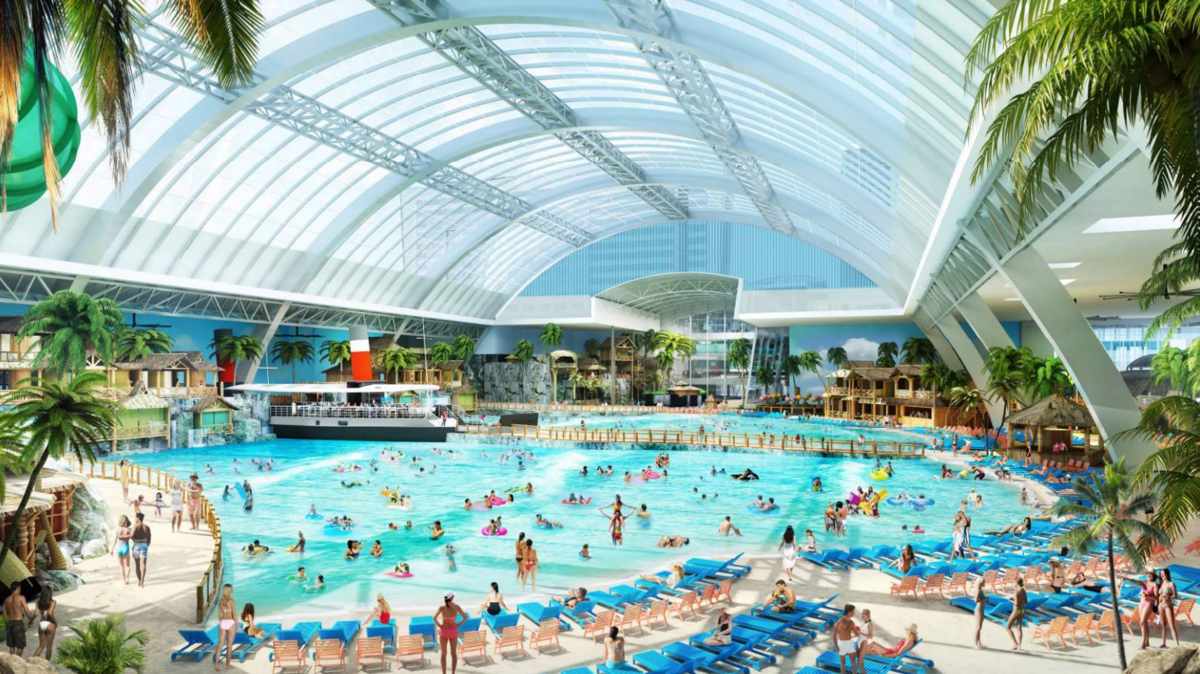 In addition to the 70,000-square-foot Great Wolf Lodge water park, the Radisson Hotel's main attraction is the in-pool basketball hoop, bridges, and fake lighthouse.
An outdoor space wave "FlowRider" for surfing and an arcade are also included in the park's extensive collection of attractions. As if that wasn't enough, it's also home to the country's tallest waterslide!  
Interested in knowing more about Great Wolf? Our guide to Great Wolf Lodge locations in the US should be an interesting read when planning your next family vacation.
Runaway Bay, Jamaica: Jewel Beach Resort & Water Park
There are a wide variety of activities to choose from at this resort, even if you can't see it from the outside. Do you want to spend the entire day lounging? The stunning beach and numerous free-form swimming pools make this an ideal location for just such an activity. Kayaking, snorkeling, and biweekly bonfires are just some of the offered activities.
On-site attractions for children include a water park and laser tag. The best part? It's all-inclusive.
Playa Mujeres, Mexico: Dreams Golf & Spa Resort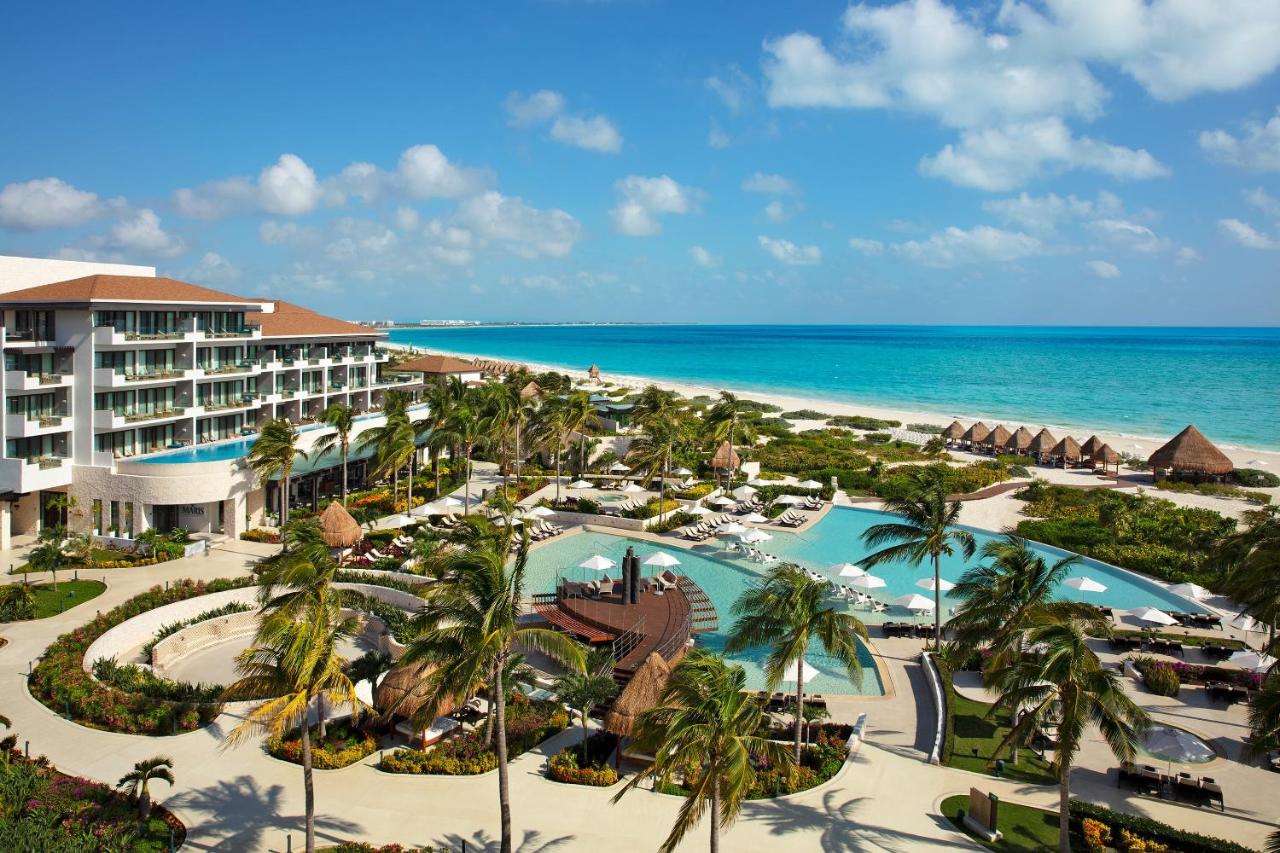 Just 30 minutes from the heart of Cancún, the family-friendly Dreams Playa Mujeres Golf & Spa Resort offers a lovely white-sand beach and a slew of fun activities for the little ones. Pools abound, including two infinity-edge pools, six whirlpools, and a water park. The spa is luxurious, and there are live performances and activities every day.
The gym is cutting-edge, and a golf course is located nearby. There's plenty of room for the whole family to spread out in the hotel's rooms, some of which include swim-out access or private pools. There are ten places to eat and drink as part of the all-inclusive package, although the food quality has been criticized.
Montego Bay, Jamaica: Iberostar Rose Hall Beach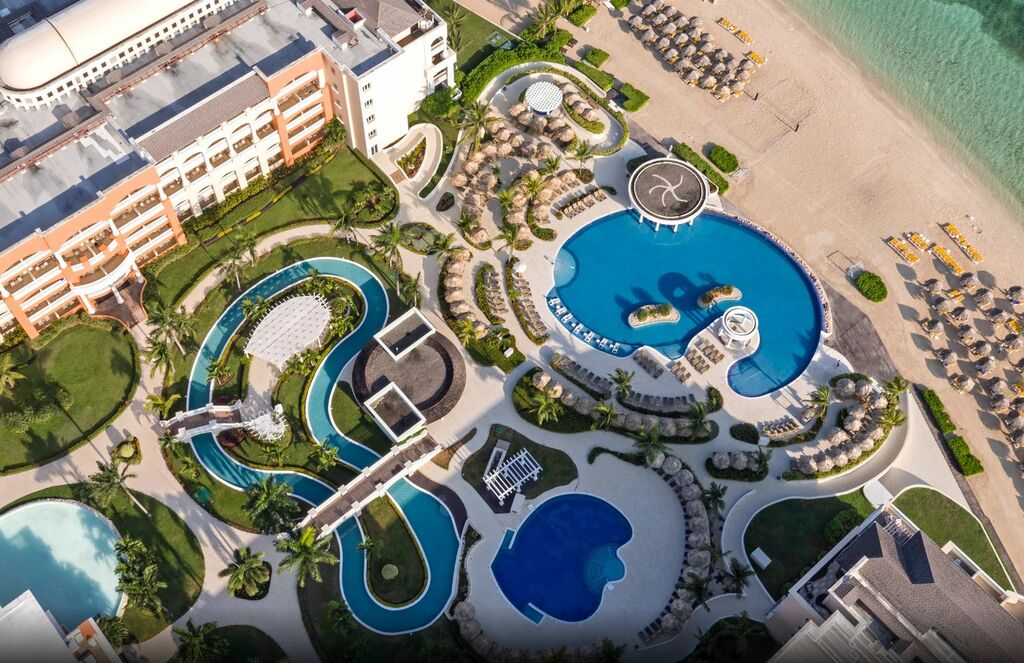 The most family-friendly of the three Iberostar resorts in Montego Bay is this 319-room all-inclusive facility. It's possible to share a room with the kids, and the resort has an excellent kids' club with a water park, a lazy river, and an activity pool.
There's a full-service spa, pilates class, casino, and nightlife for the adults. The six restaurants and six bars on the site are all included in the pricing.
Sevierville, TN: Wilderness at the Smokies
If you're looking for a giant indoor water park, you might want to check out Wilderness at the Smokies. It has 66,000 square feet of space and is the largest in Tennessee. Some of its best features include its 450-foot-long water slide, five-story-high water sports ride, a massive wave pool, and a surf rider.
Punta Cana, D.R.: Nickelodeon Hotel and Resort
All-inclusive Nickelodeon Hotel & Resort Punta Cana is a nostalgic destination for children and parents who have grown up with the cable network. In addition to the entertaining design, there is a gigantic water park, brunches with your favorite Nickelodeon characters, and a regular lottery to get slimed.
All guest rooms are kid-friendly, including one villa modeled after SpongeBob's underwater pineapple house. Parents can leave their children in the care of the children's club while they relax in the adults-only pool and spa.
Playa del Carmen, Mexico: Hotel Xcaret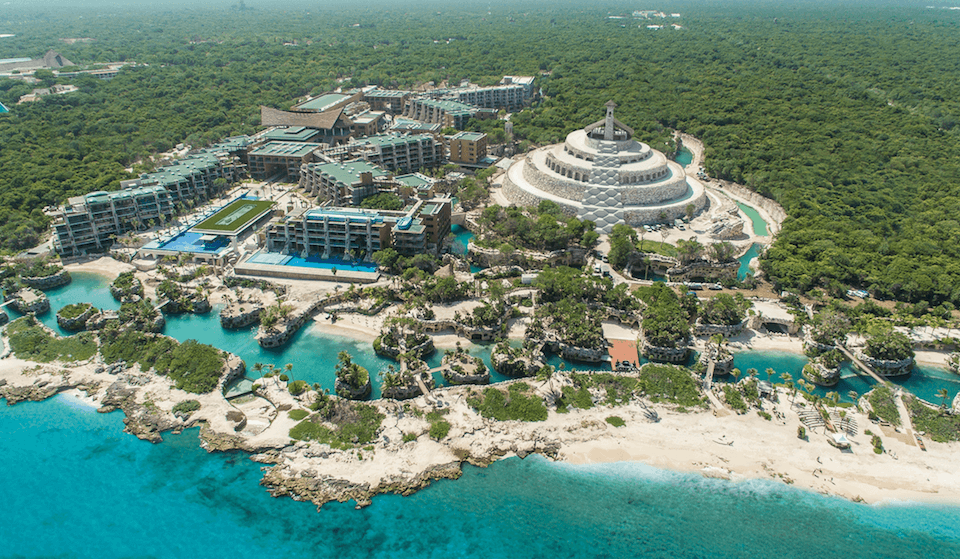 Although there isn't a water park on this massive 900-room all-inclusive property, guests can take a complimentary shuttle to nearby parks, including the Xcaret eco-park, which has a fantastic water park. There are numerous on-site amenities, including several pools, ten food outlets, eight bars, a kids' club, and a posh spa, which draw in families as well as couples. The beach is beautiful, and the rooms with hammocks on the balconies are a bonus.
Paradise Island, Bahamas: Atlantis Bahamas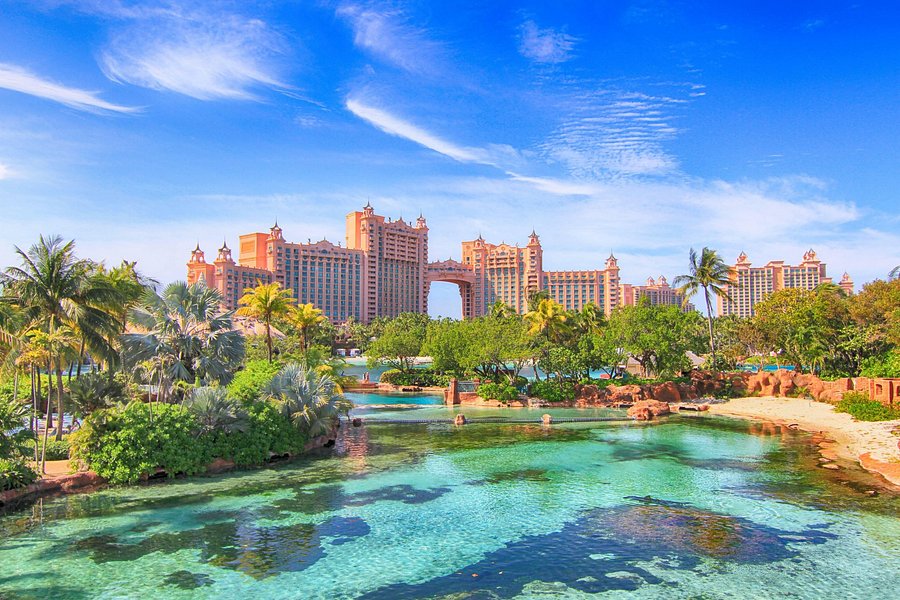 Atlantis is a water wonderland. Aquaventure is a huge water park that is part of a vast hotel. There are 20 different swimming spots for family members, kids, and adults. They have a lazy river, rapids that you can ride in an inner tube for a mile, a 120-foot tower slide, and a 200-foot body slide. There are also many different water slides for all ages. There are three white-sand beaches at Atlantis, so when you get tired of the water park, you can head to one of them to relax.
Conclusion
A summer without fun and relaxation in the water is a summer wasted. That's why water park resorts, which combine the luxury of a hotel stay, the beauty of natural beaches, and the fun of pool rides, are the perfect all-in-one destination. It gets even better when all those aspects are included in the same price tag! If you're looking for an unforgettable getaway for you and your family this summer, you can't go wrong with any of these resorts.
More about our TFVG Author
A seasoned traveller, Dad, and avid sports tourist, James foundered The Family Vacation Guide to share his expert vacation experiences- especially when it comes to being a travelling family man.
Featured in Travel articles such as Travel + Leisure, TripSavvy and SFGate, you know you're reading some of the best vacation tips online.