Recently, both Disneyland and Disney World Resort will be providing new services named Disney Genie, Lightning Lane, and Disney Genie+ beginning in the fall. This announcement means that Disney MaxPass services, FastPass, and FastPass+ services will cease due to the new services taking their place.
These new programs will be more comprehensive, and they will offer more than just the option to skip lines. It can be a bit complicated to understand all the perks associated with this newly implemented program. That's why we've taken the liberty to clarify and answer some of the most commonly asked questions.
Basic Overview
Disney, the immensely successful company, has announced that they are replacing FastPass for Disneyland and Walt Disney World. What's more, there will be some additional features on the app to help people better plan their day at the park.
You can upgrade your free services to Disney Genie+ (plus). For an additional $15 per member of the party, per day, you can upgrade your services to Disney Genie+. Please be mindful that this is not a requirement to enter the park; this is an optional add-on.
Disney is doing a bit of remodeling when it comes to the FastPass line. For starters, it's no longer named FastPass line, it is now named the Lightning Lane, and Disney Genie+ is the new way Disney is giving Lightning Lane access to people for certain attractions.
Although most attractions at the park allow you to schedule a Lightning Lane reservation using the Disney Genie+ app, there are still a few rides at each theme park that are excluded from this service. We'll cover which rides do not qualify for Genie+ below.
However, to get a hold of a Lightning Lane pass, you must pay for it individually as it is separate from Disney Genie+ and therefore not included. Discover how you can make your family vacation that much better with these services.
Disney Genie: The Specifics
The new digital planning service, Disney Genie, is available to guests at both the Disneyland Resort and Walt Disney World. This is accessible through both the Disneyland and the My Disney Experience apps. The service is already available in Walt Disney World, and it's in the working at the Disneyland Resort.
This new feature will be available pre-arrival as part of a vacation package add-on or as part of a ticket sale.
Disney Genie displays revolutionary Disney AI in conjunction with intuitive technology, all designed to help you and your family optimize your time at each theme park. This program optimizes your time by doing the following:
Paces your day out by giving new experiences you'd enjoy but haven't got around to yet
Decreases the time you spend waiting in lines and keeps track of all of your top picks.
Makes a plan around your existing plan, such as dining reservations.
Disney Genie is not a paid service – it is completely complimentary and isn't to be confused with Genie+, which is a service that you have to pay for. At any rate, Disney Genie gives guests the tools to maximize their experience at the parks. For example, giving each guest customizable itineraries and even suggestions according to top picks and interests are just a few examples of said tools.
Generally speaking, annual pass holders and locals alike won't find much use out of the new system since they are already well acquainted with the park and its attractions. However, this tool is magical for first-timers and unseasoned guests who haven't been to the park in a while.
Planning Your Visit: What You Get
Disney Genie is masterful when it comes to planning your day at the park for you and your family. Disney Genie has a personalized itinerary creator that expertly and intelligently maps out an entirely cohesive and eventful day for you. All you have to do is check off the activities you want to do, and Disney Genie will plan your day for you.
If you wish to understand how this is possible, think of Disney Genie as a magical algorithm that makes thousands of ways for Guests to have fun in the park. The algorithm is then capable of taking your interest into account to customize your day based on them.
Disney Genie behaves like a navigation app on your phone. It continually updates your itinerary from morning to night as the day develops. This allows you the freedom to have spontaneity and not to be so strict in the case you encounter a storm or if you're a bit tired and require a nap.
Disney Genie+: The Specifics
Disney Genie+ is an upgrade available as an add-on, and it costs $15 per ticket per day at the Walt Disney World Resort.
How to Buy Disney Genie+
Here are the two options to purchase Genie+:
Before Your Visit
Genie+ is available as an add-on to a vacation package or a ticket for the length of the visit. You can buy using Disneyworld.com or any other travel professional who's authorized.
Same-Day
This is available for single-day use for both Annual Passholders and existing ticket holders. They can purchase Disney Genie within the My Disney Experience app.
Taking advantage of this optional add-on allows you to make reservations for Lighting Lane entrances for most attractions. Remember that you can only make a maximum of one Lightning Lane selection at a time. Furthermore, not every ride/show comes with the Disney Genie+ pass.
The Lightning Lane selections can only get purchased on the same day of the visit. However, you may use them across multiple theme parks.
Once you've purchased the Disney Genie+ service, you can now schedule your first reservation through the My Disney Experience app from as early as 7:00 a.m. on the same day of your visit.
Disney Genie+ has additional features such as the Disney parks-themed audio experiences, which tell you fun facts about the park through augmented reality lenses.
There are some primary differences between the Genie+ system and the previous FastPass+ system, such as the cost. Also, there are some differences between Disneyland and Disney World versions. Below are the differences between the two and how they can affect your experience at each theme park.
Genie+ at Disney World (Overview)
Tickets cost $15 a day per person.
It allows speedier access to all 46 events/ attractions through the Lightning Lane entryway.
You can only choose one reservation at a time between attractions during the day.
After guests make their first choice, or the window to attend has closed, you can make more selections until the park closes.
Genie+ services don't include the PhotoPass.
Genie+ reservations start at 7:00 a.m. the day you visit the park.
If you're a park hopper, you can schedule different Lightning Lane entries across multiple theme parks.
You can still choose to stand in line for free.
The virtual queues also cost nothing, but you have the choice to pay for an individual Lightning Lane pass.
Genie+ at Disneyland (Overview)
Tickets cost $20 a day per person.
It allows speedier access to 19 events/ attractions through the Lightning Lane entryway.
You can only choose one reservation at a time between attractions during the day.
After guests make their first choice, or the window to attend has closed, you can make more selections until the park closes.
You get unlimited PhotoPass with the purchase of this service.
Guests can make reservations through Genie+ and a la carte Lightning Lane event and attraction selections upon entering the park that day.
If you're a park hopper, you can schedule different Lightning Lane entries across multiple theme parks.
You can still choose to stand in line for free.
The virtual queues also cost nothing, but you have the choice to pay for an individual Lightning Lane pass.
The service includes skipping the line for classic attractions like the Big Thunder Mountain Railroad and the Haunted Mansion. You can also ride new additions like Millennium Falcon: Smugglers Run.
Genie+ Rides/ Attractions at Disneyland Park
Big Thunder Mountain Railroad
Autopia
Buzz Lightyear Astro Blasters
Indiana Jones Adventure
Haunted Mansion
"it's a small world"
Millennium Falcon: Smugglers Run
Matterhorn Bobsleds
Roger Rabbit's Car Toon Spin
Splash Mountain
Star Tours: The Adventures Continue
Space Mountain
Genie+ Rides/Attractions at Disney California Adventure:
Grizzly River Run
Goofy's Sky School
Guardians of the Galaxy- Mission: BREAKOUT!
Monsters, Inc. Mike & Sulley to the Rescue!
Incredicoaster
Toy Story Midway Mania
Soarin' Around the World
How Do You Use Genie+?
Keep in mind that you can find Disney Genie's services in your My Disney Experience app (Disney World) or your Disneyland app (Disneyland). Go to the home screen that says My Disney Experience at the top, and you should see your plans listed.
If you select the link labeled My Day, located in the right-hand corner, you'll get taken to the Disney Genie services page.
This page displays the option to buy Genie+, and you can start organizing your day/visit to the park accordingly. You will not be able to utilize this function unless it is at least 7:00 a.m. And your selections for rides and attractions are only valid for that specific day.
Additionally, you can only book an attraction once each day. So, in the instance that you scheduled a ride using Genie+, you can't make another Lightning Lane reservation. You can, however, stand in the line and wait like you normally would if you choose to.
The way it works is that you choose the day you want and then you select the people with you. The app automatically selects those with valid park pass reservations and a valid ticket.
You may edit the people you're with if you'd like, and then you choose which ride or attraction you want to experience first. Your reservation will be valid for one hour. That means you can show up at any point during your assigned window.
After the time has begun, you scan yourself into the event or attraction via your MagicBand (tap it), MagicMobile pass, or Key to the World card. The Mickey touchpoints will be at the entrance labeled Lightning Lane. You'll also have to scan yourself a second time at a checkpoint that's further along.
After you have scanned into both of these queues, you're free to schedule another Genie+ experience. You don't have to arrive super early at the Lightning Lane entryway because the window times are strict. You can't scan in any sooner than five minutes prior, and you can't miss your window by more than five minutes.
There are some special circumstances where you're allowed to be up to fifteen minutes behind, but it is contingent on the attraction you're in line for. If you think there's a chance that you might not make it on time, it's better to cancel it and to try to book a different window for the same day.
Lightning Lane: The Specifics
Some rides are popular and in high demand, and these are not included in Lightning Lane selections through Genie+. You have to do an a la carte reservation, which comes with a fee.
These rides include two of the most popular options: Star Wars: Rise of the Resistance at Hollywood Studios and the Seven Dwarfs Mine Train at Magic Kingdom.
The stipulations for reserving these attractions that more people want to participate in are as follows; you may schedule two a la carte reservations per day. It is not a requirement to buy Disney Genie+ before buying an independent Lightning Lane pass.
The prices for this kind of pass can vary by factors like the attraction, which park you want to go to, and the date. Typically, you can expect to pay between $7 and $15 for each attraction and each person.
An individual Lightning Lane pass lets you choose a time based on what's available, but you can't change it or cancel after you have already made the purchase.
Attractions List for Lightning Lane
The following is an updated list that shows you the rides and attractions you can skip with Lightning Lane. Some are marked as Individual Only. That means it is a popular attraction that you cannot skip the wait without paying for the individual a la carte pass.
Magic Kingdom
Big Thunder Mountain Railroad
"it's a small world"
Buzz Lightyear's Space Ranger Spin
Enchanted Tales with Belle (not open yet)
Dumbo the Flying Elephant
Jungle Cruise
Haunted Mansion
Mickey's PhilharMagic
Mad Tea Party
Peter Pan's Flight
Monsters Inc Laugh Floor
Pirates of the Caribbean
Space Mountain (Individual Only)
Seven Dwarfs Mine Train (Individual Only)
The Barnstormer
Splash Mountain
Under the Sea – Journey of the Little Mermaid
The Magic Carpets of Aladdin
Tomorrowland Speedway
The Many Adventures of Winnie the Pooh
EPCOT
Frozen Ever After (Individual Only)
Disney and Pixar Short Film Festival
Journey Into Imagination with Figment
Mission: Space
Living with the Land
Soarin'
Remy's Ratatouille Adventure (Individual Only)
Spaceship Earth
Turtle Talk with Crush
The Seas with Nemo & Friends
Test Track
Disney's Hollywood Studio
Beauty and the Beast Sing-Along
Alien Swirling Saucers
For the First Time in Forever: A Frozen Sing-Along Celebration
Mickey & Minnie's Runaway Railway (Individual Only)
Disney Jr. Dance Party
Indiana Jones Epic Stunt Spectacular (Returns 12/19/21)
Muppet Vision 3D
Millennium Falcon: Smugglers Run
Rock' n' Roller Coaster
Star Tours
Slinky Dog Dash
Star Wars: Rise of the Resistance (Individual Only)
Toy Story Mania!
The Twilight Zone Tower of Terror
Disney's Animal Kingdom
Celebration of the Festival of the Lion King
Avatar Flight of Passage (Individual Only)
DINOSAUR
Forbidden Mountain (Individual Only)
Expedition Everest: Legend of the Feathered Friends in Flight!
Kali River Rapids
The Animation Experience
It's Tough to be a Bug
Na'vi River Journey
Kilimanjaro Safaris
Remember!
Genie+ and a la carte – or individual Lightning Lane passes – are two different things. They also grant you access to different rides and attractions. Both allow you to skip the line, but not for the same events or rides.
These services are separate because Disney feels that it allows the guests to have more flexibility with experiencing the best attractions in the park. There have been many complaints from park-goers that prefer the old system and are confused by the changes.
Again, you don't have to purchase Disney Genie+ to buy individual Lightning Lane passes.
You have to buy eight attractions separately to get access to Lightning Lanes. The a la carte selections for the top-tier attractions are available for purchase through Genie+ or the free Genie service. Numerous guests have mentioned that they would rather buy the individual passes and skip Disney Genie+ altogether.
Ultimately, it's going to depend on how you want to structure your day and what you're most interested in attending. Count the costs and select the option that makes the most sense for how long you'll be there and what you want to do.
You can also choose not to pay anything and wait in line for the rides and events like folks used to do back in the day! It's called the standby queue, and it is a viable option for those that want to wait in line without paying extra. Some rides do not have the standby queue as an option, so be mindful of that.
For example, Remy's Ratatouille Adventure is only accessible via Lightning Lane (you have to pay) or the virtual queue, also a free option.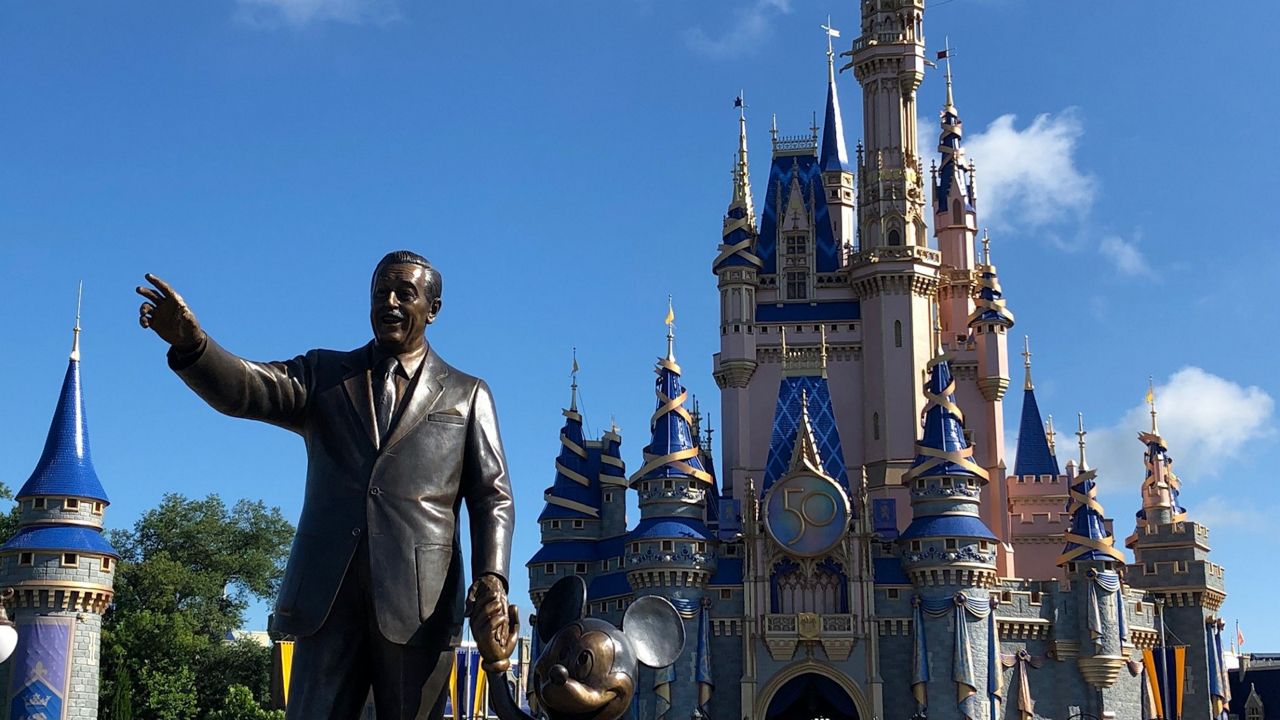 Pro Tips
When you use Genie+, remember that you can only select the next available time slot for the event or attraction that you want. When you go the Individual Lightning Lane route, you can choose your window based on everything available for the day.
It's best to make the reservation for the individual attraction in the early afternoon because the wait times are the highest. This way, you can maximize how much time you save and fit more events into the day.
When you make an a la carte Lightning Lane reservation, the person that schedules is so the person who pays, and everyone they selected in the party is linked together. If people in the Larry want to pay separately, they should not get included in the part on your reservation through the app.
*The only potential issue here is that you might end up having different windows to attend the ride or show. This is especially true on the days when it's busy at the park and attractions are getting reserved rapidly. If everyone must ride simultaneously, book the rides together. You can have the others send money to the person that purchases the passes after the fact.
Always make sure that your Genie+ selections are not overlapping with your individual Lightning Lane attractions. That can happen because they're two different programs with two different time window reservation styles.
If you plan to go from park to park, let the Genie all know, so they can add in suggestions throughout the day considering where you are. You have the option to make two Lightning Lane purchases for different attractions as long as they are at different parks. (Remember, usually, you can only make one for the day with Genie+)
Final Thoughts
The Disney Genie, Disney Genie+, and Lightning Lane services are all designed to make the task of organizing your Disney adventure smoother and more efficient. While you can accomplish a lot through the free Disney Genie service, you'll probably want to take advantage of the paid services that allow you to skip lines and maximize your time at the parks.
The most critical detail to remember is that these are new services that share some similarities with the previous FastPass and FastPass + packages, but not all. Also, do not confuse Genie+ with Lightning Lane a la carte purchases. The more exclusive rides are for the individual Lightning Lane passes, not Genie+. Refer to the list above for the rides not available through Genie+.
This comprehensive guide gives you the complete breakdown of what to expect from each service, which rides you'll get access to, and a broad range of prices. All information is current at the time this article was written.
More about our TFVG Author
A seasoned traveller, Dad, and avid sports tourist, James foundered The Family Vacation Guide to share his expert vacation experiences- especially when it comes to being a travelling family man.
Featured in Travel articles such as Travel + Leisure, TripSavvy and SFGate, you know you're reading some of the best vacation tips online.