The least exciting part of a fun family vacation is the time spent at airports getting through security and customs. Of course, we try to be patient and accept it as a necessary part of air travel, but is it? 
Some travelers can speed up the process by getting pre-approval through one of the Department of Homeland Security (DHS) Trusted Traveler programs. The two most helpful programs for the average vacation traveler are the TSA PreCheck and Global Entry.
Let's look at these programs and compare Global Entry vs. TSA PreCheck to see the differences and examine how they can help make travel more enjoyable. 
Trusted Traveler Programs
The United States government offers five Trusted Traveler programs covering different travel situations for US citizens and US lawful permanent residents.
TSA PreCheck
Global Entry
NEXUS
SENTRI
FAST
The FAST program is specifically for commercial truck drivers who need to cross the Canadian and Mexican borders. NEXUS and SENTRI cover travel by air, land, and sea.
NEXUS covers entering the US from Canada for US citizens and lawful permanent residents. The program also covers Canadian citizens, Canadian permanent residents, and Mexican nationals.
SENTRI expedites access into the US from Canada and Mexico for US citizens and foreign nationals.
Global Entry covers air, land, and sea travel for US citizens and lawful residents. The program also works for select foreign nationals entering the US from international destinations. This program isn't limited to travel in North America like the other programs.
TSA PreCheck is for US domestic flight travel only. Most travelers will benefit more from TSA PreCheck and Global Entry unless they limit their trips to Canada and Mexico.
If you plan to travel outside the United States, the Global Entry vs. TSA PreCheck comparison clarifies which program you should use.
Global Entry vs. TSA PreCheck
Both programs are what the DHS considers risk-based programs. The DHS runs a background check on each applicant to decide whether or not to pre-approve them for expedited security screening. Each program charges a fee that covers you for five years.
These programs are separate from other travel requirements like a passport and valid ID.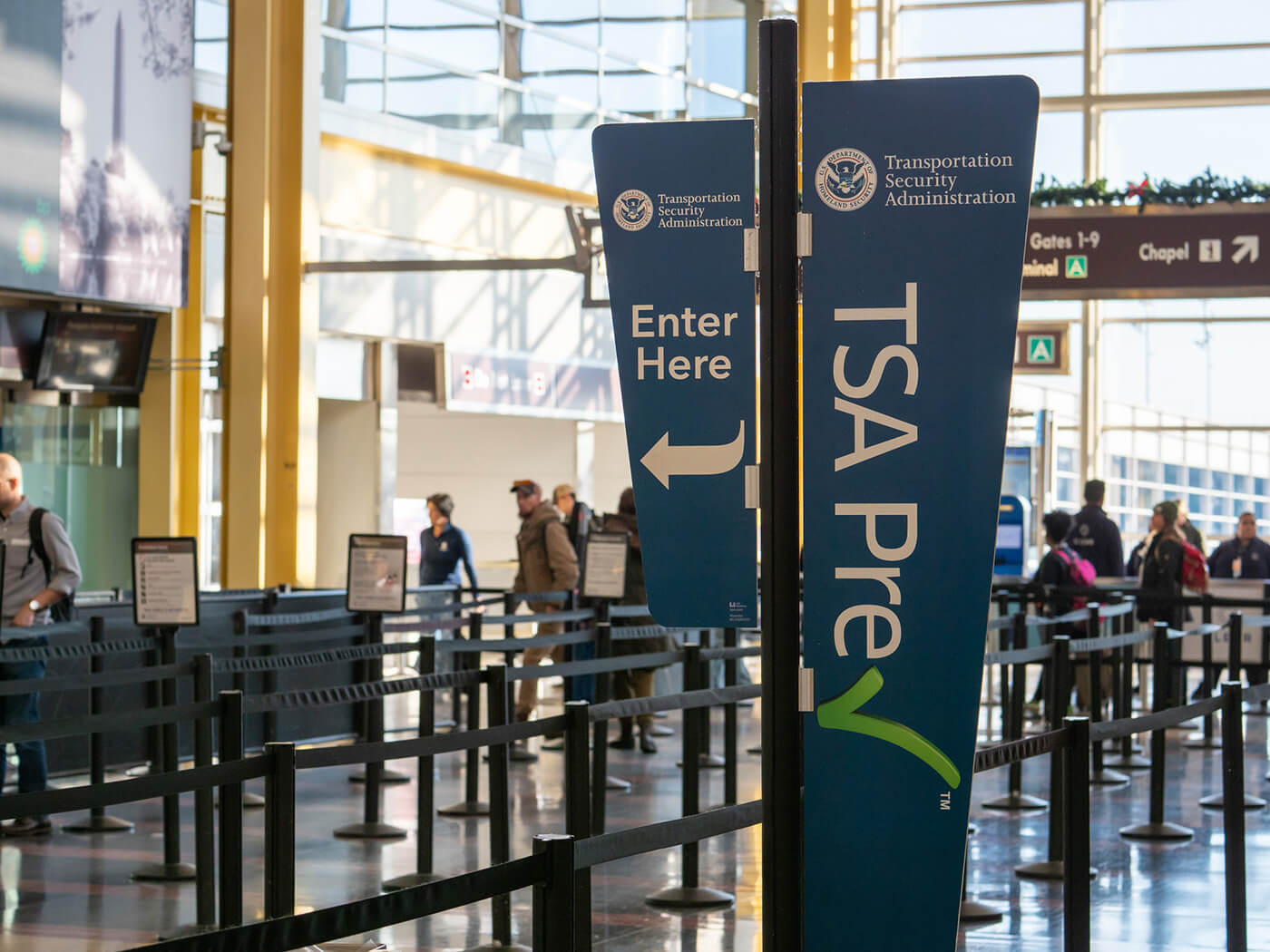 TSA PreCheck
The TSA PreCheck program costs $85 to enroll. You can apply online in five minutes or less, making signing up an easy process. During your application, you'll schedule an appointment at an enrollment center. 
You can choose one of over 400 enrollment centers across the country. When you arrive for your in-person enrollment appointment, the staff at the center will fingerprint you and take copies of your citizenship documents.
The enrollment appointment only takes about ten minutes on average. You'll pay the enrollment fee of $85 at that time.
Is Approval Guaranteed?
No, approval isn't guaranteed. Incorrect or fraudulent information on any of your documents can cause a rejection. Certain criminal convictions can also keep you from being approved for the program.
If the DHS denies your application, you have the right to appeal the decision. But if a criminal record caused the rejection, it's unlikely you'll be approved.
If you have any of the following convictions on your record, rejection is guaranteed. The criminal convictions that prohibit a citizen from being approved for TSA PreCheck include:
Murder
Any illegal incident involving an explosive or deadly device
Unlawfully transporting dangerous materials
Any crime related to transportation security
The conspiracy to commit:

Sedition
Treason
Espionage
A federal act of terrorism
Other criminal arrests and convictions could jeopardize your approval at the discretion of the DHS.
How Long Does It Take to Get Approved for TSA PreCheck?
Most people who apply for TSA PreCheck get approved in about three to five days. In some cases, the process can take up to three months.
Applicants can check their TSA PreCheck status online anytime.
If you're approved, you'll receive a "Known Traveler Number" that you can use when making airline reservations to expedite the boarding process at over 200 airports in the US.
If you use this program, you can check the TSA map to see which airports near you and your destination participate so you can try to avoid airports that won't help speed up your travel with this program.
When comparing Global Entry vs. TSA PreCheck, many benefits and requirements are similar. So what do you need to benefit from the TSA PreCheck designation?
Applying for TSA PreCheck
On the application, they ask for things like:
Citizenship information
Permanent residence information
Mailing address
Phone number
Email address
Criminal Record
A physical description
A photo ID
Make sure your name appears on the application exactly as it does on your photo ID and your citizenship documents like your birth certificate or passport book.
If your name is different from your birth certificate and that's the document you plan to use, you'll need to provide legal documents that establish the name change.
Documents You Need for TSA PreCheck
To complete your in-person enrollment for the TSA PreCheck, you'll need the following documents:
Valid proof of citizenship
A photo ID
Lawful permanent residents need their machine-readable permanent resident card
Immigration documentation, if applicable
Valid proof of citizenship can be a certified copy of your birth certificate, US passport book, Enhanced Tribal Card (ETC), Enhanced Driver's License or ID, or a Free and Secure Trade (FAST) card.
The photo ID can be your driver's license, official state ID card, or one of several other valid photo ID options, including:
Passport book
Military ID card
Merchant Mariner credential
Federal ID card
Native American Tribal document
Other forms of ID the TSA will let you choose when signing up.
All documentation must display your current legal name exactly as it appears on your application. Otherwise, you'll need to provide further documents proving your identity. For instance, if your maiden name appears in one place and your married name in another, you'll need to produce a marriage certificate.
Don't worry if your middle name appears on one document and not another. As long as your first and last names match, that won't be a problem.
The easiest way to quickly get approved for TSA PreCheck is to take care of name changes before applying so your name matches.
You can choose which forms of ID you'll use on the TSA Required Documents page. The page generates a list of exactly what you need to take to your enrollment appointment.
How Does TSA PreCheck Work?
When you make an airline reservation, put your Known Traveler Number in the appropriate field. This number should result in the TSA PreCheck indicator appearing on your boarding pass and the boarding pass of kids 12 and under who will travel with you on that reservation.
In many cases, kids 13 to 17 will show the indicator on their passes, but this is at the airline's discretion. Call ahead to see if it's likely that teenagers can go through the expedited security process so you won't face a surprise when you arrive.
Many airlines require teenagers to have an individual Known Traveler Number.
Benefits of TSA PreCheck
How does TSA PreCheck make air travel easier at participating airports?
You'll be able to skip most of the security screening procedures that can make getting through the security check seem to take forever.
You can keep your shoes on
You'll no longer have to open and turn on a laptop
No need to remove a light jacket
You can keep 3-1-1 liquids in your carry-on
You'll go through a metal detector instead of a full-body scanner
Security screenings will usually take five minutes or less
If this sounds like something you'll enjoy next time you travel, you'll probably find it worth going through an in-person enrollment and the $85 fee.
What about kids? How will this help on a family vacation?
TSA PreCheck with Kids
Children under 12 with a parent or legal guardian in the program can go through security with them in the dedicated lanes. You don't have to apply or go through any special procedures for kids this age.
You can apply for TSA PreCheck designation for children 13 to 17 to have individual Known Traveler Numbers and expedite their boarding process. If they don't have a number, they can often still join you in the dedicated lanes and get through security fast, too. This choice will be up to each airline.
Some airlines automatically put the TSA PreCheck indicator on the boarding pass of every child under 18 on the same reservation as the approved parent or legal guardian. Others require kids 13 to 17 who don't have a Known Traveler Number to go through standard security screening.
In some cases, airlines that typically put all children through the expedited lane with the parent or guardian might randomly exclude teenagers from the TSA PreCheck process and require standard screening.
To prevent this, apply for TSA PreCheck for each child 13 and older who travels with you.
Does TSA PreCheck Guarantee Expedited Security Screening?
No, unfortunately, there's no guarantee that you'll never have to go through standard security screening again.
The TSA PreCheck indicator on your boarding pass will almost always get through security quickly. However, airlines can randomly require full security screening at any time.
Now that we've covered the TSA PreCheck program let's look at Global Entry to see how it's different. You might find in a comparison of Global Entry vs.TSA PreCheck that one meets your needs better than the other. 
Global Entry
A look at Global Entry vs.TSA PreCheck shows some distinct differences in the size and scope of the programs.
Global Entry covers flight travel but also travel by land and sea. This program offers expedited US Customs and Border Protection screening for travelers entering the US and can help foreign nationals get pre-approved to speed the customs and border process.
Foreign nationals can apply for Global Entry ahead of their arrival and complete the process once in the United States. US citizens who plan to travel internationally within six months should apply for Global Entry as soon as possible to increase the chances of approval by the date of their trip.
The Global Entry vs. TSA PreCheck process is similar. You can apply online for Global Entry to get conditional approval for the next step. Then you'll make an appointment at an enrollment center to provide documentation and fingerprints and pay the $100 fee.
Approval can take a long time, so apply for this program at least a few months before you book a flight for your trip abroad.
Is Approval Guaranteed?
No, there are no guarantees you'll be approved, but if your documentation is correct and you don't have a criminal history, you almost certainly will be.
The same crimes that cause automatic rejection from the TSA PreCheck program will prevent you from approval for Global Entry. The reason for this is twofold.
First, the crimes are serious federal charges. Second, TSA PreCheck is part of the Global Entry program, so if you're in the Global Entry program, you'll also benefit from TSA PreCheck when flying domestically.
You have the right to appeal a rejection from Global Entry.
How Long Does It Take to Get Approved for Global Entry?
Approval for Global Entry can take three to four weeks for most people. However, in some cases, it can take over 90 days. In rare cases, the approval process can take more than six months.
If you don't have an arrest record and your names match on each piece of required documentation, you'll usually get approved for the program within four weeks or about a month.
Applying for Global Entry
The application process for Global Entry vs. TSA PreCheck is a little more involved because the travel it covers is international and not just domestic. They'll ask for:
Full legal name
Address and five-year history
Email
Phone number
Five-year employment history
Five-year international travel history
Vehicle information (for crossing borders)
Court documentation for convictions (non-traffic only)
You'll receive an approval letter when your application is processed. Then you can make an appointment at an enrollment center.
Documents You Need for Global Entry
When you're ready to go to the enrollment center to complete your application process, you'll need the following documents if you applied as a US citizen:
Your passport book
A photo ID
Lawful permanent residents need their machine-readable permanent resident card
Any other documents listed in your pre-approval letter
Your Global Entry approval letter
How Does Global Entry Work?
After approval into the Global Entry program, you'll receive a Global Entry card bearing your information and photo.
Anytime you enter the United States from international travel at an airport that has a Global Entry kiosk, you can use that kiosk. You'll scan your passport or permanent resident card, use the fingerprint scanner on the machine, and make a customs declaration.
Benefits of Global Entry
When you enter the US at an airport with a Global Entry kiosk or an E-Gate with facial recognition technology, you won't have to wait in line at customs, which can save you a lot of time.
You won't have to fill out the required paperwork when re-entering the country. And because Global Entry includes TSA PreCheck, you'll enjoy the benefits of that program listed above, like not having to remove shoes, belts, and jackets or removing laptops or 3-1-1 liquids. You'll also be able to use a metal detector instead of a full-body scanner.
Global Entry With Kids
When comparing Global Entry vs.TSA PreCheck, the Global Entry process is much more involved for your kids.
Each child needs approval for a Global Entry card, which means you need to fill out an application, provide documentation, and pay a separate fee for each one, even newborns.
Each child has to go through the interview process, too. This requirement can prove to be a scheduling challenge for some families.
Does Global Entry Guarantee Expedited Customs and Border Protection Screening?
No, there's no guarantee that you'll never have to go through the standard customs process again.
Fortunately, the risk is small unless you're traveling during times of international threats and terrorism alerts or there's a mismatch in your information when you go to use a kiosk. 
Global Entry vs. TSA PreCheck: How Do They Stack Up?
Let's compare these two Trusted Traveler programs to see which is best for families with kids.
Application and Interview
The application process is similar for both programs, and so are the interview questions. They'll ask about any criminal background, why you want to join the program, how often you travel, what you do for a living, and other standard questions.
Your membership in each program lasts five years. After five years, you'll renew your membership and pay a fee.
Cost and Convenience
TSA PreCheck costs $85 per adult, and kids under 12 benefit from their parent's membership. Teenagers should apply separately but can sometimes skip security if a parent is a member. This program speeds the security process at over 200 airports in the US.
Global Entry is only a few dollars more at $100 and includes all the benefits of TSA PreCheck, but every child needs separate approval. This requirement makes this a much more expensive program for families.
Global Entry can speed your time re-entering the US if you regularly travel internationally.
Wrap-Up: Global Entry vs. TSA PreCheck
If you can afford Global Entry for each child and travel internationally often, you may find the program worth it. It helps you avoid customs paperwork and interviews on top of the TSA PreCheck security benefits you'll enjoy.
If most of your travel involves domestic flights with only the occasional international travel, applying for TSA PreCheck should be enough to speed up your time in airports and make family vacations more fun.
More about our TFVG Author
A seasoned traveller, Dad, and avid sports tourist, James foundered The Family Vacation Guide to share his expert vacation experiences- especially when it comes to being a travelling family man.
Featured in Travel articles such as Travel + Leisure, TripSavvy and SFGate, you know you're reading some of the best vacation tips online.