Finding a vacation spot to suit your family's needs can be difficult when you have a pet. Our furry friends feel like our children, and parting with them during vacation can be hard on your family.
Many vacation areas don't allow animals and the Great Wolf Lodge is one of them. There are exceptions to take into account, as well as simple solutions if you don't know where to place your animal. 
If you're looking to vacation at Great Wolf Lodge, here are some things you should know about their pet policy, but first, let's see what Great Wolf Lodge has to offer as a family-fun vacation location.
What is the Great Wolf Lodge?
The Great Wolf Lodge is a hotel, waterpark, and resort combined into one to make the perfect family vacation area.
Located across the US, The Great Wolf Lodge offers the beautiful mountain scenery of a fall vacation, and the water fun of a hot summer day, yet it's visitable all year round, even in the winter. 
Here are some of the most fun things you can do while staying at the Great Wolf Lodge.
Attractions at the Water Park
Their attractions include big water slides for adults, teenagers, and children over forty-eight inches tall, like the Double Barrel Drop and Hydro Plunge. There are options specifically for kids and toddlers, like the Cub Paw Pool, and adult-only areas, like the North Hot Springs.
There are lounge chairs located around the massive pools if you're looking to relax,
With thrill levels varying from low to high, lounge areas to relax, and water jungle gyms, there is something for everyone at Great Wolf Lodge's Water Park.
Attractions Outside the Water Park
Great Wolf Lodge is known for its massive indoor waterpark, but they offer a large variety of other attractions to guests when their fingers start to prune.
Beside the outdoor pool and patio is the Howlers Peak Ropes Course. It costs money outside of your stay, but it's a great idea for adults, teens, and children to switch up the fun. There is also the indoor Northern Lights Arcade that offers fun experiences for all ages.
The Ten Paw Alley is a bowling alley located inside the resort and the Howl at the Moon Glow Golf is fun for everyone. The Great Wolf Lodge even has its own Build-A-Bear Workshop for your children to part your vacation with a stuffed animal to remember the trip by.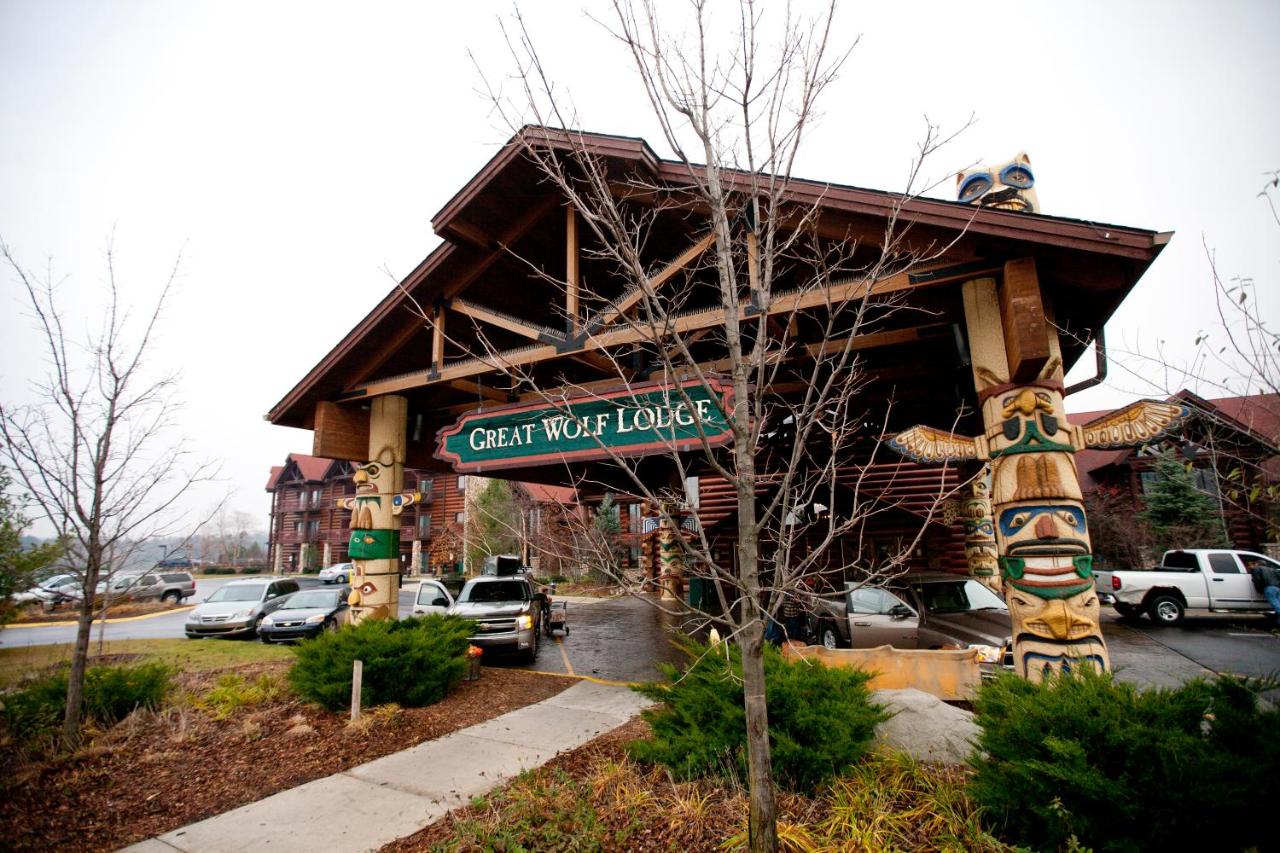 Dining and Drinking
The Great Wolf Lodge offers many sit-down dining services within its resort, including the Loose Moose Family Kitchen buffet, available during breakfast and dinner. There are quicker food stores that offer options like snacks, fresh food markets, ice cream, and pizza.
The Grizzly Rob's Bar is the only bar in the resort, but it offers a variety of cocktails to adults vacationing over the age of twenty-one. It's the perfect place to wind down after a long, hot day in the water park.
It's a great location to bring your children to all of these attractions and locations all in one place, but for a few reasons, the Great Wolf Lodge is not pet-friendly.
Why is the Great Wolf Lodge Not Pet-Friendly?
The Great Wolf Lodge doesn't allow pets for several reasons, the main one being health. With so many guests of all ages, pets add complications like allergies and whether or not they are trained.
This family vacation spot does everything in its power to guarantee its guest's comfort as well, so keeping dogs out of the hotel and waterpark of the resort is the simplest way to ensure that.
Yet, not all pets are just members of the family. Some are required to help people get around, so the question is, does the Great Wolf Lodge make an exception for service animals?
Does the Great Wolf Lodge Allow Service Animals?
Yes. The Great Wolf Lodge lets those who have registered service animals accompany them to the resort. To be registered they must be defined by the ADA, the US Animal Service Registrar.
There are limitations to having a service animal, meaning they are not allowed in the pools or the attractions of the water park. They can get you around and where you need to go, but they cannot join you on slides or in the pools.
If your pet is not a service animal, they are not allowed for the same reason even service animals are not allowed in the pools or attractions. It is for the guest's safety and comfort, along with your pets.
There are, however, options for what to do with your animal while you vacation with your family.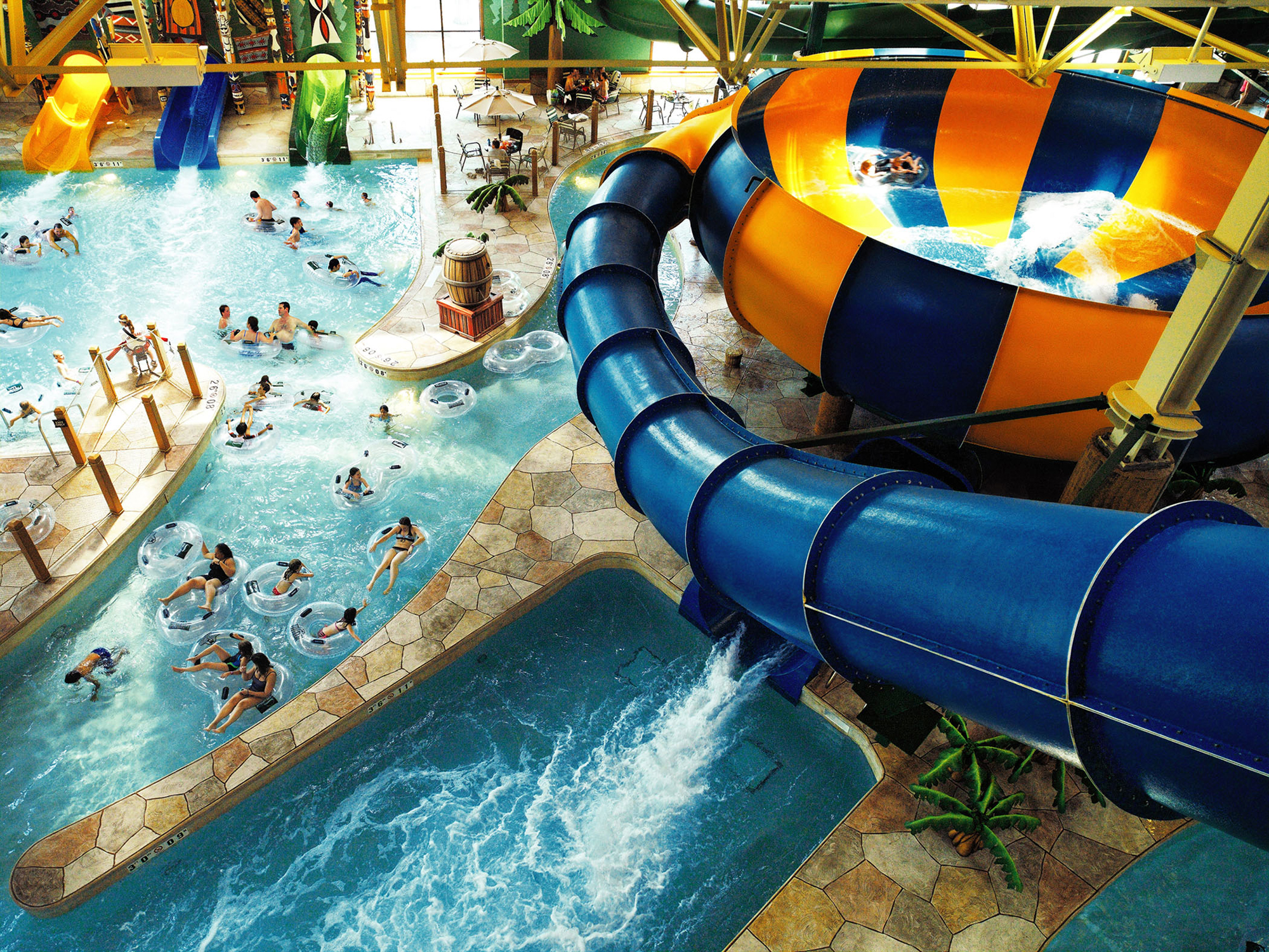 What to Do With Your Pets During Your Great Wolf Lodge Stay
The Great Wolf Lodge wishes they could take in your pets, but because they cannot, many other solutions keep you and your pet happy.
Ask a Friend
If you don't want to leave your pet with strangers or in a place unfamiliar to them, you can ask a friend to take care of them while you and your family are away. Offering them to stay at your house and keep your pet company is a cheaper, more comforting solution to this issue.
Hire a Sitter
Like hiring a babysitter for a child, you can hire someone to take care of your pet when you're away. You want to be cautious and pick someone off a hiring website, but this works just as well as asking a friend to do it.
Pet Hotel
If you can't find someone to take in your pet, there are pet hotels in the Great Wolf Lodge area that offer top-of-the-line services. They keep your pets fed and happy, much like they are on vacation as well.
There are likely other locations near you that can watch your dog if that is an easier convenience for you.
Conclusion
While the Great Wolf Lodge will only allow ADA-registered service animals in their resort, they offer alternatives to treat your pets and provide a wonderful, exciting, and fun place to bring your family.
More about our TFVG Author
A seasoned traveller, Dad, and avid sports tourist, James foundered The Family Vacation Guide to share his expert vacation experiences- especially when it comes to being a travelling family man.
Featured in Travel articles such as Travel + Leisure, TripSavvy and SFGate, you know you're reading some of the best vacation tips online.