Every fall, the sunny atmosphere of Six Flags changes. The skies darken the park becomes inhabited by ghosts, ghouls, and other terrifying creatures. The rides full of fun and laughter give way to screams of terror. Six Flags once again becomes the home of Six Flags: Fright Fest!
Fright Fest has been a part of Six Flags theme parks for over 35 years. Children dress up in Halloween costumes and enjoy the park's transformation into a haunted wonderland. Special attractions, terrifying haunted houses, and ghostly encounters are abundant. If you're brave enough to experience Six Flags Fright Fest, here is everything you need to know.
Fright Fest is a month-long festival from mid-September through Halloween at many of the Six Flags parks across the country. Tickets go quickly as this is one of the most popular and immersive Halloween experiences available. The exact dates for Fright Fest at all parks are available on the Six Flags website.
New for 2023
Each Six Flags Park contributes its own event fro Fright Fest. Here are some attractions to note which are new for 2023!
It's not Halloween without a good jump-scare, am I right? Six Flags really pull out the stops when it comes to creating terrifying experiences. We're talking the ultimate Haunted Houses. New for 2023, we've got Saw X Maze, Nyctophobia, and Aesthetic. Along side these new attractions, be sure to visit Carnival of Chaos and Serial Neighbor.

NOTE: you must purchase the Haunted Attractions Pass to access the Haunted House attractions.

Take it a step further with the NEW Scare Zones: Freak Show, Reaper's Curse and Roswell, GA. The return of my personal favourite is Disco Train, along with Bad Bob The Bone Butcher and a fan favourite, Dr. Fright's Dead Man's Party.
My "TFVG Most Popular of the Six Flags Parks" award goes to Magic Mountain. The Haunted House offering are always on point, and many! For 2023 there's the addition of Saw X and The Conjuring; both based on the hit movies, and sure to scare the living Jigsaw out of you. Scream Break fan-favourite CondAmned House Party returns, along with Truth or Dare, Willoughby's Resurrected, Vault 666 Unlocked, and Sewer of Souls.

There's some brilliant shows to catch as part of Fright Fest, not to mention the new Invasion live DJ experience. Catch a few "Spirits" at Full Throttle Sports Bar for Spirits with Spirits– one for the adults.
Featured Events and Shows
Many Six Flags parks are offering special spooky shows and frightfully fun events to celebrate. Between rides and attractions, you can come to sit down and enjoy a haunted performance. Here are a few of the shows offered at different locations.
Dr. Fright's Dead Man's Party
At Six Flags Over Georgia, come to a party where zombies gather to scare your life away with some spooky classics. Enter if you dare, and perhaps they'll let you leave when it is over.
Rocky Horror Picture Show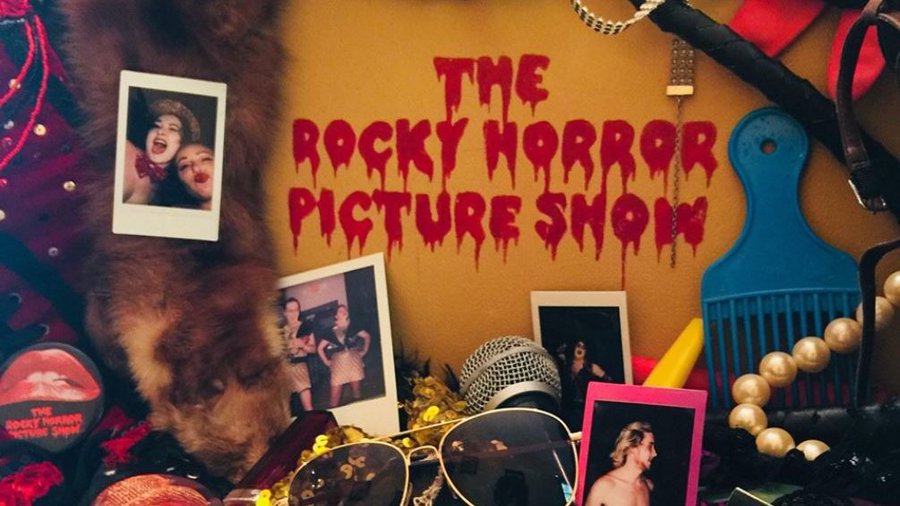 Join your favorite shadow cast, Flustered Mustard, in this interactive retelling of the classic musical at Six Flags over St. Louis. The Rocky Horror Picture Show has been a fun experience for decades, and now you can get stuck in the time warp with your whole family.
Haunted Houses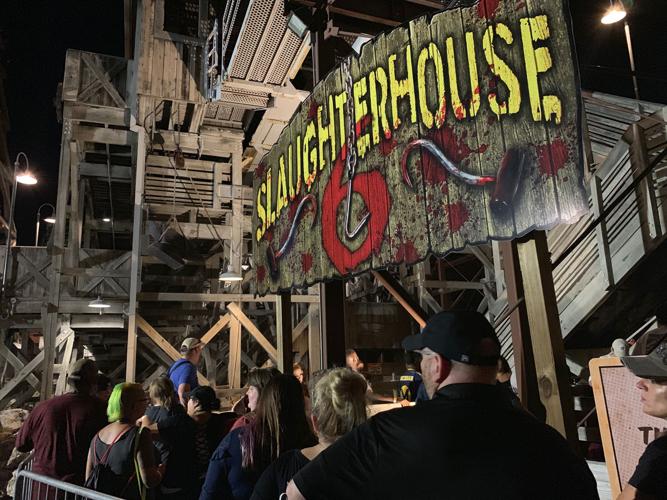 Fright Fest is best known for its haunted houses. They have pulled out all the stops to ensure they have a scary experience suitable for everyone. Some of them are for younger audiences, and some are scary enough to frighten even the bravest adults
Zombie Labs: Visit a zombie containment center where you could be their next meal.
Carnival of Chaos: See the scariest of clowns at this haunted circus.
Serial Neighbor: Visit the family in the haunted house next door.
Twisted Fairy Tales 3D: Adventure turns some of your favorite characters into the monsters of your nightmares.
The Haunting of Hall Manor: A rail trip through the forest will tell you the frightening story of Eleanor.
Total Damnation: Go on a twisted journey through the chambers of Hell.
Devil's Eden: Visit an abandoned house whose new inhabitants don't care for visitors.
Creatures of the Corn: Make your way through a cornfield that winds its way into the darkness. Be careful of the creepy obstacles and creatures that await you within.
13th Order: Go deep into the woods where you may become the next member of a twisted society.
Scare Zones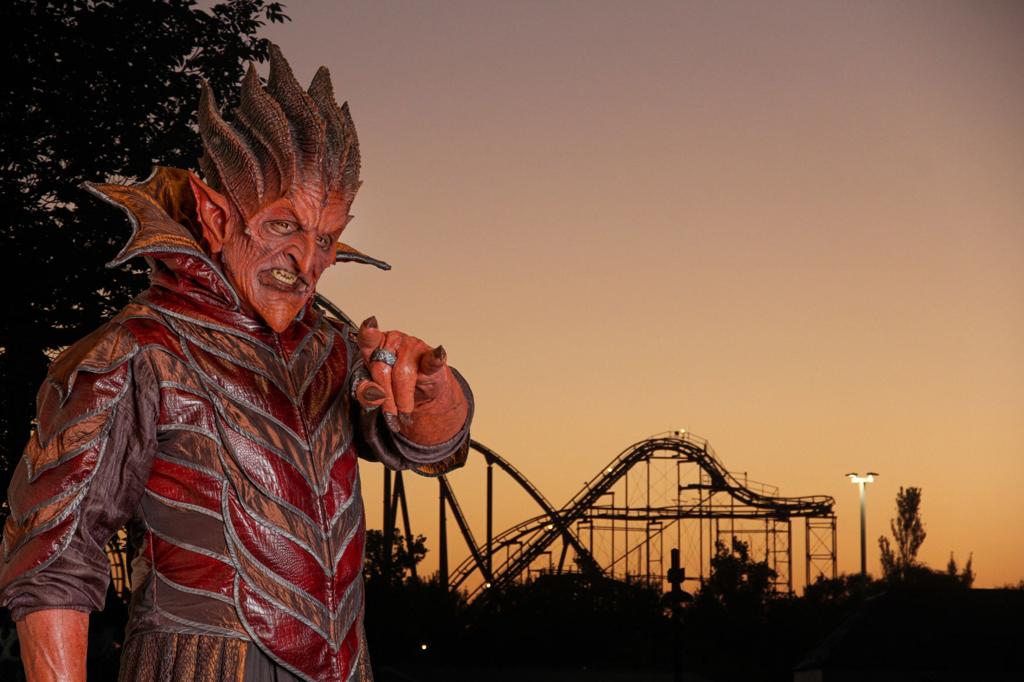 If you don't feel like waiting in line for a haunted house, you can visit different scare zones throughout the park. These fun, interactive areas are where the things that lurk in the shadows come out to play. As you move through the park, you may find yourself wandering into one, so beware of your surroundings!
You can visit a City Under Seige, where manic clowns are loose on the streets. CarnivHELL tells the story of a once-thriving circus that a crazed bunch of carnies has taken over. The Cemetary of the Living Dead makes you the newest character to be chased by flesh-starved zombies.
If you're looking for a simpler scare, visit the Cannibal Cookout, Trolls, Vampire Alley, or the Garden of Evil, where you can meet all kinds of monsters who would like nothing more than to sink their teeth into you! Though these zones are the same production level as the shows, they're still a good place for a fright!
Rides
Six Flags is known for its rides. From "Batman: The Ride" to "The Great American Scream Machine," they have built some of the most thrilling rides in the world. During Fright Fest, you'll have the opportunity to ride some of their biggest rides under the cover of darkness. Adding in some scary flavor gives these beloved rides a brand new experience.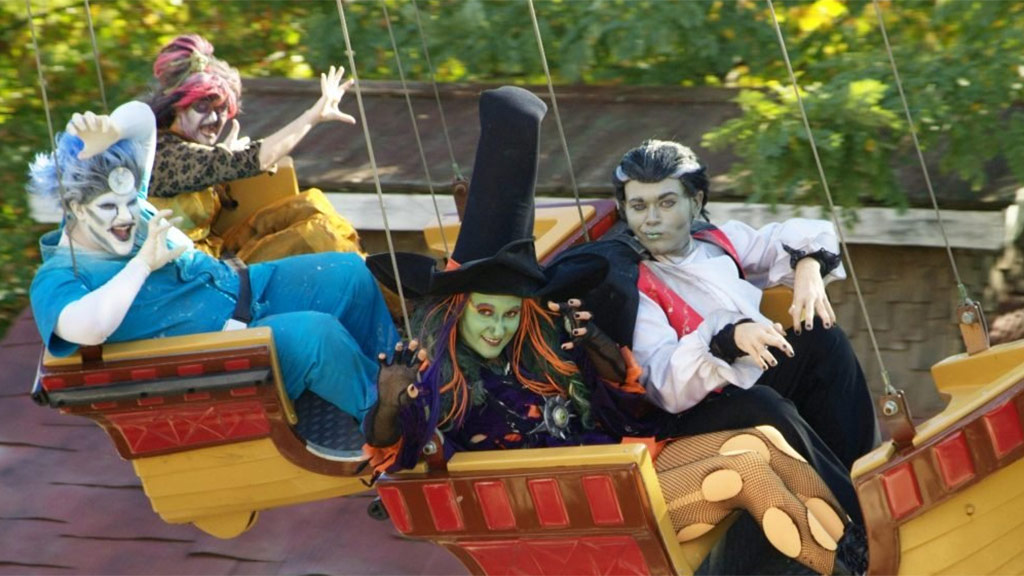 If you are looking for something a little less frightening for the kids, Boo Fest will be available at all Six Flags locations every day. Kids under 13 are welcome to wear their Halloween costumes and have fun around the park.
There will be family times for all the roller coasters and other rides. Pirate Trail will teach you everything you need to know to become a buccaneer. And Candy Trail will give kids the thing they want the most at Halloween… plenty of candy!
Food
It is hard to visit a theme park without taking in some of the fantastic food they have to offer. Six Flags has a lot of fine cuisines that will keep you full and satisfied while you're getting your scare on. Snacks like popcorn, pretzels, and ice cream are available everywhere. You can also get something more substantial like turkey legs, burgers, and barbecue at many locations.
Don't forget to visit the Funnel Cake Graveyard, inspired by Food Network's Halloween Wars. Get a delicious hot funnel cake topped with all kinds of goodies like ice cream, Oreo cookies, strawberry sauce, and whipped cream.
Final Thoughts
One of the most popular attractions at all of the Six Flags parks is Fright Fest. Beginning in September, you can experience the events that have packed in crowds for over 35 years. Whether you want to get your pants scared off or have some fun the whole family can enjoy, come out to Fright Fest! The goblins will save you a place in line.