Traveling with kids is a unique experience. Their expectations and needs are different from those of adults, which can cause some stress for families. That's why you should consider a vacation to twelve of the best hotels with indoor water parks your kids will love in the USA!
Whether it's raining and chilly or ninety degrees and sunny outside, indoor water parks are at the perfect temperature all the time. So fickle weather won't intrude on your fun. Some hotels with indoor water parks also offer an extensive array of other activities right on their grounds, so there's plenty for the whole family to enjoy. 
The best part is that there are hotels with indoor water parks for kids scattered around the country. One of the twelve best might even be right near you!
The Top Twelve Hotels With Indoor Water Parks for Kids

There are many water parks across the United States and around the world. But, these twelve are among the best indoor water parks for kids. They're all at hotels with accommodations for the whole family, and since they're inside, they're ideal for all-weather fun at any time of the year.
Hope Lake Lodge and Cascades Indoor Water Park at Greek Peak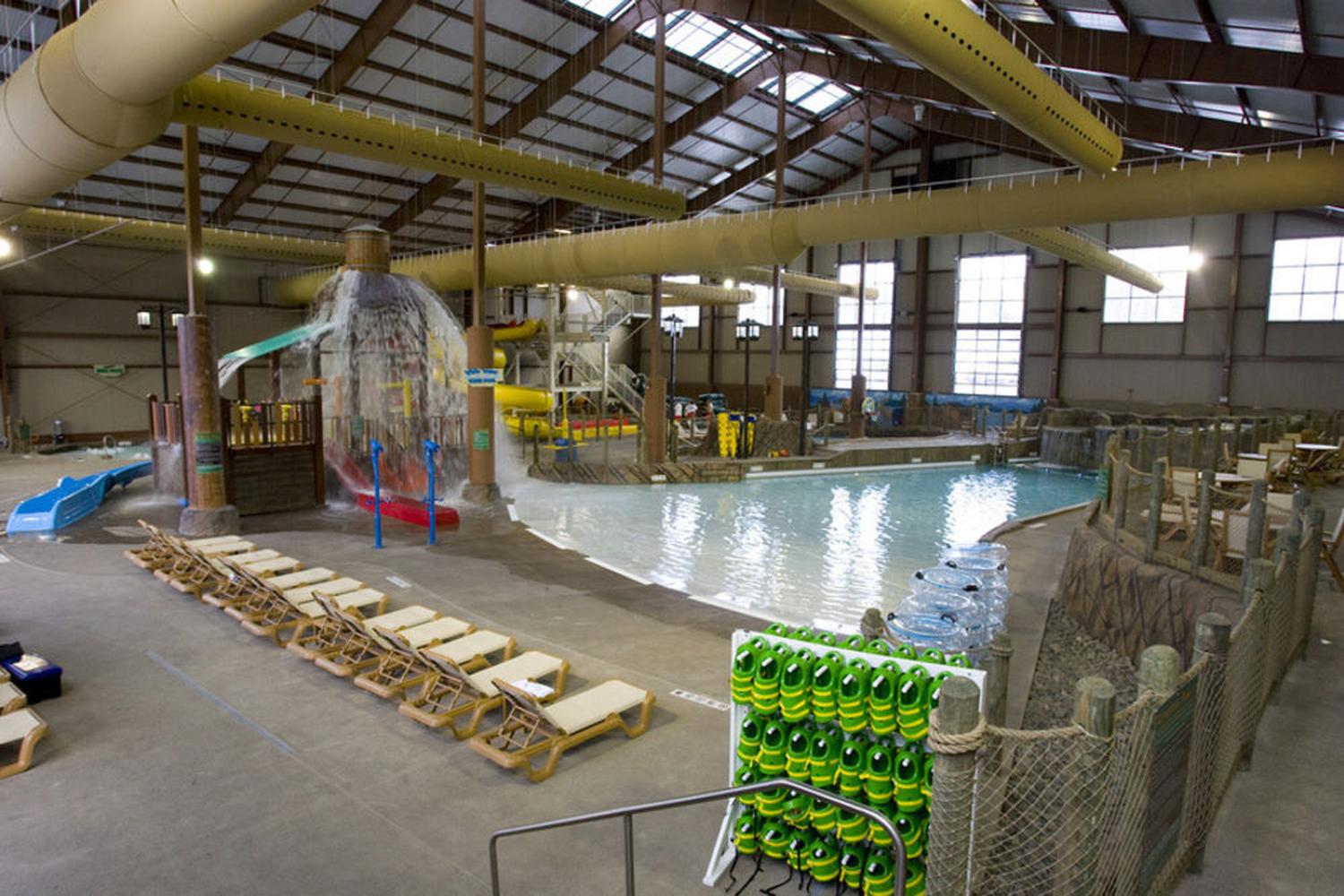 Cascades Water Park is the only indoor water park near the Finger Lakes region in central New York State. The park is right across the street from Greek Peak, so a stay at the Hope Lake Lodge offers both outdoor recreation and indoor water park action.
The Lodge's accommodations center around sets of suites, almost all of which are equipped with a kitchen. So, while there are plenty of activities to do during the day, you can rest up at night in a family-centric suite before hitting the water park again.
The diversity of activities at Hope Lake is impressive year-round. The ski slopes transform into hiking at mountain bike heaven in the warmer months. There are ziplines, an expansive arcade, and multiple restaurants to choose from, all just a stone's throw away on the Lodge's grounds. And even when it's snowing outside, it's still tropical in the water park!
SoundWaves at Gaylord Opryland Resort – Nashville, TN

SoundWaves is a great place to unwind, and it's easy to do by taking advantage of their Experience Packages. Their upscale water park features both an indoor and outdoor section, and they're so popular that access can't be guaranteed for visitors who don't reserve space in advance. If you only book a room to stay in, you might miss out.
So, choosing a package deal that guarantees access for the family is a great idea. Plus, you'll also gain access to other amenities at the resort. Located only minutes from Nashville's international airport, the Opryland features live music events, dining, shopping, an arcade, and options for all ages. There are party rooms for larger groups and even an adult-only area for after the kids hit the hay.
Oh yeah, did we mention that the 100,000 square-foot water park has an expansive array of attractions, including:
Rapid rafting
Stage diving
Tubing
Surfing as a duo
An activity pool for kids
Splash pads for really little ones
A climbing structure with shallow water and spray features
Private cabana rentals
This is a perfect getaway for kids and adults of all ages.
Great Wolf Lodge — Scotrun, PA
The Great Wolf Lodge is in the Pocono Mountains of eastern Pennsylvania. The water park features at least sixteen distinct attractions, each rated by thrill level and minimum height requirements.
So, you can let the little kids float on Crooked Creek while you and the older ones enjoy the Hydro Plunge or Double Barrel Drop. The Lodge offers day passes, all-inclusive packages, group bookings, catering, and even special events.
The accommodations are generous and diverse. So, you can easily book a room that matches your needs. Traveling with all the kids might see you book the premium Majestic Bear Suite, with sleeping for eight, a full bath, private bedroom, and breakfast bar. Or, for a more modest choice, book the standard family suite with two beds and a bath in a private suite.

And when the kids stay with grandma and grandpa, you can book the Whirlpool Fireplace Suite with a king bed, gas fireplace, and a whirlpool tub right in the room. Everyone has something to enjoy at the Great Wolf Lodge.
Kings Pointe Water Park Resort – Storm Lake, IA
Kings Pointe Water Park is located in Storm Lake, Iowa. But there aren't any thunderclouds or wind warnings in the waterpark. This waterpark isn't as over-the-top as some of the largest destinations on this list. But for small families who might enjoy a smaller resort, this resort is an outstanding choice.
There is a lily pad walk for smaller kids, but also three enormous waterslides and a gargantuan pool featuring a complete water playground. Reasonable rates, comfortable patio tables, a dedicated snack service, and complimentary tubes for the lazy river round out the amenities.
Elsewhere at the resort, you can enjoy breakfast, lunch, and dinner from the Regatta Restaurant, featuring spectacular views of Storm Lake.
Kalahari Resorts and Conventions – Wisconsin Dells, WI
Kalahari Resorts is a chain of locations that cater to family adventures. The accommodations in Wisconsin Dells include single suites, two-bedroom suites, three- to five-bedroom suites, and private villas. You can even stay right on the edge of Lake Delton if you choose a Lakeside Villa.
The indoor water park sports all of the attractions you can think of, with whirlpools, a water-borne roller coaster, a lazy river, and even crazier rides that spin, toss, shoot, and flip you around. There's something for everyone to enjoy, no matter how big or small they may be.
When you get tired of the indoor water park, check out the outdoor pool and accommodations. Or, enjoy one of the many rides and attractions throughout the resort-like Zipline, climbing ropes course, Laser tag, mini-golf, carousels, and a full complement of theme park-sized rides for all ages.
Wilderness Resort – Wisconsin Dells, WI
The Wilderness Resort in Wisconsin Dells is part of a chain of family-centric resorts. This spot offers you a choice of staying in a traditional hotel, a connected lodge with a series of condominiums, villas, and private cabins, or lakeside in a variety of accommodations.
You can enjoy whatever sort of ambiance you want, whether it's a private cabin for ten with a view of the lake or a double suite hotel room with a wet bar. But you didn't come to the Wilderness Resort to sit in your room and watch your kids change channels and stare at their iPads all day.
You're here for the adventures. Check out the expansive indoor water parks. That's right. There are four separate indoor water parks to choose from. So you can work on your suntan at the Wild Waterdome with a see-through roof, or you can hit the Wild West Park for thrill rides and adventure. Some of the parks even feature tableside drink service for all the adult beverages you need.
And if you want another drink, head over to Margarita's Swim-up Bar for adults only. If you get bored inside, there are another four water parks outside, plus a professional golf course and top-flight spa services that rank among the best in the entire midwest.
Bridges Bay Resort – Arnolds Park, IA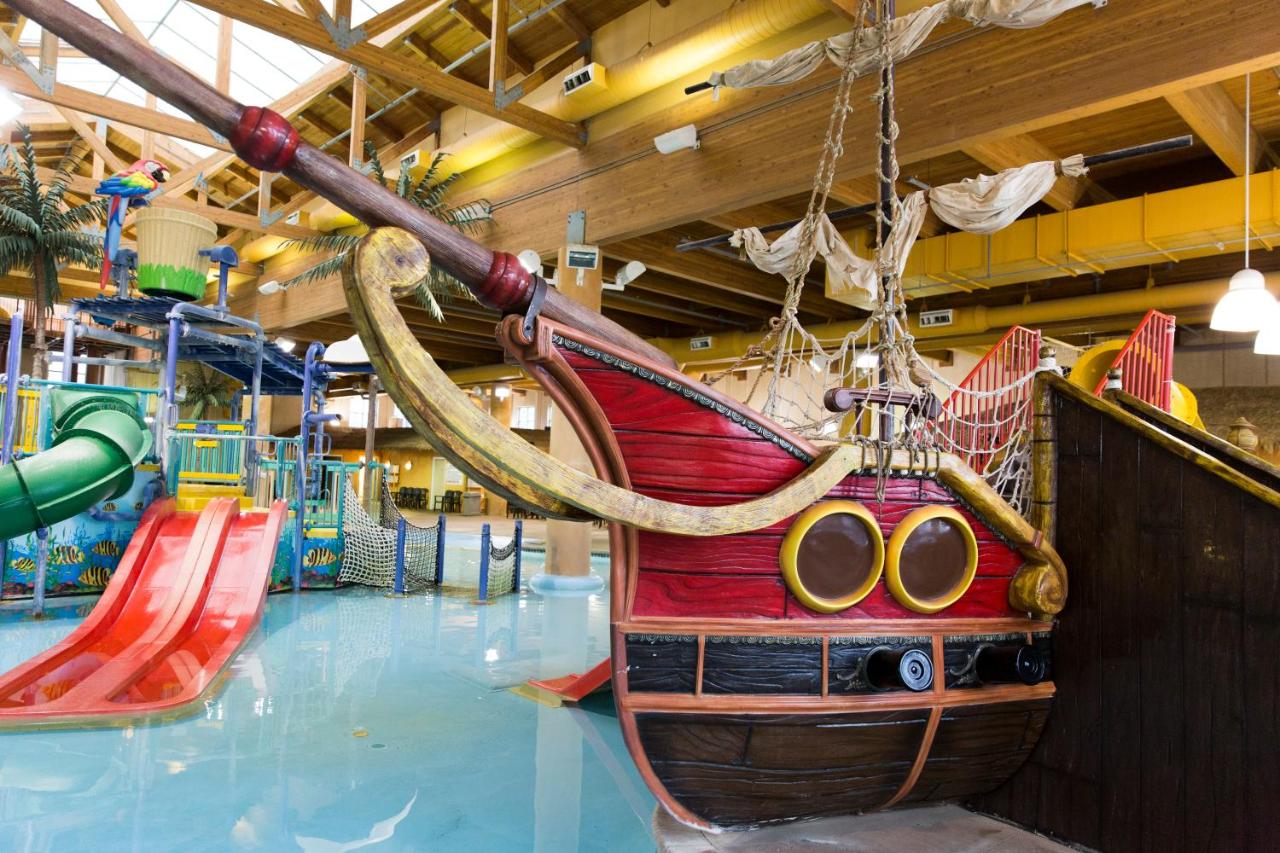 The Bridges Bay Resort features the Boji Splash Indoor Waterpark. It boasts of a host of waterslides that are fit for all ages. There's also a large bucket dump to cool off under, a lily pad walkway for little ones, a water basketball course with three hoops, and a gigantic indoor whirlpool for adults and bigger kids.
You can pick up a day pass for very reasonable pricing, or all-day passes are included with your room if you opt to stay at the resort. Then you just have to decide if you want to shell out a few extra bucks and take some zipline rides.
Dunes Village Resort – Myrtle Beach, SC
The Dunes Village Resort is in one of the Southeast's most popular vacation areas, Myrtle Beach. The indoor waterpark at this resort on South Carolina's Grand Strand coast features an entire section dedicated to children, called the Kidz Zone. Here, the littlest ones in your group can enjoy a shallow pool and a Silly Submarine adventure. Older kids can swim laps in the bigger pool, ride water slides with corkscrews and splash zones, and enjoy basketball or volleyball in dedicated pools.
Or you can dial up the excitement a bit and hit the brand new slides featuring more speed and more twisty turns. Since the weather is usually pretty nice, the park is often open to the outside air in summer. When the weather turns colder, they heat and enclose the entire waterpark so you can enjoy the amenities year-round.
Plus, your whole group can take advantage of the 24-hour fitness center, outdoor pools and water slides, a spa, and an entire oceanfront section of the resort's beach. For an added attraction, there is an entire Kids Club dedicated to children's activities like painting, crafts, and sports.
Choose accommodations ranging from modest rooms to expansive suites with balconies, full kitchens, and multiple rooms.
Camelback Lodge and Indoor Waterpark
Camelback Lodge and Indoor Waterpark is also in the Poconos. It features the Aquatopia indoor water park with thirteen indoor slides (including kiddie slides for the little guys), indoor private cabanas, and other perks. You might also spend some time at the outdoor waterpark, Camelbeach, when the weather is nice.
The outdoor park is insanely large and sports almost forty individual slides! There are, of course, poolside snacks and drinks, and kids can even have a bit of an adventure designing their own pizza.
If you want to get away from the water, the lodge also features a mountain coaster, ziplines, bungee jumping, skiing, snowboarding, snow-tubing, and lessons in snow sports. You can even try your hand at ax throwing. Adventure for the whole family awaits.
Kartrite Resort & Indoor Waterpark – Monticello, NY
The Kartrite Resort & Indoor Waterpark is New York's biggest indoor waterpark. It's always 84 degrees under the transparent roof, even when it's snow season in the Catskill mountains. Depending on what time of year it is, you can enjoy other nearby amenities like canoe trips on the Delaware River, hiking at Lake Superior State Park, or sightseeing along the Neversink River Unique Area.
But the kids probably won't want to leave the indoor water park for too long, as it sports activities for all ages. The resort also features nine restaurants and bars so you can refuel. Plus, when it's time to recharge, you can relax in your choice of a family suite, two-room suite, or three-room suite, depending on your preferences.
Wilderness at the Smokies – Sevierville, TN
Wilderness at the Smokies is the home of the Wild WaterDome, the largest indoor waterpark in the state of Tennessee. Sevierville isn't far from Knoxville, and there is an airport right nearby, so you're not too far off the beaten track. We're already big fans of the Wilderness family of resorts.
But, at the Wilderness Hotel and Golf resort, there is action-packed fun awaiting the whole family. The whole of the Wilderness Territory includes four separate indoor water parks, so you can roam and explore different activities at each. But the massive indoor compounds are only the tip of the iceberg.
Other offerings at the Wilderness complex include four more outdoor waterparks, three large arcades for gaming and playing, spa accommodations, a selection of indoor dining options, and an entire 18-hole golf course.
When you're done with the day's activities, your lodging options include everything from a family-sized five-bedroom private cabin, to a condominium, villa, or standard hotel room. And the best part is that access to the waterparks is included in most packages!
Jay Peak Resort – Jay, VT
If you live anywhere in the Northeast part of the United States, you've probably already heard of Jay Peak Resort, located in Northern Vermont. It's set against the background of Jay Peak, a multi-track ski mountain with top amenities. Jay Peak resort is also home to the only indoor water park in the state.
The Pump House water park features an impressive array of attractions, including the Double Barrel Flowrider (a mashup of skateboarding, surfing, and snowboarding), The Big River (a Lazy River theme on steroids with rapids, strong currents, and even surprises as you float along), The Mill Pond (a dedicated play area with water cannons and multi-story play structure, a deepwater activity pool (with a climbing wall and watery basketball court), and three water slides.
Each of the three water slides is different, but they're all thrilling. The big attraction for the most adventurous visitors might be La Chute, a slide with a 45 mph drop of more than sixty feet and full body rotation. This feature actually sticks out from the side of the building, and it's only available if you meet the height and weight criteria.
So, the water park is extensive. It also features a retractable roof that can open on the warmest days in the summer but keeps things toasty and pleasant when closed against rain and cold. And if the waterpark isn't your thing, or the kids somehow get bored, there is also a full ski resort, mountain biking trails, an outdoor pool, and more features. There are plenty of hiking and nature excursions to consider in the area.
The Best Hotels With Indoor Water Parks Your Kids Will Love Bottom Line
When it's time for a family vacation, all twelve of these resorts with indoor water parks offer the sort of fun-filled adventure and accommodations you need. It's up to you to pick the one that's in the right place, with the right rooms, and the right blend of activities. Just don't wait to book your stay. Reservations are running out every day!
More about our TFVG Author
Caitlin is one of The Family Vacation Guide's long standing contributors. She enjoys taking vacation to busy, vibrant cities and has stretched her traveling legs out towards Europe in recent months, enjoying new experiences in Barcelona in Spain, and Nice in France.