Some of the most beautiful lodges can be found in our national parks here in the US. Not only will you stay in stunning historical accommodations, but you'll be surrounded by incredible natural beauty at the same time.
We've put together a list of the best lodges in our National Parks, from El Tovar Hotel in Grand Canyon National Park to Lake McDonald Lodge in Glacier National Park.
National Parks with the Best Lodges
El Tovar Hotel, Grand Canyon National Park, Arizona
El Tovar Hotel in Grand Canyon National Park was designed by Charles Whittlesey and opened in 1905. Emulating a Scandinavian Villa, this building seems out of place in the dry Arizona landscape.
The hotel has impressive views from its perch on the Grand Canyon's South Rim. It features 78 rooms, a large lounge with Oregon pine trimmings, and various cobblestone fireplaces throughout the building. There are also tasteful murals representing the customs of the Hopi, Apache, Mojave, and Navajo.
Family suites are available, making it an excellent choice for a family holiday. Bookings open a year in advance, so be sure to plan ahead if you want to book your spot, especially if you plan to visit during the busy season.
Things to Do During Your Stay
Grand Canyon Mule Ride
Consider booking a mule ride down into the Grand Canyon for a unique adventure. You can choose a 2-hour ride or opt to overnight, depending on your budget and situation. These mule rides are available at the South and North rims.
Ranger Guided Tours
Various ranger-guided talks and tours are available at the Grand Canyon National Park. They vary with the seasons, and the National Park Service adds new options yearly. The tours are an excellent option for families as they give you a great introduction to the park and keep it interesting for the kids.
Jenny Lake Lodge, Grand Teton National Park, Wyoming
Jenny Lake Lodge has received AAA Four Diamond status, but it wasn't always such a luxurious spot – it started as a humble dude ranch in the 1930s. It had space for up to 65 guests. These days, it has 37 beautifully restored historic log cabins. The interiors have been modernized, with stylishly upgraded bathrooms and lush lounge furniture.
Like many lodges inside National Parks, the booking opens up one year in advance.
Things to Do During Your Stay
Signal Mountain
Take a slow drive up to the top of Signal Mountain for fantastic panoramic views of Grand Teton National Park. Remember to stop at the Jackson Lake Overlook, just near the summit of Signal Mountain. There is a short two-minute walk from the stop to the lookout point.
Mormon Row Historic District
This exciting spot has been added to the National Register of Historic Places and was first established in 1890. Not only is Mormon Row rich in history, but it is also known as one of the best sunrise spots in the park.
A favorite spot for photographers in Grand Teton National Park, the large historical barn with the sunrise in the background makes for an excellent photograph.
The Ahwahnee Hotel at Yosemite National Park, California
Built between 1925 and 1927 and designed by the famous architect Gilbert Stanley Underwood, The Ahwahnee Hotel is set at the base of the majestic Royal Arches. The hotel has 121 rooms and a magnificent dining hall with floor-to-ceiling windows and a 34-foot-high ceiling.
The name Ahwahnee is the Miwok word for Yosemite valley, and it means place of the gaping mouth and is a National Historic Landmark. This hotel is considered the most impressive National Park Lodge in the US.
Things to Do During Your Stay
Mariposa Grove
Home to some iconic trees such as the Faithful Couple, and the California Tree Tunnel, Mariposa Grove is a must-visit spot hosting over 500 mature giant sequoias. It was first protected by law by President Abraham Lincoln in 1964 and was the first scenic piece of land to be brought under federal protection.
Happy Isles Art and Nature Center
The Happy Isles Art and Nature Center in Yosemite National Park is a great spot to visit with the family. It has some excellent natural history exhibits with interactive displays. They also host art workshops, and there is a bookshop.
In the area surrounding the center, there are various kid-friendly trails. From one of these trails, you can see the remains of the 1996 rockfall, where Glacier Point cliff shed 90 000 tons of rock.
Old Faithful Inn at Yellowstone National Park, Wyoming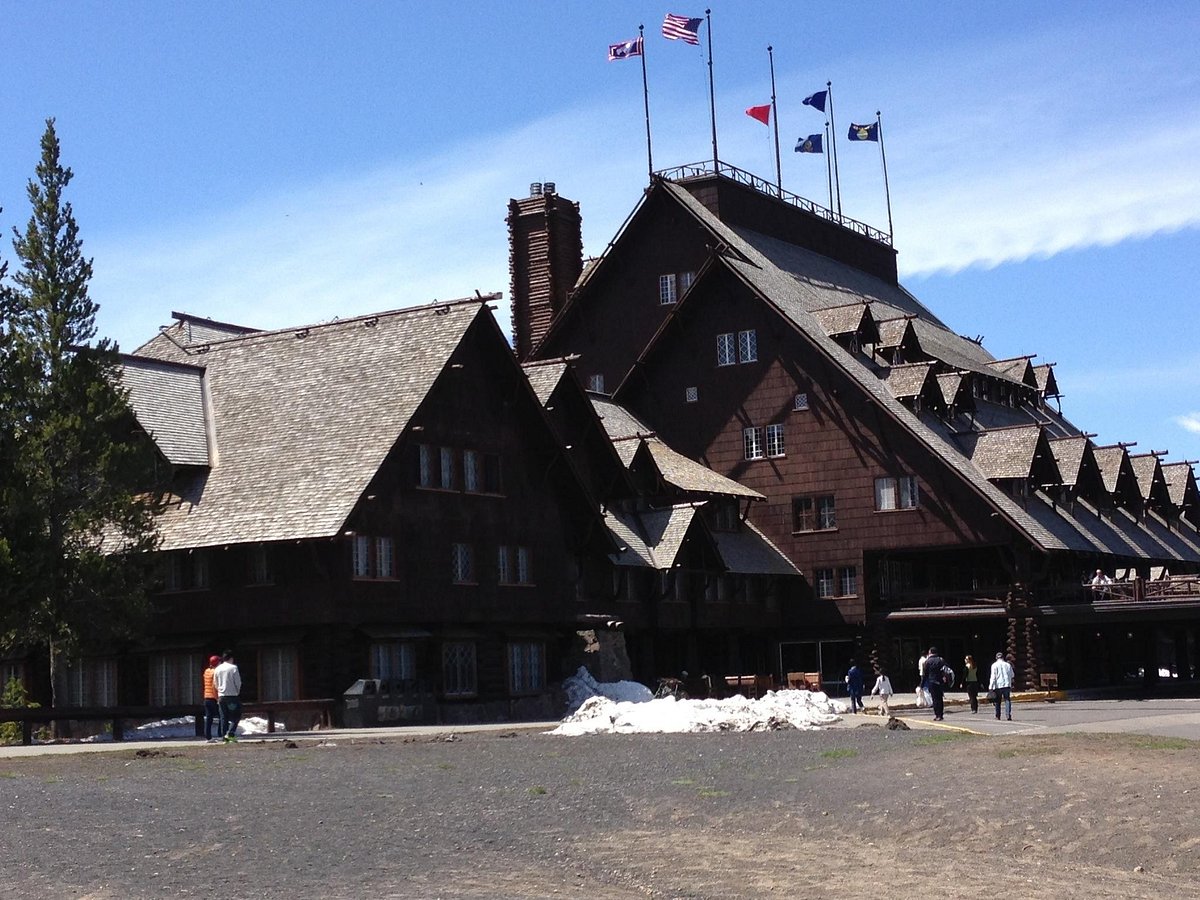 The Old Faithful Inn at Yellowstone National Park was completed in 1904 and designed by Robert Reamer. The inn features 327 rooms and is the largest log cabin in the world. It is seven stories high and 700 feet long. The lobby is a site to behold – boasting 92ft high ceilings with massive logs and a stone fireplace.
The view from this historic inn was chosen with intention – it is one of the best vantage points for viewing the famous Old Faithful geyser. Some hotel rooms hold views of the Geyser Basin, which is host to many geothermically active geysers. If you'd like to book one of these, mention this when making your reservation.
Things to Do During Your Stay
observation point hike
If you want a great view of Old Faithful and are happy with a bird's eye view instead of being up close, then Observation Point is a great place to visit. You'll get to enjoy the event without having to negotiate large crowds. The hike to the point is relatively steep, and the round trip is 1.1 miles long.
Lamar Valley
If you want to view some wildlife while visiting Yellowstone National Park, visiting Lamar Valley is a must. It's best to visit the valley in the morning or evening, as these times will allow you to see the most animals.
The Inn at Death Valley, Death Valley National Park, California
Popular amongst the rich and famous, the Inn at Death Valley has served actors and celebrities from its inception in 1927. After its recent $150 million renovation that took five years, it is back to its former glory and ready to receive guests. The lodge is designed in the Spanish Mission style, with terra-cotta roofs and paths lined with date palms.
Death Valley National Park stretches across state lines, with part of the park in Nevada and part in California. This luxurious inn is situated on the park's California side. The inn hosts 88 rooms and is set in Furnace Creek, a popular tourist spot.
Things to Do During Your Stay
Marble Canyon
Visiting Marble Canyon is a great thing to do on a hot day in Death Valley. The hike is well-shaded, and there are many rests stops along the way. It is a short hike that ambles through Marble Canyon. The entire length of the canyon is long, so you can choose how long you'd like to walk.
It is crucial to pack correctly for the hike – bring lots of water and refreshments to avoid dehydration. Be sure to wear a hat and sunscreen.
hike Through Surprise Canyon
Surprise Canyon is a must-visit, as it has so much to offer. From some beautiful waterfalls to some cute burros, you're in for a treat. It is a longer hike, totaling 6.3 miles, and will require 3-4 hours. It is best for families with older kids or teenagers.
Lake McDonald Lodge, Glacier National Park, Montana
Lake McDonald Lodge is an Alpine-style lodge in Glacier National Park, with 82 guest rooms and a 100+ year history. The hotel is situated on Lake McDonald's eastern shore.
This Glacier park lodge features many excellent amenities, such as a reading room, multiple dining options, and the Glacier National Park Red Bus tours, which take you through the park right from the hotel's front door.
Things to Do During Your Stay
trail of the cedars
When visiting Glacier National Park, the Trail of the Cedars hike is a great hike to start with. It is a well-marked, wide trail, great for beginners. The hike features some stunning waterfalls and is wheelchair and stroller-accessible so everyone can enjoy it!
go to the beach at lake McDonald
Pull off the road next to the lake and take a stroll down to the water – the beaches are comfortable and a great place to have a relaxing day filled with beach games and swimming. Beware – the water is icy! But perfect for a hot summer's day.
You can fish on the lake, so pack your gear. If you're unfamiliar with fly fishing, you can book a lesson at the Glacier National Park Outdoor Center.
Zion Lodge, Zion National Park, Utah
The stunning Zion Lodge was designed by Gilbert Stanley Lee and was built using local materials to ensure that no harm came to the parkland, and that would help the lodge blend into the surrounding vistas.
The Zion Lodge was completed in 1925 and has 76 rooms and six suites. It also offers 40 cabins if you'd like a more private residence.
Things to Do During Your Stay
Zion Canyon Scenic Drive
The best views in Zion National Park are in Zion Canyon. This beautiful area can be seen via a scenic drive along the canyon's length. Most of the main attractions in the park can be found along this road.
Visit the Kolob Canyons
If you're after some quiet and an excellent spot to explore, we suggest heading to the Kolob Canyons. The Kolob Canyons road is a perfect way to explore the area. It has many viewpoints to help you see this spot's incredible views.
Crater Lake Lodge, Crater Lake National Park, Oregon
Crater Lake lodge initially opened in 1915 but was poorly constructed and needed to be demolished and rebuilt in the 1990s. The rebuild was done carefully, and the original feel of the lodge was emulated.
This national park lodge offers incredible views of Crater Lake and hosts a cozy lobby with warming fires, a majestic great room, and a rustic yet classy dining hall.
Things to Do During Your Stay
rim drive
A particularly scenic drive, this road offers impressive views of Crater Lake National Park and has more than 30 different viewpoint stops along the way. There are also many trailheads en route, so if you want to hike, you'll head out on this road to get to the start of your trek.
The drive is only open between July and October due to the weather.
Plaikni Falls Trail
Great for families, Plaikni Falls Trail is a short 2-mile return trip through a beautiful forest, ending at a stunning waterfall. The best time to see the waterfall is spring, as the flow is more substantial due to the snowmelt. However, the fall flows throughout the year, so you can visit whenever you get to the park.
Lake Quinault Lodge, Olympic National Park, Washington
Lake Quinault Lodge is located in the Quinault Valley, which hosts the Quinalt Rain Forest and Quinault Lake. Out of all the National Park Lodges, this one is easily the grandest. However, it is technically in the Olympic National Forest rather than the Olympic National Park, which is accessible via the Quinault Rain Forest Loop Drive.
Situated on the southern shore of Lake Quinault, the lodge features a restaurant, a beautiful grassy lawn, a large seating area, and magnificent lake views. It was initially built in 1926 and is open year-round. It is one of the most popular National Park lodges for weddings.
Things to Do During Your Stay
Hoh Rainforest
Hoh Rainforest is the lush green forest of dreams, with tall moss-covered trees and a perpetual fine drizzle, even in summer. This old-growth forest is a must-see when visiting Olympic National Park. Just a heads-up: due to it being a rainforest, it can be cool and damp, so be sure to wear layers and have a raincoat with you, no matter the season.
Marymere Falls
This is one of the best family-friendly hikes in Olympic National Park. It is a predominantly flat walk that is easy enough for the kids. It wanders through an old spruce forest, leading to a viewpoint where you can see the beautiful Marymere Falls.
Ross Lake Resort, North Cascades National Park, Washington
If you want to stay at the fascinating Ross Lake Resort, you'd better make sure you book well in advance! It is almost always fully booked and accepts bookings a year in advance.
One of the more unique National Park lodges, Ross Lake resort is situated in the Ross Lake National Recreation Area and consists of fifteen floating cabins. The Ross Lake National Recreation Area is located in the North Cascades National Park.
The lodge was developed in 1952 and is incredibly popular. It's a great spot to use as a base for exploring the North Cascades National Park.
Things to Do During Your Stay
Stehekin
A visit to this secluded island community is a must if you visit the North Cascades. With only 75 permanent residents, it is one of the most isolated communities in the United States. The island is accessible only by boat or plane.
A visit to this town is incredibly fascinating and makes for a fantastic family adventure. You can reach the village via the Stehekin Ferry at Field's Point Landing.
diablo lake overlook
This is an excellent option for young families or anyone with mobility issues, as it requires little to no walking. The Diablo Lake Overlook is accessible by car, and you can get a great view of the lake without leaving your vehicle.
Lodge at Bryce Canyon, Bryce Canyon National Park, Utah
One of the most charming and well-loved National Park lodges, the Lodge at Bryce Canyon is a beautiful place to stay and the only option for lodging in the park. It offers studios, cabins, and lodge rooms and is a homely base for exploring the park and its surroundings.
Things to Do During Your Stay
Drive Scenic Byway 12
If you're not too fond of hiking or biking, a leisurely drive along Utah State Route 12 is a great option. Not only will you enjoy the sights of Bryce Canyon National Park, but the road also links to other recreational areas, including the Grand Staircase National Monument and Kodachrome Basin State Park.
hike Queen's Garden/Navajo Loop
This three-mile hike is an excellent option for families, as it is a gentle walk with stunning views. Combine the Queens Garden hike with the Navajo Loop to get the best views and feel of the canyon.
Wuksachi Lodge, Sequoia and Kings Canyon National Parks, California
One of the newest National Park lodges on this list, Wuksachi Lodge, was built in 1999 and is well situated in the center of the park, giving visitors easy access to their favorite spots.
The park's former resort, Giant Forest Village, was designed in the 1920s by Gilbert Stanley Underwood. This resort was causing damage to the local vegetation and soils and was carefully demolished and replaced by Wuksachi Lodge, nine miles from the original site.
The 102 rooms have all the necessary amenities and some luxuries such as central heating, mini-fridges, and television. Enjoy beautiful views of the park with dinner at the lodge's restaurant.
Things to Do During Your Stay
Tree Tunnels
Take a drive along Crescent Meadow Road in Sequoia National Park for the opportunity to drive under the Tunnel Log. This tunnel was cut into an approximately 2000-year-old tree that had fallen across the road in 1937 to allow cars to pass and to create a fun attraction for visitors.
Kings Canyon Scenic Byway
Taking a scenic drive along the 50-mile Kings Canyon Scenic byway is an excellent way to view the beautiful river and majestic mountain ranges in the area. This canyon was carved out by glaciers and is surrounded by many (over 12000) mountain peaks. Make sure to stop at the many pullouts to enjoy these phenomenal views.
Volcano House, Hawaii Volcanoes National Park, Hawaii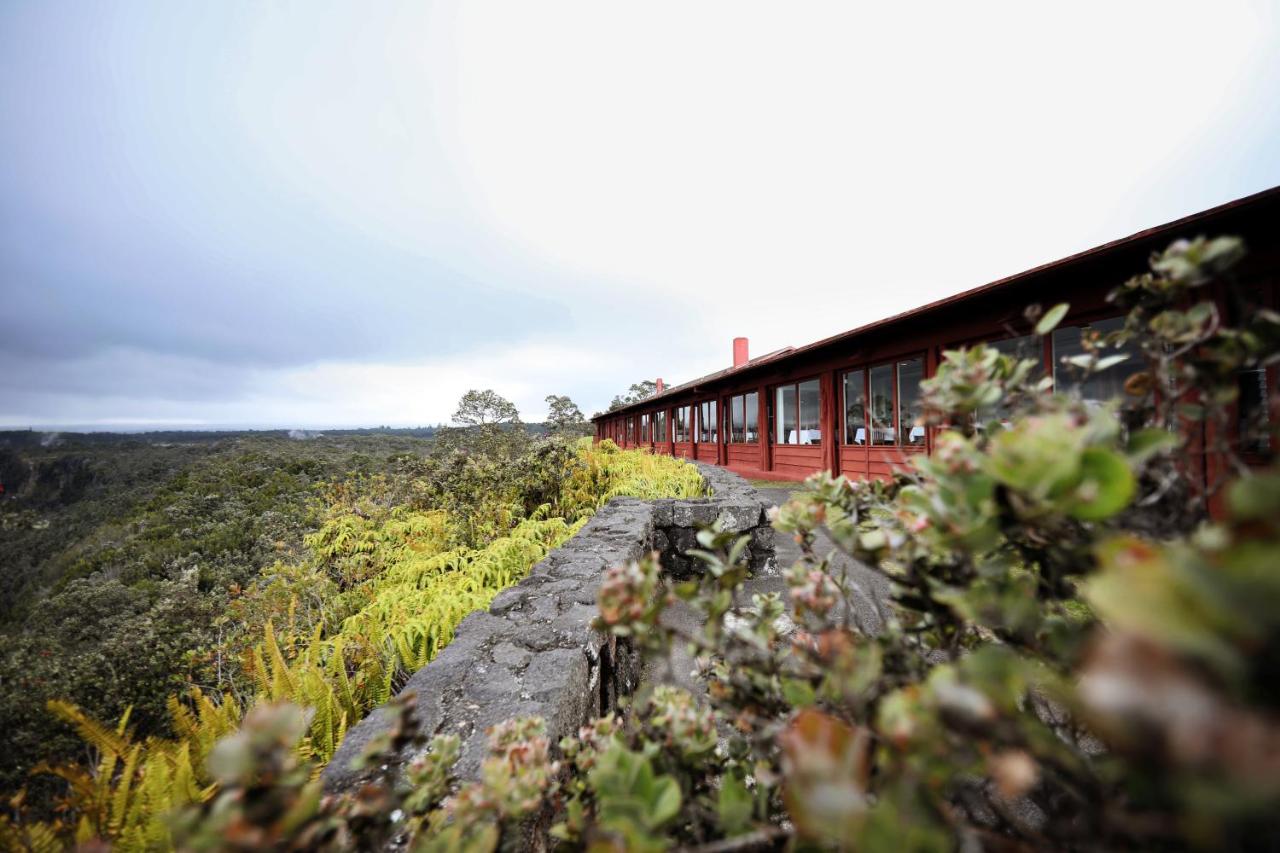 This is undoubtedly one of the most unique National Park stays you can find in the US. Situated on the rim of the active Kilauea volcano, Volcano House gives you rooms with a view of an active volcano's crater. The lodge was first built in 1877, but before that, it was reportedly the residence of Chiefess Kapiolani from 1824. The hotel, in its current form, was built in 1941.
The 33-room Volcano House was restored to its 1940s luxury in 2013. The rooms are tastefully decorated with a hint of tropical decors, such as bamboo furnishings. The crown moldings have returned to their rightful splendor, and the polished floors are back to their jade-hued glory.
Things to Do During Your Stay
Kilauea Crater
While staying at Volcano House, you'll be in a prime position to enjoy the wonderous Kilauea Crater. It is one of the most popular spots for visitors to Hawaii, as it is the site of an active volcano.
The crater is safe, despite the volcano continuously erupting since 1938. You can either hike to the rim or take a boat ride to see Kilauea's lava flowing into the ocean.
Pu'u Loa Petroglyphs
If you're interested in the history of Hawaii, the Pu'u Loa Petroglyphs are a must-see. These rock carvings depict the lives of the first inhabitants of the island. The Pu'u Loa Petroglyphs are the island's largest group of historic rock carvings.
FAQs
What is considered the most beautiful national park in the USA?
Yellowstone National Park, Glacier National Park, and Acadia National Park are considered some of the most beautiful national parks in the USA. However, beauty is subjective, so you'll need to visit the parks and decide for yourself.
If you're a fan of canyons, you might prefer Kings Canyon National Park, but if you like remote beaches and dense forests, then Olympic National Park might be your favorite instead.
Do national parks have lodges?
Many national parks in the US do have lodges, but there are some, such as Acadia National Park, where you need to find lodging outside the park and visit for the day. Some parks have camping facilities but no accommodation or cabins.
Does Yellowstone National Park have a lodge?
Yes, Yellowstone National Park does have a lodge, and it is considered one of the most impressive national park lodges in the US.
More about our TFVG Author