If you and your family plan to go to the East Coast for vacation, you need to check out the best East Coast beaches for families. Have fun in the sun and play in the waves and water all day long.
Hang out in the shade of an umbrella or go full tilt into the sun for an experience you won't want to forget. Take the time to learn how to surf, go snorkeling with marine life, or get out into the open ocean for dolphin or whale sightings.
No matter what you do, you'll have a blast on your beach-hopping adventure. Read on to discover the best East Coast beaches for families.
It's no wonder that beach-loving adventurers flock to Nantucket. It's an island in Massachusetts that boasts 25 different beaches. Whatever you're looking for on a beach, they've got it. Check out their website before exploring beach closures due to dangerous ocean conditions or possible hazardous marine life.
For gentle surf and warmer water, head to the northern beaches to have a fun time with your family. If you're looking for adventure and colder water with more waves, then go south. For families with smaller children, stick to the north beaches except for Brant Point as the currents are strong there.
The northern beaches are easily accessible from town, and you get great views of the Sound or Nantucket's harbor. If your family has an older member among your group, then Sconset Beach is very accessible, though parking is limited.
Take your kids to Children's Beach, where they can play not only in the water but on the playground and in the park. Lifeguards are on duty in case of emergencies, while restrooms, showers, and food services are all available.
If you want your beaches all in one spot, then Wildwood Crest Beach is the spot for you. They have five miles of free beaches for everyone who wants to enjoy some fun in the sun.
These beaches are wide enough for any family activity, and they are clean and safe with lifeguards on duty from Memorial Day through Labor Day. They work from 10 am to 5:30 pm daily. If you have a bunch of beach equipment that you brought with you, but the thought of hauling it all down the beach makes you tired, then hire one of Wildwood Crest's beach taxis that will do it for you.
Spend time walking along the beach, playing beach volleyball, frisbee, or splashing around in the waves. There are many locations to rent beach umbrellas, surfboards, and boogie boards for those inclined to walk on water.
If you come during the off-season, know that you can bring your dog with you to the beach so the whole family can enjoy the day. Just remember that your dog must be on a leash, you need to clean up after your dog, and they are not allowed on the boardwalk at any time.
This fantastic beach is located in the quintessential beach town of Cocoa Beach. It is only an hour's drive from Orlando and just minutes from Port Canaveral, a first-class tourist attraction and cruise terminal. Articles say that the waters around here are the clearest in all of Florida.
Spend your day with your family building sandcastles and walking down this gorgeous shoreline where the southern waters are warm year-round, reaching 73 degrees Fahrenheit on average. Then, take a surfboard out into the water for some fun trying to catch the waves or go out to surfboard fish.
Every weekend, lifeguards are on duty from Easter to Labor Day at Cocoa Beach Pier, Alan Shepard Park, Lori Wilson Park, Minutemen Causeway, and Jetty Park (Cape Canaveral).
They are also on duty every weekday from the day after Memorial Day weekend through the first week in August at Cocoa Beach Pier, two towers at Sheppard Park, Fischer Park, two towers at Lori Wilson Park, Minuteman Causeway, and Murkshe Park at 16th street.
When you get done having fun on the beach, take the time to go deep-sea fishing or get up close to the natural Florida wildlife with a kayaking tour.
If you and your family want serenity and tranquility when it comes to the best East Coast beaches for families, then you have to check out Block Island. With 17 miles of beaches and shorelines, this picture-perfect setting is definitely a top destination for families wanting to get away.
With bluffs and plenty of lighthouses, be swept away to a world where the busy day-to-day life slows down and time seems to stop. Many of the beaches at Block Island are isolated and nearly untouched.
Many people bike, walk, or moped straight to the beach from Old Harbor, where the ferry docks. Go back in time and bike your way all over the island to pristine beaches for afternoon picnics and some fun in the sun.
Crescent Beach is two and a half miles long, connecting Surf Beach, Baby Beach, Scotch Beach, and Mansion Beach into one big family stop with The Frederick J.Benson Pavillion, also known as "Town Beach" right in the middle. Get concessions and rent umbrellas, chairs, cabanas, and boogie boards.
Recognized as one of the top ten family beaches in America, Hilton Head Island has over 12 miles of beaches and coastline for you and your family to explore. All the beaches around Hilton Head Island are free to the public, and some of them have free parking lots while others make you pay a fee.
Even if you are in a wheelchair, you won't feel excluded here on the island as Alder Lane Beach, Coligny Beach Park, Driessen Beach Park, Folly Field Beach Park, and Islanders Beach Park have mats that you can use, making these beaches wheelchair accessible.
Once you get done playing on the beach, head out into the water for kayaking, tubing, skiing, dolphin watching, canoeing, and fishing. Take classes on how to surf and kayak correctly. You can also rent a bike to ride around on the beach and take in the ocean waves while feeling the salty sea breeze blow against your skin and through your hair.
East Hampton has the best of both worlds with two different types of beaches. Their ocean beaches are wider than their bay beach counterparts, have very fine sand, and the waves and currents are stronger for surfing.
The bay beaches are perfect for the family to lounge around with the calmer waters, ideal for swimming and sailing. Bay beaches also have fantastic views, especially at sunset, and you won't have to walk across a lot of hot sand to access the water.
To go to any ocean beaches maintained by the Village of East Hampton, you'll need a parking pass for the beach parking lots. You can also get a permit to drive on the beach.
Every year the East Hampton Fire Department puts on a fireworks show at Main Beach. You won't need a parking permit to set up, but parking is on a first-come, first-serve basis with no reservations. No vehicles are allowed on the beach at that time.
If you and your family want to spend weeks in one general spot doing just beach-hopping, then Palm Beach is the place to do it. They have 47 miles of beaches along the Atlantic Ocean spanning from Boca Raton to Jupiter Beach.
With nearly 30 different beaches to choose from, you're sure to find one to fit your current mood while also keeping the rest of the family out in the waves.
Whether it's relaxation at one of the more isolated beaches such as Ocean Cay Park, entertainment right on the water at Singer Island Municipal Beach, or learning a bit of history at Peanut Island, there's something for everyone to enjoy.
When you want to do more than splash around in the waves or lie on the beach, get out and go snorkeling, canoeing, kayaking, paddle boarding, parasailing, diving, and fishing. Rent some jet skis and spend your day flying through the water or go on a high-speed boat tour.
With so much to do and see, every day is a new adventure in one of the best East Coast beaches for families, Palm Beach.
You'd never think that Martha's Vineyard would be a great place for a family looking to get closer to the beach, but it is. With 19 different beaches, there's plenty of fun in the sun for everyone.
Some of these beaches are open to the public, while some are only open to certain residents and visitors who stay in specific towns. You will need a parking permit and a town beach permit for restricted beaches to access these beaches.
Get all different types of waves, from calm and gentle to something out of a surfer's dream. For those wanting more tranquil waters, head to Menemsha Public Beach with its clear, bright water that's open to everyone.
For those wanting bigger waves to go surfing on, then check out Gay Head Public Beach. It does have a $15 parking fee, and there is a ten-minute walk from the parking lot to the beach.
Get out into the water and take sailing lessons, go windsurfing, paddleboarding, kayaking, and fishing for even more fun things to do.
If you don't want to travel all over to get to beaches, then Cape May, New Jersey, will be the perfect place for you and your family to stay. The beaches here are clean, family-friendly with all the amenities you could want close by, and is within walking distance of most accommodations.
The beaches run about two and a half miles parallel to Beach Avenue, so even if you're just cruising by, you'll still be able to see the waves crashing onto the beach. If you decide to drive your car down to the beach, there is metered parking in effect from May 1st to October 31st and from 10 am to 10 pm.
Each member of your family ages 12 and over will need a beach tag that ranges from daily to all season long. These beach tags will get you into any of the beaches.
This long stretch of sand, surf, and the sun get broken up into different named beaches that are pretty easy to figure out as most of them got named after the road closest to them where it intersects Beach Avenue.
If you want to surf, you can at Poverty Beach, The Cove, Surfing Beach, and South Queen Beach. When lifeguards are on duty, the only place you can saltwater fish is the quarter-mile of shoreline east of the Brooklyn Avenue storm pipe. You can also go kayaking and skimboarding.
If you and your family want to get away from the concrete jungle of New York City, look no further than Fire Island. A thin strip of land that follows the city's southern coast, it boasts plenty to see and do and quite a few beaches to explore.
Fire Island is a unique place in that private ferries take you from the city to the island. Each of these ferries has its own rules, regulations, and times for departure, so check them out carefully.
Get that perfect picture of white, sandy beaches and turn it into reality at Fire Island. While some beaches are more geared towards singles, there's plenty of family fun to be had in the water.
Head to Seaview, a family-friendly community sandwiched between Ocean Bay Park and Ocean Beach for the finest bay beach that's also lifeguard supervised. Allow your kids to burn off their energy at the beach or one of the many playgrounds, tennis, and basketball courts.
If you and your family want to connect with nature, including beaches, amazing views, and plenty of water, then Jekyll island is for you. There are ten miles of unspoiled shoreline waiting for your family to explore.
Each beach has its own feel. From the perfect place for pictures to bird-watching, you'll find something that your whole family can enjoy. The best thing about Jekyll Island has to be it's no additional cost beach-going wheelchairs at some of their beaches so everyone can hang out, no matter if they move around on wheels or not.
Have a picnic at Great Dunes Beach Park, a beachfront park that's 20-acres and has access to picnic pavilions. Stay close to the shopping at Corsair Beach Park or go out into nature and see ancient driftwood monuments on Driftwood Beach.
No matter what you and your family like to do, you can find it at one of the many beaches on Jekyll Island. Have a blast fishing, sailing, paddleboarding, kayaking, and learning the history of Jekyll Island from its early days as a hunting club to its evolution as a state park.
Provincetown is on the northernmost tip of Cape Cod and, as such, has plenty of beaches and shorelines for you and your family to visit. Escape the city while you relax and recharge at one of the two main beaches, or go off exploring and see what other sites you can find.
With its stunning view of Cape Cod Bay, Herring Cove Beach is perfect for the family with ample parking, a full beach facility including showers, toilets, and a place to pick up goodies for the perfect day at the beach.
Race Point Beach looks out into the Atlantic Ocean for that perfect, uninterrupted view of the sea. This beach has seasonal restrooms and is wheelchair accessible for everyone who wants to spend time near or in the water.
If you'd like to start a campfire on the beach, you can with a permit, but those permits are in demand during the summer months.
When you get done playing in the waves, get out and explore the nearby Race Point Lighthouse or go on a tour with Provincetown's Art's Dunes Tours to see the beaches in a way you never have before.
Kiawah Island's 10-mile stretch of sandy beaches has been ranked as some of the best in the world, including Dr. Beach's Top 10 Beaches in America. Whether you and your family are looking for some high-energy fun and adventure, or you just want to chill out in the sun, there's something for everyone on Kiawah Island.
Rent chairs, lounges, beach utility carts for hauling all your beachside essentials, Beach toys and games, and paddle, boogie, and surfboards to take out into the water with you. If you are a guest with The Sanctuary Hotel, you won't need to reserve these items in advance and are complementary with your stay.
After you and your family relax on the beaches, go ahead and find a fun activity for everyone to do. Kiawah Island Resort has everything, including kayaking, sunrise yoga, dolphin encounters, Sea Aqua Aerobics, spikeball tournaments, mermaid academy, kayaking tours, sundown yoga, surf camp, and so much more.
Cape Hatteras is more than just a beach. It's a national seashore, which is similar to a state park. So come camp in a traditional campground. Get lulled to sleep each night to the sounds of ocean waves before spending your days frolicking in the surf.
Those with mobility issues know that some beaches have ramps that will help you get on the beach, and a beach wheelchair is available for your use. You may also get permission to drop off a mobility-impaired passenger on the beach. In addition, many of the amenities have mobility-impaired access except for the lighthouse, which does not have elevators in them.
Relax as the day comes to an end with a campfire on the beach. You'll need a free fire permit with you at all times while the fire is going and during sea turtle nesting season. But, be aware that some restrictions will apply.
Spend days walking along the beach here at Cape Hatteras. With over 70 miles of shoreline to explore, getting to all of it could prove impossible, but enjoy the fresh, salty sea air and watch the waves roll in as you stroll along the North Carolina coast.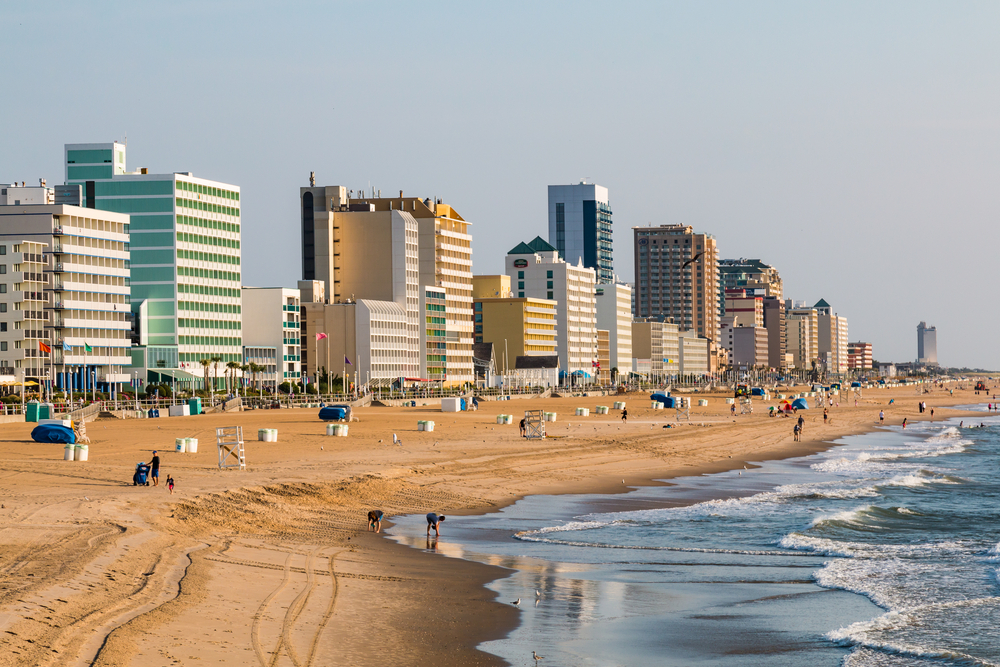 With seven distinct beach districts with their personality, it's no wonder that the beaches in Virginia Beach are just as eclectic. Explore all seven and find the perfect spot for you and your family.
Sandbridge is hidden and secluded with beautiful sand dunes and sea oats. Perfect for relaxing and unwinding with kayaking and fishing. Or get the hustle and bustle of a seaside tourist destination in the Oceanfront district. It's the central hub for all things beach, including hotels, dining, and entertainment.
Chesapeake Bay is a perfect place for calmer water, which is terrific if you have smaller children. In addition, the Bay area has a laid-back, local vibe that's sure to please those looking for the comforts of home without being there.
If you want something more adventurous than swimming and hanging out on beaches, you can go surfing, parasailing, kayaking, stand-up paddleboarding, boat tours, and fishing. If you want to get away from the water, head inland for a country farming vibe or visit one of Virginia Beach's museums.
With four different beaches to hang at, you'll have plenty of fun in the sun in this historic town just 15 miles east of New Haven. Of course, the gem of Madison when it comes to beaches has to be Surf Club Beach, a perfect spot for families to visit.
Surf Club Beach is open to the public and has an arc of golden sand leading down to stunning clear water. The beach sits on 45 acres of surrounding park that is everything you could want to wear out your kids. Your children can play at playgrounds, basketball courts, athletic fields, horseshoe pits, bocce courts, volleyball courts, and a launch for kayaks and canoes.
If you want something a little less idyllic, you can go to East Wharf Beach, which has more rocks and is separated by wooden fences that lead down into the water. You will need a beach sticker for your car no matter which beach you visit, and these range from daily to seasonally, depending on how long you plan to visit.
Did you know that the area of Kennebunkport has two cities? There's the tourist destination of Kennebunkport and the town of Kennebunk, and it's actually in Kennebunk where you'll find the best beaches. You'll need a parking sticker to park in the beachside parking lots.
Take the kids and visit Mother's Beach. Named that way because of its natural protection from the surf, it is an ideal swimming spot for younger kids. Low tide at Mother's Beach creates tidal pools perfect for curious children looking for sealife. It also features a playground for when your kids don't want to be in the water.
Colony Beach is a great spot for kayaking or watching the ships sail in and out of the Kennebunk River. However, this beach is a mixture of sand and pebbles, so not ideal for sitting on the ground for long periods.
The prettiest beach in this area has to be the Goose Rocks Beach with its soft white sand and sparkling water. It's perfect for spending the day out at the beach.
Hampton Beach has a total of eight public beaches that you can explore to your heart's content with your family. Get miles of sand and an unlimited supply of surf no matter which beach you decide to go to.
Hampton Beach is their main beach with plenty of amenities and has metered parking along Ocean Boulevard. Ride out to Rye Harbor State Park and go on an excursion to watch the sea life and feel the ocean breeze. Get out to North Hampton State Beach if you want to stay close to restaurants and shopping amenities. They have lifeguards for peace of mind.
If you want to take your kids out to a beach, then Hampton State Beach is the one to visit. Let your kids splash around tide pools and look for sea urchins at low tide with convenient bathrooms and even a snack bar to pick up goodies. Come with the RV and set up in their campground that offers full hookups.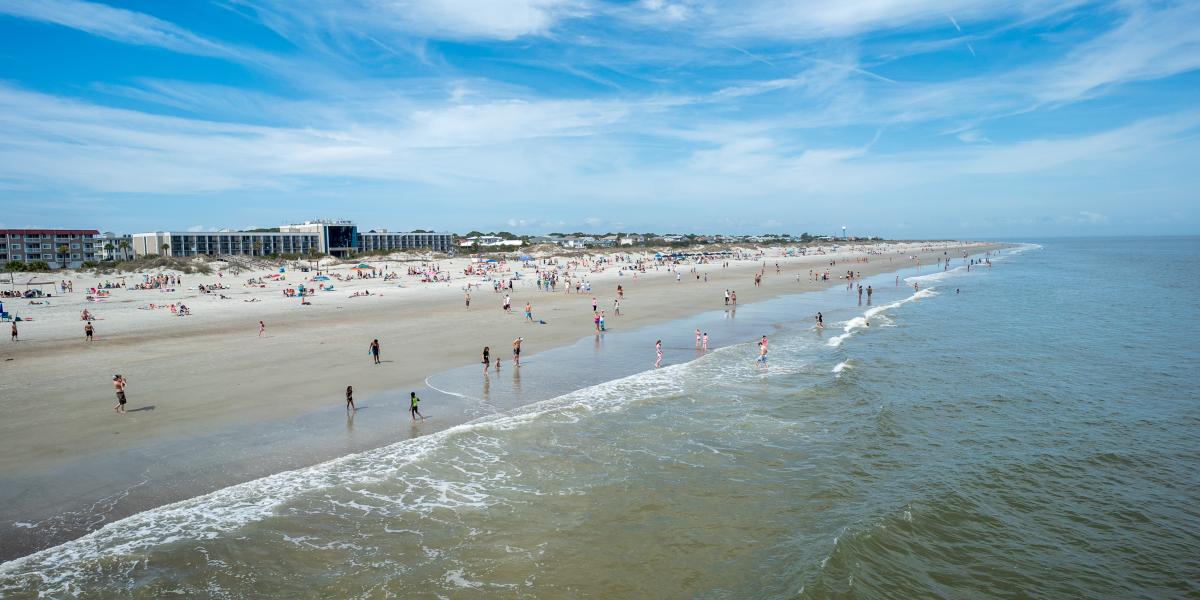 Families wanting to slow down, relax, and spend time together are sure to find paradise on this barrier island. It's an easy drive from Savannah with stunning ocean scenery. Tybee Island has over three miles of beaches. Tybee Island is sure to please anyone who wants to have fun in the sun without the fuss of city living.
There are four different beaches on Tybee Island and Little Tybee Beach on its own island. Sit under a palm tree and watch the waves roll in and swaying river grass, or get out there for something more athletic like compass sailing, paddleboarding, or even surf lessons.
Take the family out on a chartered boat, watch for dolphins and other aquatic life, or go on a nature or fishing tour. Spend time growing closer as a family as well as working on a fabulous summer tan.
Ocean City, New Jersey, is one of the best beachside resorts in the nation with family-friendly activities and its world-famous boardwalk. When critics rank different beaches across the country as being the greatest for families, Ocean City ranks as one of the best.
Have fun exploring the eight miles of white sand and rolling surf, perfect for a family outing or three. Then, go south and get great fishing spots and watch the birds in a serene and relaxing environment.
Take to the waves knowing that well-trained lifeguards are looking out for you at alcohol-free family beaches. In fact, this island is completely dry as no alcohol gets sold anywhere, and drinking on the beach or boardwalk is prohibited.
Once the sand gets everywhere, hit the boardwalk for more family fun. Every Thursday in July and August is a family day on the boardwalk, and your kids get free activities like face-painting, karaoke, and even get entertained by a strolling barbershop quartet.
With over 550 miles of coastline, you and your family could spend every summer here for the next ten years, and you still wouldn't be able to experience all of it. However, with that many miles of shoreline, there is something to suit everyone's tastes no matter preference or age.
Go to the flats near Cape Cod Bay for families with younger kids, where tidal pools spring up at low tide, perfect for splashing around in. If, instead, your kids are older and have a more adventurous spirit go to windsurfing locations in Hardings or Kalmus Beach.
You could also take your family and go off-roading at one of their many barrier beaches, or go for a walk on Coast Guard Beach, which attracts many visitors. Coast Guard Beach is also the ideal setting for ending a fun-filled day as you watch the sunset.
You don't have to worry about the water quality at Cape Cod since they test all public bathing waters to make sure it's safe to swim in. Have fun in the sun on the beach or get out there and hang ten before going sailing or on a guided tour to see the local wildlife. No matter what you choose to do, you and your family are sure to have a blast.
When it comes to boardwalks on the beach, Rehoboth Beach in Delaware has one of the best. In fact, that's the reason it's been named one of the best East Coast beaches for families. You can visit their boardwalk and their beaches year-round and still find plenty of things to keep you and your children occupied from morning to night.
Explore 30 miles of Delaware's coastline and soak in the sun. Afterward, you and your family can make a splash, go surfing, dolphin watching, or take one of their many nature cruises to see gorgeous scenery and wildlife, including wild ponies.
Visit Rehoboth Beach during the summertime, and you and your family can enjoy a movie or bonfire on the beach, courtesy of the city. Once it's time to leave the beach, your kids can enjoy minigolf, arcades, bumper boats, and plenty of family amusement for all.
Enjoy your stay at one of the many Oceanfront view rooms at highly-rated hotels and resorts and get stunning views of Myrtle Beach's 60 miles of coastline. Head to the beach sans any heavy lugging and rent both umbrellas and chairs to enjoy the wonders of the ocean in South Carolina.
If you're looking for something a little more exciting for your kids than just days playing in the waves, send them to surf camp, go on a kayak tour, challenge them with the ultimate obstacle course of Shark Wake Park, or even sail the high seas on an authentic pirate ship cruise.
No matter how laid back or adventurous your family is, you're all sure to agree that Myrtle Beach is one of the best East Coast beaches for your family.
Visit a top ten beach destination in all of America, according to TripAdvisor. Take the family out onto ten miles of beautiful, well-maintained sand for some family fun and bonding time out in the sun. Beaches in Ocean City are free to the public, so no need to deal with the hassle of beach passes.
For those craving a little more adventure or structure, rent kayaks, canoes, or surfboards and get out onto the water. During the summer, you and your family can also experience fireworks, campfires, and movies.
Once the kids have tired themselves out for a bit, walk around the wooden boardwalk right next to the beach. Grab food and drinks, shop, or even ride a rollercoaster and a Ferris wheel that's over 100 years old.
Visit All the Best East Coast Beaches for Families
Beaches are wonderful places to hang out and soak in the sun and play in the waves. But, if you're looking for something even more adventurous or want to wear the kids out even faster, why not try one of the best indoor water parks in the country?
When it comes to the best East Coast Beaches for families, it's clear that there are so many things to do and see that your kids will be grown before you see it all. So go out into the sunshine and make happy memories of spending time together as a family.
More about our TFVG Author
A seasoned traveller, Dad, and avid sports tourist, James foundered The Family Vacation Guide to share his expert vacation experiences- especially when it comes to being a travelling family man.
Featured in Travel articles such as Travel + Leisure, TripSavvy and SFGate, you know you're reading some of the best vacation tips online.