Pack your bags for an unforgettable adventure, but make sure to leave enough room in your luggage to take home with you an abundance of memories!
Your children will never ask for a gift again once they've stayed in one of these fantastic, unforgettable themed hotels.
So take a look at this list – from the big spenders to the budgeteers, there's bound to be something for you.
The Disneyland Hotel offers an abundance of themed rooms for the family to experience. Disneyland Hotel is known for its themed hotel suites, and it would be a tick off the bucket list to stay the night in one of them.
There's the magical Mickey Mouse penthouse that delivers extraordinary views of the resort and thoughtful interior design, from its red and yellow walls to its towels crafted into a bow. Other hotel rooms include exciting suites such as a Pirates of the Caribbean Suite and a Fairytale Suite.
Whether it's standard rooms or themed suites, they each feature a king-size bed and flat-screen TV, alongside WiFi for the kids who have to play one more game on their tablet.
Your hotel room will be a walk away from the Downtown Disney District for shopping and restaurants. The hotel has three pools, a hot tub, and also a game room. There's plenty of entertainment for the kids to keep themselves busy.
However, if you're interested in a little alone time, then you can take advantage, for a surcharge, of the hotel's children's club or childminding service!
Out of all the hotels in the world, doesn't Disneyland sound the most magical?
The Roxbury, New York, is located in the mountains, surrounded by breathtaking views. Each hotel room has a fun theme, transporting you into a completely different world. You could end up in Emerald City with the yellow brick road painted on your bedroom walls.
The Roxbury New York is perfect for kids with its fantastically decorated suites, complete with a private bathroom, a flat-screen TV, access to Netflix and board games.
There is no such thing as a regular room here. If that doesn't sound exciting enough, there's also the three-bedroom villa that was inspired by Indiana Jones. There are secret passageways and jewels hidden around the villa for the kids to have fun, creating a treasure hunt within your own home. Tell your little ones not to worry because there won't be monkey brains for dinner at this hotel!
There is a suite for everyone at this hotel, and it's also highly renowned for being a great place for couples on a romantic getaway if you want to come back next time, without the kids.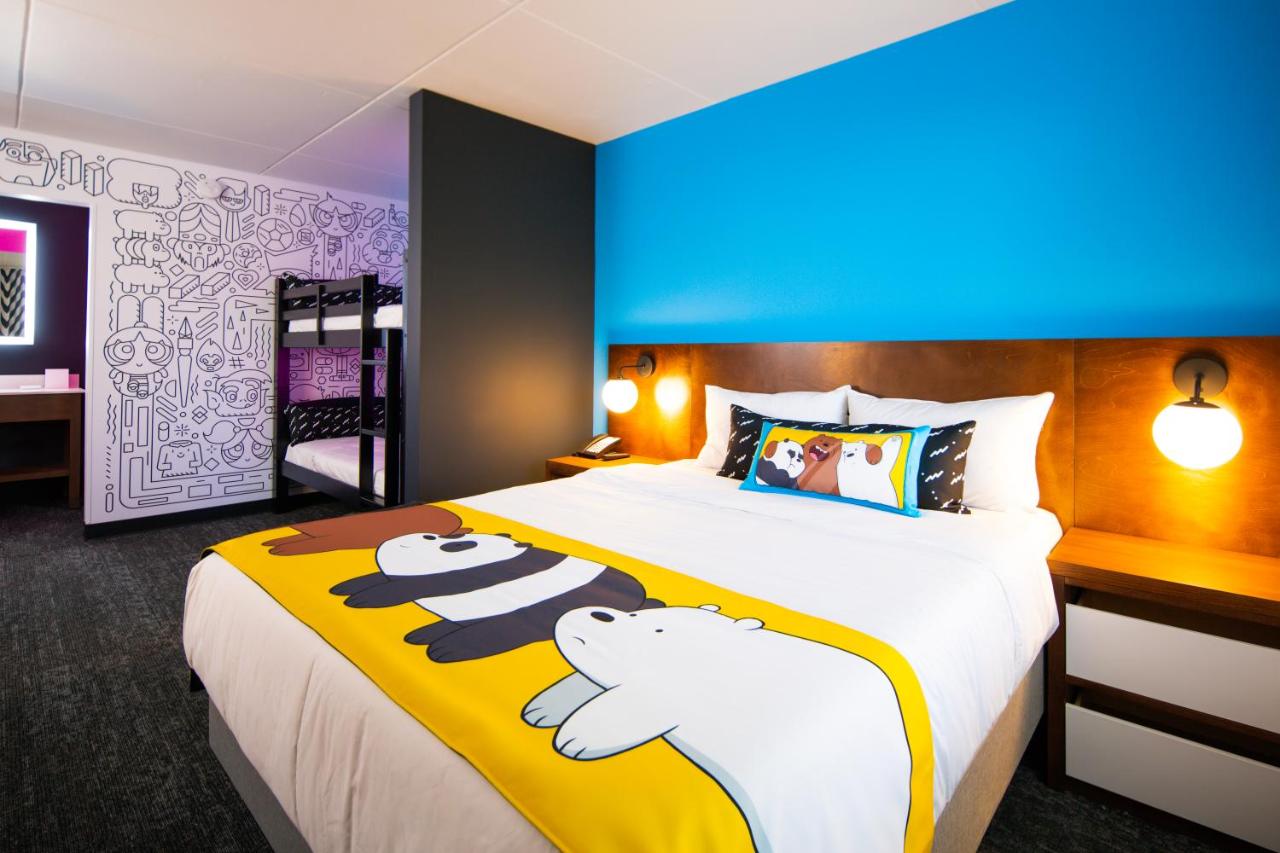 The Cartoon Network Hotel in Pennsylvania features character-themed suites that all children will enjoy (and probably some adults too!)
When you think cartoon, you automatically think fun, which is what this hotel stands for. Immerse yourself in this cartoon world with its themed food and activities.
It's unlike any other of the themed hotels out there. After all, there's only one Cartoon Network. Guests can take advantage of the indoor play area for children and its pool! There's also the option for bunk beds in the bedrooms meaning more floor space for so many activities!
Guests have the option to make their rooms interconnected, making your trip a giant sleepover!
How many times have you been able to say you've slept in a shipping container? If the answer is none, then it may be about time to change that.
The FlopHouze Shipping Container Hotel is extremely unique, allowing you to take home memories that will last a lifetime. It's the perfect combination of rustic and wholesome. The cozy rooms are great for the family, with big open greenery surrounding the hotel, a fireplace, and a pool with a view.
This would be ideal for those of you who want your kids to take a break from their screens and get back in touch with nature. Guests can enjoy the board games and puzzles in their room and also the adventures that can be found nearby, such as horse riding and cycling.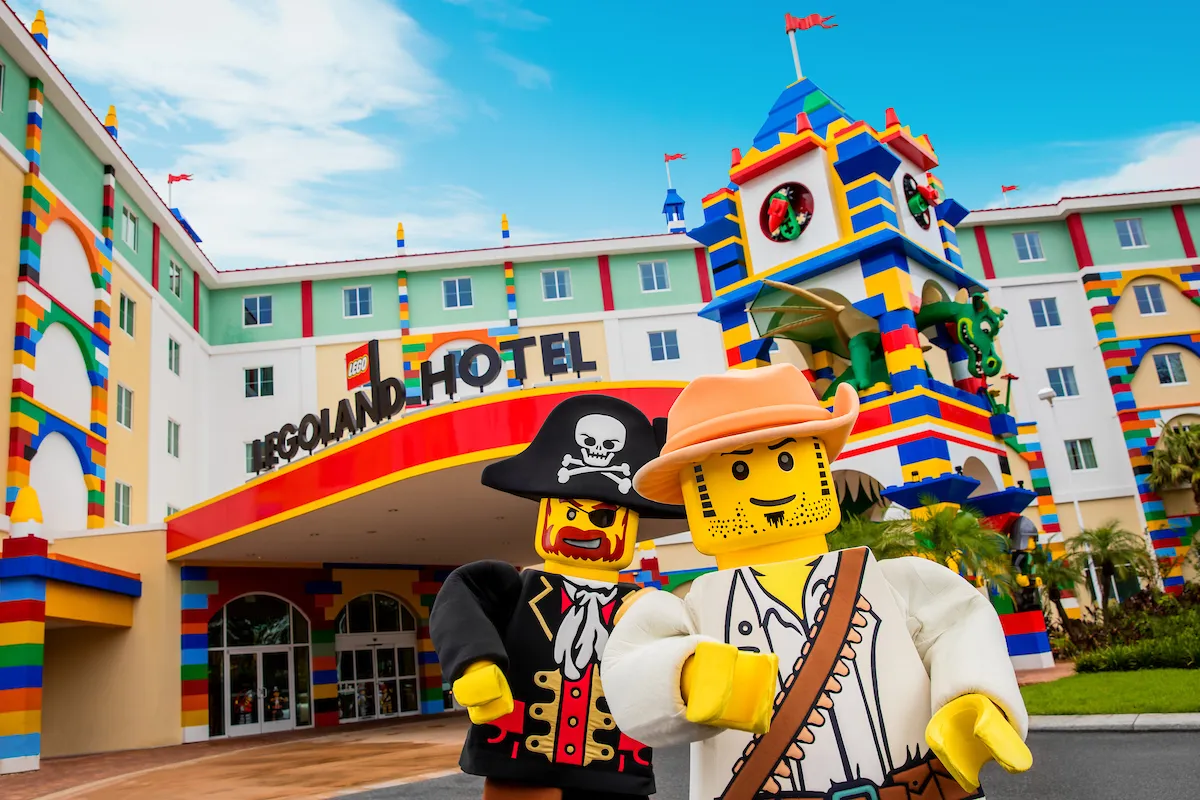 This is a guaranteed trip of a lifetime for a family of LEGO lovers! LEGOLAND California is a themed hotel, whether it be pirates or LEGO NINJAGO, that will meet the needs of every LEGO fan.
The rooms include a king bed for the parents and bunk beds for the children. As guests of the hotel, you can take advantage of the pre-opening theme park access. What kid doesn't want first dibs at a theme park?
There's also a children's playground, pool, and games room located on the hotel grounds for the younger kids to enjoy if they're too scared of the rides!
Oh, and you can tell your children it's a safe place to stay because of the big, strong dragon guards at the entrance, which your kids are bound to love!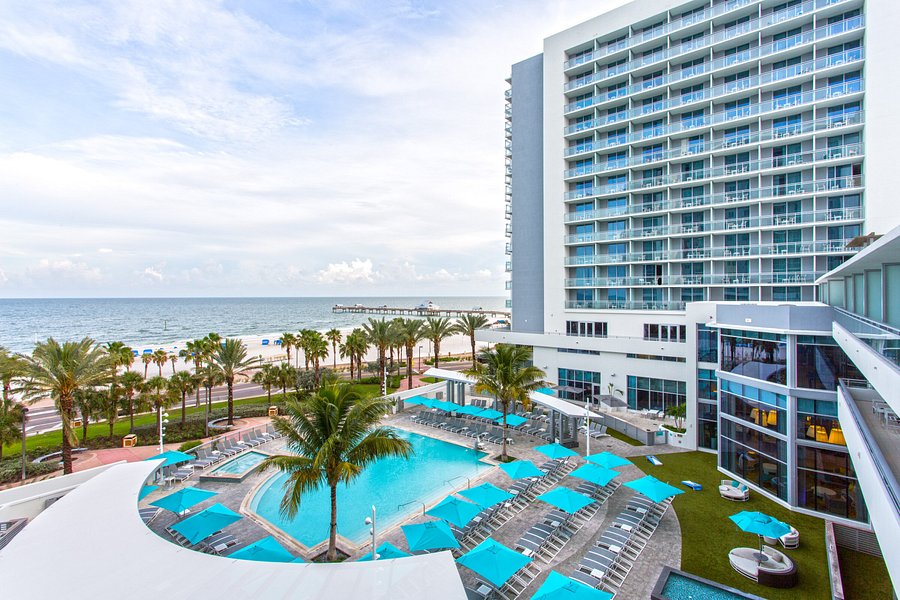 Wyndham Grand Clearwater Beach in Florida certainly lives up to its name with its grand suites and beautiful ocean.
The hotel's amenities include an outdoor pool, whirlpool, spa, and children's activities. All the rooms are polished and comfortable, featuring themed hotel suites.
Wyndham is home to Winter, the dolphin from 'Dolphin Tale.' This makes it a wonderful unique attraction for fans or even lovers of sea creatures. The presidential suite is dolphin-themed, making it an idyllic experience for children.
Guests can choose to stay in standard rooms with a partial ocean view or a luxurious suite with a full ocean view and terrace.
Whatever the room, the memories made at this ocean-front will be unforgettable.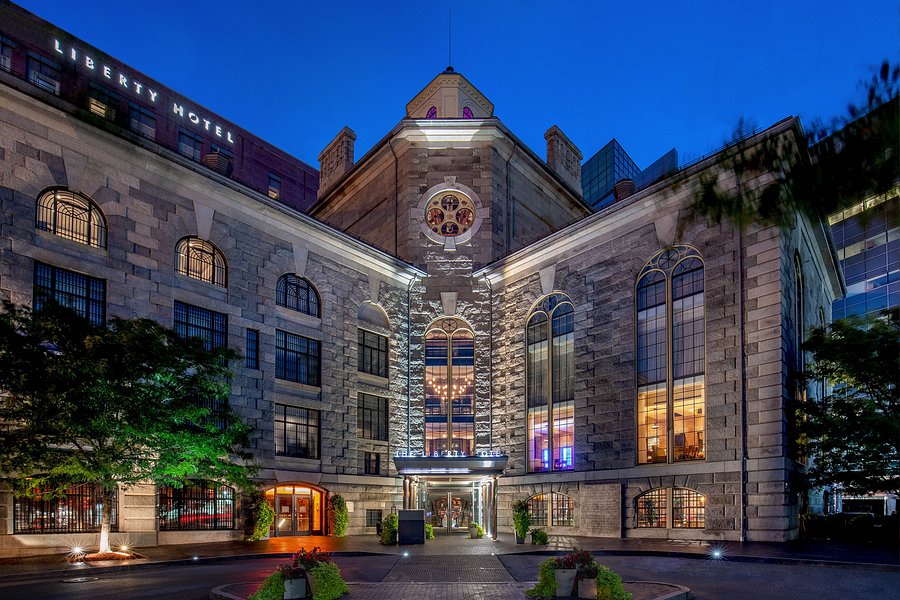 If you're interested in getting the full Boston experience, then you shouldn't stay anywhere else but The Liberty.
The Liberty is soaked in history and luxury. It's a stunning hotel with tasteful decor and magnificent architecture.
Depending on the season you visit, you can enjoy the Boston fireworks from your balcony, the twinkling upside-down Christmas trees in the lobby, or the pleasant sunshine from your terrace.
There are many rooms to choose from, such as a standard room or the Presidential Suite. This glorious hotel is surrounded by fun attractions for the family to visit, whether it be a walk around the Boston Public Garden or a visit to the Museum of Science!
Go-getters will thrive at this hotel with its great list of activities it has to offer, such as the Boston jog route, the seasonal bike and kayak rides, the fitness center, or Saturday yoga classes.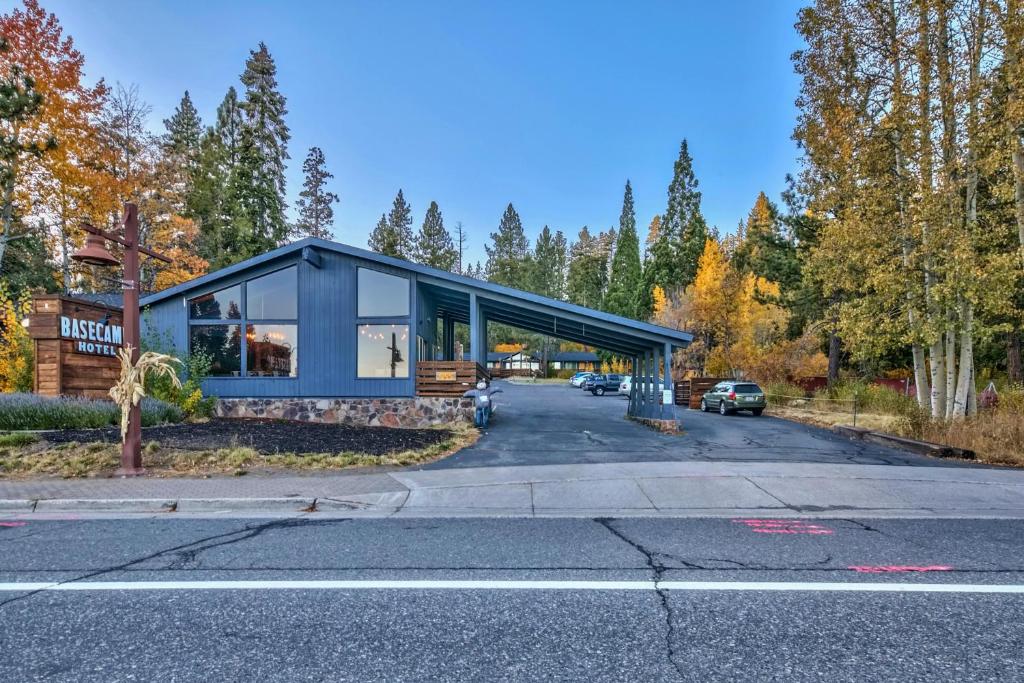 Basecamp Tahoe City is an invitation to camp in style!
There's no need to ask your neighbor to feed your dog because pets are welcome here! Basecamp is flooded with activities for children to enjoy, such as yard games, board games, and marshmallows by the fire!
It's located in the heart of Tahoe City, surrounded by gorgeous mountain views and peaceful lake trails. It has a rustic feel decorated with a modern twist.
Basecamp would make a great weekend away with the family to bond and make memories. It offers the whole family the chance to ditch the screens and pick up the hiking boots. Practice mindfulness in its impressive landscape, sharing stories and pizza by the fire.
You can choose to stay in the Mountain View Suite, accompanied by not one but two fire pits, or the Great Indoors, which is just camping without the bugs in your bed! The Great Indoors provides a king-size bed, faux fire, and camping tent. For larger families, there's the option for standard rooms and family rooms that offer more space and beds!
You'll feel at home in this unique hotel due to its warm and gracious ambiance. Its small and intimate vibe makes it an attractive hotel for families.
Delve into the magical kingdom that is Disney's Art of Animation Resort. Just like its movies, it does not fail to disappoint.
Disney's resort is a charming getaway, bursting with color and joy. The hotel offers beautiful storybook landscapes of the Disney movies we love the most. Stay in the Lion King suite surrounded by Simba and his friends. Or bathe in the Little Mermaids trinket cave in the gorgeous Under the Sea suite.
Disney's Art of Animation Resort is a giant playground for children and families, creating the happiest of memories and experiences. This themed hotel is detail-oriented, from its retro Cars flooring to Finding Nemo paintings.
The hotel offers a games room, children's outdoor play equipment, and a large inviting pool. Of course, there are also amazing restaurants, Disney gift shops, and attractions such as Disney's Animal Kingdom nearby.
The Curtis is one of the most unique hotels in Colorado. The Curtis hotel features modern technology in the hotel's rooms and suites, such as iPod speaker systems and other electrical devices.
There are plenty of themed suites for guests to choose from, such as the Donkey Kong Suite and Brit Pop-themed suite, which comes with two bathrooms! Being a pop culture hotel, there are, of course, various pop-culture-themed rooms. Some even come with complimentary spray cheese and ritz crackers. Others come with retro games and quintessential American candy and sodas.
If that isn't going to make your children's smiles wider, then how about the comic-book-themed decor plastered along the hotel walls. Or the drive-in seating area that's accompanied by a projector-style screen.
The artistic flair that runs through the hotel's veins is eye-catching, unforgettable, and, most of all, fun! Pack yourself full of energy and sugar before heading off to check out the nearby shopping districts, entertainment, and restaurants.
It's located in the heart of Denver City and has plenty of attractions nearby to visit, such as the Denver art museum, Dinosaur Ridge, and various theaters.
The Loews Royal Pacific Resort is the tropical paradise you've been searching for, without having to leave the country! The hotel is located in the middle of Universal Studios and other Universal parks. Guests of the hotel are granted early admission and can skip the regular queues to the resort's rides!
This is a quintessential family resort, with movies on demand and televisions in each room. You can set up camp in one of the standard guest rooms, with either one king bed or two queens. Or, choose one of the 51 luxury suites available.
Guests with children can choose to stay in the Jurassic World-themed suite, with two bedrooms. The children's room has themed beds and dinosaur wall art, making the room just as fun as the amenities on offer!
Other than the marvelous themed rooms available, there's also tons of poolside fun to be enjoyed. From soaking in the hot tub, to pool basketball competitions or even arts and crafts for those not interested in the sport.
Be sure to check out the Loews Loves Families offer, with games on call and the resort's children's camp, which allows adults to get a moment's hush. Adults can relax by the Elephant fountain with a cup of coffee or escape away for a date night in one of the hotel's fabulous restaurants.
For the first time in your children's lives, they'll finally be excited about going to school with this hotel!
This remarkable hotel is unique in its elementary school history. The hotel offers a saltwater soaking pool, a hot tub, and a movie theater on-site! The decor alone is like a movie, let alone what they may show at their built-in theater!
Its themed rooms give a storytime ambiance, with writings on the walls and gorgeous old-time fairy tale furniture. You may end up lodging in the old English classroom or the Music room! There are no regular rooms at this place!
The ambiance of this hotel is like the gardens of Dorne in Game of Thrones meets a dash of Hogwarts. The hotel's bar is accompanied by a billiard table for family games.
Just like regular schools, there's no running in the halls: you may miss the fabulous artwork! If you decide to leave your residence, you can visit the nearby Oregon Zoo and the Portland Art Museum. For outdoor lovers, the Broadmoor Golf Course overlooks the Columbia River.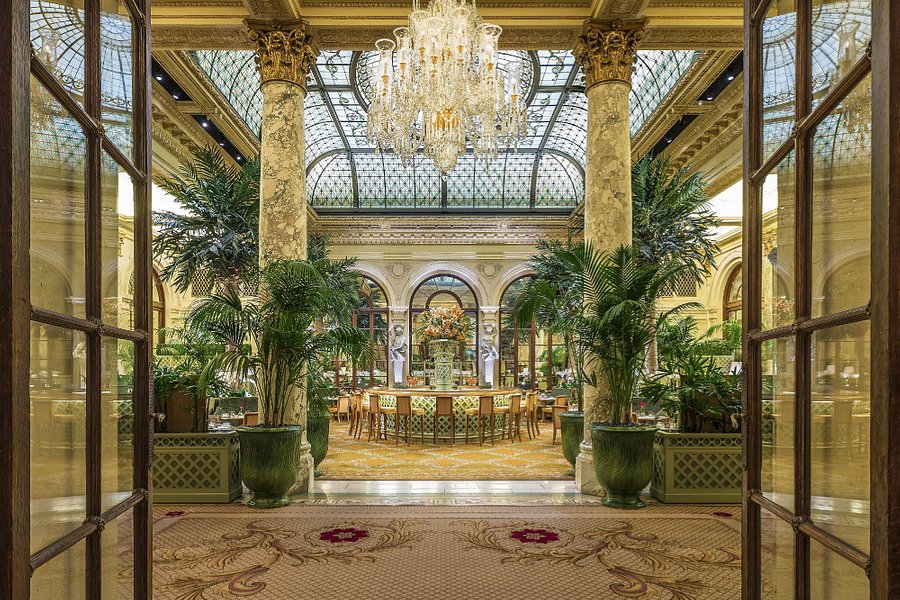 Hello, Upper East Siders!
If you're looking for five-star service and impeccable taste while you explore New York, then you've come to the right place.
Wine and dine in their fabulous restaurants with white-glove service. Enjoy afternoon tea at The Palm Court. Take a break from the real world and live in luxury; we all deserve it once in a while!
The Plaza New York is home to one of the top 10 suites in the world! The Royal Suite has three bedrooms and three bathrooms. Its elegant decor will make you feel like royalty.
The Fitzgerald suite is inspired by The Great Gatsby, and great it is indeed with its beautiful mosaic floor and 24-carat gold-plated fixtures. The Penthouse Suite is on another level, literally, with views of Central Park and the New York City skyline.
There is an abundance of themed hotel rooms to choose from. The Elouise Suite is particularly special for children. Each guest is gifted a bag of goodies and a welcome letter from Elouise. This family-friendly residence allows children to live out their Elouise fantasy!
There are also guest rooms available, with the option of connecting rooms for adults and children to have their own space.
The Plaza has been home to many people from different walks of life, such as movie stars and broadway royalty…and now you!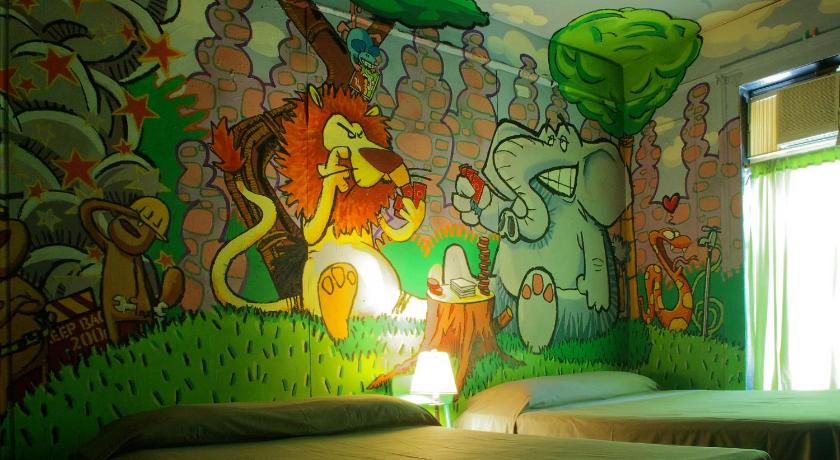 With New York City center only two miles away, the Carlton Arms is an awesome place for tourists and newbies of the Big Apple.
The Carlton Arms is quite literally a work of art as all the walls within the Carlton Arms are covered in hand-painted murals. You'll be living inside an art museum!
This is a five-story building with 54 rooms inside. The rooms are exquisite and satisfying to look at. The building is historically beautiful, and you'll be living amongst other people's stories, hearts, and passion.
There's a library and a coffee house on-site and also a shared lounge for watching a little TV. This is a great stay for families who can explore the artwork together, meet the resident cat and take on the endless possibilities of activities New York can bring.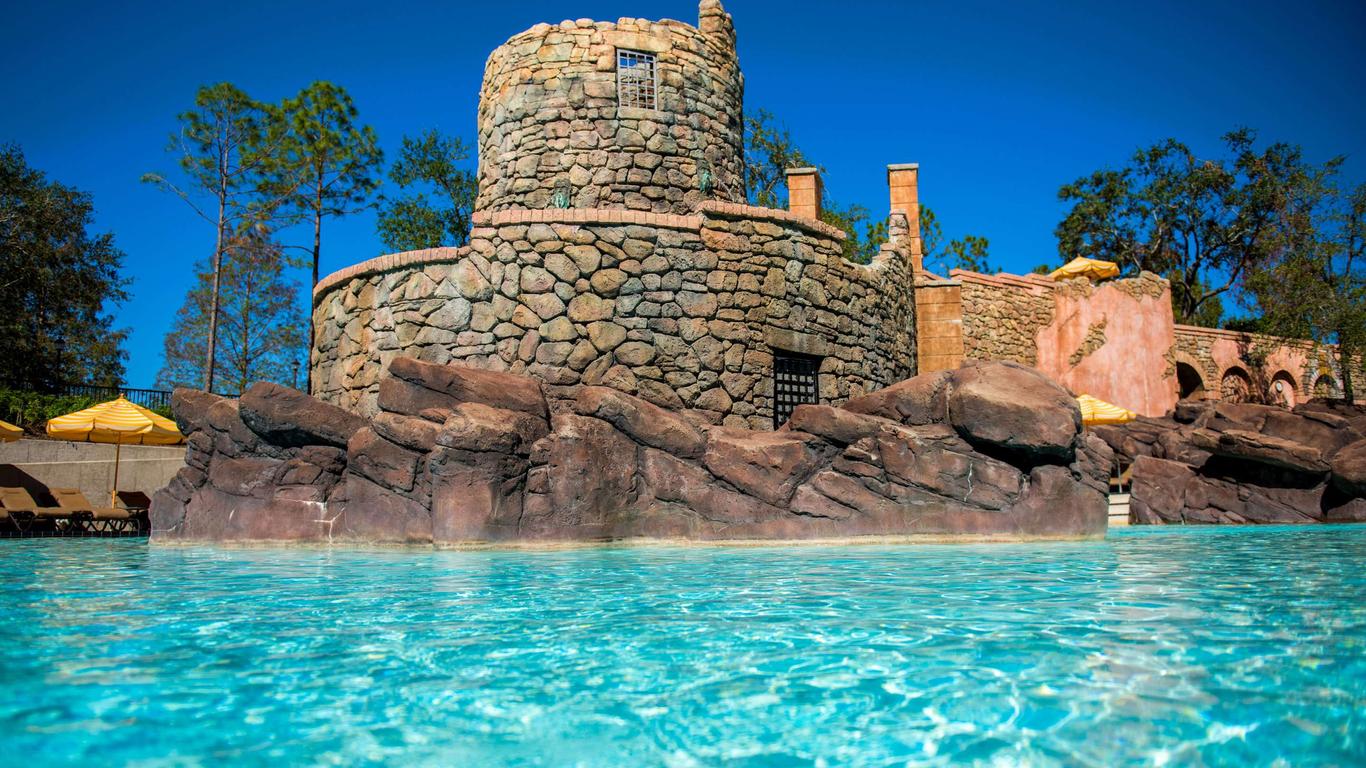 Loews Portofino Bay Hotel takes you out of the country, without even taking you out of the country! You'll be transported to Italy, with colorful buildings and gorgeous rivers. The rooms aren't the only aspect of the resort with a theme. One of the three swimming pools has a Roman theme, with a giant waterslide and two hot tubs.
Located in the middle of Universal Orlando, you couldn't be closer to all of the fun parks and activities. Being a guest at Portofino Bay grants you special access to the parks, which is always a bonus!
The Despicable Me children's suite is a suite like no other! The adults can sleep in peace in one room and leave their little minions to admire and play in their mini(on) suite! The suite offers custom-designed missile beds and minion wallpaper.
Don't be surprised if the children want their room to look like this when you return home!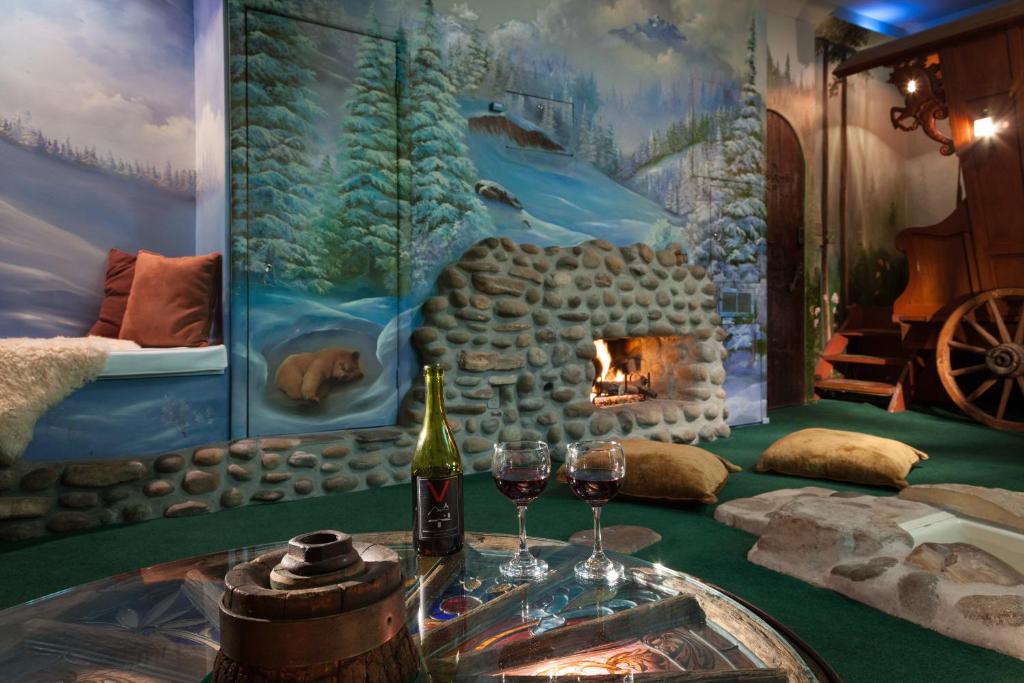 This stunning bed and breakfast are situated in the heart of a tiny town called Los Alamos.
The rooms at the Victorian Mansion are individually decorated with their unique theme. Enjoy a peaceful night by the in-house fireplace or take a soak in your private hot tub; yes, that's right! The children can splash about without fear of disturbing other guests. Most importantly, you can relax with them!
You could stay in a 50's drive-in or a pirate ship. Whatever the room, you'll be surrounded by hand-painted murals and themed beds, and you'll be provided with games, music, and DVDs that fit the suite's theme.
The Victorian Mansion is known for its meticulous attention to detail. The stunning mansion looks like it belongs to a fantasy character or on the set of a movie!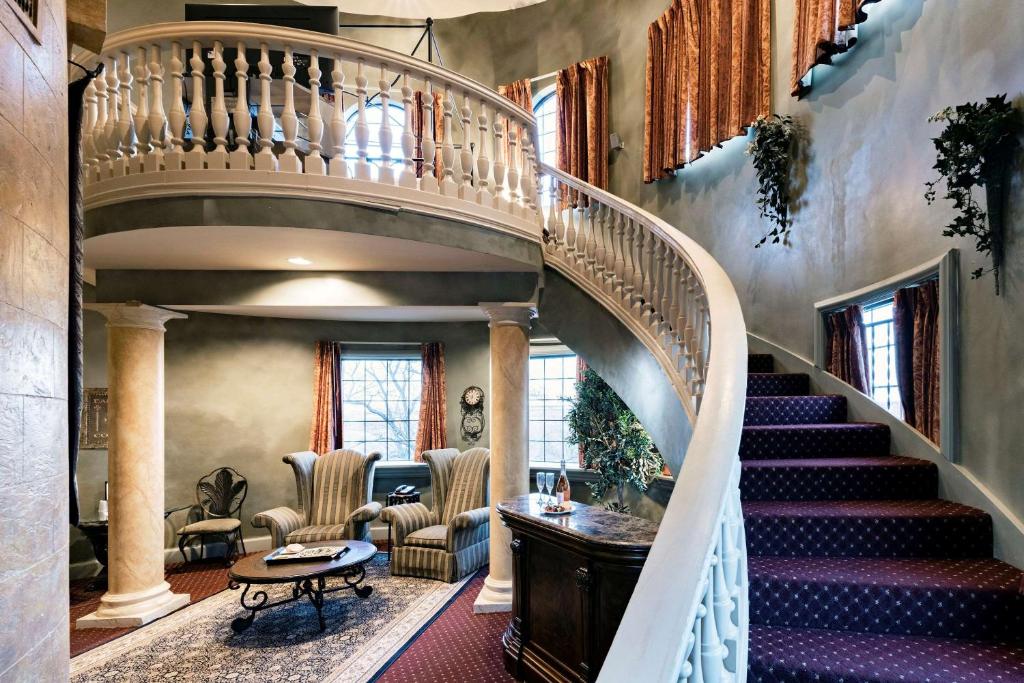 This French-inspired chateau is located in Kansas City. Couples may enjoy a luxury suite, but if you're traveling with a child, then an adventure suite may be the choice to make!
The adventure suites are fascinating and unique. Live like royalty in the Buckingham suite, or jump aboard the pirate ship! All of these suites come with a two-person jetted tub, TV, and beautifully painted walls. It won't feel like you're in Kansas City anymore!
It's important to note that each room has a maximum of two guests, so if you're traveling in a large group, then you may have to get separate rooms!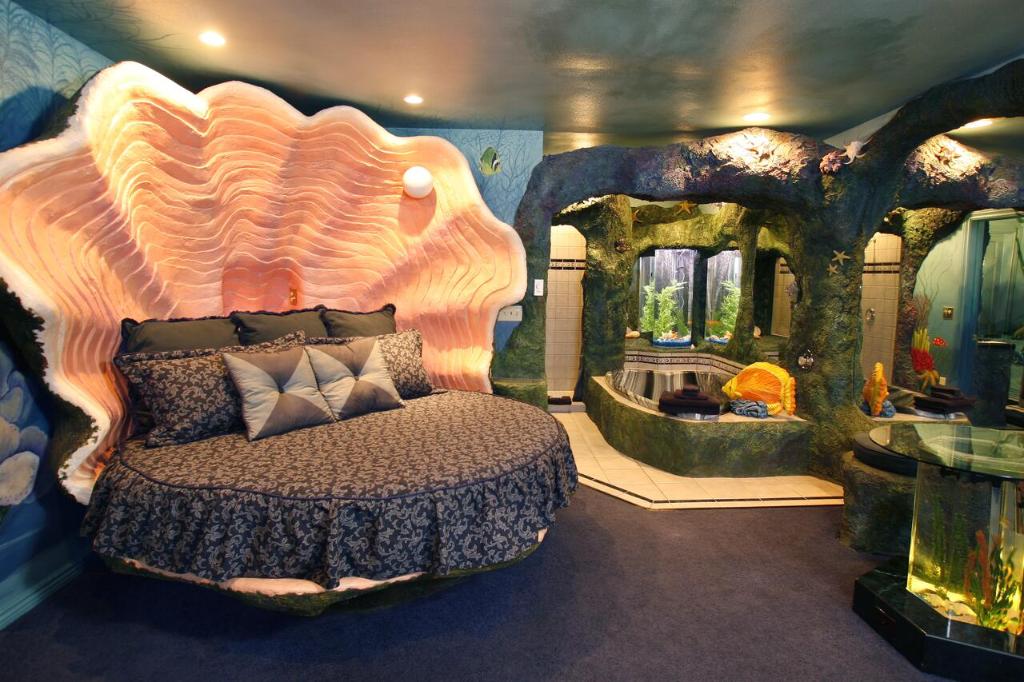 The Black Swan Inn is home to many luxury suites with a theme. From an Enchanted Forest, Rocky Mountain Cabin, or Romeo and Juliet suite, there's an intimate and exciting ambiance in all. Each suite comes with a private hot tub and is well thought out. The Romeo and Juliet theme has a bed on a balcony, just like Juliet's! Shakespeare fans will appreciate this!
Who would've thought you could watch Netflix in a cave? But at the Black Swan Inn, it's most certainly possible. Children and adults will be shocked at its realistic decor, meaning that you may wake up in the night believing you're in the Wild West!
The amazing suites offer books, music, and DVDs for children to keep themselves entertained. However, we doubt they'll be needed once they get their eyes on these rooms!
"Are we on a film set?" you may ask. No, this is just the Adventure Suites in North Conway. These unbelievable suites look like they've been pulled right out of a storybook!
The North Conway, New Hampshire suites are designed for you and your loved ones to have dedicated time spent together. Sure, your children will love it, but it'll bring the kid out in you too!
There are 19 themed suits, such as the Wolf Den, the Love Shack, and the Dragon's Lair.
The impressive Jungle suite can hold up to 4 children and 3 adults. Its modern technology makes it a game-friendly suite, meaning children can bring their gaming system. With how the youth of today is, this is epic!
This beautiful resort brings peace and warmth to your break away. It's an awesome resort if you're traveling with family. Sanderling Resort has a family pool, beach, and hot tubs for the children to enjoy.
The rooms are exquisite, with the option to have an ocean view room and private balconies. The stunning suites will make you feel like you're living on a beach with its fresh, clean ambiance.
Even the other guest rooms are steps away from the beach. Children can enjoy building sandcastles and swimming in the ocean before coming back to experience its abundance of land activities, such as bike riding, golf, and a wild horses tour.
In Summary
Hopefully, this guide has given you some ideas. A little tip would be not to show your children this list until you've narrowed it down to your preference. Otherwise, you may be tugged around the US, visiting all twenty of these hotels. Good luck on your wacky, quirky, unique trip, wherever you may choose!
More about our TFVG Author
A seasoned traveller, Dad, and avid sports tourist, James foundered The Family Vacation Guide to share his expert vacation experiences- especially when it comes to being a travelling family man.
Featured in Travel articles such as Travel + Leisure, TripSavvy and SFGate, you know you're reading some of the best vacation tips online.