Virginia offers plenty to see and do, making for a great family getaway. This southeastern state has it all, from beautiful national parks to beachside cities and amusement parks. The climate is also temperate so that you can plan your trip all year round.
The Commonwealth of Virginia is also rich in history, home to historical sites like Jamestown and Colonial Williamsburg. Whether you're looking for an educational trip or want to explore nature, it's possible here. Read on for the best family weekend getaways in Virginia.
18 of the Best Places in Virginia for a Family Getaway Weekend
The only problem when planning your Virginia getaway? Narrowing down the list of options when deciding where to go! We've made it easy with the below list. Read on for a roundup of the best family-friendly location to go for a weekend getaway in Virginia.
1. Virginia Beach
Virginia Beach was previously named one of the best beaches for families—and for a good reason! This summer vacation hotspot is both picturesque and convenient. You'll find plenty of accommodation options right by the water, within walking distance from your front door.
In addition to water activities, you'll be able to enjoy plenty of sights on dry land, thanks to the Virginia Beach boardwalk. This three-mile stretch of land is suitable for biking and walking. You'll find plenty of shops and restaurants to keep busy.
If you want some adrenaline-pumping adventure, head to the Ocean Breeze Waterpark or Atlantic Fun Park amusement park. You'll also find a range of family-friendly activities like bowling and mini-golf throughout the area.
When you're ready for some more natural scenery, head to the Back Bay National Wildlife Refuge. There are flat walking trails that are suitable for families with young kids. You can even push a stroller on many of them. The 8,500-acre refuge houses more than 300 types of birds.
2. Chincoteague Island
If you want to give your children a truly unforgettable experience, take them to Chincoteague Island, home to the famous wild ponies. This serene island offers unspoiled nature and beautiful seaside views. However, the highlight is, of course, the ponies.
Chincoteague is the hub for exploring nearby Assateague Island, where herds of ponies roam free. According to local lore, the ponies came to be there following a Spanish shipwreck in the mid-18th century.
The ponies are now protected and have been the subject of numerous books and movies, like the kids' book Misty of Chincoteague by Marguerite Henry. Come during the last consecutive Wednesday and Thursday of July, when the annual Chincoteague Wild Pony Swim occurs.
Now, Chincoteague has transformed from a small fishing village to a renowned tourist destination. While you're here, enjoy fresh-caught seafood. Local favorites include the Village Restaurant and Chincoteague Oysters and Stuffed Shrimp.
3. Colonial Williamsburg
Want to infuse your family weekend with some educational fun? Colonial Williamsburg is a perfect choice. You can step into living history here, making for an exciting experience for little ones. It's sort of like a theme park but historical, with actors portraying original historical figures.
You'll find colonial-style houses and shops and historic figures wearing traditional dresses all around the town. Kids will love seeing a "trial" at the courthouse or watching the militia march through the city streets.
If you want to ramp up the fun factor, consider renting colonial period costumes. You'll blend right in. Wear your regalia to the Fife and Drum Parade, which takes place every day on Duke of Gloucester Street.
4. Jamestown
If you want to devote an entire weekend to educational fun, you can combine Williamsburg and Jamestown in a single trip. The two are just a short drive apart. Jamestown was the English's first permanent settlement in North America, with roots dating back to 1607.
The U.S. National Park Service now oversees the original site of the Jamestown Colony. You can see archaeological excavations and view real-life artifacts from the colonies. If you're familiar with the story of John Smith and Pocahontas, this is where it all began.
Jamestown Settlement offers realistic reproductions of the colonial lifestyle, including the forts and buildings they would have lived in, plus a full-size replica of the original ship that brought the settlers to Jamestown.
When you've had enough of the history, you'll find beautiful natural sights nearby. Head to the Greensprings Interpretive trail for hiking and biking. Need a souvenir? This area is known for its glassblowing, so make sure to check out the artisanal crafts.
5. Busch Gardens Williamsburg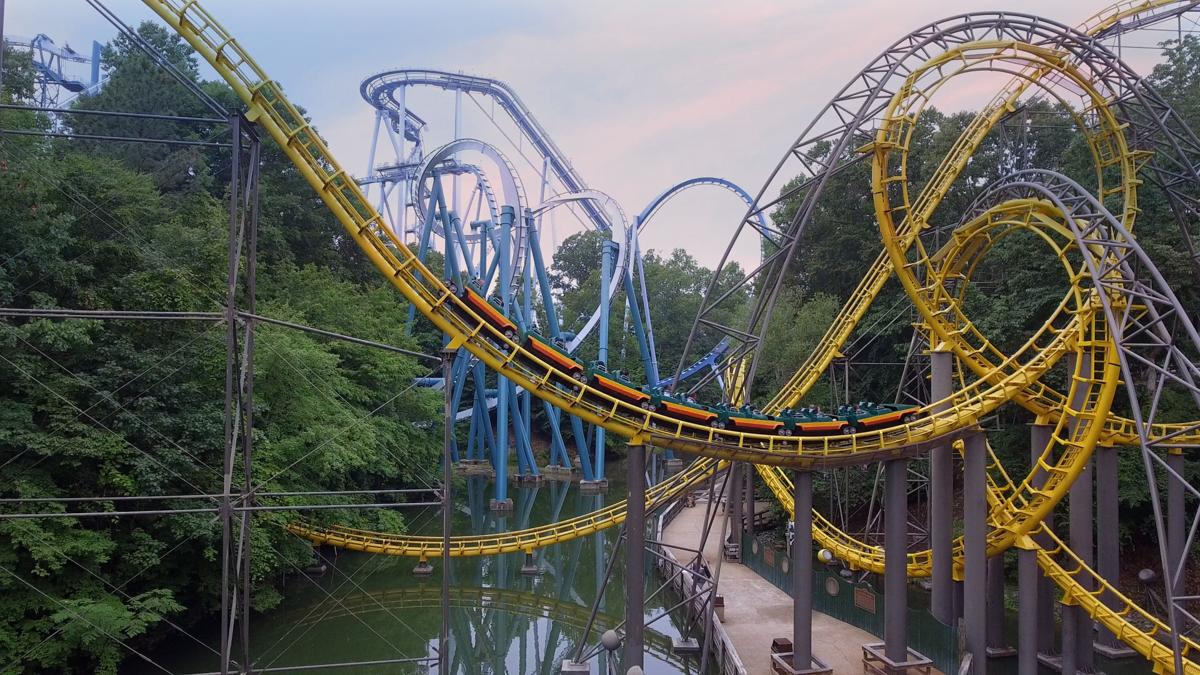 If historical sites like Jamestown and Williamsburg aren't your family's style, Busch Gardens may be the answer. This amusement park offers modern-day fun suitable for children, teens, and adults alike. It's the place to go for those who like adrenaline.
Busch Gardens Williamsburg is divided into nine "villages," each one tailored to a specific European theme. Every village has its shows, rides, restaurants, and events. Busch Gardens was also recognized as the World's Most Beautiful Theme Park.
The park is home to six roller coasters. Plus, you'll find multiple cartoon figures and Sesame Street characters roaming the grounds. If you come in the summer, make sure to pay a visit to nearby Water Country USA, the sister theme park.
6. Massanutten
Massanutten is the perfect spot to go if you want a family holiday full of activity. This outdoor wonderland provides plenty to do whatever the season. You can enjoy skiing, snowboarding, snow tubing, or snowshoeing in the winter.
In the summer, splash in the pool, go for a bike ride, or try horseback riding. If you want something more adventurous, you can also book special tours on land or the river. Water-based activities include tubing, rafting, kayaking, and canoeing.
There are also plenty of gorgeous hiking trails nearby to explore. The Massanutten area is also home to ice skating rings, golf courses, tennis courts, and water parks. As you can see, there is no shortage of fun things to explore.
You'll also find a wide variety of accommodation options, from vacation rental homes to resorts. Try a local lodge-type accommodation like Owl Lodge or Woodstone Meadows if you want something more quaint. You'll be close to the action but have a quiet place to retreat.
7. Shenandoah National Park
If you and your kids are outdoorsy types, Shenandoah National Park is sure to win you over. You'll find approximately 200,000 acres of gorgeous mountains, forests, waterfalls, and streams to explore. Scope out the beautiful hiking trails according to your skill level.
You can get a first glimpse of the park's beauty as you arrive: Drive along Skyline Drive, which goes through parts of the park, and features numerous outlook points. Make sure to pull over and take some photos. You can even take your R.V. along the road.
When exploring the park itself, you can go it alone on a self-guided hike or book a tour. Find a campsite and make s'mores by the campfire or arrange a horseback riding excursion for something different.
The best time of year to go is in the fall, when you'll be able to see the changing leaves. However, this is also the busiest time of year. Make sure to book your family weekend getaway in advance, or you may find that all of the accommodation options are full.
8. Luray
When you're visiting Shenandoah National Park, you might also plan a pitstop at the nearby Luray Caverns. The natural caverns take you underground, where you can see fantastic stone formations. This natural wonder features jaw-dropping stalactites and stalagmites.
Book a tour of the caverns to make the most of the experience. After your tour, you can also quickly check out other nearby sites, including the Luray Valley Museum, Car & Carriage Caravan Museum, and Toy Town Junction.
There is also the Rope Adventure Park in the area, where you can get some adrenaline. Plan a stop at the Luray Zoo if you like animals, where you can see diverse exotic rescue animals from snapping turtles to alligators.
9. George Washington and Jefferson National Forest
If you have older children who are also nature-lovers, head to the George Washington and Jefferson National Forests. These forested lands are more for serious outdoor enthusiasts who are concentrated solely on enjoying nature. You won't find extras like amusement parks nearby.
To get here, drive along the Blue Ridge Parkway, which takes you directly through some of the most scenic parts of the forests. There are 17 wilderness areas here, offering thousands of unspoiled hiking trails and streams.
If your kids are teens and the family is athletic, climb Mount Rogers. This is the tallest peak in Virginia, with more than 4,000 feet. From the top, you'll get 360-degree views for miles. Make sure to pack the camera so you can remember the moment!
After a busy day of hiking, you'll need a cozy spot to rest your head and relax. For accommodation, try the Tru by Hilton Roanoke Hollins. This hotel offers gorgeous mountain views, situating you right amid the natural beauty.
10. Alexandria
If you're interested in a dose of southern hospitality, try Alexandria. This southern city offers lots of history and photo-worthy culture. It's also an easy drive from Washington D.C. if you want to extend your trip with a visit to the nation's capital.
First, start with Old Town Alexandria. It offers historical architecture dating back to the 1700s and loads of opportunities for shopping and dining. If the kids feel brave, a ghost town is a great way to see this part of the city. For some old-timey feeling, take a ride on the trolley.
You can also head to the water and take a cruise with the Potomac Riverboat Company. Other favorite tourist attractions include The Carlyle House, The Stabler-Leadbeater Apothecary Museum, and the Gadsby Tavern Museum.
For souvenirs, head to The Torpedo Factory. It's an old warehouse full of artwork. Finally, finish off your sightseeing with a visit to one of Alexandria's many world-class restaurants. Grape + Bean and Blackwall Hitch are two favorites among locals and tourists alike.
11. Lexington
Lexington is a charming college town that has lots to offer. Plus, if you have teens who are starting to consider higher education, they might be interested in the schools here. There are two: The Virginia Military Institute and Washington and Lee University.
Like many other Virginia towns, there is loads of history here. The Washington and Lee campus is a great example, with many historical statues and buildings. The renowned Lee Chapel is one highlight worth adding to your tourist agenda.
If you come in warmer weather, make sure to visit the Boxerwood Nature Center and Woodland Gardens. The pretty landscaping will make you feel like you've stepped into a fairytale. Kids will enjoy exploring the pretty gardens as well.
Other highlights include the Stonewall Jackson House and the Col-Alto Mansion. The mansion has been transformed into an inn where you can stay. It's situated on beautiful grounds and features 86 rooms. Ten or those rooms are originals that have been carefully restored.
12. Middleburg
Middleburg is located just 40 minutes from Washington D.C., making it another Virginia tourist attraction that you can couple with a visit to D.C. This picturesque old town is the epitome of old Southern riches. It looks like something out of a storybook.
You'll find rolling green hills, white picket fences, and horses galore. If your kids like horseback riding, you'll find plenty of opportunities here. Middleburg's historic old town offers some pretty brick walkways, historic buildings, and a pretty main street.
Middleburg has a bit of a sleepy vibe, making this an excellent spot to scope out if you're ready for a quieter family weekend with older kids. The best time to come is in the spring. This is steeplechase season, and thousands of people gather to enjoy a drink while watching the races.
13. Roanoke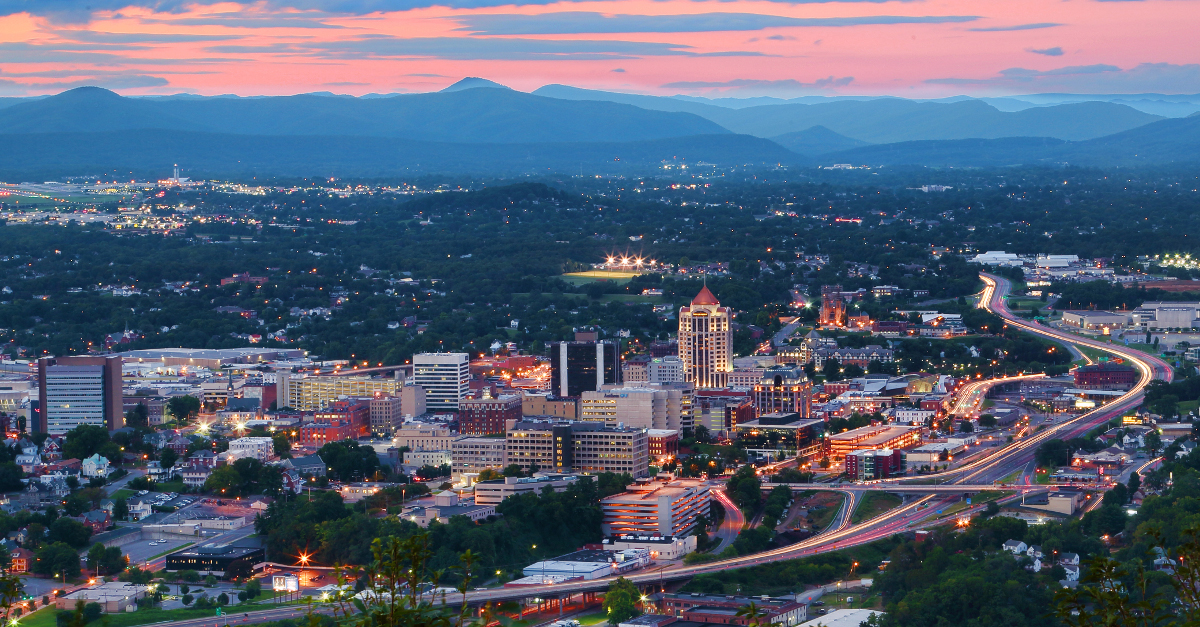 Roanoke is situated in the Blue Ridge Mountains, offering you easy access to city living while surrounded by nature. This makes an excellent hub for exploring the Appalachian Mountains if you're an outdoorsy family.
Roanoke itself offers plenty of activities like paddling, hiking, and climbing. Roanoke is also great for biking. The city has been voted one of the most bike-friendly areas in the country.
If you're tired of land and want to get on the water, head to a nearby river for kayaking or canoeing. Roanoke also has interesting underground sights, like the Natural Bridge Caverns. If you have little kids, head to the Mill Mountain Zoo. They'll love identifying the wildlife there.
Roanoke is also an excellent spot for shopping. You'll find the usual department stores and chain retailers and have the opportunity to discover original boutiques. The farmer's market and antique shops are worth visiting for unique souvenirs.
14. Yorktown
Yorktown is yet another Virginia destination that offers a heavy dose of history. In this case, it's Yorktown Battlefield, a famous revolutionary war site. It's where George Washington won the war and is open for tours all year.
That said, the city has far more to offer than history. Head to the waterfront and explore the beach. One fun family activity is taking a sailing tour down the York River. These charter tips also give you a chance to see dolphins.
When you're done sightseeing and ready for a bite to eat, take the family to the Historic Riverwalk Landing. You'll find a slew of fantastic seafood restaurants dishing up fresh-caught fish. If it's warm weather, you can also pack a picnic and enjoy your food with a view of the river.
15. Richmond
Richmond perfectly straddles the line of history and the modern-day. The city features many sights dating back to the Civil War and Colonial times. However, it is also a buzzing modern hub full of fun things.
Take a visit to the Virginia Museum of Fine Arts or explore the hip area of Carytown for yummy bites and boutique shopping. Are you looking for some nature? Visit the Maymont mansion and grounds, featuring gorgeous Japanese and Italian gardens.
Richmond is also a dream for families that love to eat! Check out the Kuba Kuba restaurant for yummy Cuban cuisine, for example, or sample a milkshake at the Village Cafe. Parents might be interested in trying the many craft brewery beers made right in the city.
Other points of interest include the Science Museum of Virginia, The Virginia Holocaust Museum, and the Edgar Allan Poe Museum. The Richmond Arts District is also a great spot to shop for souvenirs and mingle with locals.
16. Charlottesville
Charlottesville is the former home of Founding Father Thomas Jefferson. While you're here, make sure to visit the University of Virginia campus and the president's former home, Monticello. Both are noteworthy for their architectural splendor.
The highlight of this little college town is the Downtown Mall. This brick-paved pedestrian area offers restaurants, bars, and shops—including a great toy store. When you're ready to get out of the city, head to the nearby James River or Blueridge Mountains for tubing, canoeing, or hiking.
When the parents are ready for a drink, the nearby vineyards are worth visiting. They offer plenty of rolling hills and outdoor space, giving kids a place to let loose while parents enjoy a drink. Come in the spring or fall to make the most of the outdoor space.
If you want to take a little step outside of Charlottesville, head to Montpelier. It is just a short drive north of the city and is the old home of former U.S. President James Madison. Book a tour to learn more about how he lived. Also nearby is the former president of James Monroe, Highland.
17. Mount Vernon
Mount Vernon is a great day trip from Alexandria. The estate is the former home of famous U.S. President George Washington, making this a great pitstop if you're looking for something educational for the kids.
Book one of the mansion tours to learn all you can about this beautiful place. You can ogle Martha Washington's jewelry collection while kids are sure to get a kick out of seeing Washington's wooden dentures. You can also visit Washington's tomb while you're here.
The house dates back to the 1700s. You'll have the chance to see artisans practicing traditional crafts from those days, like grinding corn, spinning, and weaving. There are also old plantations nearby, providing a valuable opportunity to educate kids about this aspect of American history.
Wear athletic clothes and sneakers, as the trip requires a fair amount of walking. You can then engage in more active activities, like boating and biking. The estate offers beautiful scenery, with woodlands, fields, and lakes.
18. Norfolk
If your little ones love the water and big ships, Norfolk is a must-see on your Virginia itinerary. The coastal city is home to the U.S. navy's oldest port. You can marvel at ships that served in the Second World War, like the USS Wisconsin.
To learn more about the port, visit the Hampton Roads Naval Museum or the Nauticus National Maritime Center. You can also get out on the water yourself with a boat tour. Finish up with a visit to Ocean View Beach Park; pack a picnic, stroll the boardwalk, and collect seashells.
If your children are interested in the creatures of the great blue deep, take them to the National Maritime Center. The highlight is undoubtedly the Touch Tank, where you can get up close and personal with underwater critters like starfish, hermit crabs, and urchins.
The Final Word: Plan Your Virginia Family Weekend Getaway
As you can see, there's no shortage of options when it comes to family-friendly weekend getaways in Virginia. There is genuinely an option to suit every taste! From educational trips packed with history to easy-breezy beachside vacations, you'll find all kinds of possibilities.
If you have the time for an extended vacation, you can even make it into a road trip and hit more than one of the options on the list above. However, if a weekend is all you have, pick your favorite from the list above, pack your suitcases, and get ready to have fun.
Other places to consider for your family weekend getaway
If you're considering other destinations for your weekend away with the kids, take inspiration from our other handy guides below!
More about our TFVG Author
A seasoned traveller, Dad, and avid sports tourist, James foundered The Family Vacation Guide to share his expert vacation experiences- especially when it comes to being a travelling family man.
Featured in Travel articles such as Travel + Leisure, TripSavvy and SFGate, you know you're reading some of the best vacation tips online.