Alaska is arguably one of the most beautiful states in the U.S., given its numerous natural features.
Alaska has an incredible amount of three million lakes, 12 thousand rivers, 100,000 glaciers, and the highest number of volcanoes in any other state. No wonder it has become a top choice for families looking for an adventurous, nature-focused, and highly scenic vacation.
In addition to the outdoor adventures, fantastic seafood, and crisp fresh hair, families love going to Alaska for the wonderful all-inclusive resort options available there.
Here's a look at seven of the best all-inclusive resorts in Alaska for families to help you decide what the best stay for your family will be!
1. Alaska Stillpoint Lodge – Halibut Cove, Alaska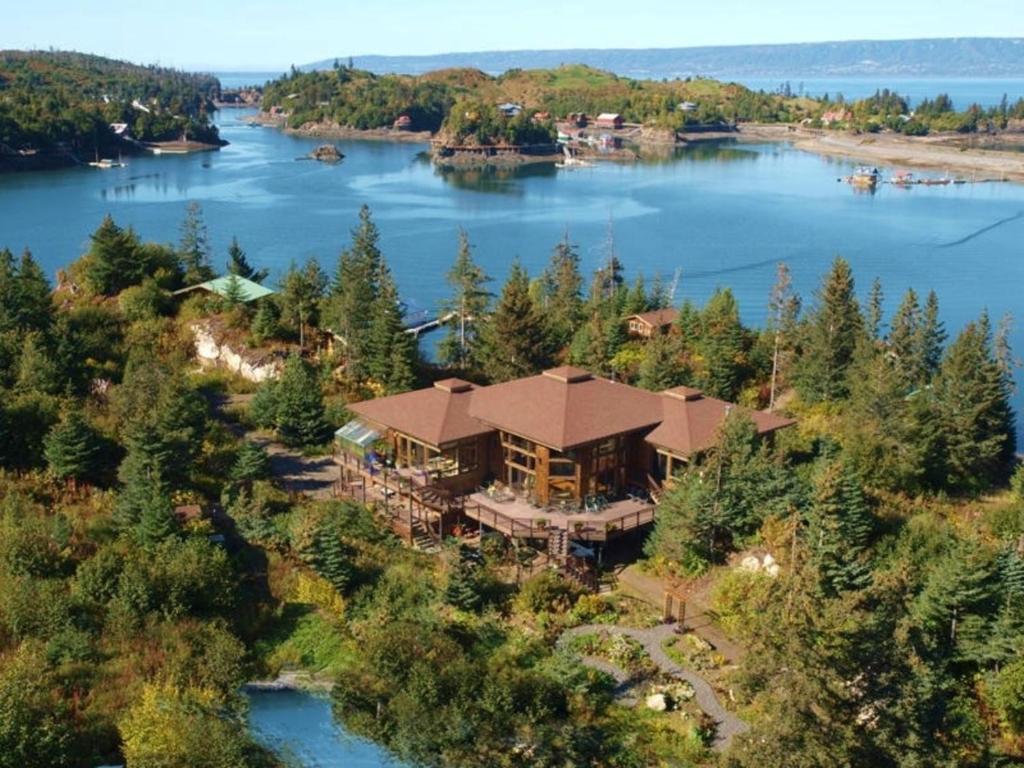 Alaska Stillpoint Lodge is a beautiful resort located in Halibut Cove and positioned right on the bay for gorgeous water and mountain views.
Visitors love the location more than anything else, given the serene wilderness and quiet, relaxing atmosphere. But they also love the activities, excursions, cleanliness, and heartwarming service.
You only need to take a short plane or boat ride from Homer to get to Stillpoint, but you'll feel like you're in the middle of nowhere. Families love this remote location as it feels like they're getting an authentic experience of what Alaska is really about.
This lodge also appeals to design-oriented travelers with its Scandinavian, nature-inspired architecture and design.
You can choose to do nothing on this vacation but sit back, relax, and enjoy the views. Many families have fun simply watching eagles take flight or enjoying the sight of playful sea otters in their natural habitat.
However, you can also participate in many activities from this resort, such as kayaking, paddle boarding, boating, fishing, hiking, and yoga.
If you're looking for more intense excursions for a particularly special vacation, make sure to ask them about their glacier viewing, bear viewing, and helicopter adventures as well!
After a day spent outdoors, you can head inside the main lodge to rest by the fireplace or enjoy a gourmet meal from the kitchen, which uses ingredients from the resort's organic garden.
Many find the rustic yet luxurious and cozy interior design warm and welcoming, especially after a long adventurous day.
Finally, you won't be staying in a standard hotel room for accommodation. All guests stay in private log cabins that prioritize luxury comforts, stunning views, and Alaskan culture. You'll feel immersed in nature, surrounded by evergreens, willows, wildflowers, and more.
Families with one child can comfortably stay in their One-bedroom Junior Suite Cabin, and families up to 5 people can book a Two-Bedroom Deluxe Cabin.
2. Kenai River Lodge by Great Alaska Adventures — Sterling, Alaska
If you and your family are looking for a wildly adventurous trip, leave the planning and organizing to Great Alaska Adventures so you can spend more time having fun!
Great Alaska Adventures provides families an opportunity to experience unique Alaskan wildlife, go fishing, view bears, and participate in other available activities in a low-stress, hassle-free way.
They'll pick you up from the airport, provide ground transportation to your activities, give you comfortable accommodation, provide all of your meals, and even offer nightly happy hours and after-dinner activities — all under one bill.
All you have to do is select your adventure. Choose an itinerary that includes the activities that best fit your and your family's particular interests and preferences. Then leave the rest up to them.
Available adventures may include the activities mentioned above, as well as kayaking, rafting, clavier cruising, hiking, mountain biking, ziplining, and more.
Given that you and your family will likely be tired each day after all of that exploration and activity, having a comfortable place to rest is crucial. Fortunately, Great Alaska Adventures' river-front lodges at Kenai River Lodge are cozy and clean.
A highlight of the rooms is also that most of them have incredible, natural views, which makes the stay even cozier. They also have roomy family suites that can fit up to five people.
Plus, there is no higher charge for different lodge layouts or locations, which incentives families to choose the best lodge for their view and activity preferences without worrying about price.
If you're looking for a wild, adventurous getaway with a relaxing, high-quality place to sleep and none of the hassles of planning, then booking the all-inclusive deal at Kenai River Lodge is an excellent choice.
You can't go wrong with one of their adventure packages, but if you do prefer planning yourself, you can choose a custom adventure package as well!
3. Kachemak Bay Wilderness Lodge – China Poot Bay, Alaska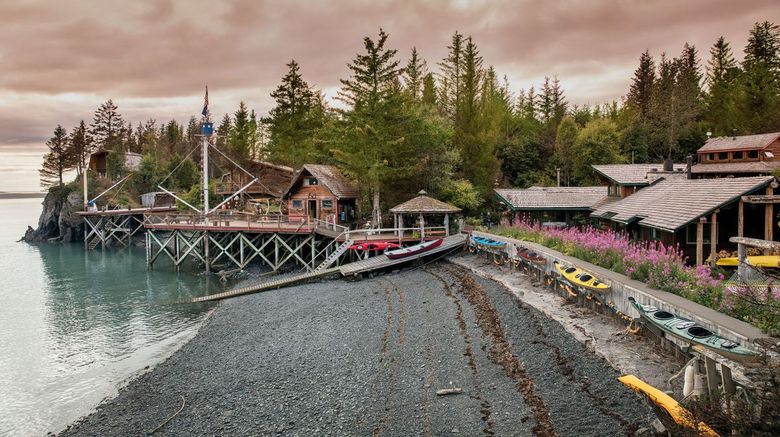 As the "Wilderness" name suggests, Kachemak Bay Wilderness Lodge provides an off-the-grid experience for guests interested in fully immersing in nature and its gifts.
This lodge is a 3-star resort that focuses more on privacy and activities than on what some may consider unnecessary luxury additions.
You'll get the double bonus of having views of the ocean and the mountains. The lodge also allows you to experience the wildlife around you without having to share the space with much more than just your family. With only five cabins, Kachemak typically hosts just 10–14 guests a week.
This limited hosting means that you'll have more undisturbed views, more personalized treatment, and a more tailored experience overall.
Speaking of experiences, you and your family can participate in a significant number of activities when staying at this lodge. Activities include but are not limited to boating, hiking, bird watching, yoga, kayaking, and canoeing.
There are also more unique experiences, such as tide pool walks, where you'll complement all the wildlife viewing with some marine life viewing! You can spot sea urchins, sea stars, and even octopuses.
Your personal nature guide can help lead the way and help you spot animals out.
Customization is important to this lodge, and they strive to match experiences with guests' interests, ages, and ability levels.
Additionally, suppose your family needs a more relaxing day between all the adventures. In that case, the lodge has plenty of rejuvenating options available as well, such as massages, a sauna, an outdoor hot tub, a fireplace, campfires, and hammocks.
Further, guests have access to gourmet meals at the lodge, complete with locally caught fish, and then resort to private cabins with breathtaking views.
Finally, if you love having excellent hospitality, you'll appreciate the kind and friendly service. The 14 guests have 12 staff on hand to meet their needs.
If you're looking for a quiet and intimate place to stay that is loaded with options to suit every family member's needs, then check out Kachemak Bay Wilderness.
4. Afognak Wilderness Lodge — Kodiak Island, Alaska
The Afognak Wilderness Lodge is one of the best all-inclusive resorts in Alaska for families because it almost seems to have been created with families in mind — especially those looking to have a wild, fun-filled vacation!
Each of their cabins has two bedrooms, so most families of up to 5 don't have to worry about whether they are booking a room without enough space for the whole family.
Additionally, similar to Kachemak above, this lodge only takes up to 12 guests, ensuring a private, intimate vacation focused on your loved ones.
The other family-focused factor at Afognak is their family-style mealtimes in their gourmet restaurant.
This lodge is also in a remote area of Afognak, and you'll have to take a 20-minute floatplane ride to get there, which may be a unique and exciting experience for both you and the kids!
Fishing is the major activity at this lodge, and hiking to see brown bears in the wild. Families interested in photography will also appreciate this lodge due to their photography-specific expeditions to even more remote island areas.
Given the family-oriented atmosphere, it should come as no surprise that the staff at Afognak are friendly, open, and generally make guests feel like they're part of the Afognak family right away.
5. Kodiak Island Resort – Kodiak Island, Alaska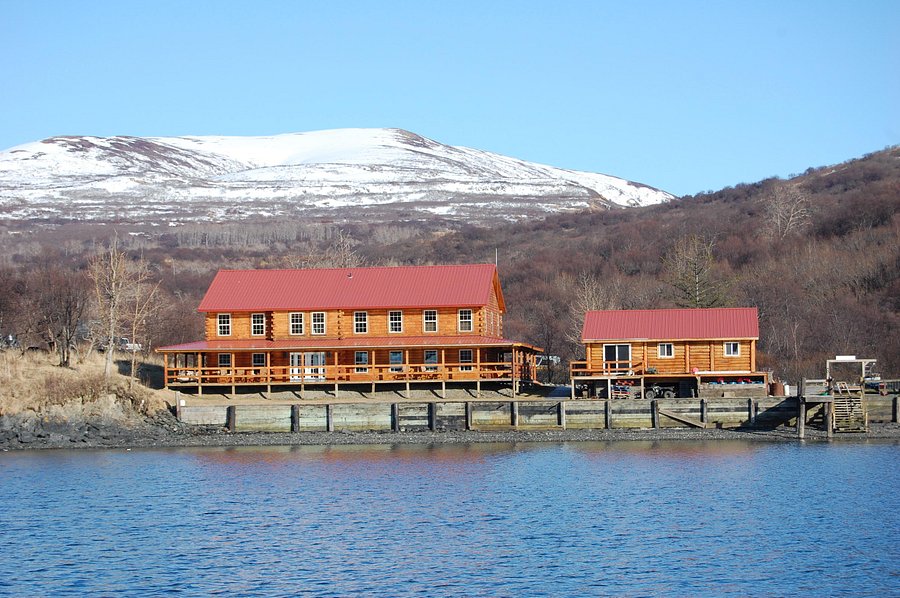 If you like the idea of Afognak but want to stay in a fully off-the-radar resort, the nearby Kodiak Island Resort does not have the best WiFi.
You'll still get the spectacular views and luxurious wilderness experience and perhaps be able to feel more immersed in it without the option of staring down at your phones every moment.
You can still connect when you need to, but it won't be as convenient (ideal for a wilderness family vacation).
This lodge is open from May to October and offers many of the same activities available at Afognak, such as fishing, bear viewing, and wildlife photography.
In addition, this resort emphasizes whale-watching trips, which is an engaging and memorable family-friendly activity.
The benefits of staying at Kodiak Island Resort are that you won't have to take long boat rides to fish, and there are no rough seas, which is optimal if you have young kids or if anyone in your family is prone to seasickness.
Finally, Kodiak Island prides itself on serving delicious fresh meals each day. Menu items include fettuccine alfredo with smoked salmon, halibut stuffed with crab, and porterhouse steaks.
6. Alaska SeaScape Lodge by Jimmie Jack Fishing — Kenai, Alaska
Jimmie Jack Fishing is a company offering fishing packages in Kenai, Alaska. At this lodge, they provide an all-inclusive luxury fishing package to suit the needs of families who want it all!
You can have your entire fishing trip planned out and have lodging and meals included in your multi-day experience.
Alaska SeaScape Lodge is a fantastic choice if you're looking for one of the best all-inclusive resorts in Alaska for families who love fishing. They don't need a million things to do, as long as there will be ample opportunity to catch salmon, rockfish, or lingcod.
There are several fishing packages your family can choose from, which will ultimately depend on how many nights you want to stay, between four and seven nights.
All of the packages include lodging, all-inclusive food and drinks (including wine), professional boat guides, and fully outfitted trips with all fishing gear and tackle provided.
They all also come with complimentary fish processing. The main difference in the packages is that the longer you stay, the more trips you can go on!
The fishing trips are the highlight here, but the accommodation is also high-quality.
All guestrooms offer elegant interiors, and some offer beautiful ocean views. The large windows will keep you feeling connected with nature even when the sun goes down.
The dining area also has beautiful views, and as a fishing site, you can expect fresh, delicious seafood while you're there.
7. Kenai Fjords Glacier Lodge by Alaska Wildland Adventures — Kenai, Alaska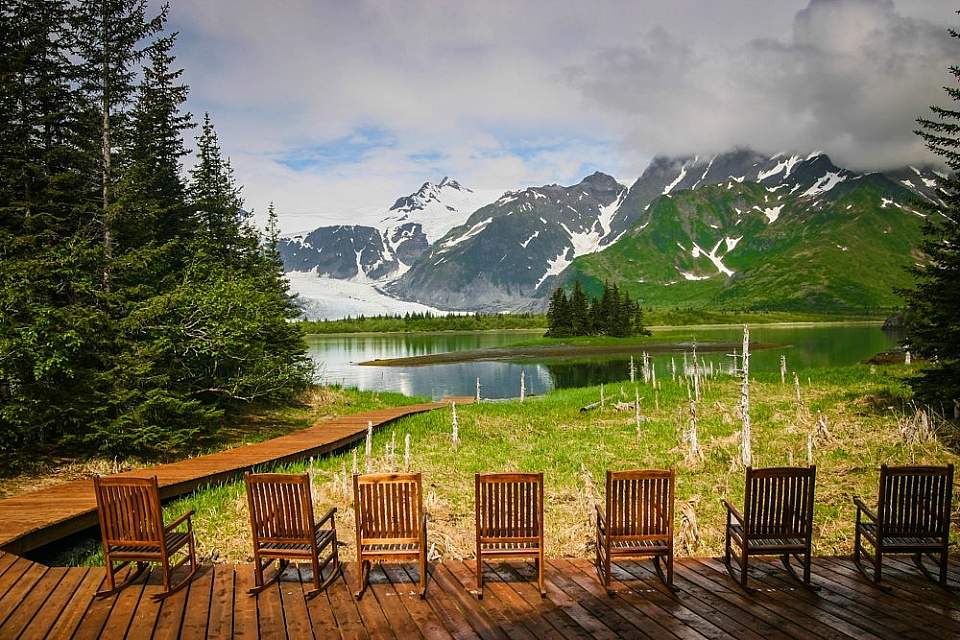 If you love the idea of visiting beautiful Kenai, but you and your family are interested in more activities than just fishing, there's no need to worry.
Kenai Fjords Glacier Lodge is Alaska Wildland Adventures' highly-rated lodge that offers adventurous, all-inclusive, multi-day packages with sought-after Alaskan excursions.
Your family can go on a "Grand Adventure" through the famous Denali National Park, kayak along the Alaskan coast, book a seven-day wilderness exploration through the peninsula, or customize your vacation entirely.
Activities typically revolve around the stunning surrounding glaciers and include hiking to see amazing glacier views, kayaking along glacier bergs, taking a marine wildlife glacier cruise, and more.
You can also raft the Kenai Canyon for more views, and at class II, it's a family-friendly raft trip.
If someone in your family is interested in fishing, you don't have to choose between fishing trips and other multi-sport excursions since they also have fishing excursions available.
With glaciers, mountains, lakes, flowers, trees, marine life, and wildlife right at your fingertips, you and your family may feel overwhelmed with options for exploration.
Luckily, you can simply give Kenai Fjords Glacier Lodge a call, and they'll help you plan the perfect trip for your needs, preferences, and experience levels.
Ready to Try These Best All-Inclusive Resorts in Alaska for Families?
When people think about all-inclusive resorts, they tend to think about Caribbean beach resorts or even bustling city all-inclusive hotels.
Alaska rarely comes to mind, given its reputation as a remote, rustic, and wild place with minimal accommodation options.
However, there are plenty of gorgeous and exciting all-inclusive resorts that are suitable for families in Alaska, and we hope this list helps you select the right one for your family's next vacation.
These best all-inclusive resorts in Alaska for families will allow a seamless combination of wilderness and luxury. Your family will undoubtedly have an adventurous, relaxing, and unforgettable trip!
More about our TFVG Author
A seasoned traveller, Dad, and avid sports tourist, James foundered The Family Vacation Guide to share his expert vacation experiences- especially when it comes to being a travelling family man.
Featured in Travel articles such as Travel + Leisure, TripSavvy and SFGate, you know you're reading some of the best vacation tips online.