Taking a vacation to the great state of Alaska is a dream come true for many. The landscape, culture, natural elements – all of it is unique, and experiencing it is a memorable occasion that all of your family will talk about for the rest of your lives. 
When taking the whole family, you want to investigate hotels and accommodations that work well for families. While there are many places to stay in the state, not all of them are fitting for families specifically. Looking for an appropriate place requires finding the proper amount of beds, access to restaurants or a kitchen, and an atmosphere that is welcoming to bigger groups and children.
In this guide, we outline five of the best Alaska resorts for families. We conducted research to find great locations for meeting the needs of groups and children. Any options listed below will make a great addition to your upcoming trip and provide a backdrop to lots of memories made.
Great Alaska Adventure Lodge – Sterling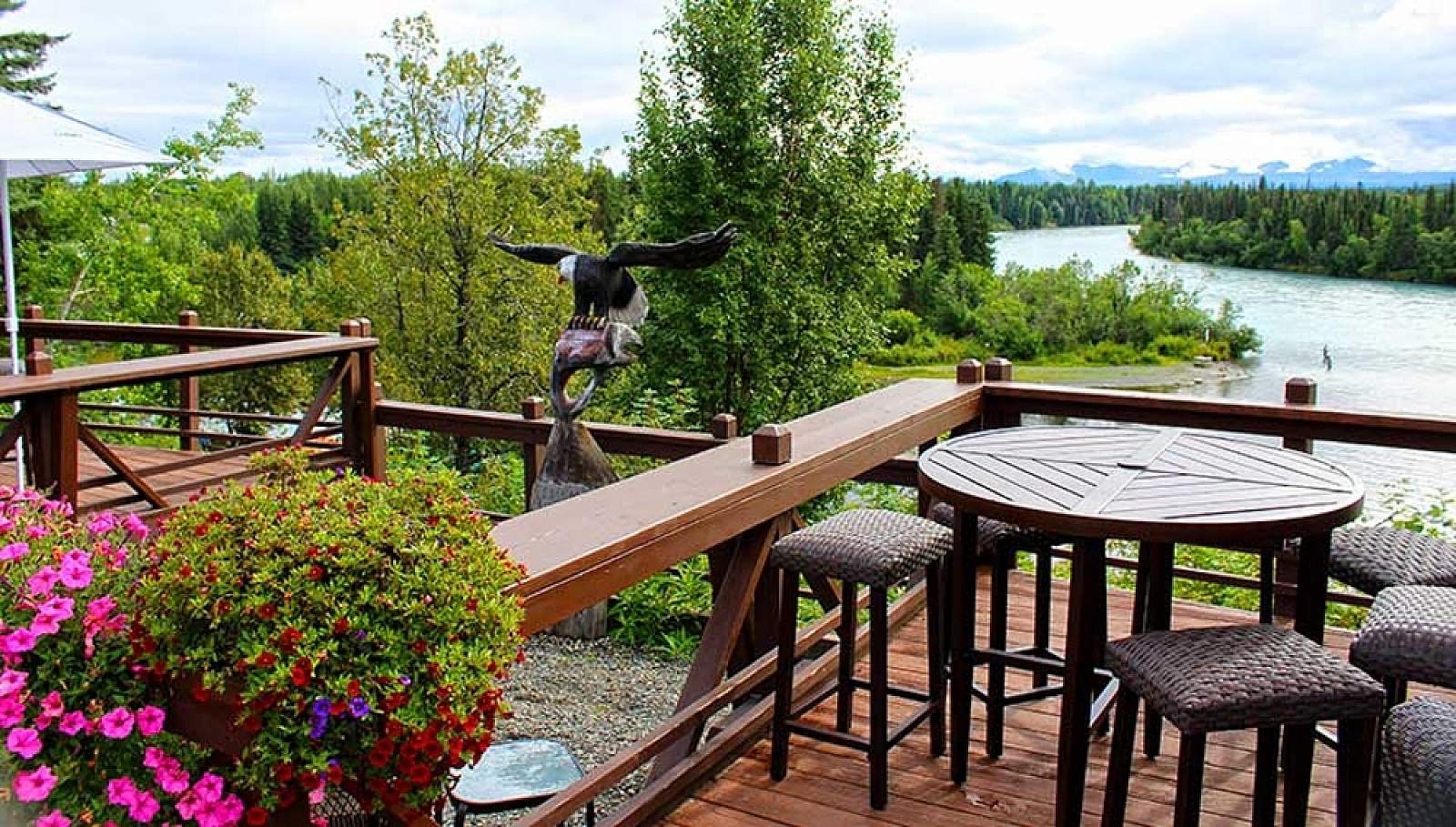 Nestled in the thick of Alaska wilderness, the Great Alaska Adventure Lodge provides an authentic look into life in the beautiful state. As an all-inclusive accommodation, the Lodge offers all meals made that staff make within the resort itself. The operators of this fishing lodge cater to families and have rooms within the building that can fit multiple adults and children.
While the main focus of this resort is fishing, it isn't the only thing that they offer. You can embark on various excursions during your stay, and the concierge will arrange it all for you. Not only can you take advantage of the local terrain and go hiking on a glacier or bird watching around one of the many rivers surrounding the resort, but you can also learn how to fly fish or the proper way to catch Halibut.
The operators at the hotel have many options for excursions, including:
Bear Watching Camp
Wilderness Safari
Group Fishing Charters
Family Fishing Adventures
Mountain Hiking
Glacier Hiking
Sea Kayaking
White Water Rafting
Mountain Biking
Glacier Cruise
Wildlife Cruise
With a location on the Kenai River and right near the Kenai Mountains, you will wake up every morning with a breathtaking view. Most rooms at the Lodge come with a fireplace, giving you a place to wind down and relax after a long day of exploring.
You will not go hungry during your stay at Great Alaska Adventure Lodge. Each morning you will get hot coffee delivered to your room and family-style meals served throughout the day. Upon your return from whatever activity you participate in, there will be warm chowder and snacks to consume to hold you over until happy hour and dinner time.
The chefs at the lodge can accommodate a variety of dietary restrictions and can also provide a kids menu option for meals. It is essential to reach out to the lodge ahead of time to discuss any concerns you have and allow time for planning meals to accommodate them.
Alyeska Resort – Girdwood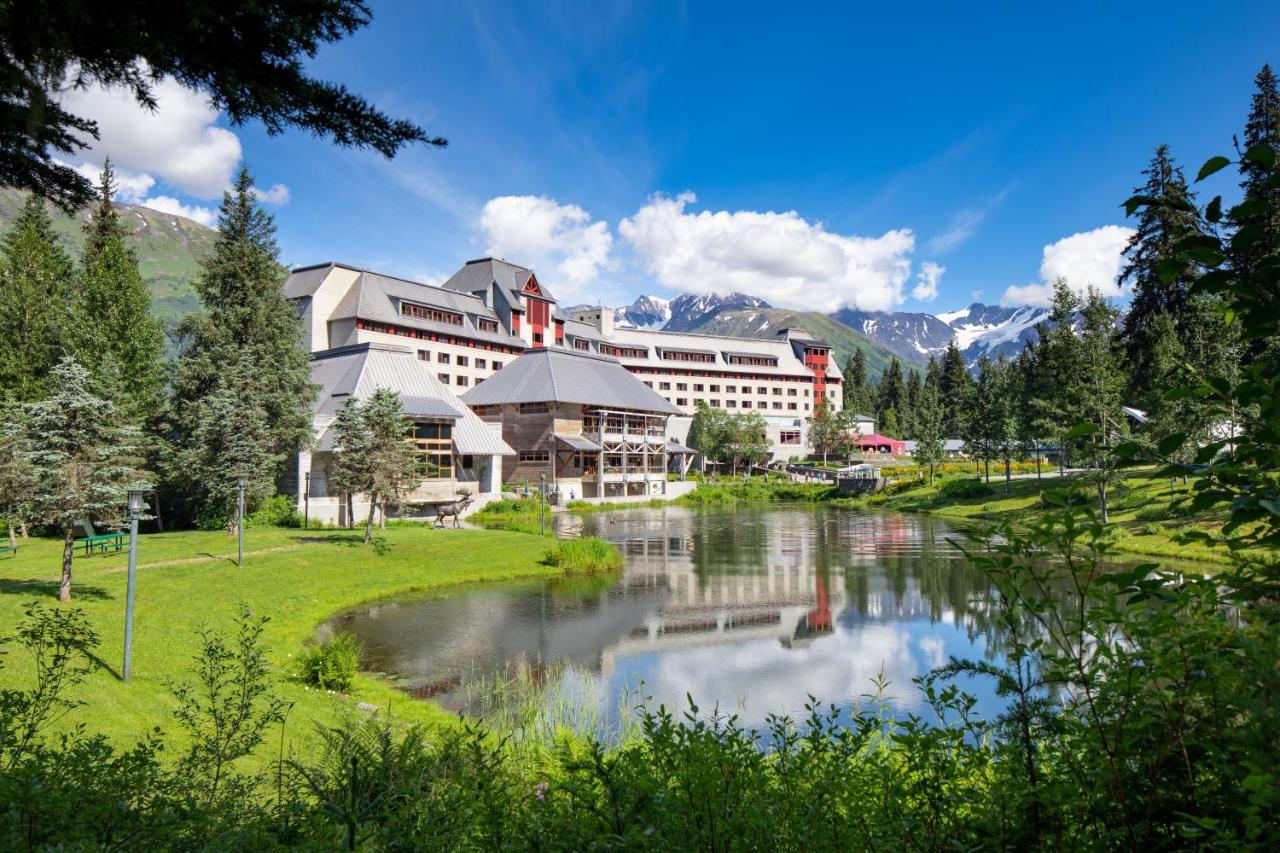 One hour outside of Anchorage sits Girdwood, home to Alyeska Resort. Located right at the base of the mountains, the ski-in, ski-out resort offers a bit of luxury in a quaint and rustic Alaskan town. With seven restaurants, two coffee shops, and a bar, you never have to venture outside the hotel for meals. However, if you want to get out and explore the town a bit, the resort is within walking distance of several local restaurants.
The Alyeska Resort offers everything a family can need during their vacation stay. Each morning you can either dine in one of the restaurants or have breakfast brought to you in your room, with a coffee maker included for easy refills. Kids stay on the property for free, and the hotel even offers cribs for the youngest visitors.
While on the property, there are many activities to engage in as a family. Some of the most popular options include:
Ice Skating
Downhill Skiing
Bicycling
Snowboarding
Indoor Pool
Spa Services
Fitness Center
Shopping
Sauna
Ski Lessons
Garden Space
Local Area Shuttle
The local area has an abundance of nature excursions to choose from while out exploring. You can engage in everything from hiking, cross country skiing, snowshoeing, and sledding. Additionally, the town of Girdwood offers a wildlife conservatory, Girdwood Town Square, Crow Creek Mine, Girdwood Center for Visual Arts, and Chugach National Forest.
During downtimes, you can use one of the complimentary video game consoles or soak in the deep-seated bathtubs, ending with the use of the provided resort robe. Inside your room, you will have access to room service, premium television channels, movies and an iPod dock for listening to your favorite tunes.
For those seeking the opportunity to get in touch with nature and relax in a luxurious setting with exquisite views, the Alyeska Resort will provide everything you need and more.
Wedgewood Resort – Fairbanks
Known as one of the best places on earth to view the northern lights, Fairbanks offers an experience like no other. Wedgewood Resort in Fairbanks rests on over 100 acres, giving you the feeling of peace and openness as you look at the expansive views surrounding you during your stay.
Not only is the resort located on expansive acreage, but surrounding the property is a 75-acre wildlife refuge and a 2,200-acre waterfowl refuge. With all of this protected space, it can seem like you are in the middle of nowhere, millions of miles from civilization. However, the town of Fairbanks isn't far beyond that stretch and offers a variety of stores and restaurants for your enjoyment.
At Wedgewood Resort, you and your family are taken care of as soon as you step foot in the door. Each accommodation is either a one or two-bedroom suite, and there are several restaurants and a cafe on site. However, for those staying in the winter months, food is not available at the resort.
The resort offers comfortable rooms to fit your family and access to all of nature's most extraordinary activities like fishing, hiking, skiing, snowboarding, snowshoeing, fishing, bird watching, and wildlife viewing.
As a unique amenity, the resort offers a special wake-up call for optimal northern lights viewing times during the months of August through April. For those who desire to walk the trails to view the lights, the hotel offers complimentary headlights to provide an extra element of safety to its visitors.
Outside of the restaurants and shops that downtown Fairbanks offers, the resort is also in close proximity to the Fountainhead Antique Auto Museum, which provides a look into the vehicles of the past and collector's pieces. To visit the museum, you can work with front desk staff to schedule a complimentary taxi or shuttle.
Seeing the northern lights and experiencing them up close is a once-in-a-lifetime opportunity. Book your next vacation at Wedgewood Resort and take advantage of the beautiful views during your stay.
Kodiak Island Resort – Larsen Bay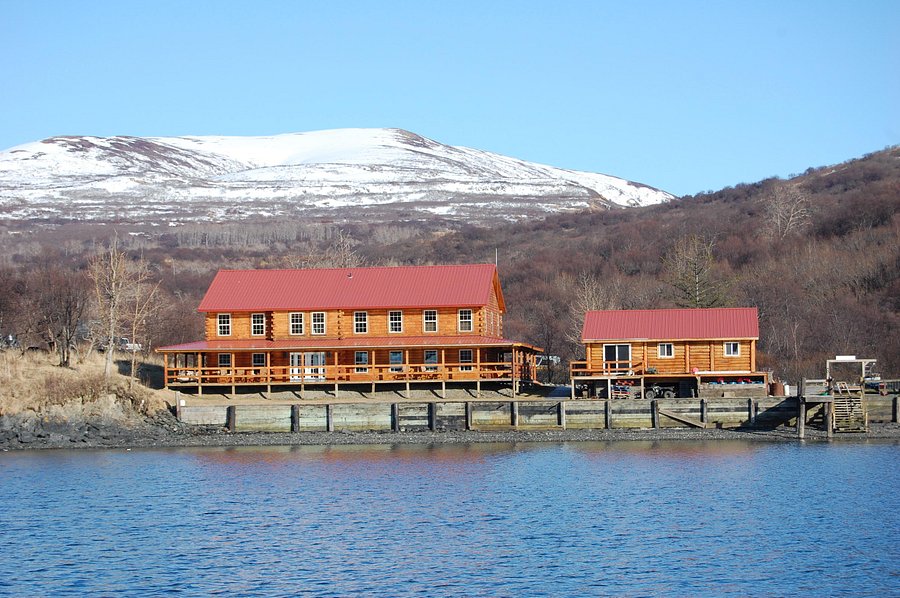 Can you imagine having an entire resort to yourself in Alaska? When staying at Kodiak Island Resort, that is a real possibility! The hotel houses 6-8 people at a time. Therefore, your family could be the sole occupants during your stay!
As a fishing lodge, Kodiak Island Resort offers a restful opportunity to visitors. Its highly secluded location is only reachable by a 40 minute plane ride that goes from the town of Kodiak to the Island in Larsen Bay.
Are you looking for your kids to disconnect from the online world for a bit? This hotel is the place to do it! At Kodiak Island Resort, there is no internet outside of emergency situations. However, they do have a TV and gaming room in the common area for guests to enjoy.
All of your meals are provided during your stay – both during meal times and for snacks. While you will have breakfast and dinner in the dining room, staff at the resort will pack a lunch to send off with you during your daily fishing expedition that is included in your stay.
During the day, you will be escorted by highly qualified local guides who will whisk you off to the best fishing destinations on top-of-the-line boats. The catamaran's that you fish on are fitted with fish navigation electronics that help decipher where the most significant amount of fish are located. Hopefully, you catch a fair amount of fish, as the staff at the resort can cook it up for dinner later that evening!
Each room at Kodiak Island Resort has a view of the mountains and the water that surrounds it. The entire resort houses six separate rooms, each with a private bath and two double beds. The resort is equipped with satellite television and a large front porch that is optimal for bird watching. You will often see bald eagles flying around in the area as well as other forms of wildlife.
Interested in a resort stay without the modern conveniences of the internet? Check out Kodiak Island Resort in Larsen Bay!
Waterfall Resort – Ketchikan
The inside passage of Alaska has the most breathtaking views. The homey Waterfall Resort is located near the inside passage in the city of Ketchikan and provides amazing adventures for individuals and families alike.
The resort itself is comprised of several guest quarters. Each room is actually a separate cabin, renovated from their previous use as fisherman's quarters when the resort was a Cannery. There are also townhouses, suites, and lodge rooms. Back at the main lodge, there is a nightly buffet feast, which is also the location for all the other meals included in your stay.
In the spirit of family, Waterfall Resort includes children in their programming. Not only are all ages allowed on the chartered fishing trips, but they also have special children's activities for the youngest travelers.
Located just 90 miles from Seattle, Waterfall Resort is accessible by charter plane. Upon check-out, staff members will help guests pack up the fish they caught during their vacation for safe and efficient transport back home.
This complimentary service involves processing the fish, cleaning, vacuum sealing, flash freezing, and packing in wet-lock boxes for shipping. Not only that, but they have an Alaska Airlines on-site that tags your fish for check-in on the plane as luggage!
Additionally, guests don't have to worry about packing fishing gear. The Waterfall Resort provides everything needed, including a variety of high-end fishing poles, weather-resistant clothing, and all necessary bait and tackle.
It is worthy to note that many guests make the trip to Waterfall Resort an annual family vacation and make reservations a year in advance. Therefore, it is recommended that you reach out to the hotel as soon as you have dates in mind for your visit.
In Summary
Alaska is an experience like no other. With many different cities and villages, you are in a state where cultures, weather, and wildlife vary greatly. However, one thing that every area has in common is the beautiful landscape and the overflow of nature activities to participate in during your stay.
Taking your family on an adventure to Alaska can be both memory-making and educational. Additionally, having limited access to modern conveniences like technology and W-iFi can create quality bonding moments that you don't typically get otherwise.
When traveling with family, there are special considerations that need to be taken in when reviewing accommodations. Thankfully, Alaska has no shortage of family-friendly resorts. Many of the options available include meals and activities – they even send a packed lunch with you for your fishing excursions!
This list highlights five of the best Alaska resorts for families. Each accommodation is unique in its own way and includes different features and activities for your group to participate in during your vacation. While many of the resorts require you to fly into the location via chartered plane, the rest of the trip is managed by the hotel staff. You'll never experience a more relaxed vacation than at these Alaskan resorts!
More about our TFVG Author
A seasoned traveller, Dad, and avid sports tourist, James foundered The Family Vacation Guide to share his expert vacation experiences- especially when it comes to being a travelling family man.
Featured in Travel articles such as Travel + Leisure, TripSavvy and SFGate, you know you're reading some of the best vacation tips online.