Families, couples, and solo travelers love to visit the Santa Cruz Beach Boardwalk, one of the most famous landmarks in the city. For those who love nature, there are plenty of untouched beaches in the area that you can take advantage of, exploring and relaxing in the sand.
Additionally, you can enjoy boating, volleyball, hiking, and more as you enjoy the stunning scenery, cool sea breeze, and fantastic sunset views. The central coast of California is perfect for adventurers and loungers alike. Visit Santa Cruz for your next family vacation.
Why Santa Cruz Beaches?
If you live in or are visiting California, you'd be missing out if you don't take the time to get familiar with Santa Cruz beaches. They represent various coastal environments, each of which is unique and beautiful in its own way.
Capitola, for example, is a scenic beach tucked away in a sheltered cove, while Davenport Beaches consist of wildlife and exposed shores along the Pacific Ocean. Monterey Bay presents gentle waves, golden sand, and plenty of attractions nearby.
It doesn't matter if you want to go swimming, have a picnic, play with your dog, sunbathe, go surfing, paddle boarding, or whatever else you can dream up; there's a beach for it in Santa Cruz. Check out our list of the top beaches in Santa Cruz.
1. Main Beach
Main Beach is excellent for all ages, and it's where you'll find the boardwalk that so many love to visit. The waves are perfect! Plus, there are different wildlife species, amusement parks, tide pools, arcade games, museums, and much more near the beach.
There are also numerous shops where you can rent fishing equipment, purchase souvenirs, and more. There's never a dull moment on Main Beach.
You have to use cash to access the beach if you park close. However, you don't have to pay anything if you park further away and don't mind the mile-long walk to the beach.
There are plenty of activities to engage in near the water. Try bodyboarding, beach volleyball, a pleasant stroll with your toes sinking in the sand, and more.
This beach is also child-friendly, especially during the summer when lifeguards are on duty. You also get access to public restrooms and outdoor showers.
2. Capitola Beach
Capitola Beach is lined with colorful houses and a gorgeous harbor. It's a charming atmosphere similar to that of a small Greek fishing village. The streets are fun and lively, filled with restaurants, souvenir shops, cafes, and boutiques. Many of these dining establishments offer breathtaking views of the sea.
Capitola Beach features protected waters and picturesque surroundings. This beach is inside a small cove, which allows calmer and smaller waves. If you're just learning how to surf, this is the perfect place to come. Lifeguards patrol the beach in the summer.
This location also has outdoor showers, public restrooms, shops along the pier with rental boats and fishing bait, and many other activities.
3. Natural Bridges State Beach
If you like to visit the beach and observe the surrounding nature, Natural Bridges State Beach has a stunning natural rock bridge that juts out from the ocean right off the shore.
Aside from the spectacular views, you can also set up shop and enjoy whale watching and check out the Monarch butterflies that fly over during the fall and winter months.
You'll see a few isolated pools as the tides start to recede. Children love to search the area to see what's left over. There are grasslands all around the beach, making it one of the best unspoiled beaches in Santa Cruz. Since this beach hasn't been touched, you'll have to travel a bit to reach any snack bars or local shops.
Also, there aren't any lifeguards at this beach, and it's not a good idea to go surfing or swimming because the rip currents are dangerous at this location.
4. Twin Lakes State Beach
Twin Lakes State Beach is about one mile long, and it's between Schwan Lake Park and the Santa Cruz harbor. This area is perfect for scenic walks, birdwatching, and relaxing.
This spot is also famous for paddleboarding, surfing, having a picnic, boogie boarding, swimming, and sunbathing.
Twin Lakes also has plenty of facilities at your disposal, such as parking, picnic tables, public restrooms, and outdoor showers. There are specific areas for surfing and swimming, with lifeguards on duty.
You can also catch a glimpse of the Walton Lighthouse. There's also usually a nice breeze, making this beach the perfect location for those who want to fly kites. Beachcombers love visiting the beach at low tide when all kinds of interesting specimens wash up on the shore.
5. Four Mile Beach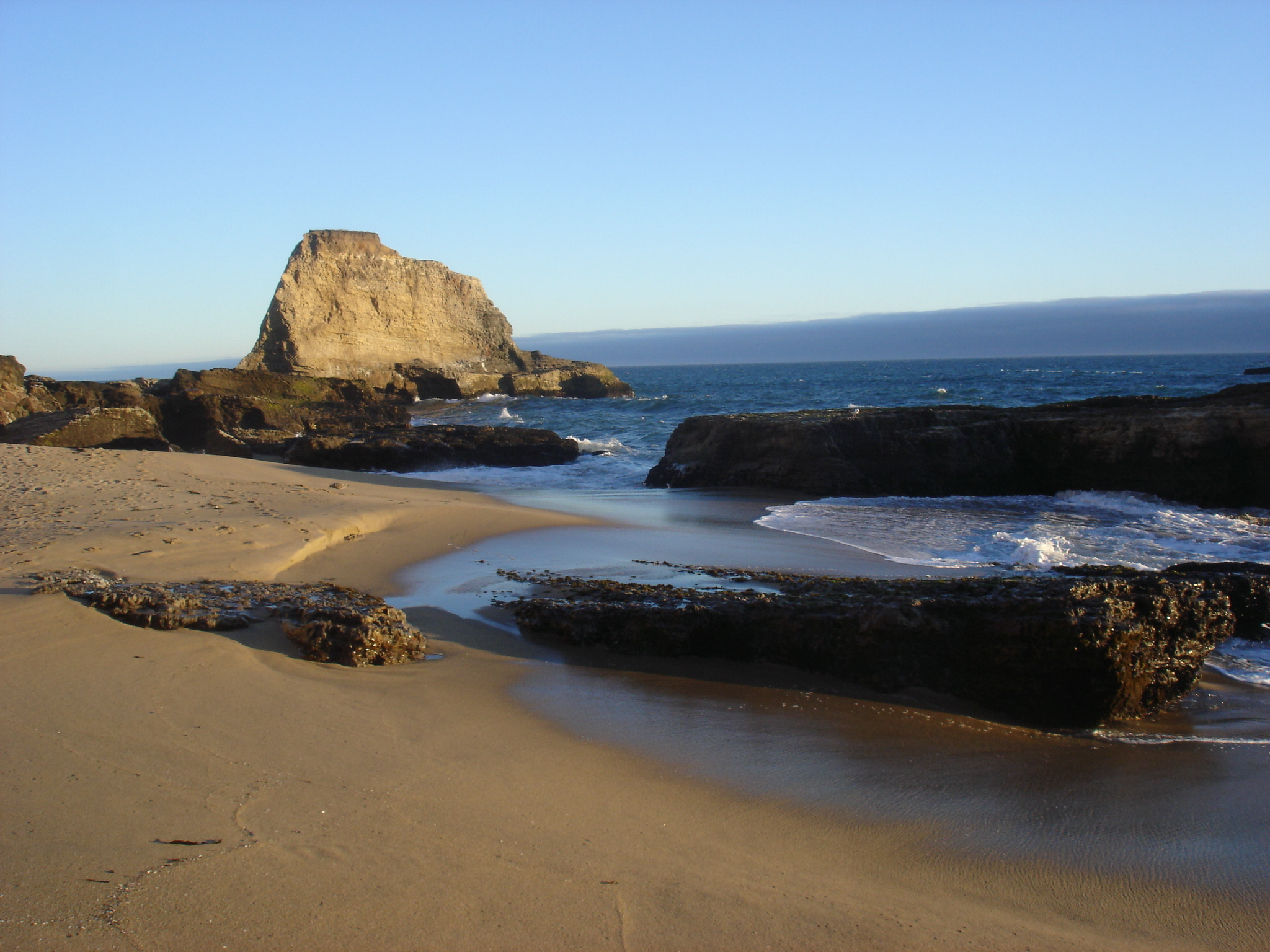 The Four Mile Beach is another unspoiled destination, and you can find it in the
Wilder Ranch State Park. It's a recreation area and a nature preserve, which was initially used as pasture land for a ranch during the Victorian era. The beach is also close to the park's other features, like the freshwater streams, coastal terraces, redwood groves, and more.
Four Mile is the most extensive beach in the state park, even though the beach itself gets its name from its distance away from Santa Cruz as opposed to the length of the beach. It feels like a remote destination, requiring a hike from the Ohlone Bluff Trail to get to the beach through the parking lot. The views are everything from the hiking trail!
Avid surfers love the ocean swells, with huge waves in the winter. You can also use their public restrooms and enjoy free parking at this location.
6. Seabright Beach
According to locals, Seabright Beach is amongst the most popular options in Santa Cruz. It's in a central location, close to a residential neighborhood by the harbor.
The beach lasts for about half a mile, so it isn't the biggest option you have, but it offers some of the best vibes and attractions that tourists appreciate. It's also relatively close to the boardwalk, making this a more calm alternative than Main Beach.
Enjoy swimming, bonfires, viewing the Walton lighthouse, and watching sailboats go out to the bay. There are even sailboat races from around May to October, one of the most popular local events to participate in from Seabright beach.
7. Manresa State Beach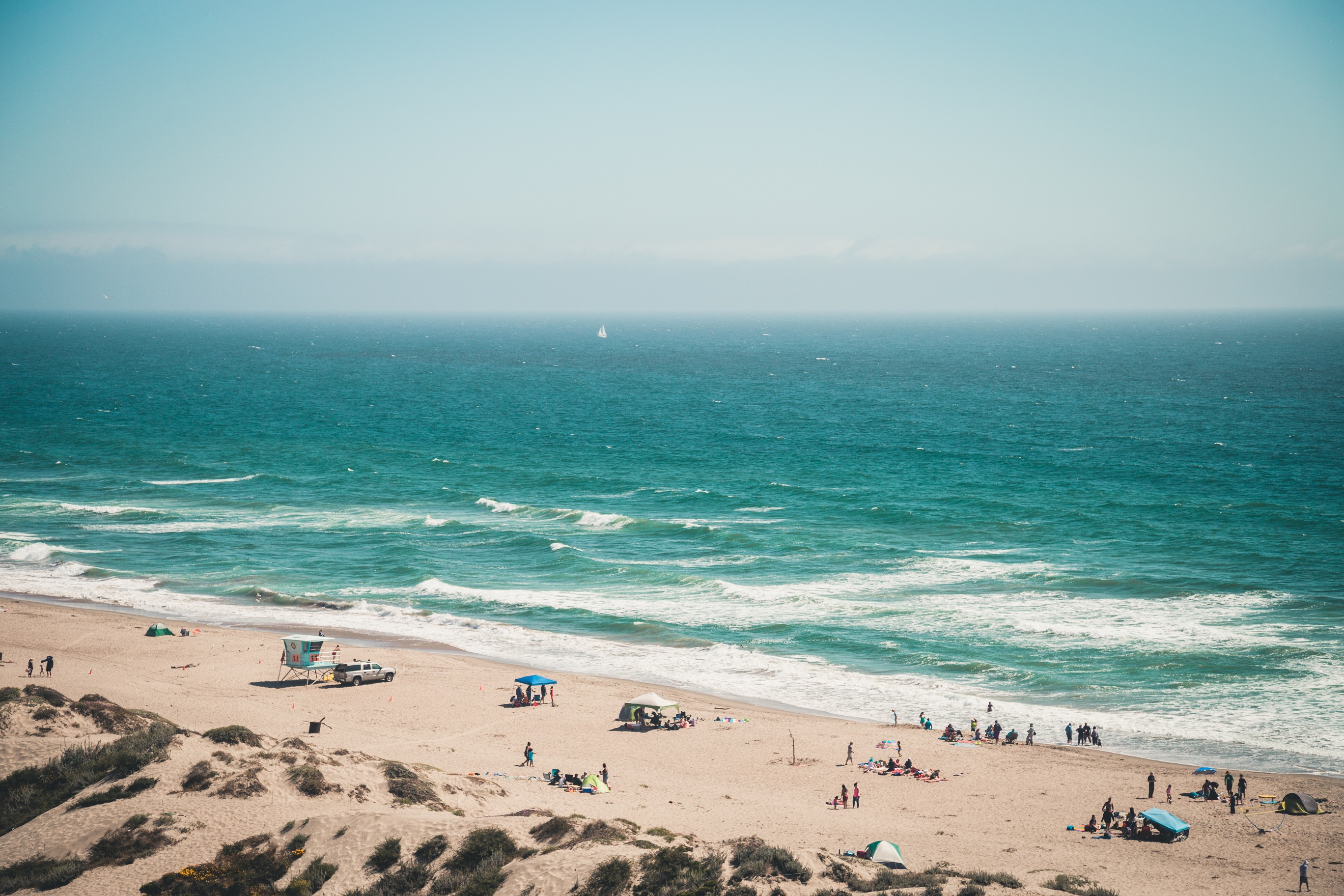 If you want a gorgeous view of the Santa Cruz mountain range or the lush rolling hills, take a trip to Manresa State Beach. Situated behind ocean bluffs and a protected parkland area, Manresa Beach has picnic tables that give you a stunning vantage point to take in the scenery around you.
The shoreline is untouched and notable for the soft and golden sand, though the waters are dangerous and unsuitable for swimming. The frigid temperature, rip currents, rocky shore, and other unsafe conditions make it ideal for only the most advanced surfers.
Additionally, you can go birdwatching, fishing, camping, and more at Manresa State Beach. There are public restrooms, a picnic area, a wheelchair ramp that goes down to the beach (with access to a specially designed wheelchair for sand use), and an outdoor shower.
8. Davenport Beaches
Davenport Beach is another gem surrounded by farmlands that include artichoke and strawberry fields that cover the hills leading to the Pacific Ocean. Davenport's coastline allows the opportunity to take in the scenery, including the exposed shoreline that features ocean bluffs and crashing waves.
You'll find sea birds, porpoises, dolphins, and other wildlife in this area. You'll also see whales swimming about when it's time for migration season. This is another beach that's not great for swimming because the waves are too rough, making the conditions dangerous for leisurely play. It's an excellent site for nature lovers to take a walk.
9. New Brighton Beach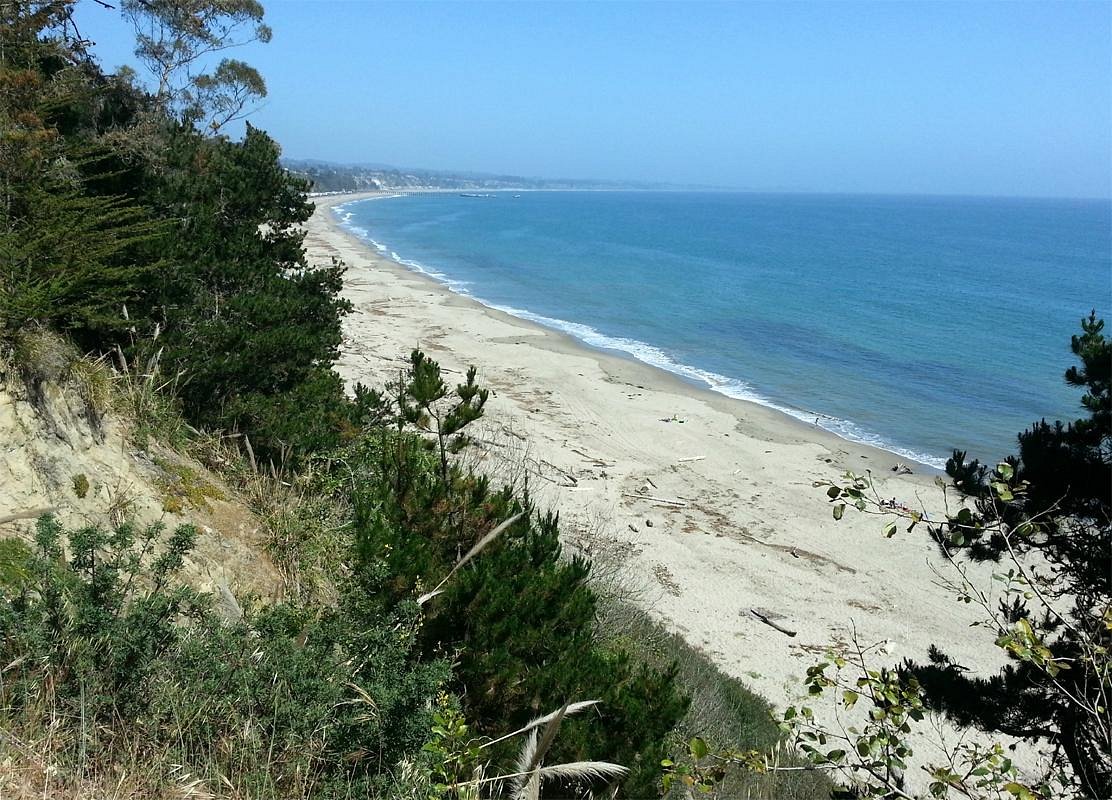 Popular since the 1880s, New Brighton Beach gets its name from a famous resort on the coast of England. There are hiking trails, camping grounds, wildlife, and plant-covered bluffs. You can go fishing, make campfires, and bring your furry friends along.
If you have children, you're free to sign them up for the junior ranger or campfire program during the summer. This beach is very clean and beautiful to walk along the shore. You can set up for the picnic almost anywhere on the sand. You might even catch the pelicans flying about and diving for fish in the warm waters.
10. Cowell's Beach
Cowell's Beach is in downtown Santa Cruz, west of the pier. It's not too far from Main Beach, which tends to get more crowded. Cowell's is smaller and quieter if you're looking for a more low-key location. It's an excellent family destination.
If you enjoy surfing and appreciate calmer waves, beginners will love coming to the warm waters of Cowell's Beach, where the sea lions are waiting under the shade from the pier! Catch a glimpse of them in the mornings and afternoons, and don't forget to bring your camera to take pictures! Though not crowded, it's hard to find parking in this area, but public restrooms and other facilities are at your disposal.
11. Seacliff State Beach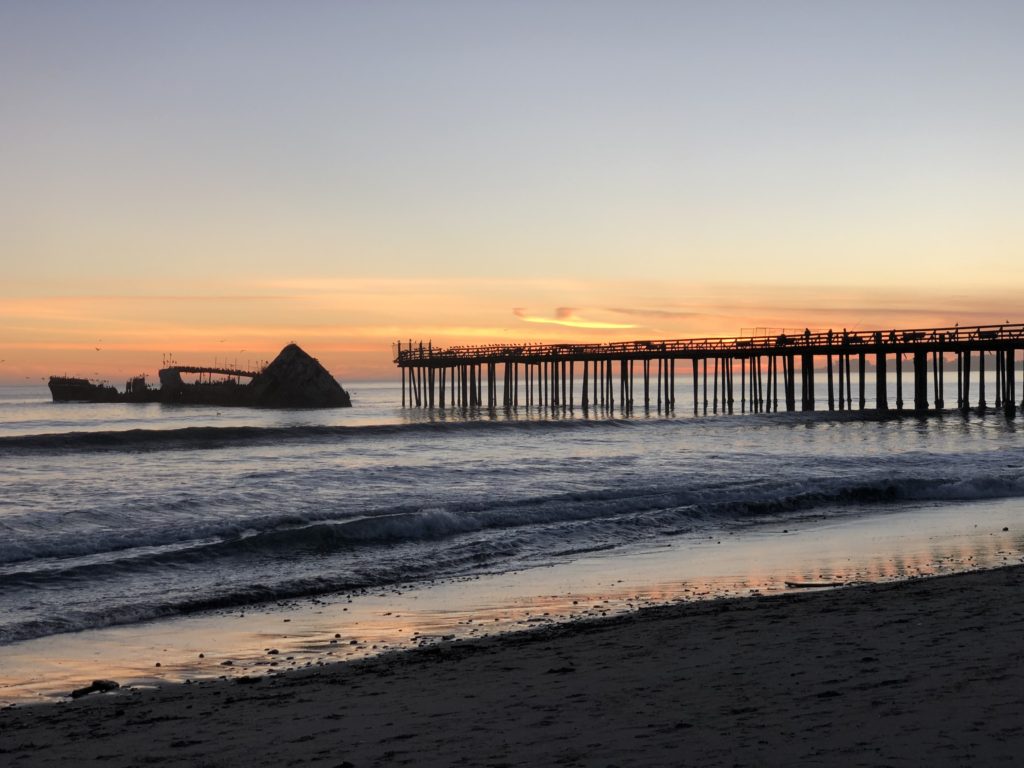 Seacliff State Beach might be more crowded than others on this list, but it's worth it. It's a wide beach with mild waves for surfers, and shallow waters near the shore, making it safer for families with children. You can park your RV nearby, and you're allowed to have dogs with you if you have them leashed.
One cool feature to check out is the massive sunken ship at the beach, which is the home to dolphins, whales, seals, and numerous pelicans. It costs ten dollars to park your car at Seacliff. There are plenty of public facilities nearby, as well as great restaurants and shops for souvenirs and fishing.
12. Waddell Beach
Waddell Beach is 20 miles away from Santa Cruz, but it's worth the drive. There aren't many visitors to this location, so it's perfect for those who want a quiet day at the beach without too much commotion. Waddell beach is also the ideal spot to go fishing, fly your kite, go windsurfing, and much more.
You'll find plenty of amenities nearby to make your trip more enjoyable. You'll also get unobstructed views and a wide open area, and since it's a remote peach, a romantic stroll or picnic is certainly possible.
13. Bonny Doon Beach
Bonny Doon Beach is very secluded and offers a more intimate feel than you get at most beaches. It's not family-friendly because clothes are optional here, according to locals. Aside from that, if you're with a group of friends, you'll like the ability to kick back and relax.
You can have a picnic, sunbathe, and enjoy your time on this beach with cliffs that block the winds. The views are stunning, and there's no shortage of golden sand to sink your toes between. The waters are warm and calm, so you can take a dip anytime.
14. Lightfield State Park Beach
The Lightfield State Park Beach is a gorgeous undeveloped beach that offers lots of sightseeing. There are numerous biking and hiking trails and the lovely Monarch butterflies that arrive at the end of the year.
You have access to the showers and public restrooms when you've finished a fun day out in the sun, splashing along the shores. A trip to the Santa Cruz Surfing Museum is a great family activity that isn't too far away from the beach.
15. Harbor Beach
Harbor Beach is filled with volleyball courts, restaurants, souvenir shops, kayak rentals, fishing equipment stations, and more. Sailboats are also available to rent for a trip out on the water. Don't miss out on a catamaran ride to get the best views of the horizon that you can find in Santa Cruz.
Within 15 minutes, you'll also run into other shopping centers, parks, and more. This beach is excellent for swimming, surfing, paddle boarding, lounging around, and enjoying the festive atmosphere.
Final Thoughts
Santa Cruz is a beautiful Californian city with dozens of stunning beaches to explore. Some are tourist attractions filled with all the amenities you could want and need, as well as close shops, eateries, museums, and more.
Other beaches are more secluded, offering privacy and tranquility. Whether you're visiting alone, as a couple, with friends, family, or with a pet, one of the beaches on our list will suit your needs.
More about our TFVG Author
A seasoned traveller, Dad, and avid sports tourist, James foundered The Family Vacation Guide to share his expert vacation experiences- especially when it comes to being a travelling family man.
Featured in Travel articles such as Travel + Leisure, TripSavvy and SFGate, you know you're reading some of the best vacation tips online.