California is a big and beautiful place to have new experiences with your family any time of year. Since temperatures rarely go below freezing, you are free to choose which attractions seem the most exciting each season.
It's time for your California road trip dreams to become a reality with so many good eats, national parks, and castles to experience, you'll never run out of travel ideas. Be sure to check out some of our top tips at the end of this guide for your California road trips with your kids to keep them happy and entertained.
Searching for family activities that won't break the bank during your family road trip? You'll probably find our guide handy, exploring the best free things to do in California with kids!
25 Ideas for California Road Trips with Kids
Without further ado, here are 25 of the best spots to stop off at on a California road trip to add to your list of adventures!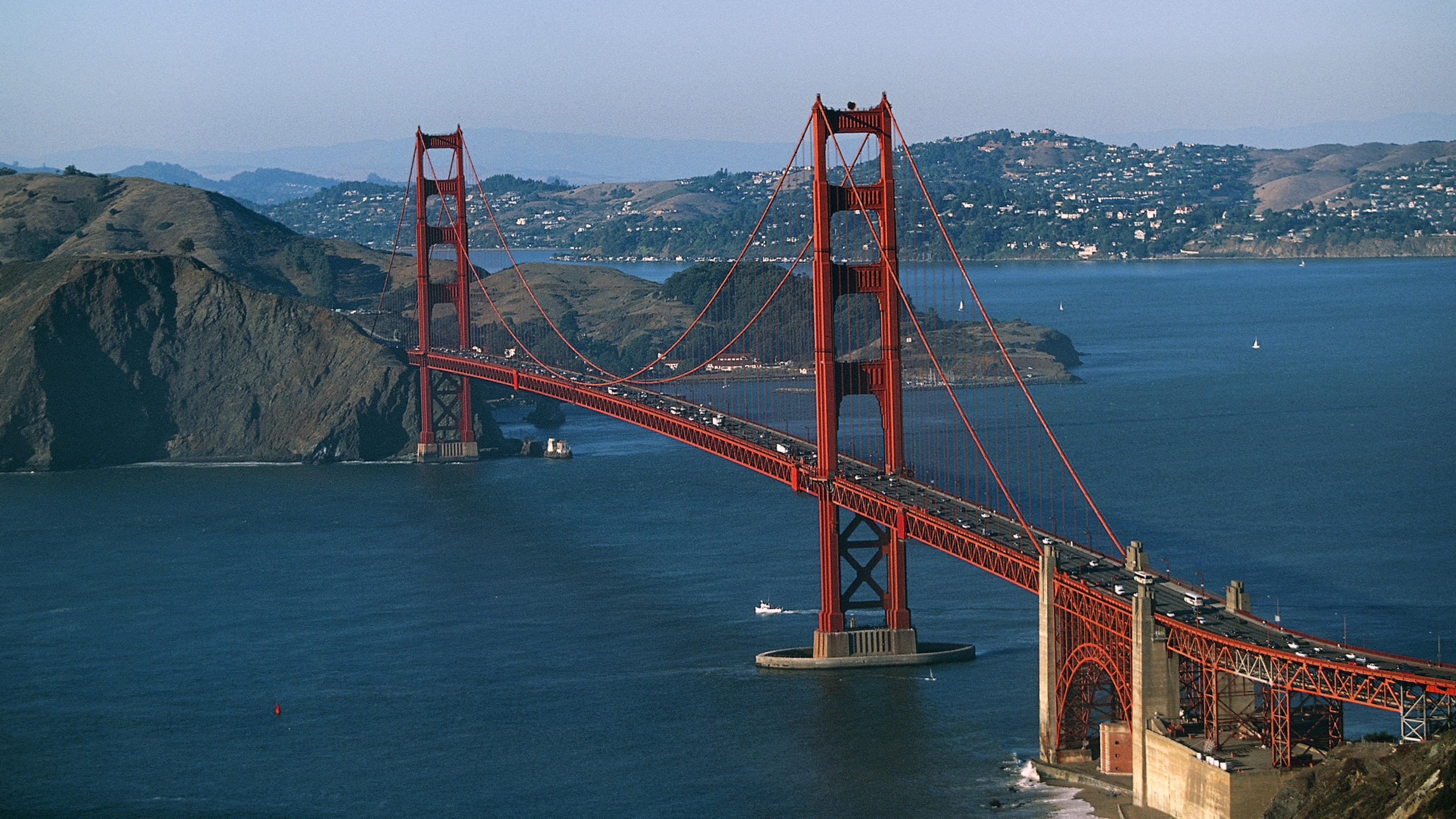 Golden Gate Bridge
The mighty Golden Gate Bridge is one of the most famous landmarks in California. Everyone has seen it on television. Seeing it in person is a surreal experience for everyone. Take it all in a way that works for you and your family.
They offer guided tours, as well as spaces to walk, bike, or sit to enjoy everything that the site has to offer. Visit the welcome center and see the unique exhibits on display there.
The walking tours are provided for free, which means you can spend more money on the best part of traveling, the food.
Alcatraz
Alcatraz is a great California destination if you love the water. The island is a legendary civil war fort and houses the most notorious federal penitentiaries. At Pier 39, you can spot sea lions and have some of the best seafood that restaurants in Alcatraz have to offer.
Definitely look into the activities offered in Alcatraz as you might have to book some of them in advance. Booking in advance will save you time and ensure that you secure a spot in the activities on your to-do list. They offer family boat rides and a tour around the island prison.
Henry Cowell Redwoods State Park
You'll find the Henry Cowell Redwoods State Park in the Santa Cruz Mountains. The park is well-known for its impressive 40-acres of redwood trees, and it's a fantastic campsite for some time in nature. Visitors have a choice of swimming, horseback riding, hiking, and even picnicking.
The tallest tree in the park stands at a whopping 277 feet tall and is 16 feet wide. This tree, in particular, is 1,500 years old. The most remarkable experience at this park is the wildlife. It's normal to spot bobcats and black-tailed deer during the visit.
Monterey Bay Aquarium
The Monterey Bay Aquarium is a fun place to visit with the kiddos. There are many animals at the aquarium, and we particularly loved it because it's not just a visual experience but an educational one.
Each animal has a story that gives you a better understanding of their needs and how they came to live at the aquarium. One notable story is of Rosa, the sea otter.
She was stranded by her family when she was a baby and adopted by the aquarium. Rosa is now 22 years old and one of the oldest sea otters, meaning that she needs extra care to ensure she remains healthy.
Pismo Beach
Pismo beach is on the central coast of California. It sits along Highway One in-between San Francisco and Los Angeles. Pismo beach is an excellent place to experience white beaches, ATV dune riding, golfing, surfing, and fishing.
Let's not forget the nearby Monarch butterfly grove, where you'll get to see more than 20,000 butterflies resting in the trees. You can also shop at premium outlets and experience a weekend beachside vacation.
If you and your kids love seafood, Pismo Beach is the place to visit. Many of the restaurants offer coastal seafood dishes at a fair price which makes dining out during your trip less of an expense.
Lake Tahoe
Lake Tahoe is one of those places that you can enjoy with your family in the warmer months and during the winter. During the summer, families can enjoy live music and bike rides. Tubbing, sledding, and hot chocolate fireside become options in the winter.
One notable thing about Lake Tahoe is the hotel lodging. The Lake Tahoe Resort Hotel is one of the best hotels in the area because it's in the perfect location, giving you easy access to everything the lake has to offer.
The Ritz-Carlton is another fan favorite at Lake Tahoe. It offers luxurious family environments that have all the amenities in one place.
San Francisco
You can't visit California without visiting San Francisco, as the city has so many fun things to do. Remember the Golden Gate Bridge, Pier 39, and Alcatraz mentioned earlier? They are all located in San Francisco!
You can also ride the cable cars to Chinatown and experience the best Chinese food you have ever had. San Francisco is home to the painted Victorian houses known as the "Painted Ladies" sitting in front of the downtown skyscrapers.
Then there's Fisherman's Wharf for those who love steamed crabs and French bread bakeries. Make sure to ride the Skystar Wheel to see a full view of the entire city.
San Diego
San Diego is a great place to visit for those who love tex-mex food. Once you hit the La Jolla area, you have access to beautiful white sandy beaches. If you are into surfing, this is the place to be.
Paddleboard and kayak rental makes it easy to experience the beach without having to worry about buying or carrying your own equipment. It's a safe place for kids to visit when the tides are low as well.
Then there is the world-famous Sea World, San Diego Zoo, and Safari Park. There's something for everyone in San Diego, from the gardens, zoos, and museums to the beaches.
San Simeon
San Simeon makes for an exciting road trip with the kids not only because of all the beautiful beaches available along the Pacific Coast highway but because of the Hearst Castle. The Hearst Castle is an estate that William Randolph Hearst built in 1919.
Hurst was a newspaper magnate and designed the home to showcase his art collection. The house has 165 rooms and sits on 127 acres of gardens, walkways, and pools. It's undoubtedly a sight to see and enjoy for both parents and children.
Another major attraction is the elephant seals. You can see them at Piedras Blanca's Rookery, located seven miles North of Saint Simeon on Highway One, free of charge.
Sacramento
Sacramento is a great place to visit for families who love trains, airplanes, and fairies. Yes, I said fairies. Fairytale Town is the perfect attraction for more minor children as they get to have a fun slide down The Old Woman's Shoe and sit on King Arthur's throne.
You can relive a scene from Cinderella and ride in her pumpkin. It's the space to let your imagination and memory of nursery rhymes create your experience. Petting the farm animals is the cherry on top.
You just got to love Sacramento and everything it offers to visitors. If you want to learn more about Sacramento's history, take a tour through their history museum.
Gold Country
Gold Country in the fall is the perfect California destination to experience with the kids. It's home to 30 orchards and farms. Grab a basket and get picking.
No matter what apple flavor is your favorite, from sour granny smiths to the sweet gala, you will never forget what it felt like to visit an orchard and pick your own apples.
It's the perfect family activity and so much more exciting than picking up a bag of apples at the grocery store. And if that wasn't enough, visit the High Hill Ranch and enjoy apple butter on biscuits or even fresh-baked apple fritters.
Anaheim
First off, the Disneyland Resort is in Anaheim and one of the top attractions for any family trip to the area. Since California is so big, chances are you won't get to visit all these destinations in one trip. Anaheim is one of the California destinations that will probably take a weekend to enjoy.
It is also home to Knott's Berry Farm and very close to Universal Studios in Hollywood. Entertainment at Universal Studios focuses on movies like Harry Potter and Shrek. In contrast, entertainment at Knotts Berry Farm focuses more on roller coasters and rides that the family can enjoy together.
Then there's good old Disneyland that features all your favorite Disney characters and significant attractions that feature movies like Guardians of the Galaxy, Indiana Jones, and Star Wars.
Wondering what else you can get up to with the family in the area? We compiled a list of the best family things to do in Anaheim, California to prepare you for your trip!
Carlsbad
Carlsbad is a great place to visit with the family if you are looking for an excellent outdoor experience. You can choose from beaches, hiking trails, and even flower fields. The flower fields are so beautiful. Imagine standing in front of 50 acres of blooming flowers.
The only thing is that you will have to visit the area between March and May to enjoy this attraction. Did I forget to mention that Carlsbad is home to Legoland? Legoland has a waterpark and a sea life aquarium. It's the perfect place to enjoy as a family while getting a new lifelong experience.
Mendocino
Mendocino is yet another great place to enjoy in California because of its attractions. When visiting Mendocino, you and your family can experience horseback riding or enjoy feeding the giraffes at the B. Bryan Preserve.
There are also beaches available to soak up the sun and meet new people. One thing to mention about Mendocino is Frankie's Ice Cream and Pizza.
I know that eating mushroom pizza with a "candy cap mushroom ice cream cone" may sound like a weird meal combination. But while it was a bit odd, it was also delicious. Mendocino is where you go to "find your happy."
Lassen Volcanic National Park
Lassen Volcanic National Park is one of the places you just have to visit at some point when visiting California. Firstly, you get to learn about the volcanoes that have erupted in the past.
Next, you get to see the bubbling mud pots and experience the stink of sulfur. It's one of those moments where everyone hates the smell and accuses someone in the pack of farting but won't walk away from the mud pot because it's so exciting.
The park also offers a program that gives fourth graders free access to the park.
Yosemite National Park
Yosemite National Park is a great place to visit with the family. Our recommendation is to plan on spending at least a weekend there as they offer camping packages and customized itineraries. The only thing about this park is that stays are booked seven months in advance.
So, if you want to try it out, visit their site and schedule your booking now. If you are unsuccessful at getting reservations on the park grounds, you can still find accommodations that are 30 minutes away that provide shuttles to visit the park and surrounding cities throughout the day.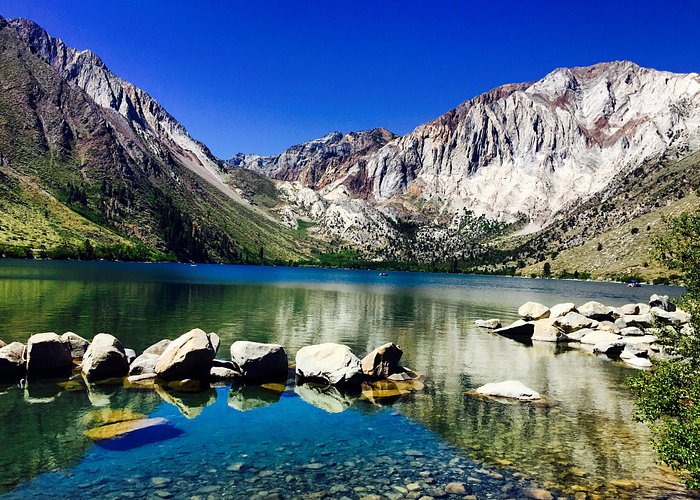 Mammoth Lakes
Mammoth Lakes is a great place to visit, no matter the time of year or the weather. Families can take advantage of their helicopter air tours or enjoy a fun and relaxing hike on one of their available trails. Then there's the Scenic Gondola ride that gives you a birds-eye view of the area.
And here's the big perk, kids ride for free. One of the best features at Mammoth Lakes is their Westin hotel. The Westin is known to be one of the quietest and relaxing hotels with a clean and comfortable ambiance.
It's the perfect hotel to wind down and rest after a long day of hiking with the kids.
Sequoia National Park
Sequoia National Park is the place to go to reconnect to nature. They even offer lodging within the park at the Wuksachi Lodge to give you the perfect experience of waking up to nature and wildlife.
Nature is a place for adults and children to have fun, connect to quiet, and enjoy the Big Trees and the Tokopah Falls Trail.
The Wuksachi Pizza Deck has some of the best pizza, served with organic salads to enjoy with the family. What Park experience can top that?
Big Sur
The Big Sur is a 90-minute stretch through Coastal California down Highway One. Highway One is one of those curvy roads that can cause car sickness in children.
But luckily, the views of the Big Sur will force you to slow down and take pictures as you twist and turn through several national forests and state parks. There are campgrounds in Big Sur, but they also need to be booked in advance.
Once the bookings open, they tend to sell out in less than a week.
Nevada City
Nevada City is a small town in Northern California. The city has maintained its Victorian roots and is a recognized historic district. The main attractions in this area are the Mountain Pastimes toy store and the local gift shop that houses many types of tea.
If you're looking for a cozy place to feel like you never left home, Nevada City is the place to visit. There are many trails to enjoy, along with fantastic coffee.
One thing to pay attention to in this area is the artistry. The town is home to many artists, and you will likely see artwork wherever you go.
California Gold Country
California Gold Country is an exciting place to visit, as it has plenty of old mining towns. In fact, Nevada City is one of those mining towns. The main attraction here is the abandoned mines. Visitors can tour the mines and even practice gold panning with the kids.
There are many gold rush adventures to enjoy with the kiddos. We were excited to visit the Moaning Caverns, only to discover that the sounds experienced some disruption after they widened the opening.
However, it is impressive that the Moaning Caverns holds the most extensive public cave chamber in California, which is big enough to fit the Statue of Liberty there!
Los Angeles
I bet you were wondering when I would get to Los Angeles. Well, Los Angeles is one of California's best places to visit for several reasons. One, they have a lot of family-friendly museums.
They also have beautiful beaches and good eats, which is debatably the most important part of traveling. There is a catch 22 with visiting Los Angeles. It is one of the largest cities in the United States, with a population of almost four million.
While it is a great place to visit and enjoy a family road trip, there is a lot of traffic that can make the journey less desirable. We recommend that you stay in a hotel that is very close to all the attractions and restaurants you want to visit.
Los Angeles is definitely a place that will take days to take in.
Grand Canyon
The Grand Canyon is over an 8-hour drive from Los Angeles. It makes for a great road trip because you get to travel through desert roads for hours without seeing anything or anyone. In the summer months, it can be unbearably hot.
So that is something to keep in mind if you are visiting the Grand Canyon in the summer. They also offer helicopter rides over the canyon so that you can experience it in a new and fun way with your family.
The Grand Canyon is one of the few things I'm willing to go without air conditioning in the summer to experience. Once you do it, I'm sure you will think so too. If the Grand Canyon is something you are interested in, be sure to book as soon as possible as bookings fill up fast.
Lake Arrowhead
If you're looking for a mountain destination, look no further than Lake Arrowhead, located in the San Bernardino National Forest. The lake truly is a hidden gem in California where families can enjoy bicycling, water skiing, fishing, and hiking.
The area is tranquil, and you will likely see wildlife that isn't too bothered by humans. The environment at Lake Arrowhead is peaceful and relaxing. While it is suitable for a family road trip or vacation, it's also the perfect place to have a romantic getaway with your partner.
Lake Arrowhead has hotels, cottages, and restaurants. So, you don't have to stay outside of the area and drive in to visit. The Saddleback Inn is the most notable restaurant with extraordinary culinary delights. It also sits in the middle of the forest.
Highway One
We've mentioned Highway One multiple times, but it deserves to be a destination on its own. It is the perfect road trip for families as it lets them experience a lot of what California offers over seven days.
Highway one is 587 miles long. It starts in San Diego and ends in Hilton San Francisco Union Square. If you visit the California site, you can check out this itinerary with 11 stops with the main attractions of each location listed.
Highway One is a curvy road with beautiful views of the California Coast. Even if you don't make the 587-mile trip, you will still likely enjoy parts of it throughout your visit to California.
Tips for California Road Trips with Kids
If you've never taken a road trip with the kiddos, it's essential to understand the necessity of planning and preparation.
As crazy as it may sound, a road trip with the kids can be a fun and unforgettable experience, or it can be a stressful and draining trip that will make you ask yourself, "what was I thinking?"
So, before you take the road trip with your children, here are some tips to help you plan ahead and prepare for unforeseen circumstances that can pop up along the way.
Snacks
While traveling, kids will either be sleeping, talking, crying, or bored out of their minds. One great distraction to keep them busy is their favorite snacks.
While there will be opportunities to stop for snacks along the way, it is best to pack snacks ahead of time so that you have them on deck when you need them.
Not to mention that if you pack ahead of time, you can prepare healthier snacks such as fruit, vegetables, whole-grain crackers, and cereal.
Sandwiches, protein bars, and even hard-boiled eggs are also great snack choices to help keep the children busy and sustain them along the way. It's also a great idea to throw in some of their favorite snacks to make the trip more fun.
Let's not forget that the adults will need snacks as well! Also, don't forget to stop by and experience some of California's local farmer's markets.
Bathroom Breaks
It is a great practice to plan for bathroom breaks. The last thing you want to happen is that you or your child need to go to the bathroom in the middle of nowhere, and the next bathroom is more than 15 miles out.
Not to mention, you want to have a bathroom break in an area that's clean and safe. What works for each family will be different.
However, setting a timer every couple of hours to remind you to take a bathroom break is an excellent idea to prevent stress and possible accidents. Using a map or GPS to track the nearest bathrooms is a great contingency plan in case the need for a bathroom break suddenly pops up.
Get a CityPass Ticket Booklet
You can purchase the CityPass booklet at a set price for a ticket booklet that is good for nine days. It gives you the ability to enjoy the best attractions of California at a significant discount. Booklets cost $89 for adults and $69 for children between the ages of five to eleven.
You can purchase the booklets at citypass.com or any of the city pass attraction sites. It takes the guesswork out of sightseeing in California while giving you unlimited cable car usage access. So definitely get a CityPass booklet to save you and your family money during your road trip to California.
Keeping the Children Entertained
Distracting the children with food will only go so far. It is vital to have multiple things in place to entertain your kids during the long ride. For example, music is another way to engage your children and keep them calm during the trip.
If your car is equipped with a DVD player, pop in their favorite cartoon movie. If those things don't work, it may just be time to take a break outside of the car.
Going into a local store or shopping center not only helps keep the children entertained but gives everyone a chance to stretch their legs and pick up memorabilia.
Offline Car Games
Offline car games are another way to keep your children occupied. These games primarily work for teens. Playing these offline gives your children access to the game even if you are driving through a bad service area.
Some of the most noteworthy offline car games are the Asphalt Racing games and the Best Educational Racing games. Both of these options are free to access.
What I like the most about the Asphalt Racing game is that they are available on IOS, Android, and Windows devices. The Best Educational Racing game is available for download on all IOS devices.
Choose Activities That Everyone Can Participate in
No matter what you choose to do, you can rev it up by making it an all-together activity. If you are playing an offline game, make it a competition. If your children are eating snacks, join them and conversate about it.
Creating an open and fun environment around as many aspects of your road trip is what will make it a more unforgettable experience. Ever tried the count the Hondas versus Toyotas game?
It's way more interesting than it sounds. Everyone places a bet on which car brand has more cars on the road. Then we all have fun counting the cars we spot and determining which car brand wins. Ready set, Prius!
Prepare for Car Sickness
Car sickness can pop up in an instant. Depending on what part of California you are driving through, the twists and turns can turn that tasty apple and peanut butter snack into needing a new outfit and a clean-up on "aisle backseat."
Truthfully, it's way more normal than you might think. To prepare for car sickness or any other situation that can ruin a t-shirt and require clean-up, pack extra clothes. Also, pack trash bags, Lysol wipes, cleaning spray, disposable gloves, and paper towels.
If at all possible, when you first realize that your child is getting car sick, pull over and have them walk around or lie down until they're feeling less queasy.
Stay on Course
The best way to stay on course on a road trip with children is to add pockets of time to everything you have planned. If visiting Golden State Park takes three hours, plan for it to take five hours.
That way, if you need to stop for extra bathroom breaks, deal with car sickness, or need to eat, you won't miss out on what you had planned. The one thing that will definitely create unnecessary stress on a road trip is rushing or overspending when you can't afford to.
Safety First
We have already touched on the supplies needed to prepare for a road trip. Combine that with car seat safety protocol and ensure that your rental or personal vehicle is ready for inclement weather, and you have created safe conditions for you and your family to travel.
Now you can focus on creating a new and fun experience with your family.
Are You Ready for the Best California Road Trips with Kids?
California is full of beautiful places to experience with your kids. There are so many to choose from. You likely won't get to visit them all but be sure to try California out for size and see how it fits.
Great food, beautiful beaches, and peaceful parks are up for the taking. From Highway One to the Golden Gate Bridge, we hope this article has helped you discover a new family road trip idea for your next visit to California. Take care and happy road tripping.
With so much to do and see in California, we've created a handy list of attractions and fun things to do in California with kids that should help plan your road trip!
More about our TFVG Author
A seasoned traveller, Dad, and avid sports tourist, James foundered The Family Vacation Guide to share his expert vacation experiences- especially when it comes to being a travelling family man.
Featured in Travel articles such as Travel + Leisure, TripSavvy and SFGate, you know you're reading some of the best vacation tips online.