San Diego is a great place to raise kids; it's an even better place to vacation with them. Persistently ranked amongst the top U.S. cities for family sojourns, San Diego, California strikes gold with its positioning on the Pacific Coast, a perfect climate, and its bountiful supply of city-center amenities.
From San Diego Zoo to La Jolla Beach, each member of the family is sure to find their own favorite corner of 'America's Finest City'.
To cater to this hub of activity is an array of family-friendly San Diego hotels, both lining the city's Golden Coast and throughout the Downtown area, each cultivating its own unique style, facilities, and character.
However, San Diego is expansive, and deciding upon a hotel can be tricky. This list will examine the top 25 best family hotels in San Diego, highlight what makes each resort stand out, and identify nearby landmarks so that you can get the most out of your time there!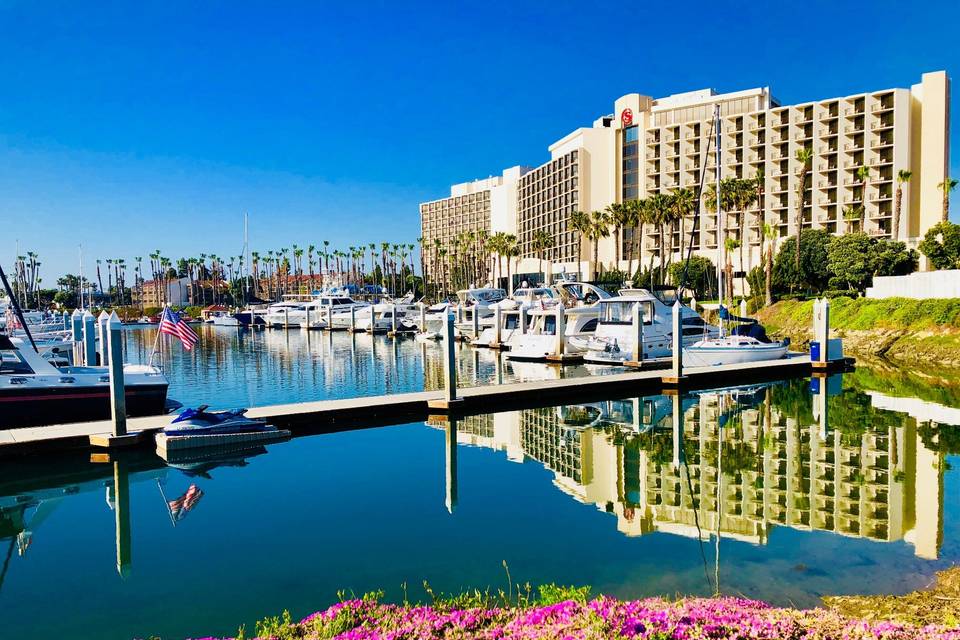 The Sheraton San Diego Hotel & Marina can deliver the best of both worlds: tranquil poolside afternoons and lively watersports along the bay.
Flanked between the east and west basins of the resplendent Harbour Island – a unique man-made peninsula – the Sheraton is ideal for teens seeking quick access to the hotel's canoeing and kayaking facilities, but also for parents looking for nothing more than a spot of languid sunbathing.
The balconies command unbeatable vistas over the marina, providing a postcard-perfect backdrop of the catamaran-lined shore. The theme of the harbor is carried over into the rooms, with nautical colors of red, white, and blue decorating the sizable and stylish family suites.
The Sheraton is a great base for a family vacation if you're looking to immerse yourself in the attractions of Downtown San Diego. Positioned in front of the International Airport, it's one of the most hassle-free resorts to reach in the city.
The Town and Country Resort has been a San Diego mainstay since 1953 and today specializes in providing classic family vacation fun. For those who enjoy the simple pleasure of lounging in a poolside cabana, while wood-fired pizzas, hamburgers, and refreshments get delivered right to you, definitely consider this resort for your San Diego stay.
Kids can break up their pool-bound days by riding down the twister waterslide or making friends on the sand volleyball court.
Town and Country Resort has been partially instrumental in transforming the surrounding Mission Valley into the vibrant tourist neighborhood it is today. Right outside you can find a trolley stop which can zip you right to Balboa Park, San Diego Zoo, and SeaWorld.
Each of the resort's 671 rooms come equipped with Egyptian-cotton lined beds, a Keurig coffee maker, Wi-Fi, and 50″ High Def LG television – perfect for both relaxing and placating lively kids!
The Hilton Garden Inn at Mission Valley Stadium exudes a voguishness that will please parents, as well as an array of amenities that will keep the kids happy. The rooms consist of the most contemporary of furnishings, with connecting suites to accommodate bigger families.
Some of the suite balconies look out onto the outdoor pool, which can be accessed by all guests, and is perfect for whiling away the hours.
Fancy a 10-minute walk to Mission Beach? The Hilton Garden Inn is close by this two-mile stretch of Gold Coast splendor, which runs from Mission Bay to Pacific Beach. Here, thrill-seeking kids can enjoy the pleasures of Belmont Park, a quaint amusement area featuring rollercoasters, a wave house, and bumper cars.
The Courtyard by Marriott in San Diego's Downtown is frequented by concert-goers and baseball fans, given its proximity to Petco Park. If you've got a family of young sports fans to entertain, secure some seats behind the dugouts, and book your stay at the Courtyard by Marriott.
The hotel itself is the height of elegance, with a facade and floor made of imported Mediterranean marble. The staff at this Gaslamp Quarter-located hotel provide exceptional service, with concierge options available. Kids are particularly well accommodated for, with free dining offered in the Lobby dining area, and even receive a gift upon entering if they visit in October.
Food services offer the best in Californian cuisine, while the on-site Starbucks can provide that much-needed pick-me-up after a long day entertaining the little ones.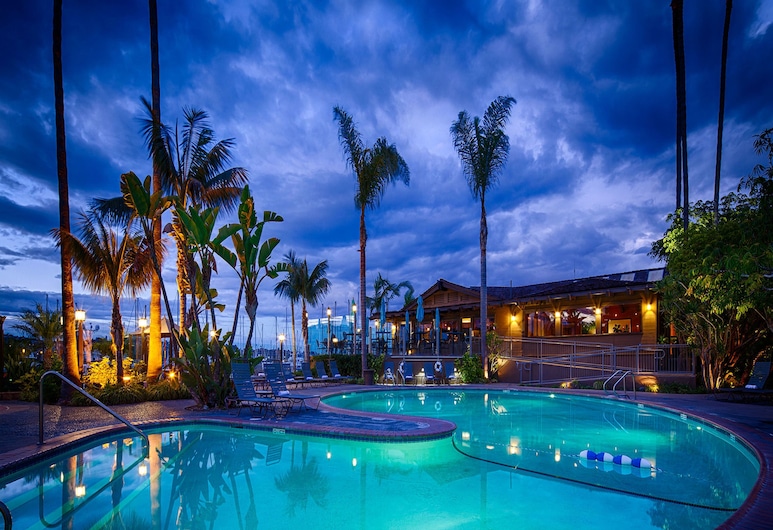 Located in the center of the narrow Shelter Island, guests at the Best Western Plus Island Palms have quick access to all Downtown landmarks as well as the Ocean Beach neighborhood.
Although looking palatial and glamorous from the outside, a world of kid-orientated fun takes place within. Seasonal evening entertainment is one particular highlight, normally consisting of a cast of characters kids will be familiar with from movies and TV.
Two sizable swimming pools and a whirlpool are the main outside amenities, in addition to tennis courts, a jogging path, and a fitness center. Guests can also explore the surrounding Shelter Island by hiring one of the resort's bikes and riding along the winding bayside pathways.
Feel free to maroon in at the Best Western's own private marina, and enjoy the sights of the basin lit up at night while dining at the waterside restaurant.
The complimentary breakfast buffet offered by the Best Western Yacht Harbor Hotel will perfectly set you and your family up for a day of Downtown San Diego leisure. Being within reach of the USS Midway Museum, the San Diego Museum of Art, and the Spanish Village Arts Center, the Best Western Yacht harbor is a top choice for a family of culture vultures.
After a long day of meandering around Point Loma and Downtown, you'll need comfortable accommodation for you and your family to recuperate, which is what the Best Western Yacht Harbor specializes in.
Providing such creature comforts as triple-sheeted beds, balconies commanding vistas of the Americas Cup Harbor, flat-screen TVs, and Wi-Fi, a stay at this Best Western will leave you and your family feeling completely rejuvenated.
The Country Inn & Suites by Raddison may be adult-orientated, but offers massive benefits for those vacationing with kids in tow. Children can stay totally free when sharing a room with parents (Dogs, too, if it's a pet-friendly holiday that you're embarking on!).
Rooms are spacious and accommodating to all, with a convenient living area in front of the flat-screen TV, making everyone feel right at home!
To make it all the more convenient for young families, you'll find a microwave and fridge inside the room, as well as a coffee machine to aid parents in getting up and at it.
The private pool area is particularly idyllic, with azure waters to cool down in on particularly hot days, and attractive palm trees providing some much-needed shade.
Priding itself in being amongst the most affordable downtown San Diego accommodations – and the most affordable in the Gaslight District – the Comfort Inn Gaslamp Convention Center provides comfortable, rudimentary living for families on a tight budget.
Despite its offer of a cheap alternative to the more opulent hotels in the area, each of its rooms comes equipped with all you would expect from a fancier hotel: extremely comfortable bedding, microwave, fridge, and Wi-Fi.
On top of this, the hotel lavishes guests with a complimentary breakfast each morning; You can expect the smell of Belgian waffles, sausages, and eggs to gently awaken your senses.
Of course, the Inn's location is also a huge plus, giving guests direct access to one of the city's most vibrant neighbourhoods – the Gaslight District.
La Jolla Cove – an epicenter for diving, snorkeling, and swimming. There are many hotels that offer families direct access to this wonderfully alluring cove, and the aptly named La Jolla Cove Hotel is one of them!
The rooms inside this hotel are amongst the swankiest you're likely to find in the whole of San Diego, with contemporary decor and artwork made all the more picturesque with broad windows looking out onto La Jolla Shores.
Watching the ebb and flow of the tide each morning, and filling your lungs with the fresh sea air on the attractive balcony, will definitely get you and your kids itching for some ocean fun.
When not out frolicking in the laid-back cove, guests can lounge in the hot tubs, heated pools, and on the rooftop gathering space – the ideal spot to watch the sun go down.
Within walking distance of key attractions, families can vacation in elegance at the US GRANT Luxury Collection Hotel. This Gaslamp Quarter staple has been welcoming guests for over a century now, mainly through offering a winning formula of location, style, and dedication to hotel tradition.
With its art deco aesthetic, your kids are guaranteed to be in awe at the sprawling palace they get to call their home during their time in San Diego. The suites perfectly reflect the grandeur of the building, with room for families of all sizes, and marble bathrooms for relaxing in.
Extensive amenities are available for parents and bigger kids, including dining out at the onsite Grant Grill, replenishing in the spa, or working out in the fitness center.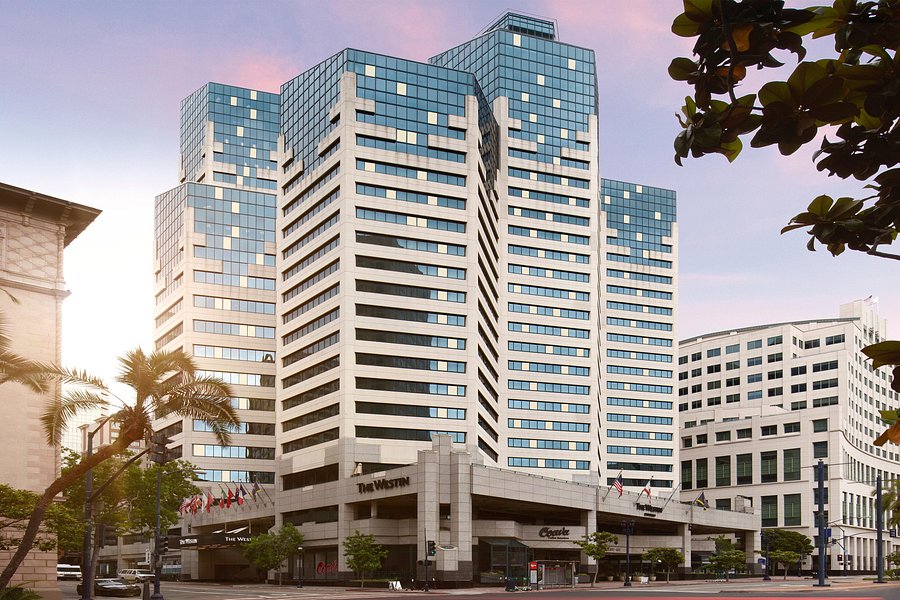 The Westin San Diego Downtown invites guests to fully discover the heart of the city, boasting a location at the center of the action. This 26-story building offers unparalleled views of all the most prominent attractions of San Diego's Downtown, being part of the city's iconic skyline itself, and standing as one of the eight buildings that make up the eye-catching Emerald Plaza.
One of the biggest attractions of the Westin is its alluring 3rd-floor rooftop pool, ideal for finding some quiet time during the day. An eco-conscious hotel, the Westin offers extra food at the restaurant for all who go without daily housekeeping.
Although the unique architecture of the building allows for a variety in room sizes and shapes, the amenities of each room are roughly the same, consisting of a 50″ flatscreen, a coffee maker, and the hotel's own-brand Heavenly Beds.
Choose from this DoubleTree Hotel's abundance of guest rooms and suites in order to find one best accommodating to you and your family. Mission Valley is the place to find all the must-visits of the city center, and with a trolley almost right on the doorstep of this hotel, your family's itinerary will be completed in no time at all!
You don't even have to rely on the trolly, with such San Diego highlights as the Fashion Valley Mall and the Riverwalk Golf Club very much within walking distance from the entrance of this DoubleTree.
Soundproof glass, a flat-screen TV, and a working desk can be found in every room – each of which, we can imagine, will come in handy in some way with particularly restless children! The hotel works around the clock to ensure maximum enjoyment can be attained, with a bar, outdoor heated pool, and 24/7 gym all open to guests.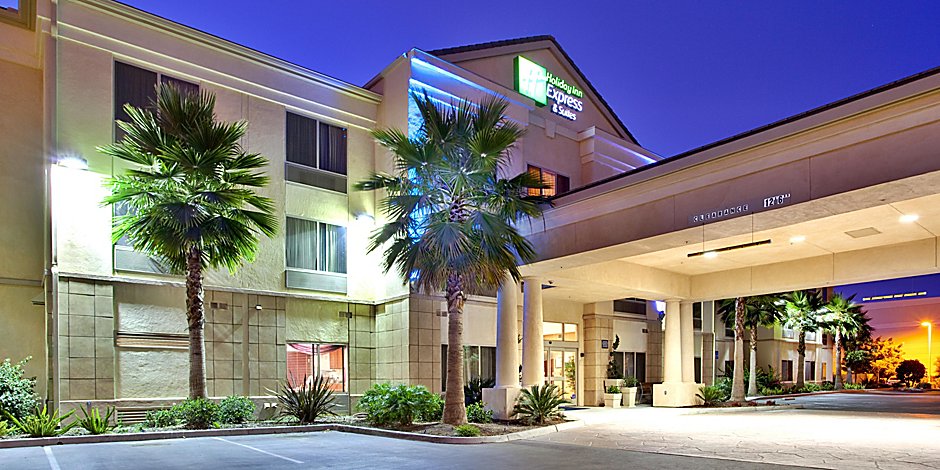 This San Diego hotel is a perfect family-friendly resort for those on a flying visit to the city, with 24-hour front desk service offered for convenience. A number of suites can be found throughout the hotel, each boasting multiple beds and a couched living area. Infant and rollaway extra beds are also available on the request, with a small charge required on the latter.
Like most Holiday Inns, you can expect a quiet atmosphere to this hotel, with a calm restaurant and bar area to dine and drink in. It's ideal for young kids' first time away, with a small outdoor pool to keep them entertained.
Although Otay Mesa may be slightly far out for you to conveniently reach Downtown, there are a number of interesting things to see and do in the surrounding area, being very close to the Mexican border.
Four generations of the Handlery family have owned this Mission Valley location and it shows in its top-tier family offerings. Choose from its range of rooms, some of which can be joined together, including the King Traditional, Double Traditional, King Premier, Double Premier, and Double Bed Accessible based on your family numbers and needs.
A cooling pool dominates most of the inner courtyard area, with plenty of chaise lounges to go around. Teach kids how to swim or get in and do lengths yourself, the Handlery Hotel offers all you could want from a traditional poolside escape.
A shuttle bus leaves regularly from the hotel to take them exploring types out to greater Mission Valley to soak up the culture, giving parents plenty of time to enjoy the jacuzzi, fitness center, or a bit of quiet time in the Postcards American Bistro. Alternatively, drop the little ones into the onsite babysitting facility.
Picture a quiet stroll down to Ocean Beach, San Diego, watching the sun set behind its imposing pier, and then strolling through some SoCal ambiance in the twilight, with its live music, beach bonfires, antique stalls, and brewpubs, back towards your hotel. This fantasy can become the reality of your San Diego trip -if you decide to stay at the Ocean Villa Inn, that is!
Looking out from your Ocean Villa Inn balcony you'll be able to soak up the bohemian vibes that permeate the Ocean Beach region. Kids are sure to appreciate the tangible difference of this side of the city and adopt the laid-back attitude by lounging by the Ocean Villa pool.
Particularly accommodating to families with pets, the Ocean Villa Inn features a dog washing facility and dog-friendly rooms, and is just a short walk away from canine heaven, Dog Beach!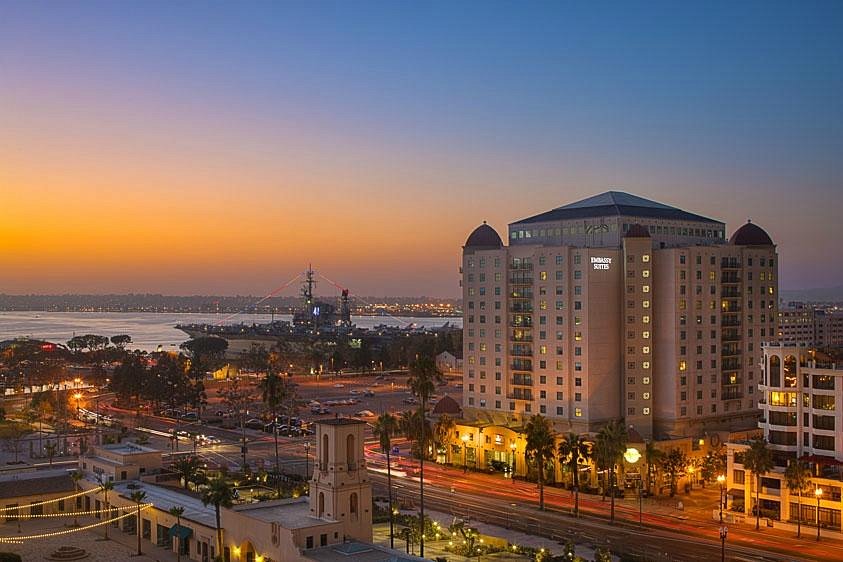 The Embassy Suites by Hilton in San Diego Bay Downtown is the perfect place to retreat after spending some time in the scorching Californian sun. Some kids don't take too well to the heat (we'd actually recommend traveling to San Diego in the Fall!) and this well-air-conditioned hotel, with its indoor swimming pool, is perfect for cooling down in.
A huge plus is the size of the Embassy Suites themselves, with every one consisting of at least two rooms, and enough beds to accommodate a large number of guests.
This family hotel can bring you anything you need, from high chairs and cribs to a children's menu in the restaurant. Make it down to the dining area early for free breakfast, and head out to San Diego Bay before it gets too hot!
San Diego's SpringHill Suites located in Downtown/Bayfront provides direct access to the San Diego Cruise Port Terminal, making it an ideal place to stay if your vacation is to consist of plenty of seaborne activity. A number of other points of interest can be found within its locality, including Seaport Village, hope to art galleries, restaurants, and even a carousel!
SpringHill Suites has its fair share of onsite amenities, too, most notably the Harbor & Sky Rooftop Lounge and Bar terrace, where hotel guests can spectate the beautiful San Diego Bayfront and surrounding Downtown skyline.
One of the oldest kid-friendly San Diego hotels, the Cosmopolitan has been a part of San Diego history for two centuries now. Kids will love the quaint display of 19th-century hospitality at this hotel, which can double up as a history lesson in Victorian-styled living.
Everything has been newly restored to roughly how the building would have appeared, with an attractive veranda that looks out onto the Old Town of San Diego. With only 10 vacancies, this hotel often fills up fast, so book well in advance.
One thing that certainly hasn't been well preserved is the hotel's culinary offerings, as guests can find a more interesting mix today than, we can presume, was served 2 centuries ago, with Mexican and more modern American dishes on offer. Basic burger and fries meals are available for kids, allowing for even the fussiest of eaters to enjoy dining at the Cosmopolitan.
The Old Town's attractions are probably the most kid-friendly out of any neighborhood in San Diego, with fascinating trolley tours, old-time candy stores, and Fiesta de Reyes, a music festival that takes place every weekend.
Liberty Station is the place to be for the latest in stylish stores, hipster bars, and slight museums, built on top of an old naval base. What better way to get to this cool district than via that Nimitz Bridge, which directly connects the Hampton Inn & Suites San Diego to Liberty Station.
With plenty of guest rooms and suites, the Hampton Inn is a convenient stopover spot for families, particularly if catching a flight from San Diego International Airport.
Looking out to Harbour Island Park, and with Shelter Island close by, this San Diego hotel commands cool views of the San Diego skyline and provides convenient access to some of this district's great outdoor wonders. The Liberty Station Park is worth exploring, especially with younger kids, given its Tot Lot Playgrounds, playing fields, and baseball court.
Another hotel with direct access to Liberty Station, TownePlace Suites San Diego Central is probably the most convenient for travel to and from San Diego International Airport, with shuttle buses running regularly between 5.00 am and 10.30 pm.
This doesn't mean that this hotel should only be considered for stopovers or flying visits, as it is located well enough to reach most of the city's must-sees for day trips.
TownePlace goes above and beyond to ensure each Suite in its San Diego hotel is equipped for family living. Fully functioning kitchens, work desks, big closets, and a living area are just a few of the key characteristics which define the rooms on offer.
The resort is also made for long stays, with a fully equipped gym and outdoor pool for recreational use, and excellent Wi-Fi to keep the family entertained.
This San Diego hotel certainly lives up to its name in all respects: can suite quality get much better than 2 rooms, featuring 2 double beds, 2 flat-screen TVs, and a living room area separated by luxurious French doors?
Also suggested in its name, Quality Suites San Diego SeaWorld Area puts you in the heart of recreational activity. Both Seaworld and San Diego Zoo can be reached in under 4 miles from the hotel's entrance, which also puts you a short walking distance away from Fashion Valley, Mission Bay, and Coronado Beach.
Coronado Beach is one of the most exquisite on the city's coast; 1.5 miles in length, the beach is defined by soft white sand, a turquoise-hued shoreline, and the iconic Hotel del Coronado. Here, kids can live out their ultimate family beach vacation!
Have you got movie buff family members to entertain, specifically of the Tom Cruise variety? Well, a stay at the Best Western San Diego/Miramar Hotel will put you right in the center of Tom Cruise's seminal 1986 outing, Top Gun, with a number of recognizable filming locations found in the surrounding neighborhood.
Cruise may not have graced the hotel itself, unfortunately, but he certainly set foot in the nearby Marine Corps Air Station Miramar and performed karaoke at the Miramar Officer's Club, both found within a short distance from this Miramar Hotel.
Whether you're here for the pilgrimage or not, the Best Western San Diego will certainly provide you with enough comforts to make your stay memorable. Namely, inviting king beds, flat-screen TVs, and a free breakfast each morning of your stay.
If you don't fancy staying at the Legoland Castle Hotel, but still want to delight your kids with some theme park action, the Best Western San Diego is a mere half-hour drive from the Dragon Coaster and other thrilling rides.
For a clean and comfortable stay within the locale of Kearny Mesa, check out the Hampton Inn San Diego. This hotel lives up to the Hampton standard, providing award-winning customer service, a variety of guest room sizes, 42″ TVs with an extensive channel selection, complimentary breakfasts, and a USA Today to read while dining.
The Internet can be enjoyed throughout the Inn, even while relaxing by the heated pool. It's a simple hotel, but sometimes simplicity is what a family needs to get the most from a vacation.
The Kearny Mesa area is worth exploring, with lots of interesting and unique experiences on offer for the littles. The nearby Family Fun Center is a safe bet when you've got the entire family to entertain, with batting cages, go-karts, bumper boats, and a mini-golf course all onsite.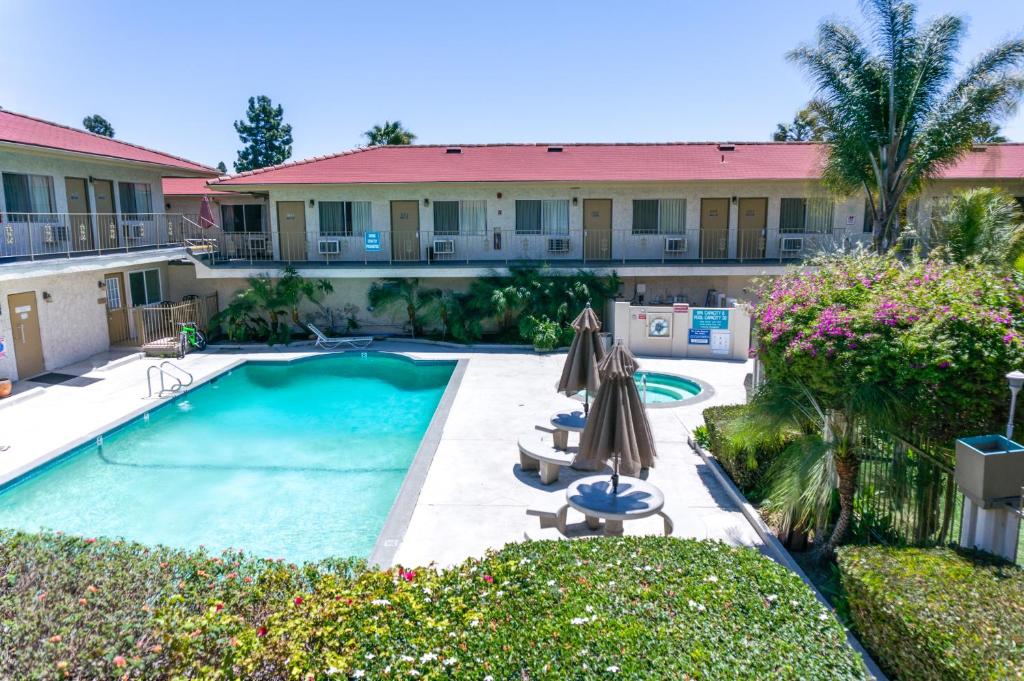 California Suites Hotel is suitable for any kind of vacation but ranks the highest amongst north San Diego hotels for families. Words often used to describe this Clairemont Messa locale include comfortable, hassle-free, convenient, and budget-friendly.
There's no catch with this simple hotel, with comfortable living quarters and balcony, swimming pool, outdoor tables, and chaise lounges, and dining area. To top it off, there's even a small hotter and spa area adjacent to the pool, allowing you and your family to experience San Diego vacation comfort whichever way you want it.
When the Californian sun abates, you can check out the numerous national parks that surround Clairemont Messa, including the Tecolote Canyon Natural Park and Nature Center, which is full of winding pathways that lead you around the sprawling golf course. Hiking trails and nature walks can also be found at San Clemente, the Marian Bear Memorial Park, and Mount Etna Neighbourhood Park.
For families who like to stay active while vacationing, the Sonesta Es Suites Carmel Mountain strikes a nice balance between providing high-energy recreational activity and also space for relaxed downtime. As if a basketball court, fitness center, and outdoor pool weren't enough, the hotel also has a whirlpool, which is perfect for relaxing and easing the muscles post-workout.
The hotel takes full advantage of its surrounding natural world, and offers hireable bikes to all guests to head out and traverse the vast Downtown area of San Diego.
Most of the hotels' 124 suites come with a pool-facing balcony area, a fitted kitchen area, and extra bedding. If you don't feel like cooking in the room, you can head down and use the outdoor barbecue area, cook up a feast, and watch the sunset with your family. The hotel covers breakfast, with a free warm morning meal to start your day.
In Summary
When it comes to San Diego hotels, your choice should best reflect what you and your family want out of your vacation on the Golden Coast. Like many other cities in California, it can be extremely trying for families to make their way around San Diego county and find time for all that they had planned.
Even for families with a car, the freeways are often congested, as every other motor wants to get to the same attraction as you do!
In order to avoid boredom, tiredness, and, ultimately, frustration, you should opt for a hotel or resort that's either close enough to the key attractions you plan on visiting or is well connected via public transport. Creating an itinerary and cross-referencing it with the hotels detailed in this article would be the best way of narrowing down your options.
The best family hotels in San Diego presented in this list each hold their own merits, and are situated in a specific part or neighborhood of the city. For example, pick one on the coast, such as La Jolla Cove Hotel, if your holiday plans revolve around beach activity: paddleboarding, surf lessons, and fishing.
On the other hand, pick a San Diego resort closer to Downtown to be closer to the city-center sights and sounds: such as the San Diego Convention Center and Petco Park. Wherever you choose, you're sure to have a great vacation in sunny San Diego!
More about our TFVG Author
A seasoned traveller, Dad, and avid sports tourist, James foundered The Family Vacation Guide to share his expert vacation experiences- especially when it comes to being a travelling family man.
Featured in Travel articles such as Travel + Leisure, TripSavvy and SFGate, you know you're reading some of the best vacation tips online.