Most parents will know that once you have children, it can be hard to find time for your old favorite hobbies. This is why a lot of people try to incorporate their little ones into everything they do, and it can be a successful way of getting things done, as long as you plan well.
One activity that you may have had to give up since having children is hiking. This can be such a fun way to work out and something that many people enjoy.
There is nothing better than getting outdoors, under the sun, and breathing in the fresh air to explore some of your local natural landscapes. The San Francisco Bay Area in California is a wonderful one for hiking, but this may seem impossible with children in tow.
Luckily, there is a good range of kid-friendly hikes available across the San Francisco Bay Area. 
While these kid-friendly hikes may not compare to the rugged terrains you used to explore, they are a fun way to explore the wonders of San Francisco and a way to bond with the whole family while doing something you love.
What Makes a Hike Kid-Friendly?
For many of us, hiking is a fun but arduous activity. It requires strength and stamina to get through, so it can be hard to imagine taking your littles ones along with you when you choose to go hiking.
A family hike is the perfect way for the whole family to spend some time together in the great outdoors. It may still require stamina, as these trails can be miles long, but the paths will be smooth and paved to make things easier for little legs.
In this guide, we are going to be sharing the best kid-friendly hikes as recommended by local parents.
These will be trails, parks, and pathways that are paved, so they offer a smooth terrain. They will be interesting locations that offer great views of San Francisco and will make it easy for you to keep your children entertained along the way.
If you are looking for a way to get your kids outside more and are missing your hikes, then check out these kid-friendly trails, which are accessible across the Bay Area.
The Top 10 Kid-Friendly Hikes In The Bay Area
With recommendations from local families, we are going to share the top 10 kid-friendly hikes that you can enjoy with all the family.
Whether you have a weekday off or want to spend the weekend getting outside, these hikes will be a great thing to share with your little ones and offer a chance to explore the beautiful sights around San Francisco.
Presidio Ecology Trail
This is a beautiful 1.4-mile walk that will take you through the seasonal wildflowers of the Bay Area. It is accessible without leaving the city but will make you feel as though you have traveled further afield when you see the sights in front of you.
You can access the Ecology Trail near the Arguello Gate in Presidio to see the towering redwoods, oaks, and a plethora of wildflowers based on the season.
The kids will be endlessly entertained with bird spotting and spying the butterflies that appear along the hike.
For even better views, take some time at the trail end where the Inspiration Point Overlook is located to see the stunning sights of San Francisco Bay, Alcatraz, and Angel Island.
Glen Canyon Park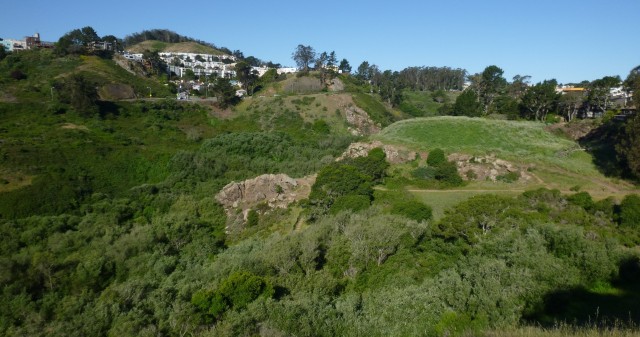 Glen Canyon Park is one of the most underappreciated natural gems in the Bay Area. This is a shorter hike, at 0.9 miles, that can take you through 70 acres of breathtaking landscapes that will interest both you and the kids alike.
This is a beautiful location for a casual stroll on a summer afternoon, and it is dog-friendly.
For your active little ones, there are plenty of craggy outcroppings of rocks for them to climb and explore as well as the Islais Creek. This is a small, free-flowing creek that makes for a great place for kids to explore.
There is some great wildlife to learn about in this area too, and if you are lucky, you may be able to catch a glimpse of Great Horned Owls, Red-Tailed Hawks, and Bluejays.
Kule Loklo Trail, Point Reyes, North Bay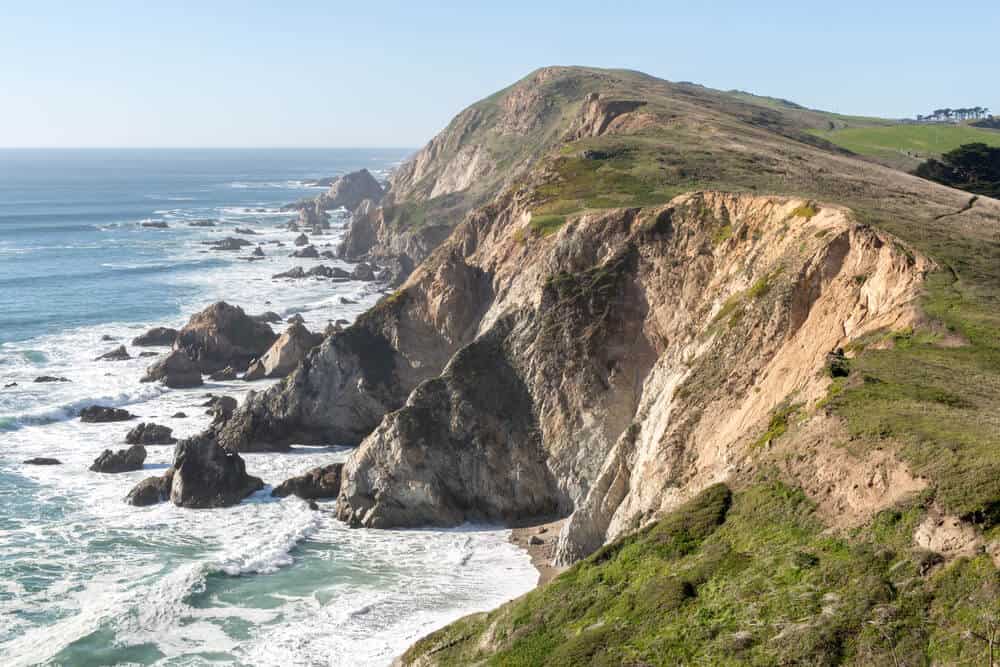 If you want to combine your hike with a little history lesson, Kule Loklo Trail in Point Reyes is a wonderful adventure for the family.
The trail features various information cards and placards explaining the history of the native people to this area, the Coast Miwok people. This stunning 0.8-mile trail is a great way to talk to your little ones about the past and may help you learn more about the Bay Area.
This hike takes you through grassy meadows where butterflies and birds can be spotted.
It is an easy trail for children, which leaves them with plenty of energy to explore the reconstructed Miwok village that has been set up at the trail end. This can be a fun area for them to explore and play, but make sure your children are respectful as this is considered to be a sacred area by the Coast Miwok people.
Clarkia Trail, Edgewood Country Park, Peninsula 
Based in Redwood City, the Clarkia Trail of Edgewood Country Park is a family-favorite hiking spot for locals and tourists alike.
It offers a great diversity of grassland and woodland trails, ensuring your active kids will always be entertained and it is easy for kids of all ages to explore.
The 0.8-mile trail is flat and easy for children of all ages to walk along and makes for a great family day out because of this. There is a variety of wildflowers and some wildlife to explore as you make your way through the grassland.
Before your hike, check out the 'What's Blooming This Month' page at the Friends of Edgewood website, as this will show you what wildflowers are currently blooming. You can create a game with your children to be the first one to spot certain species as you hike, based on what flowers are available at the time.
Purisima Creek, Redwoods, Peninsula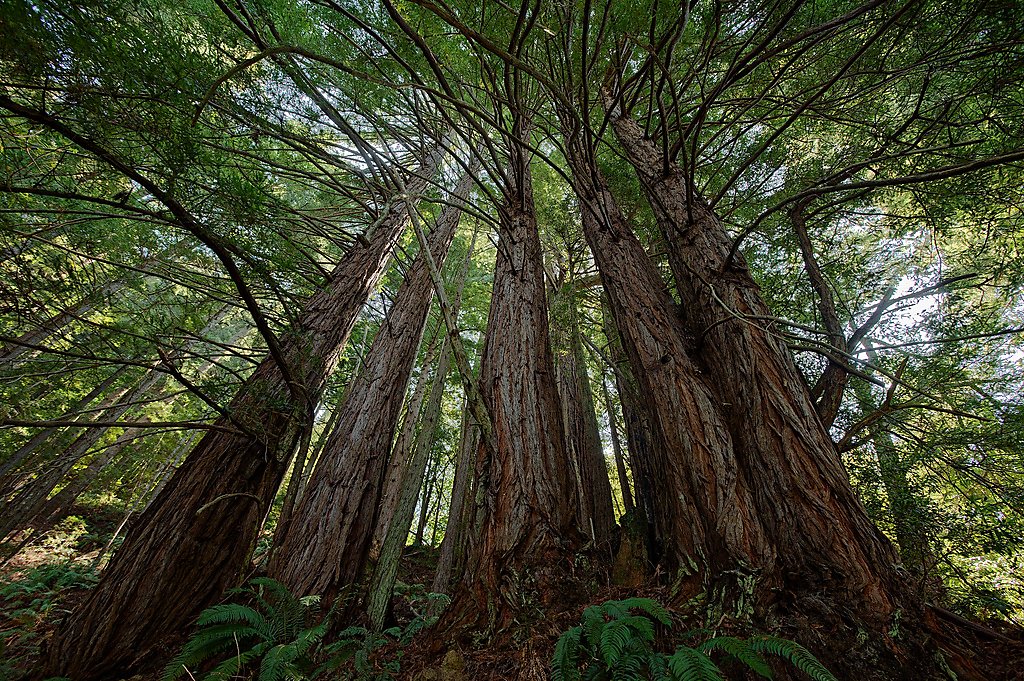 This is a magical hike for children of all ages and is located just beyond Half Moon Bay, Peninsula.
At this trail, you can enjoy the amazing sights and grandeur of redwoods without battling the crowds of tourists. This is an easy hike and is a suitable trail for people of all abilities, which is why it is a great one for children.
The little ones will be able to run free and explore some of the amazing sights throughout the woods, including the creek which runs along the trail. For those with an interest in wildlife and animals, they will be so excited to see the banana slugs which live in the shaded redwood grove along with other insect families.
You can spend a whole day at Purisima Creek, exploring the redwoods and hiking, as there are picnic tables and restrooms along the way. Both of these are wheelchair accessible and are easy for people of all abilities to use.
Batteries To Bluff, Presidio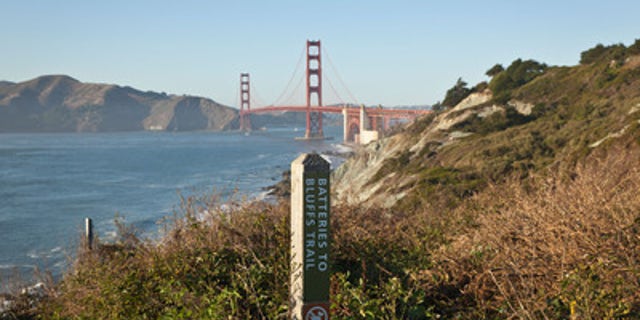 The Batteries To Bluff trail is a popular one with families of all ages because of the incredible views it provides along the way. You can get the kids to keep a lookout for the Golden Gate Bridge as they make their way along the trail, as well as observe the breathtaking coastline throughout.
As this trail takes you along the coast of San Francisco, there are plenty of pitstops for you to take to offer some beach fun to the little ones. You can also investigate the various plants and wildflowers which bloom along the trail, attracting a variety of insects and wildlife during particular seasons.
While it is a popular trail, the vast size of this hike means that no one spot is overly busy, so it is easy to navigate with the kids.
The trail starts on Lincoln Boulevard and makes the way along to Marshall's Beach via Battery Crosby.
Grand View Park and Mosaic Staircases
Like many of the other hikes that you can take in San Francisco, you will very likely be going uphill at some point, and the Grand View Park is no exception. In fact, this hike, in particular, is all uphill, but it is still accessible to children as the trails are smooth.
On this hike, you can see the incredible mosaic staircases which are based in the Inner Sunset Neighborhood. They are known as the 16th Avenue Steps, and there are also the Hidden Garden Steps, which are lesser-known but still beautiful.
These steps make for a great photo opportunity and are within blocks of each other.
The 16th Avenue Steps are the most popular, and you can expect this spot to be crowded with tourists and locals alike, but the Hidden Garden Steps tend to be quieter as they are less known.
Both steps can be taken in the same hike, and there is another staircase to explore if you continue on the trail following this point. Unlike the mosaic staircases, this set is nothing special to look at, but this does not mean it should be ignored.
The view from the top of these stairs is incredible and something you should not miss when in the area. They lead to Grand View Park, which offers a 360-degree view of San Francisco, which is incredible, so make sure to give it a go.
As there is a lot of steps, this hike is best suited for older children who are more independent in their walking.
Lands End and Sutro Baths, Presidio
This is a great hike that will take you from the Lands End Visitor Center down to the ruins of the Sutro Baths and back up to the coast.
There is a lot to enjoy on this trail, and it is a wonderful area for children as there is much to explore. The Sutro Baths, in particular, are a great thing to see, and the little ones can climb on them, as long as they are careful. Do not let them get too close to the coast edge for fear of landslides, but the ruins are a fun experience nonetheless.
Along this trail, you will see stunning coastal views, complete with windswept trees and a cave that opens right out into the ocean. Depending on the season, you may be able to spot dolphins frolicking in the ocean, which is framed by the Golden Gate Bridge.
This is a very accessible hiking trail, with parking available at the Lands End visitor center as well as restrooms. There is also a café and gift shop at the Visitor Center but make sure to check opening times before you arrive to avoid disappointment.
Crissy Field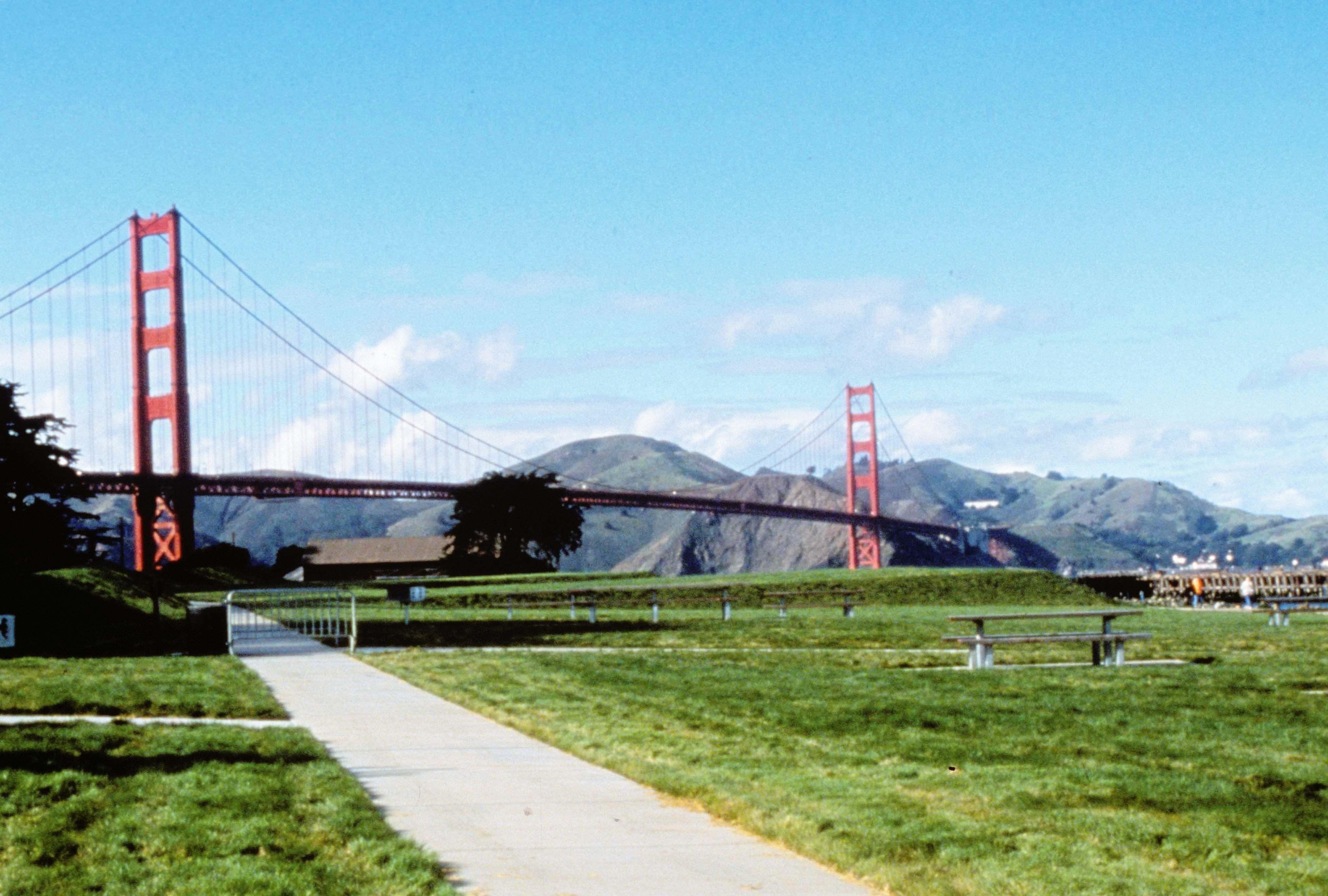 Hiking along Crissy Field gives you incredible views of the Golden Gate Bridge and provides a different perspective than the other trails on this list.
This trail will take you along the waterfront and lead towards the Golden Gate Bridge.
It is a smooth and flat hike that is wheelchair accessible, as well as being suitable for strollers. If you choose to go off the path, there are plenty of grasslands for the kids to run around and explore as well as the beach to play on along the way.
For the best path, start at the Palace of Fine Arts and head towards the water, where the Golden Gate Bridge will open up in front of you. This hike will take you past the Crissy Field Marsh, along the beach, past the Warming Hut and Torpedo Wharf, and up to the Golden Gate Bridge.
If you are lucky, you might be able to spot sea lions at Torpedo Wharf along the way.
North Beach, Telegraph Hill, and Embarcadero
If you want to try something different with the kids, then this is a city trail that is one of the best ways to explore the metropolitan spots of the Bay Area.
This hike can get a little steep at some points, but it should be suitable for your children, and it is one that many people do with their families. It is a great way to take in some of the best views of San Francisco without having to go out in the sticks.
One of the best sights this hike takes you to is from the top of Coit Tower on Telegraph Hill.
Telegraph Hill is accessible by public paths, but make sure to check the opening times for Coit Tower before planning your trip, as it can vary based on the season.
Getting up to Telegraph Hill is perhaps the steepest point of this hike, so make sure you are prepared and take things slow if needed. The road is one of the most iconic sights of San Francisco as it is one of those crazy steeped streets that is used to show the state on TV, making it a great sight for all the family to enjoy as you walk.
How To Hike Safely With Children
The majority of kid-friendly hikes in the Bay Area are in public spaces, meaning you will always have access to essentials on the way. This is great news for families with small children as taking them anywhere can be a stressful experience as you never know what to expect.
While you should have access to most of the things you need when hiking in these kid-friendly spots across San Francisco, you must go prepared as well.
Hiking is never complete without a backpack of items, and the same is true when venturing out with children. To make sure you have a good time with the kids and are safe along the way, you should consider packing the following items to take with you:
Water and juice bottles
Snacks or take a picnic to eat at one of the beauty spots
First aid kit
Sunscreen, sunglasses, and a sunhat
Rainjacket
There is a lot to enjoy along these hiking paths in the Bay Area, but you can make your trip even more special by planning some activities along the way.
You can create a scavenger hunt list of plants, insects, and other sights like the Golden Gate Bridge for them to focus on as you hike. You can find various materials online based on the hiking trails you choose that will show the seasonal flowers and wildlife you can expect to see on your way.
The game aims to make hiking as fun as possible for kids and to keep them entertained along the way.
Summary
Kid-friendly hikes are a great way to get outdoors with the family and are a perfect excuse to explore the land around you.
With some planning and consideration, this can be a fun activity that you can do all day long, and children of all ages can enjoy the great outdoors along these hiking trails.
More about our TFVG Author
A seasoned traveller, Dad, and avid sports tourist, James foundered The Family Vacation Guide to share his expert vacation experiences- especially when it comes to being a travelling family man.
Featured in Travel articles such as Travel + Leisure, TripSavvy and SFGate, you know you're reading some of the best vacation tips online.