One of the most crucial aspects of organizing a trip to Los Angeles, California, is deciding where to stay. The city is home to a range of attractions and activities for tourists. You'll find amazing beaches, top-notch eateries, exciting theme parks, museums, and diverse cultures.
When planning an action-packed getaway for the whole family in Los Angeles, deciding where to stay might be challenging. However, irrespective of where you opt to base yourself, you'll have the opportunity to visit the city's many attractions. To make your planning less stressful, we've compiled a list of the best places to stay in Los Angeles.
1. Downtown LA
In terms of accessibility, Downtown LA is unbeatable. Visitors arriving by plane will have a short trip from LAX before starting their itinerary. There's a never-ending supply of thrilling activities in the neighborhood, and public transportation is readily available. Therefore, there's no need to bother with car rental.
Downtown offers a variety for tourists, rendering it difficult to solely classify it as a family-friendly destination or a late-night hotspot. Throughout the day, you may explore the busy neighborhood while enjoying Los Angeles' rich history.
Investors have transformed ancient school buildings into trendy restaurants and upscale retail establishments. In addition, there are many museums to explore, including:
The well-known Grammy Museum
The Broad
You can quickly get from point A to point B and see all the city's top sights by taking a bus tour or public transport. However, if you prefer the hustle and bustle of the city center, you'll be happy to hear that the downtown area is pedestrian-friendly.
Most of these destinations are within a short distance of one another and feature parks, street performers, and food trucks in their immediate vicinity. You'll experience the neighborhood's diversity, evident in its nightlife scene. You can also visit the Staples Center, the legendary Los Angeles Lakers home, and underground music venues.
If you're just in Los Angeles for a short while, consider staying in Downtown Los Angeles. There's a lot to see and do there, and it's also convenient to get to other popular neighborhoods like Hollywood and Silver Lake. Moreover, there are multiple reasonably priced accommodation options.
On the negative side, Downtown LA is close to the notorious area of Skid Row, which is not a great spot to hang out. Parking is difficult to find, so if you bring your car, you'll need to plan ahead or be prepared to circle around looking for spots.
2. Hollywood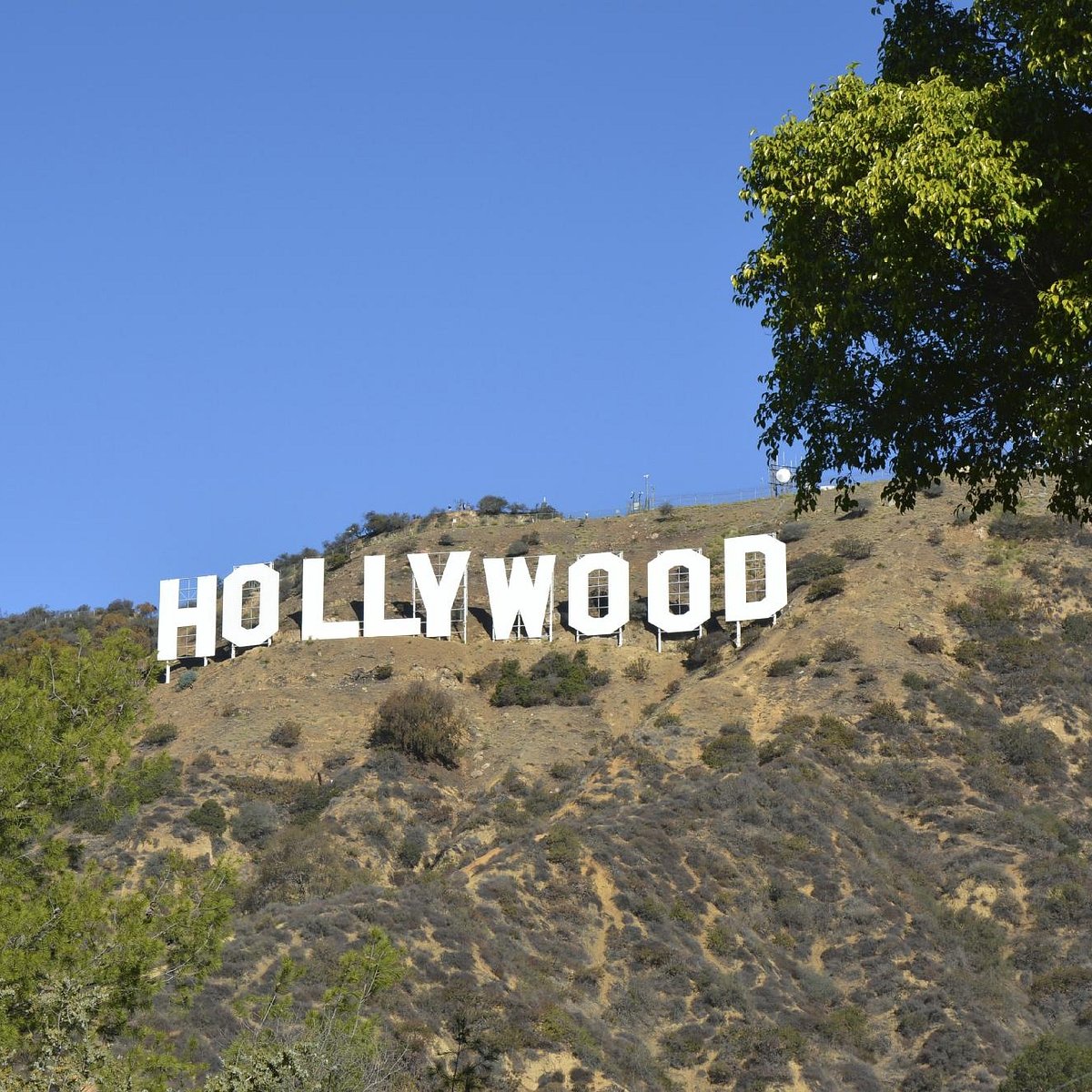 There's a good chance that you have heard of this place before. Hollywood is a good option for first-time visitors to Los Angeles. Located at the base of Hollywood Hills, the neighborhood has must-see landmarks, restaurants, and nightlife options.
Here, you'll find popular attractions like:
The Hollywood Walk of Fame
The stunning Hollywood sign
Griffith Park
The neighborhood's nightlife scene caters to every taste and budget, with countless fantastic restaurants, cafes, bars, and clubs.
Thinking about a lavish lifestyle is only natural whenever you hear "Hollywood." Still, despite its breathtaking scenery, the city's section is not as glamorous as it appears in the movies. It might come as a surprise, but it's easy to get excellent low-cost lodging options in the neighborhood.
You can board the convenient Metro Red Line at the Hollywood & Highland station.
Typically, a city's downtown area is said to be its most central location. However, staying in Hollywood places you in a more advantageous position than if you were to stay in Downtown LA, which has the finest access to public transportation. You can head east into the city or west toward West Hollywood and the stunning Pacific Ocean from your accommodation.
On the other hand, basing yourself in Hollywood comes with its share of inconveniences. Since it attracts so many visitors, it fails to live up to visitors' expectations of a genuine local experience, and there are tourist traps everywhere. That's particularly the case with the Walk of Fame, where you'll find huge crowds at any time of day.
Although most clubs are downtown, Hollywood and the trendy neighborhood of West Hollywood are Los Angeles's most popular and exciting party destinations. When you include the enticing food trucks and countless iconic attractions, it's worth fighting through the crowds.
3. West Hollywood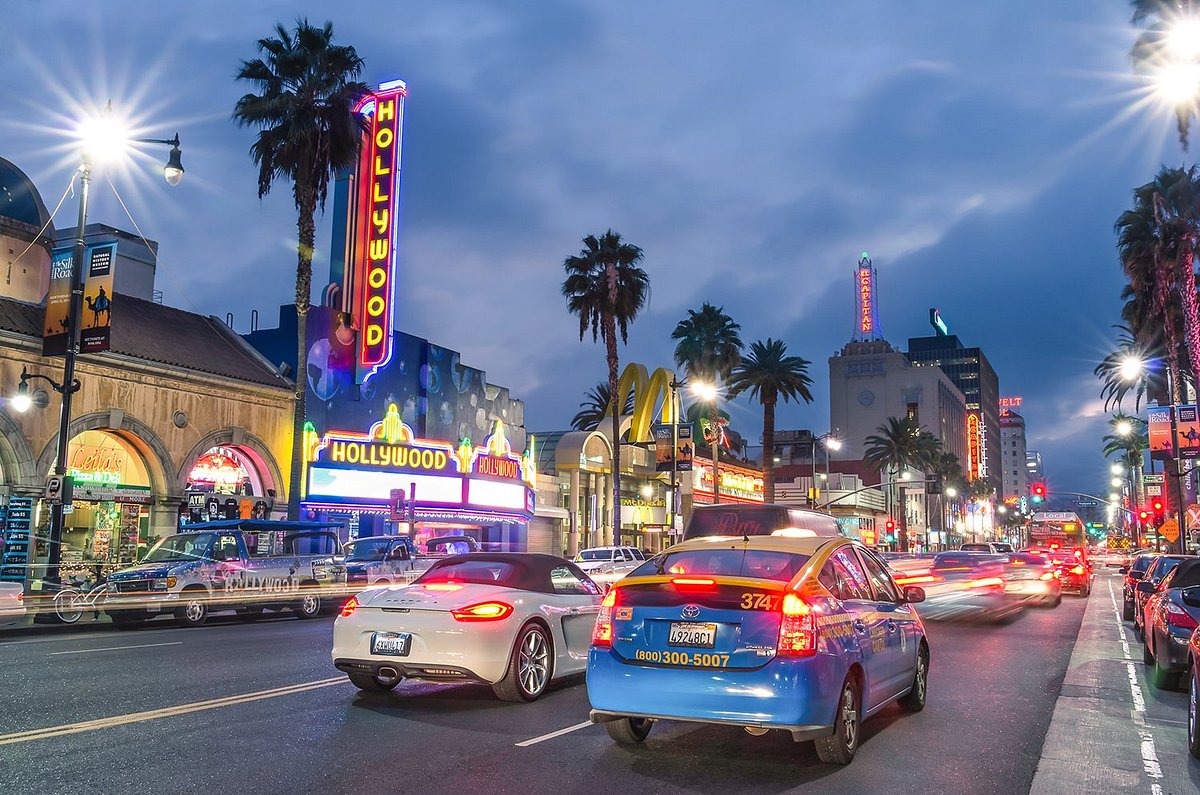 West Hollywood is one of the nicest neighborhoods in Los Angeles because it is close to the city's top attractions. Furthermore, it boasts a number of its must-visit landmarks. It would be best if you considered staying here to experience Hollywood with a touch of the real Los Angeles.
You can escape the hustle and bustle of the city's main highways and enjoy the neighborhood's soothing residential feel. You'll have the opportunity to catch a deep breath while feeling a world away from what makes Los Angeles what it is today.
You can also head to the Sunset Strip, a 1.5 miles iconic stretch along Sunset Boulevard, joining Hollywood and Beverly Hills. Along the stretch, you'll see lively comedy clubs where well-known entertainers turn up without prior notice.
Staying near the Sunset Strip may make or break the Los Angeles experience. It all depends on how much you enjoy long and unpredictable nights.
During the day, you'll have an opportunity to experience why West Hollywood is the city's happiest neighborhood. Melrose Avenue is home to many stylish shops, cafes, restaurants, and breathtaking architectural designs. Thanks to Los Angeles' famous culinary scene, there's no shortage of informal and fancy places for your family dinners.
Furthermore, if you're an early riser, you can always visit some of the famous farmers' markets in the area. Other must-visit attractions include Runyon Canyon Park and the Los Angeles County Museum of Art.
4. Santa Monica
Santa Monica is the place to be if you're looking for easy access to the beach. In addition, the reverse commute makes navigating the city much easier because it's on the western end.
The coastal neighborhood is a popular tourist destination thanks to the mix of reality stars, surfers, and hippies who live there. Although the beach is the major attraction in the area, visitors may also enjoy other activities.
The renowned Santa Monica Pier is lively, with arcades, boutiques, outdoor movie theaters, and live entertainment. There's a family-friendly aquarium directly below it, complete with informative talks and interactive activities.
One of the fun neighborhoods in the greater Los Angeles area to explore on a bicycle in Santa Monica. The city has a bike action plan and a bike-sharing program. It's also notable for being one of the few places where scooter-sharing businesses are legal.
In addition, the Santa Monica Farmers Market is a fantastic place to visit. Here, you buy fresh produce from the neighborhood's reputable farmers. The stretch along Montana Avenue is a favorite for most tourists since it features a wider selection of clubs, eateries, and shops worth checking out.
The 25-acre Palisades Park is another fantastic option for outdoor recreation. It offers breathtaking views of the ocean, and hiking and bicycling trails.
Don't forget to check out:
The Museum of Flying
Tongva Park
Palisades Park
You should also take the kids to ride the Ferris wheel. Furthermore, if you only want to come here for the day, you can board a train from Downtown LA.
However, Santa Monica is known for its high hotel rates because the nearer you are to the water, the higher the price. Therefore, visitors looking to save money should consider staying in the neighboring Venice Beach. You can also head to Muscle Beach to see bodybuilders flex their muscles in front of thousands of onlookers or to Venice Canals to witness ducks.
When figuring out how to get around Santa Monica and the surrounding area, there are some things you should be aware of. The Santa Monica Freeway (Interstate 10) tends to be very busy. It'll take some time to get to Downtown LA, Silver Lake, and the city's east side. If you're going to make the trip, it's best to group the areas.
Parking is a headache here, so if you plan on bringing your car, be ready to spend money on parking. If you're going to use public transport, the Big Blue Bus is readily available. There are also Santa Monica Metro stations such as Downtown Santa Monica, 17th Street/Santa Monica College, and 26th Street/Bergamot.
5. Venice Beach
Venice Beach is Santa Monica minus the high price tag, boasting the same white sand beaches and countless palm trees. The coastal community should be a top choice for tourists seeking an affordable place to stay in the city. It's where the unique Los Angeles vibe mixes with a more vibrant bohemian feel.
Boardwalks, similar to those in Miami, connect the city with the open beaches, and people on bicycles, roller skates, and inline skates float by in a Californian style.
The neighborhood offers an exciting vibe, which might be why plenty of beautiful hotels exist. That permits you to enjoy the beach without breaking the bank. You can stay in a clean, safe, and comfortable hostel or dorm room for as little as US$40 per night.
If you arrive by plane, you'll be minutes away from your base in Venice Beach. If you want to go sightseeing in Santa Monica, it'll only take 15 minutes to drive north, but you'll need approximately 40 minutes to get to the huge city center and Hollywood, depending on the traffic. However, if a beach vacation is what you're after, you don't need to leave the neighborhood.
You may visit the Mosaic Tile House and take a boat ride through the Venice Canals. You can also go shopping on Abbot Kinney Boulevard and Main Street, where you'll find a range of unique boutiques that will have you looking like a local in no time. However, you'll likely spend most of your time on the city's world-famous beach, known for its golden sand and clear waters.
One of the reasons why the three-mile beach seems endless is because it continues until it transforms into Santa Monica Beach. Besides sunbathing and swimming, visitors to Venice Beach can also enjoy:
Fishing off the Venice Beach Fishing Pier
Skating at the Venice Skate Park
People-watching along the two-mile Venice Beach Boardwalk
Because Venice Beach is easily walkable, you should spend as much time there as possible. However, if you're looking for a good deal, you'll need to book in advance because the accommodations tend to fill up quickly.
Culver City Bus Lines, Santa Monica Big Blue Bus, and 333 Metro Bus are the most convenient ways to travel between Venice Beach and other regions of Los Angeles.
6. Silver Lake
Silver Lake is adjacent to Echo Park and neighbors Chinatown and Downtown LA. There are fantastic restaurants, unique boutiques, and unknown gems to explore because the place primarily caters to the local community. There's just one lodging option here that's not a vacation rental, and you should stay away from them in Los Angeles.
Before deciding to stay here with your family, you should know that Silver Lake is the city's modernization center. The neighborhood's high demand and consequent higher rents have driven out permanent residents in favor of those looking to refurbish their apartments into short-term rental properties or establish new trendy boutiques.
If you don't feel at ease with the modernization, your best bet is to search elsewhere. Staying at the hotel is recommendable over a short-term rental, which removes much-needed permanent residences from the market for the benefit of landlords. Besides that, Silver Lake is ideal for exploring neighboring areas like Downtown and Hollywood.
The area around the reservoir is far more attractive and calmer than Sunset Boulevard, which has many traffic lanes.
You'll get the opportunity to experience Los Angeles's renowned coffee scene. Silver Lake is a trendy residential area, so the locals take their coffee seriously. Some of the most famous joints include Intelligentsia and Dinosaur Coffee. Furthermore, the Stories Bookstore is open for browsing. Here, you'll discover everything from literary classics to old epics.
You may also take in some of the city's finest vistas on foot in Elysian Park. There's a location in Elysian Park known as "the Secret Swing," which offers a perfect viewpoint of the city. It's also among the most famous places to capture Instagram snapshots.
Even though it's a moderately difficult trek, the rewards are well worth it once you reach the peak. The swing has a history of occasionally disappearing, so you should prepare for the possibility that it'll not be there when you're around.
Head to the Silver Lake Farmers Market to buy fresh, local produce when you're not hiking. The market is accessible on Tuesday evenings and Saturday mornings.
7. Beverly Hills
Staying in Beverly Hills is your best bet if you're looking for a luxurious experience. Guests at the city's most expensive hotels will have the opportunity to walk on the same streets as America's renowned personalities. Beverly Hills is a small part of Los Angeles, between West Hollywood and Santa Monica.
It's a small area, yet it's widely recognized as one of the classiest and wealthiest in all of Los Angeles, if not the country. Santa Monica Boulevard cuts across the middle of the town. You'll find luxury accommodations to the south while the wealthy populate the hills to the north behind high walls and priceless gates.
Among the most popular things to do in Beverly Hills is hopping on a bus and spotting the homes of your favorite actors, musicians, and TV personalities. In terms of shopping options, the neighborhood is hard to beat. Along Rodeo Drive, you'll come across high-end and international brand names lining stunning buildings and pedestrian walkways.
Some of the most famous estates in the area include:
Greystone Mansion
Greenacres
Misty Mountain
Over the last four decades, the Greystone Manor has been a filming ground for many movies and TV shows.
When you need a break, you may also stop at one of the excellent eateries in the area. There is, of course, a premium price to pay for this. Because there are only a few low-cost accommodations in Beverly Hills, you might be better off staying somewhere and visiting the neighborhood during the day.
It might be challenging to navigate the neighborhood without a car. Beverly Hills' broad roadways and gated communities are more suited for cars than for people on foot. There are no subway stations in Beverly Hills. Nevertheless, the 704 Rapid bus at the corner of Santa Monica and Wilshire provides an easy alternative route to Union.
Typically, Beverly Hills is known more for its status as a residential neighborhood than as a tourist destination. But there's a lot of glamors to take in as you cruise around winding lanes lined with luxurious homes.
8. Beverly Grove/Fairfax
The areas around Beverly Grove and Fairfax in Los Angeles are fantastic. The convenient location renders it a first-choice recommendation for friends and families who wish to visit various attractions across the city. Most sites are within a half-hour to an hour's drive if you collide with normal traffic conditions.
The neighborhood is home to many restaurants and some of the most upscale accommodations in Los Angeles. You'll also find trendy boutiques and high-end designer stores. If you opt to visit here with your kids, you can rest assured that you'll have no trouble locating whatever you require throughout your stay.
The Grove becomes a delightful West Coast paradise over the holidays. The Los Angeles County Museum of Art and the Page Museum should be the first must-visit attractions on your itinerary. You'll also find the famous LaBrea on the short and scenic footpath between the two museums.
After a long day, you can spoil yourself at one of the neighborhood's many restaurants or relax in a movie theater. And you don't even need a car or to walk for more than two miles. If your movie theater has superior seating options, they're worth the extra cash.
9. Westwood
Westwood is a vibrant center where Los Angeles's diverse cultures and the world come together to form a fantastic marketplace and recreational district. The University of California, Los Angeles (UCLA) presence in the Westwood neighborhood's landscape is mainly responsible for the area's unique vibe.
Seeing a movie at the renowned Fox Theater is one of the activities that will offer you Westwood's authentic experience. The theater has been there since the 1930s, serving as a premiere of countless classic films. In case you're around the theater on the weekend, don't be shocked to see a red carpet laid out.
The Hammer Museum in Westwood is a fantastic destination for anyone interested in art. The free museum's collection is well-selected and includes works by artists such as Degas and Monet. You can also visit the Fowler Museum on the UCLA campus to view diverse, top-notch exhibitions by artists from Africa, Asia, and America.
Other must-visit attractions in Westwood include:
The Planetarium at UCLA
The Thursday Farmers' Market on Broxton
The Geffen Playhouse
Your visit to the neighborhood would be incomplete without waiting in line with students, professors, and townspeople for a world-famous ice cream sandwich at the legendary Diddy Riese.
Among LA neighborhoods, Westwood has some of the best public transportation access. Three main bus transit systems provide access to the regions in and around UCLA and Westwood Village.
In addition, you can catch the Los Angeles Metro lines 2, 20, 302, or 305. Because Westwood has more of a "college town" atmosphere, staying here is less intimidating than in some of the city's Hollywood-centric neighborhoods. Although Westwood's lodging options are few, you may expect to find middle-range luxury hotels and boutique accommodations.
10. LAX
Some people flying to the West Coast prioritize finding lodging close to Los Angeles International Airport (LAX). LAX is in Westchester, situated 18 miles southwest of Downtown Los Angeles. You'll also find Loyola Marymount University and Otis College of Art and Design in the neighborhood.
Los Angeles International Airport has no hotels on the grounds, but there are many affordable options within a short shuttle ride. Unlike most other cities, there's relatively less demand for airport hotels in Los Angeles. That's due to major warehouses serving the aviation sector in the areas surrounding the airport.
11. Chinatown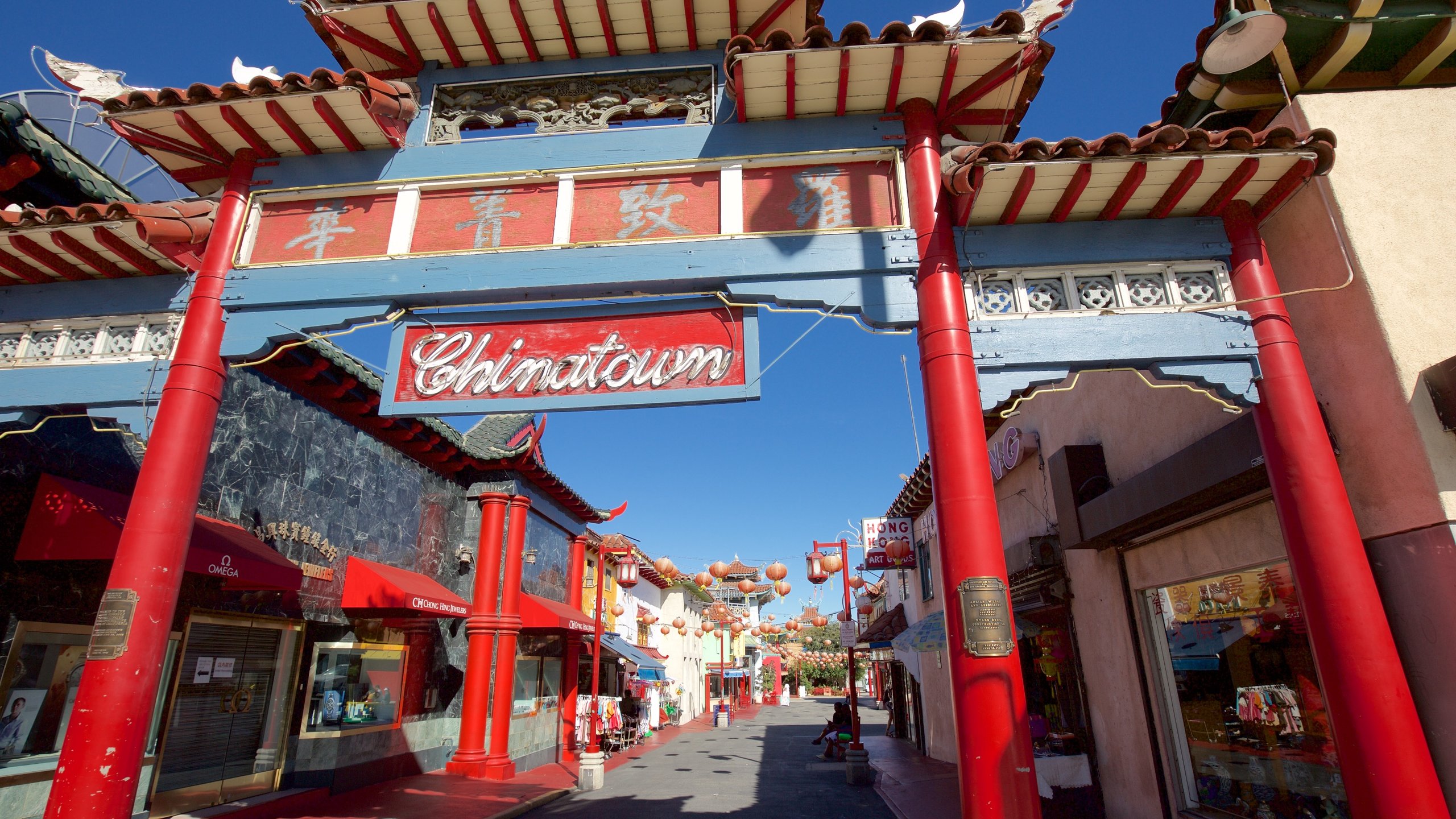 If you're searching for somewhere to stay in Los Angeles and want something that's both economical and diverse, Chinatown is your best bet. Staying in Chinatown is an excellent choice because it puts you in the center of an authentic residential neighborhood. In a city famed for having a "plastic" atmosphere, finding something like that might be challenging.
You can look forward to a fascinating selection of eateries, boutiques, and museums. Furthermore, the Mid-Autumn Moon Festival, the Lantern Festival at the Chinese American Museum, and the Chinese New Year Parade bring thousands of visitors to the city annually.
The neighborhood has also served as the filming ground for famous movies like Chinatown and Rush Hour. The fact that everything in Chinatown is within a short walking distance of the Metro rail's Gold Line is the best aspect of choosing to stay here.
12. Pasadena
Pasadena is where elegance and tranquility meet to fulfill your wildest Californian fantasies.
If you want to avoid the bustle of Hollywood and enjoy some tranquility, this is an excellent choice. But that doesn't mean that other Los Angeles neighborhoods overshadow Pasadena in terms of excitement. The Rose Bowl football game and the Tournament of Roses Parade happen here every year.
Other notable attractions include:
Fuller Theological Seminary
Caltech
Ensure you take time to appreciate the grounds of the renowned Norton Simon Museum, which features an expansive sculpture garden, European artworks, and Southeast Asian sculptures.
For a more authentic Los Angeles experience, consider visiting the Pacific Asia Museum, the Huntington Library and Botanical Gardens, and the Pasadena Museum of History. The neighborhood is also renowned for its estates. Some of the finest properties to explore include the Bissell estate, the Tournament House of the Wrigley family, and the Gamble House.
The 31-mile Gold Line, passing across East Los Angeles and the San Gabriel Valley renders it convenient to move from Pasadena into central Los Angeles.
13. South Bay
The coastal neighborhood is south of Los Angeles International Airport LAX, and further north are Manhattan Beach, Hermosa Beach, and Redondo Beach. Each place has extensive coastlines, eateries, boutiques, and downtown sections accessible on foot.
Popular tourist activities include surfing, paddle boarding, volleyball, swimming, and people-watching. A cycling path along the coast that spans 22 miles from Torrance Beach in the south to Will Rogers Beach in the north traverses through beach neighborhoods like Santa Monica Pier and Venice Beach.
Manhattan Beach has plenty of luxury and casual restaurant options. Furthermore, the Roundhouse Aquarium at the Pier is open to the public at no cost. Hermosa Beach is known for offering a more relaxed experience and is well-liked by surfers.
The bustling pubs here serve the finest champagne in Los Angeles. Redondo Beach also has the best parks, beaches, and wildlife. You won't have trouble finding a restaurant that satisfies your preferences here.
14. Miracle Mile (Central LA)
Miracle Mile is along a section of Wilshire Boulevard between Fairfax and Highland avenues in the city's heart.
The neighborhood got its name during its Art Deco heyday in the 1930s, which coincided with a real estate boom in the area. Miracle Mile is known for being home to many museums, including the brand-new Academy Museum and the Los Angeles County Museum of Art.
The La Brea Tar Pits and Museum focuses on the region's ancient history. In contrast, the Petersen Automotive Museum is a breathtaking modern building that resembles a red box covered with curling metal ribbons. There aren't many accommodation options because most visitors base themselves in other Los Angeles neighborhoods and only come here for a day trip.
15. San Pedro
Most tourists forget about San Pedro, although it's home to some excellent sights. The former working-class neighborhood is undergoing modernization, evidenced by a new waterfront development and public market near the famous San Pedro Fish Market and Restaurant.
The neighborhood's major attractions lie on the water, including:
The SS Lane Victory
Battleship USS Iowa Museum
You'll find the city's southernmost point in Point Fermin Park, home to the Fort MacArthur Museum and the Point Fermin Lighthouse. You'll also find the Cabrillo Marine Aquarium in the immediate vicinity.
You can reach most of the neighborhood's popular attractions via a complimentary downtown trolley every 25 min on Saturdays and Sundays. Most lodging options in this area are budget motels. Getting around the city on foot is not convenient if you base yourself here. Therefore, a car rental is a must if you want to visit a place with a large family.
16. Long Beach
Located 25 miles south of Downtown Los Angeles, the coastal town should be on your to-do list. Besides luxurious restaurants and an incredible beach stretch, the neighborhood is home to worthwhile tourist spots, including the Art Deco cruise liner Queen Mary, stationed here since 1967.
You'll also find notable attractions such as:
Furthermore, staying with your family here offers you convenient access to whale-watching excursions from November through March and the stunning Catalina Island.
The two big shopping malls in the area, the downtown Promenade, and the harborfront Shoreline Village attract both locals and visitors. Although Long Beach is accessible via the Metro, it's not a convenient starting point for seeing the remainder of Los Angeles due to the long distances you'll need to cover.
17. Universal City
There is no better location to stay than right across the street from Universal Studios Hollywood if you plan to visit the theme park. Universal City's lodging options are within walking distance of the theme park.
There are more than 50 stores and eateries on City Walk. The place does not charge an entrance fee. Given its proximity to the 101 freeway, a day trip to Santa Monica Beach is quite effortless. It's a forty-five-minute or so drive.
18. Burbank & the Valley
Twelve miles north of Downtown Los Angeles, Burbank marks the start of the San Fernando Valley, often referred to as "the Valley." Burbank saw a mass influx of film and television production facilities from the 1950s through the 1970s. Today, it's famous for its Universal Studios and Warner Bros Studio Tours.
Although the sprawling districts beyond Burbank offer very few attractions, the Forest Lawn Memorial Park in Glendale is home to a superb art museum. It's also the final resting place for several famous entertainers, including:
Elizabeth Taylor
Michael Jackson
Humphrey Bogart
In the northern region of Santa Clarita, you'll find Flags Magic Mountain, an amusement park known for its enormous roller coasters. Although Burbank and the rest of the Valley are close to the Los Angeles Metro System, most people find it more practical to have a car.
19. Malibu
Despite being 19 kilometers west of Santa Monica along the coast, Malibu is one of the best places to stay in Los Angeles. The neighborhood is particularly popular with beaches, including:
Malibu Lagoon State Beach
Leo Carrillo State Park
Zuma Beach
The Malibu Pier, built in 1905, is among the city's most recognizable sights. You'll discover hidden waterfalls and hiking routes if you venture into the hills. Escondido Canyon Park and Solstice Canyon are the most iconic hiking points in the area. It would help if you stopped at the Spanish Revival-style Adamson House and Malibu Lagoon Museum.
Malibu is home to a selection of fascinating dining establishments, many of which offer breathtaking panoramas of the nearby ocean. Some places worth visiting include Duke's, Mastro's Ocean Club, and Nobu. There aren't many accommodation options here, and even 2- and 3-star hotels can be quite pricey because of the location.
Malibu is not the best place to use as a base to explore Los Angeles, but day visits from other neighborhoods are manageable with a car.
Final Thoughts
The Los Angeles landscape depicts a picture of worlds within worlds. Although most individuals associate Los Angeles with images of Hollywood royalty and castles sitting on hillsides, the city comprises diverse neighborhoods.
A robust public transportation system renders it possible to access any region. Therefore, deciding to stay in one neighborhood doesn't limit you from exploring other parts of the city. If you can afford it, renting a car is the best option because of all the fun traveling between locations along the scenic beach streets.
We hope our guide on the best places to stay in Los Angeles helps you have a memorable vacation with your family.
More about our TFVG Author