California's Santa Monica can give families the sense of what L.A. is like, minus the crowds, congestion, and stress.
Santa Monica provides families with a laid-back vibe, spacious beaches, and boundless parks. Thrill-seeking younger kids can get their kicks at Pacific Park on Santa Monica Pier, while the more mature can lounge on Venice Beach or Santa Monica Beach. Positioned in West Los Angeles, Santa Monica stands as a picturesque antithesis to the rest of the surrounding metropolises.
This article will detail our top 12 family hotels in Santa Monica, West Los Angeles.
The Shore Hotel can be found on Ocean Avenue – as both these titles suggest, this family-friendly hotel is very close to Santa Monica State Beach. Here, you can find the Santa Monica Pier and three miles of rolling coastline.
The Shore Hotel is considered to be one of the best family hotels in Santa Monica due to a variety of special features, beginning with the heated outdoor pool, hot tubs, and its excellent bicycle hire service. Older kids who wish to flex their independence can grab a two-wheeler and explore the nearby Venice Beach!
Rooms at the Shore Hotel are kitted out with environmentally-friendly amenities, and families can choose between a city skyline or an ocean view.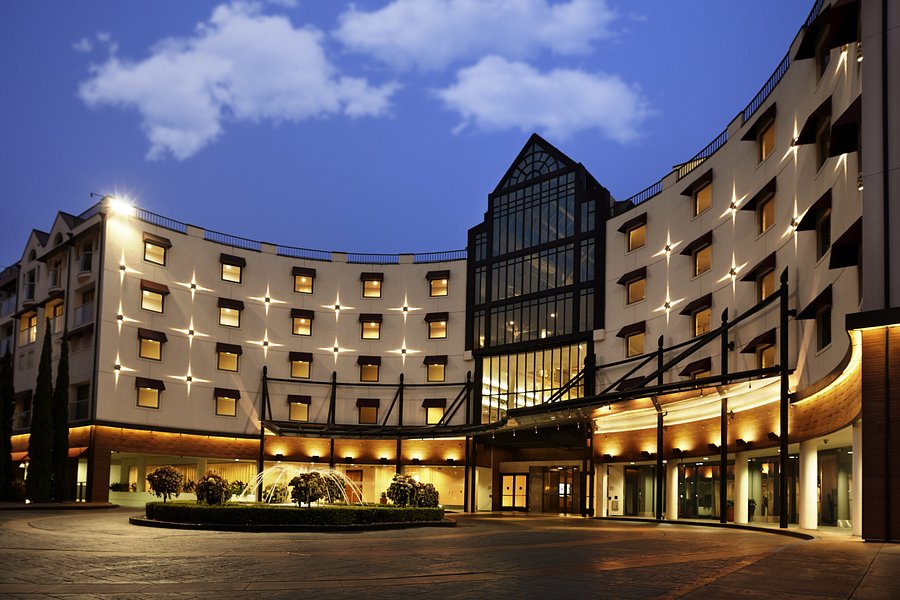 Loews Santa Monica Beach Hotel is one of the best ocean view hotels in the whole of Los Angeles. With a magnificent 4th floor pool looking out onto Santa Monica Beach and Santa Monica Pier, an ample supply of chaise lounges, and the Santa Monica Pier within its locality, the Loews Santa Monica Beach Hotel is a good family base.
Every amenity you could possibly need is within reach at the Loews Santa Monica Beach Hotel. This includes the Los Angeles International Airport, which is a mere 15 minutes away – very convenient for check-out guests!
Alfresco dining can be experienced at the Blue Streak Restaurant, as you watch the sunset over the Pacific Ocean. If restaurant dining is an inconvenience, room service is available for all guests for the entirety of their stay.
If your family requires space, the Hilton Santa Monica Hotel & Suites can provide you with some of the biggest family rooms in the whole of California. With some suites boasting a 9-person capacity, this Hilton Santa Monica Hotel is ideal if you're traveling with your extended family.
Taste the very best in Santa Monica's produce at the on-site restaurant, which showcases the best in local, farm-grown delicacies. The outside dining area is spacious, as is the inside lounge area, which features high ceilings, soft contemporary furnishings, and cream-colored pillars. Generally, the Hilton Santa Monica Hotel is as palatial as you're likely to find!
When not lounging at the pool or hitting the nearby Santa Monica State Beach, teens can go shopping at the Third Street Promenade, which can be reached in under 20 minutes on foot!
At the JW Marriott Santa Monica Le Merigot, no member of the family gets left behind, with pet-friendly rooms available! The marble flooring, black-out curtains, and free WiFi will make leaving your family suite difficult, but not impossible, with plenty of appealing onsite amenities throughout the resort.
The outdoor pool is a great place to catch some daily reverie, with palm trees providing much-needed shade from the warm Californian sun. There's a sauna, fitness center, and yoga room on-site, while the offsite bowling alley and tennis courts can keep big kids entertained.
Most importantly, this JW Marriott resort is only a 7-minute walk away from the Santa Monica Pier, the Santa Monica Beach, and Crescent Bay Park. For this resort, you can opt to reserve now, pay later.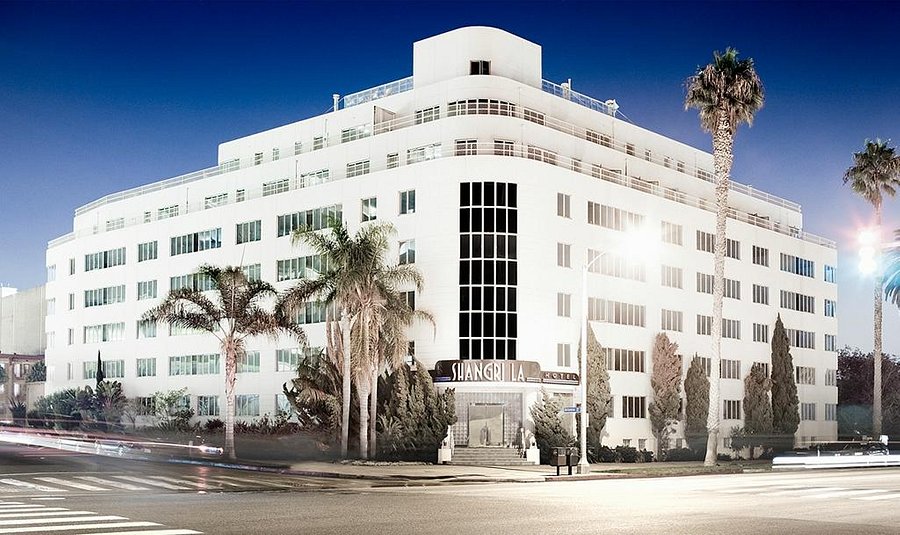 Santa Monica's Hotel Shangri-La stands as a relic of old-school vacationing, having towered above Santa Monica Beach for over 80 years now. The art-deco style of this family-friendly hotel has been perfectly preserved. The rooms feature only the most timeless of furnishings, making it easy for guests to get comfortable quickly.
Modern amenities make this one of the best family hotels in Santa Monica, CA, which includes a mini-fridge and a flat-screen TV. Free WiFi and 24/7 room service can allow you and your family to luxuriate without even leaving your suite.
Downstairs, dine-in with style at the on-site gourmet restaurant, the Dining Room. The sizable pool and outdoor patio area are set up to allow for socializing, lounging, and swimming to occur in equal measures.
Reserve now, pay later! This hotel also offers a free cancellation reserve option.
A few blocks away from the shore, the Courtyard by Marriott in Santa Monica, CA is a top family-friendly hotel choice if you wish to explore greater L.A. The reason for this is that guests can find a metro stop right outside. Universal Studios Hollywood, the California Science Center, or the Hollywood Bowl are all a subway ride away!
This Marriott is also benefited by the close locality of Santa Monica Beach, which won't take you longer than 15 minutes to reach on foot. There's a golf course within walking distance, too, that guests can access.
The highlight of the Courtyard by Marriott guest suites is the views afforded by the balconies. Guests can choose from dramatic mountainous landscapes, the ebb and flow of the ocean, or the vibrant skyline of Santa Monica, CA, to gaze out upon. Free WiFi and a flat-screen TV can be found inside.
The Hampton Inn & Suites gives guests a greater sense of Downtown Santa Monica, West Los Angeles. A must-stay for foodies, the surrounding neighborhood is home to a thriving restaurant scene. Food highlights include Ninjin, Crimson, Blue Daisy, and Umami Burger.
Bikes can be hired, which is useful for the active and adventurous types. An outdoor pool can be found on the second story of this ocean view hotel, providing adults with a comfortable place to lounge while their older kids go out biking or hiking.
Kids can stay for free in one of the sizable family suites. These rooms include a wide balcony, a flat-screen TV, free WiFi, and blackout curtains. Free valet parking is available upon entering this hotel.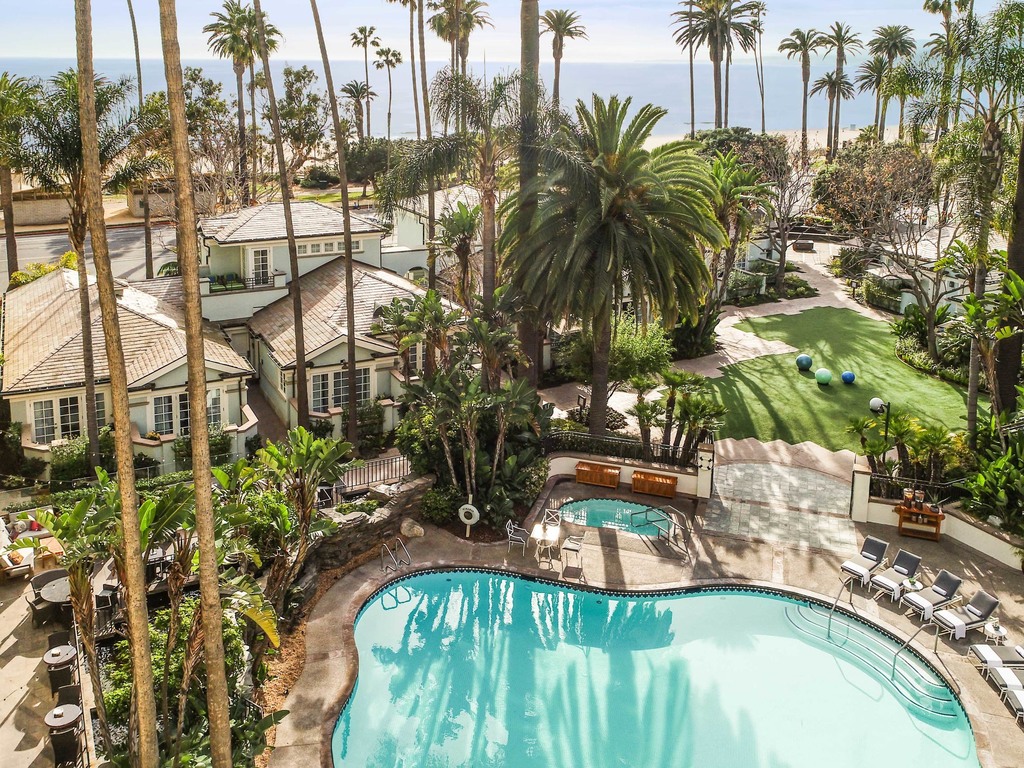 The Fairmont Miramar Hotel has so many onsite amenities that it feels like a separate, mini-community from the rest of Downtown Santa Monica. The FIG restaurant is the main dining spot on the Fairmont Miramar Hotel grounds, but there's also Soko, Bungalow Bar, and the Lobby Lounge to choose from.
An array of shops are dotted throughout, including Vilebrequin, Lloyd's Barbershop, and Atelier. Other rich amenities found onsite here at the Fairmont Miramar Hotel include a full-service spa, a Miramar Golf Academy, and an outdoor leisure pool.
Parents can enjoy the pleasures of the spa after dropping the younger kids off at the Miramar daycare service.
The Bayside Hotel is a go-to for many families looking to stay on the Ocean Avenue strip of Santa Monica, CA. Guests can head up to the private sun terrace each morning and take in the sea air and hot sunbeams that define the Los Angeles coast.
Family suites are pristine, with such home comforts as a flat-screen TV, desk, and air conditioner provided. Free WiFi is also available. Some of the bigger rooms boast two double beds, with a capacity of up to 6 guests. The outdoor furniture is a great place to kick back and lounge.
This luxury hotel may lack an outdoor pool, but with Venice Beach being a mere 2-minute walk away, you will certainly not feel a lack of water-based fun!
Reserve now, pay later.
Luxury can be found in the form of the Santa Monica Proper Hotel, one of the best Western Santa Monica hotels. Oak furnishings and leather upholstery can be found throughout the building, in what can only be described as a traditional meets contemporary hybrid aesthetic.
The family suites are particularly well endowed with luxury provisions, with Bellino pillows, Fili D'oro linens, and Kelly Wearstler bathrobes and throws, granting each room a sumptuous appeal. A restful stay is guaranteed by the blackout curtains, mini bar, and flat-screen TV.
In terms of communal features, the Santa Monica Proper Hotel boasts a rooftop pool, where guests can peer out onto the unbounded beachfront and the Pacific Ocean. Guests can find one of the hotel's three restaurants on this roof, which serves up an enticing array of Balearic cuisine.
Frequently ranked amongst the top West Los Angeles B&Bs, and often the subject of glowing guest reviews, the Channel Road Inn is an ocean-view hotel that offers several on-site services aimed at kids.
On top of the free WiFi, there is an array of books, games, and DVDs that kids are free to borrow throughout their stay. Bikes can also be rented out, which makes reaching the Santa Monica beaches a lot easier.
Rooms come with private balconies, each of which looks out onto the spectacular Santa Monica, CA skyline. A free cancellation reserve option is available upon booking. For a B&B, the Channel Road Inn has one of the lowest nightly price rates in the area.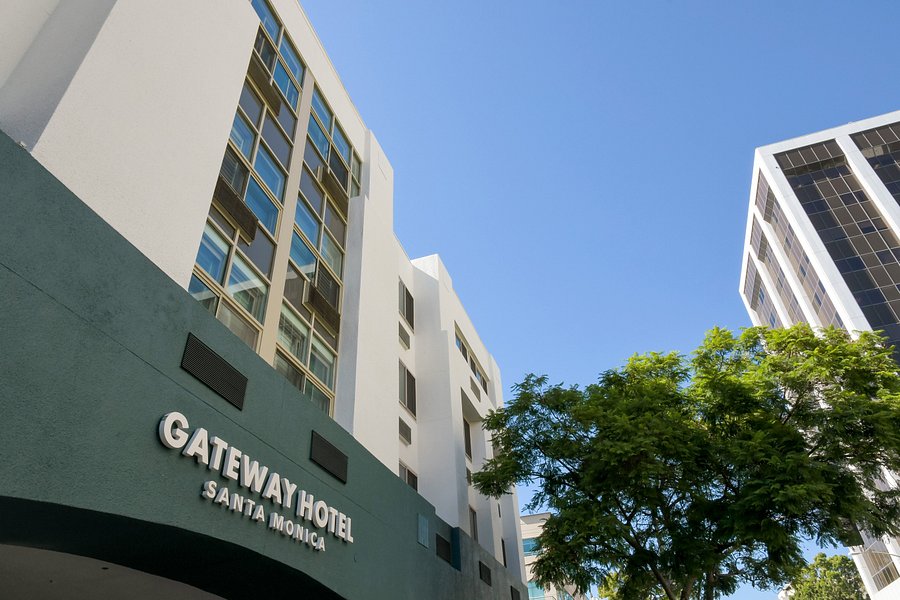 The Gateway Hotel may be located close to the business district, but it is still one of the best family-friendly hotels in Santa Monica, CA. This hotel has many alternative city highlights surrounding it, including the Santa Monica Museum of Art, the Third Street Promenade, and Montana Avenue.
The surrounding mid-city neighborhood also features a number of intriguing eateries and restaurants, including Truxton's American Bistro, Big Jo's, and Uppers Cafe and Bakeshop.
Probably one of the best kid-friendly hotels in the region, kids can watch movies on the 42-inch TV found in a standard family suite room, or take part in the hotel-organized activities. Rooms are inviting and feature plenty of space for luggage storage. Free WiFi can be accessed throughout the building, and a free cancellation reserve option is available in all rooms.
In Summary
Clearly, when it comes to Santa Monica hotels aimed at families, you're going to find the best ones within the locality of Santa Monica Beach.
Don't just settle for the most popular resorts in the city – the Wyndham Santa Monica, Viceroy Santa Monica, Le Meridien Delfina Santa Monica, Cal Mar Hotel Suites, or Hotel Carmel- choose a hotel from our list, and guarantee that your next Californian visit is stress-free, exciting, and unique from any other family vacation.