If you are a parent of young children, then you will know how difficult it can be to enjoy the great outdoors safely with your little ones.
Hiking can be a great activity for all the family and people of all ages, but you will find yourself limited by hiking trails when dealing with a stroller. Not all of the hikes that you used to enjoy will be suitable for your little one as they will not be suitable for a stroller.
This can leave you feeling uninspired and stuck as you are forced to make the same loop around the park whenever the weather is nice. But this does not have to be the case, as there is a good range of stroller-friendly hikes across the San Francisco Bay Area if you know where to look.
In this guide, we have used the advice and recommendations from other families across the area on the best stroller-friendly hikes in the Bay Area. You can enjoy the California weather and beautiful natural landscapes with your little ones comfortable in their stroller on these hiking trails.
The Top 13 Stroller Friendly Hikes In The San Francisco Bay Area
If you are an outdoor enthusiast and love nothing more than taking several hours to hike around natural landscapes, then you will be pleased to know that this does not have to stop simply because you now have children.
There is a good range of stroller-friendly hikes available across the San Francisco Bay Area, as recommended by other parents of small children.
With these hikes, you can take the whole family on a fun adventure outdoors and enjoy the amazing scenery of San Francisco whenever you see fit.
The following are the top 13 stroller-friendly hikes, according to local parents.
Devil's Slide Trail
Only a decade or so ago was this hiking trail a major highway and considered to be one of the only connecting roads to the north of the state, as it headed to Pacifica.
However, following the dangerous driving conditions which appeared every winter, the road has since been repurposed as a hiking trail, and it is a wonderful option for those with small children.
The whole trail is paved with cement, making for a smooth path that is perfect for strollers and bikes alike. It is also a dog-friendly hike, so you do not have to leave anyone behind when you venture to Devil's Slide Trail.
The hike can start at either Half Moon Bay or on the Pacifica side, depending on your starting point, and is a total of 1.3 miles across. There is parking offered at both ends of the trail, and the whole family can enjoy the stunning panoramic views as you walk.
Half Moon Bay Coastal Trail
This is a great hike for families, and it can take all day if you are feeling like being outside for so long. The whole trail is 11 miles across the coastline, offering stunning views and fresh sea air every step of the way.
For strollers, the smooth pavement makes for easy hiking with little ones, and it is another dog-friendly hike too.
Linda Mar and Pacifica State Beach Waterfront Trail
Pacifica State Beach is a popular spot for surfers, but it can also be a great hiking trail for families with young children and their strollers.
There are plenty of smooth pathways within this area, making it easy to push a stroller or to support small children taking their first few steps.
It is a stunning location, providing coastal views along the hike, and the kids can be entertained by seeing the surfers on the beach as they pass by in their stroller.
The Embarcadero, San Francisco
This three-mile walk will offer the perfect workout for you, and it is safe to bring the stroller with the little ones in tow.
It offers both city and bay views, which keeps things interesting, and takes you through some of the most famous landmarks of the state.
Become a tourist in your own home with this hiking trail and show your kids sights like the Giant's Baseball Stadium, the Bay Bridge, Ferry Building, and Pier 39 in Fisherman's Wharf.
Crissy Field Trail To Fort Point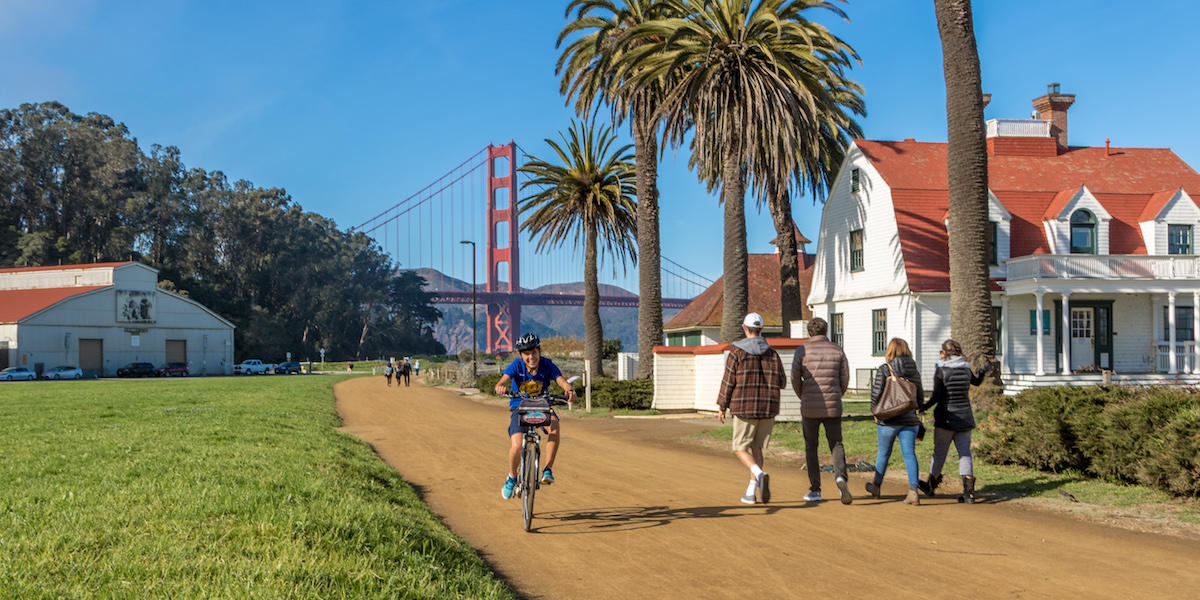 If you are looking for the best way to show your kids the Golden Gate Bridge, then this is the hiking trail for you.
Crissy Field is considered to be one of the best places to see the iconic bridge, and there is a long walkway that is stroller-friendly, so you can take the whole family with you.
This hike starts in the Marina District and goes all the way to the base of the bridge in Fort Point. You can find the right starting point for you, but the entire walkway is paved, making it smooth for strollers.
This is another great dog-friendly hike that offers a range of incredible photo opportunities along the way, showcasing the very best of the state.
Golden Gate Park
You are likely familiar with this world-famous park, but perhaps you are not familiar with the walking trail within it.
The Golden Gate Park spans over 1,000 acres and is located in the heart of San Francisco, making it accessible to most people across the state. There is a great range of paved walkways within the park, which are smooth enough for strollers and safe enough to allow the little ones to stretch their legs as you hike.
There are several good starting points for your hike through the Golden Gate Park, with particular favorites being through the Conservatory of Flowers or cruising around the de Young Museum.
The Presidio, San Francisco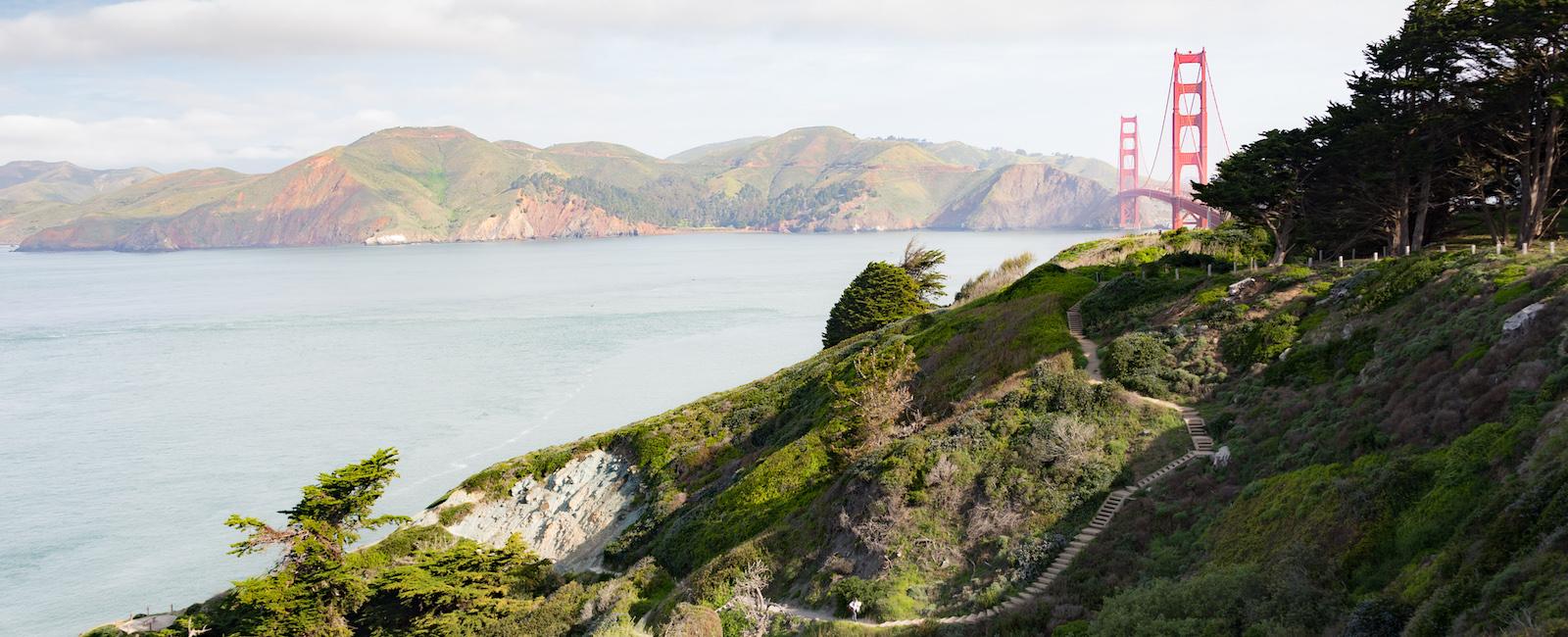 The Presidio was used as a military post but has since been transformed into a public park offering 1,500 acres for families to enjoy.
There are over 25 miles of hiking trails through this area of San Francisco, and the majority of them are paved, making them suitable for strollers and small children.
On this hike, you can experience some great sights of the state, including the Golden Gate Bridge as well as the Walt Disney Museum, which is great for the kids. Surrounding the park are beautiful neighborhoods and attractive homes, which also make for great views when hiking.
The Golden Gate Bridge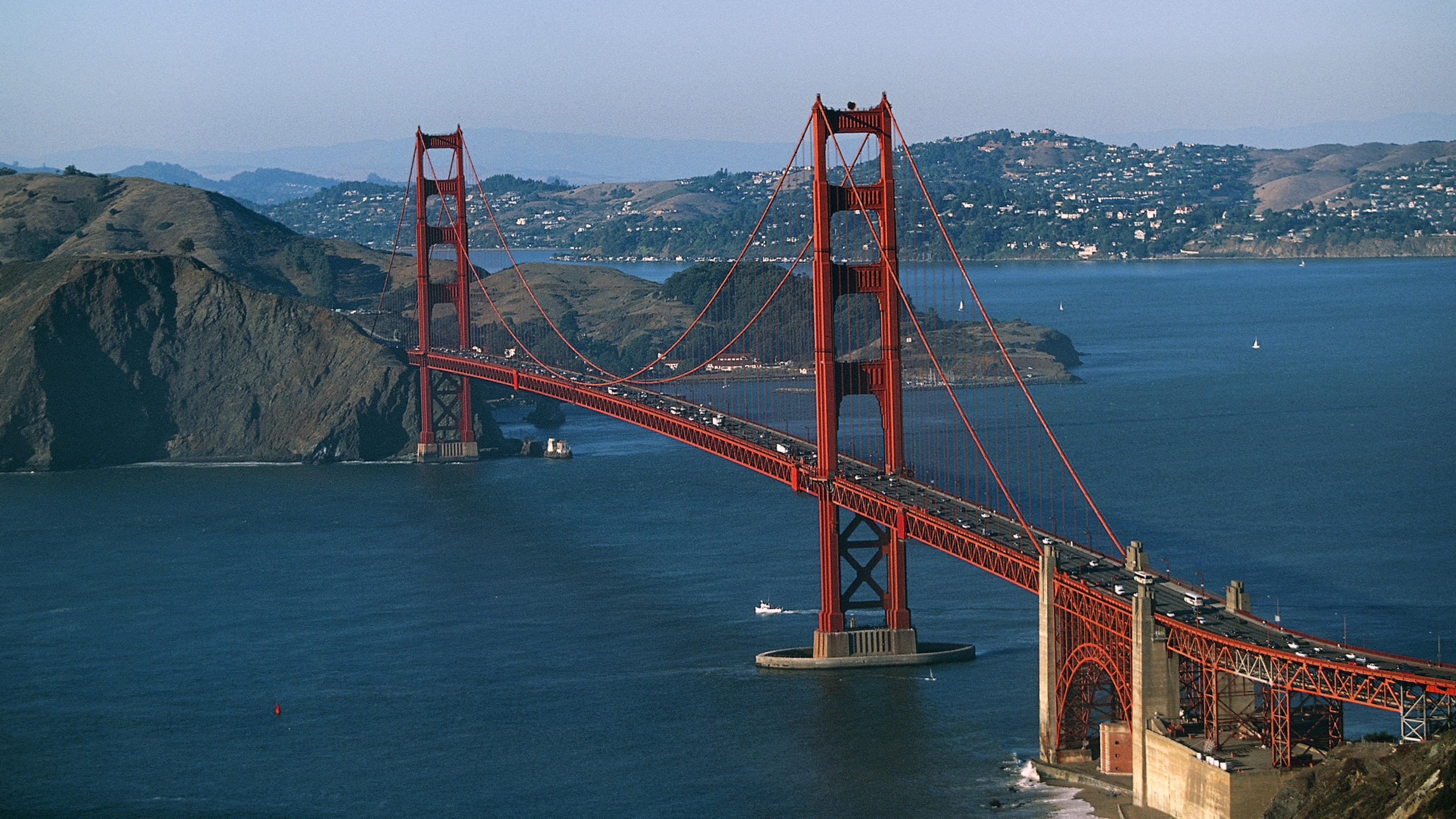 If you have shown the kids the view of the bridge, then it may be time to take them across it.
The 1.7-mile walk across the Golden Gate Bridge is paved, making it ideal for strollers, and you can treat the family to incredible sea views.
It is best to take this hike on a weekday as this is when the bridge will be quietest, making it safer to take a stroller and to have a leisurely hike with your children. There are parking spots on both sides of the Golden Gate Bridge, as well as some ideal lookout spots on both the San Francisco side and the Sausalito side.
Coyote Park Recreation
Coyote Park covers 670 acres within the San Mateo area and is an ideal hiking spot for strollers.
The park features several paved walkways as well as picnic spots and a beach, so you can have a full day out at this location, ensuring the kids will never get bored.
Dogs are allowed in this location as long as they are kept on a leash.
Baylands Nature Preserve
The Baylands Nature Preserve in Palo Alto is the largest area of untouched marshland across the Bay Area. It is world-renowned for its bird watching opportunities, and several flat, smooth trails are suitable for strollers.
Some of the hiking trails are paved, whereas others are made from finely tuned gravel, giving you plenty of options when taking the little ones on a hike.
This area is also dog-friendly, making it ideal for the whole family to enjoy.
Mt. Madonna County Park
This is a huge park that is open to families for hiking and camping. Spanning over 3,600 acres, there are plenty of trails to consider, and you can explore what the site has to offer.
There are several paved hiking trails, but these do end the closer you get to the Miller House Ruins, meaning this is a trail better suited to older children who are confident exploring outside of their stroller as well.
With a stroller, families can comfortably hike the Lower Miller Trail to the Upper Miller Trail.
Sanborn County Park
This is a large park in the Bay Area that has one major stroller-friendly hike that is suitable for families of all ages.
Similar to Mt Madonna, Sanborn County Park has lots of wide hiking trails throughout the park that are suitable for strollers, but you will need to plan your hike to make sure you are comfortable with the paths ahead of you.
The best hike for those with strollers is the Sanborn Trail which can be accessed through the walk-in campsite. There is a paved trail for most of the hike when you walk through the campsite, as well as accessible bathrooms which are ideal for those with little ones.
You can loop around this hiking trail by connecting to the Peterson Trail and going back through the main parking lots of the site. During weekdays it is especially quiet, but this can also be a leisurely walk on weekends when heading off early.
Henry Cowell State Park
There are smooth hiking trails, although limited paving, at this spot which is good for those with strollers. There are options to go off-path, but with a stroller, it is best to stay on the path as this is the smoothest trail.
Taking the trail to Pipeline Road, you will stay on the path which is comfortable for those with strollers and little, unsteady legs.
A great highlight of this hike is the fact you may be able to see horses as you walk. It is a popular equestrian trail, and there is a paved walkway for several miles, which is why it is a great one for those with small children.
Top Tips For Hiking With A Stroller
These are some of the best hiking trails for those with a stroller due to their smooth pathways and paving.
However, because they are such a good place for people with small children, it is likely that they will get busy during peak times, especially those which are central to the Bay Area and attract tourists. With this in mind, to have a comfortable and fun hiking experience with your children, you will need to plan things ahead of time.
It is possible to have a good workout and a great day out with the family when using these hiking trails, but as with any family event, you will need to be prepared to get the most out of it.
The following are some of the best tips for a successful stroller hike in the Bay Area:
Head Out Early
If you have small children, then it is likely that you are already a bit of an early bird – whether you like it or not. This can be used to your advantage when going on a stroller-friendly hike.
You should go on these hikes on a weekday if you want to avoid crowds of tourists, especially those in the central Bay Area and around hotspots like the Golden Gate Bridge. However, if you are going out on the weekend, then you will need to get to your destination early.
It is recommended for you to get to your hike trail, especially those in central locations, between 8:30 AM and 9 AM. If you do not make this time, you can still hike on the weekends, but this will have to come later in the day.
On weekends, visiting hike trails in the late afternoon is a good idea if you want to miss the crowds. Around 3 PM sees these spots become quieter, making it easier for you to take your kids on a stroller-friendly hike where they can take everything at their own pace.
Avoid the middle hours of the day, especially on weekends. While the crowds may not be as dense on weekdays, the most popular spots will become busy by around 10:30 AM, which is why you need to plan ahead when hiking with a stroller.
Plan For Weekday Adventures
As we have mentioned, it is best to take the kids on a hike during the week as these locations become very crowded at weekends.
While it is still possible to go out on weekends, you should expect bigger crowds which may impact how easy it is to hike along with a stroller. This is why going out early is the best option, regardless of the day, but if you do not want to be confined by times, then a weekday is ideal.
This is especially the case for families with younger children who are not yet at school, as the weekdays can be free. This rule does not apply during school breaks.
Pack A Bag Of Essentials
When bringing your stroller, you will no doubt have a stroller bag that is packed to bring essentials like diapers, wipes, and even spare clothing.
This is one of the best things about bringing a stroller with you on a hike because it ensures you have everything you need when out and about with little ones. However, before going on a hike, you may need to pack extra items and have them accessible during your walk.
Of course, the usual diapers, snacks, and spare clothing should be carried with you, but you should also consider:
Hand sanitizer and masks
Bottles of water
Sunscreen
Sunglasses
Band-aids
Rain jacket
Parents will understand that it is best to be prepared for everything when taking the little ones outside for the day, and bringing your stroller makes it easier to do so.
Spend some time the night before your hike to pack a bag of essentials, so you have everything you need. This way, you can be ready and out of the house early enough to make the most of your day.
Plan The Trail Before You Leave
If you opt for one of the county parks or larger nature reserves for your stroller hike, it is a good idea to plan out where you are going to walk before you get there.
Using a map, take a look at the stroller-friendly trails we have recommended and make sure that they are accessible to you from your starting point, and ensure you will stay on them throughout.
Plan ahead to make sure you know where to park and to find any amenities before you go.
Summary
There are many great hiking spots in the Bay Area, and a lot of these are stroller-friendly.
Hiking can be a great activity for all the family and is a fun way to get the little ones outside to explore nature.
More about our TFVG Author
Caitlin is one of The Family Vacation Guide's long standing contributors. She enjoys taking vacation to busy, vibrant cities and has stretched her traveling legs out towards Europe in recent months, enjoying new experiences in Barcelona in Spain, and Nice in France.