San Clemente is a coastal city in sunny California renowned for its numerous tourist attractions. The gorgeous boardwalks and exciting art scene are the tip of the iceberg for vacationers who'd like to sample exceptional craft beer while enjoying the most picturesque coastline.
More importantly, San Clemente has numerous activities for kids and toddlers, theme parks, playgrounds, and water parks. Children will eat good food, have fun, learn educational things, and not get stuck in long queues that cause boredom.
If you'd like to plan a family vacation on a budget, these are 7 of the best things to do in San Clemente, CA, with kids.
Zoomars Petting Zoo
There's no better destination for a family vacation with kids than the Zoomars Petting Zoo. It's located at San Juan Capistrano, nine minutes away from San Clemente.
The family-owned petting zoo had provided the most special memories for kids since 1980, when it was founded. Some animals on offer include guinea pigs, chickens, goats, sheep, llamas, emu, cows, and an alpaca.
Interestingly, it's the only petting zoo in South Orange County. You'd be hard-pressed to find any with the number of attractions and activities on offer.
For instance, Zoomars has a guinea pig pen filled to the brim with the most adorable guinea pigs your kids will ever have eyes on! Your kids can feed, brush and pet the friendly animals.
Moreover, a Western-themed playground features four slides, climbing facilities, a bridge, and a hidden play area to get their imaginations going. The standout activity in this San Clemente destination is the pony rides that give your child an experience to last a lifetime.
These beautiful ponies are well-behaved and safe, receiving excellent care to foster the safest riding conditions for your loved ones. Adventurous boys and girls can pan for gold and discover genuine gemstones alongside other treasures and fossils.
You'll also love the fun train rides for kids. However, this attraction is only suitable for kids aged 3-10. Zoomars Petting Zoo is also an excellent destination for special events, including birthdays, adult gatherings, and family events.
Casa Romantica Cultural Center and Gardens
The Casa Romantica Cultural Center and Gardens is a historical landmark in San Clemente that features an eclectic selection of exhibitions, workshops, lectures, and tours for all age groups. It's the perfect destination for families who want to do something more educational.
The center has a profound cultural reputation in all of Orange County. Moreover, the two-acre landmark was the home of Ole Hanson, San Clemente's founder.
Adults only need to pay a token to enjoy the numerous offerings, while admission is free for kids under 13. The hacienda-styled center offers various free arts programs for kids and toddlers throughout the year.
Selected middle school and elementary students can enjoy a two-week summer dance workshop to learn modern jazz, ballet, and hip-hop. The little ones enjoy story time, reading classic tales, and learning about new books.
After enjoying your visit to this romantic castle, you can sign off by visiting the gift shop to get souvenirs, including books, mugs, and key chains for family and friends.
San Clemente Coastal Trail
The North Beach train station is the starting point of the San Clemente Coastal Trail, and it's a fantastic way to discover the delights of the San Clemente Coastline.
The coastal trail cuts through various beaches in the area, and you can stop by to enjoy an all-action volleyball contest within the many volleyball courts in the vicinity.
This beach trail is the ideal attraction for families with pets and is dotted with pet hygiene facilities for the length and breadth of the route.
You can taste the salt in the breeze as the winds wash through the ocean, and it's no surprise to find joggers, bikers, and walkers along this beach trail.
San Clemente State Beach
San Clemente State Beach is arguably one of the most popular destinations in Orange County and is an excellent destination for families with kids. The mildly temperate weather can be a little chilly for some.
Still, the beach offers numerous campfire facilities that will make you feel right at home. Moreover, the beach also offers excellent surfing, and you can partake in various family water-based activities like snorkeling, fishing, diving, and swimming.
Hiking, bird watching, and cycling are other must-do activities around the beach area. You'll benefit from a trip to the Environmental Learning center on-site.
Vacationers with more than a day will take comfort in the top-class restroom facilities that are well kept and clean. Surfing is a huge part of San Clemente culture, and you can find hundreds of experts around the beach willing to teach you the basics. 
You'll also love the San Clemente Surf School which offers various lessons for people of all ages. You only need to work briefly with the instructors before surfing some giant waves on the San Clemente coastline.
San Clemente Pier
You cannot claim to visit San Clemente without taking the time to visit the San Clemente Pier. It is arguably the most iconic attraction in the city. It is surrounded by sandy beaches that stretch as far as the eyes can see.
An excellent way to enjoy this Pier with kids is by taking the Metrolink Train from Los Angeles. The dock has a beautiful clock tower that offers panoramic views of the city and coastline day or night.
The state beach is one of the best things to do in San Clemente because of the numerous places to eat the most delicious cuisines, like the outstanding Fisherman's Restaurant.
It doesn't get more beautiful than the beach if you're looking for the perfect place to relax and soak in the ocean's sights and sounds.
Moreover, there's lots of parking, and you'd be remiss not to take a short stroll to the beach, which features a few swings for kids.
San Clemente Pier also offers fishing opportunities. You can people-watch while teaching the kids this old-age ritual while watching the spectacular sunset.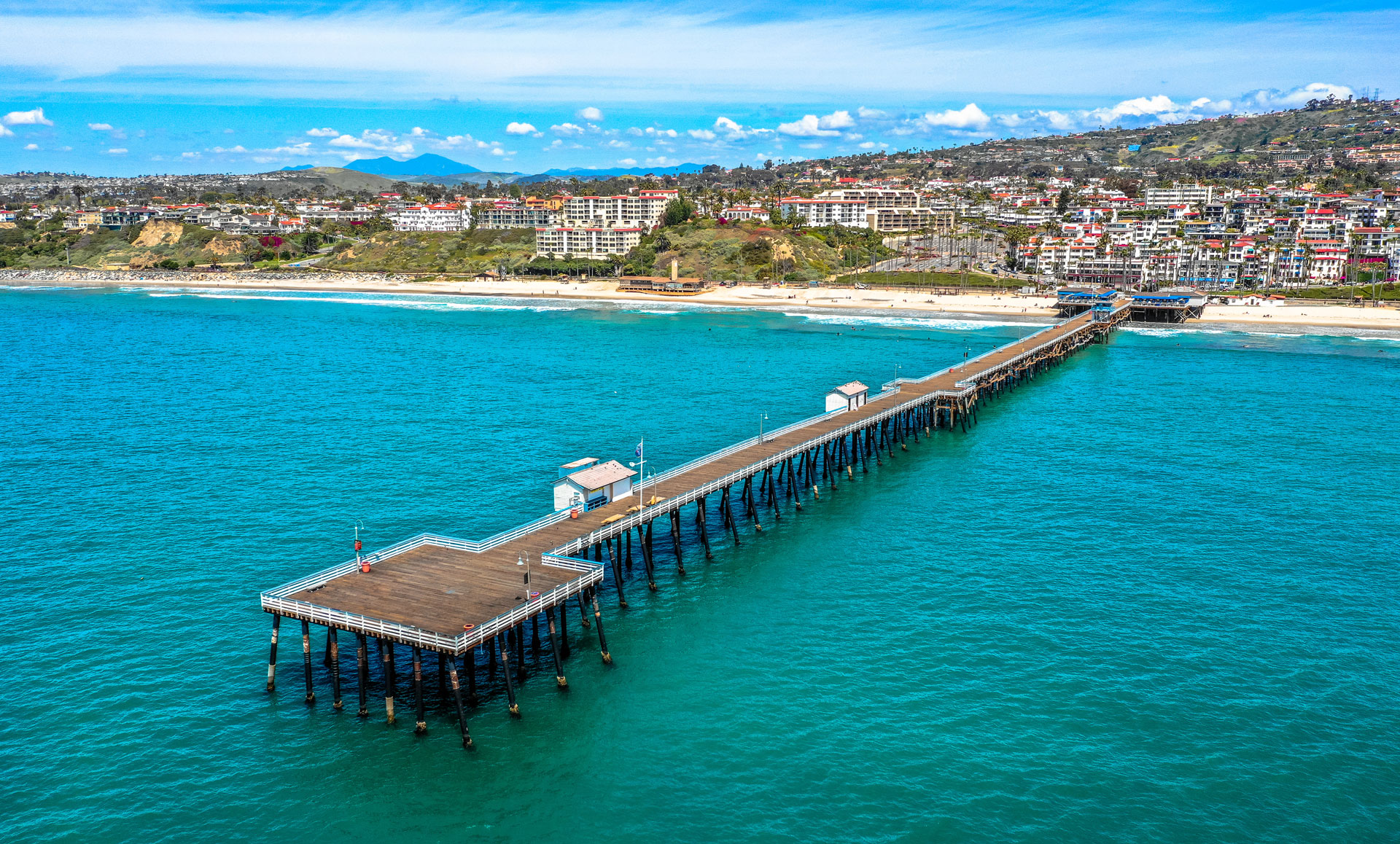 Explore Del Mar Street
Del Mar is the beating heart of this city, and the flurry of activities can overwhelm even the most adventurous vacationer. It's a buzzing and exciting destination in the downtown area with many cafes, bars, boutiques, and restaurants.
Moreover, the street is a stone's throw away from the Pier. It has many entertainment options to keep you busy throughout the day.
You'd need more than a day to explore Del Mar Street thoroughly. Some top-notch eats in this location include Mexican Siesta, Del Mar Sushi, and Carbonara's Trattoria.
Lovers of nightlife and the art scene will be pleased with the various boutique wine bars and art galleries available on this famous San Clemente Street.
Visit the Artifex Brewing Company
San Clemente is home to many designer brewers. You won't find a better atmosphere for the most delicious brews than the Artifex Brewing Company. The brewery is south of San Clemente but features an all-new tasting room on Del Mar Street.
The upscale tasting room brings exceptional craft beer closer to you and is a short walk away from the beach.
Artifex offers its unique beer selections in a can or on tap. Its popular beers include West Kolsch IPA, Orange You Different, Beer Paper Pale, and Sunshine Tax.
Although the little ones won't be able to taste the beers, the indoor décor is cozy and perfect for socializing with friends while taking in the ocean from the patio lounge.
Moreover, a glut of food trucks is available outside to compliment your beer with some tasty food.
More about our TFVG Author
Caitlin is one of The Family Vacation Guide's long standing contributors. She enjoys taking vacation to busy, vibrant cities and has stretched her traveling legs out towards Europe in recent months, enjoying new experiences in Barcelona in Spain, and Nice in France.